Watch:
Intro
I was lucky enough to fly up to the Gold Coast to meet the Evolve crew at their HQ and see what they've been working on.
I'll start by saying that I wasn't paid to do this review, nor was I given a free or discounted board. To be completely transparent with you, they paid for my flight up there, but I sorted my own accommodation and all other expenses while I was there.
You'll find that overall, I am very positive about Evolve's new GTR electric skateboards, and that's mainly because I am truly impressed by them.
I got to spend two half-days riding around on an Evolve Bamboo GTR Street and a Carbon GTR AT and I loved every second of it.
I didn't get to do my full suite of electric skateboard tests, but I managed to get a good feel for the board and how it feels while riding.
But let's get into it so you can learn everything you need to know about these Evolve GTR electric skateboards.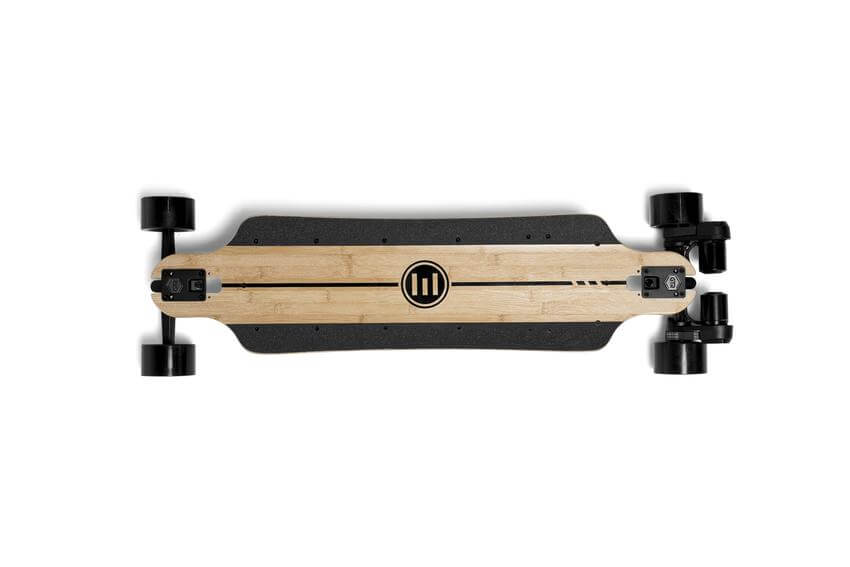 About Evolve Skateboards
Evolve Skateboards is an Australian electric skateboard company that was built out of the founders garage back in 2008.
The CEO and founder, Jeff built his first electric skateboard by buying electronic components from eBay and sticking them to his own longboard.
After his friends saw him cruising around on it, they all started asking him to build one for them.
Being the top bloke he is, he made around ten eboards for his mates.
Before he knew it, he as getting calls from friends of friends.
That's when he decided to quit his job, sell the family home and pour everything he had into building an electric skateboard company.
What we see today is over 10 years of innovation, hard work and passion that is Evolve Skateboards.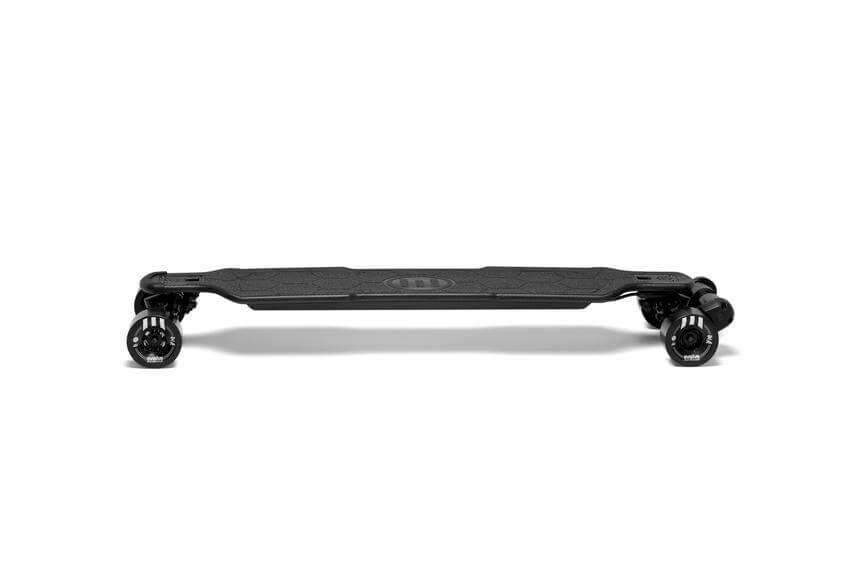 Who Is The Evolve GTR Electric Skateboard For?
These are mid-to-high-end, performance electric skateboards.
I wouldn't recommend the GTR series, or any Evolve eboard for that matter, for a complete beginner.
If you're not comfortable at any board sport like surfing or snowboarding, then I think you should start with something that isn't going to break the bank. That way you can find out whether or not you like it before moving onto the big boys.
Try something like the Meepo NLS. That's a good starting point if you're seriously considering electric skateboarding.
Alright, back to the Evolve GTR boards.
If you're a surfer, snowboarder or other kind of boarder, then you're really going to feel at home on one of these eboards, even if you've never ridden an electric skateboard.
If you're an eskater who was been cruising around on your Backfire or WowGo and you're feeling you might be ready to level up, the Evolve GTR series would be the best place to start.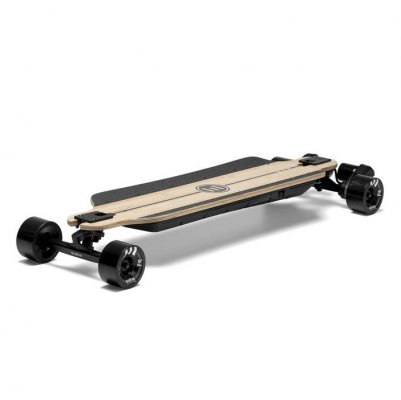 Performance Tests
Range Test
This was by far the longest range test I've ever done.
It was more than twice as far as any other electric skateboard range test I have ever done.
It was also, the most fun.
In total, I rode the Evolve Bamboo GTR in a street setup for 30.14 miles (48.5km).
While on the range test I also noticed that the board didn't drop into ECO mode until the last 1% of riding.
Finally.
An electric skateboard you can ride all the way to 0% at a speed you would normally ride.
None of this dropping down to 10kmh for the last 10%…
Unfortunately, I didn't get a chance to do a range test on theAT setup or the Carbon.
The Carbon I'm not too concerned about because it uses the exact same electronics as the Bamboo GTR.
The AT setup however, I would be very interested in seeing the results.
Evolve state the range to be 19 miles (30km), so expect to realistically get 15-19 miles (25-30km).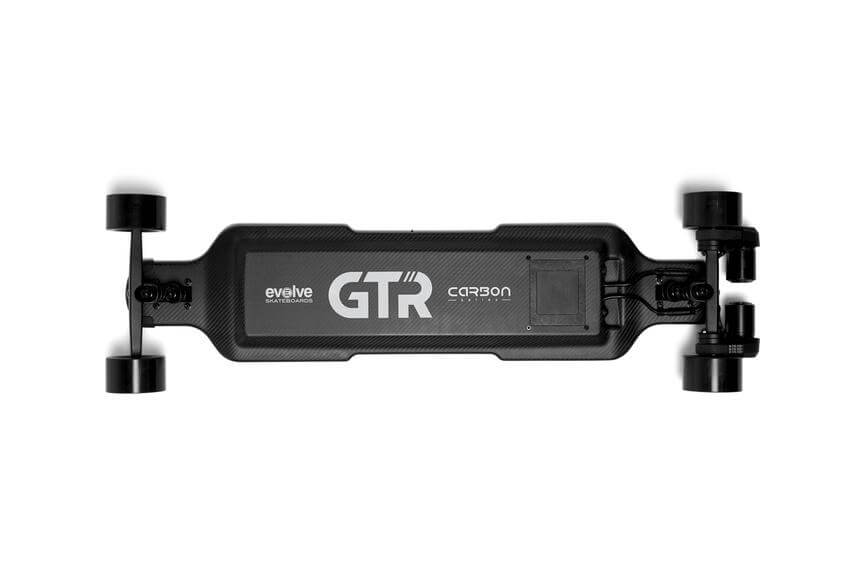 Speed Test
The highest speed I hit on the Bamboo GTR with a street setup was 27.3mph (43.9kmh) which is a little higher than what Evolve Skateboards display on their website.
And honestly, I think it could have even gone harder if I pushed it long enough.
On the AT setup I reckon you would be able to reach 23mph (37kmh).
Brake Test
If you watched my video, you'll see that I didn't do an official speed test.
But I'll still tell you what I think of the brakes.
These are the most powerful yet smooth brakes I've ever experienced on an electric skateboard.
Fair, I've mostly ridden cheap boards like Meepo and Backfire.
But, these brakes are unbelievable.
I managed to come to a complete stop from doing 19mph (30kmh) within 33ft (10m) or so.
On eboards this powerful, you NEED brakes that can stop you safely and reliably.
Because too many things can go wrong. And these speeds, it can be very unforgiving.
Nice job right here, Evolve.
Hill Climb Test
I took the Evolve Carbon GTR with an AT setup out for a spin for a change and did the hill climb test on it.
I rode up a 16.8º hill which calculates out to a 30.1% hill grade at made it with no issues. In fact, it powered up the hill.
The terrain was part grass and part loose gravel and the Carbon GTR AT ate it for breakfast.
I have no doubt the Street setup would climb any paved path with no problems.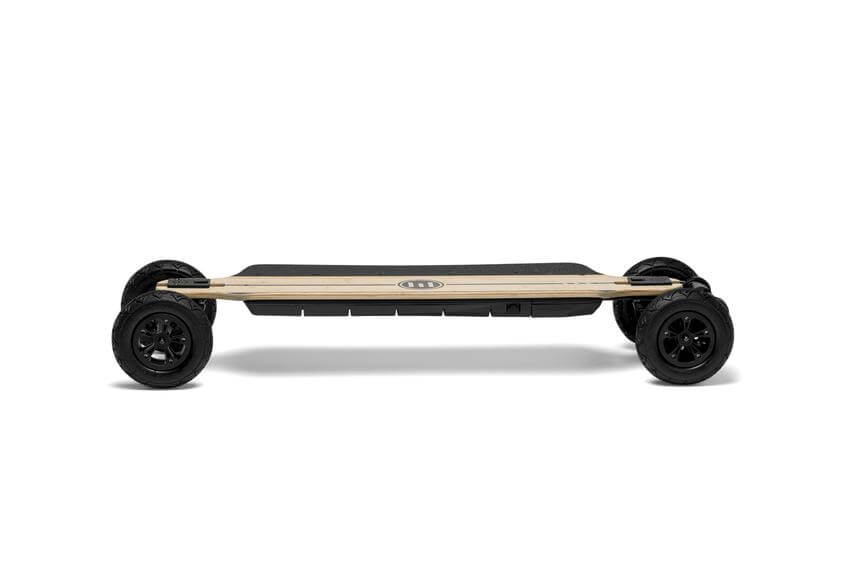 The Specifics
The Deck
So, just like the previous releases, the new Evolve GTR series has two deck options.
A Bamboo GTR and a Carbon GTR.
The Bamboo GTR is 38″ long with an adjustable wheel base of 36″ or 37″. There are extra holes at either end of the deck so you can slide the truck plate further to the end or closer to the centre depending on the kind of ride you prefer.
The smaller the wheel base, the tighter turns you'll be able to achieve, while with a wider wheel base, you'll get an extremely steady ride.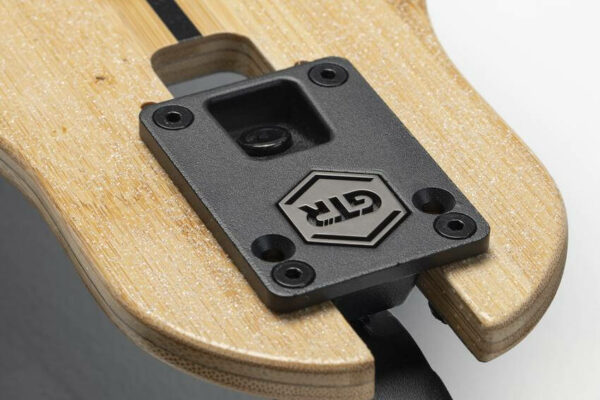 The concave shape of the deck felt really comfortable under my feet. I could feel the edges of the board under both my toes and heels at all times. It gave me confidence knowing where my feet were on the board at all times. And it made turning the board a breeze.
The Bamboo deck is also very flexible. Not so much that it feels like you're trampolining around, but enough to absorb a lot of the vibrations from the road.
The Carbon GTR deck is a tad longer at 39″ with a wheelbase of 37″ (non-adjustable).
The carbon fibre deck is very stiff with virtually no give in it. Not so great at absorbing the bumps from the road, but it does keep you steady when riding at high speeds.
One thing to note about the grip tape on the Carbon GTR is that it now goes all the way to the edges of the board, unlike the previous series where it didn't..
Personally, I prefer the Bamboo deck. The flex coupled with the concave shape makes the board so easy to ride and it really does feel like I'm surfing along the paths, carving side-to-side.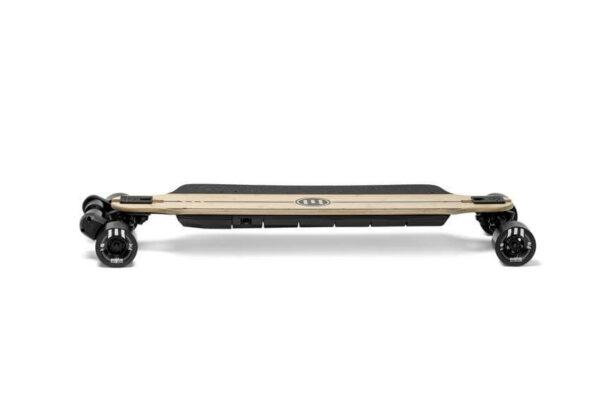 The Wheels & Trucks
Wheels make up a huge part of the way a board rides, so it's really important that eboard companies get this right.
And I think Evolve may have nailed it here.
The new stock street wheels on the Evolve GTR electric skateboards are now made in the USA from the same manufacturer as other top-end skateboard wheel brands such as ABEC.
This is already a huge upgrade to their previous wheels, which were a little lack lustre. We should be seeing a lot less wheel chunking on these new ones. But evidence of that will only come with time.
The street wheels are 97mm 76A so they are big and super grippy. They feel awesome to carve on and you could probably pump these little rollers all the way home if you needed to.
The standard AT wheels are 7″ pneumatic all terrains, just like their previous series.
On top of this, Evolve are also offering 6″ pneumatic AT wheels. I didn't get a chance to take these for a ride, but they are going to be awesome for riders who use their Evolve skateboard to commute to work and go for longer rides.
And if you want to get the best of both worlds, you could always put a set of Cloudwheels on your GTR. You could go with the either 105mm or 120mm depending on whether you want higher acceleration or higher top speed respectively.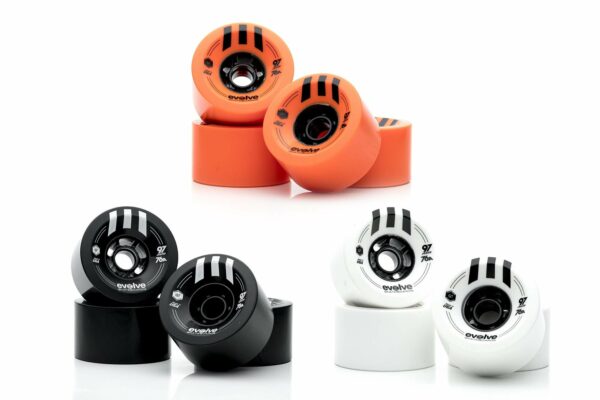 Evolve are still using their Super Carve double king-pin truck on the GTR eboards, however, instead of using a cast metal, they are using a process of forging to create the trucks.
That makes them insanely strong so hopefully there won't be any braking of the trucks like we've seen in the past.
Riding around with this truck setup is a completely different feeling to any other electric skateboard.
They allow for precise and smooth carving and give you a really tight turning circle.
I was actually surprised at how tight you can turn with these trucks.
But I was most excited about the carving that I could get from these trucks. I could whip the tail out and it would fly straight back to centre with very little effort.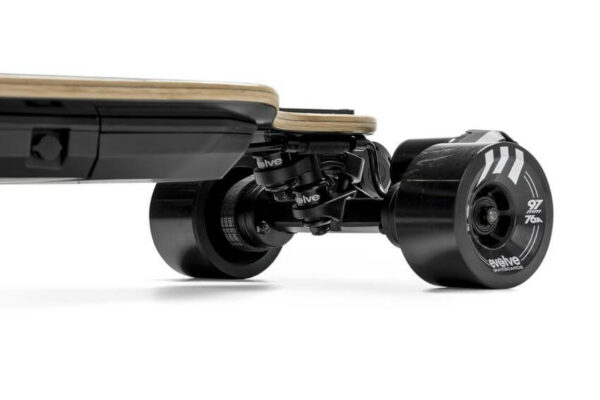 The Battery
This is a BIG one for Evolve.
You're probably well aware of the battery issues that Evolve riders have experienced with the GT and GTX series.
Well, you'll be happy to hear that Evolve have completely redesigned their battery system which no longer brings with it the notorious 'battery sag'.
Battery sag is when the board drops down into ECO mode after the motors are put under high amounts of stress. This happens because the motors are drawing more power, so the batteries supply more output, reducing the voltage. The BMS then thinks that the batteries are at a lower capacity than they actually are and so the ESC drops the board back into ECO to preserve power.
For example, it was common when riders were in an AT setup and riding through grass or riding up really steep hills.
But, that's all gone now.
Evolve have finally gotten their shit together and fixed this.
In fact, when I was riding I could still pull the same amount of power at 3% battery as if I was at 100%.
So you'll never need to have any anxiety about climbing hills or cutting grass when your battery is getting low.
Evolve are also releasing a Travel battery that sits just under the 160Wh airline restriction. So you will be able to travel with this battery, however, you'll still need to contact your airline to gain approval before flying.
The inability to travel with their electric skateboard has always been an issue for Evolve riders, so this is warmly welcomed in the Evolve community.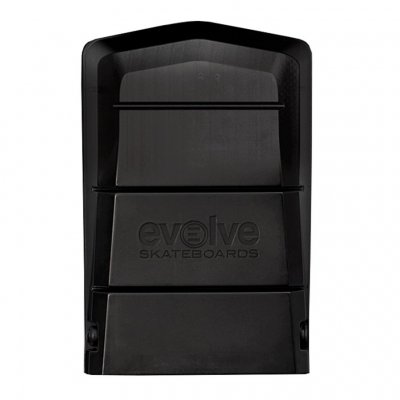 Another thing to note about the battery is that on the Bamboo GTR there are two USB outlets.
This opens up a huge opportunity for you to customise your board with LEDs or other USB-powered accessories.
However, these USB outlets are only available on the Bamboo version and not the Carbon GTR.
I'm not entirely sure why that is but I speculate that it has something to do with the development of the casings for each board.
If you haven't already seen the new Power Flex battery system that Evolve have designed for the GTR electric skateboards, I highly recommend you check it out because it answers a lot of questions that people have regarding the battery and there is simply too much for me to cover here.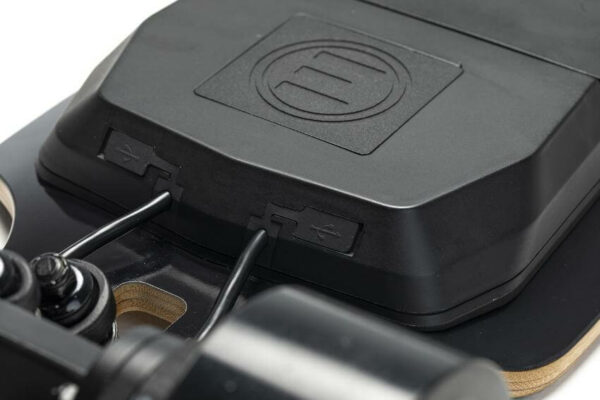 The Motors
Evolve have again decided to run with belt-driven motors with no hubs in sight.
Probably a good thing too, because belt-driven motors have historically proven to offer higher amounts of power.
The Evolve GTR boards are wielding dual 1500w brushless out-runners totalling 3000w of power.
Like all belt-driven setups, you still get the whizzing sound, so if you were hoping for a little hush-hush, you're out of luck.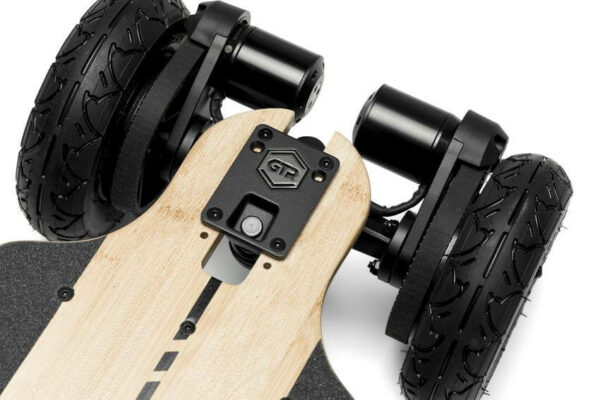 An interesting thing to keep an eye on here is the connection system for the motors. They are a plug-and-play system.
Maybe they've done this for ease of servicing.
Instead of shipping the whole board to Evolve for diagnosing, the rider can now do most of the diagnostics and Evolve can send out the required parts much easier.
Or… There could be another reason for these quick connections.
I'll also note here that the motor mounts are now also made using the same forging process as the trucks.
This new process has made the mounts 3.5x stronger. So there shouldn't be any more bending of the mounts. Fingers crossed.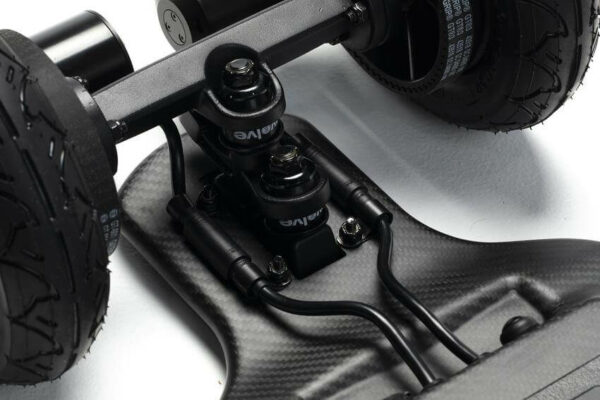 The ESC & Remote
Huge upgrades have come to the redesigned Evolve R2 remote.
For starters, the shape and how you use the remote are exactly the same.
The first change that you'll see immediately is that they now come in different colours.
OK cool… But whatever. You want to know about its performance.
Well, if it's the connectivity issues that you're concerned about, then you no longer need to worry.
The new Evolve GTR remotes are now using Bluetooth for the connectivity.
Turning the board and remote on at the same time resulted in almost instantaneous connection.
Personally, I was taken aback by this because I would often spend 15 minutes or more trying to pair the old R2 remote to my Carbon GT.
I rode the GTR boards for over 50km and I never had any disconnection issues. Nor did I have any problems making the initial connection when turning the board and remote on.
It'll be interesting to see how this goes during group rides.
As the battery level decreases, the remote vibrates to let you know you are nearing 0%.
The first vibration is at 10%. You'll feel a single long vibration to let you know.
Then you'll feel a single long vibration at every percentage interval along the way.
At 5% you'll get a single short pulse followed by a longer pulse. Then the same at every percentage interval on the way down.
Lastly, on 1%, the remote will vibrate continuously until you come 0% percent.
At 0%, you'll no longer be able to accelerate, but you will still be able to apply to the brakes up until the wheels come to a complete stop at which point the board will completely shut off.
This is great because as soon as you run out of battery, you'll still be able to slow down and brake safely.
There are new riding modes; ECO, PRO, GTR and CUSTOM.
Ooo… Custom…
So the custom mode allows you to dial in the specific amount of power that you want.
You can set the power to be higher than the stock GTR mode or you can bring it down to something below ECO. Or, you can set it to anything in between that you feel comfortable with.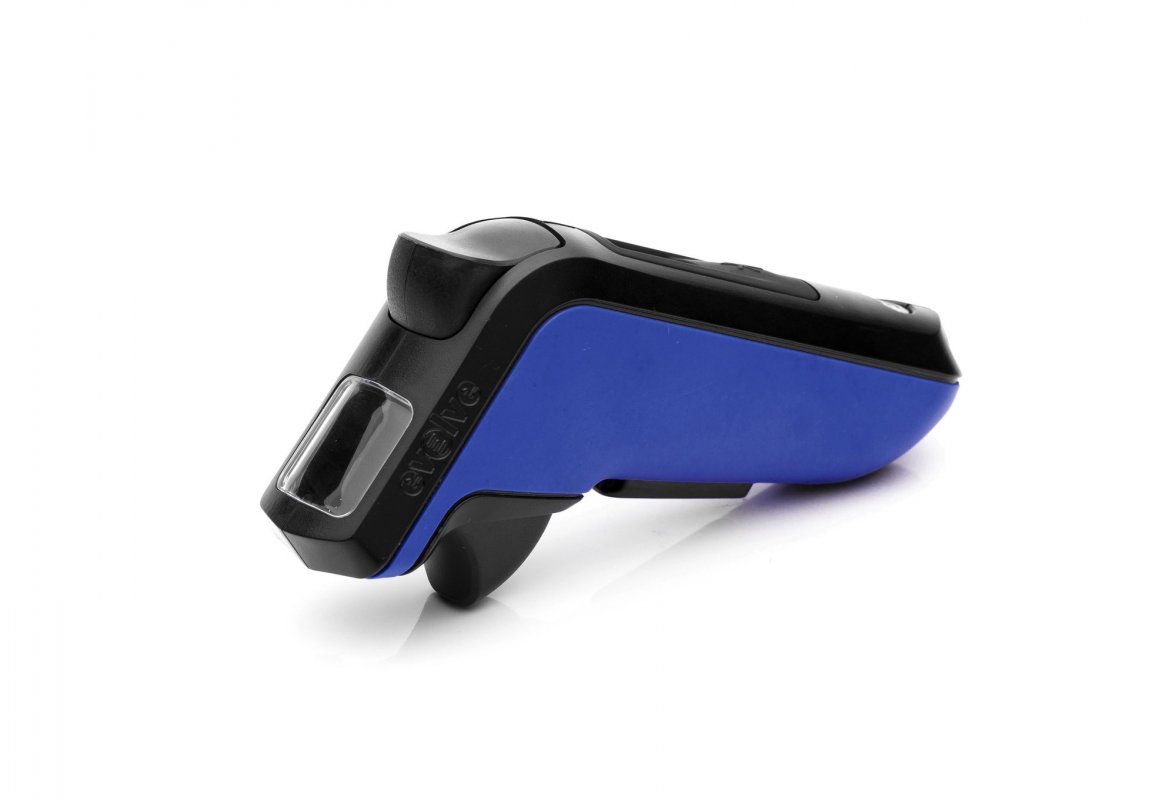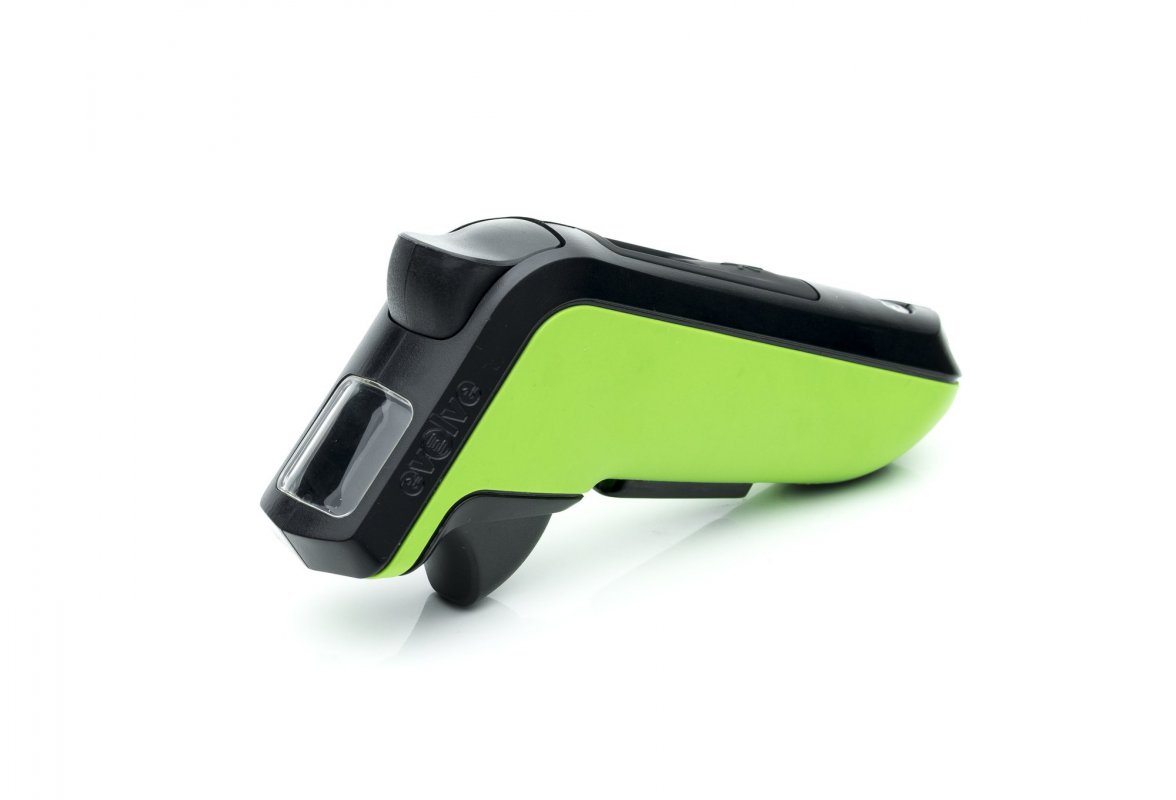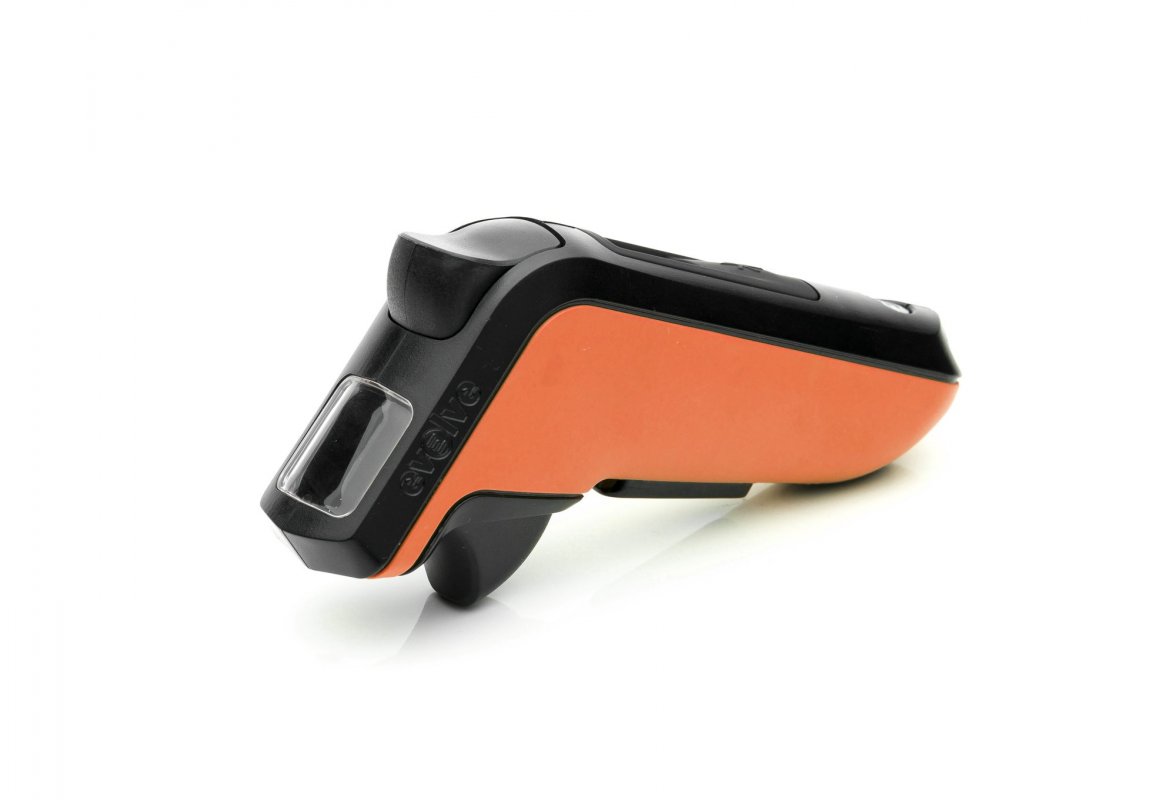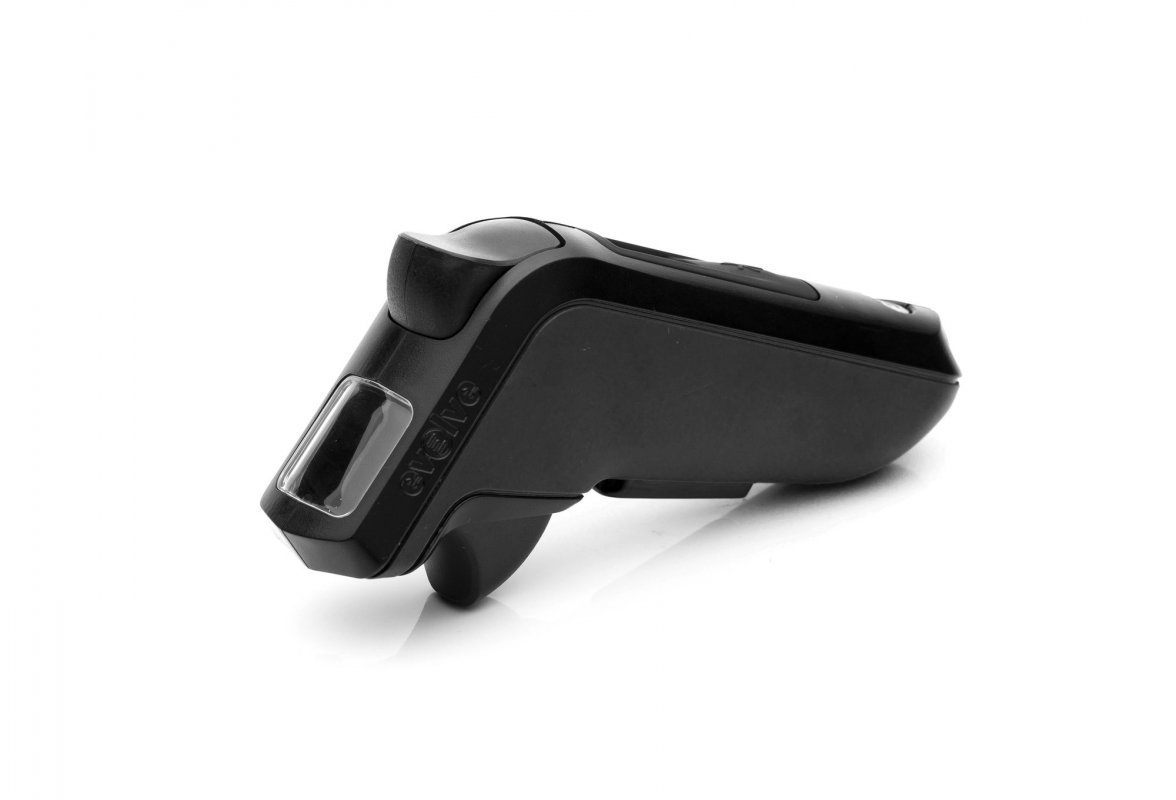 The App
The way that you set this Custom setting is through Evolves new mobile app.
It's called Explore by Evolve and will be available sometime in June 2019.
Not only will you be able to create your custom setting, but you'll also be able to track your rides, share your rides with the world, compete for the number one spot on the leaderboards, along with a ton of other features that Evolve Skateboards have in the works.
The Explore by Evolve app is not reserved only for Evolve riders. Anyone with any board can use it.
This is a massive step towards fostering a global eskate community! Which I am all about!
What's In The Box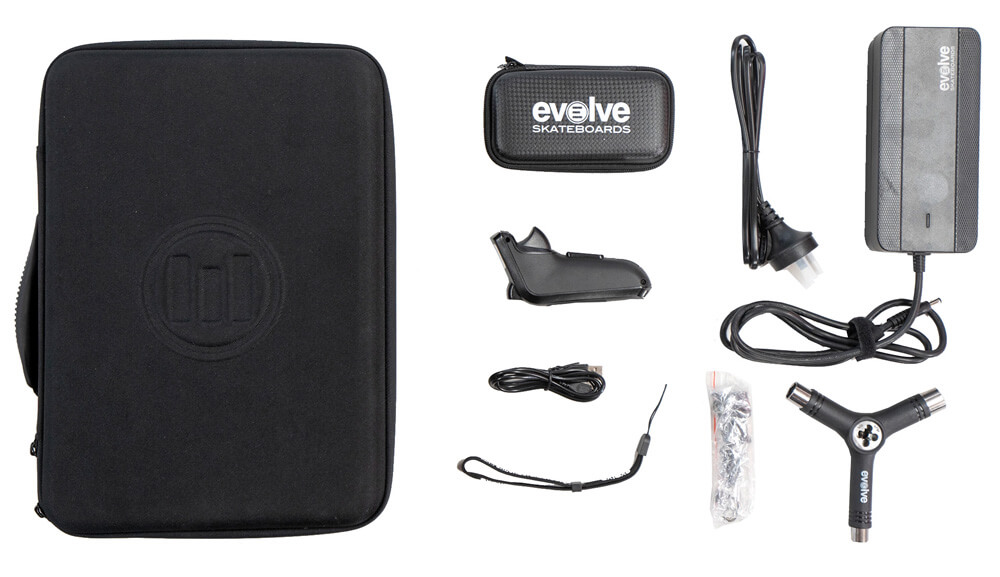 The Evolve GTR electric skateboard
R2 Remote, case, wrist leash and charging cable
Board charger
Skate Y-tool
Spare nuts and bolts
User manuals
Carry case
Accessories and Upgrades
With the release of the GTR electric skateboard series, Evolve are also launching a huge range of accessories and upgrades.
I've spoken about a few here already, but I'll mention them again along with some others that I didn't mention.
The most notable is the Travel battery we've all been waiting for.
Colour options for street wheels, AT tires, AT hubs and R2 remote.
6″ pneumatic all terrain wheels.
LED Prism USB-powered lights.
And a strange helmet collaboration with Thousand. I say strange because the Thousand helmets kind of look like horse riding helmets, while a large group of the Evolve riders community wear full-face helmets like Ruroc and Bell.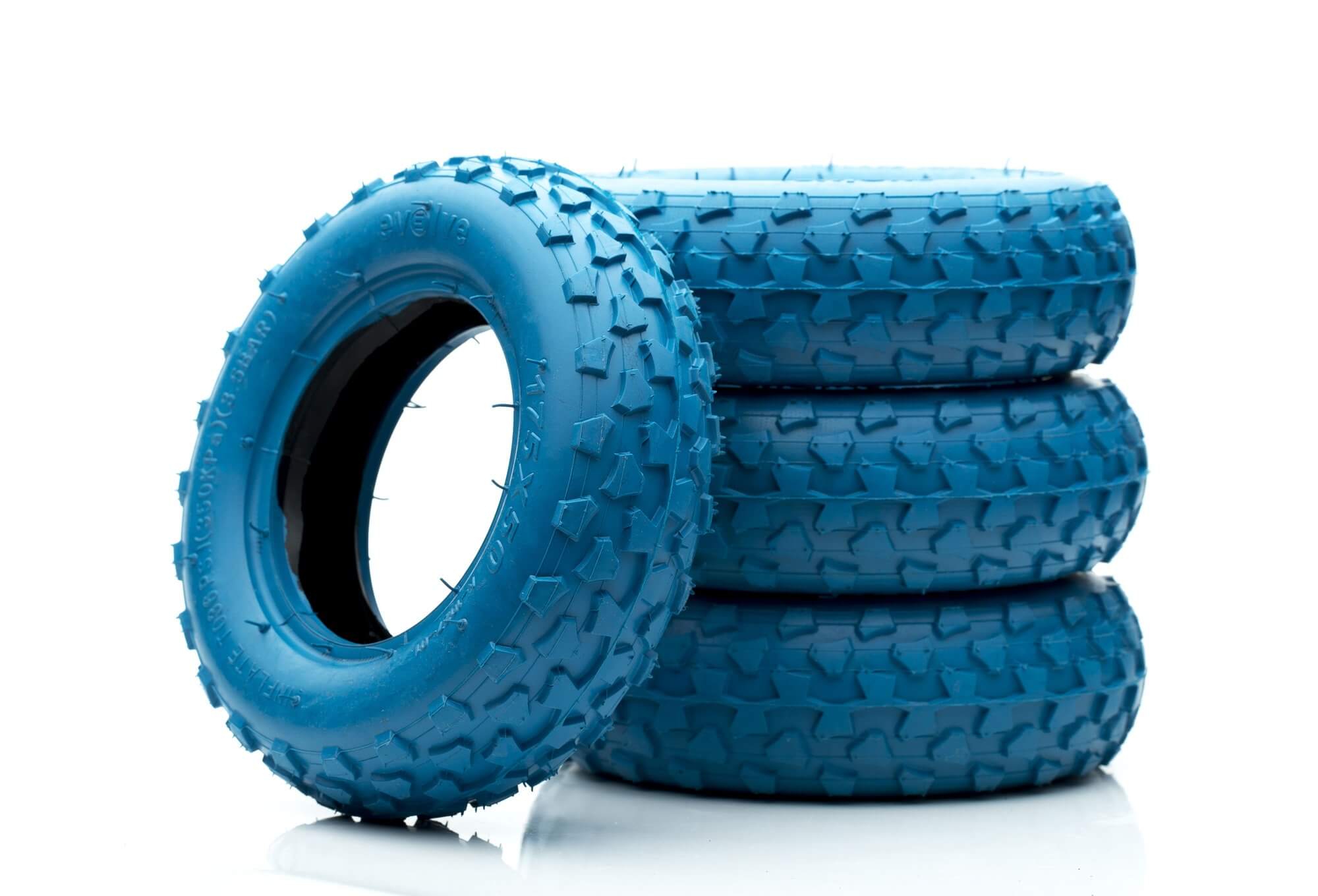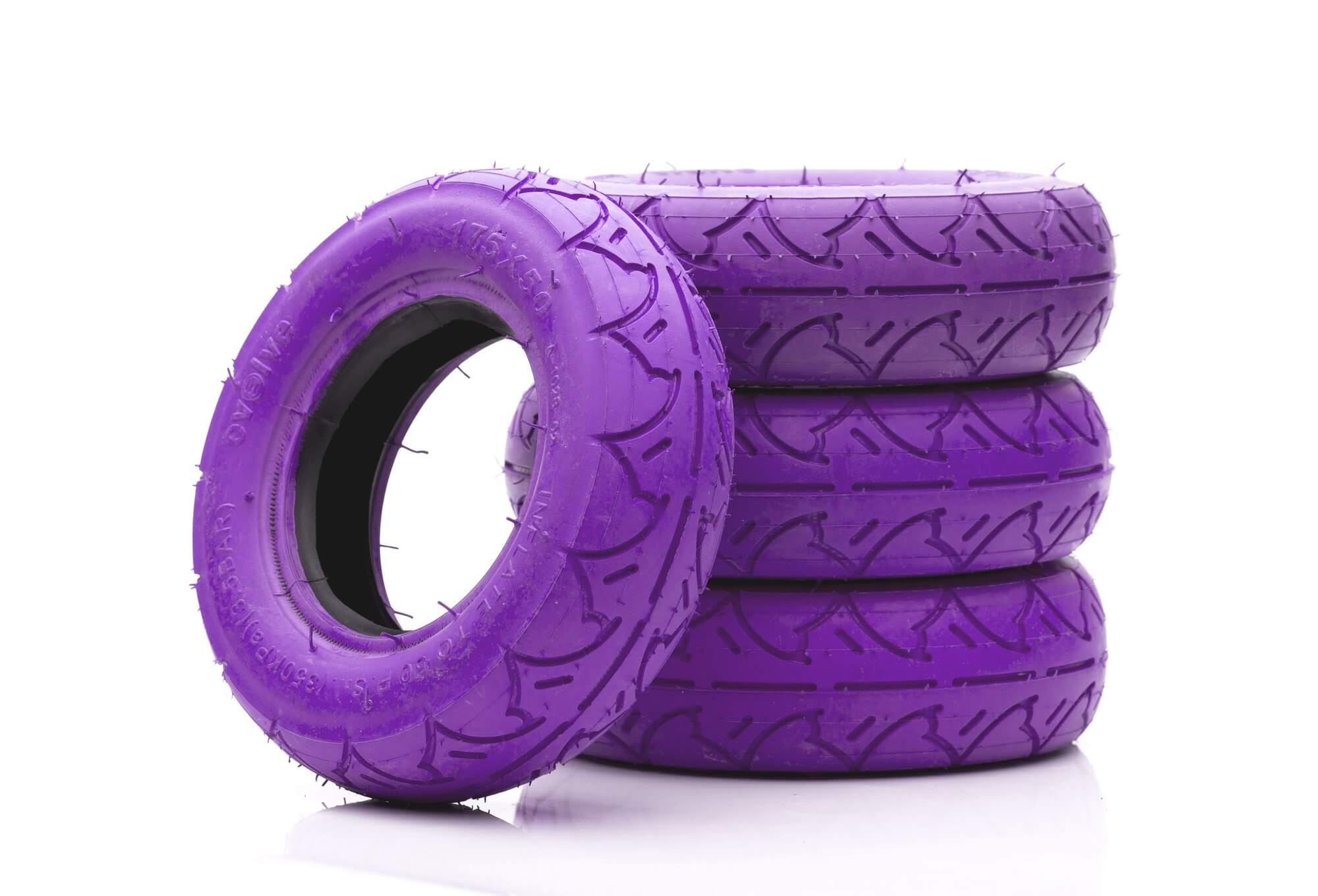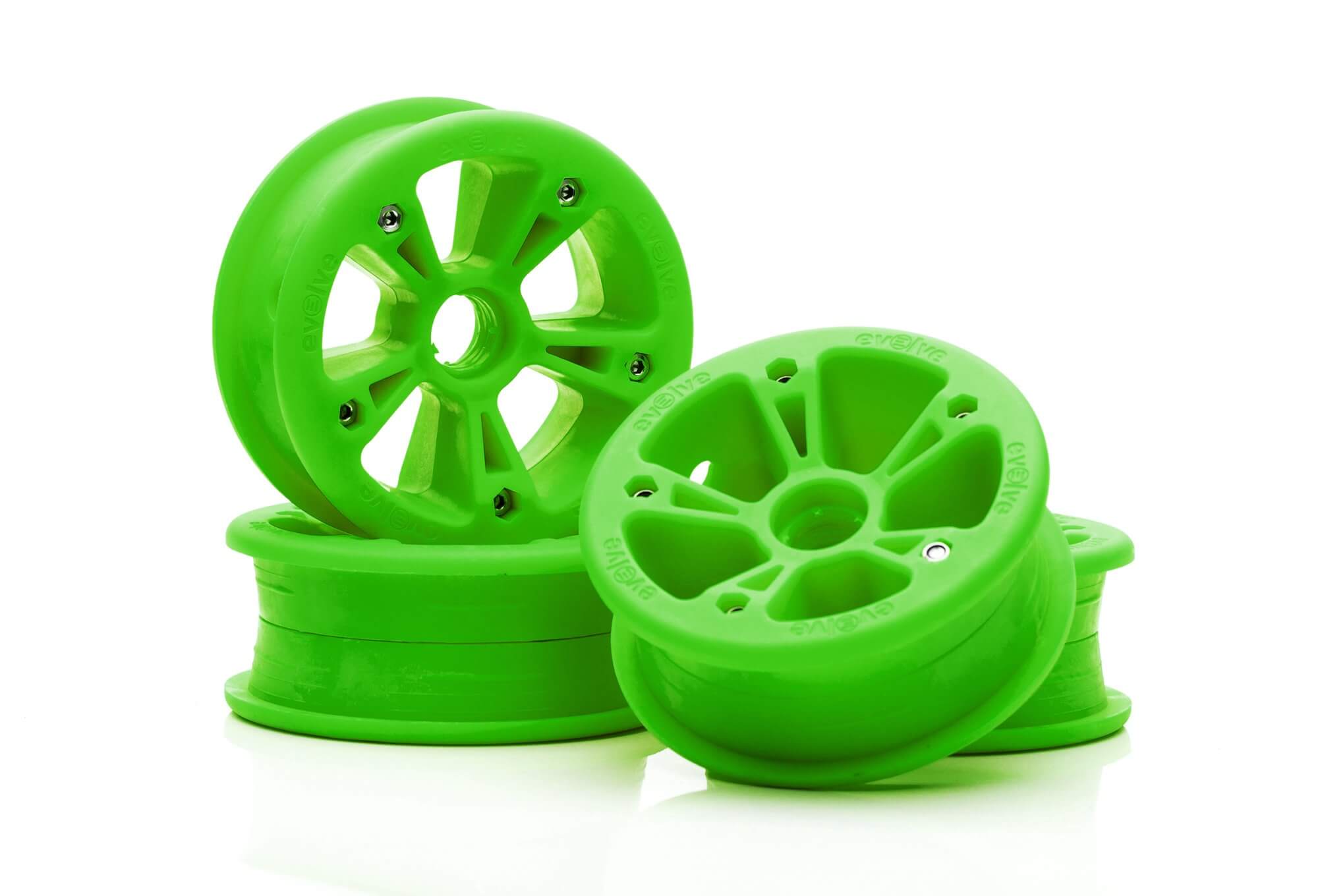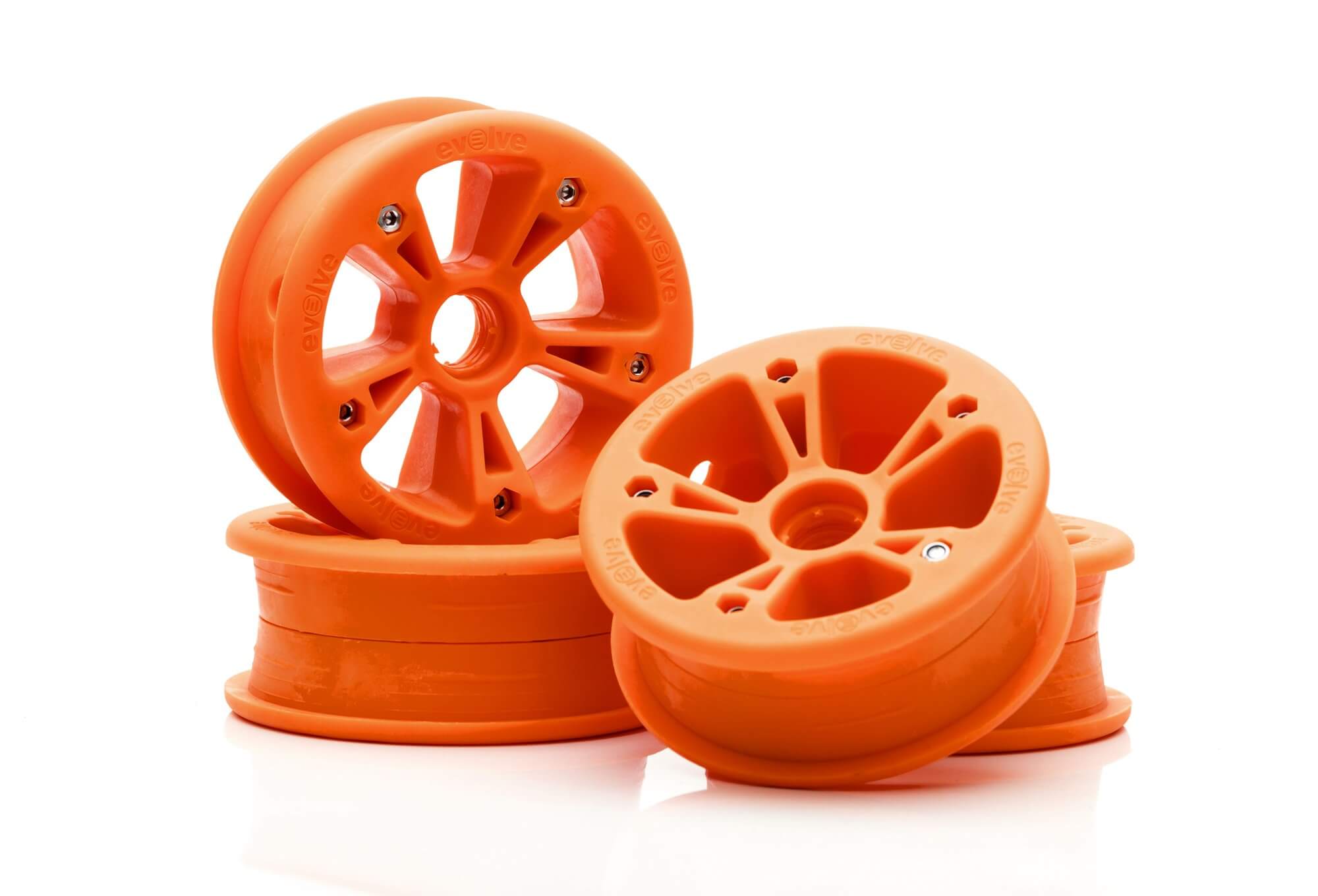 What Could Be Done Better?
The USB ports are only available on the Bamboo GTR. A little disappointing for those who were hoping to pimp their Carbon GTR.
The other thing that Evolve haven't quite mastered is their battery swap system.
They spent a ton of time and money researching and developing a new system with sleek enclosures only to overlook a key user experience aspect of the system – ease of use.
You still need to drill out the screws from the top of the board to access the battery pack.
They have done an amazing job of making the enclosure as water resistant as possible, but at the expense of having a quick swap battery system.
Maybe I'm nitpicking, but this board could have been perfect, but it's not.
Final Thoughts
Overall, the Evolve GTR electric skateboard series is an insanely impressive set of eboards.
They have not onlly fixed the issues that their customers have expressed but they have gone beyond to make the entire experience far better.
This gives me as a rider a lot of confidence in the new GTR series of boards and in Evolve Skateboards as a company who do actually listen to us and give us what we ask for.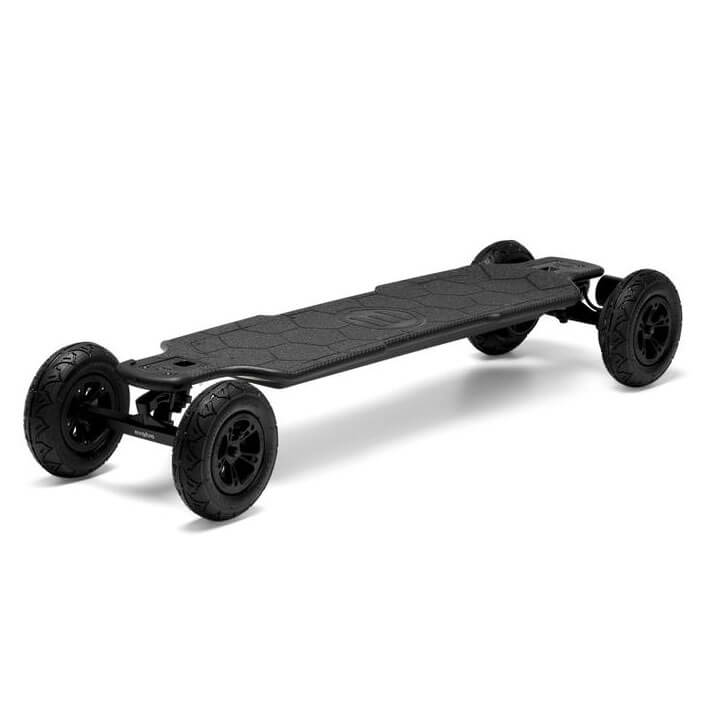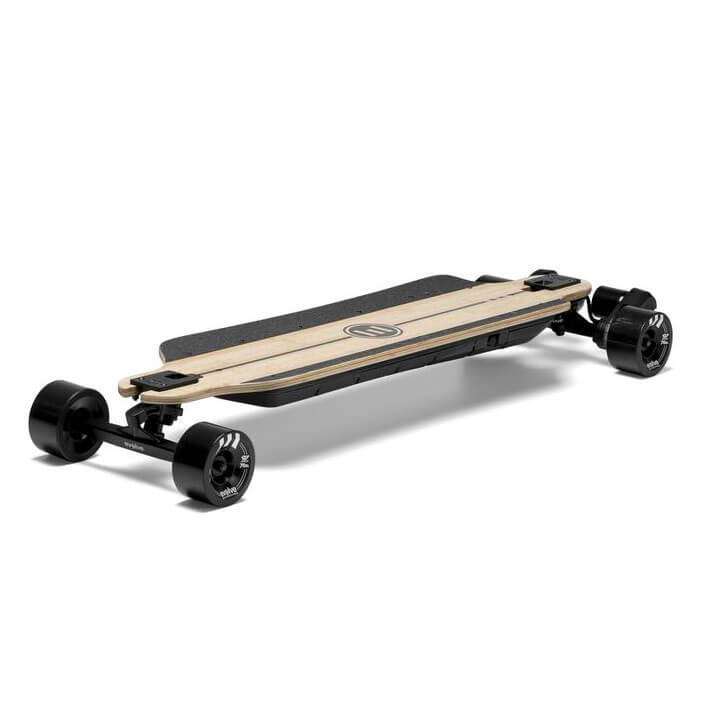 Alternatives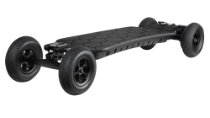 WowGo AT2
The WowGo AT2 is one of my personal favourite off-road electric skateboards. It's powerful, comfortable and uses top-quality parts.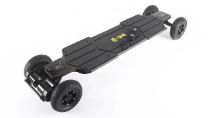 B-One Hercules Carbon AT
The B-One Hercules is one of the best cost-effective AT electric skateboards available.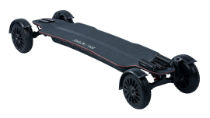 Backfire Ranger X3
As far as hub-motor electric skateboards go, the Backfire Ranger X3 is incredible. It tackles the toughest of terrains with ease and has the power that'll make your jaw drop.