Watch:
About Teamgee
Teamgee is an electric skateboard manufacturer from China. However, unlike most Chinese manufacturers, Teamgee are doing something different.
They are producing eboards that have as close to a regular longboard experience as possible.
Their first board was funded via Indiegogo and since then they have gone on to develop two brand new boards and a DIY eskate kit.
Who Is This Electric Skateboard For?
The great thing about the H6 is that it looks and feels just like an old school longboard. It has that familiar longboard carving feel that skaters love but with extra power to go with it.
If you're an avid skater or longboarder you might have dismissed the electric skateboards altogether. But I really believe you should give this one a go before you make up your mind.
It has quite a stiff deck and smallish wheels (which we'll talk about later) so I wouldn't recommend it for long commutes or riding on poor quality roads.
However, it is the perfect weekend cruiser for trips along the beachside boulevard. You can tear up the concrete, carving and shredding all day long.
If this doesn't sound like you, or you want something else, checkout my best electric skateboards roundup.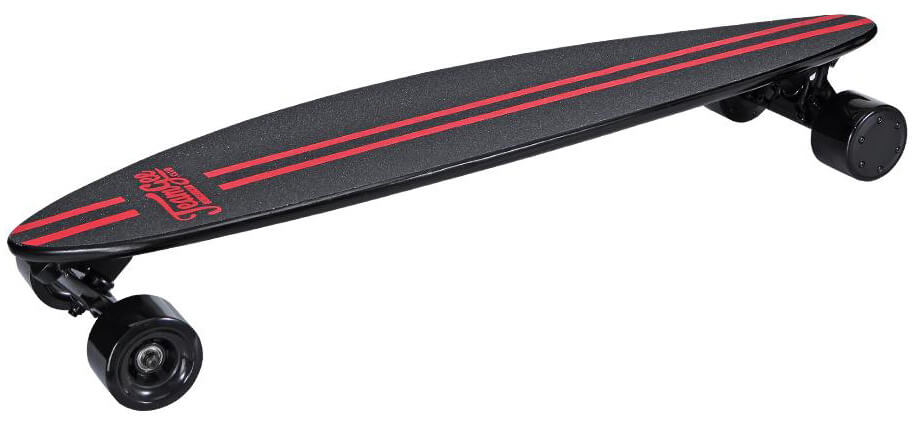 The Specifics
The Deck
The thing that makes the Teamgee H6 so unique is the shape of its deck. It is completely different from any other electric skateboard on the market.
It has a pintail shape. That means the board gets very narrow at both the front and back ends. The benefit of this is that it allows you to take harder turns without getting wheel-bite. This makes it an ideal beginners board.
The deck is made from Canadian Maple and carbon fiber giving it quite a stiff profile. Stiff is generally great for riding at higher speeds, however, you're likely to feel more vibration.
Another defining feature of the H6 is that all of the electronics are housed inside the deck. This makes the deck look really stealthy as an electric longboard. It would be easy for people to mistake this for a regular longboard.
The Wheels & Trucks
The Teamgee H6 is fitted standard with 83mm 86A wheels. These wheels are small and hard compared to a lot of electric longboards available today. Matching this with the stiff deck doesn't make for a great board on rough roads.
I'd be sticking to well-paved paths like the walking tracks along the beach. The small wheels will make carving and sliding a lot easier.
If you wanted to increase the comfort on your H6, then I'd highly recommend checking out Cloudwheel Donuts which are urban-terrain wheels that you can replace your current wheels with. They'll make your ride ultra smooth.
The trucks installed on the H6 are narrower than most regular longboards which will make it a little more difficult to balance when riding at high speeds. This could be an issue for beginners, however, seasoned longboarders will have no issues.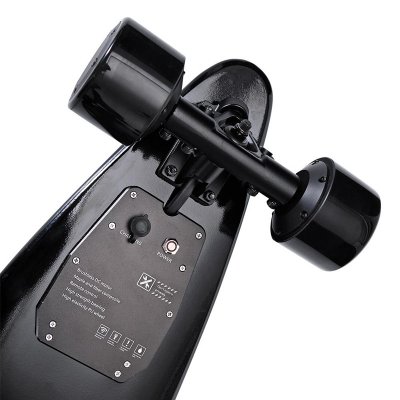 The Battery
I love how all electronics, including the battery are housed inside the deck. Unfortunately that means you cannot swap the battery easily.
The 36V 3.5h battery outputs 126Wh of energy. This is enough power to get you 10 miles of range on a single charge.
Technically you are able to take this board on the plane, however, you will be required to get written permission before travelling.
The battery only takes 2 hours to charge which is at the lower end of most eboards on the the market at the moment.

The Motors
The Teamgee H6 has dual hub motors. They run at 350W of power each which will get you top speeds of 18.5mph (30km/h). That is more than enough speed for most riders.
It manages hills very well. It can climb hills that have an incline grade of 25% with ease. In fact, the board has enough torque to propel you up hills starting from a standstill which is impressive.
The Remote & ESC
Teamgee released a brand new remote this year and it is a significant improvement. It has a matte rubber finish which feels amazing in the hand.
This simple touch gives the entire board a sense of a high quality standard.
The remote itself has some awesome features. It has a built in LED flashlight, a digital display which shows you information on your current speed, hte boards battery level and the direction that you are moving.
It has two riding modes. The first is the cruising mode that has a max speed of 11mph so you can casually ride and get the most distance out of your battery. This mode is also perfect for beginner riders who want to take it easy while they're learning.
The second mode is the fast mode which will get you to the boards top speed of 23mph so can gun it down the road when you're late for that thing you you need to go to.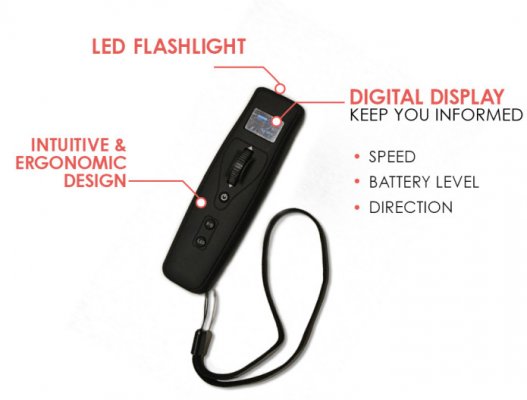 What's In The Box
Completely assembled H6
Remote
User manual
Board charger
T tool
LED tail light
What Could Be Done Better?
The narrow deck and truck base may make it difficult for taller riders to manage this board. If you've got tons of longboarding experience, you'll be fine.
Future iterations of the board will likely see a wider truck base or wheel wells cut out of the board to reduce the risk of wheel-bite.
Final Thoughts
The Teamgee H6 electric skateboard is the ultimate cruiser board. It has the perfect speed range and acceleration curves to be able to manipulate the board so you can carve to your hearts content.
It's not recommended as a commuter board. This eboard is designed for taking out on the weekend and cruising around with your mates.
I love the surf vibe about it. Just looking at it gives me the summer feels.
Alternatives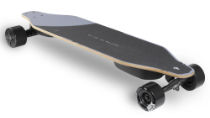 WowGo 2S Pro
The WowGo 2S Pro is an amazingly comfortable electric skateboard that you could skate for hours.