I'm really excited to show you the Exway Flex Pro because it has been such an impressive electric skateboard.
I wouldn't say that it's anything innovative, which is quite unusual for Exway, but everything it does, it does it really well.
It's built with high quality components which you can tell the moment you take it out of the box.
Things like the metal cable connectors, the quality of printed graphic underneath the deck, the extra long bolts on the trucks to allow for mounted lights and other accessories, and even just the gold pin on the trucks.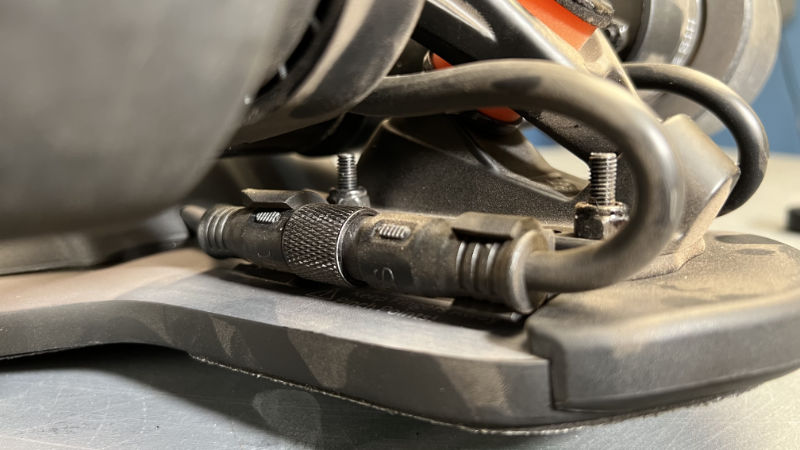 All of these things work together to give the board a premium feel. It's almost subconscious.
And it has some of the best performance specs compared to other electric skateboards in this price range.
It has a top speed of 31mph / 50kmh, a range of 25 miles / 40km and it's price comes in at US$949.
Looking at the numbers the Exway Flex Pro looks great, but, as always, we'll put it to the test to see how it really holds up.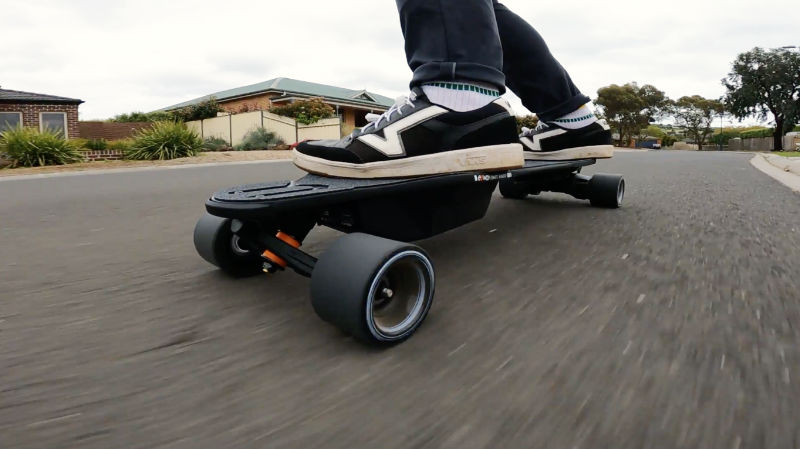 Who Is It For?
It's tough to pinpoint exactly who the Exway Flex Pro is for, because range of performance between the low end modes to the top end modes is really wide.
The ExSkate mobile app allows you to completely customise the settings, including power, so that you can set the board up to be either beginner friendly with gradual acceleration, or you can set everything to 100% to get yourself a super powerful and fast electric skateboard.
For this reason, I'd say the Exway Flex Pro caters to all types of street riders.
The only type of riding it probably can't do that well is real off road riding.
Sure, you could put a set of Cloudwheels on it which definitely allow to to ride on gravel trails and shortcut grass, but it's not for hard off road riding. I'd get the Atlas Pro if that's the kind of eSkating you want to do.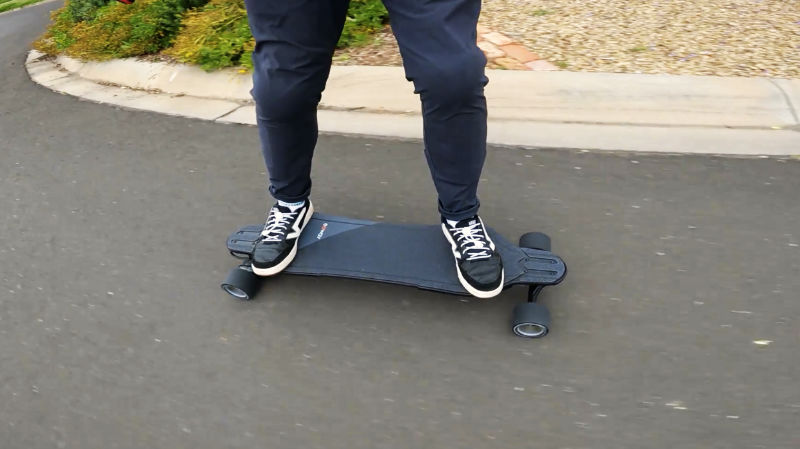 Exway Flex Pro Review
I'll quickly run through the components of the eBoard so we know what we're dealing with, then we'll get into the performance tests in just a sec.
Deck
Exway have taken design elements from the snowboarding world to create a deck that has a natural dampening effect.
The 38", maple, bamboo and fibreglass composite deck lives up to its name by providing a nice flex to help with stability and shock absorption.
It has raised edges where your toes and heels sit which give you some added leverage when turning. I find that I don't really need to lean too much to be able to turn. And I can do a complete U-turn within a two-way street.
Because it made turning easier, I didn't have to use as much energy throughout the ride so I didn't fatigue nearly as much as I do on other eBoards.
Plus, the shock-absorbing grip tape along the top of the deck adds another layer of comfort to the deck.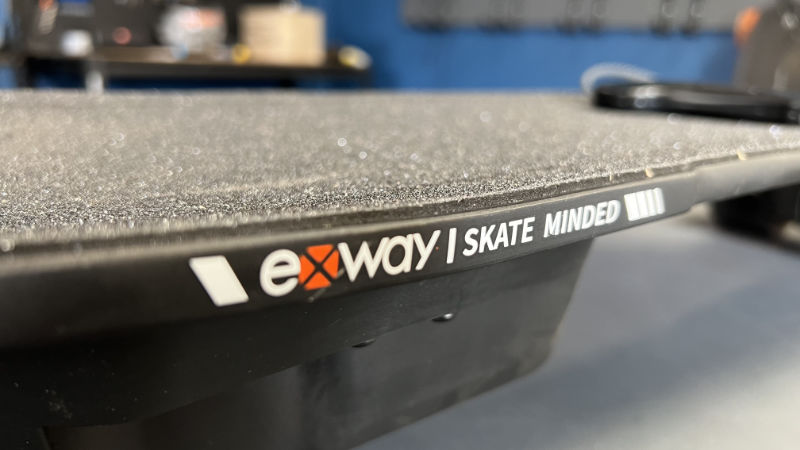 To be honest, looking back on it now as I say this, it's one of the most comfortable decks I've had the pleasure of riding lately.
That's the beautiful thing about great design, you don't tend to notice it when things go well. You are more likely to notice bad design.
Another great feature on the Exway Flex Pro are the built-in bash-guards on the nose and tail of the deck.
They help to maintain the structural integrity of the deck in case the board goes flying into a wall or gutter.
And it protects the deck from dents or scratches. Not just from hitting obstacles, but also when you lean it up against the wall.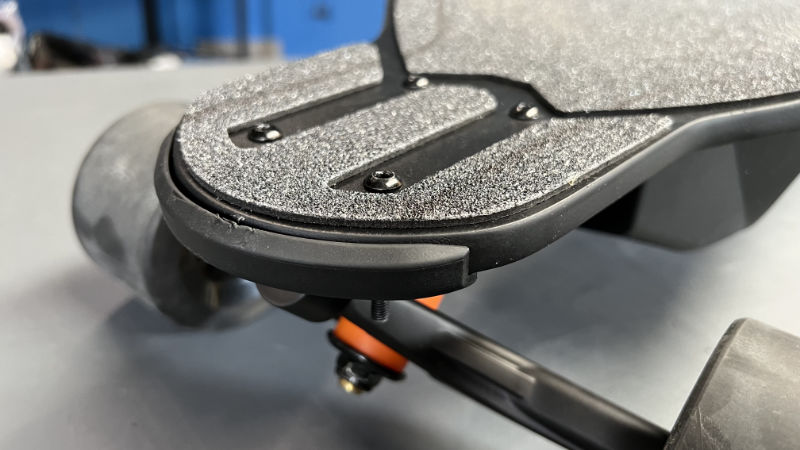 I want to make an extra special mention about the ESC enclosure. Because it's something that could easily be overlooked, but demonstrates the kind of attention detail Exway make towards design.
The enclosure has this unique cutout design which creates extra room for the motors to move into and prevents any rubbing when turning or carving hard.
I love this.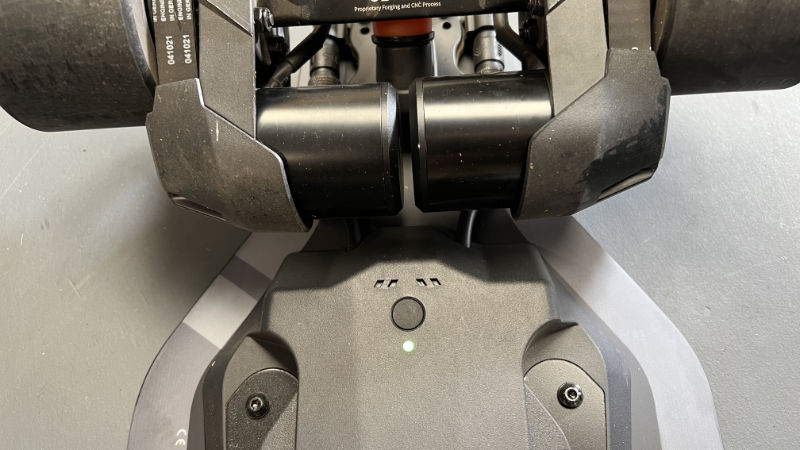 Trucks
The Flex Pro has the good old Exway Trist trucks and like always, they're amazing.
The 8" reverse kingpin trucks are so precise that you can take corners a little harder than you usually would and still feel in control and confident that the board isn't going to dip inwards sharply.
They are really stable and I didn't experience any speed wobbles when testing the top speed, which we'll talk about in a sec.
And the carving on the Flex Pro is so much fun. It feels a lot like surfing, but without all the hard work.
It was smooth and responsive and I always felt like I had control of the board.
Warranted, I probably don't carve as hard as some of you eSkaters out there, but I had an absolute blast carving around on this thing.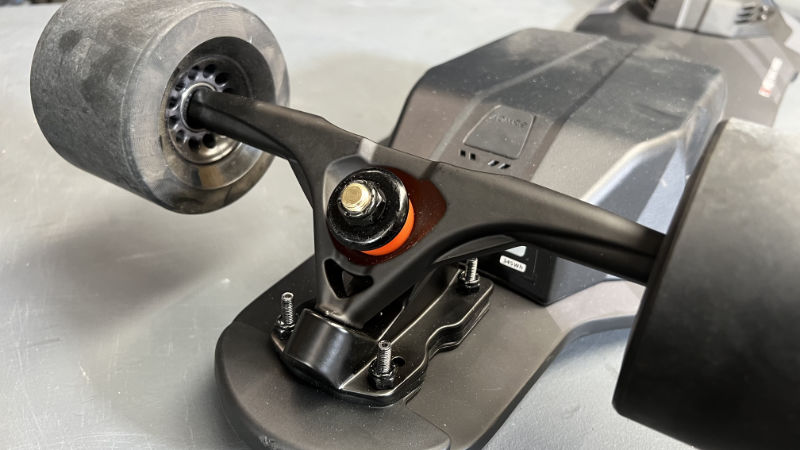 Wheels
It comes with 90mm 78A wheels with a 64mm contact area. Now, even though this is a fairly standard set of wheels looking at the numbers, a lot of the quality of the wheels comes from the certain chemical makeup of the polyurethane they use.
In this case, these wheels feel great.
I spoke about how nice it is to carve and turn on this board, well a lot of that also has to do with the wheels.
They're very grippy, so they cling to the road and prevent the deck from slipping out from underneath you on those hard and fast turns.
Not only that, the softness of the wheels add some shock-absorption to the ride to increase your overall comfort.
Now, you're not stuck with the wheels, the great thing about belt-drive motors is that you have more freedom to play around with different wheel types.
On the Flex Pro, you're able to fit wheels of any size between 80mm and 120mm.
So you could chuck some Boas on there to increase your acceleration, or you could go with Cloudwheels and get a higher top speed.
The choice is yours.
Exway even have a handy wheel guide that can help you with getting the right pulleys and belts for the different wheel types.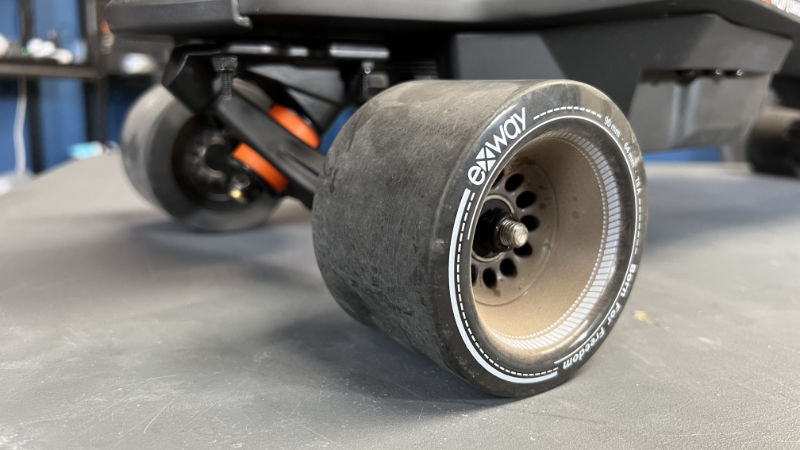 Motors, Top Speed and Hill Climbing
The Exway Flex Pro has the Riot V2 motors which are dual belt-drive motors and have a combined peak power output of 2540W that can get you top speeds of 31mph / 50kmh and climb hills with a 40% hill grade.
Starting with the hill climbing ability, it completely smashed it up the hill that I do my regular testing on. It's one of the steepest hills in my area, sitting at around 15% and it had no worries getting up.
Even at the steepest point it was still accelerating. There's more than enough hill climbing power in this eBoard.
As for the top speed, again, it was insane. I'm not the most confident rider at high speeds, so I didn't push it to its limits. I hit a top speed of 24mph / 38.7kmh and there was PLENTY of room in the throttle. I mean, I really don't think the Flex Pro will have any issues hitting its marketed top speed.

Battery and Range
You get a 345Wh battery pack with 21700 cells and is expected to get a range of 25 miles / 40km.
I didn't quite get that far, my final range number was 20 miles / 32km which is about 80% of the specced range.
Now, for me, this is pretty good. I often get somewhere between 60-70% of range on most electric skateboards.
I weight 198lbs / 90kg, I rode fairly hard and I did all of the other tests including top speed, hill climb and acceleration tests along the way.
So, lighter riders and riding more conservatively, you'll get a lot closer to the marketed range.
I'm giving Exway a big A+ for this.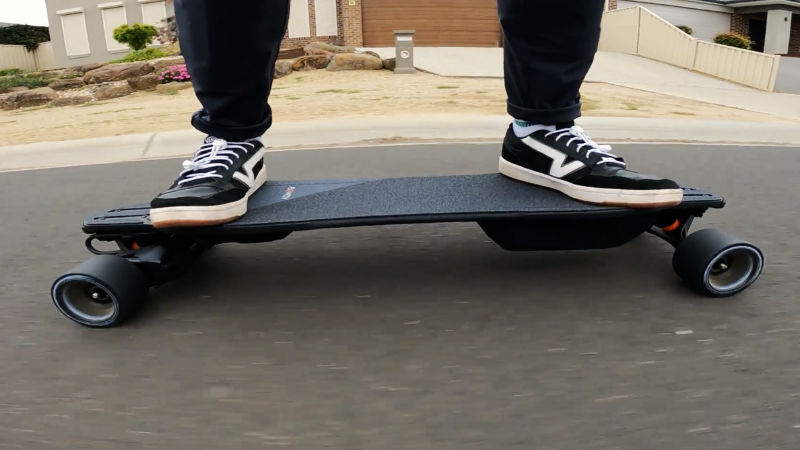 ESC, Acceleration and Braking
The Exway Flex Pro is running with the R3 remote which is a similar form factor to their previous remotes.
It uses a hard plastic case now. I much prefer the old soft rubber case, but that's just me nitpicking at a product that has so far done nothing but impress me.
The remote has a small screen that displays important information like your current speed, trip distance, overall odometer, speed mode, board battery level and remote battery level.
I will point out that the data for the trip distance and odometer are switched, so my overall riding distance is displayed next to the T, and the trip distance is next to the O.
But, the great thing is that the board also connects to their ExSkate app, so Exway should be able to fix that in future firmware updates.
And, the trip distance on the remote matches my Strava tracking app, so the remote is accurate.
More on the app soon.
Out of the box, the acceleration curves are perfect for the modes. I won't go too in-depth with each of the modes because they are all completely customisable in the app so you can dial them in to be exactly how you want them to be.
But I will just say that out of the box, the acceleration and braking a great in their respective modes.
Nice and easy in mode 1, super powerful and fast in mode 4.
In previous versions of the Flex, you could only make customisations via the app, but you can now change some settings via the remotes built-in menu.
Things like Free mode, turbo, cruise control, gear shift lock, the speed unit, wheel dimensions, pulley types and brake levels are all modifiable via the remote.
Everything else is done inside the App.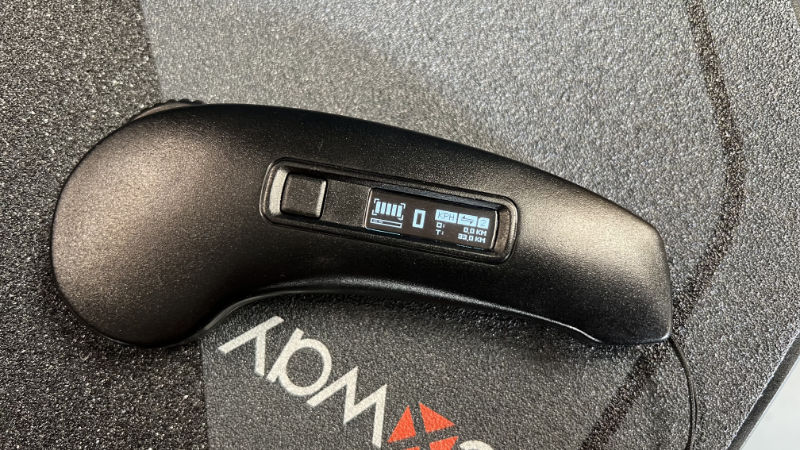 App
So far, I've had mostly great things to say about the Exway Flex Pro.
As standard, it is a great electric skateboard. It does a lot and it does it well.
The ExSkate companion app just adds even more delight to the entire experience.
You can now make all of the customisations that I mentioned earlier in the remote with a lovely, easy to use UI.
And on top of that you and you can fine tune the acceleration and braking power of each mode.
Lastly, you can track also your rides right from within the app.
I did have some troubles connecting to the app for the first time, I had to set "Add Device Automatically" to on before it would recognise my board. But after that, it was smooth sailing.
Final Thoughts
Overall, the Exway Flex Pro is an amazing electric skateboard.
It has all the power and range I need and it is incredibly fun and comfortable to ride.
I love that Exway are constantly pushing the boundaries of eskating and trying to make the entire experience better for eSkaters.
They have done an exceptionally good job with this one.
That's my Exway Flex Pro review.
I hope I've helped you on your journey to find the best electric skateboard that's right for you.
Ride safe out the eskaters.
See you soon.
Get $15 OFF with code ESKHUB