Watch:
Intro
The enSkate R3 sits up there as one of the best value electric skateboard options for beginner eskaters.
enSkate have gone back to basics to develop an easy-to-ride electric skateboard without all the unnecessary bells and whistles.
For only US$449 it makes it one of the best electric skateboards under $500.
It has a marketed range of 21 miles (35km) and a marketed top speed of 21mph (35kmh). But let's not take their word for it, let's run some tests to see how the enSkate R3 performs in real life.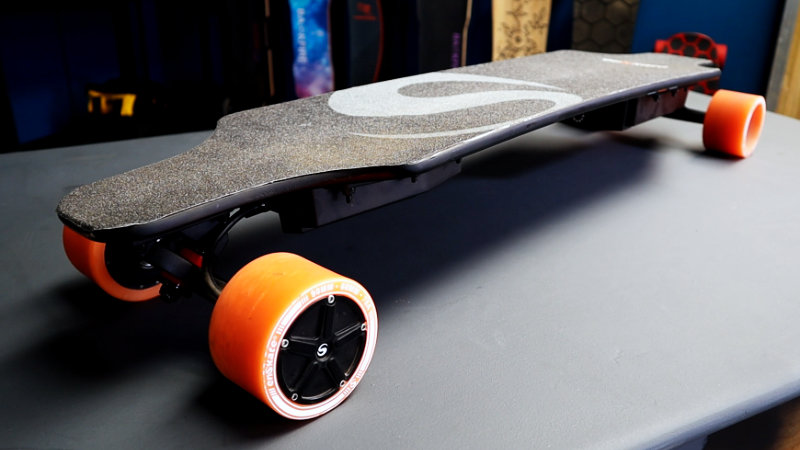 Features & Specs
It is running a Hobbywing ESC and you can really feel the smoothness of the acceleration and braking. It's one of my favourite parts of this eboard because it just makes the ride feel smooth as butter.
The remote is bare-bones with a thumbwheel for acceleration and braking, LEDs to indicate riding mode and remaining board battery, power button, mode button and a switch on the side that changes the direction of the board between forward and reverse.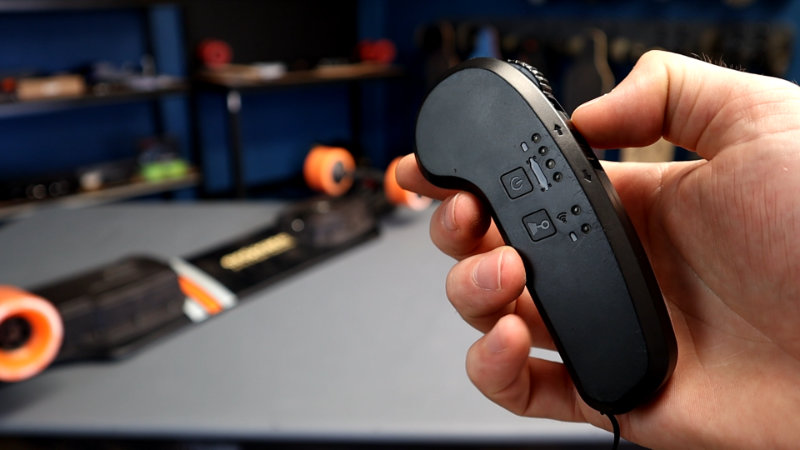 The battery is a Samsung 10S2P, 7Ah 252Wh pack which is quite hefty for a budget electric skateboard. Although, there's no way you're going to be able to take this on a plane.
The ESC and battery are housed in an all-plastic enclosure except for the metal plating on the ESC box which acts as a heat sink to help keep your components running at the optimal temperature.
It has dual hub motors each with a rated power of 450W which are on the small side.
So I'm impressed that this eboard can reach a decent top speed, but it also explains the hill-climbing ability.
The 90mm 78A wheels are another of my favourite things on the R3 because they are big and squishy. They absorb a lot of the road vibrations and have insane grip which makes turning corners at high speeds a lot less sketchy.
The trucks, which are you good old standard eskate trucks, could probably do with loosening to increase the turning circle. I'm not too concerned with speed wobbles as I didn't experience any at all during my rides.
Lastly, the deck is 38" long and 9.4" wide made of 8 layers of maple which makes it fairly stiff.
It does get a little bit of flex at the narrow ends over the trucks so it doesn't really feel like a maple deck.
It has a very slight concave shape, to give you the benefit of easier turning without the feet fatigue that generally comes with big wheel flares.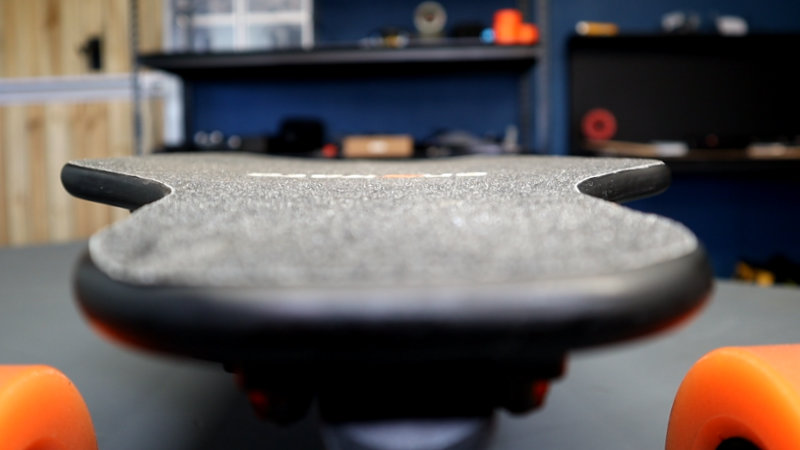 Range Test
The range I reached was 12.6 miles (20.33km).
Although that's below the marketed range, we have to take into account all of the external factors that contribute to a rider's range.
enSkate tested the range of the R3 with a rider weighing around 70kg, while I'm just over 90kg.
They would have ridden at a constant and conservative pace along a flat smooth road.
I, on the other hand, climbed multiple long and steep hills, did multiple top speed tests, carved a lot and my cruising speed was likely higher than their testing speed.
I would categorise myself as an intermediate rider, who pushes the boundaries of an electric skateboard for testing purposes, so my range is always going to be less than the marketed value.
Beginner riders, who are going to ride more cautiously and probably weigh less than I do, are going to find themselves getting a lot more range than I did.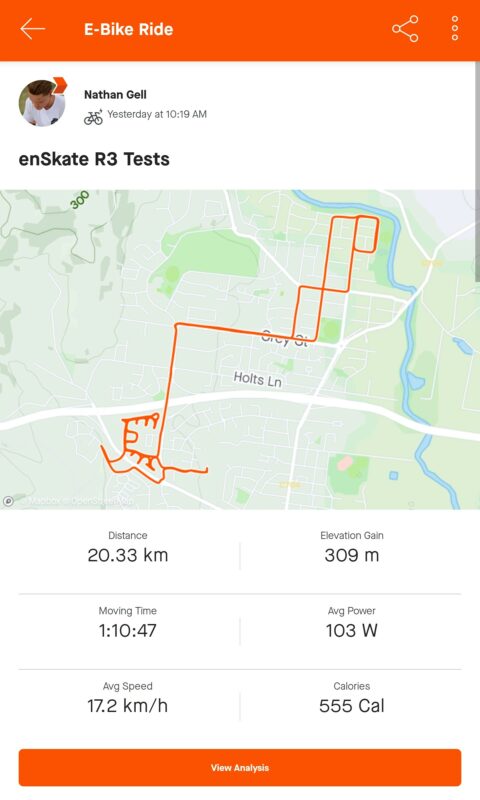 Top Speed
Interestingly, according to my tracking app, the top speed I hit was 24.2mph (38.9kmh) which is higher than the marketed top speed.
It's probably an anomaly caused by having a slight tailwind, however, you can see in the graph that I repeatedly hit 21mph (34kmh).
Two big thumbs up for the enSkate R3's top speed.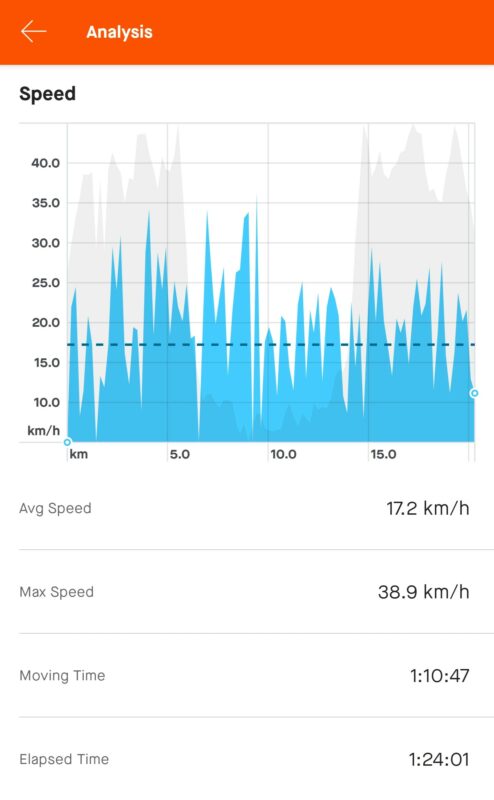 Acceleration & Braking
There are 3 riding modes for the R3 and as you progress through the modes, the power of the acceleration and strength of the braking increases only slightly.
The acceleration in Low mode is so gradual you hardly feel yourself take off. This is ideal for beginners who are trying to learn how to eSkate for the first time.
When moving up to Mid, the acceleration is only a tad harder. You can definitely feel the change but it's not huge.
Finally, in High mode, it's not powerful enough to throw semi-experienced riders off, but beginner riders should definitely brace themselves.
When it comes to the braking power, it jumps in the same increments as the acceleration. So as you move up the modes, the strength of the braking increases.
In each mode, it's strong enough to bring you to a complete stop within a reasonable distance while being smooth enough so that it doesn't throw you over the front of the eboard.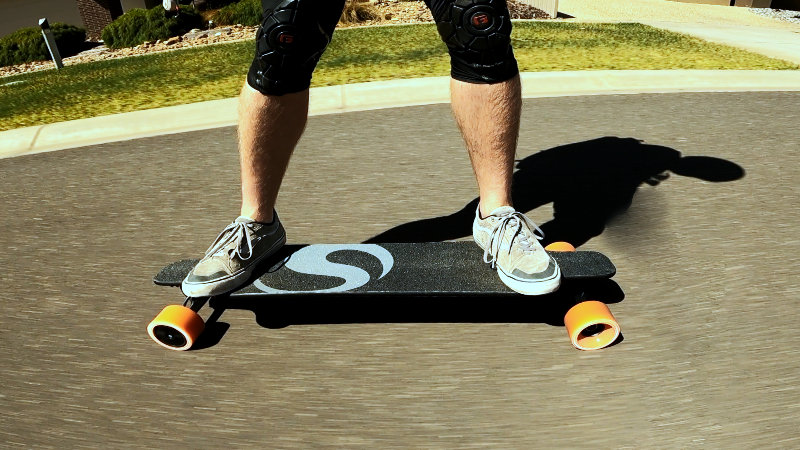 Hill Climb
I tested the enSkate R3's hill-climbing ability on a street with a grade of around 15% and it did make it to the top but at a pace of around 13kmh.
This is pretty standard for electric skateboards in this price range with hub motors.
Plus, let's not forget that I'm pushing 90kg, lighter riders will get a faster hill-climbing ability.
Generally speaking, 15% is considered quite a steep incline and most hills you encounter will be less than this.
In The Box
Remote
Charger
Micro USB cable
T-tool
User manual
Stickers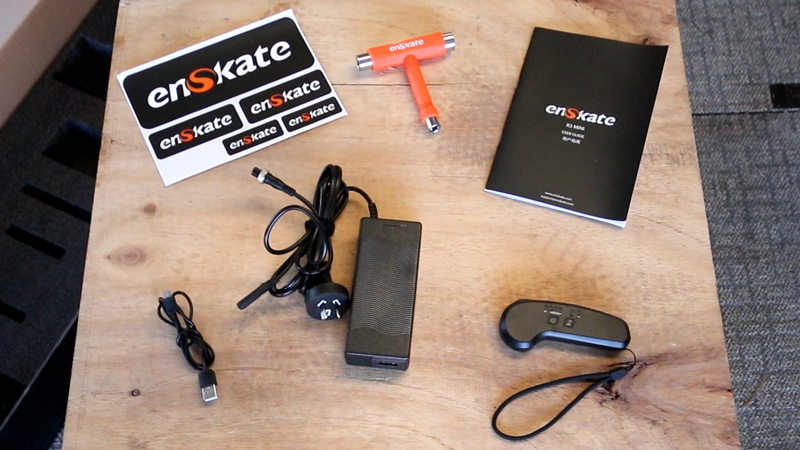 Final Thoughts
Overall, I think the enSkate R3 is an amazing beginner electric skateboard.
It's simple enough to learn on while still having a bit of growing room for when you start building the confidence to ride harder.
The remote isn't over complicated and allows you to focus on riding rather than getting distracted with numbers on a screen.
It's a go-to commuter eboard for your daily trips to work and school which is comfortable and easy to control.
Use code ESKATEHUB for 4% OFF!
Alternatives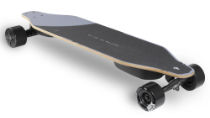 WowGo 2S Pro
The WowGo 2S Pro is an amazingly comfortable electric skateboard that you could skate for hours.