An Off Road electric skateboard will not only help you to go on more adventures on the weekend, but it will also make your daily commute to work or school a lot more comfortable.
All-terrain eboards have bigger, softer and grippier wheels to help absorb vibrations from rough roads and to maintain traction on loose terrain.
Generally, they have bigger decks to give you a bigger platform to stand on, distributing the weight and providing more stability.
Another big benefit to all-terrain electric skateboards is that they tend to have more powerful motors and batteries to combat the extra load they'll be under when going off road. This leads to increased performance when you want to ride on paved paths and roads.
Below you'll find a selection of my favourite picks of the best off-road electric skateboards. They'll link you directly to the brand's website to get the best prices.
The Best Off Road Electric Skateboards
My pick for
Best Overall
Meepo Hurricane Ultra
4.9 / 5.0 | eSkate Hub Review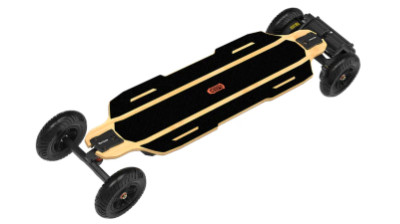 The Meepo Hurricane is one of the best off road electric skateboards on the market today.
It has insane top speed and range capabilities that even premium eSkate brands fail to achieve.
Plus it costs a fraction of the price.
This beast of an electric skateboard destroys all terrain types and will leave you wanting to ride all day long.
The Hurricane Ultra can be customised to suit your exact riding style. You can choose the deck material, wheel type, truck type and the motor type.
Electric Skateboards aren't a one-size-fits all, and Meepo know this, so they give their customer's choices so you can build the best all terrain electric skateboard that is right for you.
I can't get enough of the Hurricane Ultra.
Pros
Insanely fast
Long range capabilities
Premium components used
Incredibly comfortable to ride
Best value-for-money option
Cons
Large and bulky
Supply constraints (due to popularity)
Battery: 12S4P Samsung 40T 21700 691.2Wh
Motors: 2x 3500W belt-drives
ESC: LingYi
Deck: 39.8″ Bamboo + Fiberglass / 44.3″ Carbon fiber
Wheels: 175mm AT pneumatic / 165mm tubeless / 165mm High grip
Trucks: Traditional Kingpin / Reverse Kingpin
Warranty: 6 months
Best price below
on Meepo's website
My pick for
Comfort and versatility
WowGo AT2+
4.7 / 5 | eSkate Hub Review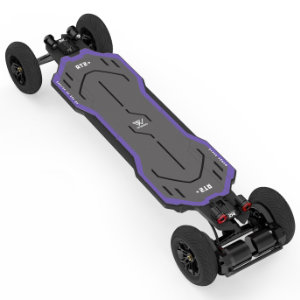 The WowGo AT2 Plus is a no-nonsense off road electric skateboard that provides exceptional comfort when riding on any type of terrain.
The concave, drop-down deck keeps your feet locked in so you can focus more on the trail ahead, while the shock-absorbing grip tape and flexy deck soak up vibrations, allowing you to ride longer before your feet start fatiguing.
It comes with 6" pneumatic AT tyres that are great for shredding up gravel trails and grassy paddocks, while also retaining enough traction for smooth, vibration-free road riding.
Or you can get the 2-in-1 combo which includes a set of 120mm Cloudwheels, which turns it into more of a city-commuter type eboard with a little more acceleration power and extended range.
Pros
Auto on/off
Flexy deck and enclosure
Interchangeable wheel options
Great value-for-money
High-quality components used
Cons
Tricky to access the electrics
Battery: 10S4P 43.2V 604Wh
Motors: 2x 1300W belt-drive motors
ESC: Hobbywing
Deck: Canadian maple, bamboo, fibre glass
Wheels: 175mm Pneumatic AT / 120mm Cloudwheels
Trucks: Double kingpin
Warranty: 12 months
Use discount code
HUB5 for $5 OFF
on WowGo's website
My pick for
Ultimate Comfort and value-for-money
Propel Endeavor1 S
4.8 / 5.0 | eSkate Hub Review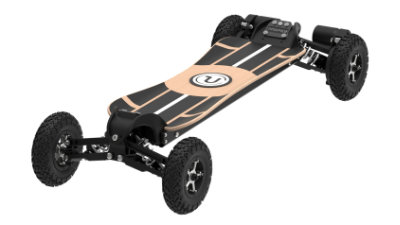 The Propel Endeavor1 S is a true all-terrain electric skateboard because it excels in riding both on-road and off-road surfaces without compromise.
The unique design of the tyres has a slick centre line that allows for high traction road riding and knobbly outside to increase grip when riding on dirt and grass.
It has a coil-over-shock suspension system on each wheel which provides sturdiness when riding on rough trails and unparalleled comfort on paved roads.
The Endeavor S also has two older siblings, the Endeavor Pro which is a completely upgraded version of the S and the X4S which is a 4WD eboard. Both are worth checking out.
Pros
Independent coil-over-shock suspension
Large standing platform
Auto on/off
Insane power
Long range
Cons
Heavy and cumbersome to move around
Large turning circle
Battery: 12S3P 666Wh 15Ah
Motors: 2x 3000W 6374 Belt drive motors
Deck: 30.7" Maple composite
Wheels: 8" pneumatic all-terrain
Trucks: Coil-over shock-supported independent suspension
Warranty: 6 months
Use discount code
ESKATEHUB for 3% OFF!
on Propel's website
My pick for
4WD riding
Exway Atlas 4WD
4.7 / 5.0 | eSkate Hub Review
The Exway Atlas is a 4WD all terrain electric skateboard beast.
It is totally customizable, from the wheels to the number of motors and even the power curves of the ESC.
You can control all of the power settings, along with other user preferences, inside their mobile app. You can change the acceleration and braking curve, whether or not you want to have free mode, the transmission settings, safety modes.
The power is now literally in your won hands.
It's the first of its kind to enable you to create your own unique ride.
Pros
Auto on/off
Many cosmetic upgrades are available
Customisable performance with mobile app
Shock-absorbing grip tape
Lots of Interchangeable wheel options
Cons
Pricey
Large and heavy, cumbersome to move around
Battery: 12S4P 518Wh
Motors: 4x 1200W belt-drives
ESC: Hobbywing FOC
Deck: 47"
Wheels: 160mm Pneumatic
Trucks: 9.5" Trist double kingpin
Warranty: 12 months
Use discount code ESKHUBATLAS for $50 OFF!
on Exway's website
My pick for
Balance between power and range
Backfire Hammer
4.6 / 5.0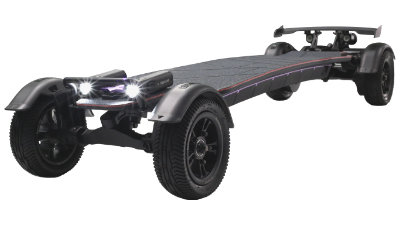 The Backfire Hammer is one of the most 'moddable' all terrain electric skateboards available. I mean, it even has a spoiler add-on, if you're into that kind of flare.
There's also mudguards, lights, motor cages and towing pole among others.
In terms of performance specs, the Hammer offers high speeds without compromising on range capabilities.
The dual 1600W belt-drive motors have so much power that not even Backfire recommend it to lighter riders because there's a chance that you might take off. But I think they're just joking…
This is the kind of power you need to really make the most of gravel trails. And when you take it onto the road, it becomes a commuter that will get you to work or school in no time.
Pros
Incredibly powerful
Plenty of cosmetic upgrades available
Interchangeable wheels
Auto on/off
Flexy deck and battery
Cons
No shock-absorbing grip tape
Very hard to access electrics
Battery: 12S 50.4V 518Wh, Changhong Sunpower 21700 Cells
Motors: 2x 1600W6370 Belt-drive Motors
Deck: Flexible Drop Down Deck (ABS + Glass Fiber)
Wheels: 160mm / 6 Inch Pneumatic Tires
Trucks: 10 Inch Front & Back Double Kingpin Trucks
Warranty: 12 months
Get the best price below
on Backfire's website
My pick for
Silent motors and low maintenance
Maxfind FF-AT
4.4 / 5.0 | eSkate Hub Review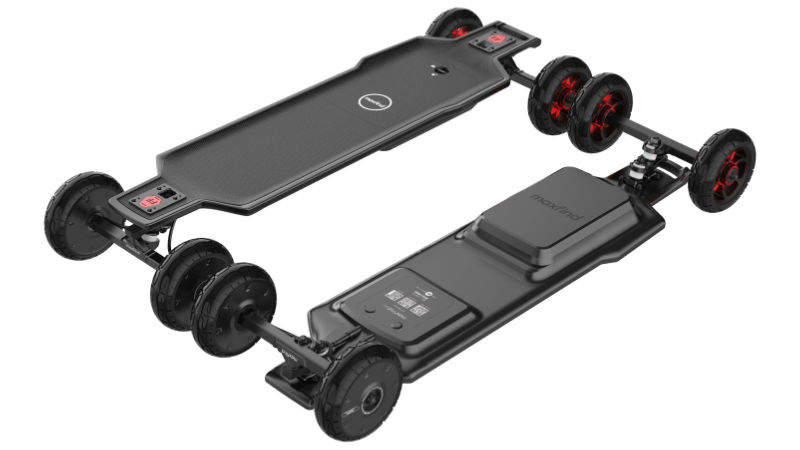 Unlike any other off road eboards on this list, the maxfind FF AT utilises hub motors which makes your ride very quiet and they require a lot less maintenance.
You can easily swap out the battery, effectively extending your range to as many batteries as you'd like to carry in your backpack.
The deck has a slim, stealthy look to it making it not look like an electric skateboard at all.
It's the most unique off-road electric skateboard on this list.
Pros
Quick-swap battery system
Hub motors are really quiet
Low maintenance
Avoid the authorities with its stealthy design
Easy carry handle
Cons
Not as powerful as others on this list
Can't change wheels
Grip tape doesn't cover the edges of the board
Battery: Samsung 12S3P, 8.7Ah, 376Wh, 48V
Motors: 2x 1500W hub motors
ESC: Hobbywing
Deck: Carbon Fiber Coating with rubber grip tape
Wheels: 6.5" airless rubber airless tyres
Trucks: 11.4″ Double Kingpin
Warranty: 9 months
Get the best price below
on Maxfind's website
My pick for
Casual riding and beginners
Ownboard Bamboo AT
4.3 / 5.0 | eSkate Hub Review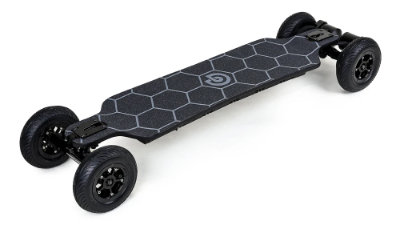 The Ownboard Bamboo AT is a no-fuss off road electric skateboard that gets the job done.
The flexy deck and large pneumatic tyres make your daily commute comfortable and it can handle basic off-road trails such as compact gravel and grass.
Ownboard have been around for a long time and have continuously produced quality electric skateboards.
Pros
Flexy deck and battery enclosure
Interchangeable wheels
Pneumatic and airless stock tyre options
Great value-for-money
Cons
No shock-absorbing grip tape
Battery: 10S5P 522Wh 14.5Ah
Motors: 2x 1500W 6368 belt-drives
ESC: Hobbywing
Deck: 39" Fibreglass, bamboo and maple
Wheels: 7" pneumatic, 6" airless or 120mm Cloudwheels
Trucks: 12" double kingpin
Warranty: 6 months
Use discount code ESKATEHUB for the best price
on Ownboard's website
My pick for
Value-for-money
Yecoo GT3
4.1 / 5.0 | eSkate Hub Review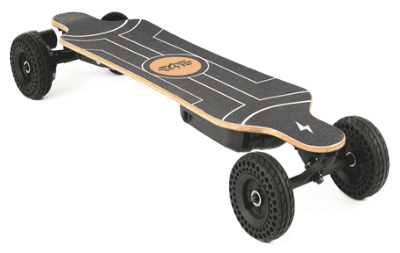 The Yecoo GT3 is one of the more affordable all-terrain electric skateboards on this list, however, it still proves to offer great performance specs.
This is a great electric skateboard for commuting because it smooths out any uneven roads you face along the way. Plus you'll be able to take shortcuts through parks as it eats up grass and gravel trails easily.
It's one of the best entry-level off-road electric skatebaords.
Pros
Very affordable for performance
Interchangeable wheels
Airless tyres prevent punctures
Cons
No shock-absorbing grip tape
Battery: 316.8Wh 36V
Motors: 2x 1000W belt-drives
ESC: Unknown
Deck: 39.4" Fibreglass, bamboo
Wheels: 150mm airless (+90mm PU)
Trucks: Reverse kingpin
Warranty: 6 months
Use discount code ESKATEHUB for $30 OFF!
on Yecoo's website
My pick for
High Speeds and long range
Verreal RS Pro All-Terrain
4.4 / 5.0 | eSkate Hub Review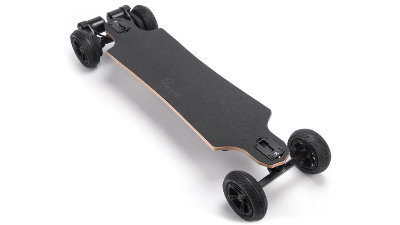 The Verreal RS is a zero-flare all terrain electric skateboard that packs power.
The minimalist design is clean which brings your focus to what the board is made for, riding hard.
You can swap and change with virtually any type of wheel you like to get the exact riding style you desire.
Pros
Interchangeable wheels
Easily switch between being AT and Street board
Fast and powerful
Wide trucks give it increased stability
Feels like a traditional longboard
Cons
Very short warranty period
Enclosure runs underneath the entire deck allowing for zero flexibilty
No shock-absorbing grip tape
Battery: 12S3P 666Wh 15Ah
Motors: 2x 1500W 6368W belt-drives
ESC: Hobbywing
Deck: 7-ply maple and 2-ply bamboo
Wheels: 6" pneumatic
Trucks: 13.5" double kingpin
Warranty: 3 months
Get the best price below
on Verreal's website
My pick for
Beginners and value-for-money
Raldey Carbon AT V2
4.2 / 5.0 | eSkate Hub Review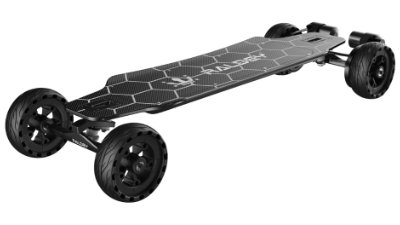 The Raldey Carbon AT V2 is a great off road electric skateboard for youngsters and those looking to learn how to ride electric skateboards.
The short-ish deck is ideal for shorter riders, under 5'10", and the wide trucks make it easier to balance on.
It's easy to swap the wheels over if you prefer Cloudwheels or even if you want to ride street wheels.
Pros
Puncture-free, no-maintenance tyres
Slim, stealthy deck
Interchangeable wheels
Easily swap between AT and Street style board
Cons
Low power climbing hills
Very rigid due to long battery inside the deck
Battery: 10S4P 14Ah
Motors: 2x 6368 1500W
ESC: Hobbywing
Deck: 35" carbon fiber
Wheels: 195mm airless rubber tyres
Trucks: 10" double kingpin
Warranty: 6 months manufacturer defects, 3 months battery
Use discount code ESKATEHUB for $10 OFF!
on Raldey's website
My pick for
Balance between range and speed
ONSRA Black Carve AT 2
4.4 / 5.0 | eSkate Hub Review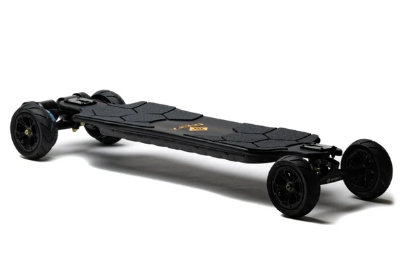 The ONSRA Black Carve AT 2 is an off road electric skateboard created by the famous esk8 YouTuber Fabi. He has tested many electric skateboards in the past so knows what makes a great eboard.
It is fast and has a very long range.
Pros
Insanely fast
Long-range capabilities
Shock-absorbing grip tape
Interchangeable wheels
Top-quality components used
A great option for taller and heavier riders
Cons
Battery enclosure runs underneath the entire deck denying any flex
Pricey
People have experienced long shipping delays
Battery: 12S3P 648Wh 15Ah
Motors: 2x 2200W 6368 belt-drives
ESC: Hobbywing
Deck: 39.4" 6-ply maple, 1-ply bamboo, 3-ply fiber glass
Wheels: 6" pneumatic
Trucks: 13" double kingpin
Warranty: 12 months
Use discount code ESKATEHUB for $80 OFF!
on ONSRA's website
My pick for
Tinkering and DIY
BKB Duo AT
4.1 / 5.0 | eSkate Hub Review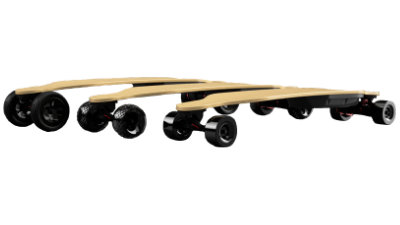 The BKB Duo is a great option for someone who wants to dip their toe into the DIY scene.
You can select to get the board as either a prebuilt or you can get it in pieces so you can put it together yourself. Personally, I really enjoyed the latter. It allowed me to better understand what goes into building an electric skateboard.
Not only is it a great project, but the board itself is very powerful with insane top speed and long-range.
You can get it in all sorts of configurations including with street wheels or Cloudwheels, but for this list, I obviously went for the all terrain electric skateboard option.
Pros
A DIY eboard without the DIY headaches
Insanely powerful
Infinite options for customisability
Ability to upgrade individual components when needed
Cons
You have to trust your own ability to build it
Build instructions aren't the clearest (but I think they're working on it)
Battery: 10S3P
Motors: 2x 3000W belt-drives
ESC: Xenith V2 (VESC)
Deck: "True-flex"
Wheels: 6" pneumatic wheels
Trucks:
Warranty: 3 months
Use discount code ESKATEHUB for the best price
on BKB's website
My pick for
Mountain-board style riding
Apsuboard GTRS
4.5 / 5.0 | eSkate Hub Review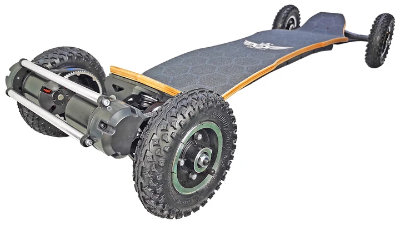 The Apsuboard GTRS is an off road electric skateboard that is designed specifically to tackle the trickiest of trails.
The dramatic drop-down, convex deck with the angled trucks give it amazing stability matched with comfort, so you can ride all day.
It does require a slightly different technique to turn compared to other eboards. Usually, on regular electric skateboards, you can simply turn by moving your ankles and applying pressure to the toes or heels.
With the GTRS, you'll need to employ more of a full-body lean to create momentum in the direction you want to go.
It sounds tricky and more effort, but it doesn't take long to adjust to this style of riding. And once you do, you'll likely find it to be a lot more enjoyable.
Pros
Very powerful
Unique mountainboard riding style
Very grippy AT wheels for traction
Dampening trucks for increase comfort
Cons
Heavy and cumbersome to move around
Battery: 14S4P 645Wh
Motors: 2x 3450W motors
Deck: 40" 9-ply maple
Wheels: 8" pneumatic tyres
Trucks: 12" dampening trucks
Warranty: 3 months
Get the best price below
on Apsuboard's website
My pick for
Comfortable riding
AEBoard GTR
4.2 / 5.0 | eSkate Hub Review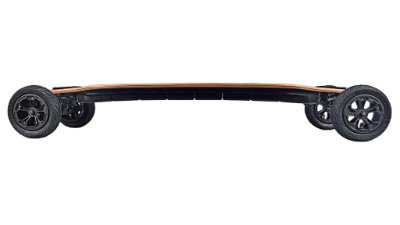 The Aeboard GTR is a classic all terrain electric skateboard that can ride gravel trails, grassy paddocks and paved roads.
The slight convex deck shape combined with the large AT wheels makes it very comfortable when commuting while keeping you balanced on rougher terrains.
Pros
Very comfortable
Great value-for-money
Flexible battery enclosure
Battery: 518Wh
Motors: 2x 1600W 6360 belt-drives
ESC: Hobbywing
Deck: 39" flexible
Wheels: 6" pneumatic tyres
Trucks: 10" double kingpin
Warranty: 3 months
Get the best price below
on AEBoard's website
How To Choose An Off-Road Electric Skateboard
You
The first place to start is yourself. What kind of rider are you?
Do you want to go on cruising, long-distance rides, or do you want to ride as fast as you possibly can?
Are you looking for something that is specifically off-road only or do you want something more all-terrain that will ride well on both trails and roads?
How tall are you and what do you weigh? Yeah, let's get personal. After all, each rider is unique. These factors will affect the length of the deck and the level of performance you need respectively.
There are a lot of options out there so taking some time to really think about what you need will make shortlisting your eboard a whole lot easier.
Price
A good quality off-road electric skateboard will cost between $700 – $2,000.
Advancements in eskate technologies and increased competition mean manufacturers are able to produce increasingly powerful eboards at a lower price.
However, as the price of an electric skateboard increases beyond the $2,000 mark, the value proposition rapidly declines.
You start paying for things like better customer service and brand reputation.
There are a handful of high-end brands that do make electric skateboards that are worth their price, like Lacroix, Trampa and Kaly NYC and I encourage you to check them out because they focus on delivering performance and don't rely on their brand reputation.
On the flip side, I'd stay away from off-road electric skateboards that cost less than $700 because they will lack components powerful enough to provide an acceptably enjoyable experience.
Performance Specs of an Off-Road Electric Skateboard
Other than price, the two other major factors to consider when buying an off-road electric skateboard are speed and range.
Speed
When looking at speed requirements, you want to think about both the top speed and the acceleration power.
For off-road riding, you will generally want an eboard that favours acceleration over top speed.
Gravel trails and grassy areas have increased resistance so you will need an electric skateboard powerful enough to pull you along those surfaces.
Top speed isn't as important because it's doubtful you will have the opportunity to reach them in these scenarios.
It's not until you want to ride your all-terrain electric skateboard on the roads that you'll want access to the highest top speed that you're comfortable with.
Personally, 28mph (45kmh) is more than enough speed for me. I generally cruise around the 18mph (30kmh) mark anyway.
Range
Choosing a range is a tricky one, yet arguably one of the most important.
You're probably going to want an electric skateboard with the longest range possible.
Wouldn't it be awesome to be able to ride to work or school and back every day and only have to charge it once over the weekend?
We can dream, right?
Battery technology is constantly improving but at the moment, we're limited to a maximum of around 30 miles (50km).
There are super high-end eboards that can travel further on a single charge, but they come at a seriously premium price.
Have a think about the furthest destination you would want to ride to, and then map it out on Google Maps to see how far it would be. That will give you a good indication of what you might need.
Cafes and bars are really accommodating if you wanted to stop in, get a bite to eat and charge your eboard before you carry on riding. It makes for a great day out. Just thought I'd throw that out there.
Hill Climbing
This may not be as important for everyone, but it's definitely worth considering.
Most eboard brands are going to label the hill-climbing ability of their products as 30%.
But, that is a really steep hill grade and I doubt the majority of eboards can do this at an acceptable pace.
Make sure you always read electric skateboard reviews before you buy, because not all brands are trustworthy. At least you can rest assured that the products on this list have been vetted.
At a minimum, you will want an off-road eboard that can climb at least a 15% grade with 20% being ideal.
Components of an Off-Road Electric Skateboard
Deck
The important things to consider when choosing a deck are the length, shape and flexibility/stiffness.
Length
You will want a deck that has a standing platform long enough to accommodate your most comfortable stance. Generally, the taller you are, the longer the deck you will need. Shorter riders are lucky in this sense as they will have more space on the deck to find their optimum stance.
To figure out your natural stance, you can stand up and pretend you're on a skateboard. Play around with shortening and lengthening your stance until you feel comfortable. Usually, it's a little wider than shoulder-width.
Then just measure the distance between the outsides of your feet and you'll have a pretty good indication of the length deck you might need.
Shape
The shape of the deck refers to the concave of the width of the deck and the convex of the length. Sounds confusing, so let's unload.
Across the width of the deck, you can have all sorts of structures. The three most common are flat, concave and w-concave.
Flat as it describes is completely level across the deck.
Concave occurs when the edges of the deck are raised slightly above the centre of the deck. The amount and angle of the slope will vary between eboards.
The concave of a deck will help you to feel locked into the deck for increased stability and it gives your feet more leverage to lean against when turning to increase your cornering ability.
The W-concave is similar to the concave with an added ridge down the middle of the deck. This is designed to help mould to the natural shape of your feet to get even more contact between your feet and deck for increased control.
The convex along the length of the deck can be determined by how raised the centre of the deck is between the trucks.
The more convex a deck is, the more flexibility the deck will have and the more shock-absorbing properties it has.
Trucks
When it comes to trucks for all-terrain electric skateboards, you'll notice that the majority of them use double kingpin (DKP) trucks.
This is because DKP trucks are able to provide a sharper turning radius while reducing the possibility of wheel-bite on the deck, something that is more likely to occur with larger wheels.
You are also able to finely tune DKP trucks so that you get the perfect carveabilty-to-stability ratio that suits your riding needs.
The downside of DKP trucks is that they can sometimes lead to speed wobbles at high speeds if you're not an experienced rider or if they aren't configured properly.
But I don't want to scare you off DKP's because they are a ton of fun and it's easy to learn how to set them up correctly.
Another style of truck that is popular is the suspension truck.
They come in many different forms and their main purpose is to absorb vibrations and assist you in going over bigger bumps without losing your footing.
They're great because they offer a comfortable ride on any surface, on or off-road.
The downside is that they generally have a smaller turning circle so you'll be more likely to ride these on trails that have long, straight stretches with short corners.
Wheels
They are so many wheels options available for AT electric skateboards which is both a good thing and a bad thing.
It's bad because as a buyer, it can be really confusing to figure out which ones you need.
But it's great because you can get yourself a set of wheels that are perfect for you without compromise.
The most popular type of AT wheel is pneumatic tyres. These are rubber inflatable tyres that come in a host of different tread styles and are usually 6" or 8" in size. Other sizes aren't impossible to find, but you'll have to do some digging.
There are a few benefits of pneumatic tyres. First of all, you can inflate them to your desired pressure to suit your riding style and terrain.
You can easily and cheaply get different treads styles ranging from very slick for comfortable on-road riding, very knobbly for increased traction on off-road trails, or a tread that sits somewhere in between so you can seamlessly go from on-road to off-road.
The downside of pneumatic tyres is that they do require some maintenance.
You'll need to check the tyre pressure each time you head out for a ride, for optimum results, but you could get away with only checking once a week or until you notice a decrease in performance.
It's also possible to get a puncture so you'll want to carry around a puncture-repair kit for those unfortunate times.
The other major type of off-road wheels is rubber, airless tyres.
Each is designed a little different, but basically, they create a structure of rubber that mimics the compression of regular tyres.
These are great because they don't get punctures and you don't have to constantly check on the tyre pressure.
The downside is that you can't control the amount of compression to change the riding style or to adjust for different terrain types.
The last type of wheel, albeit not really all-terrain, still deserve a mention. And that's Cloudwheels.
I'd categorise these wheels as more of an urban-terrain style. They have a slight amount of tread and compression. They kind of sit between AT and street wheels.
They're great for riding on-road because they do an amazing job of absorbing vibrations from the road and are capable of riding on compact gravel/dirt trails and short grass.
Not ideal for proper off-road riding, but manage in those times you need to cut corners of the pavement or gravel park trails.
Battery
As a general rule, the larger the battery, the longer range you will be able to achieve. There are a ton of other factors that will affect range such as, board weight, wheel size, wheel type, ESC, rider weight, travelling speed and terrain, so use the battery size as a guide only.
You can go deep into battery technology trying to find the best one, but that would require a whole article by itself.
You can look at specs like 12S3P, 2700, Volts and Ah all day, but at the end of the day, what you really want to know is how far you can ride with a battery.
The main spec to consider is the Watt/hours (Wh) which is the batteries capacity and is directly linked to range capability.
Motors
Motor technology has seen a few innovations come and go over the years but there are two that have remained throughout.
They are hub motors and belt-drive motors.
Without getting into the specifics of hub motors, they are in-wheel motors that directly turn the wheels.
They are great because they are quiet and don't require any maintenance. The downside of hub motors is that they tend to have performance specs below that of belt-drive motors.
This is the biggest benefit of belts. They are powerful.
In terms of both acceleration and top speed, belt drives will outperform hubs every time.
Belt drives open you up to the opportunity of customising your electric skateboard after you purchase it.
With a small amount of effort, you can change your wheels and gearing ratio to give you a completely different riding experience.
With hub motors, you're stuck with the wheels your eboard comes with.
ESC
The ESC is the Electronic Speed Controller and is the brains of your electric skateboard.
It determines the curve and strength of the acceleration and braking by controlling the amount of energy that is passed from the battery to the motors.
You'll have either an ESC or a VESC in your eboard and the differences are quite big.
An ESC is your standard controller with a constant limit on the power that is able to pass through it. The benefits of a standard ESC is that they are cheap and plug-and-play.
A VESC on the other hand is able to be modified programmatically, meaning that with a little bit of know-how you can modify the acceleration and braking curves of your electric skateboard.
They are able to provide more power to motors but they are also more expensive, so you'll only see them in the more premium off-road eboards.
A word of warning though, making modifications to your VESC can cause damage to your parts and yourself if you don't know what you're doing.
Features of an Off-Road Electric Skateboard
Water and dust resistance
Although it would be nice to have water-resistant electric skateboards, it just isn't widely available at the moment.
What is available, and extremely important for off-road electric skateboards is dust resistance.
The last thing you want is getting dust inside your enclosure causing all sorts of issues.
To read a Waterproof and Dust Resistance rating, you're looking for the IP specification.
It will be followed by two numbers, the first being the solids resistance level and the second being liquids resistance.
The highest rating for solids is 6 and you shouldn't settle for anything less on an off-road electric skateboard. You might be able to get away with a rating of 5 if you only plan to ride your AT board on roads, but then again, you will still have dust getting into the system.
The highest rating for liquids is 8, however, I'd be happy with anything 4 or higher. Just make sure you understand what the different ratings mean in terms of water resistance
f the numbers are replaced by an X, it means it hasn't been through the appropriate testing to certify it.
Durability
The durability of an electric skateboard is hard to determine just by looking at the specs and photos of it online. The best way to learn about its durability is to read electric skateboard reviews and watch videos to get the opinions of expert third parties in the industry.
A quick way to get an idea of how long it is going to last is by checking out the Warranty period. If a company has a 12-month warranty, that gives a good indication that the company backs the quality of their products.
If they only offer a 3-month warranty, that tells me the company doesn't trust their own products to last longer than that.
But it's not a silver bullet, some of the eboards on this list have a 3-month warranty and I've ridden them for much longer than that with no problems.
Customizability
I spoke briefly about being able to customise your electric skateboard, and it's not everybody, but something worth considering.
If you think you're the type of person who would like to make modifications to your board and play around with its performance, then get something with at least belt drives. And if you want to go deeper, consider getting a board with a VESC.
Customer Support
It's hard to tell what level of customer support a company is going to offer. A good way is to jump into the Facebook groups of different companies to hear what other users have to say. But keep in mind that people are more likely to complain about a bad experience than rave about a good one.
You should also check to see if they offer spare parts via their website. Parts inevitably break and wear down, so it's good to know that you can get replacement parts quickly and easily if that does happen.
Should You Get An All-Terrain Electric Skateboard? Pros and Cons
Advantages of All-Terrain Electric Skateboards
Ride on any terrain. The biggest advantage is that you can ride on more than just paved roads. You can ride on gravel, dirt, grass and hard sandy areas. Even boardwalks are made a thousand times more enjoyable with all-terrain electric skateboards.
They are more comfortable. Thanks to the bigger and squishier wheels, you won't feel half as much of the vibrations coming off the road. That means you'll be able to ride for longer before your feet start to fatigue.
Safer to ride. Arguably, all-terrain electric skateboards are safer to ride because they tend to have longer wheelbases and larger wheels which provide a more stable ride. On top of that, the larger wheels help to absorb bigger cracks and bumps in the road so you can ride a little more carefree.
Great to learn on. Because of the added stability mentioned above, all-terrain eboards are a great way for beginners to build their confidence.
Disdvantages of All-Terrain Electric Skateboards
Hard to store. In almost all cases, off-road electric skateboards are bigger than their street board counterparts which makes them a bit of a nuisance to store when you're not riding. Especially if you're riding to school or the office.
Heavy. Some of these boards weigh more than 55lbs (25kg). That's quite a lot of weight to carry around, especially if you want to load it into your car to go out for a destination ride. Some boards have built-in handles to make moving them around easier which I value very highly.
Lower Performance. This is up for debate, but most all-terrain eboards have lower performance due to their weight and the increased drag from the larger and squishier wheels. Brands do make electronic upgrades to counter this, but if we go spec-for-spec on the electronics, the AT eboards will be slower with less range.
Final Thoughts
I think every eSkater should have an off-road electric skateboard in their arsenal.
It's a nice change of pace to be able to go out on adventures along forest trails or along beach boardwalks and having the freedom to ride wherever you want.
They are also a lot more comfortable to ride on paved roads so are a great choice for those wanting to commute to work or school.
They are a ton of fun and I bet you'll have a smile across your face 99% of the time. That 1% will be you pooping your parts when you try to push it harder and get a small fright when the eboards power kicks in and nearly throws you off. But you'll get an adrenaline rush and go again and again.
Ride safe out there eSkaters.
Frequently Asked Questions
What is an off-road electric skateboard?
An off-road electric skateboard is an electric skateboard that can be ridden on rough terrains such as dirt, gravel and grass. They can be identified primarily by the type of wheels it has, which tend to be bigger with deeper tread.
What's the Difference Between Off-Road and All-Terrain Electric Skateboards?
Technically there is a difference, however, the eskate community uses these terms fairly interchangeably.
All-terrain refers to an electric skateboard that can ride both paved roads and non-paved roads such as dirt, gravel and grass.
Off-road electric skateboards are designed specifically for tackling rough terrain and aren't really meant to ridden on paved roads. However, you can still do it, it's just not optimised for it. It's the same as mountain bikes or motocross bikes being ridden on the road, doable, but not optimal.
To throw you a curveball, there's a third option. It's called urban-terrain and it sits between all-terrain and pure street eboards. They are usually 105mm or 120mm and have a little bit of tread on them. They're designed to ride on paved roads and can handle your more less-than-perfect roads. You can also take them on hard, compact dirt/gravel trails like through parks and lake tracks and you'll have an enjoyable time.
Why use all-terrain electric skateboards?
All-terrain and off-road electric skateboards allow you to get off the beaten track and explore the great outdoors. You're not limited to where the roads and paths go. You can create your own path. They give you the freedom to ride wherever you want.
What terrain can I ride my off-road electric skateboard on?
Off-road and all-terrain electric skateboards can ride on dirt, gravel, grass, sand, beach boardwalks, bricked pavement, rough roads and with some wheels, regular paved paths.
Is there any maintenance required with all-terrain e-skateboards?
Depending on the type of wheels and motors your electric skateboard has will determine how much maintenance it will require.
Pneumatic tyres and belt drives will require the most maintenance while airless and hub motors will need the least amount of attention.
All eboards require some maintenance, like a good clean every now and then to increase component longevity.
Why do AT electric skateboards cost more than regular e-skateboards?
As a general rule, all-terrain electric skateboards cost more than street electric skateboards because they require more powerful components in order to meet the same performance level as street eboards.
AT eboards also need to be built to a higher level of durability because they will be put through harsher riding conditions.
What is the best wheel size for off-road e-skateboards?
6" and 8" wheel sizes are best for off-road electric skateboards.
Bigger wheels mean you can take on bigger obstacles with less worry and have a higher top speed, while smaller wheels will make you more agile and have better acceleration.
How much is an all-terrain electric skateboard?
All-terrain electric skateboards range anywhere from $700 to $5,000. But the sweet spot for the best value-for-money all-terrain electric skateboards is $1,000-2,000.
How to ride all-terrain off-road electric skateboard safely?
The first step to riding safely on an off-road electric skateboard is to wear a helmet.
A lot of unexpected things can happen on rough and loose terrain, so I highly recommend a helmet at the minimum.
On top of that, if you're not that confident or you just respect your health, then get some extra protective gear like gloves, knee pads, elbow pads and wrist guards.
Just simply wearing the protective gear will give you a lot more confidence to ride harder, you'll have less worry and you'll have a more enjoyable time.