There's nothing worse than hunting down the perfect electric skateboard, adding it to cart, then when you go to check out you realise that they don't ship to Australia.
I feel you. I've been there before.
So, I've done my best to put together this list which are the best electric skateboards Australia has to offer.
The Best Electric Skateboards Australia
My pick for
Comfort and versatility
WowGo AT2 Plus
4.7 / 5 | eSkate Hub Review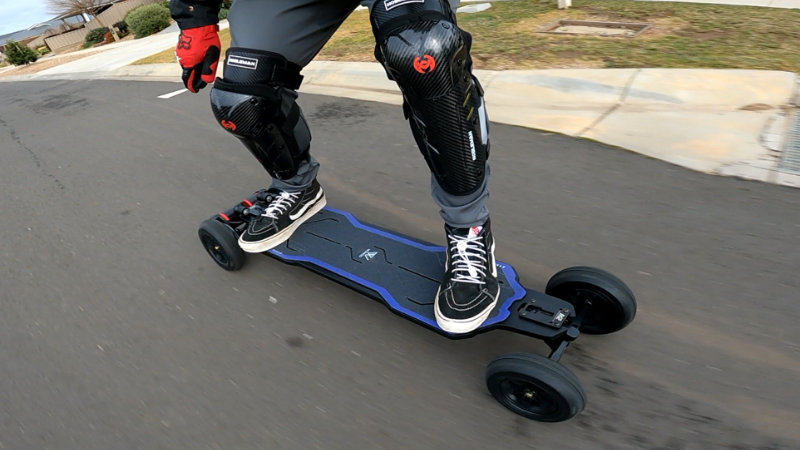 The WowGo AT2+ is a reliable and a hot contender for the best all terrain electric skateboard Australia. It even makes the list for best electric skateboards 2023.
It is for those looking for a fast and reliable ride from work or school. It's a 2-in-1 model with AT wheels and CloudWheels for all terrains. 
It features a wide, slightly concave composite deck made of fibreglass, bamboo, and maple which creates a slightly flexible deck without being too bouncy. It also comes with a little remote control, but it has no cruise control. 
Riding this electric skateboard will reduce impact when riding over cracks, so you'll feel less fatigue, even when riding on a challenging trail. As a result, you'll enjoy longer rides without the need to take a break. There's also a shock-absorbing tape for more comfort.
The raised edges of the deck facilitate turning and will also enable you to master your skateboarding skills if you're into carving. You won't have to apply much force, which in turn results in less effort and more fun. Moreover, the concave design means that your feet will feel more secure and less likely to fall.
Equipped with dual Hobbywing 5330 belt-drive 1300W motors, your electric skateboard has a maximum speed of 31 miles per hour and a range of 18 miles with the AT wheels. At a steep slope with an inclination of 15%, the skateboard will still reach a maximum speed of 15.5 miles per hour.
Compared to other models, this one comes with all-terrain 175mm pneumatic AT wheels that are designed for the most challenging skateboarding trails. You can also upgrade your skateboard by installing the 120mm Cloudwheels.
Your electric skateboard comes with 12" double kingpin trucks paired with 97A double barrel bushings at the back and 95A ones on the front. Tighten them, and you'll enjoy more stability, or keep them a little bit loose for more flexibility while you're carving. As a result, this electric skateboard will satisfy your need whether you're looking for a comfortable, steady ride or a fun carving experience.
Pros
High-quality battery cells used
Comfortable concave deck with raised edges
Shock-absorbing design
Trucks provide stability and comfort
Cons
Tricky to access the truck's bolts
Battery: 12S4P Panasonic 18650 604Wh 14Ah
Motors: 2x 1300W 5330 belt-drives
ESC: Hobbywing 9028
Deck: Canadian maple, bamboo, fibre glass
Wheels: 175mm Pneumatic AT / 120mm Cloudwheels
Trucks: 12″ Double kingpin
Warranty: 9 months
Use discount code
HUB5 for $5 OFF
on WowGo's website
My pick for
Balance between power and range
Meepo Hurricane Ultra
4.7 / 5.0 | eSkate Hub Review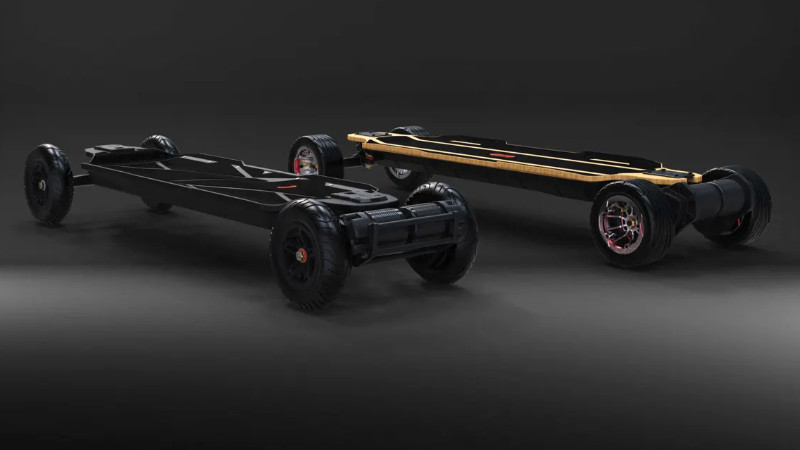 Although Meepo is popular for its budget-friendly skateboards that cost below $500, the Meepo Hurricane Ultra comes with a slightly higher price tag for more experienced users who need a high-quality electric skateboard that delivers excellent performance.
It's definitely in my best all-terrain electric skateboard 2022 list.
This is an all-terrain electric skateboard with a double drop wide concave design for a comfortable ride.
The top-access electronic compartment is home to a giant 12S4P battery that provides excellent performance for up to 725.8Wh with a range of 44 miles. This is a huge battery life and decreases the need to recharge the battery often. 
The 2x 3500W belt-drive motors are designed to reach a top speed of 32mph. 
And you have the option of a belt-drive system or a gear-drive system.
The first two speed modes are suitable for casual eskateboarding, while the other two modes are more powerful for those who like adventures. 
Thanks to the two kingpin trucks, you can achieve better stability on longer rides, although these trucks aren't the most agile on the market.
The Hurricane Ultra comes with 155mm pneumatic wheels, but you can swap them for the 90mm street wheels or Meepo's 110mm Cyclone wheels, so you have plenty of customisation options and makes it a very versatile e-skateboard.
Pros
Sturdy and durable build
Customizable wheels
Crazy performance specs
Gear drive or belt drive options
Cons
Rigid deck can be less comfortable that other boards
Not ideal for carving, but OK.
Battery: 12S4P Samsung 40T 21700 691.2Wh
Motors: 2x 3500W Belt-drive or gear-drive Motors
Deck: Bamboo & Fibreglass / Carbon
Wheels: 165mm tubeless / 175mm pneumatic
Trucks: Traditional Kingpin or Reverse kingpin options
Warranty: 6 months
Get the best price below
on Meepo's website
My pick for
Commuting and cruising
Possway T3
4.6 / 5.0 | eSkate Hub Review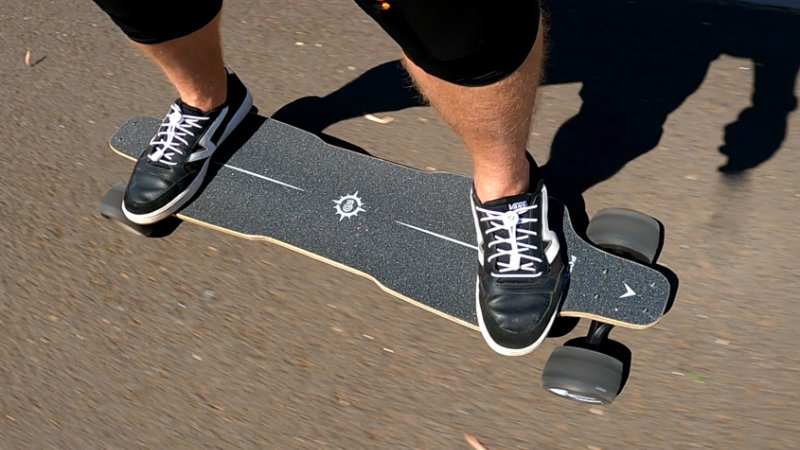 If you're looking for an affordable electric skateboard, then the Possway T3 is the one for you. It costs almost one-third the price of other electric skateboards on the market, and it's designed to deliver excellent performance on all terrains.
And if you can get it on sale, it's close to being the best electric skateboard under $500.
The brand has been around for a while, and the T3 model is designed to cater to the needs of amateur and beginner-level riders. It features dual 500W hub motors, which aren't as powerful as the ones found on other skateboards but are definitely better than the other models offered at this price range. 
The other major benefits of a hub motor e-skateboard is that they are quiet and require less maintenance.
This electric skateboard has a medium-flex concave drop deck for more comfort. The deck is wider towards the edges and is made of 1 layer of bamboo and 8 of maple to absorb shock and support your feet. Combined with the wide wheels, riding this electric skateboard for long hours won't strain your legs.
Although this electric skateboard is more suitable for beginners and those who like to commute without going too fast, it also has enough power for intermediate riders to enjoy.
With a maximum range of 17 miles and a top speed of 32 miles per hour, you can expect this electric skateboard to be the perfect choice for commutes.
The 105mm Cloudwheels absorb shock, even on more challenging terrains. Although this skateboard isn't designed for going on steep and challenging trails, it won't disappoint you if there are a few obstacles.
The Possway T3 is so good, it even makes my list of Best Electric Skateboards 2022.
Pros
Comfortable and wide deck
Stable trucks while commuting
Affordable price
Cons
Largely affected by riders weight
Battery: 280.8Wh 7.8Ah
Motors: 2x 500W hub motors
Deck: 37.7″ Canadian Maple and Bamboo
Wheels: 105mm 78A shock-absorbing
Trucks: 45º 7″ Reverse Kingpin
Warranty: 6 months
Get Best Price Below
on Possway's website
My pick for
Feature-rich electric skateboard
Backfire Hammer Sledge
4.4 / 5.0 | eSkate Hub Review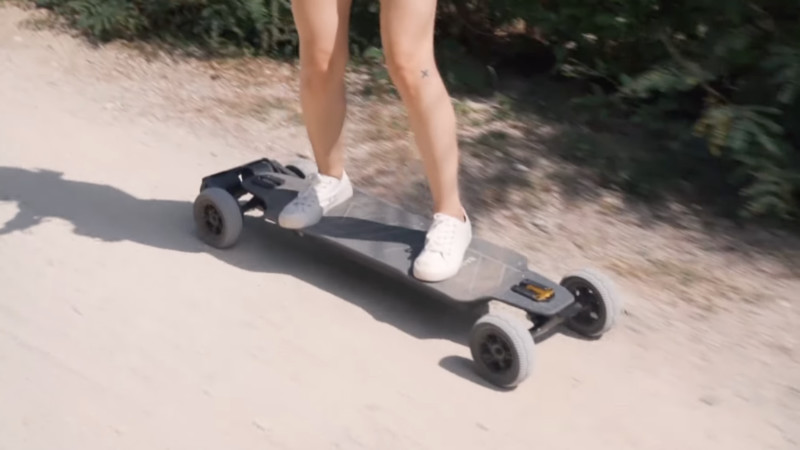 The Backfire Hammer Sledge is up there as the best electric skateboard for adults because it is designed to be able to provide performance even with relatively heavier riders.
That's not to say it isn't for younger eSkaters, it's still quite versatile when it comes to performance and riding requirements.
It's a 2-in-1 version that features a belt-drive all-terrain dual motor with high torque and impressive performance to provide the most experience while riding for fun or commuting at a higher speed.
With a flexible carbon fibre deck that absorbs impact even on the most challenging trails, this deck is sturdy enough to support your weight and give you more control. Weighing a little heavier than most electric skateboards at 30 pounds, this one will be the perfect choice for steady rides on any trail. It can also be a good choice if you're heavier.
One of the main features of this electric skateboard is that you can create customised speed and braking settings for several users for the most convenient experience. The pneumatic wheels are perfect for steady and stable rides.
Pros
Sturdy and flexy carbon deck
Customizable riding modes
Plenty of wheel options
Lots of accessories and features
Battery: 820Wh lithium polymer
Motors: 2x 1600W 6370 belt-drive motors
ESC: Custom-built BESC
Deck: Maple and fiberglass
Wheels: 6″ pneumatic AT tyres
Trucks: 10″ Double Kingpin
Warranty: 6 months
Get the best price below
on Backfire's website
Electric Skateboard Australia Buying Guide
With several models on the market, finding the right electric skateboard can be a little challenging. Here are a few features to think about. But I also have a more in-depth buying guide at the end of my overall Best Electric Skateboards article.
Comfort and Design
As far as skateboards go, the fact that these are considered self propelled skateboards, already makes them pretty comfortable to ride.
The material of the deck can have an excellent impact on your skateboarding experience. A comfortable deck will reduce fatigue and stabilise your feet, so you'll be able to enjoy longer rides without feeling tired. You should also make sure that the material is designed to absorb shock, especially if you go on more challenging trails. 
As a skateboarder, you also need to consider your level of experience. Some decks are more suitable for more experienced users, so if you're still a rookie, you need to think about buying a skateboard with a footwell or concave design for more stability.
Motor
The power and torque of the motor have a great impact on the quality of your ride. You must make sure that the motor is powerful enough to drive the skateboard forward, especially if you're planning to go on more challenging trails.
Although the motor affects the speed of your skateboard, your weight and the condition of the trail can decrease the speed drastically.
Range
The range of your electric skateboard is what it can deliver in optimum conditions. A powerful battery with more watt-hour output will deliver a good range, so you won't have to worry about recharging the electric skateboard's battery in the middle of the ride.
However, a challenging trail will reduce its range. You also need to think about the steepness of the trail, as going on a steep trail will affect the skateboard's range.
Versatility
Think of why you actually want to use the skateboard before going for a model. Some electric skateboards are more suitable for smooth and comfortable rides, while others are designed for more turning and carving ability.
Wider and bigger wheels are designed for more challenging terrains, so you can easily go on an off-road adventure without any risk. On the other hand, smaller wheels are more suitable for smooth rides and in-city commutes, allowing your electric skateboard to go quite fast. Luckily, most electric skateboards are designed to be compatible with different kinds of wheels for all trails.
Wrap Up
As we said, there's an electric skateboard for every rider, and the models we suggested in our article are designed to satisfy the needs of rookie and experienced skateboarders.
Nevertheless, if you're looking for the best overall option, we highly recommend that you take a look at the WowGo AT2+. It has one of the highest speeds and ranges compared to other electric skateboards and won't disappoint you.
We also love the Meepo Hurricane Ultra because it's well made and sturdy enough to go on the most challenging trails.
If customisation is your thing, then the Backfire Hammer Sledge is all you.
And for those on a budget, the Possway T3 is a great electric skateboard to have a lot of fun on.