Summary of Exway Atlas Pro Review
Exway has changed the eSkate game, forever, again.
They first did it with the Exway Atlas.
And now, they have taken the electric skateboard a whole step further with the Exway Atlas Pro.
It has crazy performance and range and it has a bunch of accessories that will make your ride far more enjoyable.
My Exway Atlas Pro review has been one of my favourites to do so far, so I hope you enjoy reading it.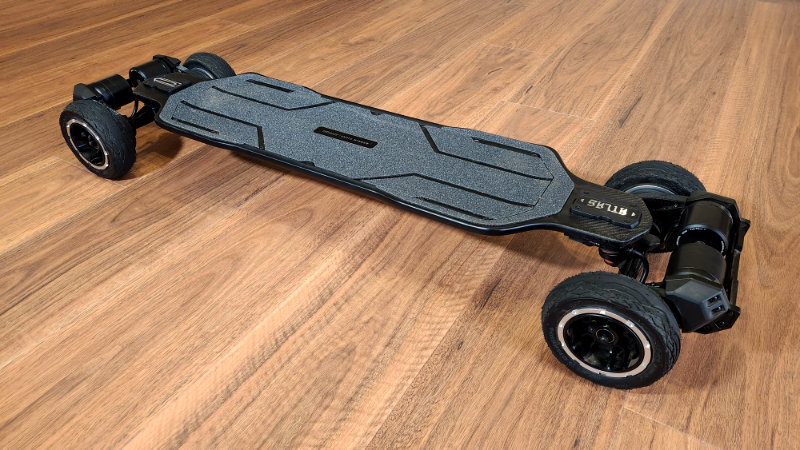 Who Is It For?
The Exway Atlas Pro is an electric skateboard for anyone.
Beginners to Advanced riders. Commuters to carvers. Street riders, to trail riders.
It's weird to say this, but because of the amount of customizability it has, the Exway Atlas Pro has the ability to be any kind of electric skateboard you want it to be.
With the only exception being maybe a shortboard.
For beginners, chuck on the 2WD set-up, roll your acceleration back in the app and allow yourself the time to get familiar with electric skateboarding.
For advanced riders, you'll love the 4WD mode. Crank your power up in the app, switch on Turbo mode and you've got yourself one hell of a machine under your feet.
And for everyone else, there's so much room between these two extremes. Half the fun is tinkering with the settings to see what works for you.
Exway Atlas Pro Review
I reviewed the original Exway Atlas here, so you can check that out.
It's still available and it recently had a price drop so it's now a great value-for-money electric skateboard.
But, we're here to do the Exway Atlas Pro review, and there is a lot to cover with all of its accessories, and insane performance specs, so make sure you stick around.
Pros
Completely customizable and upgradeable
Fully integrated Mobile App
Great power for riding in any terrain
Amazing range will take you almost anywhere
Premium parts and well-built
Cons
Very heavy, like crazy heavy
Deck
The Exway Atlas Pro has a very similar deck shape to the original Atlas, if not exactly the same. Unfortunately, I no longer have the original Atlas to compare, but let me show you around the new Atlas Pro.
It has a carbon unibody which houses all of the electronics inside it and you can access the battery and ESC by lifting the top plate off.
It's lightly concaved with a small drop, so you get this nice little area to place your feet.
This, plus the shock-absorbing grip tape makes the board really comfortable to stand on.
The matte black coating feels smooth and premium. In fact, everything about this electric skateboard feels premium.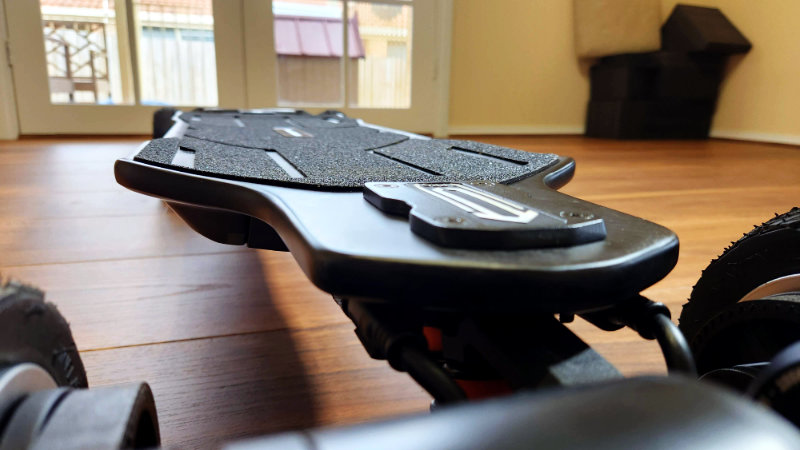 Battery
The battery capacity in the Exway Atlas Pro has increased by 35% up to 701Wh.
That gives it up to 21 miles / 34km with the stock 160mm AT tires
And up to 46 miles / 73km if you run it with 90mm urethane wheels.
Plus, the most exciting new accessory of the Atlas Pro, the AuxPack which is an External battery adds 1,052Wh of power.
And it will get up to 50 miles / 80km with the 160mm AT tires
And up to 107 miles / 172km with 90mm urethane street wheels.
To put that into context, if you're riding at an average speed of 15mph / 25kmh, which is the speed limit in most countries, you could ride for almost 7hrs straight.
For most daily commuters, that's like, a charge once-a-week type of scenario.
The Auxpack is a big external battery pack that attaches to the top of the deck and plugs directly into the system for a seamless integration.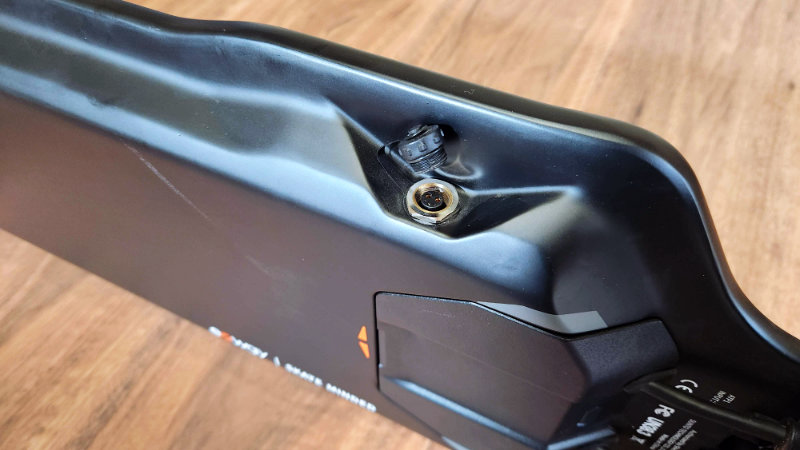 How this plugs in, I'm not too sure. It might have a cable that plugins into the charging port.
I can't see any other ports where it could plug into. And I don't think you would have to change the top plate of the deck in order to use it, because that would be cumbersome and not that user-friendly.
Anyway, we'll just have to wait and see. I'm pretty excited about that one.
There is a 1000W charger available that will charge the standard battery within an hour and the standard plus the AUXPack within two hours.
But that's an additional extra.
The standard charger it comes with is 210W, so still quite big, but will take a bit longer to charge.
Motors
Compared to the original Atlas, the power on the Exway Atlas Pro 4WD model has increased by more than double with 7056W of peak output power.
The Atlas Pro 2WD increased by 75% with 3528W of peak output power.
These numbers are bonkers.
The Atlas Pro now has a top speed of 37mph / 60kmh in both 2WD and 4WD, while the Atlas is 28mph / 45km.
I am curious, what's the ceiling for top speed in electric skateboards.
What speed are you riding around at? Are you hitting speeds of 60kmh on the regular? Let me know in the comments below what your comfortable cruising speed is.
For me, depending on the board, usually somewhere floating around 30mh, I'm happy.
As for the hill climb ability, this thing rocks.
I was doing 30kmh+ the whole way up the hill.
Hills are literally not an issue on the Atlas Pro.
A side note, on the Exway website, it says the setup is also compatible with a gear-drive system, so I'm interested to see whether they release something like this as an option in the future.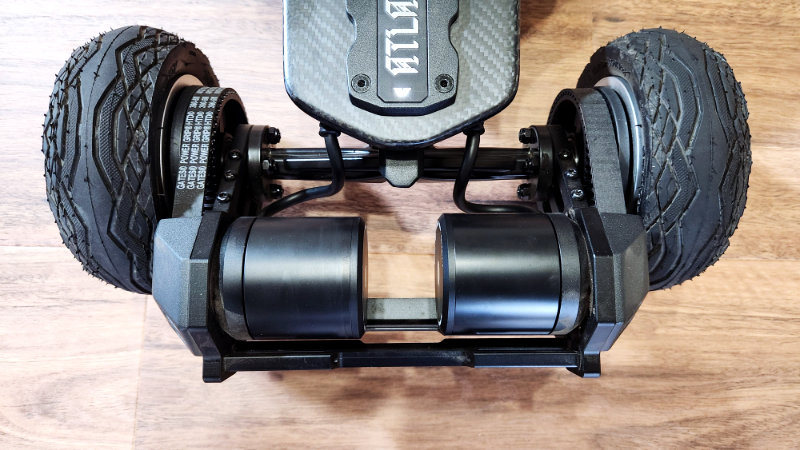 ESC & Remote
This thing has got some serious punch.
In modes 3 and 4, you have to be damn sure you're ready when you hit that thumbwheel because if you haven't braced yourself, you'll be on your ass pretty fast.
Now even though, it has a strong acceleration curve, the thumbwheel on the remote is very responsive and it's actually quite easy to manage the acceleration so that you can have a hard, yet steady takeoff.
They upgraded the ESC in the Atlas Pro to support the new power capabilities, and at the same time, they also updated the remote to the R4.
I'm still running the R3 at the moment, but the R4 is on the way.
The Atlas Pro and the R4 remote aren't compatible with the current Exway app, but it is getting a brand new mobile app which should be released sometime in August or September.
It's called ExSkate and it'll have all the functionality from the previous app plus it'll have GPS capabilities so you can track your ride and view all of your past ride logs.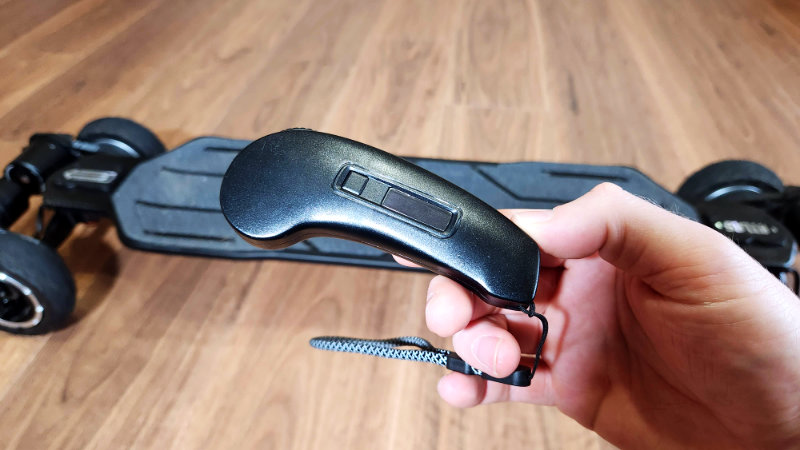 The R3 remote has 4 speed modes, smart on/off, one of my favourite features, reverse and cruise control.
It has a new screen layout compared to the R3 remote. It shows battery levels for the board and remote, current speed, the speed mode you're in, direction, trip distance and odometer.
And you can now access most of the app's features and customisations via the remote menu.
Considering you're limited to using just the thumbwheel and a single button on the remote, navigating the menu and making changes was surprisingly simple.
For making quick changes, it's great.
But for doing complete performance customizations, I'd recommend using the app because it offers far more flexibility and is just far more efficient.
Trucks and Bushings
They're using Exways famous Trist double kingpin trucks, however, they've widened them by an inch to 10.5" which offers more stability.
The Atlas Pro comes with 95A low-rebound fat bushings which are designed to further increase stability, especially at high speeds. Which, with the top speed this thing can do, you're going to need them.
On top of this, the Atlas Pro also ships with a set of 92A high-rebound barrel bushings that are great for carving on, at the expense of a little stability at high speeds.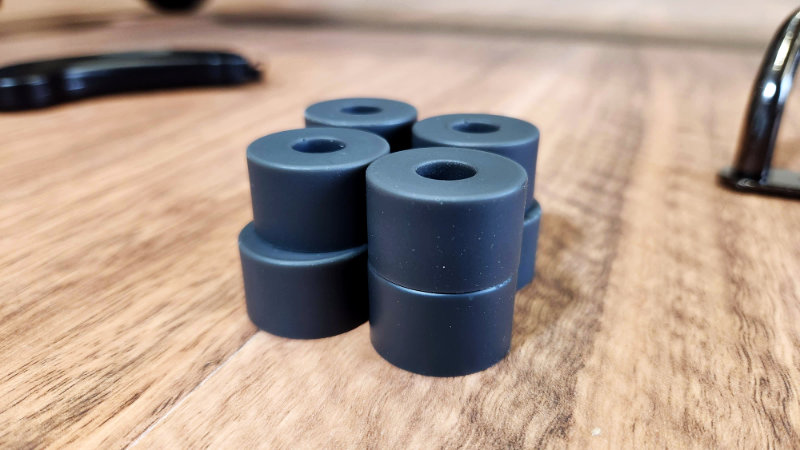 I think this is awesome because it means you can mix and match these bushings to get the perfect setup that works for you.
Personally, I enjoy riding slower and carving like when snowboarding as opposed to riding super fast, so I'll be using the high-rebound bushings more often.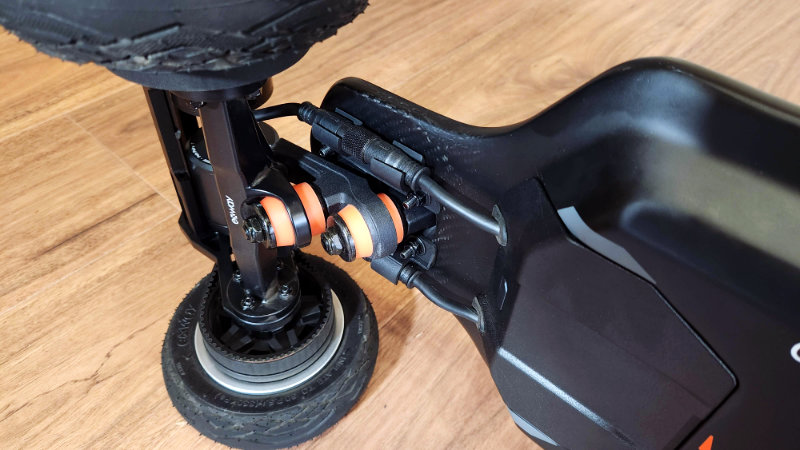 Wheels
The Atlas Pro comes with 160mm pneumatic All Terrain tires.
Just by looking at the tread on the tires, you can see that they're really designed for paved road riding and some compact gravel paths.
And they ride this type of terrain amazingly. They grip to the road, even when turning at higher speeds and they do an awesome job of soaking up the vibrations, bumps and cracks in the road.
I did take it on some grass and dirt and surprisingly, the wheels did really well to maintain traction.
If you want to go and do some heavier off-road riding, I'd recommend getting yourself some off-road tires that have deeper and knobbier grooves.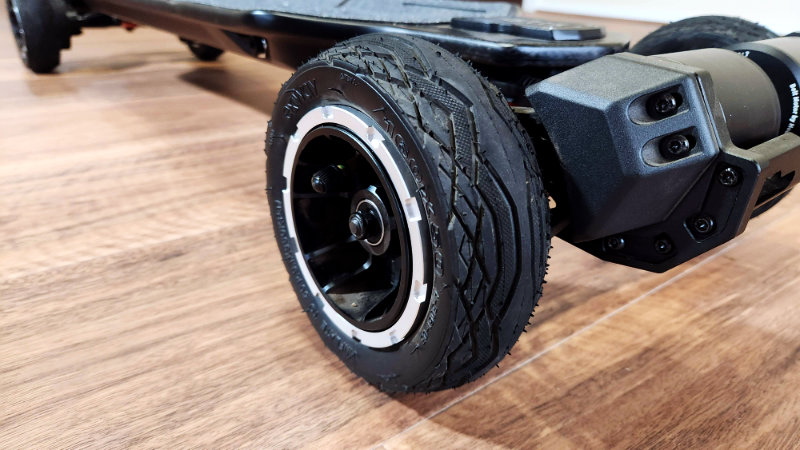 And changing them is now super easy thanks to an accessory that we look at later on in the review
Because the board uses belt-drives, you can customize your wheels to put pretty much anything you want on there, however, you'll need to make sure you get the right pulleys and belts to support the wheels you choose.
But don't worry, Exway offer all of that kind of hardware on their website.
The hubs in the wheels are CNC aluminium which makes them precise and durable. This increases the efficiency of the eboard and the stability for the rider.
Accessories
The Atlas Pro comes with a bunch of accessories that make your ride, and your life a lot more enjoyable.
First of, the the aluminium hubs have a quick-swap system, so you can change your tires or replace your inner tubes without having to disassemble the hubs from the board.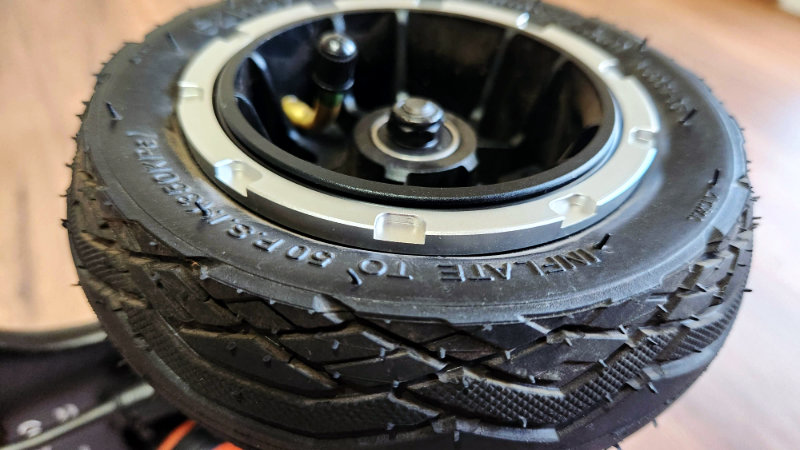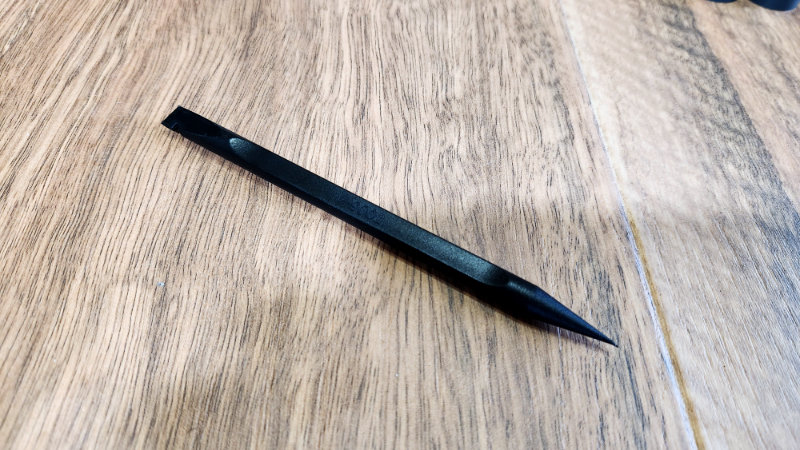 This is actually so good.
It means you can quickly and easily go from your stock AT wheels that you'll probably roll with for your daily commute, to some more serious off-road wheels on a weekend when you go out on the trails.
There's a new set of mudguards available that are designed to just clip on.
And you can mount your Shredlights straight on top of them.
I used some of the flared mounts because the standard mounts aren't compatible with the handle, and I completely scratched up the motors because the mounts would rub against the motors when I made a tight turn.
So for this reason, I'd recommend getting the mudguards if you're planning to mount ShredLights.
Plus, the mudguards also help to keep your pants clean on off-road and wet rides.
Lastly, the handle, which I installed straight away, offers more value than you'd think.
This eBoard, with the 4WD setup, weighs 39lbs / 17.7kg and is one hell of a unit to carry around. So having this handle is the best for dragging the board around when you're not riding it.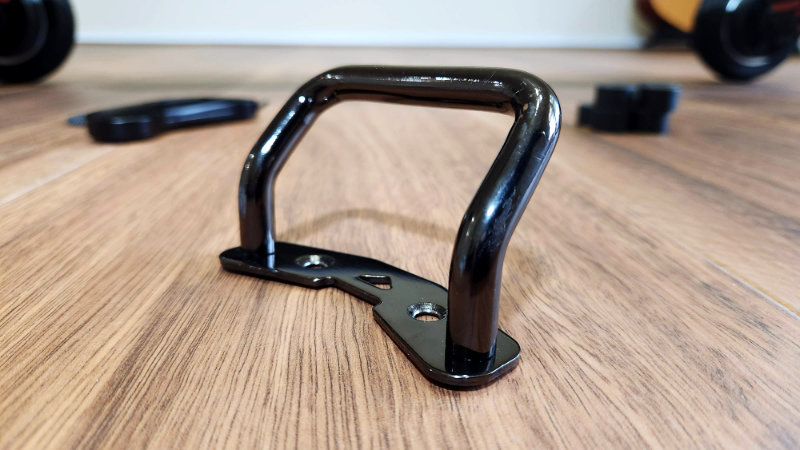 Buying Options
The Exway Atlas Pro, comes in three different options.
2WD, 4WD and the limited edition NASA Pro-Mars Rover edition (sold out).
The Exway Atlas Pro 2WD is currently US$1,599.
And the Exway Atlas Pro 4WD is US$1,899
The NASA Mars Rover Edition is US$2,199 and there are only 100 available.
It's a 4WD version and comes with mudguards, and custom NASA-themed 90mm urethane street wheels.
Plus, it comes in a white colourway which looks so awesome.
And it's officially licenced by NASA which is pretty sweet.
You can help yourself and me out, by using my Atlas Pro discount code ESKHUB which will get you a little discount and it also helps keep this website afloat.
So, thanks for using it if you do.
Customer Reviews
This has got to be one of my favourite electric skateboard reviews of all time. This guy legit loves his Exway Atlas Pro.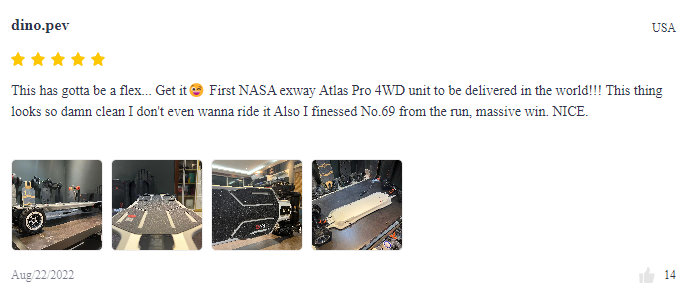 Final Thoughts
Overall, I am loving the Exway Atlas Pro.
When the original Atlas was released, it was ahead of its time and one of the best electric longboards on the market.
Well, the Atlas Pro, yet again, takes it to a whole new level.
It's beautiful, functional and powerful.
I could recommend this electric skateboard to almost anyone.
Because the Exway Atlas Pro has the versatility to be any kind of electric skateboard you want it to be.