Hey eSkaters,
The Meepo Flow stands out as a unique contender with its compact form-factor, yet surprising blend of speed, power, and comfort that's hard to find in its price range.
Designed for experienced riders, the Meepo Flow packs a punch with its impressive acceleration and top speed, while maintaining comfort and stability, making it a reliable choice for city or suburban commutes.
Despite its compact size, it still feels big and robust, offering a ride experience that's both agile and smooth. It's a board that's built to handle imperfect road conditions with ease, thanks to its large, shock-absorbing wheels. And with its high-quality build and sleek design, the Meepo Flow doesn't just ride well – I think it looks great too.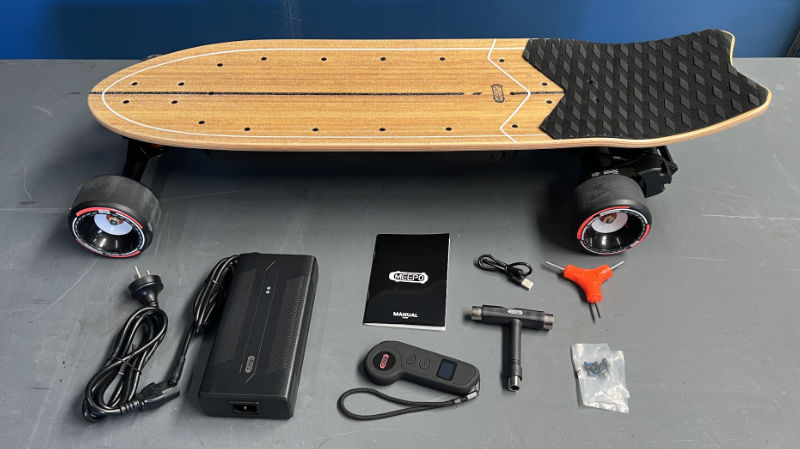 Meepo Flow Review
Deck and Design
The deck of the Meepo Flow constructed from 6-ply Canadian Maple and 2-ply bamboo offers a sturdy and responsive ride.
Despite being categorized as a 'short' electric skateboard, the Meepo Flow is quite large, measuring 34.9″ x 13.5″ x 7.8″. This size contributes to the board's stability and comfort, making it feel robust and reliable underfoot.
It has a slight concave which really helps with turning but isn't so large to uncomfortable under the feet.
One of the standout features of the deck is its kick tail. This kick tail is equipped with foam padding, providing excellent grip and comfort. It's a great feature for riders who want to be able to lift the nose over bumps or need to make sharp turns by tictacing around corners.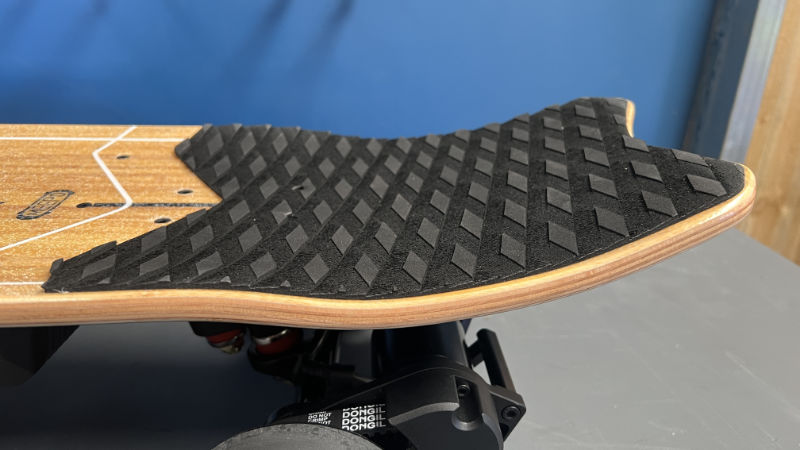 I do have some concern about the longevity of the foam padding, which will be put to the test over time and with heavy use.
There is also a weird scenario regarding this kick tail, but I'll talk about it a bit more when I cover the motors.
The design of the Meepo Flow is reminiscent of the Evolve Stoke, exuding a surf-style vibe that's both sleek and modern.
The dark tail and clear sand combination give the board a stylish look that I really like.
Wheels
The Meepo Flow comes with large 105mm x 65mm polyurethane Cyclone wheels which are great for street riding.
They cling to the ground when making hard turns and grip well when carving. I never felt like the board was going to slip out from underneath me.
These larger wheels on a smaller board are an interesting choice. They are grippy and soft, and have a hollowed-out design that absorbs a lot of vibration and provides stability and confidence when tackling imperfect road conditions.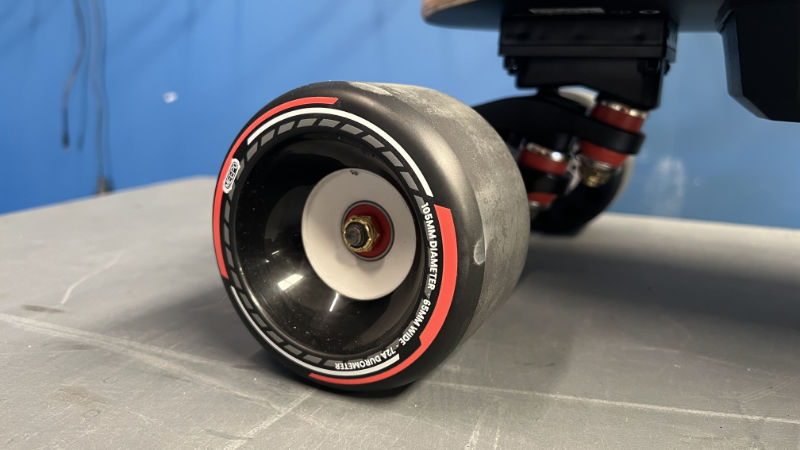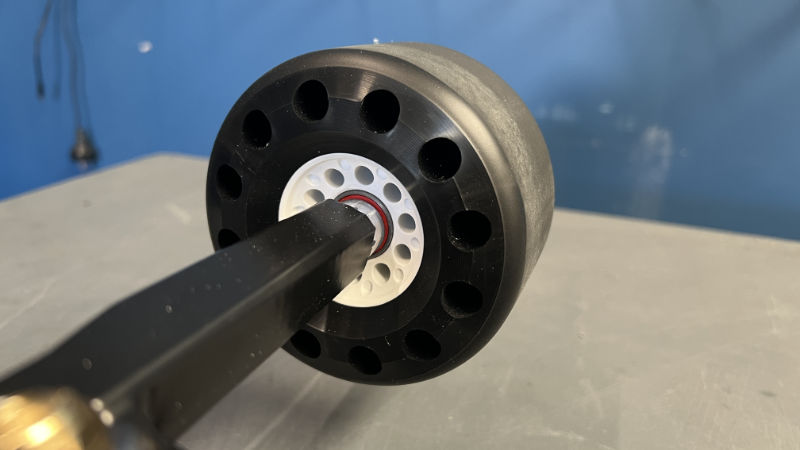 Trucks and Bushings
The Meepo Flow is equipped with double kingpin (DKP) trucks with 100a barrel and cone bushings.
They provide excellent carving capabilities while maintaining stability at higher speeds.
The carving with double kingpin trucks is uniquely different to other styles of trucks which take a bit of getting used to, but once you do, they are a lot of fun.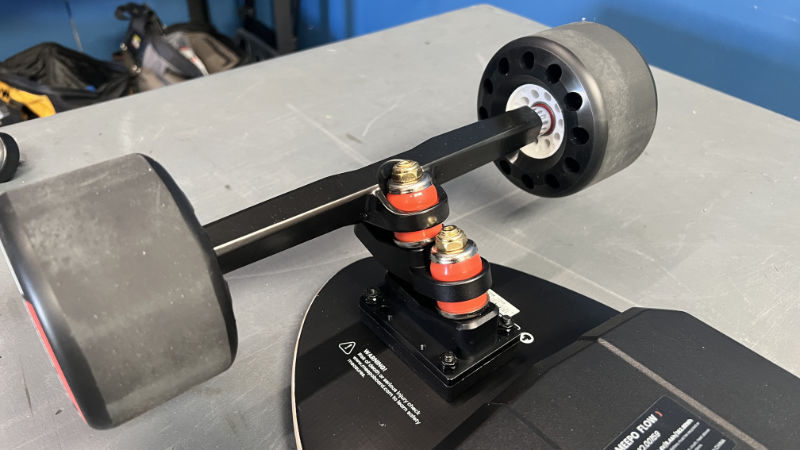 One drawback these trucks have is that the bolts on the deck side are too close to the upper truck bolts. This makes it impossible to use a standard T-tool for adjustments. I had to use a spanner to tighten them up. A minor inconvenience, but worth noting.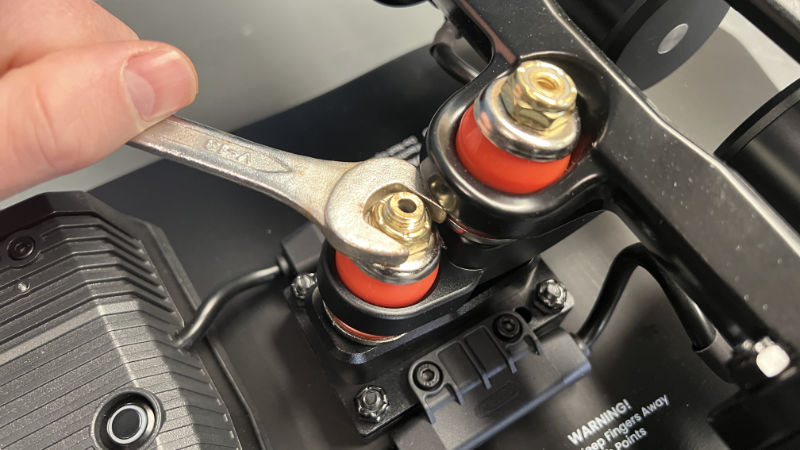 Battery and Range
The Meepo Flow is powered by a high-quality 12S2P Molicel P42A 362Wh battery.
Meepo claims a range of 24 miles (38km), which I think is achievable under the right conditions.
Most riders reported a range of 19-22 (31-35km) miles during their test rides, which typically include top speed tests, hill climbs, carving, and acceleration and braking tests.
The included fast charger can fully charge the battery in just 2 hours, which is a nice addition.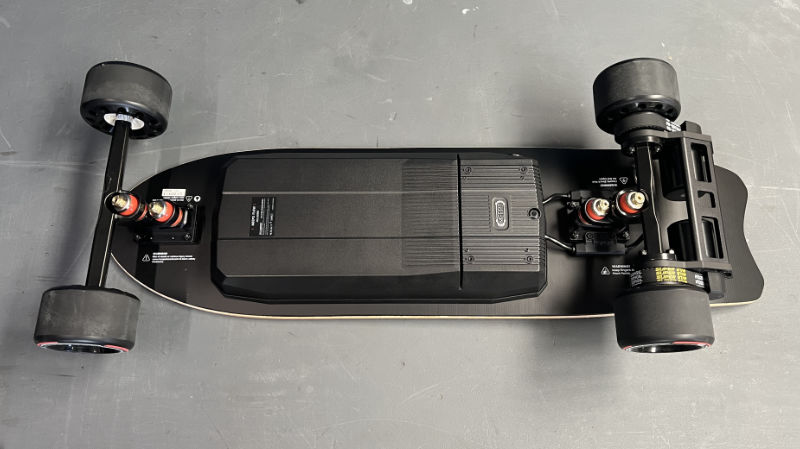 Motors, Speed, and Hill Climbing
The Meepo Flow has dual 2519W belt-drive motors, providing powerful acceleration and a top speed of 32mph (52kph).
While I didn't personally test the top speed because I'm too chicken, other riders have consistently reported speeds of up to 29mph (47kmh).
The Flow powers through uphill climbs with ease, even gaining speed on most hills. It's specced for 26% hill grades, so I doubt you'll have any issues with hills in your area.
The motors are rear-facing so they do prevent you from being able to use the kick tail all the way to the ground, but there are two caveats to this.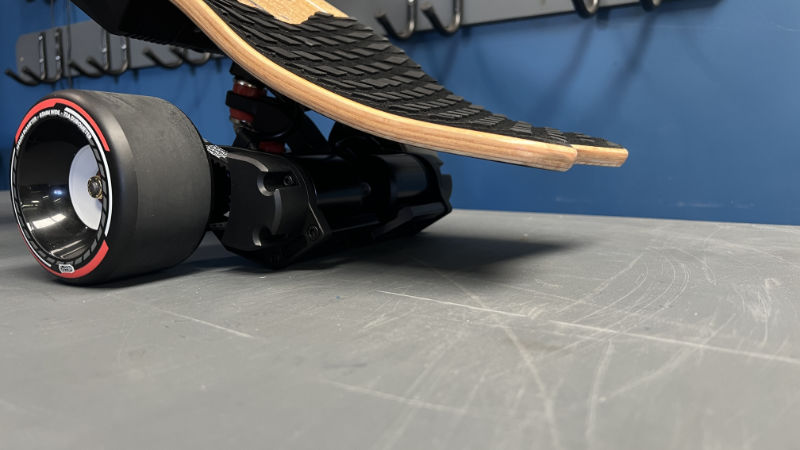 The first is that I didn't come close to needing to drop the tail that far down. It still has plenty of room to be able to lift the nose over any bumps and small ledges that get in your way.
Secondly, the motors are fitted with a motor guard that protect the motors in the event that you do drop the kick tail down that far.
I only ever used the kick tail that far when kicking the board up and in this case the motor guard acted as further leverage to bring the nose up so that I could easily grab it.
I can see the motor guard getting a pretty good beating in the future. Exactly what it is intended for.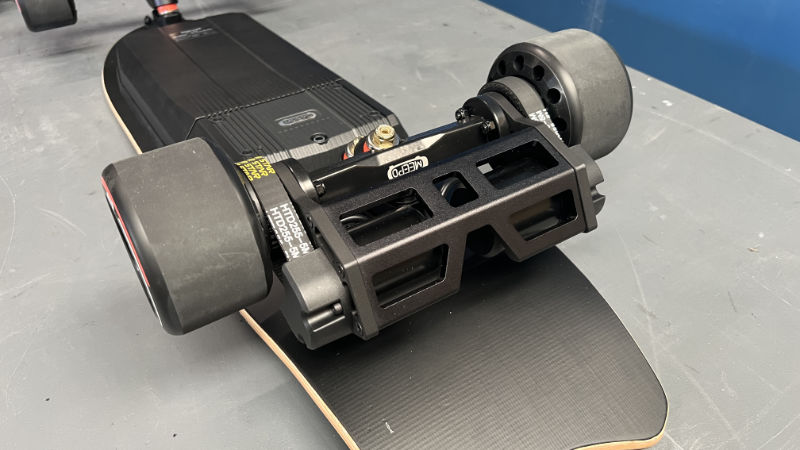 ESC and Acceleration
The Meepo Flow is fitted with a Hobbywing ESC, just like the new Meepo Envy, offering smooth acceleration that still packs a punch.
The acceleration is not to be underestimated but it's definitely still manageable in the higher speed modes for experienced riders.
The braking is very similar. It's powerful enough to launch you off your board if you're not properly braced for it. But that does mean it's going to bring you to a stop within a safe distance.
Remote
The remote is simple and intuitive to use.
The board automatically turns on when you turn on the remote, saving you from having to fumble around under the deck.
You can cycle through the 4 speed modes with the mode button, or double-click it to put the board in reverse.
It also has a cruise control function, which can be activated by clicking the power button while riding.
One downside of this remote is that the braking mode cannot be set independently of the speed mode, which is a feature that is on Meepo's more affordable boards like the Super V3S.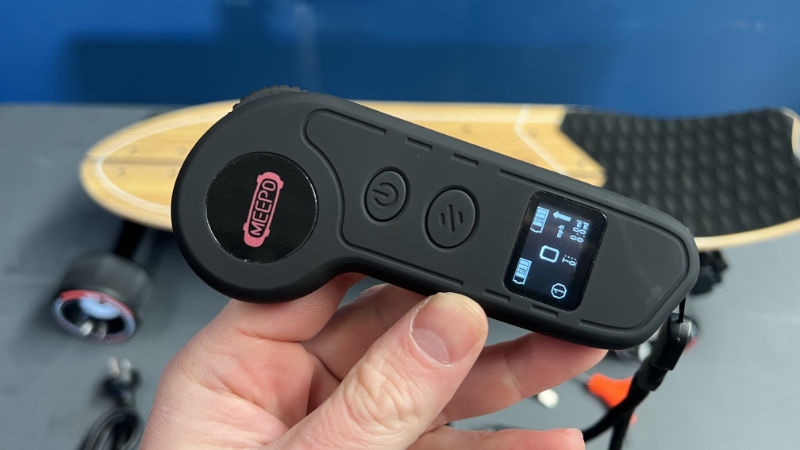 Ride Experience and Overall Quality
Despite its size and weight, the Meepo Flow delivers a thrilling and surprisingly comfortable ride.
The large wheels with the hollowed-out design, the foam kick tail pad, and riser pads all contribute to absorbing vibrations and enhancing comfort.
The board breezes over paved paths, even if they are less than perfect. It does struggle on grass and gravel trails, but it's not really built for that terrain.
The power and agility of the Meepo Flow make it a joy to ride around the city or suburban streets.
Final Thoughts
The Meepo Flow, priced at $699, is a unique offering in the electric skateboard market.
It's an eboard that combines power, comfort, and agility in a compact package, making it a top choice for experienced riders seeking a thrilling ride.
Despite a few minor design flaws, such as the lack of room on the truck bolts, I don't think it's enough to discourage you from the Meepo Flow's excellent value for money.
When compared to its closest competitors, the Meepo Flow holds its own.
The Evolve Stoke, priced at $899, is a similar short board with a surf-style design. However, the Meepo Flow offers far-superior performance.
The Exway Wave, priced at $689, is another competitor, however, it's quite a different board compared to the Flow.
I'm a big fan of the Meepo Flow.