Hey eSkaters!
I've got a brand new electric skateboard review right here.
The Meepo Super V3S.
But even more exciting, I'm giving one of these bad boys away.
One of you lucky eSkater is going to win themselves a Meepo Super V3S.
This beast of a board could be all yours, and all you gotta do is make a guess.
I'll be taking this powerhouse out for a spin and I want you to guess what range I'll get.
So, head over to my YouTube review and drop your guess in the comments. And the closest guess wins this electric skateboard.
To make it even easier, I'll be dropping some hints about my wieght and riding conditions to help you make a more informed guess.
So keep your ear out.
Alright, let's get to the Meepo V3S review.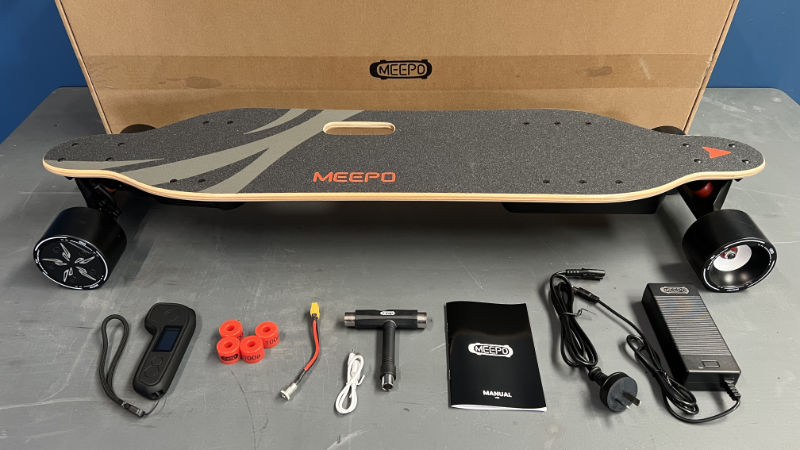 Meepo Super V3S Review
Deck
Let's set the wheels in motion by talking about the foundation of this eBoard – the deck.
With generous dimensions of 38 inches by 11 inches, it is spacious for tall riders, but not too long to handle.
It has a perfect balance between comfort and control.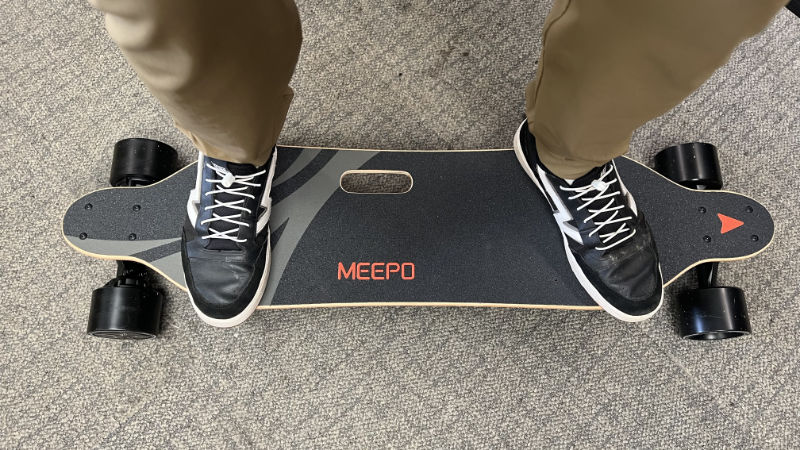 It provides ample room for your feet placement, whether you prefer a wider stance for cruising or a more tucked-in stance when you're pushing the speed limits.
The deck is crafted from premium 8-ply Canadian Maple – giving it great quality and durability.
The deck exhibits an impressive degree of flexibility. It's flexy enough to absorb those annoying bumps and cracks you encounter on city streets, making your ride smoother and more comfortable. At the same time, it's not overly bouncy, giving you a firm, stable platform to stand on when you're picking up speed. It's a delicate balance that ensures a responsive yet controlled ride, regardless of your speed or road quality.
One of my favourite features is the built-in carry handle. This practical design element makes this board easy to carry when you're not riding it. So no more awkward balancing acts as you walk into a store or climb up steps.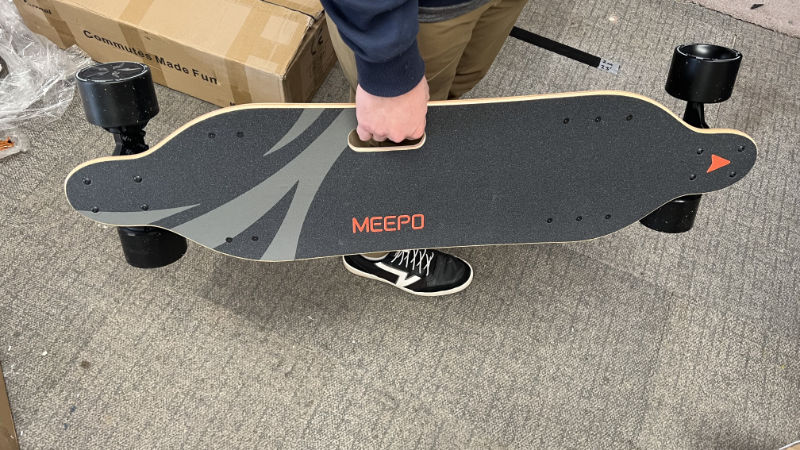 Wheels
When it comes to electric skateboarding, wheels aren't just about rolling; they're about conquering the terrain with comfort and efficiency. The Meepo Super V3S features 90mm Polyurethane wheels, designed to deliver a perfect fusion of speed, stability, and durability.
These wheels are large enough to roll over cracks, small rocks, and other urban obstacles that could otherwise halt smaller wheels in their tracks.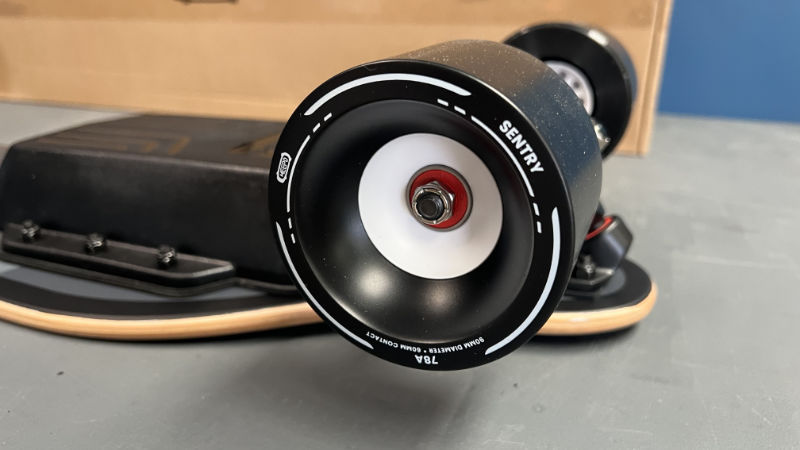 The 65mm width provides a larger contact patch to the ground which increases grip and stability, keeping you firmly grounded whether you're carving through tight turns or hitting top speeds.
Trucks
The Meepo Super V3S is equipped with 7" 45° Reverse Kingpin trucks. A staple in the world of high-speed, downhill ridnig, and electric skateboarding. They offer a balance of stability and maneuverability that's hard to beat, giving riders the confidence to tackle various terrains and speeds.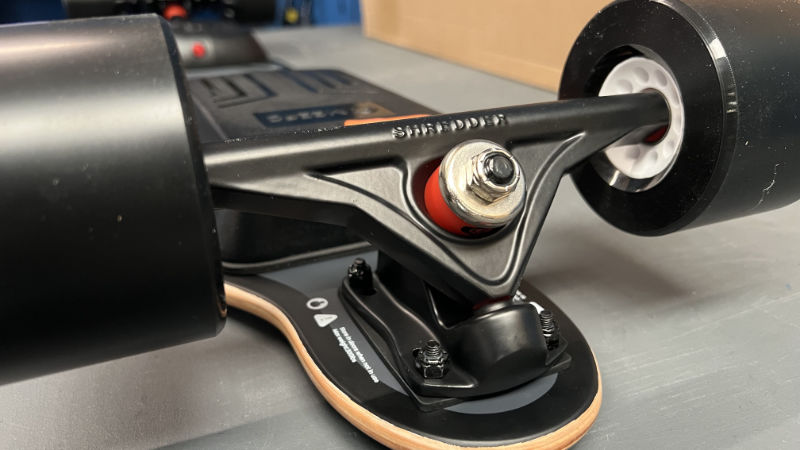 Complementing these trucks are the 92A bushings with an extra set of 100A included in the box. The bushings play a crucial role in determining how much your board turns when you lean and how fast it returns to its original position. With a hardness of 92A, you get a nice mix of responsiveness and stability, and the extra 100A set allows for customization for riders seeking a stiffer, more stable ride.
Motors
The heart of the Meepo Super V3S lies within its dual 540W hub motors, a powerhouse combination that provides the thrust necessary to transform your daily commute into an adrenaline-charged experience.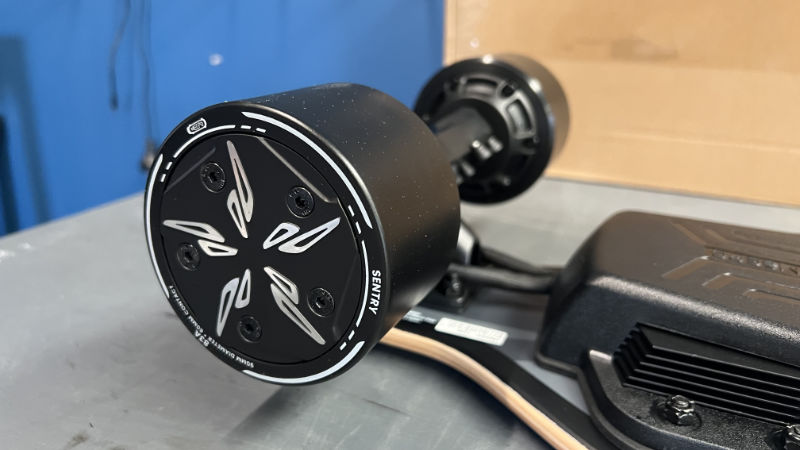 The hub motors offer a sleek, inconspicuous design that doesn't announce to the world that you're on an electric skateboard. It also results in fewer moving parts, which decreases the chance of mechanical failure and makes the board simpler to maintain.
It has a top speed of up to 29mph / 47kmh and has the torque necessary for tackling steep inclines, with a hill-climbing capability of up to 22%.
Battery
Powering the Meepo Super V3S is a 10S2P 216Wh battery composed of high-grade 21700 cells.
With up to 17 miles / 27km of range, this board can take you from your home to the office, around the city, or on a long, leisurely cruise with power to spare.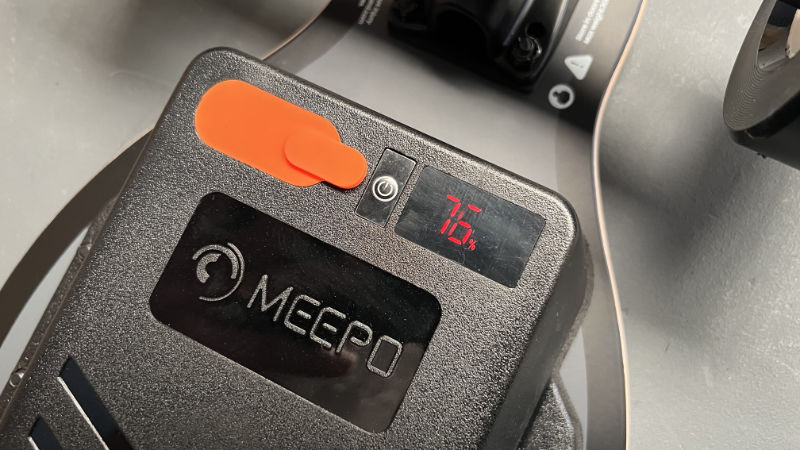 At my weight of about 200lbs / 90kgs, I'll be riding on mainly smooth flat roads in speed mode 3, so I'm expecting around 12-14 miles / 19-23km of range.
There's your little hint.
And I'll be posting a Short later next week with my result.
With the included 42V2A charger, you can bring the battery back to full within about 3 hours. So you can charge it at work or over night to ensure you always have power to get to where you need to go.
ESC
The Meepo Super V3S is armed with the LY-FOC 24H ESC and gives you amazing control over the motors.
From a gentle glide for a leisurely ride, a quick boost for rapid acceleration, or a powerful push for climbing steep hills, this ESC allows you to ride the way to want to.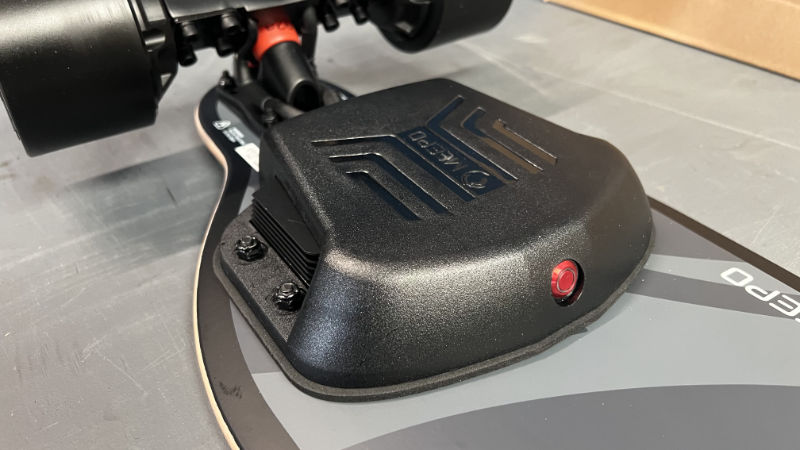 This ESC also provides smooth, predictable braking. Regardless of your speed or the incline, you can count on the brakes to provide consistent, reliable stopping power. This is crucial not just for control, but also for rider safety.
Remote
You control the Meepo Super V3S with the M4S remote which is a nice and simple remote with all the features you need.
The large screen serves as a source of real-time information, providing key stats like the battery levels of both the remote and the board, current speed, odometer reading, trip distance, ride direction and speed and braking mode.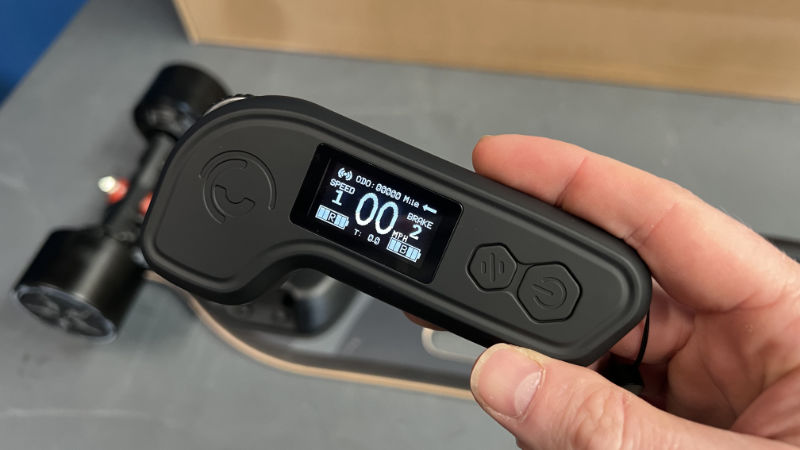 Their are 4 speed modes and 4 braking modes so you can set them independently to get the ride feel that suits you.
Lastly, the M4S remote also comes equipped with a cruise control feature. With this, you can maintain a steady speed without constantly keeping your thumb on the wheel, making those long rides even more enjoyable.
Final Thoughts
And that wraps up my Meepo Super V3S review.
It is an electric skateboard that manages to tick all the boxes, whether you're looking at performance, durability, comfort or user-friendliness.
The overall riding experience is a perfect balance of power, comfort and enjoyment, whether you're cruising through city streets, carving on coastal roads, or tackling hilly terrains.
It has an accessible price point of $469 which won't break the bank and is an investment that promises countless hours of thrill, fun, and convenience.
Remember to drop your range guesses on the YouTube review for your chance top win.
Ride safe out there eSkaters,
See you soon.