Watch:
The Exway Atlas is an INSANE electric skateboard.
I have the 4WD version and a bunch of different wheels that I am going to test.
The top-end Exway Atlas 4WD is nothing short of a beast. It's for all you power-hungry eskaters out there that want to thrash around and get that adrenaline pumping through your veins.
That said, I also found the Atlas to be very comfortable and would be perfect for commuting to work or school. Especially if you want to get there fast!
The big selling point of the Atlas is that it is a completely modular design so you can swap parts in and out to change the way it rides. I'll go into more detail about the swappable parts throughout the review.
Now, depending on the config you want, the Exway Atlas will cost between US$1,449 and $2,399. But that's before any discounts are applied, so make sure you use the codes at the top to get the best possible price.
It might sound expensive, especially given Exway's track record of providing affordable products in the past.
The eskate community have aired their opinions about the price of the Exway Atlas and they're not all that positive.
But quite frankly, I couldn't imagine an electric skateboard with this many features and the spec sheet that it has to sell for anything less.
The base model 2WD version of the Atlas is still $400 cheaper than the very comparable Evolve Carbon GTR.
Plus the Atlas has a 4WD option. Something that Evolve has tried, but failed, to deliver. Yet…
But who knows? Evolve has always been the 'Renegades' of the eskate industry. Maybe they're still working on a 4WD to release this year…
Anyway… My point is…
Exway is no longer another 'cheap Chinese brand'.
They are a fully-fledged company producing high-quality and premium electric skateboards. But still at a competitive price.
The Exway Wave and Exway Flex are perfect examples of this. They're now taking it a whole step further with the Altlas.
No more chit chat.
Let's get straight into the good stuff and see how the Exway Atlas really performs.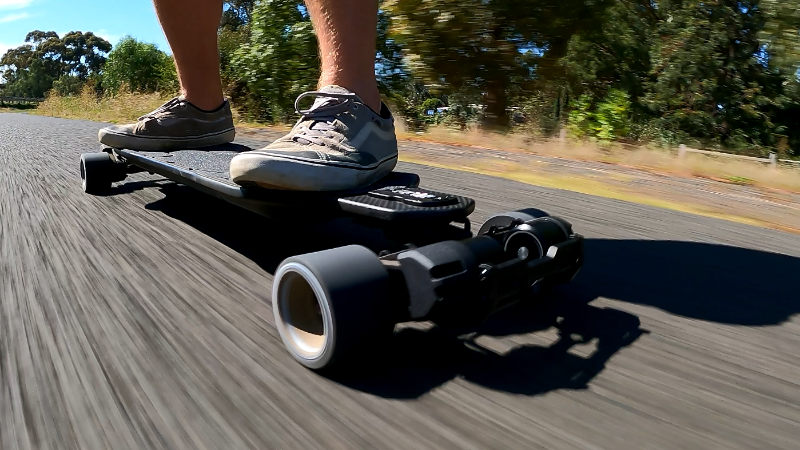 Range Test
I did an individual range test for each of the four sets of wheels that I have. When I changed the wheels over I also changed the wheel pulleys and the belts. For the 90mm Streets and the 105mm Cloudhweels I used a 14T/44T setup and on both of the AT setups, I had a 14T/66T config.
The 90mm and 105mm range tests were 100% completed on paved roads and paths while my range tests with all-terrain wheels were split between riding on paved roads, grass and loose dirt trails.
Here are my results:
| Wheels | Tested Range |
| --- | --- |
| 90mm Polyurethane Street | 26.4km | 16.4 miles |
| 105mm Cloudwheels | 21.3km | 13.2 miles |
| 160mm AT | 19.2km | 11.9 miles |
| 175mm AT | 21km | 13 miles |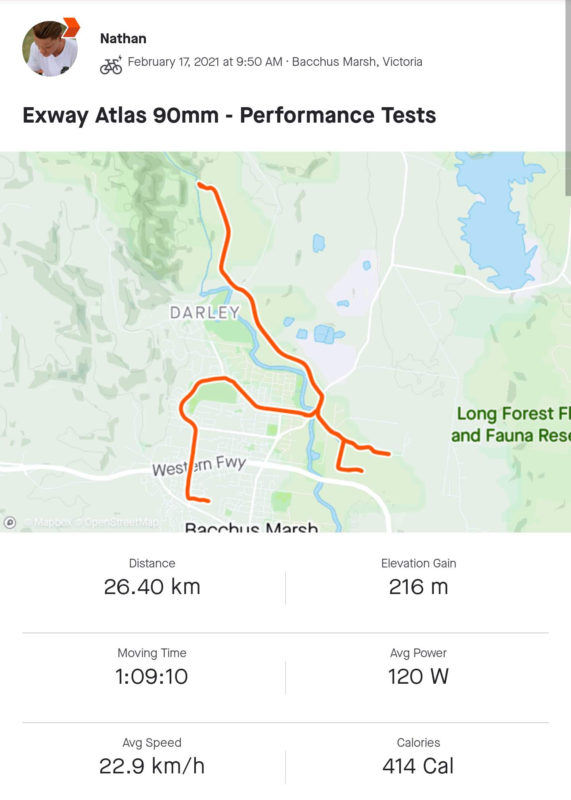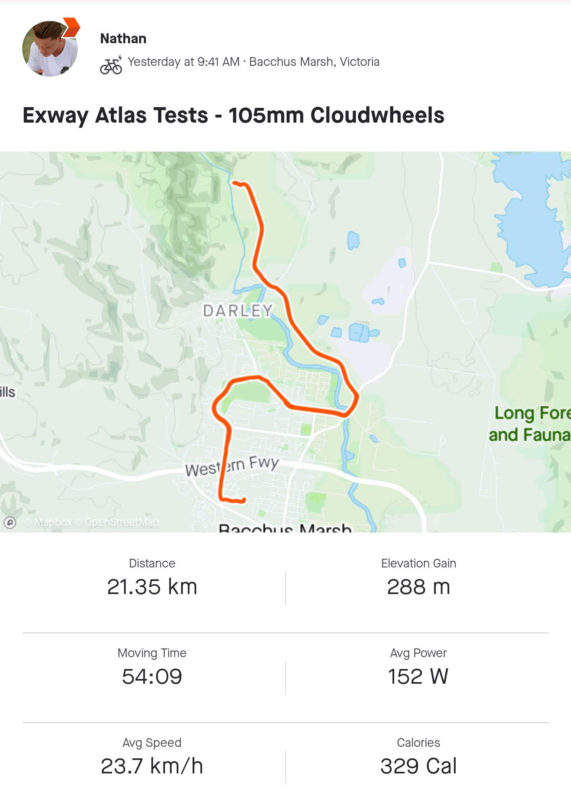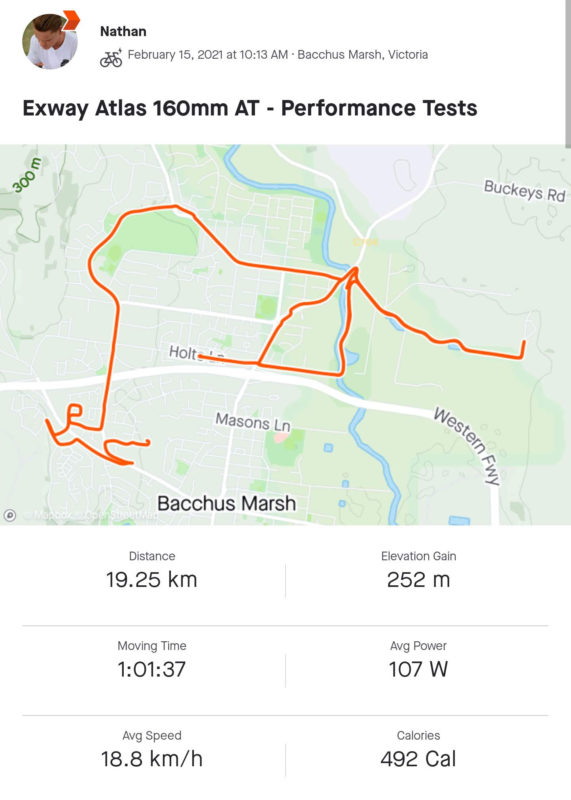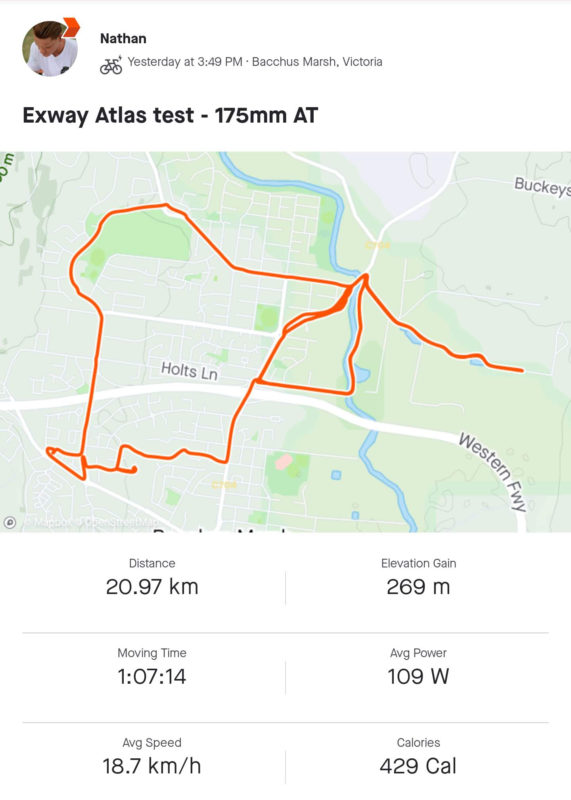 My tests do fall short quite a bit which is generally expected. The marketed ranges are tested in perfect conditions with riders weighing between 70-80kg riding at very conservative speeds.
For starters, I'm just over 90kgs and my tests are in far less than perfect conditions. I had quite a bit of elevation gain, I had the Atlas in mode 4 the entire time, Turbo mode was on and my cruising speed was a little over 30kmh.
I also think I had my belts tightened a little too much which would have put some extra resistance on the motors, causing a reduction in my range.
Taking all of that into consideration, I do believe that it possible for some eSkaters to get much closer to Exway's marketed range in the right conditions.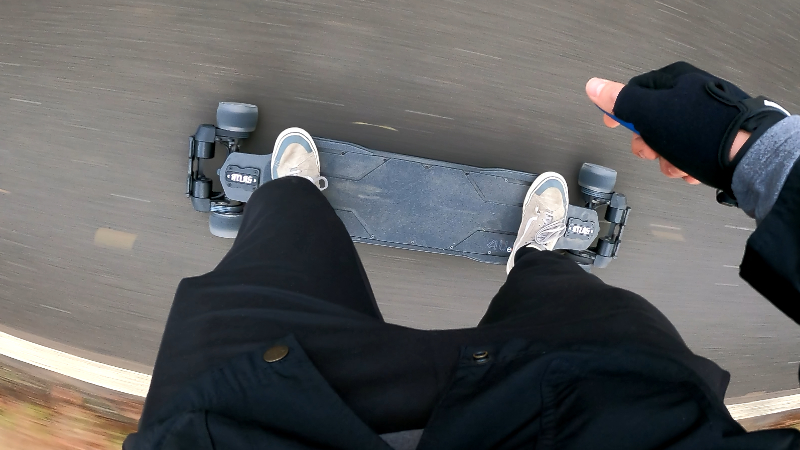 Top Speed Test
The top speed capable on the Exway Atlas is just ridiculous for a non-DIY electric skateboard.
With the AT setup, it's marketed to be able to hit 51kmh (32mph).
And I think that is definitely achievable even if I didn't get there.
The fastest I went was 42kmh and that was enough for me. I didn't have the guts to keep going, but there was still plenty of room left in the throttle.
Acceleration Test
Oh boy, this thing can accelerate!
Before you hit that throttle, you better be damn sure you're ready otherwise you WILL end up on your ass.
Especially with the 90mm and 105mm wheels, the amount of punch the Atlas has is insane.
It's the closest feeling to a DIY eboard I've felt while being on a mass-produced electric skateboard.
But don't get me wrong, I'm not comparing this to a DIY eboard. They're still in different leagues.
The 2WD option won't have as much acceleration power as the 4WD I have, but I imagine it will still be quite a lot!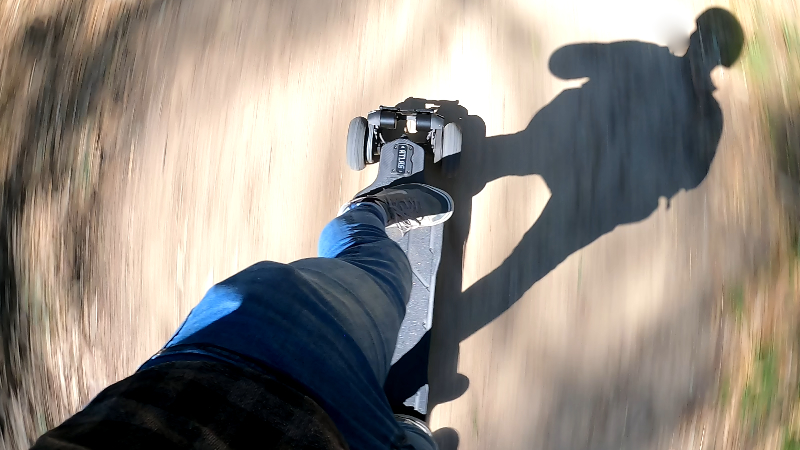 Braking Test
Generally, an electric skateboard's braking power is consistent with the acceleration power.
And the Exway Atlas proves this.
The brakes absolutely slam!
In gear 4 I had my braking power set to 100% and I had to be super careful when applying the brakes. If I threw them on too quickly I'd end up super-manning over the front of the board.
This became a problem when I was coming up to intersections and cars or cyclists popped up out of nowhere and I had to brake faster than usual. The Atlas would come to a stop but I'd end up lurching forward out in front of the traffic.
However, this is a good problem to have. If you can learn to control your weight distribution while braking, it will keep you out of trouble, even in those split-second encounters.
Hill Climb Test
There is no hill that the Exway Atlas can't climb.
OK, that's a very overstated statement. But I challenge you to find a street that the Atlas wouldn't be able to climb.
Evolve flew to New Zealand to test their board against the steepest hill in the world and I have no doubts the Atlas would be able to climb it too.
I did a small hill climb test and it smashed it. I was flying up at around 30kmh and there was still room on the throttle.
There's this one gravel hill I climbed during the AT range test and it has a massive, unavoidable pot-hole at the bottom so you're forced to enter the climb awkwardly and at a slow speed.
And the Atlas had no worries navigating the uneven ground and climbing the loose gravel.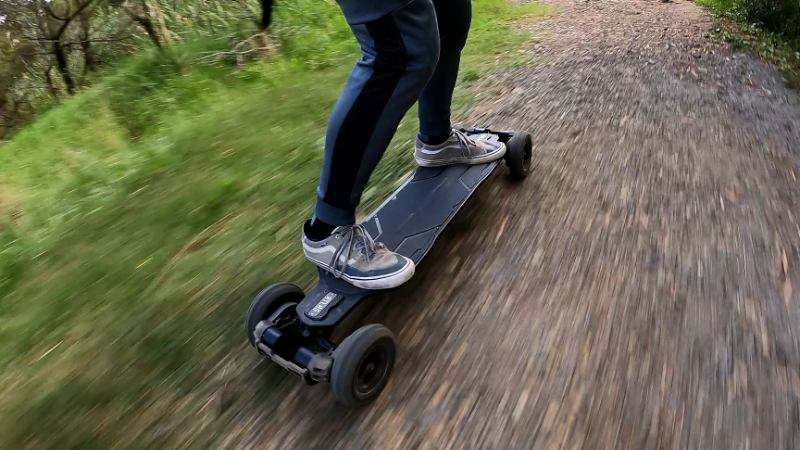 Features and Specs
That's all of the performance tests done.
But the Exway Atlas isn't great just because of it's performance.
The reason I love the Atlas and all of Exway's electric skateboards for that matter, is because of all the added features that Exway put into the eboards.
The Exway Atlas has got to be up there as one of the most comfortable rides I've ever had on any electric skateboard. Even with the 90mm street wheels on.
Yes, it is a carbon fibre deck which is meant to make it quite stiff, however, there are a bunch of things that Exway have done to provide a really comfortable ride.
It's 39.5" long with a huge wheel base. And even with larger tyres on it, you still feel relatively close to the ground. This is great because the closer you are to the ground, the lower the centre of gravity, meaning you'll have a lot more stability when riding, especially at high speeds.
The Atlas has shock absorbing griptape which does a great job of soaking up many of the vibrations from the ground.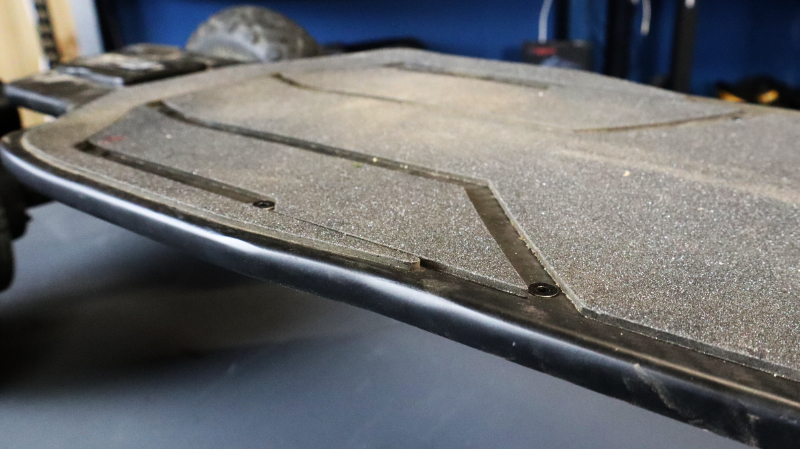 It has Exway's new Trist double kingpin trucks which allow for two sets of bushings in each truck to help with the comfort.
The trucks are awesome. I've had bad experiences on DKP before, so going in, my confidence was low But after riding them for a few minutes, I felt totally in control of these trucks. They resond predictably and precisely so if you ever get into a sketchy situation where you have to turn out of the way quickly, you can be confident that you'll be able to turn hard and come back to centre nice and easily.
The trucks are ideal for carving hard and fast. They gave me a real sense of snowboarding or surfing along an open road. It felt amazing.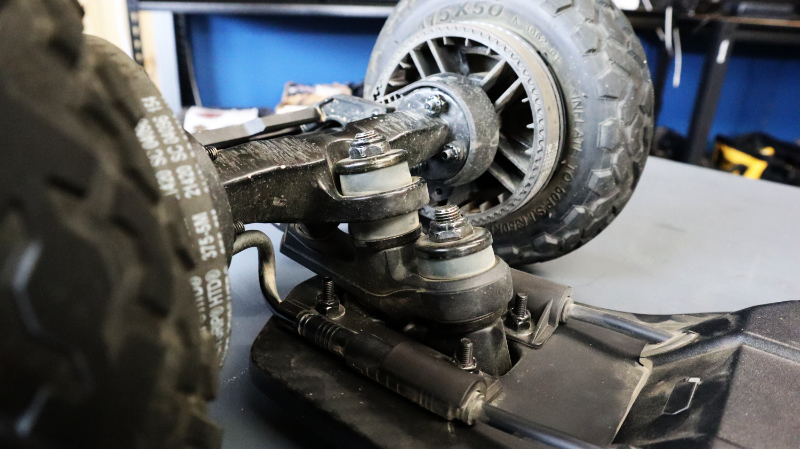 Individually, all of these components are great, but it's the combination of the long deck, shock absorbing griptape and double kingpin trucks that shocked me with it's ability to provide such a comfortable ride.
The stock wheels in the 2-in-1 combo are the 90mm Street wheels and the 160mm AT wheels.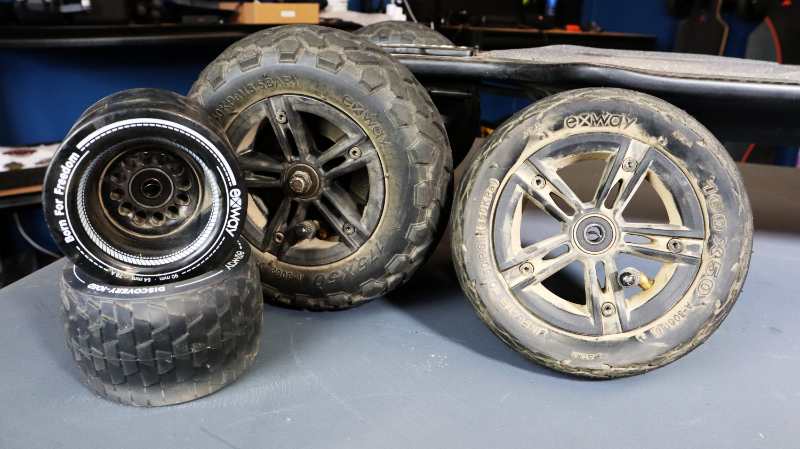 Exways 90mm wheels are some of the best eskate wheels I've ever ridden. They are very comparable to Evolve's GTR wheels. Even though they're a little smaller in diameter, they have more surface area on the ground so they're grippy and a never feel like they're going to slide out from underneath me when I'm going around corners.
But as you've seen in this review, you're free to swap and change the wheels to whatever you like.
Exway have a great table that helps you pick the right configuration of wheels, wheel pulleys and belts to get the desired range and top speed that you want.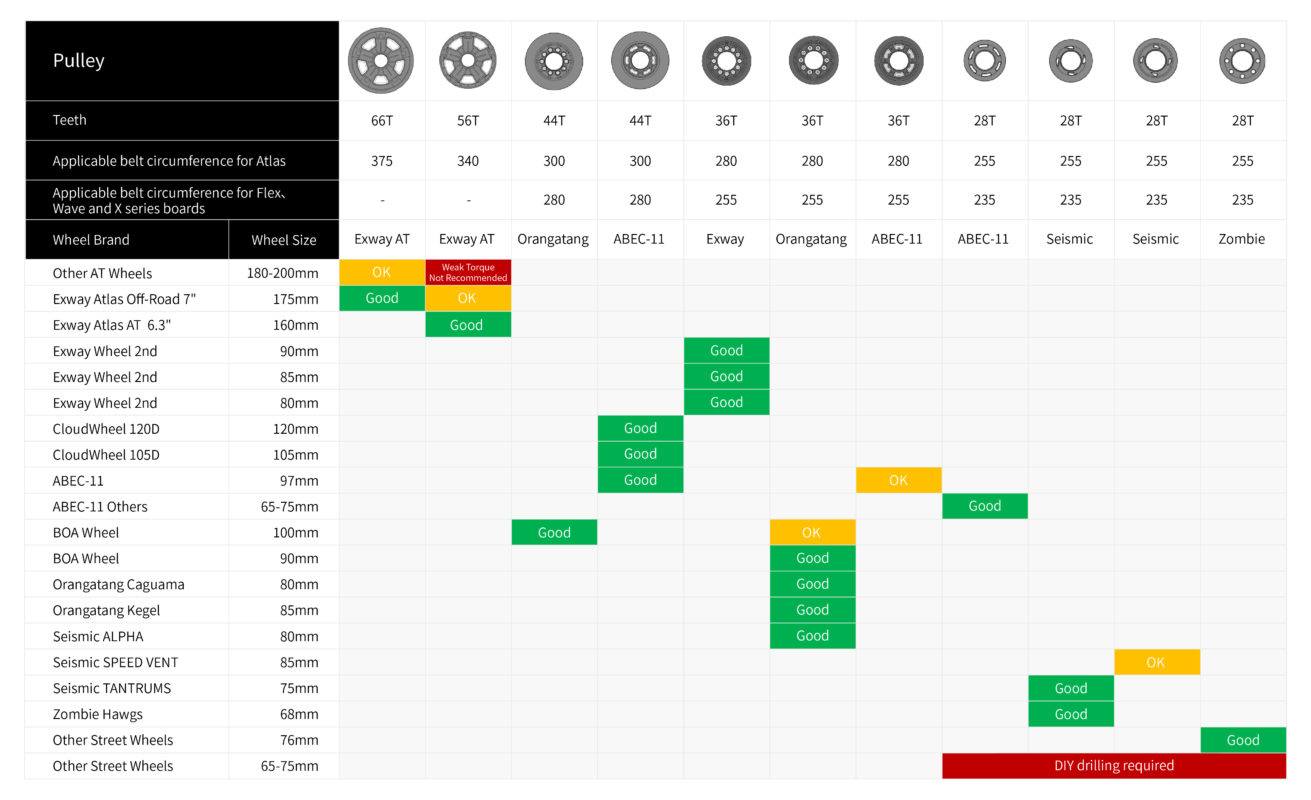 The battery is a 12S4P 518Wh monster. While the motors are 4230 160kV cans. Now, this is a demo board, and on the Exway website they say that the production boards will have 4240 motors with the same kV. This basically just means they are slightly bigger and apparently be able to withstand 30% more power.
In the future, Exway are planning to release a Hub motor drivetrain and direct drive motors. All completely plug-and-play.
AND mix and match. So you could run belt motors on the back and direct drive on the front, or whatever combination you want.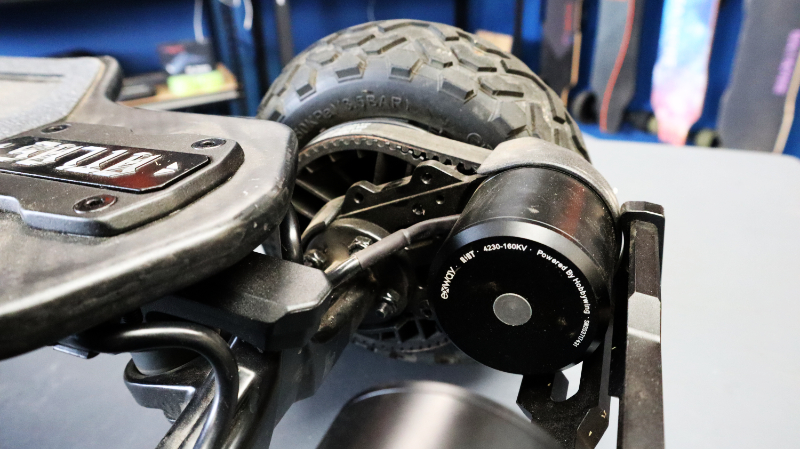 Like all of Exway's eboards, the Atlas has a customized Hobbywing ESC
And in the 4WD version, it has two ESCs, one to control each set of motors. The 2WD setup will only have ESC.
If you're wondering if you can switch between the 4WD and the 2WD, your answer is, yes, you can.
If you buy a 4WD version, then want to go down to 2WD, you can simply switch the front trucks over to standard skate trucks and select the '2WD' option in the Exway App (more on the App in just a bit).
If you go with the 2WD version initially, then later decide you want to upgrade to a 4WD, you will need to buy the extra ESC, motors, trucks with the motor mounts, wheel pulleys and belts.
Going up to 4WD is harder than going down to 2WD. Just something you might want to consider.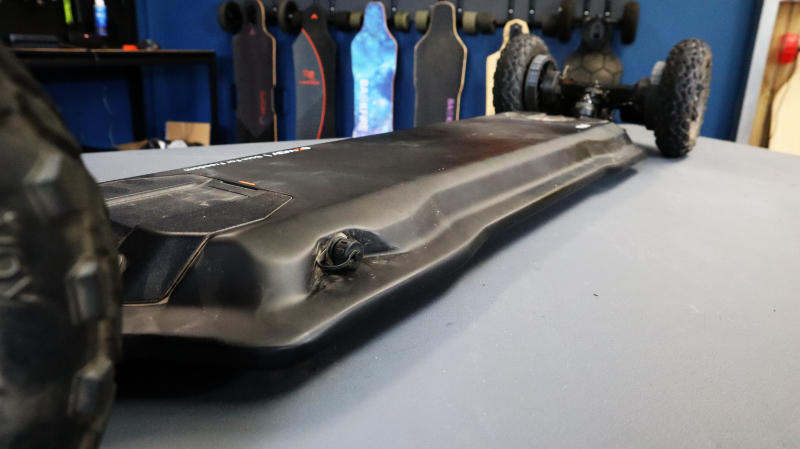 All of this is made possible with Exway's app. If you've used an Exway before or watched any other Exway reviews, you'll know that the app gives you total control over your electric skateboard.
The best feature of the app is that it allows you to tweak the acceleration and braking power.
This means you can make the Atlas suit your experience level and your personal riding style.
You can turn down the acceleration to maximise the amount of range, or you can ramp it right up when you want to let your speed demon out.
Your Atlas will be unique to you.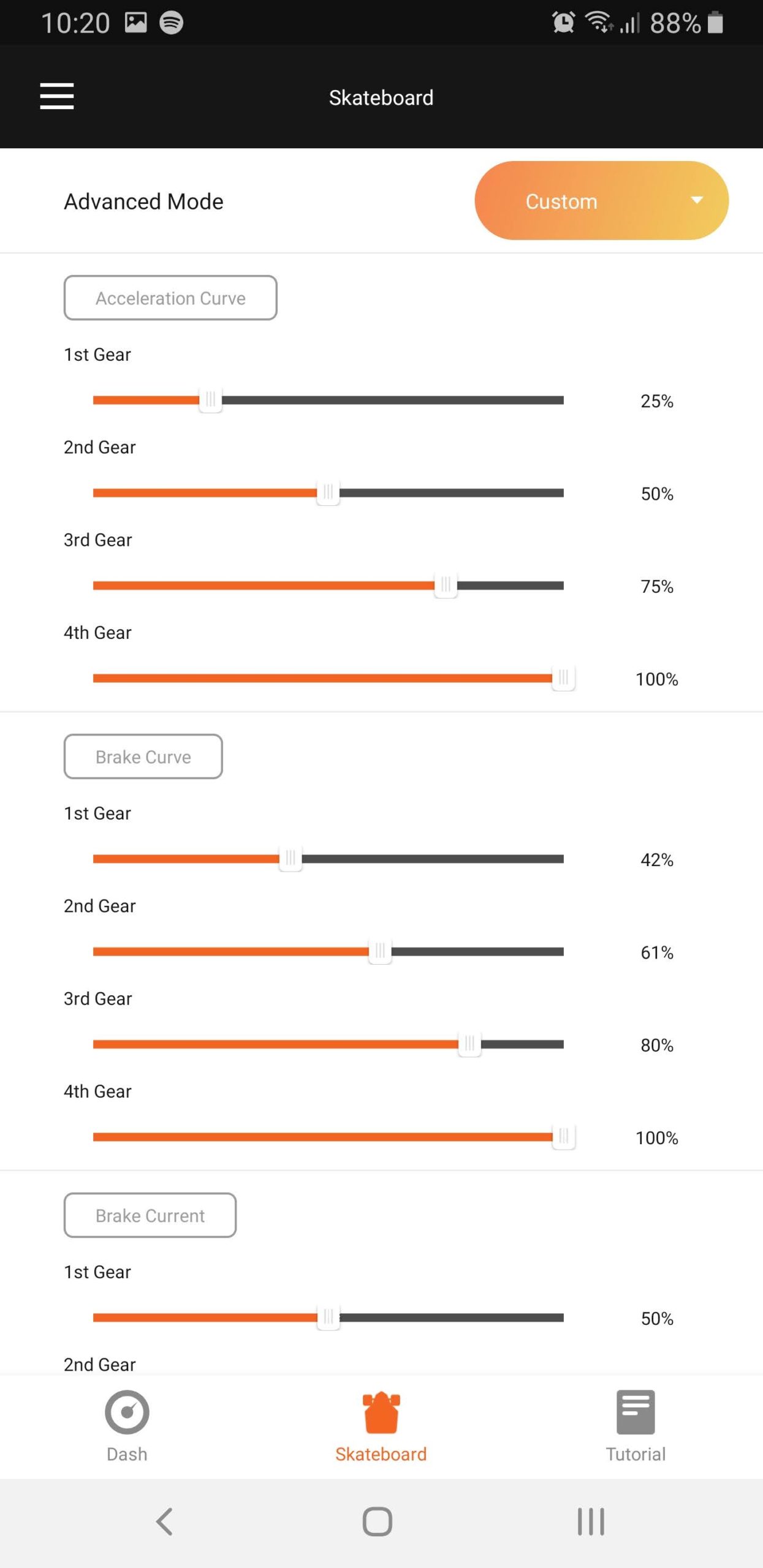 The Exway app has other features such as a Free mode option, which is the Boosted style reversing, Turbo mode which increases the boards acceleration power, Safety mode where you can limit the board to certain gears, which is great if you want to control the speed accessible by your kids or if you're teaching friends, cruise control and the Atlas has a Tank mode that makes the board do crazy donuts.
That's just a handful of the features the app currently has. Exway are always improving the app so you can be sure that if you buy an Exway electric skateboard, it'll get feature updates in the future. No other electric skateboard brand does this.
The app does so much, it really needs an article of its own.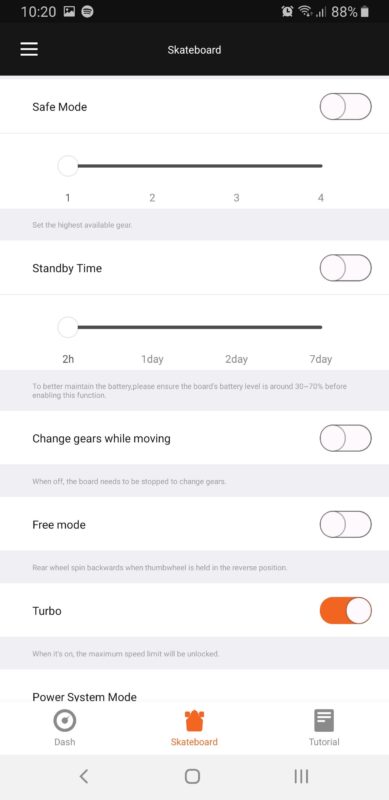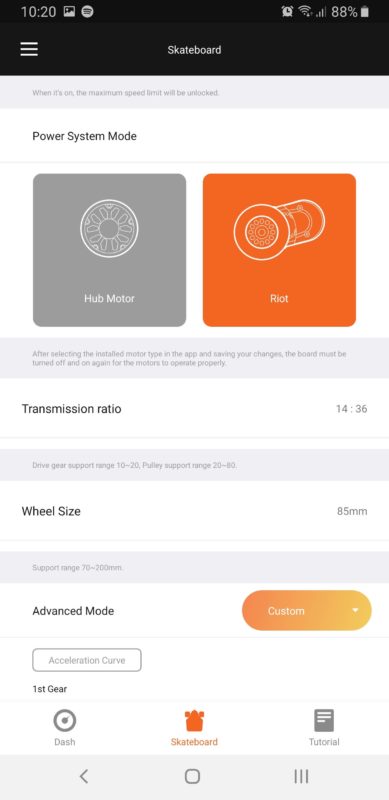 Exway have developed a bunch of accessories to accompany the Atlas.
One in particular that is worth a mention are the Fenders or Mud guards that have ShredLight mounts. I don't have any at the moment, but I think these are going to be really popular.
ShredLights are some of the best eskate lights and for the ease, convenience, brightness and quality, they are definitely worth the price. Plus, if you use the code ESKATEHUB you can get 10% off your ShredLights.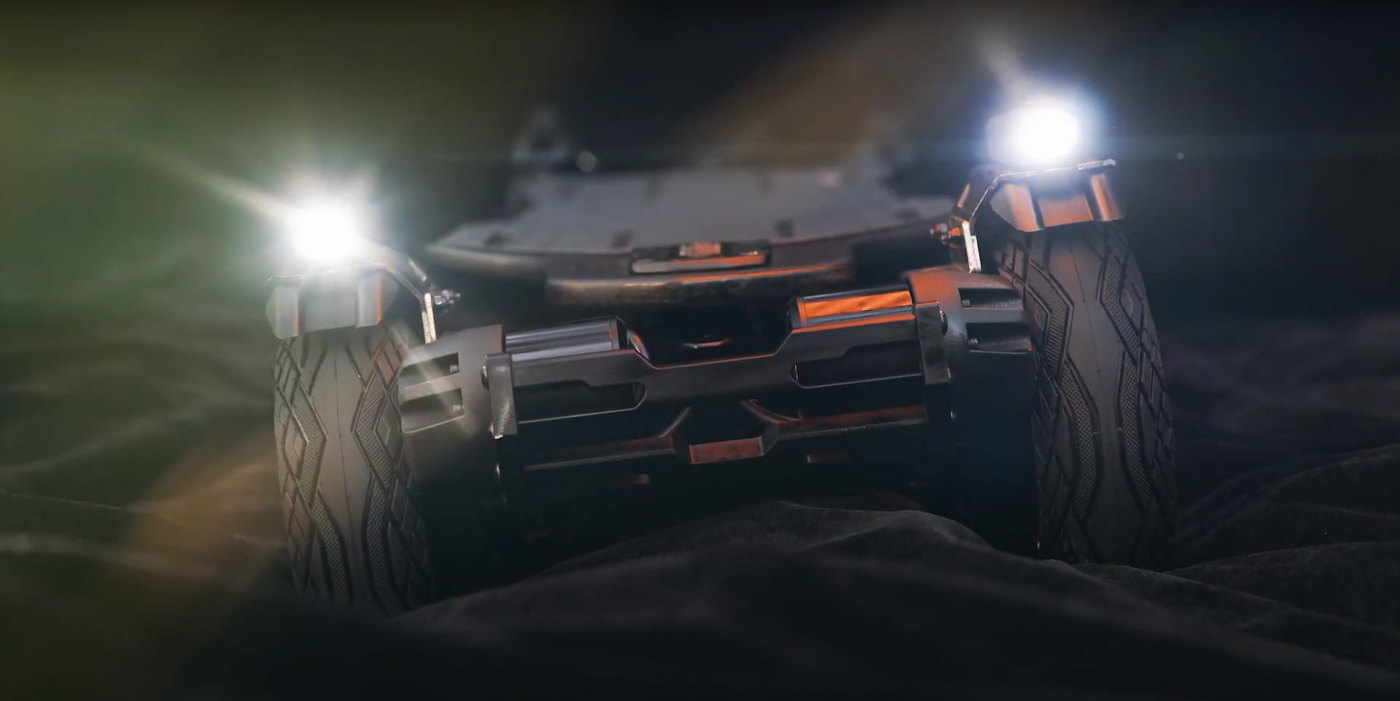 I've been harping on about what's great about this board, but there are a handful of downsides.
First of all it is super heavy. I mean, it has to be one of the heaviest boards out there before you start looking at the likes of Kaly and Lacroix.
As soon as you place your order for the Atlas, go hit the gym for the next 10-15 days so you'll be ready to lift the box into your house when it arrives.
I find it a bit awkward to move around and there's really no great place to pick it up.
Exway have developed a carry handle for it. It's already listed on their website and from the looks of things it screws into the top of the deck where the trucks are. In my oninion, this is a must have accessory, it will make your life so much easier.
That's pretty much my only gripe I have so far. And if the Atlas' weight is the only problem, I'm more than happy to deal with that for this level of quality and performance.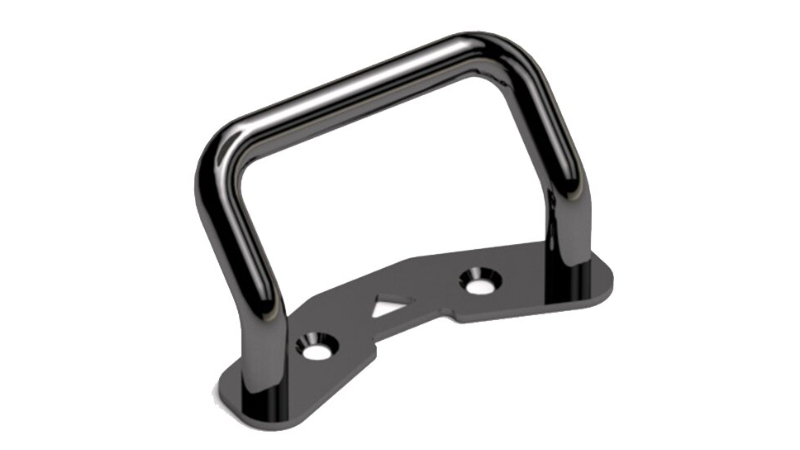 Final Thoughts
Overall, as you've already seen, I love the Exway Atlas.
I love the ride feel, I love the customizability, it has some serious power and it's actually an evolving electric skateboard with all of the components and features Exway have lined up.
It's just a tad heavy.
Even though it is a beast of a board, due to its customizability, it really is suitable for any kind of rider. It can be whatever you make it to be.
The only thing it doesn't offer is a flexible deck, which might bother some people, but trust me, this board doesn't feel like your regular stiff carbon deck. The comfort will shock you.
That's my Exway Atlas electric skateboard review. I hope I've helped make your search for the best electric skateboard that's right for you a little easier.
Use code ESKHUBATLAS for $50 OFF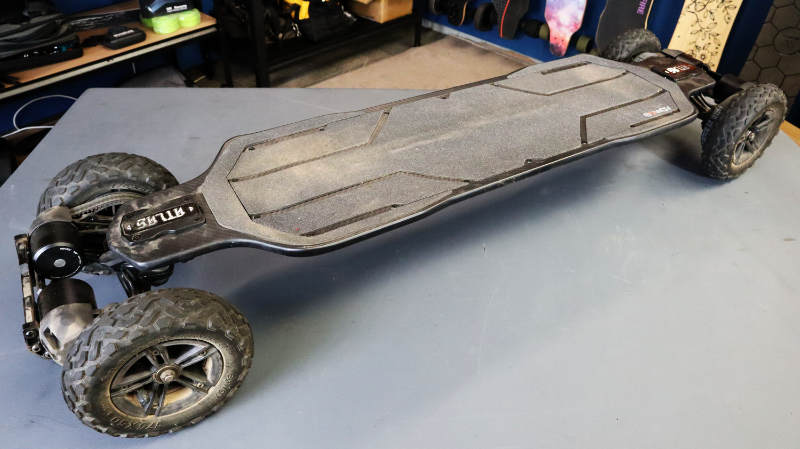 Alternatives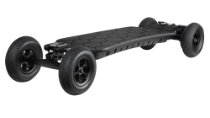 WowGo AT2
The WowGo AT2 is one of my personal favourite off-road electric skateboards. It's powerful, comfortable and uses top-quality parts.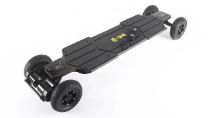 B-One Hercules Carbon AT
The B-One Hercules is one of the best cost-effective AT electric skateboards available.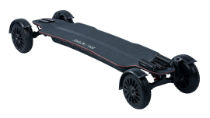 Backfire Ranger X3
As far as hub-motor electric skateboards go, the Backfire Ranger X3 is incredible. It tackles the toughest of terrains with ease and has the power that'll make your jaw drop.