Watch:
Who Is This Electric Skateboard For?
This extremely powerful yet affordable electric longboard is the perfect eboard for someone that needs to cover long distances to reach their destination but also wants to do it in style.
If you're going to be riding this board door-to-door between home and work or school, then the Meepo NLS will serve you nicely.
The wheels are nice and chunky which help to keep you steady on the board at all times, including when riding at high speeds.
Because the wheels are so big, I wouldn't recommend this board if you like to do a lot of sliding.
Because of its incredible specs and affordable price, I had rated this board as one of the best electric skateboards back in 2018.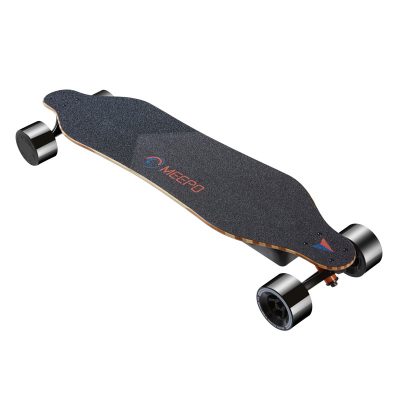 The Specifics
The Deck
The Meepo NLS has a brand new redesigned deck. It's made from a composite of premium fiberglass and bamboo.
It's great because the flex will reduce the amount of shock that you will naturally experience while riding, while maintaining a sturdiness to allow you to carve at high speeds.
The Wheels & Trucks
The NLS has huge 100mm wheels with a durometer of 78A.
Anyone that knows a thing or two about skate wheels will know that the 100m size are awesome for gliding over stones, cracks, sticks and bumps with ease.
And with a wheel softness of 78A, the wheels will soak up all of that vibration you generally get from skating. So you'll be able to skate for longer than you ever have before.
And if you want to take comfort to the next level, then you have to get yourself some Cloudwheels. The 120mm set will make your NLS a dream to ride. And you can spice it up with the colours.
You have Meepo's proprietary Shredder II Trucks installed which they claim are the most stable trucks on any electric skateboard at the moment.
When I loosened the trucks off, I got some really nice manoeuvrability from the board. On the flip side, when I tightened them up, the stability I had when riding at high speeds was really comforting.
It won't take you long, a few back and forths, to find exactly where you like your trucks to be tightened too.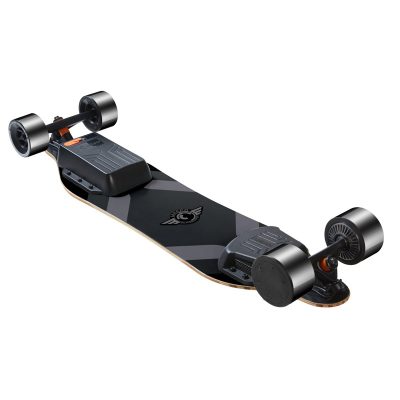 The Battery
The standard battery is rated at 36V / 5Ah which is equal to 180Wh.
Meepo's spec sheet says that the NLS has a range of 14 miles (22.5km) and when I took it out for a test ride, I was surprised when I missed that number by only a hair. I weigh 183lbs (83kg) and I got 13.7 miles (22.1km) and I was riding it in GT mode until it dropped down to ECO for the last couple of miles.
This a juiced up battery but it means you won't be able to take the NLS on an airline. However, due to the overall size of the board, you probably don't want to travel with it anyway.
You can swap the battery out. All you need to do is undo the 6 bolts around the casing, disconnect two cables, put in the fresh battery and replace the casing and bolts.
Meepo claims it takes under 2 minutes to do it, and I would say that you could if you had an electric drill, but realistically it's going to take about 10 minutes with the T-tool. Still, not too bad.
If you wanted a battery if more oomf you can opt for the Sanyo battery upgrade which will cost you an extra $150.
One great feature of the battery is that you can also charge your other devices off it. It comes with a USB outlet so you can plug in your phone, camera or any other USB device.
The ESC
The ESC is pretty cool. It has a smart turn-on feature, similar to the Meepo V2P, where it will switch on when it detects movement in the motor.
This means you can roll the NLS back and forth under your foot and it will turn on. Saves your back a great deal of unnecessary bending over.
Still no sign of bluetooth connectivity to an app.

The Motors
The Meepo NLS sports dual in-wheel direct drive motors that are rated at 400W of power each.
Because of the huge wheels, the acceleration is going to be a tad slower, but you're getting a higher top speed to compensate for that.
I can tell the torque isn't compromised too much because the NLS still manages to take on any hill you challenge it with. The area I live in has plenty of steep hills, and I have no problems climbing them.
The top speed is advertised at 26mph (42km/h) and when I took it for a test ride, I was completely shocked to hit 29.8mph (48km/h).
I was on the Melbourne Grand Prix track so I had a totally smooth and flat road. There was no wind in any direction so it's safe to say that conditions were perfect. The top speed under any other circumstances wight be different.
The Remote
It's hard to talk about the remote because Meepo have a couple of different ones at the moment.
You could end up with the V2 remote or their new NR remote.
I got the V2 remote with mine so I'll mention a little bit about it here.
I love most parts of this remote. The one thing that bugs me the most is the reverse button. It's way too easy to knock. In some instances I thought I was in forward mode when I was actually in reverse. You can imagine what happened next. Hopefully the NR remote fixes this.
Apart from that, I do love the finger ring and thumb wheel. I feel much more comfortable riding with the ring because I'm not afraid of dropping the remote.
And the thumb wheel has a nice resistance to it that makes you feel like you are actually doing something in order to make the board move.
What's In The Box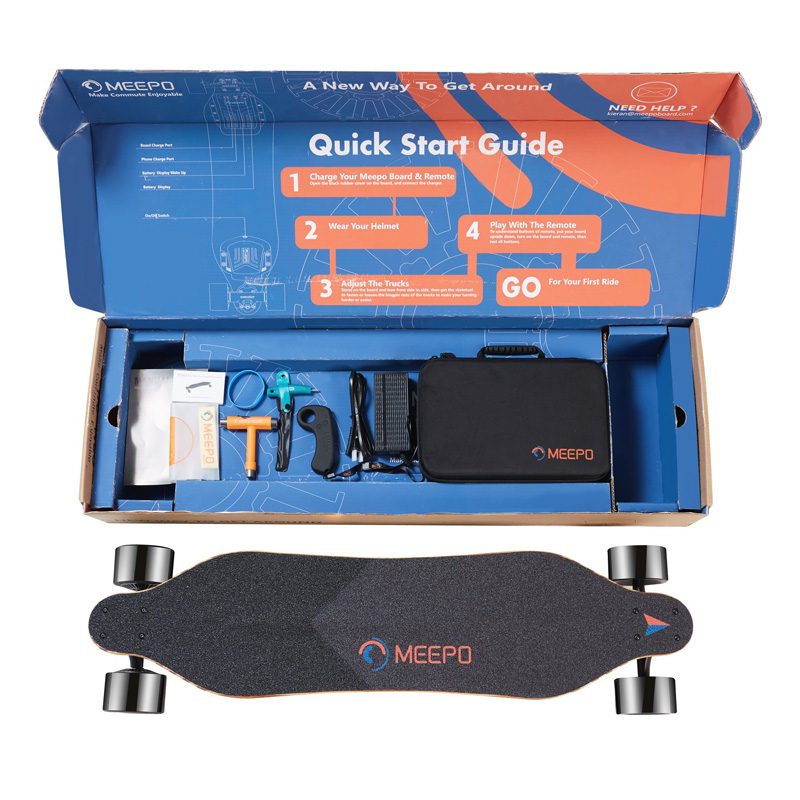 Completely assembled NLS
Remote
Skateboard stand rack
Board charger
USB cable with adaptors for iPhone, Type-C and micro USB
Skate tool
Spare nuts & bolts
All wound up in some very nice packaging.
What Could Be Done Better?
My main concern is the reverse function.
It would be nice to have a button that was harder to click. Especially while you're riding because the board can flick into reverse while you are riding.
But don't be alarmed. The wheels don't just start spinning in the opposite direction. The motors simply stop spinning so you continue to roll. It's not until the wheels come to a complete stop are you able to move backward.
My advice to you would be to make sure you always check your remote settings before you start riding.
Final Thoughts
Meepo has really step it up with the NLS. I am more than impressed with the quality and specs of this board.
It is more expensive than their V2, starting at $599, and I think it's worth every bit.
The ride is really comfortable and the range and top speed are more than what I would need on any given day.
It's not for riders looking for an extreme sliding-sesh board, rather it is for someone who is commuting all the way to work or school every day.
About Meepo
Meepo Board has been producing their affordable yet powerful electric skateboards since 2017. Keiran, the founder of Meepo began the company after he released a video on YouTube of him building his own custom e-skateboard. That video received a ton of exposure and feedback which eventually led Keiran to start his own Shopify store. Since then, Meepo has continuously grown to fulfil the market's desire for high quality and affordable electric skateboards.
This is a review of the Meepo NLS electric skateboard. Their latest and greatest release. For a more up-close look, check out the specs page for more details.
Alternatives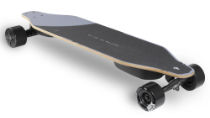 WowGo 2S Pro
The WowGo 2S Pro is an amazingly comfortable electric skateboard that you could skate for hours.