Hey eSkaters.
We are taking a look at the brand new WowGo AT2 Plus today.
I reviewed the WowG AT2 a while back, and it's currently still available for under $1,000 which I think is still pretty good value even considering the older technology in it.
The WowGo AT2 Plus is the upgraded version and comes in at US$1,229 for the standard AT setup, and US$1,349 for the 2-in-1 version that has both the AT wheels and a set of Cloudwheels.
So, let's dive in and take a closer look at the specs and features of this new eBoard.
Let's also keep in mind that I have a pre-production demo board which has some slight variations to the production boards, but I will address those throughout the video so you know exactly what to expect.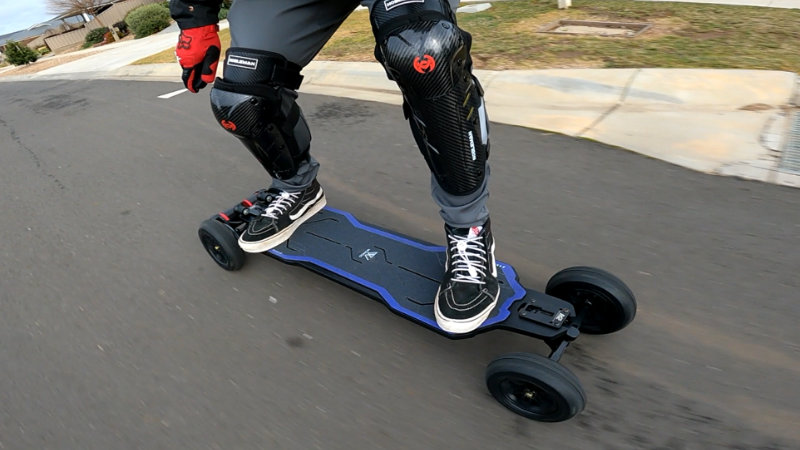 Who Is It For?
The WowGo AT2 Plus is for your everyday eskater.
It's for those commuting to and from work or school and want a comfortable, fast and reliable way to travel.
It's one of the best alternatives to sitting in peak hour traffic or being packed onto public transport.
It's good enough out of the box to be ridden for many miles, but it also allows you to tinker around a little bit and make it something of your own, if that's what you're into.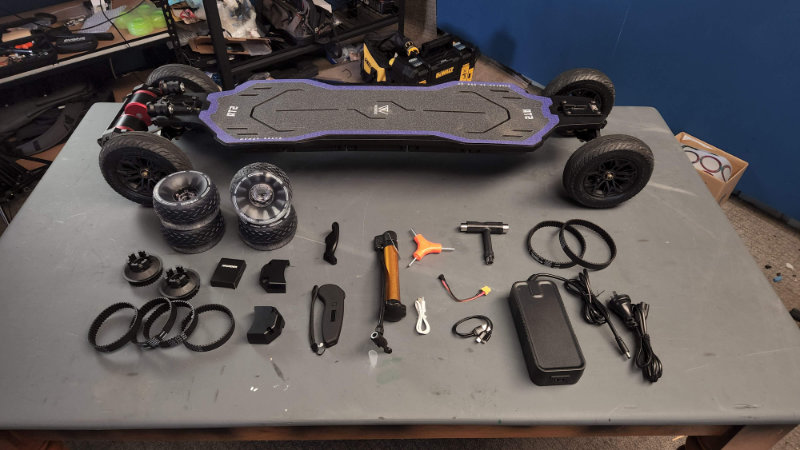 WowGo AT2 Plus Review
Deck
TheWowGo AT2 Plus has the same deck as its predecessor.
A 38", fibreglass, bamboo and maple composite deck that offers a slight flex without being too bouncy.
This flexiness reduces the amount of impact when riding over cracks saving your feet and legs from having to do the work.
You'll feel a lot more stable with this type of deck and you won't get as fatigued, so you can ride for longer periods of time between needing to take breaks.
It has a slight dropdown and concave shape that creates the perfect moulds for your feet to settle into.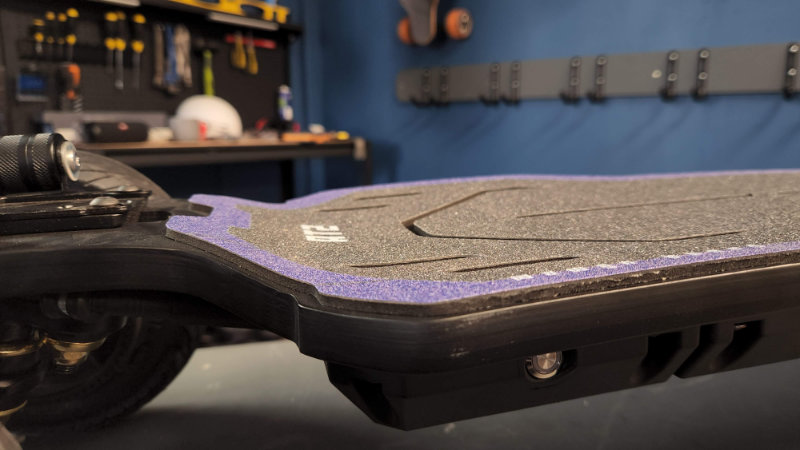 I found that this helped me in a couple of different ways.
First, the raised edges of the deck meant I didn't have to apply as much pressure as usual in order to make a turn.
And because my feet felt 'locked into' the board, I was confident that my feet weren't slipping around. So I could focus the road ahead, without needing to dip my eyes down to check my feet were in the right place.
This is a small thing, but it gives you a lot more confidence when riding because you're more aware of your surroundings, meaning you're less likely to have a fall.
On top of the deck is some shock-absorbing grip tape that is nice and spongey.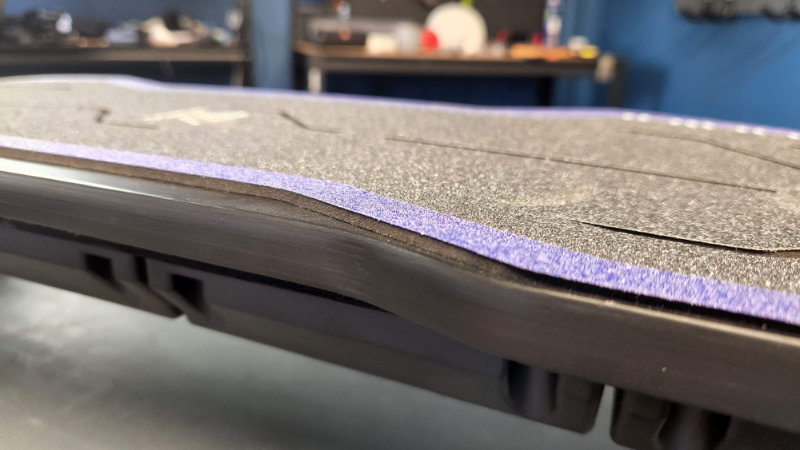 This stuff is awesome, and you'll find it on most electric skateboards these days.
It just does a good job of soaking up the small vibrations that naturally occur from riding around, again reducing the rate of fatigue so you can ride for longer.
The enclosure, again, is the same as the AT2, but that's a good thing.
It's a flexible case with separated battery cells which accommodates the deck's flexibility without doing damage to the battery.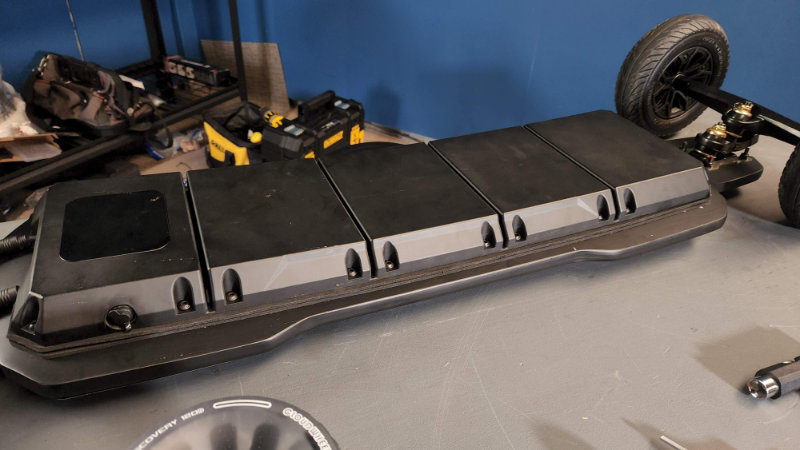 Trucks
My pre-production board came with 95A barrel and cone bushings, which had some issues at the manufacturing warehouse where the bushings ended up being too soft, so they decided to change them.
In production, the WowGo AT2 Plus will be rocking 10.5" Double Kingpin trucks with 97A double barrel bushings on the rear and 95A double barrel bushings on the front.
The bushings I had were super soft and even when I tightened them right up, I still had plenty of movement in the trucks.
I thought this was going to be an issue but I was surprisingly steady at high speeds.
I was able to get a really nice carve going at lower speeds AND hold steady when riding at 40+kmh.
I'll get my hands on the new bushings and update my thoughts on my website. You'll find a link to that in the description.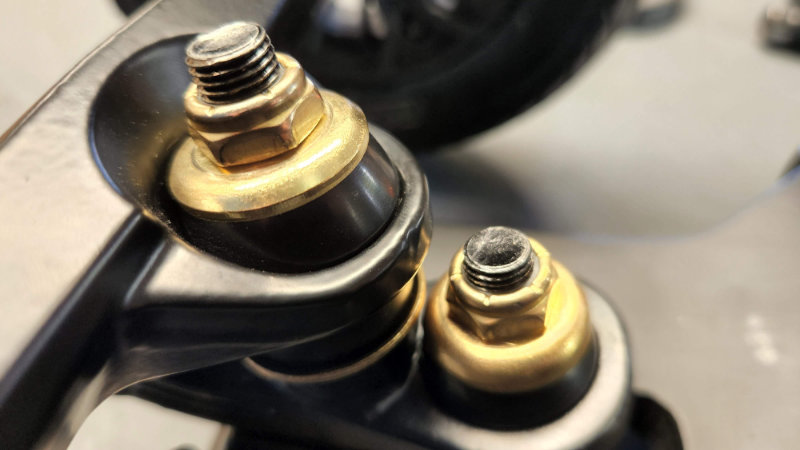 There is one thing that bugs me about these trucks and it's that the two pins on the trucks are really close together.
So much so that you can't get a traditional T-tool around the board-side pin. You have to use a spanner or a shifter.
The other thing is that you are limited to the standard size of bushings and aren't able to use any fat bushings because they rub up against the other pin.
Wheels
The standard option of the WowGo AT2 Plus comes with 175mm pneumatic AT wheels and you have the option of upgrading to the 2-in-1 that also gets you a set of 120mm Cloudwheels.
The AT wheels are more like urban terrain wheels.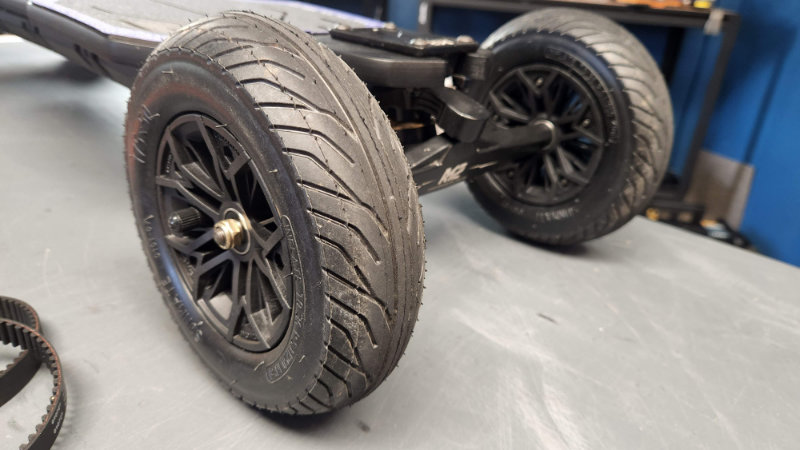 I did ride it a little bit on the grass but it was a tad slippery with the lack of proper off-road tires and with the loose trucks.
Aside from that, the AT wheels are amazing on paved roads and footpaths. They easily roll over bumps and cracks so you don't have to fear getting a stone jammed under your wheel.
Which is something regular skaters know about all too well.
Motors, Top Speed and Hill Climbing
The motors you see here are only on the demo boards.
Production boards will have completely black motors and will look far nicer than these.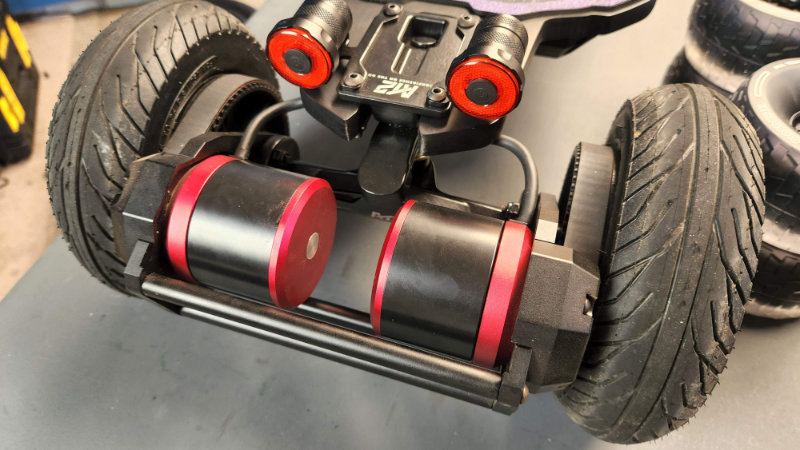 As for the specs, The WowGo AT2 Plus is running dual Hobbywing 5330 belt-drive motors each with a 1300W rated power output.
Now, there was some confusion about these motors being small, however, this isn't the case.
While other manufacturers number their motors based on size, Hobbywing uses a completely different numbering system.
Generally, the first two numbers in the motor's model number refer to the diameter of the motor.
So, for these motors, I wouldn't blame you if you assumed they were 53mm in diameter, but they're not, they're much bigger.
I know, it's confusing.
The good news is, that the motors on the WowGo AT2 Plus are actually 63.3mm in diameter with a height of 60mm.
So, they're more like 6330 motors, which makes a lot more sense considering their power.
They give the AT2 Plus a top speed of 31mph / 50kmh and I have no doubts it can hit that.
Out on my ride I pushed it to 27mph / 43kmh before chickening out.

And I was still accelerating before I backed off so you crazy eSkaters will hit that top speed no worries.
The hill climbing ability is specced at 25-30%.
I went up my regular testing hill and the AT2 Plus did really well.
At the steepest point of 13% it was idling at 15.5mph / 25kmh and held that pretty steady all the way through.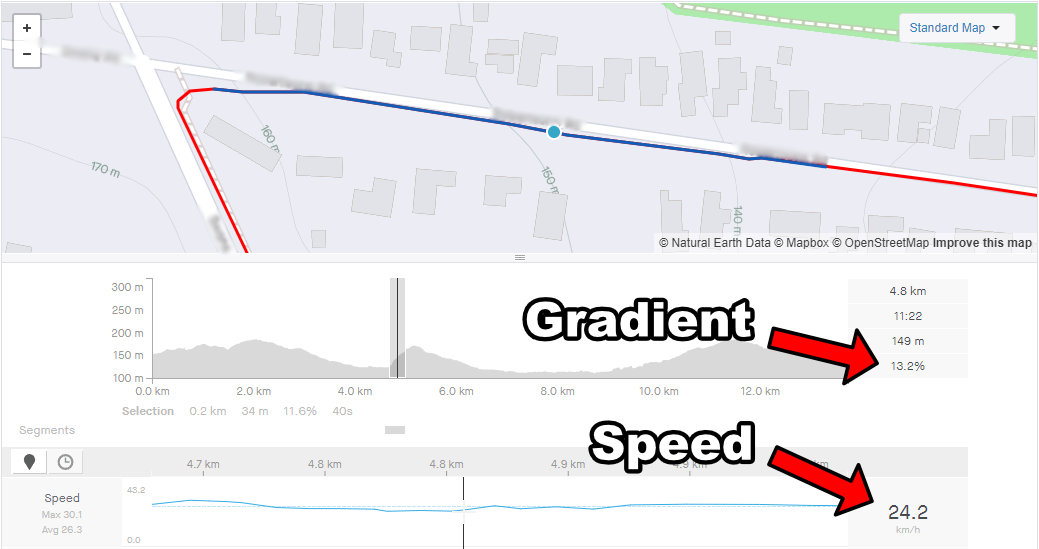 That's pretty standard and I don't think many of you will have any troubles riding up hills on this electric skateboard.
The best thing about belt-drive motors is that you have the option to swap and change with any type of wheels you like so long as you pair them with the right pulleys and belts.
Great for changing up the riding style and keeping it fresh.
Battery and Range
The WowGo AT2 Plus is packing a 12S4P 604Wh battery and is set to reach a range of up to 18 miles / 30km with the AT wheels and 28 miles / 45km with the Cloudwheels.
I'm down to about 3 out of 5 bars and I rode 8.5 miles / 13.7km, so that would land me right on 18 miles / 30km if I kept riding to the end.
You do get less performance out of the bottom end of the battery so there is that to consider.
However, I weigh 198lbs / 90kg, I climbed a fair few hills and I battled the wind all the way home uphill. So there's also that.
At this point, I think the marketed range is fair.
ESC, Acceleration and Braking
We get a Hobbywing ESC with the AT2 Plus, which I love.
It's smooth and reliable.
I always felt like I had control over the acceleration and braking. I didn't feel any jolting and the board responded exactly how I expected it to when I hit the thumbwheel in either direction.
It has a fairly hard take-off. Nothing to throw off if you're prepared. But like all electric skateboards, if you're not ready for it, you'll be on the ground pretty fast.
As for the braking, I was able to come to a complete stop within a safe distance without the risk of being thrown forward.
Remote
Paired with the Hobbywing ESC is a Hobbywing remote that we've seen from WowGo in the past.
I think it's actually the exact same as the original AT2.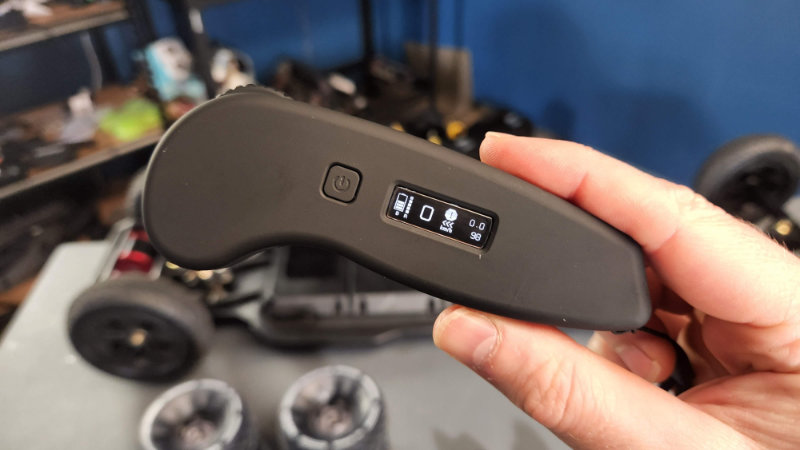 It's a nice matte and rubbery black which sits in the hand comfortably.
It has a thumbwheel up top and a single button on the side that you use to make all your changes.
A single press changes the speed mode when you're not accelerating and a double click sets the board direction to either forward or reverse.
Unfortunately, there is no cruise control, although, I almost never use it anyway.
But, the board does turn on automatically when you turn the remote on which is one of my favourite features because you can just throw your board down, flick on the remote and go.
You don't have to awkwardly fumble around underneath the deck looking for the power button.
Because I don't know about you, but when I have to turn the board on at the deck, I always seem to check the wrong side first…
Accessories
The WowGo AT2 comes with a set of screw-on tail lights that are quite good. You can set them to solid or flashing modes and they are micro-UCB rechargeable.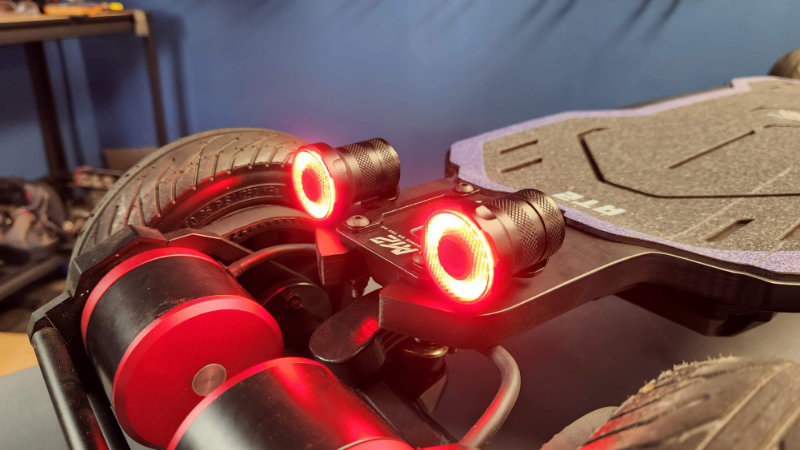 There's also a little handle in the box that can be attached to the truck's top plate. You could get away with installing that at either the front or back, but most will put it at the front because it's lighter to carry that way.
Final Thoughts
Overall, the WowGo AT2 Plus is a promising electric skateboard.
Aside from its truck's dilemma, I really rate the WowGo AT2 Plus.
It's ideal for commuters looking to get out of peak hour traffic or off packed public transport and ride to work on their own terms with a smile on their face.
I also think it gives riders ample opportunities to tinker with and make it an electric longboard that suits their exact riding style.
It can be something for anyone.
On WowGo's Website