I dipped my toes into the world of DIY eskate and bought myself the BKB DIY electric skateboard kit.
BKB is an acronym for Build Kit Boards and they've been selling DIY eskate parts on their website for a few years now and this is actually the first kit that they have put together so when they ship it to you it all comes in pieces and you get to build the thing yourself.
Some might argue that the Build Kit Boards DIY Kit is not true DIY, but this is the perfect starting point for someone who doesn't have any experience in building their own electric skateboard, like myself.
I also have a tutorial video on how to build this electric skateboard so if you want to see all the inside parts and electronics of it you can check it out below.
This is going to be an overall review of the finished product I'll show you how it rides, all of the specs and do all of the tests that I usually do.
Deck
So the deck on the BKB electric skateboard is 31 inches long and 9.5 inches wide. Because of the length to width ratio it feels like a massive platform to stand on which is comforting.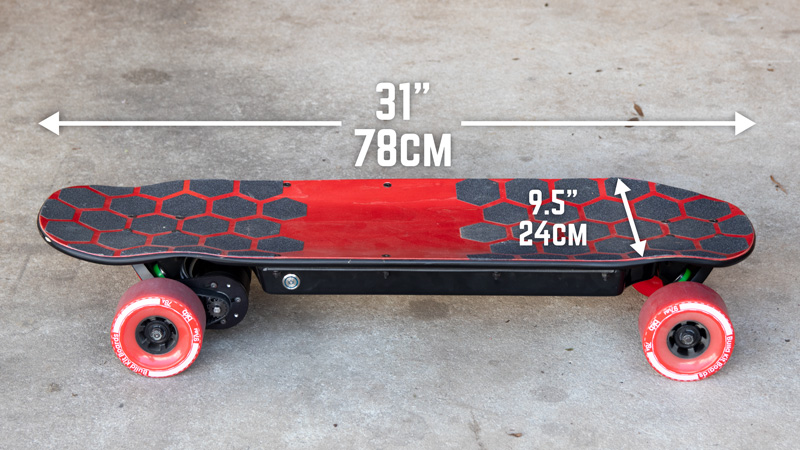 It's really stiff, there's zero flex in it whatsoever which is kind of expected on a short board because it still needs to house all of the electronics underneath so any flex would cause some serious issues to the enclosure.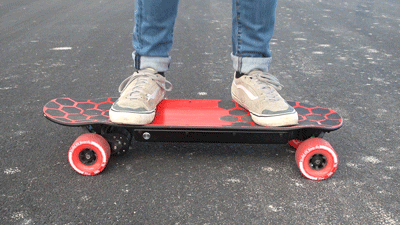 It has a concave deck and slightly raised shoulders above the wheels which do two things.
First of all, they create more space between the wheels and the deck to reduce the risk of getting wheel bite and they also give your feet more leverage to make turning easier
There is a little bit of a kick tail which is great for tic-tacking around even tighter corners, dropping off curbs, doing some manuals but it's probably not big enough to do any real tricks with it.
The grip tape is nice and coarse it comes in these hexagonal pieces. You don't get enough to cover the entire deck so make sure you get creative and put them in the most important places.
The top of the deck is red the bottom is completely black. Red's not for everybody but I think it looks really cool with the contrast between the grip tape and with the red wheels.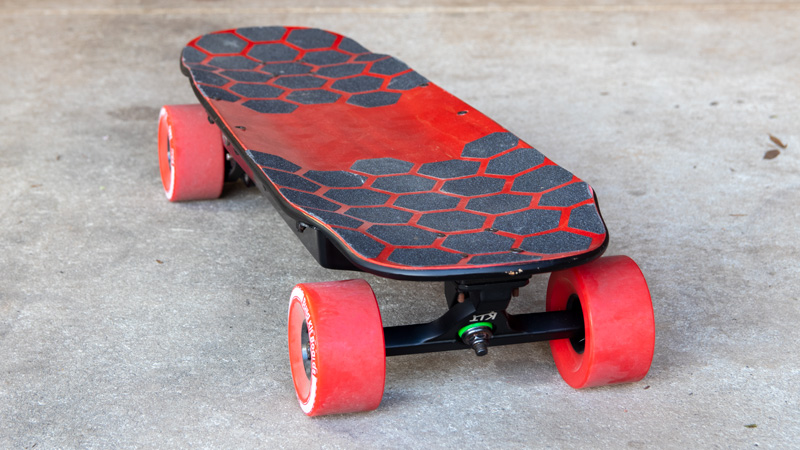 Wheels
The wheels are 97mm 78A which on a shortboard field huge. It kind of feels like you're standing really high off the ground but you're not really it's the same height as most longboards with the same size wheels. Again that's just the short deck that makes you feel like that.
They are a little bit spongy but not quite as much as I would have liked. When you're riding you feel everything that comes off the ground all of the vibrations. But that's not really unique to the BKB board that's pretty much the same across all shortboards.
I'm definitely going to put some Cloudwheels on this to make it a whole lot more comfortable.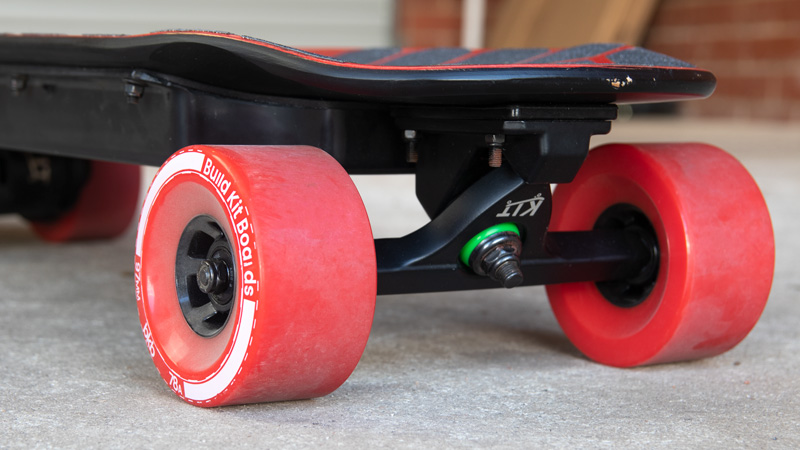 Trucks
It has 10″ trucks with a wheelbase of 21″. This makes turning really easy and you can hang a u-turn in the tightest of spots and let's not forget that the kick tail helps assist with this too.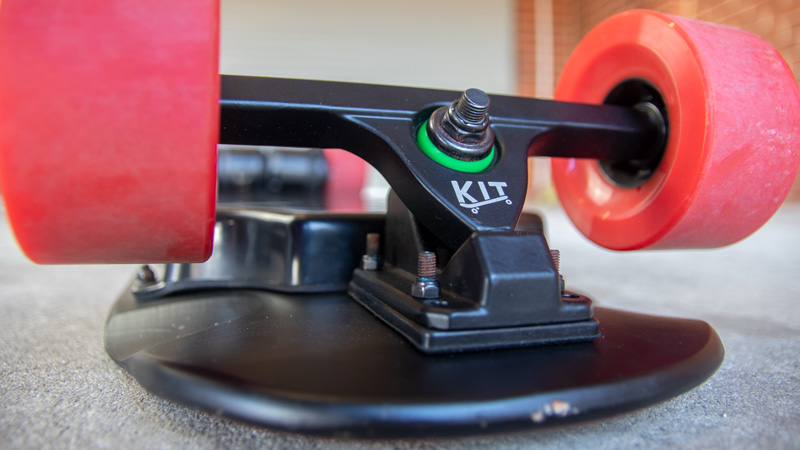 Motors
The BKB electric skateboard has dual 6354 motors which are incredibly powerful. You need to be a really experienced rider to go from standstill to full acceleration without falling off the back. It has a sharp low-end curve which helps you to take off fast and get up to cruising speed in no time from there it's a more gradual climb to the top speed.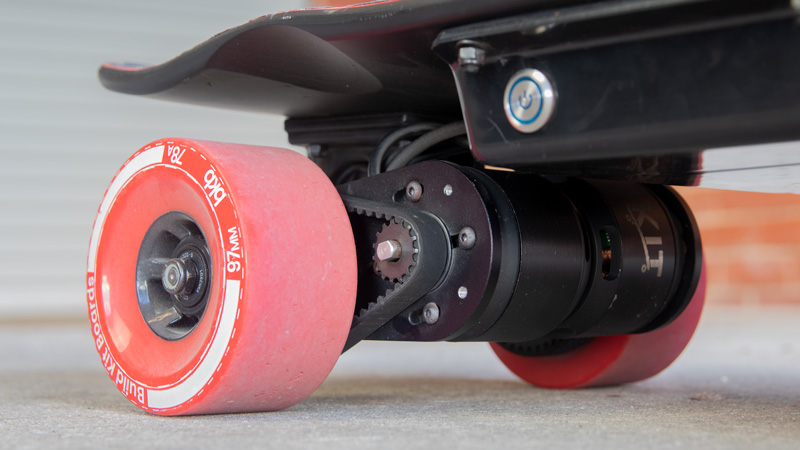 In my tests I managed to hit a top speed of 29.5mph which is 47.5kmh and that's a tad over what the specs say the BKB electric skateboard is capable of on their website.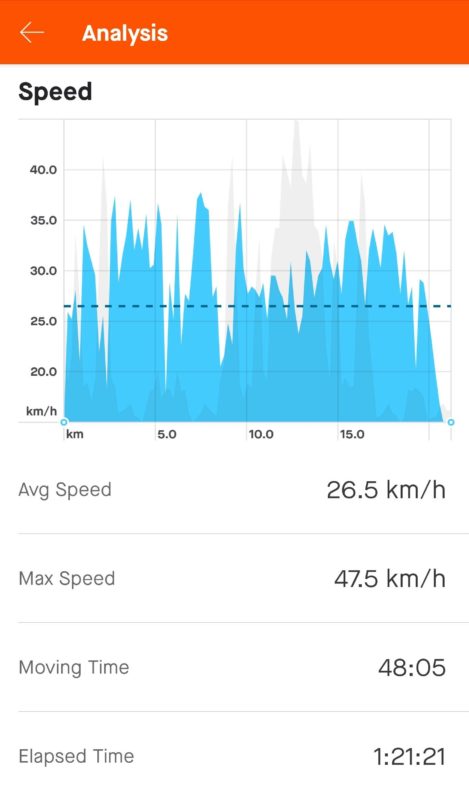 Hill Climb
I took the BKB Dual up the steepest hill I could find which measured at 21.2% hill grade and it absolutely destroyed it. I wasn't even at full throttle and it climbed the hill like it was non-existent.
Every day, I'm on the lookout for steeper hills just so I can test the BKB out on them. I'm interested to see what it is really capable of.
I do want to mention here that once the battery gets down to 10%, it begins to lose a lot of pulling power and virtually can't climb any hills. SO keep that in mind if you're nearing the end of your ride and you have some hills coming up.
Battery
The battery is a 10S3P array of 18650 30Q Samsung cells which i think is quite massive for a short board and you can really feel the weight in it, it's heavier than a lot of long boards I've ridden in the past but it also has a bigger battery than most too.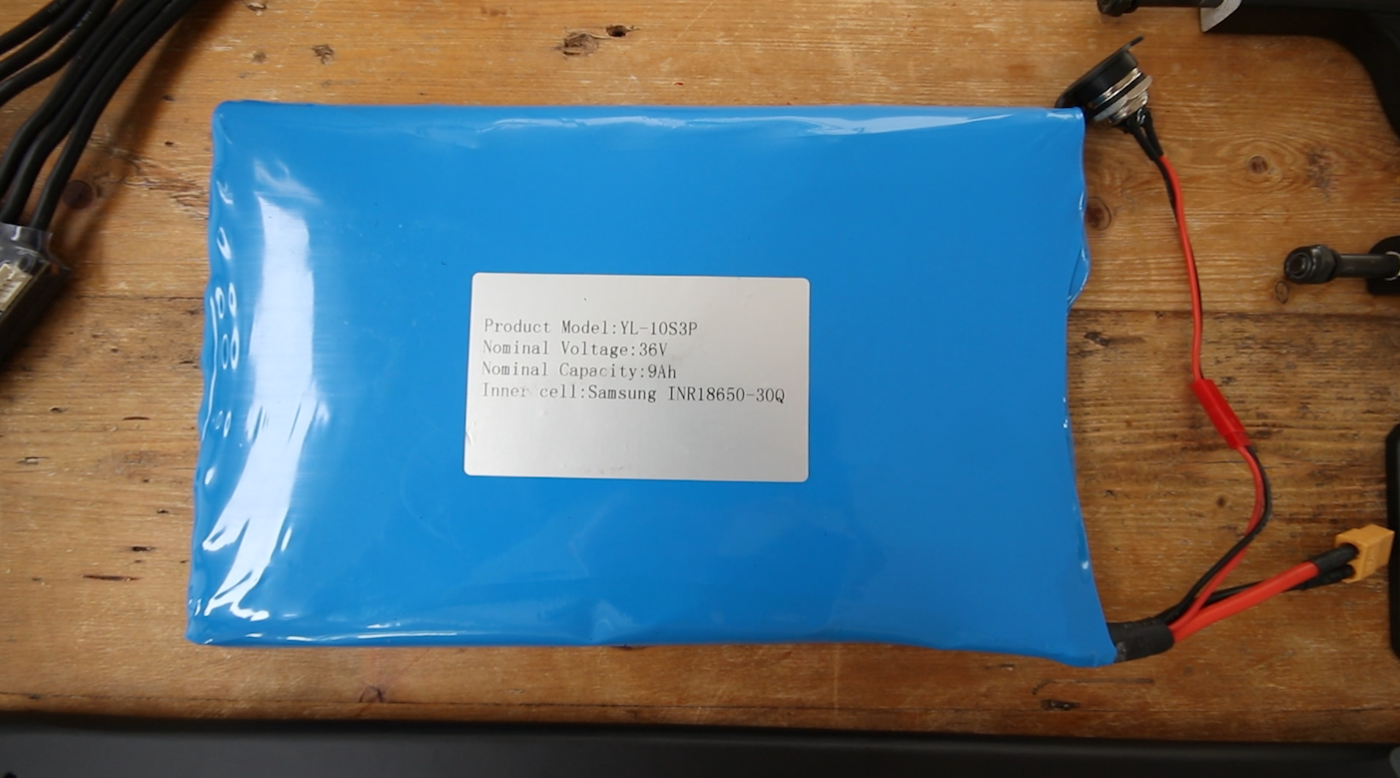 Range Test
I did a range test along the Great Ocean Road and if anyone knows it, it's really windy and has lots of up-and-downs. I weigh 83kg, I rode pretty hard and I actually hit my top speed on this ride. I ended up getting a range of 13.18 miles (21.22km).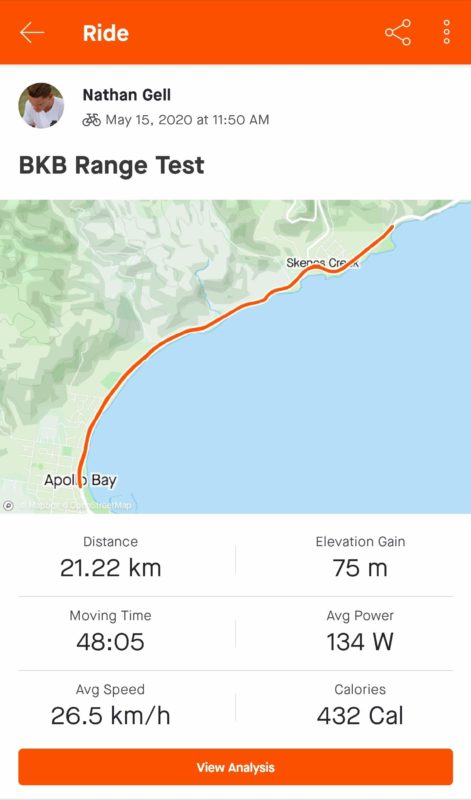 Now that's actually a bit lower than what they say the range is on their website but remember this is a DIY eboard and I had to put it together myself so there is every chance that my ability to build this electric skateboard has adversely affected its range capabilities.
Remote
The remote is really basic. There's no display, it's just a couple of buttons and some LED lights to indicate the battery level.
I never knew what speed I was doing which was a little bit worrying at the beginning but then I realized that I should just ride at a comfortable pace anyway and my ride became a lot more enjoyable.
You do get haptic feedback from the remote as the board starts near the end of its battery but one thing I couldn't figure out was the speed modes I don't actually think there is more than one mode but if you do opt to get the Bluetooth receiver and you can play around with all those settings on the app and if you savvy enough you can plug the ESC into the computer and play around with all the settings in there.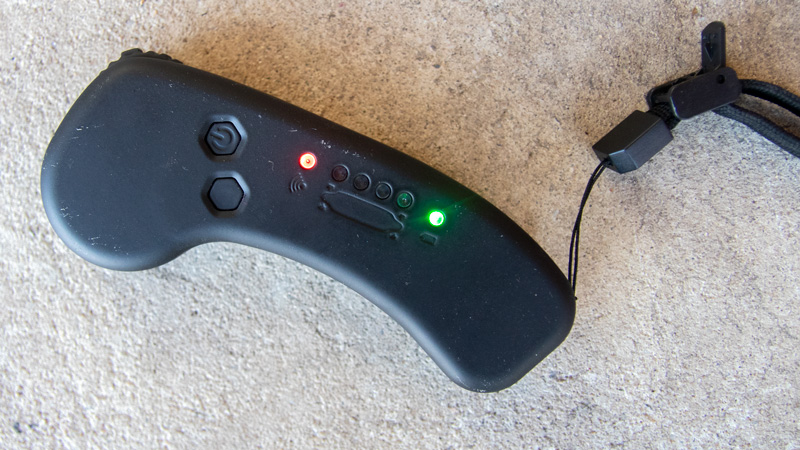 The throttle is really responsive so you need to constantly be focused on staying in control of that thumb wheel. Any movement on the throttle that is more than necessary you will feel the feedback from the motors and for inexperienced riders this might cause you to lose a little bit of balance.
The best approach here is to ease on and ease off the accelerator when you want to change speeds whether going faster or slowing down.
Now I'm not saying this is a bad thing there are a lot of riders that will love the amount of control they get with this ESC.
Brakes
The motors are just as strong at braking as they are accelerating so if you're not ready and braced for it you'll be on your ass before you can say "Build Kit Boards DIY electric skateboard kit".
You can see what the brakes are like in the GIF above. I come in from the right hand side doing a pace a little bit faster than cruising speed and I apply the brakes just about here. The first time I did it I slammed on the brakes and they locked up and I skidded quite a bit almost losing control. The second time around I applied the brakes in a more controlled manner and I found that I came to a stop much faster and safer.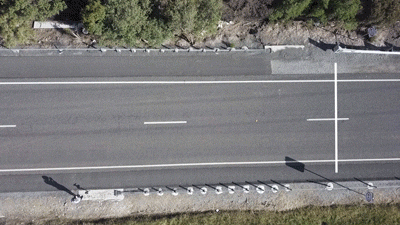 Price
The price of the BKB DIY Dual Electric Skateboard Kit is US$799 and there is also an option to get a single motor version which is only $599.
Final Thoughts
Overall the BKB DIY electric skateboard is a great project that produces you a solid eboard that you can either ride as is or continue to tinker with to turn it into something that is truly unique to you.
Everything is modular so you can literally change out any component or part that you don't like with something that is more fitting to your riding style.
I think it really is the perfect place to start if you're wanting to get into the DIY eskate scene but are feeling a little bit overwhelmed by everything that you need to know in order to build an electric skateboard.
Get $50 OFF with discount code ESKATEHUB