Hey eSkaters!
We're taking a look at the Shaboardz Summit V3, an all-terrain electric skateboard that perfectly balances power, speed, and stability.
This eboard is designed for riders who want a reliable off-road experience but may want to play around with it's endless setup options.
Its robust construction and thoughtful design make it a joy to ride, whether you're tackling steep hills or cruising on uneven terrain.
The Summit V3 is not just about raw performance; it's also about the straight-up fun of riding.
If you're looking for an electric skateboard that offers a fast and smooth ride with a surprisingly high-quality build, the Summit V3 could be the perfect fit for you.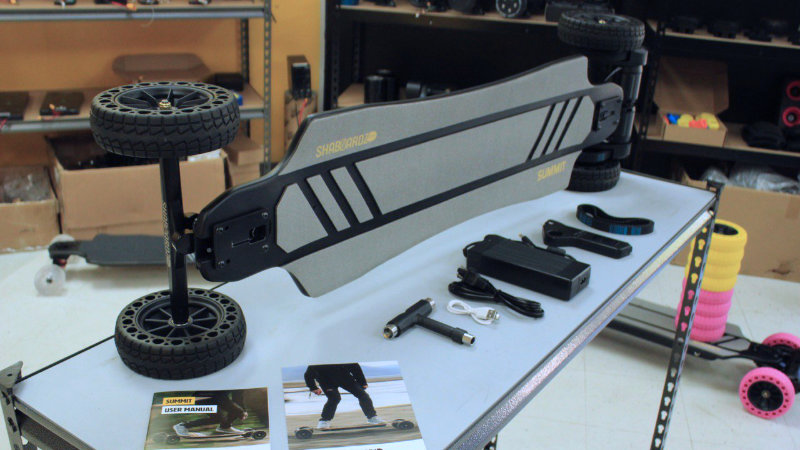 Shaboardz Summit V3 Review
Deck and Design
The Shaboardz Summit V3 features a 37" x 9.5" deck made from a blend of 7-ply maple and 1-ply bamboo. This combination of materials results in a deck that is both sturdy and flexible, striking a perfect balance for off-road riding.
The deck has a slight concave shape, which provides a more secure footing and better control over the board, especially when carving or riding at high speeds.
One of the standout features of the deck is its minimal flex. While some electric skateboards opt for a high degree of flex to absorb shocks, too much can lead to instability, particularly when traversing uneven terrain.
The Summit V3 has found the sweet spot, offering just enough flex to smooth out bumps and cracks, while maintaining stability during off-road rides.
I love that the deck is covered with a 4mm shock-absorbing foam grip tape. This not only enhances the your grip on the board but also contributes to the overall ride comfort by absorbing vibrations from the road.
This feature is particularly beneficial when riding on rough surfaces, as it helps to reduce the strain on your feet and legs.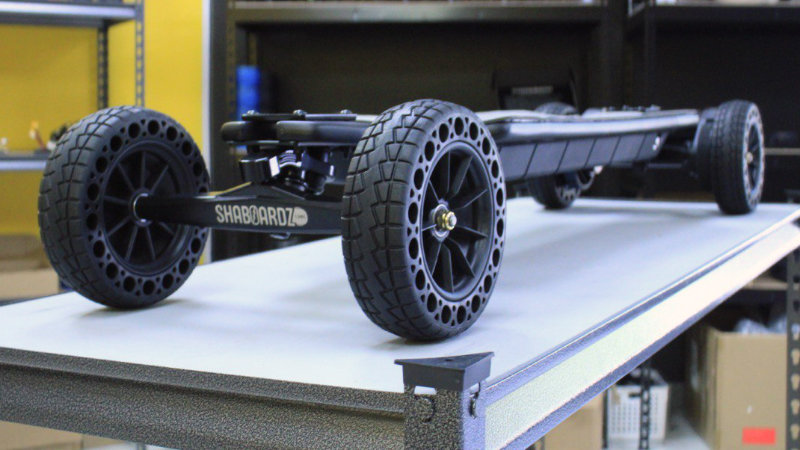 Wheels
The Shaboardz Summit V3 comes equipped with 6″ 85A Airless All-terrain wheels. And you can pick from black, yellow or pink wheels. They did also have blue, but it looks like they've sold out.
These wheels are a standout feature of the board, providing excellent grip and shock absorption. Despite their hardness rating of 85A, which typically indicates a harder wheel, these wheels are surprisingly grippy. This means you can confidently take corners at higher speeds without worrying about losing traction.
The airless design of these wheels is another significant advantage. Unlike pneumatic tires, which can puncture and deflate, these airless wheels are virtually maintenance-free. You won't have to worry about carrying a pump or patch kit during your rides, which is a huge convenience.
The all-terrain aspect of these wheels truly shines when you take the Summit V3 off the beaten path. They handle uneven terrain with ease, allowing you to venture onto gravel paths, grassy fields, and even mildly rocky trails.
These wheels plus the board's deck flex and grip tape results in a ride that is just really comfortable.
While I'm talking about the wheels, Shaboardz have a great selection of wheel kits that are compatible with the Summit V3 and many other electric skateboards.
When I was talking with the owner, Ryan, he said that he loves helping people get the best out of their boards, regardless of the brand and he is always happy to talk about what wheel kits would be best for your riding style.
If you're in the Kelowna or North Vancouver area of Canada, they can even help you fit the wheel kits to your boards.
Trucks
The Shaboardz Summit V3 is equipped with Double Kingpin (DKP) trucks, a feature that is commonly found in high-end electric skateboards.
They provide a greater turning radius, making them ideal for carving and manoeuvring around obstacles. They offer a level of control and responsiveness that is hard to match.
It's evident that Shaboardz make a real effort in sending out boards that are ready to ride. Usually when I receive eboards, the trucks are really loose so I have to muck around to tighten them up before heading out. Shaboardz are the first to deliver a board that has had a perfect truck setup. It's a small thing but it increases your overall confidence with the quality of the board.
Battery and Range
The Shaboardz Summit V3 is equipped with a 12S3P 12Ah 518Wh battery with 21700 cells, a powerful and reliable power source that ensures a long-lasting ride.
This battery is designed to provide a range of 30-40km, which is quite impressive and allows for extended trips without the need for frequent recharging.
In real-world tests, riders have reported achieving up to 32km of range during their rides. And these test rides have included heavy riding with lots of hill climb tests, speed tests and riding off-road.
More conservative rides on paved paths will deliver a longer range.
The board comes with a 3A charger, which can fully recharge the battery in 4-5 hours. While this might seem long compared to some other electric devices, it's fairly reasonable for an electric skateboard with this kind of range. The charger is compact and easy to carry, so you can easily bring it with you and recharge the board while you're at work or out and about.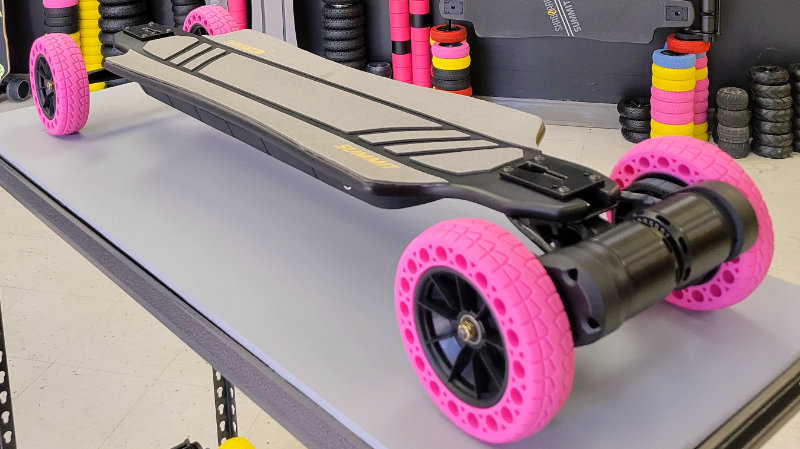 Motors, Speed, and Hill Climbing
The Shaboardz Summit V3 is equipped with dual 2000W 6370 belt-drive motors, which provide an impressive amount of power.
It can hit a top speed of 44km/h, which has been verified by many riders. This is plenty of speed for most riders. Whether you're cruising through city streets or tackling off-road trails, the Summit V3 delivers a thrilling ride.
It has impressive hill-climbing ability, powering up hills with no signs of slowing down. You won't have many issues tackling hills in your area.
One of the things I appreciate about the Summit V3 is its balance of power and control. Despite its high top speed, the board is very manageable. It's not overly powerful, which means riders of different skill levels can enjoy it. The board provides a smooth acceleration curve, which makes it easier to control, especially for beginners or less experienced riders.
But you can still let loose and enjoy high speeds if that's what you're into.
ESC and Remote
The Shaboardz Summit V3 is equipped with a LingYi LY-FOC 35A ESC and matching remote.
It allows for smooth acceleration, making the ride feel natural and intuitive. This is particularly important when riding at high speeds or navigating through traffic, as it provides the rider with greater control over the board's movements.
The remote features four speed modes: LOW, MID, HIGH, and PRO, so you can adjust the performance of the board to suit your skill level and riding conditions. The LOW and MID modes are perfect for beginners or for cruising at a relaxed pace, while the HIGH and PRO modes unleash the full power of the eboard for more experienced riders seeking more of a thrill.
The remote has a nice and big display that shows current speed, trip distance, odometer, riding mode and battery levels for the board and remote.
It has my favourite auto on/off feature so you can just turn the remote on, kick push off the board which will turn it on and pair with the remote. No more fumbling around under the deck to turn the board on. Seamless riding.
Lastly, the ESC supports regenerative braking, a feature that recharges the battery when the brakes are applied. So if you are going up and down hills, you'll be able to get some energy back when riding downhill.
Ride Experience and Overall Quality
The Shaboardz Summit V3 offers an exhilarating ride experience that is both thrilling and comfortable.
Everyone that I have spoken to says that it is just a fun eboard to ride.
It's stable and smooth, even when tackling off-road terrains.
It's very comfortable.
And it has more than enough power to get your heart rate going.
Despite its light weight, the board doesn't compromise on quality. A lot of the time, a heavy board feels more robust and high quality, but somehow Shaboardz have managed to keep the weight low and the quality high.
Customer Service
I want to make a special mention about the Shaboardz customer service because I think it's some of the best in the industry.
They are very responsive on pretty much any of the social media apps and email.
Ryan even posts his phone number on the website so you can pick up the phone and give him or one of his knowledgable team members or call to ask anything you like.
I'd love to see more of this level of customer service in the industry.
Final Thoughts
The Shaboardz Summit V3, priced at CA$1,399 / US$1,060, is a fantastic electric skateboard that offers a unique blend of quality, performance, and versatility.
It's an eboard that's been designed with the rider in mind, offering a comfortable and thrilling ride experience, whether you're cruising on smooth pavement or tackling off-road trails.
The board's power and speed are impressive, but it's the ride quality and the attention to detail that truly sets it apart.
The ability to customize and tinker with the setup is a bonus for those who like to experiment and make the board their own.
Plus, the customer service from Shaboardz is top-notch, adding an extra layer of confidence in your purchase.
Whether you're an experienced rider or a beginner looking to invest in a high-quality e-board, the Summit V3 is a solid choice that delivers on all fronts.