Hey eSkaters,
I've got the brand new Verreal ACE under my feet I have to say, this thing is a beast.
The Verreal ACE marks their first venture into the realm of electric shortboards.
This electric skateboard offers no-frills performance, making it an excellent choice for riders seeking raw power and performance, without the need for additional bells and whistles.
With a price set at US$599, it is an attractive proposition for intermediate and advanced riders alike.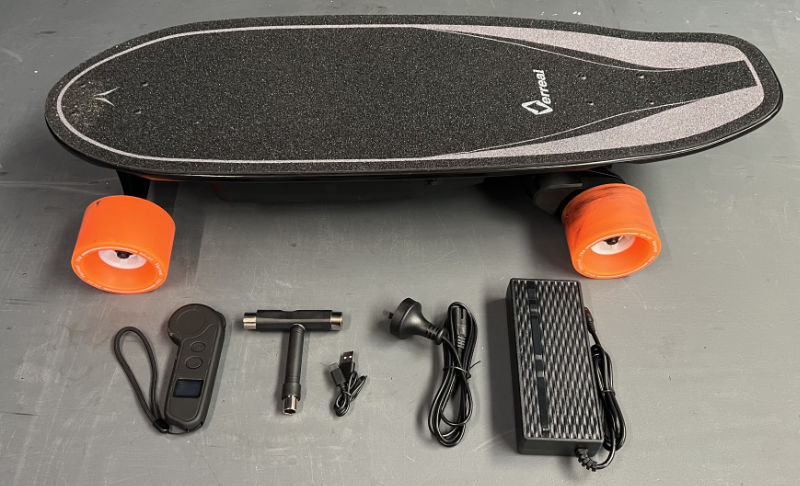 Verreal ACE Review
Deck
The Verreal ACE features a 75cm deck that sports a beautiful concave design and quite a substantial kicktail.
These design elements provide riders with excellent control, making carving and maneuvering a breeze.
The deck flexibility is rigid, due to its shorter length and the size of the enclosure which takes up a majority of the space underneath.
The deck has wheel cutouts, that prevent any wheel bite. I didn't get any with the street wheels, but I was unable to test with the Cloudwheels, however, I can't see this deck getting any wheel bite with those either.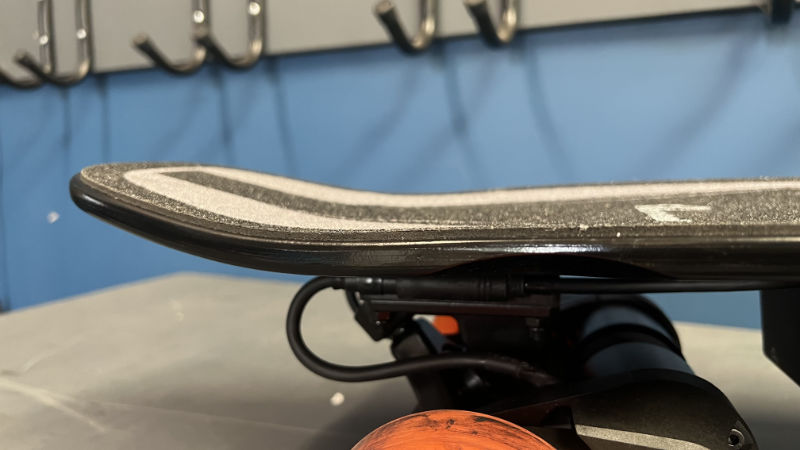 Wheels
It comes stock with 90mm PU street wheels or you can shoose to upgrade to the 105mm Cloudwheels.
The street wheels are nice and soft with a 78A durometer. They're grippy and handle corners and loose debris well.
Because of the deck stiffness and street wheels, you do feel the bumps and cracks, but they absorb a lot of the vibrations much better than hub motor wheels.
If the paths you ride are particularly bad, I'd recommend getting the Cloudwheels to smooth some of them out. Keep in mind here though that they will raise your deck up a little and increase the chances of speed wobbles at higher speeds.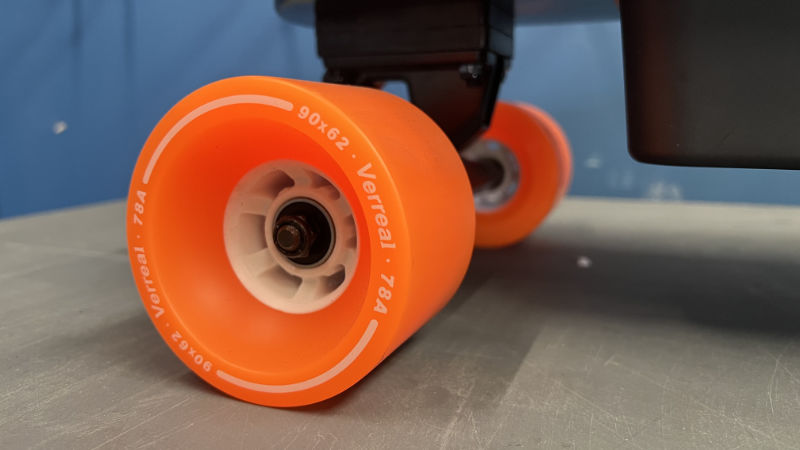 Trucks
The Verreal ACE has generic 7" RKP trucks which don't seem to be anything special, but they do contribute to a stable and very carvable ride.
They also have stock, unmarked bushings so it's hard to say what they are. Despite this, they feel very responsive when carving and stable at cruising speeds.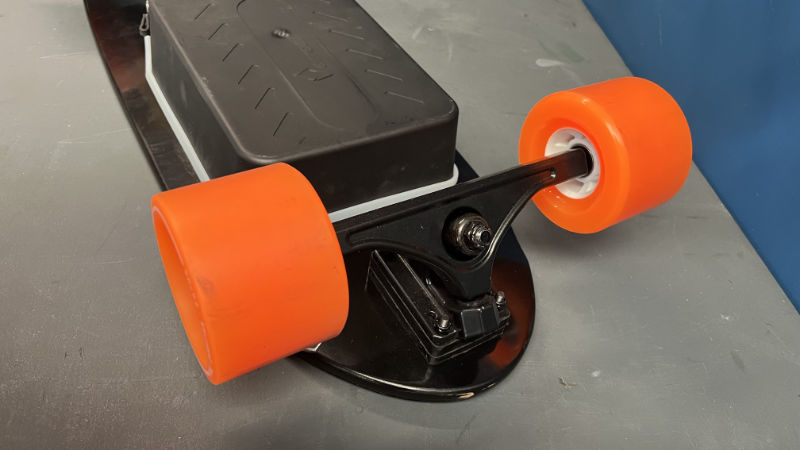 Motors and Top Speed
The Verreal ACE is equipped with dual 1500W Hobbywing 5255 motors.
These high-quality motors have impressive hill-climbing abilities, making most inclines feel like flat terrain.
With a top speed of 31mph / 50kmh, the Verreal ACE is a speed machine and it feels even faster due to it being a shortboard.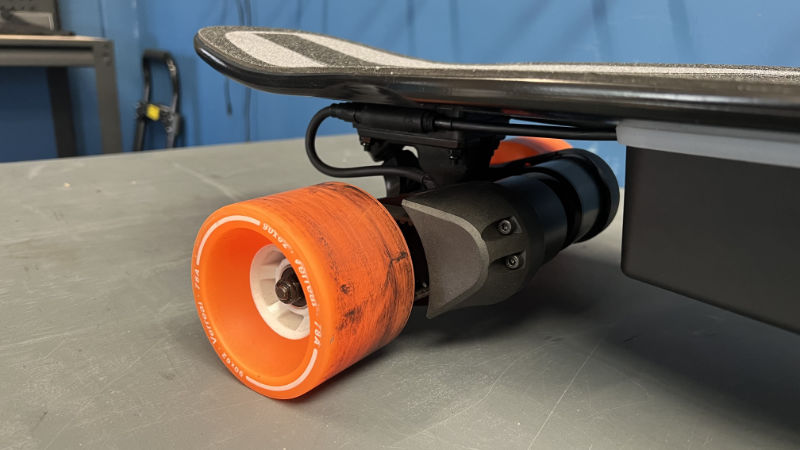 Battery and Range
Powered by a 12S2P 345.6Wh battery pack made with Samsung 40T 21700 cells, the ACE's battery offers impressive performance with almost zero voltage sag.
It has a decent range of 18 miles / 30km.
The stock charger is a 50.4V 2.5A Charger which for most people will be fine. But if you want quicker charging, you'll have to purchase a 6A Fast Charger as an add-on.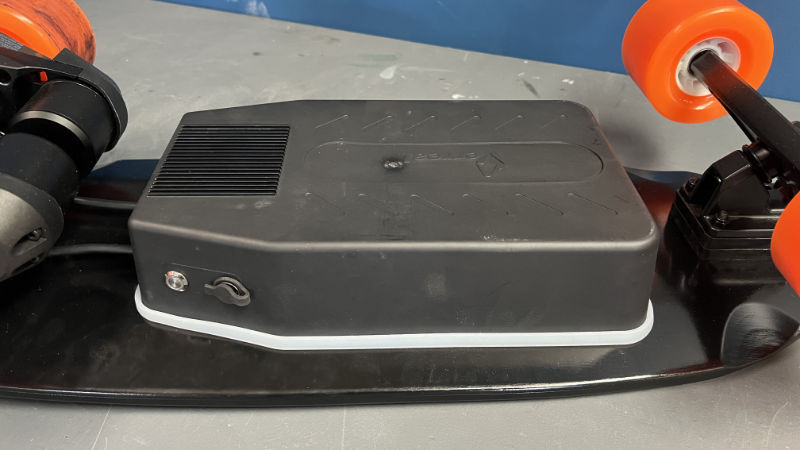 ESC and Acceleration
The Verreal ACE is controlled by a 12S Hobbywing ESC that's perfectly tuned. The board responds predictably to all movements in throttle, for both acceleration and braking.
It has incredibly punchy acceleration. If you're not prepared, you might find yourself popping an unexpected wheelie.
The same goes for the braking. It comes on hard and fast, so always brace yourself when braking.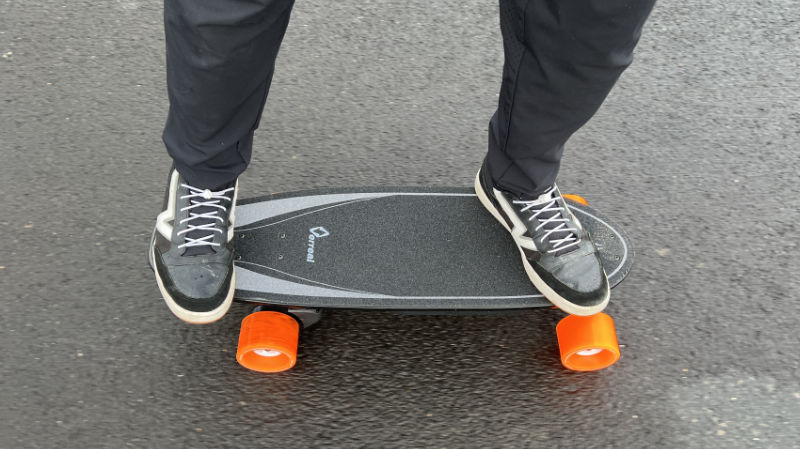 Remote
The Verreal ACE comes with a 2.4GHz wireless Hobbywing remote with an OLED display screen.
This remote has auto on/ff functionality so you don't need to fumble around underneath the deck to turn it on,. You just power on the remote and it will automatically turn the deck on.
It also has reverse and cruise control and the LED display conveniently shows battery levels for both the board and remote, current speed, trip distance, odometer, current speed mode, and riding direction.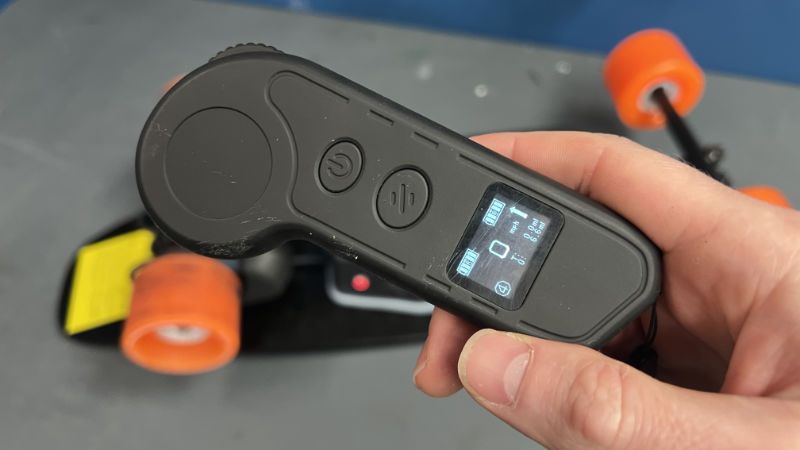 Build Quality and Aesthetics
The ACE's aesthetic draws from classic electric skateboard design – dark grip tape contrasted by orange wheels. As simple as it is, I think it still looks great.
The enclosure is well sealed with a silicone gasket, protecting the large battery and ESC inside. It doesn't have an official IP rating, though Verreal claim it's highly water-resistant but advice eskaters to avoid water and wet or icy roads.
Despite the robust construction, my board arrived with slightly scuffed rear wheels and a bit of mileage on the odometer. It seems like Verreal ran it through a stationary test machine to ensure everything was in working order before shipping, which, despite minor aesthetic issues, is reassuring.
My remote also had a few scuffs on it, which was just part of the demo product I received.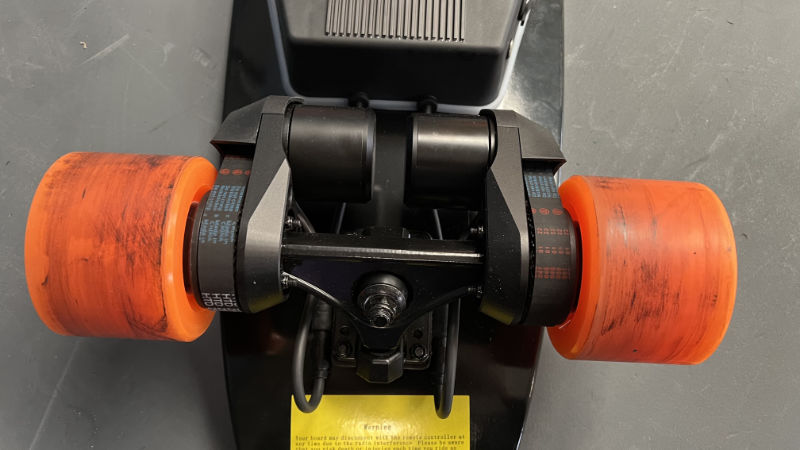 Ride Experience
As for the overall ride experience, in simple words, the ACE goes hard.
It carves superbly and is stable at cruising speeds.
Pushing the speed higher might give even seasoned riders a bit of a thrill, as this shortboard really picks up the pace.
As a shortboard with the heart of a high-performance beast, you'll want to have some electric skateboarding experience under your belt to truly harness its potential.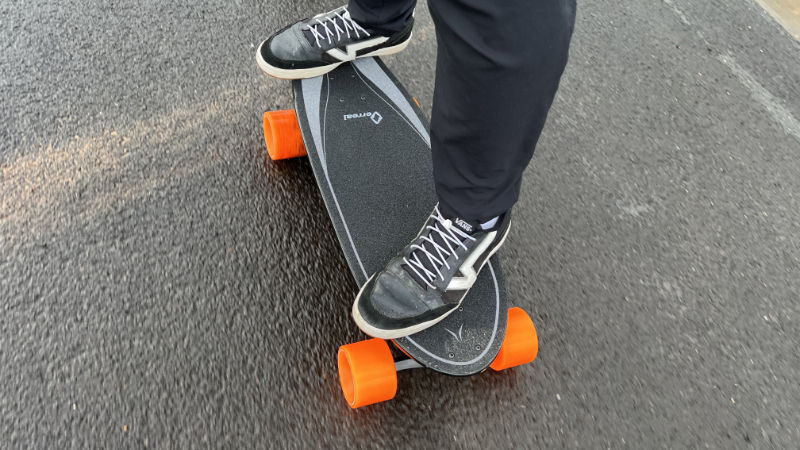 Final Thoughts
The Verreal ACE is not about the bells and whistles, it's all about its pure power.
With impressive specs and performance, it's perfect for those who want a truly powerful board without the need for extra frills.
While my board arrived with minor aesthetic issues, these don't impact the ACE's performance, and the fact that the board is thoroughly tested before being shipped adds to Verreal's reliability.
In conclusion, the ACE offers an exciting and somewhat wild ride, ensuring an electrifying experience every time you step on it.
And to top it off, with a price of US$599, it's hard to find this kind of power at this price anywhere else.