The Possway T3 electric skateboard sets itself apart by being one of the fastest electric skateboards with hub motors. In the past, hub motors have received a bad reputation for having low power, however, the T3 is proof that that's no longer the case.
The high top speed and decent range at a very affordable price make it a great value-for-money option for people looking to get into eskating.
It comes with all the necessary accessories including a remote, board charger, micro USB cable, 2x skate tools and a user manual.
My Possway T3 review takes you through everything you need to know about this electric skateboard and will help you decide whether this is the right eboard for you.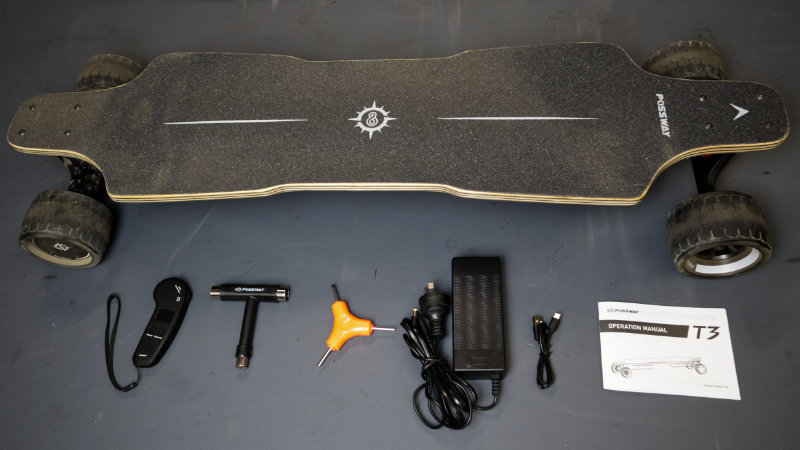 Who Is It For?
The Possway T3 is a great beginner-to-intermediate electric skateboard for commuting to work/school and cruising around on weekends so long as you don't have too many hills to climb.
It's nice and quiet and has plenty of range and top speed to get you to most places you want to go in a decent time.
It's capable of riding on compact gravel paths at the expense of a small bit of traction, but it shines on paved roads that might be a little less than perfect.
It's not for eskaters who want super-fast acceleration and total off-road riding capabilities. If that's what you're looking for, then check out these best off-road electric skateboards.
The Possway T3 Review
Deck
The Possway T3 features a 37.2″ longboard deck made of 1-ply bamboo and 8-ply Canadian maple. It has a concave shape that assists with turning, and a slight dropdown that locks your feet in to provide confidence that your feet aren't going to slip off during the ride.
This is an underrated feature because knowing that my feet are always going to be the same place, I can focus my attention on the road and where I'm going rather than constantly looking down to check that my feet haven't moved.
The deck is stiffer than it is flexy but it still has a very slight flex to it. It's actually quite a nice amount. You don't feel like you're bouncing all over the place, but there's still some small give when going over rough parts of the road. Sadly, it does not have any shock-absorbing grip tape. But the wheels make up for that.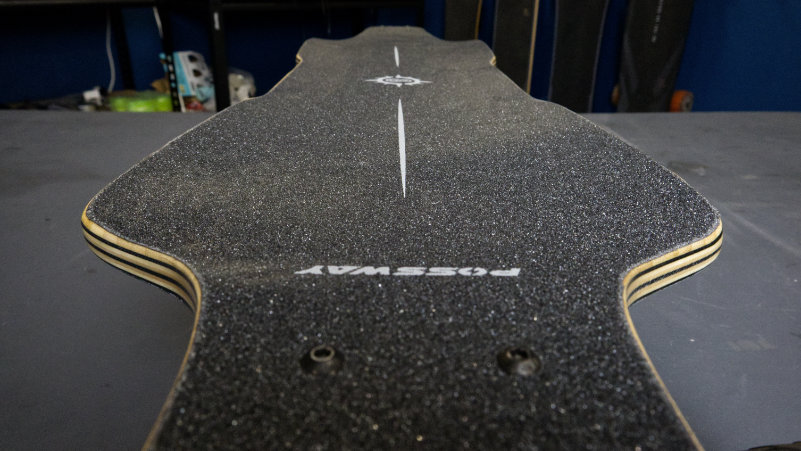 Wheels
The Possway T3 electric skateboard comes with 105mm urban terrain wheels. They are 78A in durometer, which makes them quite comfortable on roads, even if they are imperfect. They can handle light off-roading on compact gravel without any problems, but anything more and it begins to struggle.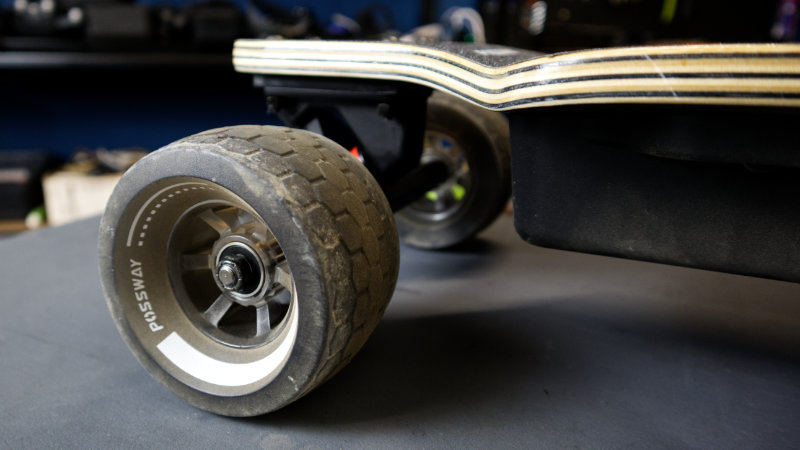 Trucks
The trucks are 7″ wide with a 45° angle, providing great stability at high speeds and the bushings allow for some light to medium carving that feels smooth and responsive. For the turning circle, it was OK but not amazing, however, I usually do have my trucks tightened up up a little more than the average rider.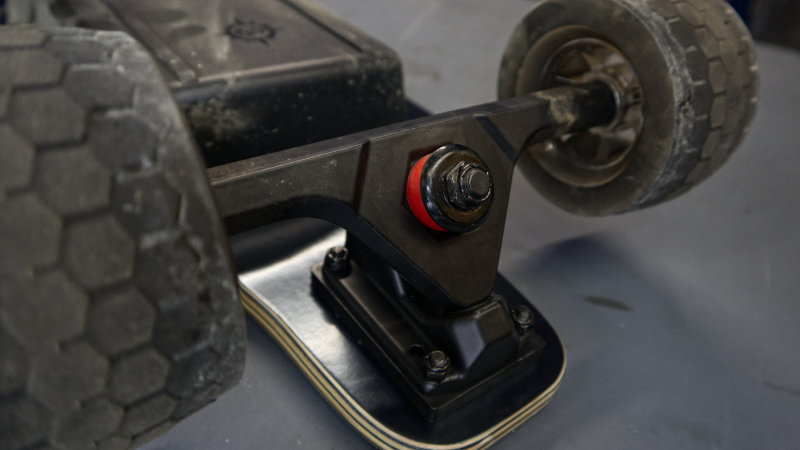 Motors, Top Speed and Hill Climbing
The motors on the Possway T3 are dual 500W 90mm hub motors. This gives the board a marketed top speed of 32mph (52kmh). As far as hub motor eboards go, that's a really high top speed. It's probably close to being the fastest hub motor electric skateboard I've ridden.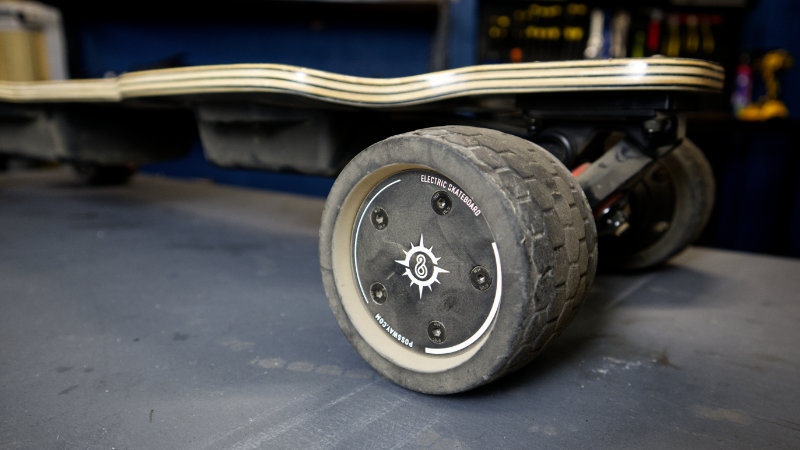 During my testing, the top speed I was able to hit was 28.5mph (46kmh). That falls just short of the marketed top speed but I do think I could have reached a little higher speed if I had some more road length. The speed was slow to change your actual speed will depend mainly on your weight.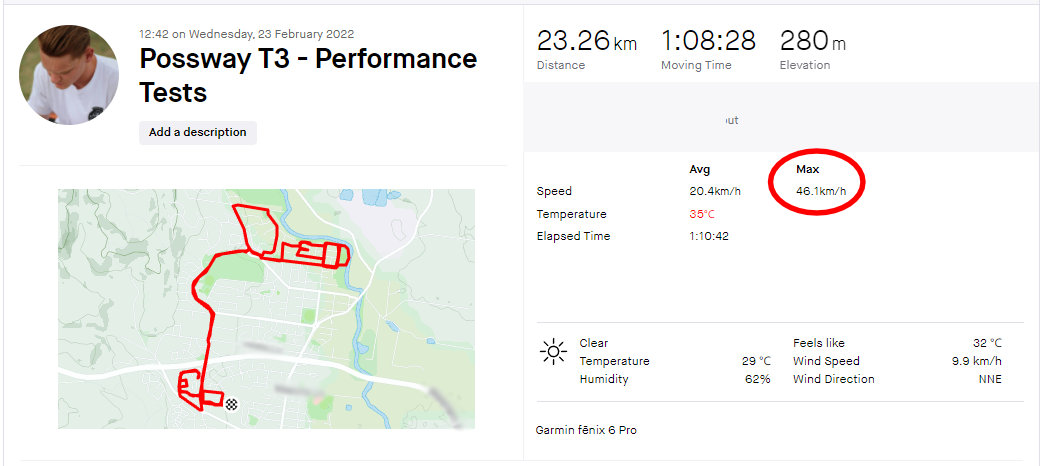 The T3 is specced to be able to climb inclines with a hill grade of 30%, however, Possway really missed the mark on this one.
I rode up a hill that had an average grade of 8% with a max steepness of 13% in one spot and it really struggled. At one stage it got all the way down to 6mph (10kph) and was really fighting to keep going. If the hill was any steeper, I would have been better off just walking up it.
I am 191lbs (87kg) which has a large effect on the hill-climbing ability, so keep that in mind if you're on the heavier side and have a few hills to climb.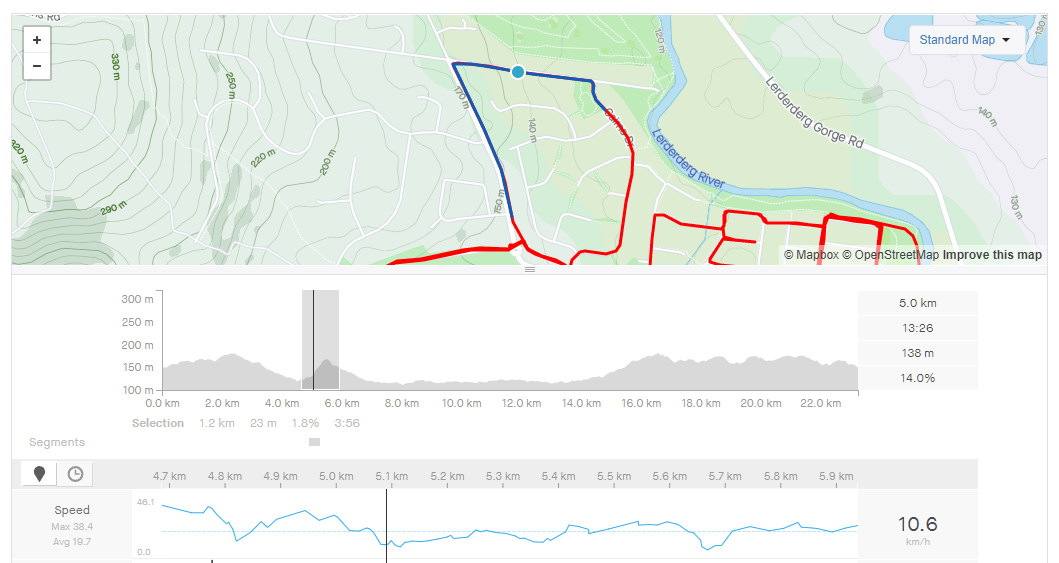 Battery and Range
The Possway T3 electric skateboard has a 10S3P 280.8Wh 7.8Ah battery and provides a marketed range of 20 miles (32km).
In my testing, I managed to reach 14.6 miles (23.5km).
Although this sounds quite low to the specced range, I think this is in the ballpark of what I expected.
There are a few things to consider here. I rode the board fairly hard in pro mode while carving whenever I got the chance. I also did the hill-climb test that put a lot of stress on the battery, I did multiple speed and acceleration tests and I took it off-road for a little bit. Add my weight to the mix and I would place my riding style on the day at the top end of the eboards capabilities.
Lighter and more conservative riders will get much closer to the marketed range.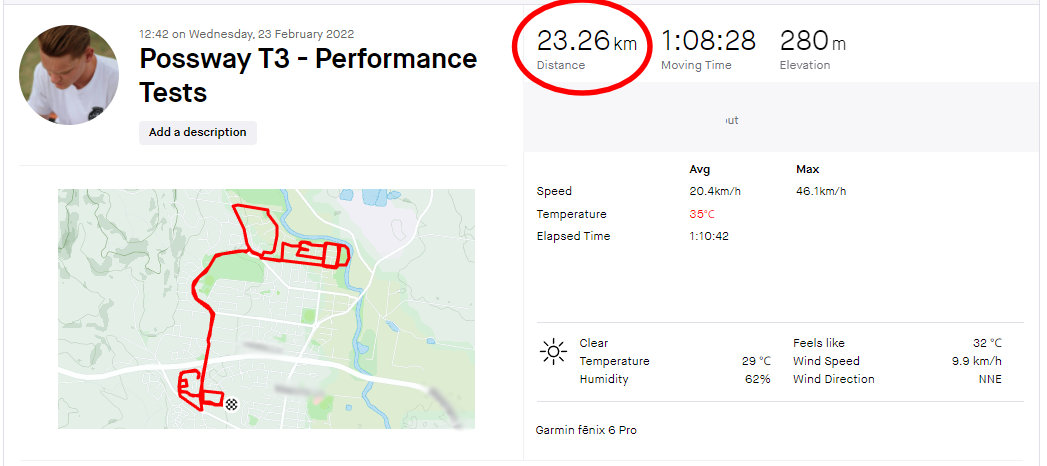 ESC
The Possway T3 features a fairly standard ESC. The acceleration is very gradual – you'd be hard-pressed to be thrown off at all. The brakes are nice and firm, bringing you to a stop safely and quickly without jolting or fear of being thrown forward.
I think is OK, considering this is an eboard targeted towards the beginner-to-intermediate eskater. Riders get a lot of leeway in the throttle, meaning you can't throw the throttle to 100% and be at top speed straight away. The long curve allows you to slowly build up to that top speed and gather your confidence along the way.
Remote
The Possway T3 electric skateboard remote is a simple, small device that fits easily in the hand. It has a single button that changes the speed mode, and a LED display that shows the speed, odometer, battery levels, and direction. There are 4 speed modes: low, medium, high, and cruise control.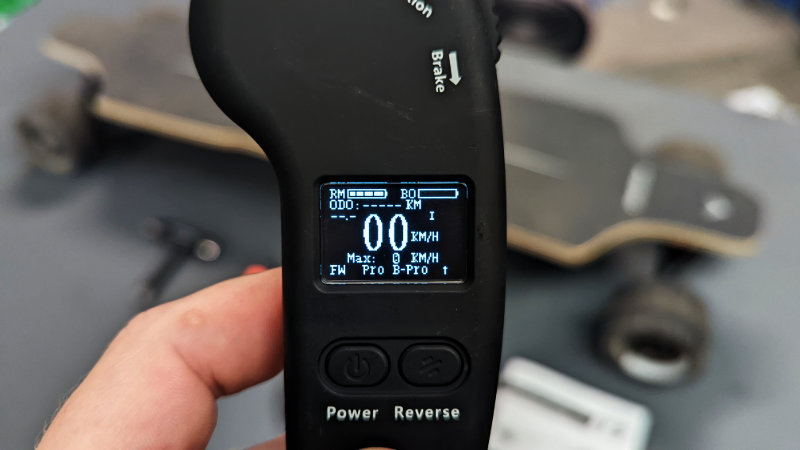 To change the speed mode, you press the speed mode button once. Be careful with the buttons because you can change speed modes while accelerating which can lead to a frightening shock with sudden acceleration.
The speed mode button on my remote is labelled 'Reverse' which is not correct. Possway has already reached out to me to let me know this was a misprint and the production remotes will have the correct labels.
You can enter Reverse by double-clicking the power button when you aren't accelerating.
And you can activate Cruise Control by single-clicking the Power button when you're at you're desired speed.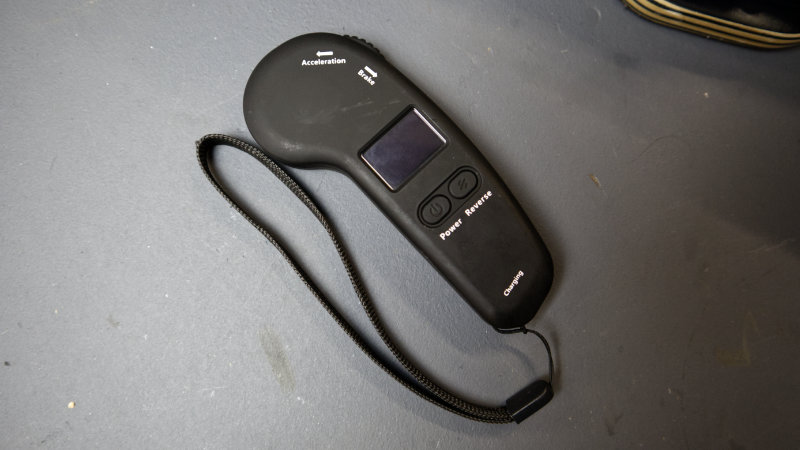 Customer Reviews
I tried to gather a few customer reviews for the Possway T3, however, there aren't too many eboards under riders' feet yet. So, instead, I grabbed a few reviews from Trust Pilot about Possway as a brand. No company can avoid a select few unsatisfied customers, but as a whole, Possway has a 4/5 star rating which I think is quite good. And of the negative reviews I read, Possway did a reasonable job in trying to help the customer out when they could.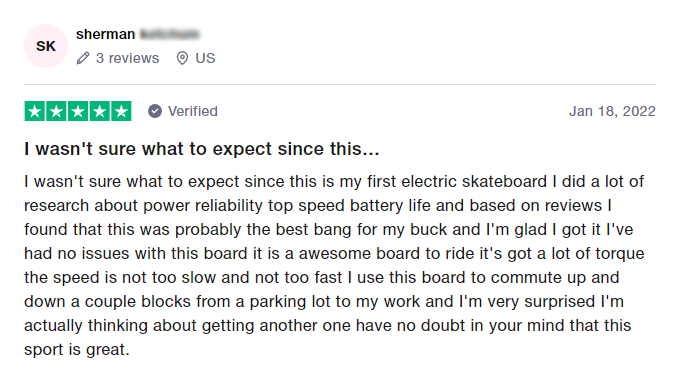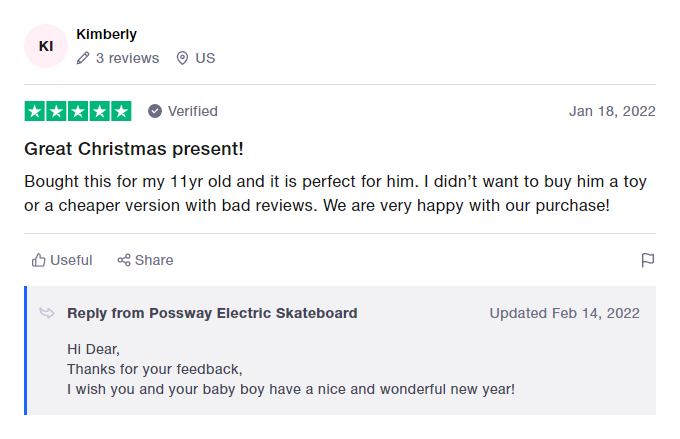 Alternatives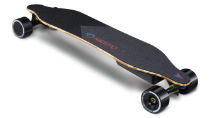 Meepo NLS Pro
The Meepo NLS Pro is a great alternative if you want a deck that has a little more flex to it. It has a similar range but a slightly faster top speed.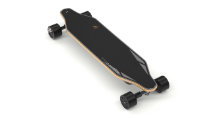 WowGo 2S Max
The WowGo 2S Max is one of the most well-built eboards you can buy in this category. It's a little less performant but the price reflects that.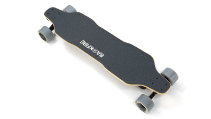 Backfire G3
The Backfire G3 has a flexy deck that provides a comfortable ride. And it has ambient LED lights under the deck for added safety and style.
Final thoughts
Possway has created a great electric skateboard with an impressive range, fast top speed and comfortable ride experience. The only real downside is that it struggles on inclines. If you live in a flatter area or don't need to climb hills often then this may very well be the eboard for you.
It has great speed and range capabilities and I always felt confident when riding.
For its price, it definitely outdoes most of the competition providing value-for-money.
Use Code ESKATEHUB to get $15 OFF
On Possway's Website