Hey eSkaters!
The Exway Ripple, at first look seems like a strange addition to the Exway lineup, however, as I rode it more and more I realised what and who this electric skateboard is actually for.
It's not a board for riding long distances, or really fast, or even off-roading.
This is the eBoard you want for taking short trips to the train station, school, work, or down the street to pick up some groceries.
It's a nimble, portable and fun electric skateboard to ride that you can easily pick up as you need and it won't get in anyones way.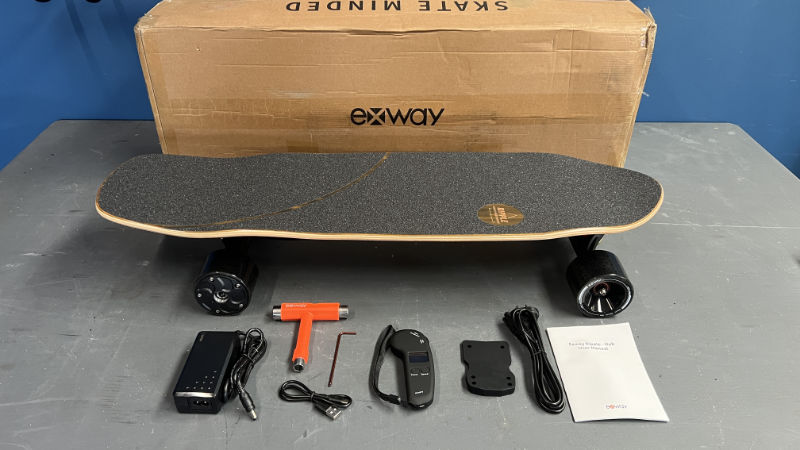 Exway Ripple Review
Deck and Design
The maple deck of the Exway Ripple is 780mm long and 240mm wide. It has a slight concave, bowl shape with flared deck edges above each wheel and a nice and large kicktail.
Standing on it feels nice and secure and the deck flares offer added control under your feet when leaning to turn the board.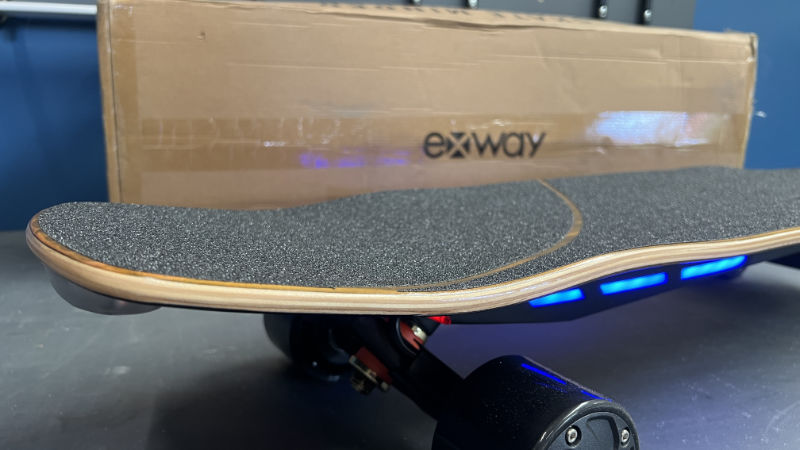 Aesthetically, aside from the enclosure, the Ripple looks nothing like an electric skateboard. It has all the elements of a traditional longboard.
A solid maple deck with dark grip tape. But it's the underside that gives it that longboard feel. It has a glossy colourful design that you see on skate decks.
Most eBoards these days have a dark, sleek, futuristic style. So it's nice to see the Ripple bringing back some tradition to the eSkate scene.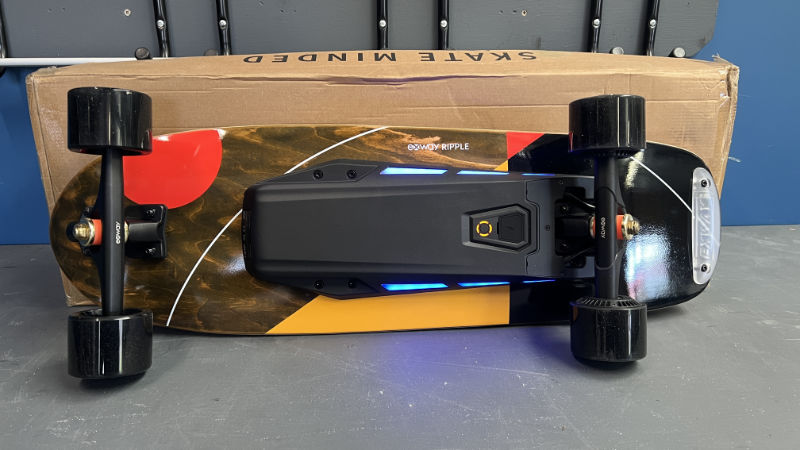 Wheels
The Exway Ripple has 75mm 78A wheels which in the land of eSkate are really small. You won't see many eBoards with a wheel size less than 85mm. However, when you compare them to traditional longboards, they relatively large.
I think it's a good middle ground Exway has found to allow for a semi-comfortable ride while maintaining that traditional cruiser-board feeling.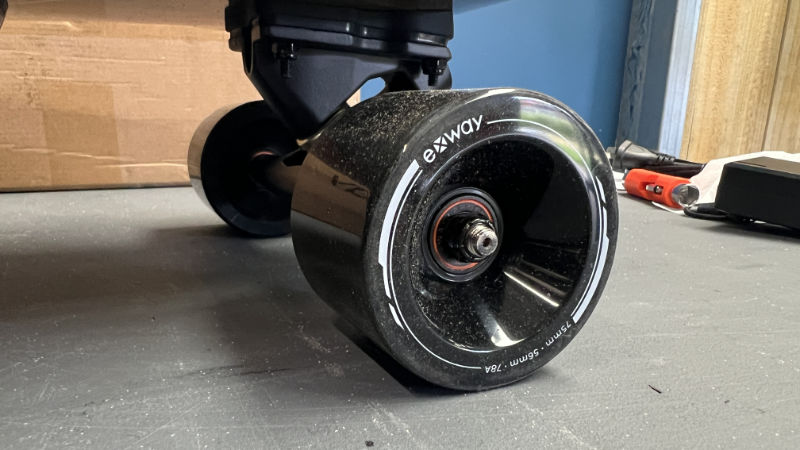 Trucks
The Ripple has Exway's 7″ 45º Trist Trucks fitted with 90A barrel bushings, and I have to say these trucks are one of the key reasons why this board feels so much like a traditional longboard.
The stock settings make them very nimble and responsive. Great for carving around at low speeds and taking sharp corners.
I could do a full U-turn on my street without using the kick tail to lift the nose up.
It did get a bit sketchy at higher speeds, but I also hadn't dialled in the bushings to suit my riding style, I just had them at the stock setting.
The riser pads are quite large and soft. I assume to add a bit of shock absorption, which for me is great, because I like a silky smooth ride. But if you're after a more responsive ride, you can replace these riser pads with something a little harder.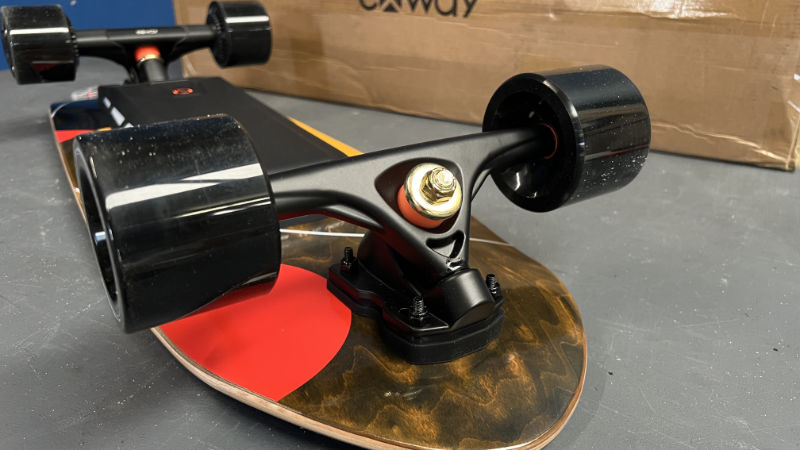 Battery and Range
The Exway Ripple has a 99Wh battery pack that is suitable to take on passenger planes, however, it's always recommended to check with your airline first as sometimes they don't even allow skateboards at all.
Another great benefit of a small battery is that it makes the eBoard really light. The whole board only weighs 5.9kg which is one fo the lightest on the market.
The downside to a 99Wh battery is that it does come at the expense of range capabilities.
It has a specced range of 8 miles / 12km which I think most average riders would hit at cruising speeds. However if you ride hard and fast, or weigh a little more, you can expect to get somewhere closer to 5 miles / 8km.
The Exway website does mention a 'Cruiser Edition' battery that is 159Wh and specced to reach 13.5 miles /18km, but it doesn't look like it's available yet.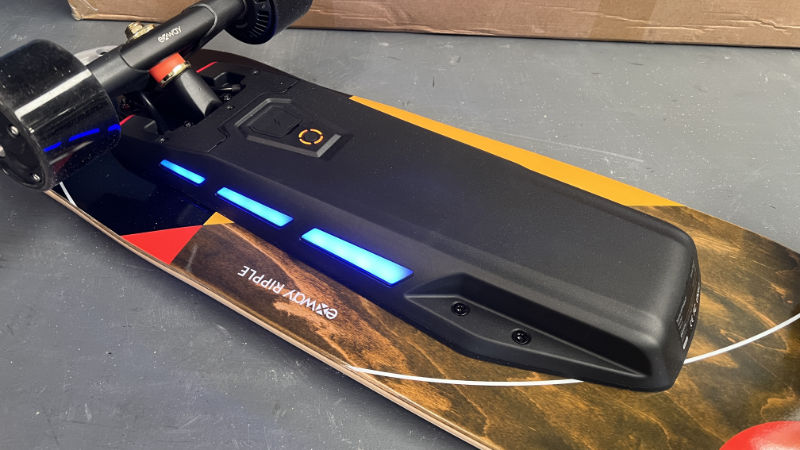 Motors, Speed, and Hill Climbing
The Exway Ripple has dual hub motors with a combined power of 672W.
There are a few things to note about these hub motors.
Firstly, they're pretty basic looking, which is just a matter of personal preference.
But what I do like about them is that the hub motors run inside the truck axle, instead of being clamped onto the trucks. So they have a clean look about them.
The motor cables are also fitted nicely to the trucks and keep out of the way, again adding to that cleaness.
The hub motors have very low resistance so you can easily ride this board without the remote and you can coast for a long time, saving battery energy in the process.
For the first time ever, Exway (or any eSkate company) don't mention the top speed on their product page. Which isn't necessarily a bad thing.
The Ripple is designed to enjoy at low speeds.
Saying that, the top speed I saw on the remote was 21mph / 35kmh, which is more than enough to have good time on an eBoard like this.
They claim the Ripple can climb hills with a gradient of 25%, however, I was unable to get up a hill of 15%. I came to a complete stop halfway up.
So if you have a lot of hills in your area, this probably isn't for you.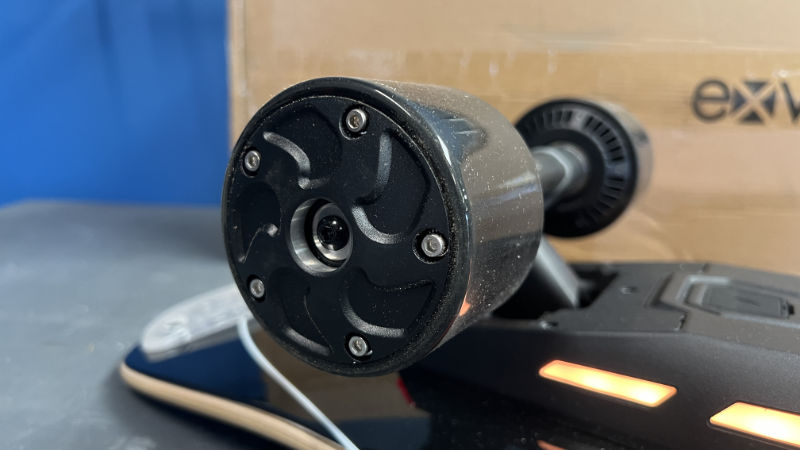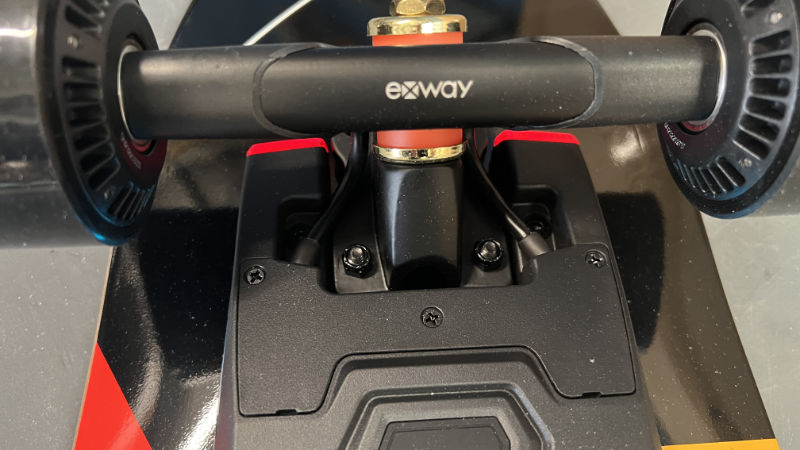 ESC and Remote
The most interesting part about the Exway Ripple is their decision to use a LY-FOC ESC and remote.
Unfortunately, you won't be able to connect to the Exway app to make customisations to the performance or track your rides.
You do however, get some added control at the remote level.
You can pick between 4 pre-set speed modes and you can toggle through 4 different brake modes too.
You also get a large LED display that shows current speed, odometer, trip distance, speed mode, braking mode, board battery level and remote battery level.
LY-FOC remotes tend to have a slight jerkiness to them as they are commonly used in higher-performance eBoards. However, I didn't really notice this all that much with the Ripple. Only slightly when applying the brakes after cruising along for a while, but hardly noticeable.
It doesn't have a standby mode where you can turn the board on/off with the remote, so you'll always need to turn the board off with the button underneath the deck. However, you can turn the board on by rolling the board back and forth and simply turning the remote on to get going fast.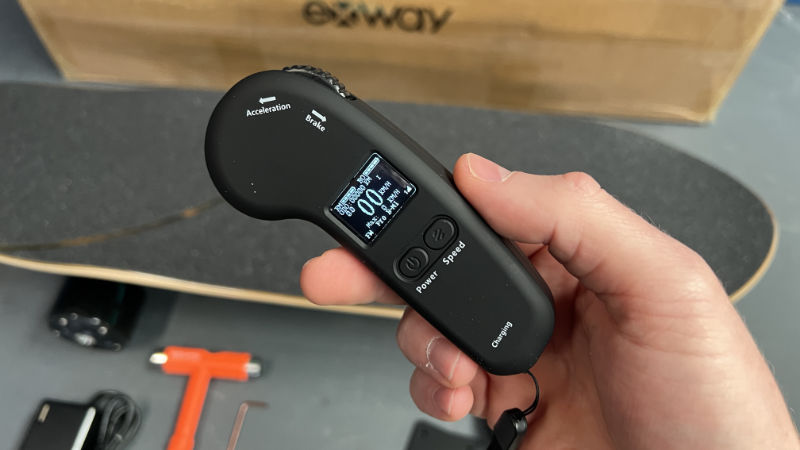 Lighting
The Exway Ripple has some pretty nifty lights built into the enclosure which is one thing that seems to go against their 'traditional' aesthetic. I guess they were trying to keep that close link between the two wolrds of eSkate and traditional.
You can flick between the colours or turn them off completely using the remote which is nice.
It also has rear lights that illuminate brighter when you brake. A handy little safety feature. But what's cool is that the translucent puck on the underside of the kicktail lights up too. It's not that visible during the day but it looks cool at night.
Ride Experience and Overall Quality
The Exway Ripple is a great ride for short trips on smooth paved roads and paths.
The thin PU sleeves around the hub motors don't do much for shock absorption but they do give you a real skateboard-like riding feel.
It's fun to dart around with the nimble trucks and the kick tail adds the ability to pop over curbs or drop off ledges.
It's perfect for beginners wanting to learn to skate because of the low performance specs, but it's also a great option for experienced traditional skaters to have some fun on an electric skateboard.
I see the Ripple being an electric skateboard used for short, last-mile commutes where you need to take it onto a train, into class or into stores.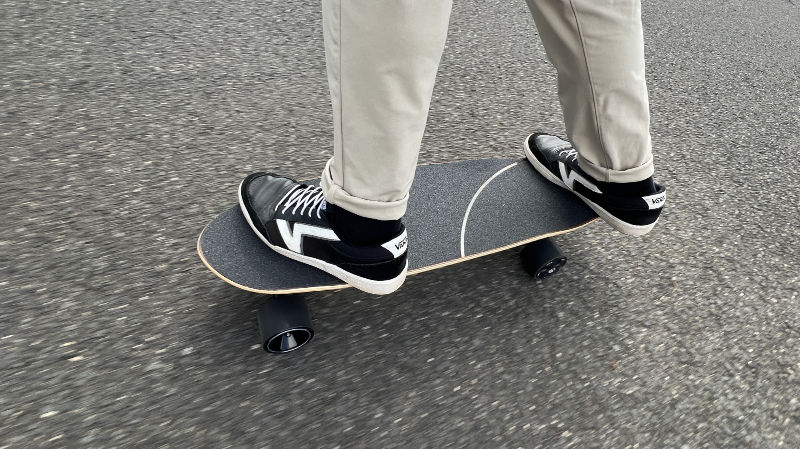 Final Thoughts
The Exway Ripple comes in at $399 which makes it a great electric skateboard for affordability and portability.
With its high appeal to non-eskate riders, the Ripple is the perfect eboard to get you going.
$15 OFF with code ESKHUB