Watch:
Completing this review turned out to be quite the adventure.
Long story short, while attempting the top speed test, I lost my balance and had a pretty serious crash. A bit of a confidence killer, but it didn't take me long to get back on the board and ride it properly.
Let's get into what we're all here for, the Verreal RS review.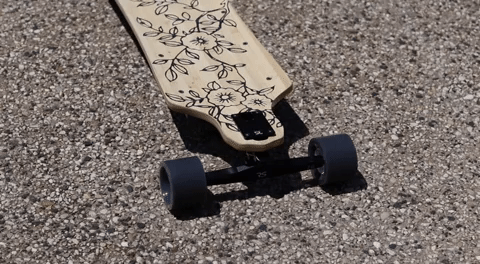 The Verreal RS is a very impressive electric skateboard because it provides a level of performance that premium eboards have, but at a price that is much more affordable.
The Verreal RS starts at US$950 and works its way up to US$1,280 if you want to add on all the extras which I'll go into detail about later on.
Advocates of the premium brands will argue that you don't get the level of hardware quality or the customer service with these cheaper brands.
And they're not entirely wrong.
To offer an electric skateboard with these kinds of specs, something has to give.
That's not to say that the Verreal has low-quality parts. Far from it actually.
It's more the customer service side of things that Verreal aren't yet up to scratch on.
But so far, in the eskate industry, that's almost the norm, and hence why you pay more to own one of the 'premium' brands of electric skateboards.
The Verreal RS has to be one of the best value eboards at the moment.
Let's get into the performance specs, and you'll see exactly what I mean by this.
Range Test
I think this is one of, if not, the longest rides I've ever had on an electric skateboard.
The Verreal RS is specced to have a 50km (31 miles) range and I ended up getting a total of 46km (28.5 miles).
Due to my weight being 90kg (198lbs) I always hit a lower range than marketed. But this is one of the smallest differences in my tested range compared to the specced range that I've experienced in an electric skateboard.
It's finally great to see that eskate manufacturers aren't over-exaggerating their specs.

Top Speed Test
Because I had that fall while testing the top speed, I lost a lot of confidence to redo this test.
However, I padded up big time, tightened up my trucks, grew some balls and headed back out there.
The top speed on the Verreal RS is marketed to be 40kph (25mph) and I ended up hitting that on multiple occasions.
My Strava analysis says my max speed was 59kph (36mph), but if you take a look at the map, you can see that the GPS thought I cut some corners, which isn't possible, so it calculated my speed to be much higher than it really was. I thought I better clear that up if you happened to notice the max speed in the screenshot above. Sorry to burst your bubble.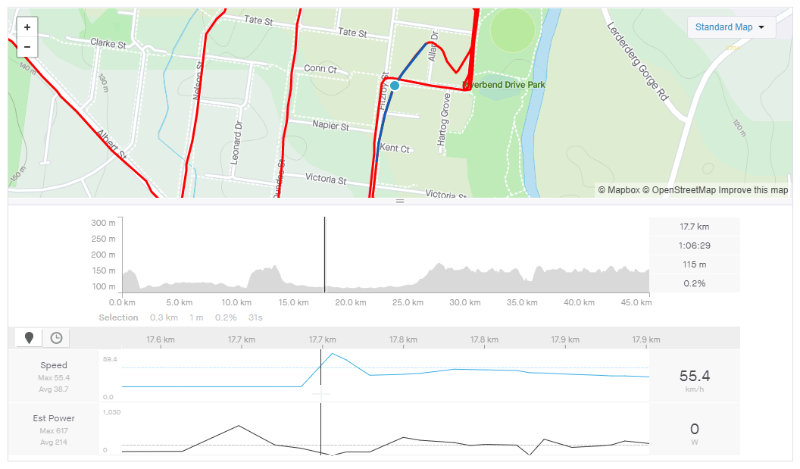 Acceleration Test
One of my favourite things about the Verreal RS is the acceleration.
Not only is it powerful, but it is also very smooth.
If you're not braced for take-off and you hit the throttle, the RS will fly out from underneath you and you could be left on your bum. But in that kind of power, there is no jolting in the motors.
I always felt I had total control over the acceleration because the board responded precisely to the movements in the thumbwheel.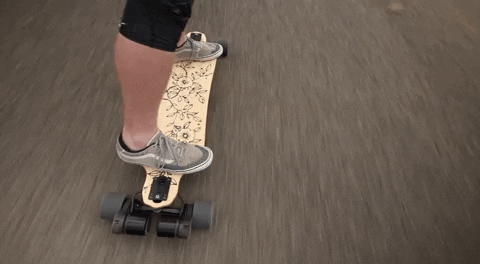 Braking Test
The brakes on the Verreal RS are nice and sharp.
They kick in fast and bring you to a complete stop in a reasonable amount of time.
Just as the same with the acceleration, you need to be prepared for the brakes otherwise you'll be sent super-manning forward.
You can modify the braking power in each mode by holding the thumbwheel back and clicking the mode button. However, I would highly recommend you always have the brakes in the highest mode and just learn how to use them properly.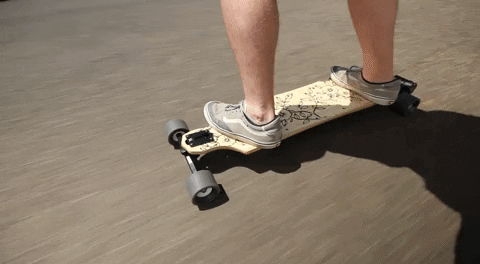 Hill Climb Test
The Verreal RS is specced to have a 30% hill grade climbing ability and I don't doubt this for a second.
I did my best to test this by climbing a 9.7% incline and the RS completely smashed it.
It flew up at around 28kph (15mph) and didn't even look like giving up.
I reckon it would have a really good chance of cracking a 30%'er.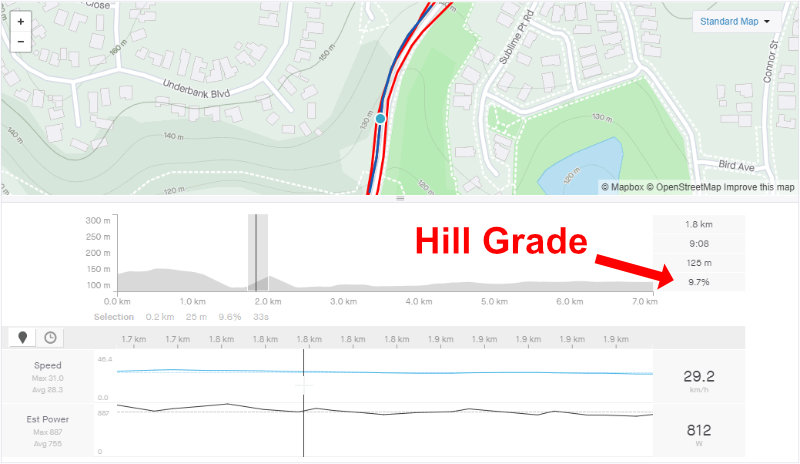 Features and Specs
The deck on the Verreal RS is made of 7 layers of Canadian maple and 2 layers of bamboo, making it really stiff.
And for good reason too.
The massive enclosure spreads itself across the entire underneath of the deck. So you don't want any flex, otherwise, you're going to have all sorts of issues with the battery pack.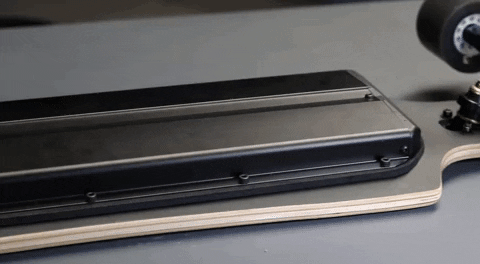 There is some slight bounce due to the dropdown, drop-through deck and the double kingpins trucks which are nice to have. It makes the board able to absorb some of the vibrations in the road, saving your feet from the dreaded numbness.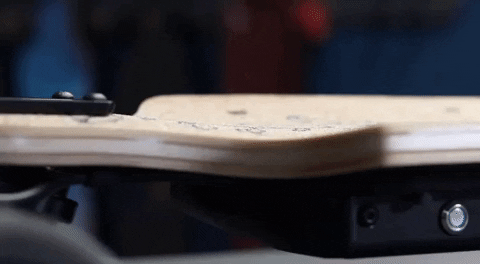 The stock wheels are 85mm and come from the old Boosted Board factory. I don't think they're ex-Boosted wheels but they definitely look similar.
The other wheel options are the 97mm glow wheels (+$50) or 120mm Cloudwheels (+$150).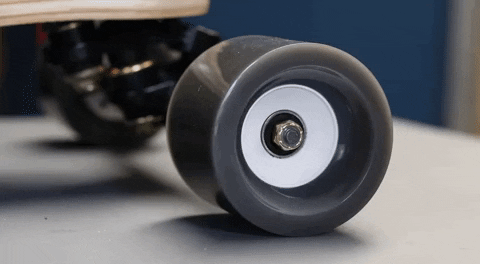 The motors are 2x 1500W 170kV belt-drives which we've already seen are amazing.
The standard battery is a 16Ah 10S4P pack with 21700 cells punching out 576Wh. That's a huge battery which explains the huge range capabilities.
But if that range isn't enough, you can choose to get the 20Ah 720Wh battery pack (+$190).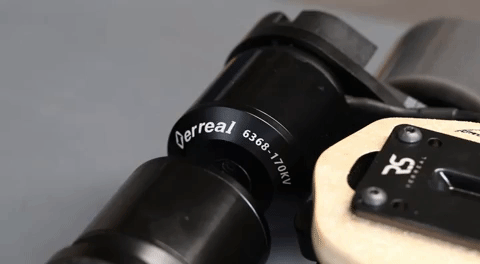 Lastly, the Verreal RS has the latest Hobbywing ESC which I love. It's smooth, powerful and has plenty of data to show.
The remote control is quite large and feels plasticky, but aside from that, it is still good quality with all the needed features.
There are three speed modes, reverse and an LED display with a speedometer, odometer and battery level indicators.
Final Thoughts
Overall, I really like the Verreal RS.
Even though I had a fall on it, I don't think it is entirely the eboards fault.
With the Cloudwheels, it is an ideal commuter board and with the street wheels, it is great for carving, sliding and riding hard.
The range is its biggest selling point. It feels almost endless even with the standard battery pack in there.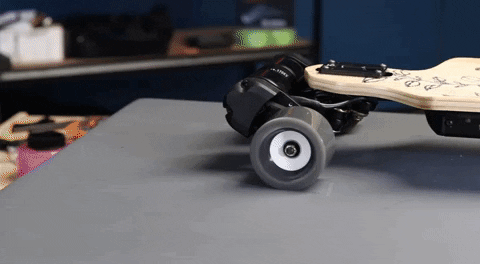 Alternatives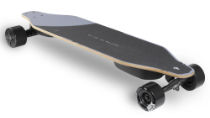 WowGo 2S Pro
The WowGo 2S Pro is an amazingly comfortable electric skateboard that you could skate for hours.