Watch the B-One Titan X Unboxing video
The B-One Titan X is said to be one of the most robust electric boards in its class. However, I'm here to give you an honest review before you go ahead and spend your hard-earned money on it.
In this B-One Titan X review, I'll show you what's actually good about this electric longboard and what's not so good..
Spoiler alert: the B-One Titan X is a fantastic eboard.
Summary of B-One Titan X Review
B-One Titan X Review
The B-One Titan X is the 2WD version that we will cover in this review. There is also a 4WD model which I'll also briefly mention every so often.
Pros
Extreme speed, torque, and acceleration
Long range is great for long commutes, and for less frequent charges
Built with durability in mind
Relatively affordable for its performance
Cons
The bushings could be upgraded to provide more vibration absorption
Deck
Once you open the box, you'll notice the beautiful-looking premium forged carbon fibre deck.
The Titan X has full black colouring making it really sleek and premium looking.
The Titan 4WD model has the same carbon fibre black underneath, but it has red running through the gaps in the grip tape which, combined with some of the red hardware, makes it look like an epic beast from Hell.
Both have a long nose and tail which act a bit like wheel cut-outs to leave space for the massive wheels that we'll discuss in a minute.
It has a slightly concave shape and a small dropdown which acts like a small bucket that you cen rest your feet in nicely.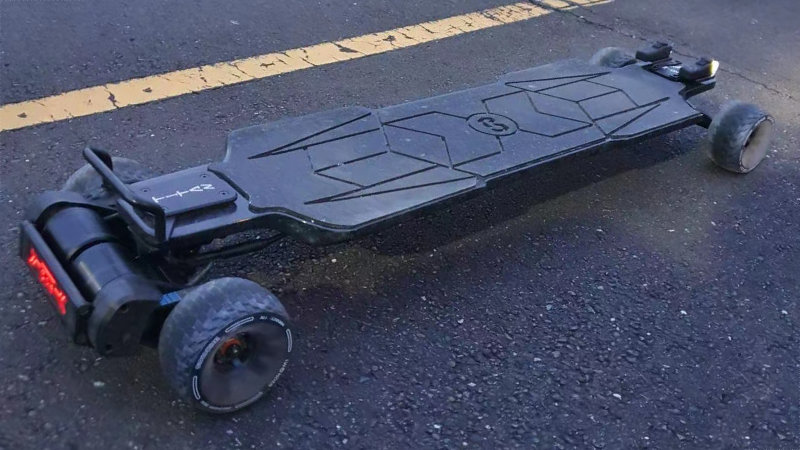 The raised edges assist you when turning because you don't need to lean as much to get the same turning circle as you would on a completely flat deck.
Your feet also feel very secure with the dropdown. It gives you a lot more confidence that your feet aren't going to slide around all over the place. So you can keep your eyes on the road, and not feel like you need to check your feet every few seconds to make sure they're in the right place.
The shock-absorbing grip tape on top is an absolute necessity on this deck. The stiffness of the carbon fibre and some of the hardware, that I'll talk about later on, don't do much to absorb vibrations, so the grip tape is very welcomed.
There are also some optional extras that you can get to upgrade your deck.
The first is the carry handle. It attaches to your front or rear trucks and makes dragging your board so much easier, I can't express this enough.
I put the handle on the tail end so that I can lift the board from the motor end and roll the front wheels freely.
The board is pretty heavy, so having this handle is a life-saver. I'd even get another to put on the front so that you have a handle for each hand when lifting the deck out of the car.
The other extras are lights.
The B-One Titan X already has a built-in rear light that responds when you apply the brakes. Similar to how it works on the B-One Hercules (which is also a great eboard if you want to save a few bucks).
All you need is a set of ShredLights for the front and you're golden.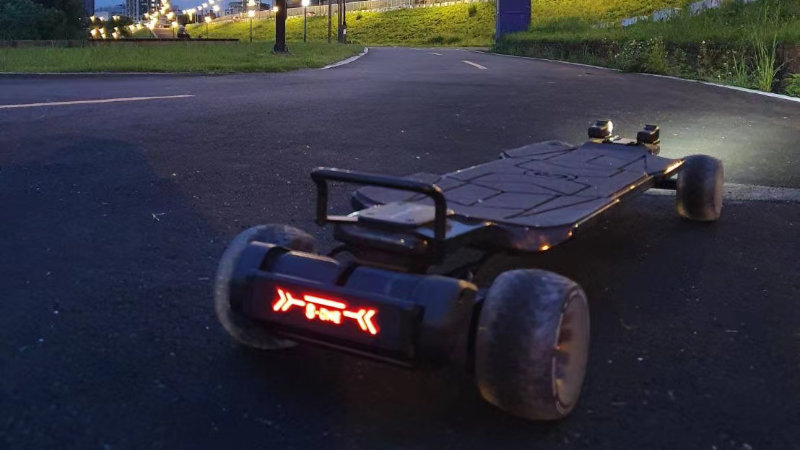 Battery
The B-One Titan X uses 20A LG M50 battery with 936 Wh.
On doing some research on those batteries, we concluded that they're sort of the underdog of batteries. The numbers check-out, the performance is excellent, and we had no issues with them whatsoever.
The only thing I couldn't test is their lifetime cycles. Only time will be able to give us this info.
With this battery setup, the B-one Titan X can take you up to 46 miles / 80km on a single charge.
That's a long ride to test the range so I didn't get around to doing a complete start-to-finish test, but when I was riding, I felt like I had ample range to take me anywhere I needed to go.
Keep in mind that your range can vary due to many different factors including your weight, the wheels installed, the terrain and how hard you ride.
The B-One Titan 4WD model, on the other hand, uses a 40T lithium 768Wh Samsung battery which yields a lower range.
Depending on the wheel choice, you'll get a different range and top speed. I've put a handy table in the Wheels section of this article which will help you.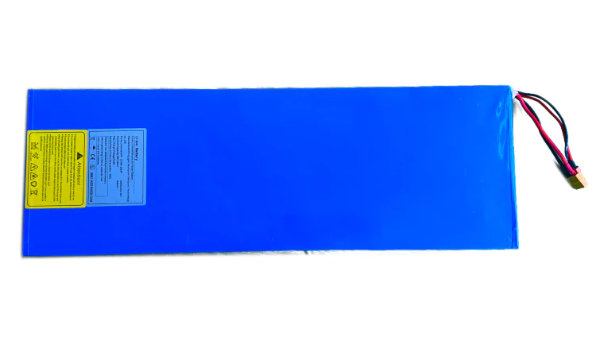 Motors
The Titan X and the Titan 4WD models both use belt-drive motors that will provide you with the power and the speed you need but comes at the expense of a relatively loud whizzing noise.
The B-One Titan X is running dual 3500W motors which ensure a high top speed and a very decent acceleration.
The Titan 4WD has quad 1500W motors and delivers incredible torque and acceleration in exchange for chewing up a bit more battery and lowering the overall range.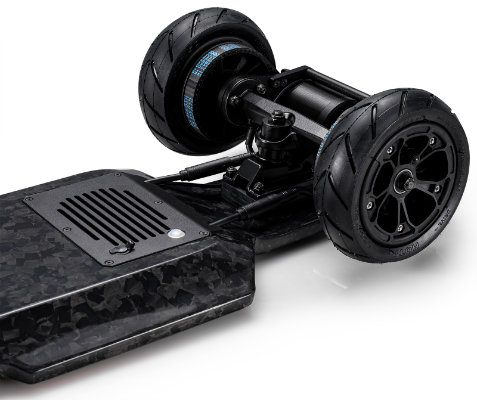 Trucks and Bushings
The B-One Titan X and Titan 4WD models both come with CKP (conventional kingpin) trucks. As a result, they provide great stability and ensure high speed without getting any speed wobbles.
I can't give any specs to the bushings on the Titan X because they don't mention it on their site, or in the manual and they just look like generic skate bushings. If I had a durometer I'd test them myself, but I don't.
In terms of turnability and carving, they were great, and I felt they responded quite well.
As for any extra shock absorption, they don't do that much.
I'd probably recommend upgrading to a good set of bushings that suit your riding style anyway.
Wheels
The Titan X has 5 different sets of wheel options that you can choose from.
97mm street wheels
100mm Boa street wheels (+$100)
120mm Cloudwheels (+$100)
150mm AT wheels (+$100)
165mm Rovers (+$250)
Each of them will provide a different riding experience, top speed, torque and range.
Deciding on which wheels to get comes down to your preferred riding style and performance needs.
So, I've put together a table below to help you figure out what wheels will be best for you.
You can also select the 2-in-1 (AT & GT), which is an extra $200 and you get the 120mm Cloudwheels and the 150mm AT wheels.
| Wheels | Range | Terrain Type |
| --- | --- | --- |
| 97mm street wheels | 80km / 46 miles | Road and footpath |
| 100mm Boa street wheels | 80km / 46 miles | Road and footpath |
| 120mm Cloudwheels | 80km / 46 miles | Imperfect roads / gravel / short grass |
| 150mm AT wheels | 55km / 35 miles | Bumpy roads / gravel / dirt / grass / wet |
| 165mm Rovers | 60km / 37 miles | Bumpy roads / gravel / dirt / grass / wet |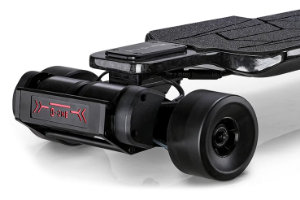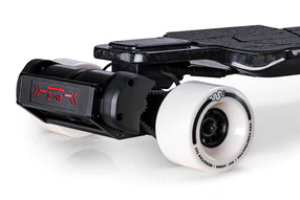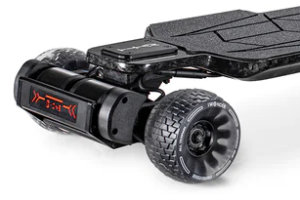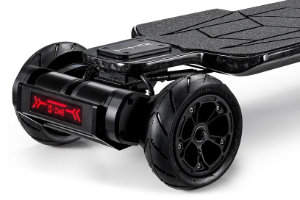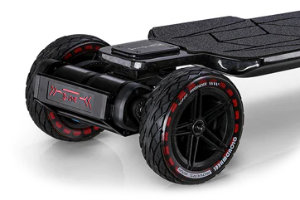 Remote
Both models of the Titan come with the same remote, which gives you full control over 4 different speed levels.
There are also adjustable brakes that you can tune to your preference.
The 4WD remote has an extra perk that allows you to change the drive from 4WD to 2WD. This is extremely useful if you don't need that much torque and if you need to save that battery for longer commutes.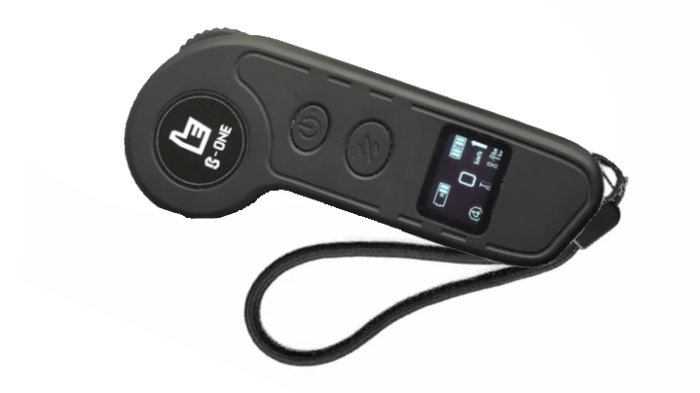 Charger
The B-One Titan X (and the Titan 4WD) comes with a strong 5A charger that can take the battery to full charge within 4–5 hours.
While this may seem like a long time, remember that the range of the Titan X is more than enough for you to get where you need to throughout the day and charge it comfortably later on.
It's worth pointing out that, while testing it, the charger temperature got pretty hot.
Still, we recommend charging your Titan X in a relatively cool place to avoid any possible damage to the charger.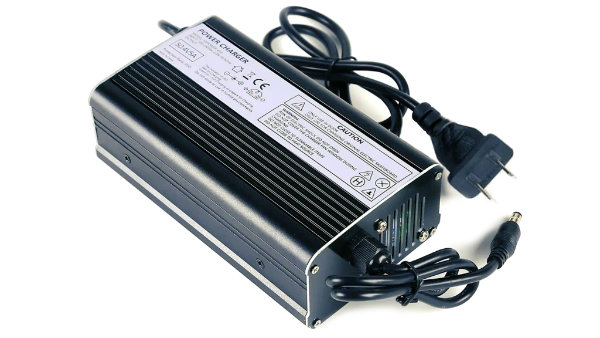 Customer Reviews
It's no surprise the B-One Titan X has plenty of 5-star ratings. He's a few I wanted to share.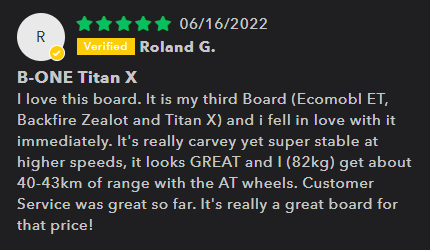 Final Thoughts
That's it for our B-one Titan X review.
In short, regardless of the model you choose, you can never go wrong with the Titan X.
The electric board is reliable, durable, and crazy fast. In addition, the excellent mileage you get on a single charge makes the long charging time a bit more bearable.
Last but not least, the wheel diversity and the accessory options make the B-one Titan X one of the most versatile and customizable electric boards we've reviewed.