Hey fellow eSkaters!
I got my hands on the Meepo V5 electric skateboard, and I can't wait to share my experience with you.
After taking the Meepo V5 for a spin, I must say, it's been a fantastic ride. This beast of an eboard has managed to impress me with its performance, features, build quality and ride comfort.
So buckle up, and let's dive right into this Meepo V5 review!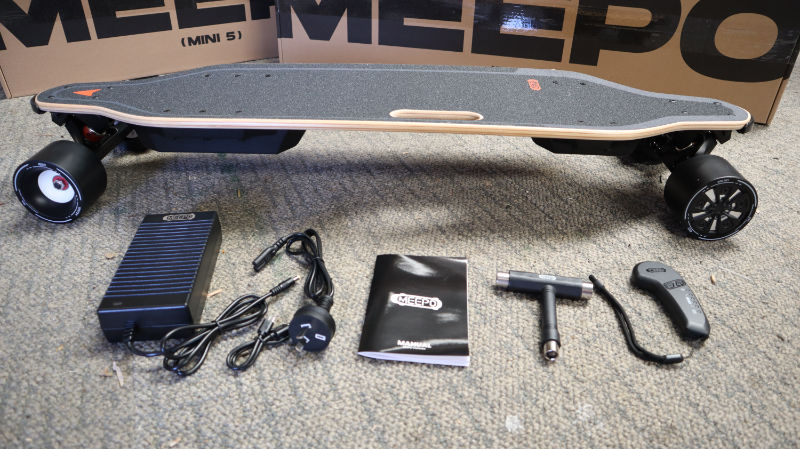 Aesthetics and Design
The Meepo V5 has a sleek and minimalistic look that is a throwback to it's original design with the return of the deck handle.
It makes carrying your board around easy and convenient. I sorely missed the handle when they got rid of it, so I'm very happy it's back.
The sturdy 38″, 8-ply Canadian Maple deck, not only makes it durable but also provides excellent stability while riding at high speeds.
The simple black grip tape on the top is both sleek and functional, ensuring you maintain traction on the deck so you don't have to worry about your feet slipping around.
The orange highlights scattered throughout the design are eye-catching and give the board a sporty and fun vibe.
Overall, the Meepo V5 is a good-looking electric skateboard.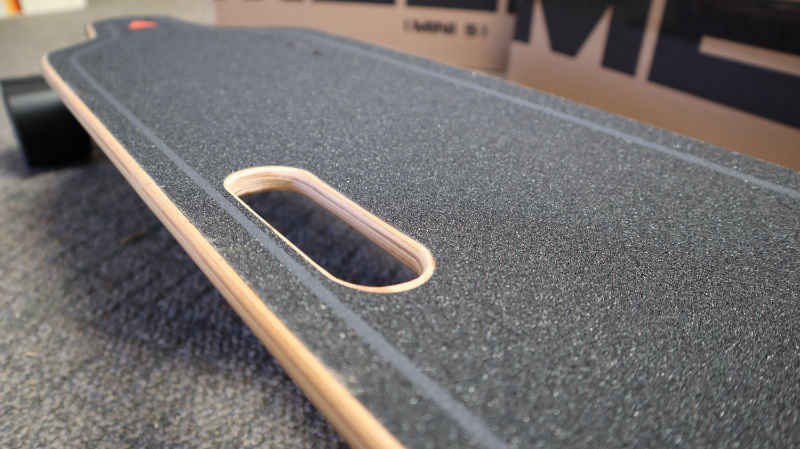 Performance
Now, let's get down to the most critical aspect of any electric skateboard – performance.
The Meepo V5 is equipped with dual 500W hub motors that pack some serious punch.
It boasts a top speed of 28 mph (45 km/h), which is quite impressive for a board in this price range.
During my test rides, I consistently hit around 26-27 mph, and it was nothing short of exhilarating.
The hill climbing ability is also quite good with the Meepo V5 easily tackling inclines of up to 18% without breaking a sweat.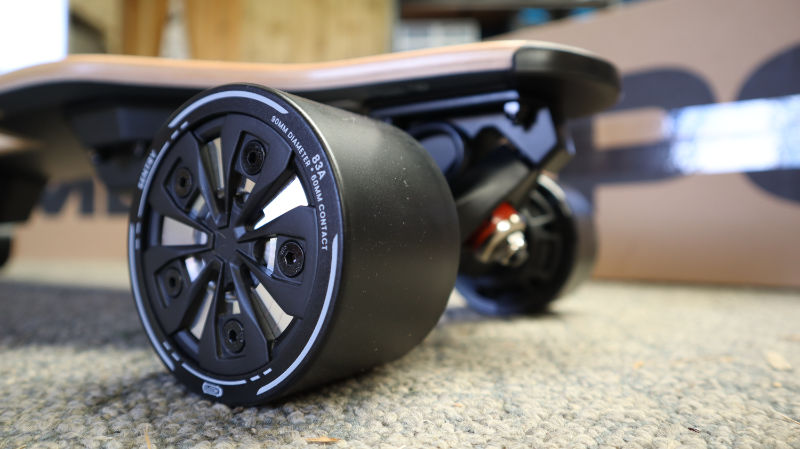 Battery and Range
One of the most important factors for any electric skateboard is the battery life and range.
The Meepo V5 comes with a 10S2P 144Wh battery, which promises a range of up to 11 miles (18 km) on a single charge.
Riders are getting between 9-11 miles of range, which I'm very happy with as range heavily depends on the riding mode and terrain. Factors like rider weight, wind, and temperature can affect the actual range greatly.
The eboard also features regenerative braking, which means that the battery gets charged whenever you brake, further extending the range. The charging time is about 2.5 hours, which is quite reasonable considering the battery capacity.
You also have the option to upgrade to Meepo's ER battery which is a 10S2P 288Wh with 21700 cells and extends the range capability to 20 miles (32km).
With this battery I was able to reach a max range of 17 miles (27km) which is well beyond what I usually get with eboards in this price range.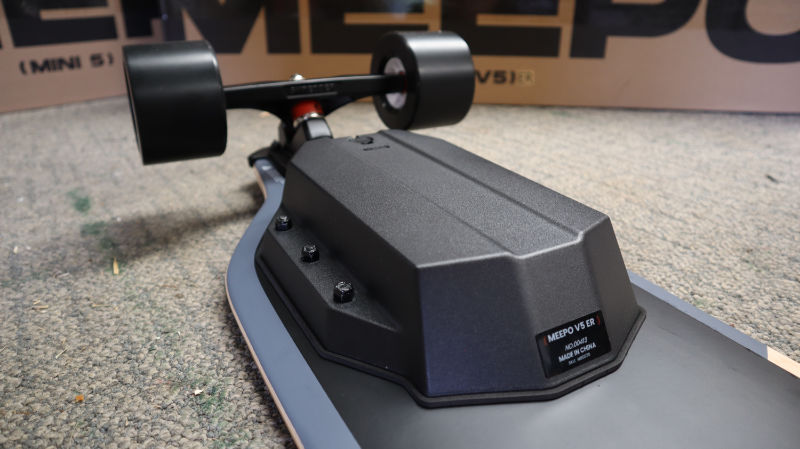 Ride Comfort and Stability
In my opinion, ride comfort is the most important factor when choosing an electric skateboard, and the Meepo V5 doesn't disappoint.
The deck is very sturdy and provides just the right amount of flex to absorb vibrations and bumps during the ride.
The 90mm, 78A Polyurethane street wheels also contribute to a smoother and more comfortable ride, especially on rougher surfaces.
They help a lot when cornering because they grip the ground well and prevents the board from slipping out from underneath you.
The Meepo V5 is fitted with high-quality Shredder trucks, which offer excellent stability and maneuverability.
I was able to carve and make tight turns without any issues, and the board felt stable even at high speeds.
The bushings have had mixed responses from others in the industry, however, they were great for my style of riding and weight.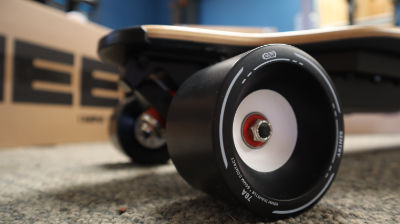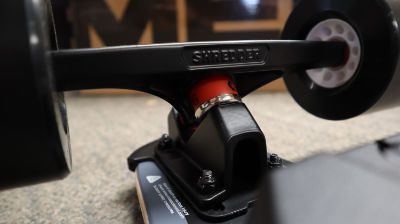 ESC & Remote Control
The Meepo V5 comes with an upgraded M5 remote, which is ergonomic and comfortable to hold.
It doesn't have a screen, however, that's the trade-off here for an affordable electric skateboard.
It does, however, have a smart turn-on feature, which automatically turns the board on when you start rolling. This eliminates the need to bend down and switch on the board, making it more convenient and user-friendly.
The throttle wheel is smooth and responsive, allowing you to control the board's acceleration and braking with ease.
It has four riding modes – Beginner, Eco, Expert, and Pro – to match your skill level and riding preferences, reverse and cruise control.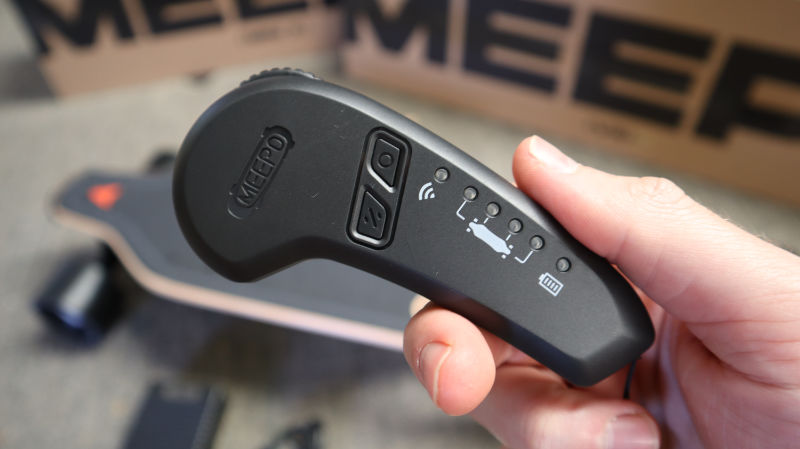 Extra Features
Even though the Meepo V5 is considered an affordable, no-frills electric skateboard, it still has bash guards on the nose and tail.
It's a small feature but provides a lot of protection for the deck if it happens to smash into any gutters or walls. It prevents hairline fractures from occurring and compromising the durability of your deck.
It also protects your deck from scraping the ground when you lean it up against a wall.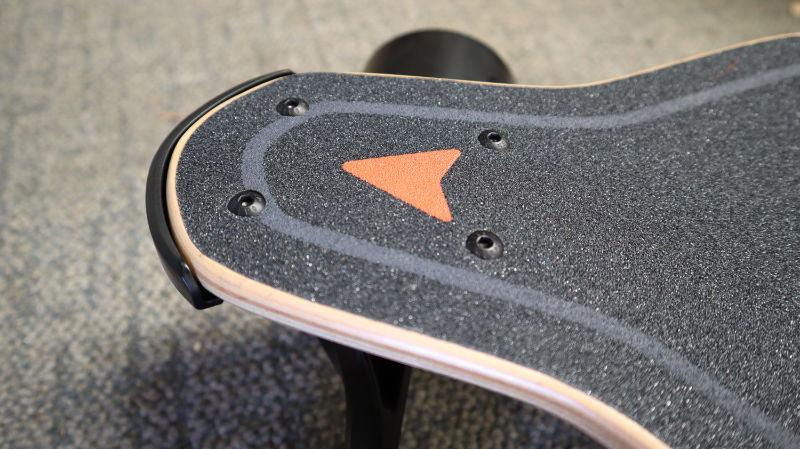 Customer Support and Warranty
eSkate brands have been notorious for not providing any customer support, however, Meepo has made big changes in this department.
Their team is responsive and helpful, addressing any concerns you may have.
The Meepo V5 comes with a 6-month warranty, covering any manufacturing defects or issues with the electronics.
While a longer warranty would have been appreciated, the build quality and performance of the board give me confidence in its durability.
Price and Value for Money
The Meepo V5 is priced at $469, which is quite competitive considering the performance and build quality it offers.
It provides excellent value for money, especially for those looking for a high-performance electric skateboard without breaking the bank.
The Meepo V5 is a solid choice for both beginners and intermediate riders, offering a thrilling ride experience without compromising on comfort or safety.
Final Thoughts
Overall, the Meepo V5 has exceeded my expectations and has been an absolute blast to ride.
With its impressive performance, range, and ride comfort, this electric skateboard is perfect for daily commuting, leisure rides, or even adrenaline-packed adventures.
So, if you're in the market for a reliable and powerful electric skateboard that won't leave a massive dent in your wallet, the Meepo V5 is undoubtedly worth considering.
Happy riding, everyone!