Watch:
If you're like me and think that riding an electric skateboard off road is more fun than riding on the pavement, then the B-One Hercules Carbon AT electric skateboard might be the eboard for you.
The problem with this category is that there aren't many options that provide a reasonable balance between high-quality and affordability.
But the B-One Carbon AT runs against the grain here.
Even though they are a relatively new company, they already provide a better quality electric skateboard than some of the more established brands.
The owner, Gerald, is an electrical engineer and has worked in the electric scooter and hoverboard industry since 2015.
But he quit his job to follow his passion for building electric skateboards.
It's the combination of his experience and passion that draws me to B-One Boards.
The Carbon AT is the top-shelf option with all the bells and whistles. They also have the Bamboo AT which is a stripped-back version with a stripped back price to follow.
But let's stay on track and get into this B-One Carbon AT review.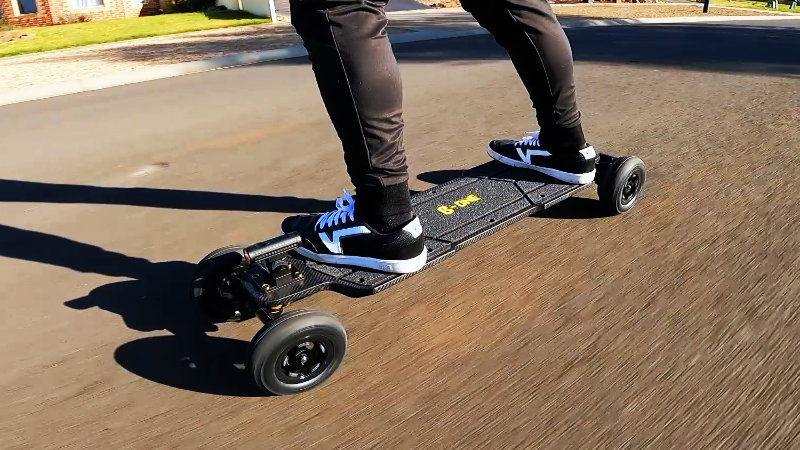 Who Is It For?
Due to the ability to change the wheels, this is a versatile electric skateboard that will suit many different types of riders.
With AT wheels, it is an off-road beast, great for exploring your local trails. You could even use these wheels to commute to work in ultimate comfort.
With Cloudwheels, it is a comfortable and powerful commuter eboard.
Or you can use Street wheels and turn it into a sliding machine.
Anyone with experience just beyond the beginner phase will have an absolute blast with this electric skateboard.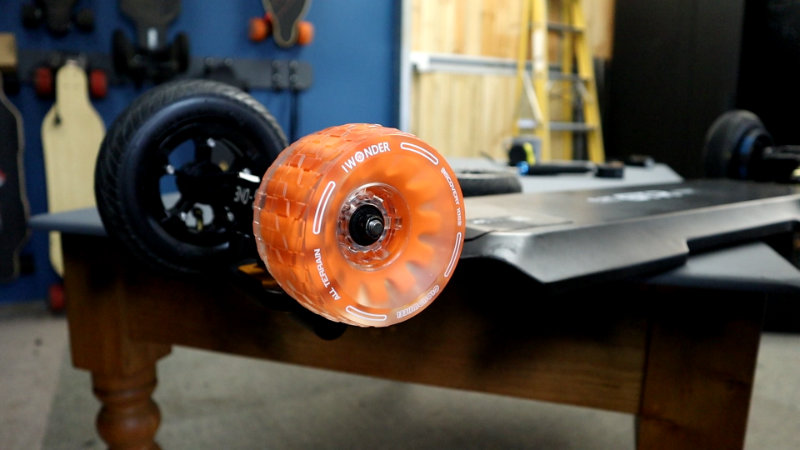 Features & Benefits
As the name suggests, it has a full carbon fibre deck. This, by design, makes the board quite stiff.
Not only does this protect the battery, it also gives the rider a lot more stability when riding at high speeds.
The deck is really long at 46.5" with a wheelbase of 39". That's a bigger wheelbase than the Trampa boards and ecomobl, and longer than some eboards altogether.
I found this length to be ideal because my weight was spread across the deck helping me to maintain balance, giving me a lot of confidence when riding.
It's also quite a wide deck with extended width where your feet sit. These areas are also raised slightly to create a concave shape. My feet settled into the space perfectly and allowed me to control the movements of the board easily.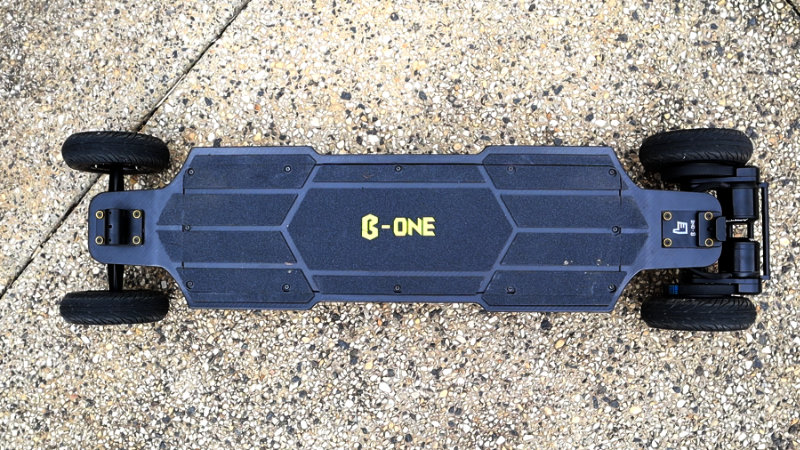 On top of the deck is some shock-absorbing grip tape which does wonders at soaking up the vibrations from the road.
Considering the range this eboard can get, I imagine you'll be wanting to take it out for long rides and that extra padding under your feet means your feet will last a lot longer before fatiguing.
The drop-through deck is fitted with double kingpin trucks (DKP) and they look sexy as hell.
They have a brassy-gold trim with gold washers and locking nuts. There's a plastic shield on top of the deck fitted with gold washers which look quite nice.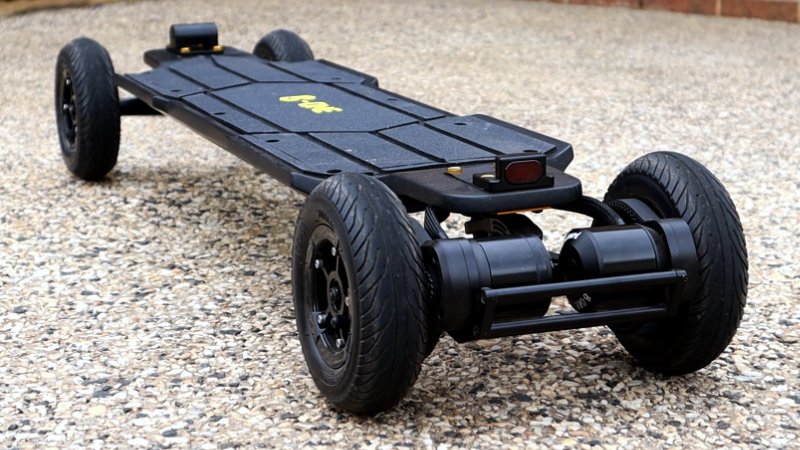 Aside from the aesthetics, the 12" forged DKP trucks are top-notch.
I've had bad experiences on DKP trucks in the past so I tightened them real well before heading out on my first ride.
But after a few minutes of riding on them, I felt confident to loosen them off a bit. And the ride just got better from there.
I had a great feeling of control when turning and the carving on this eboard was awesome.
You could really whip it out hard and the trucks would bounce back to centre almost effortlessly.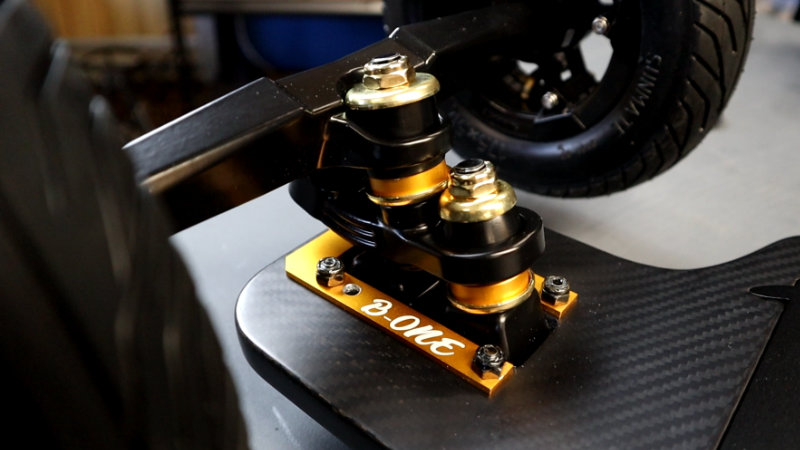 The wheels I'm running are the stock 7" pneumatic all-terrain wheels. And they do a good job of providing comfort on the pavement without losing performance while being supple enough to maintain traction when riding off-road on grass and dirt.
An interesting thing about these AT wheels that KAMI pointed out is that they are using an identically specced hub as the Trampa Superstars.
But, because this is a belt-driven electric skateboard, you can literally throw any wheel onto the Carbon AT with a small modification to the wheel/motor pulleys and belt.
The motors are dual 6368 1500W 170Kv and provide a ton of power.
I hit a top speed of 43.9kph (27.3mph) and that was going up a slight incline.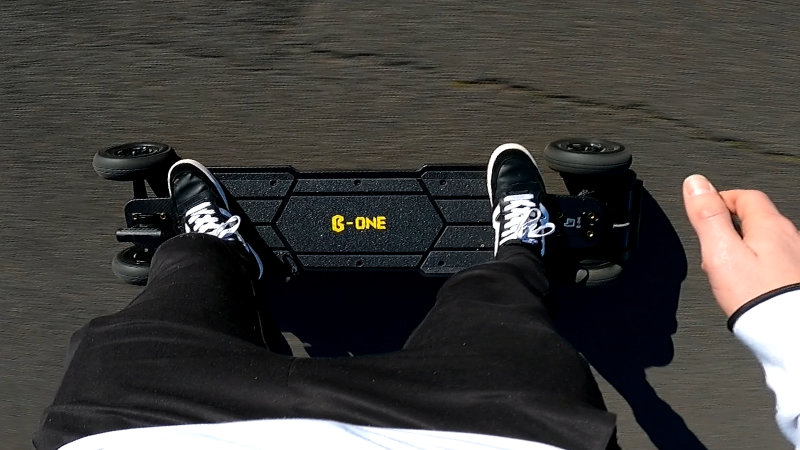 I also tested the hill-climbing ability and I was able to fly up a hill that had a 15% grade at its steepest part and 9% average across the entire climb.
It smashed it. My speed sat between 20-30kph (13-19mph) and didn't even feel like giving up.
At the top, the motors were warm but still touchable, meaning it has more in them.
You'll have no problem climbing hills.
The battery is massive. It's 19.2AH 12S4P with 852Wh.
And the range on it is up 50km (31 miles) tested with a 70kg rider on a flat surface.
That's got to be more than enough for the majority of riders.
If you want more range, you can access the battery compartment from the top of the deck by undoing these bolts and lifting up the plate. So you could quite easily purchase a second battery and change it over during the ride.
It's running the latest Hobbywing ESC.
And for those that don't know, that's the part that controls the speed and braking. A very important component that determines the overall performance and ride-feel.
On this particular eboard, the ESC is amazing.
The acceleration while fast and powerful, remains smooth and manageable, even for intermediate riders.
And the braking is predictable while still being strong. Exactly what you need in those unexpected sticky situations.
The remote is nice and big, with a matte rubbery coating so it's easy to hang onto.
There's four speed modes plus a reverse function.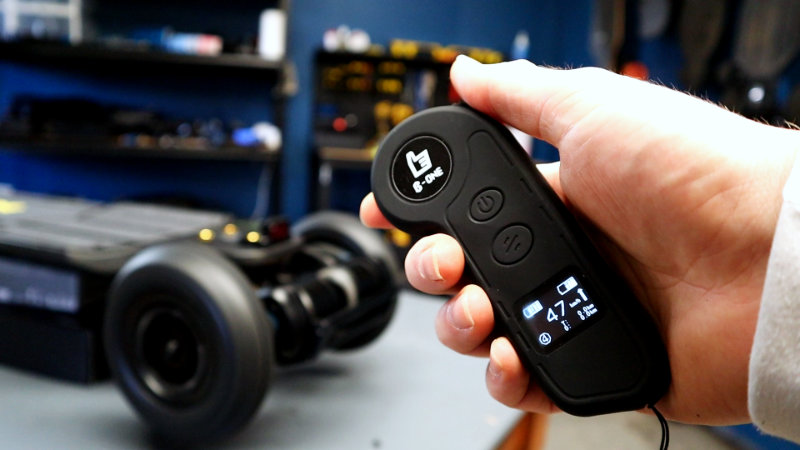 And my favourite feature of this remote is the auto on/off function.
You only need to turn the remote on and it'll automatically turn the board on and connect.
This is a big plus in my books because you don't need to bend over and fiddle around under the deck to turn the board on.
The B-One Carbon AT weighs in at 13kg so it's an easy job to be flipping it over every time you want to turn the board on.
This is probably my one con of this eboard. It's huge.
It's a bit of a handful to carry around, however, the motor guards double as a carrying handle which makes moving it a whole lot easier.
The remote can also control the rear light that is installed stock on the deck.
You can turn the light on and off with a double-click of the power button and the light also flashes red when you apply the brakes.
There's also a mount on the front trucks that perfectly fits the supplied headlight. It's not controllable with the remote but you can set the light to be solid or flashing.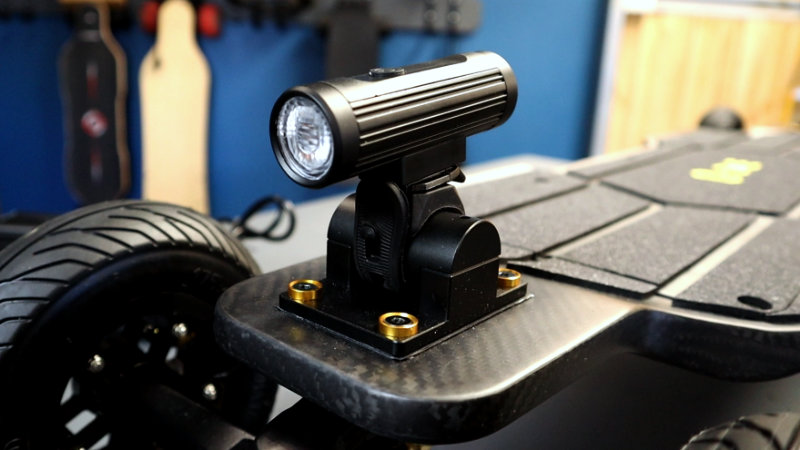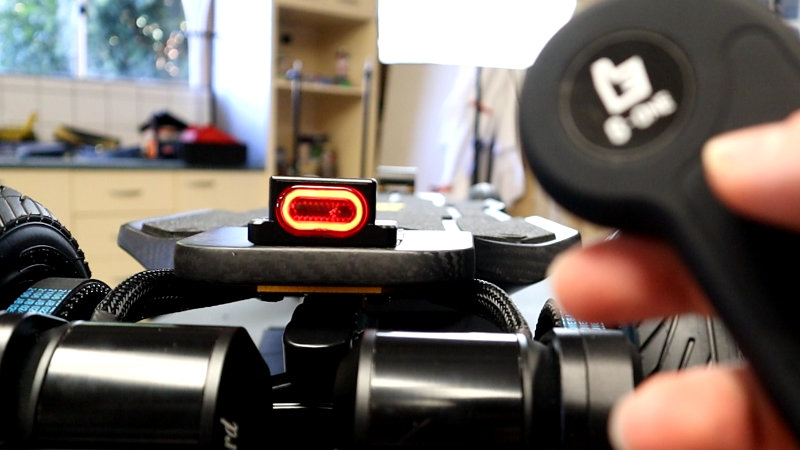 I like this implementation because you can use this light on other things like your bike or scooter. Or you could take the mount of the B-One and put it on any other electric skateboard you own.
Altogether, the accessories you get in the box are the charger which will charge the board from 0-100% in about 5 hours, a t-tool, spare belts, remote control, front light and two USB cables, a micro to charge the light and a type-c for the remote.
Final Thoughts
Overall, the B-One Carbon AT is an amazing electric skateboard that will fit the needs of many riders.
It has performance specs that surpass the needs of most riders, allowing you to grow into it and last you a very long time.
It also has extra features that many other eboards have such as lights and auto on/off which make your ride experience a whole lot more enjoyable and safe.
And all of these things don't really come at a premium price.
Yes, the B-One Carbon AT may seem expensive at $1,500, but compared to other eboards in the category, the value you get from this board is second to none.
Use code ESKATEHUB for $200 OFF!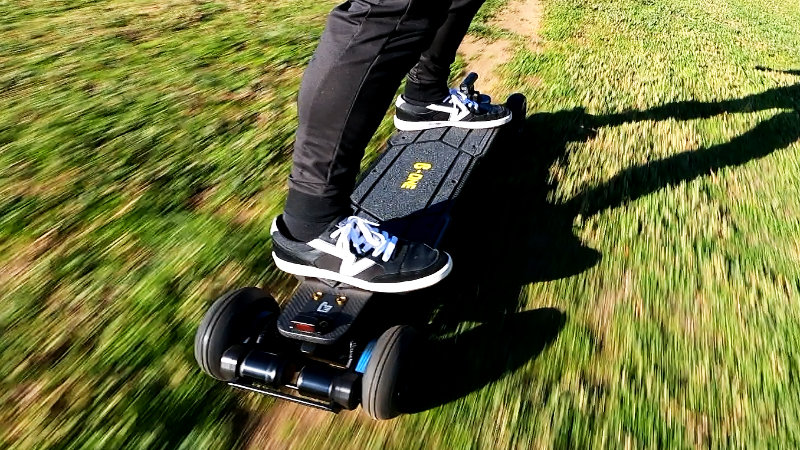 Alternatives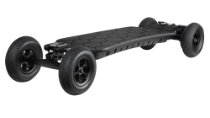 WowGo AT2
The WowGo AT2 is one of my personal favourite off-road electric skateboards. It's powerful, comfortable and uses top-quality parts.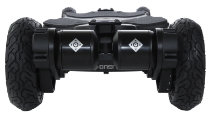 Onsra Black Carve 2 AT
The Onsra Black Carve 2 AT is the creation of the notorious YouTuber Fabi.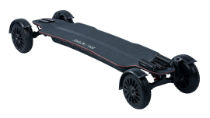 Backfire Ranger X3
As far as hub-motor electric skateboards go, the Backfire Ranger X3 is incredible. It tackles the toughest of terrains with ease and has the power that'll make your jaw drop.