I've never been on an electric skateboard that has felt more like a traditional longboard than the Exway X1 Max. And despite the stiff deck and small wheels that give it that longboard feel, it still has a comfort about it that encourages confidence.
It's like it has all the benefits of a regular longboard, but without all the downsides.
Exway is one of my favourite electric skateboard brands because they continuously release products that are innovative, well thought out, built with quality components and have strong performance specs.
The Exway X1 Max has taken everything that was great about its predecessor, the X1 Pro, and made it even better.
Like most of Exway's eboards, the X1 Max gives you the option to choose between either the hub motors or the Riot belt-drive kit.
And they're both the same price of $849 (plus $15 OFF with code ESKHUB).
So, let's get into the details of the Exway X1 Max review and check out its performance specs, but first here's a list of everything you get in the box:
Exway X1 Max
Remote control
Board charger
USB-C cable
Spline wrench
Skate tool
Spare nuts and bolts
User manual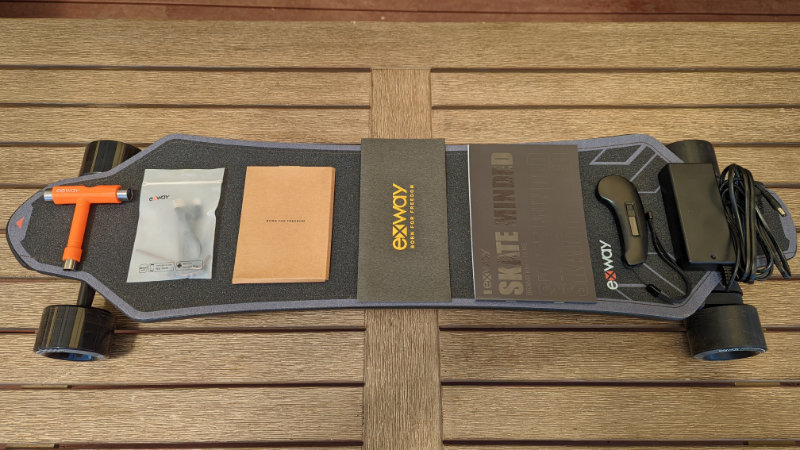 Who Is It For?
The Exway X1 Max is for the daily commuter who also wants an eboard that is capable of carving hard on the weekends.
It isn't overloaded with power, and is manageable by beginner and intermediate riders, while still having enough oomph for experienced riders to really enjoy at the same time.
If you like simplicity, with the option for customization, the Exway X1 Max is the right electric skateboard for you.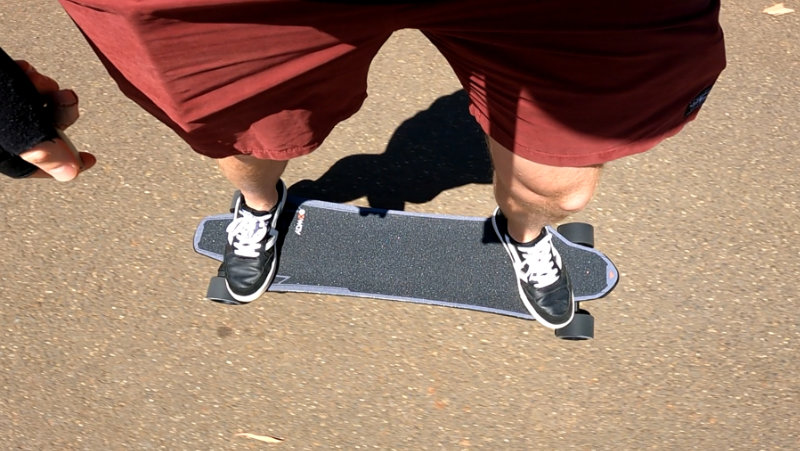 Features & Benefits
The deck is 38" long and 9.5" wide at its widest point where you would usually place your feet.
That's slightly longer than the X1 Pro, giving you a naturally wider stance, which just feels more comfortable and you feel a lot more balanced because your weight is more evenly distributed across the deck.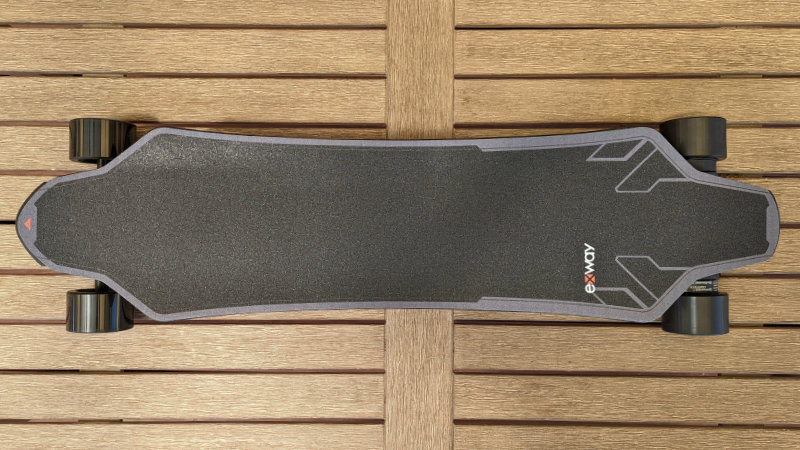 It has a concave shape that is more prominent than what the X1 Pro had, but it's not quite as harsh as the Flex.
It's in that perfect middle ground of not being too obvious under the feet while still giving you plenty of contact under the toes and heels to assist in cornering and carving.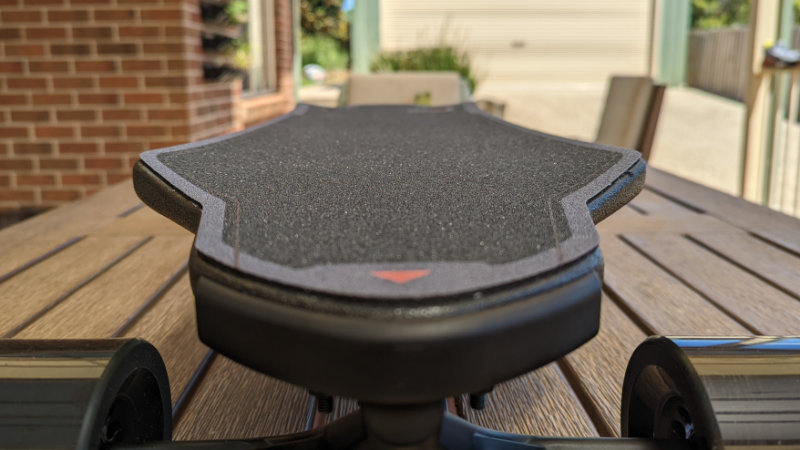 It's a timber deck on the inside, maple I imagine, I'm not entirely sure, but it has a Line-X protective coating. This makes it scratch-resistant, easy to clean and more resistant to water, all of which will keep your deck looking pristine for miles to come.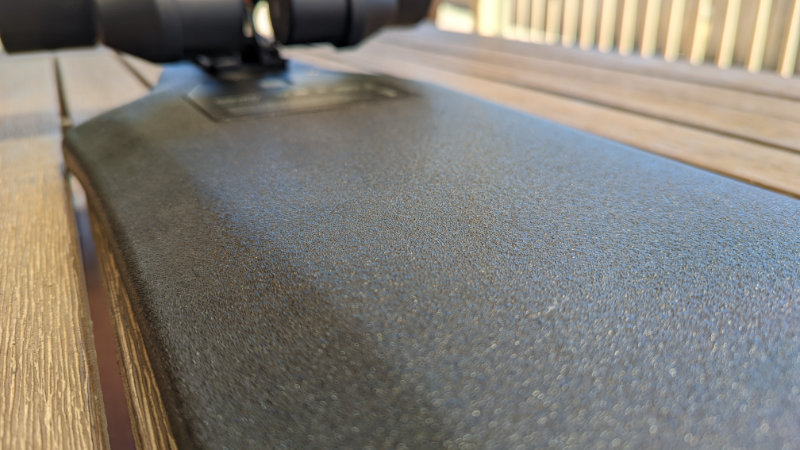 On top, the Exway X1 Max has a welcomed shock-absorbing grip tape at 2mm thick which isn't exactly obvious when you stand on it but there is a slight cushioning feeling under your feet. However, the tapes real job is absorbing the vibrations from the road which it does really well.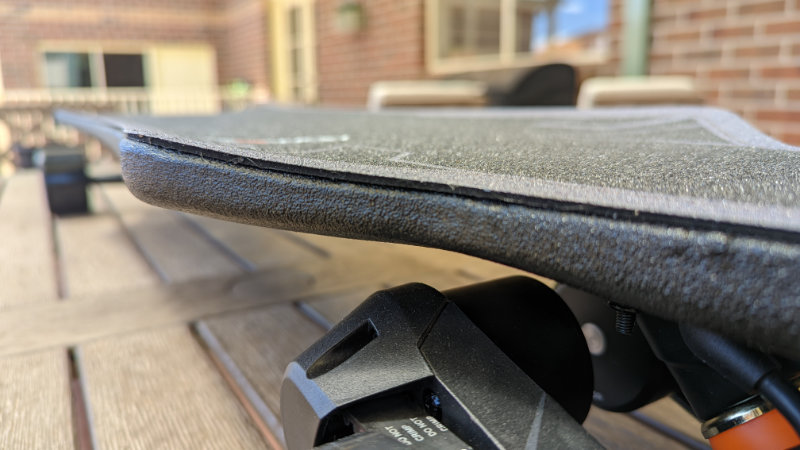 I felt comfortable the entire time I was riding and I hardly got any foot fatigue, meaning you can ride for longer without having to take any breaks, and getting to your destination faster.
Both ends of the deck have built in bumpers which absorb any impact that might occur if your deck hits walls or the curb in the case that it runs away from you. And it'll protect the deck at those times when you need to pick it up and stand it on its end.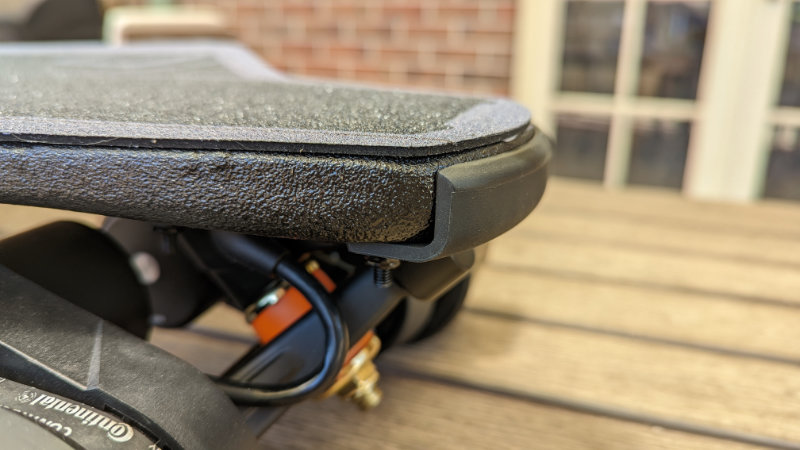 The deck sits on Exway's in-house-designed 8" 45° CNC forged aluminum Trist trucks. That's a lot of spec to unpack, but all you need to know is that these trucks feel amazing.
They're designed to allow carvability while also being able to maintain stability at high speeds. Something which eSkaters, and skaters have had to compromise on for years.
Generally, when you loosen the trucks to enable for carveability, you'll start to get speed wobbles when riding at higher speeds. In reverse, if you tighten the trucks to increase your stability, you lose the ability to carve.
But Exway's Trist trucks setup, including the bushings and washers, are great at doing a bit of both.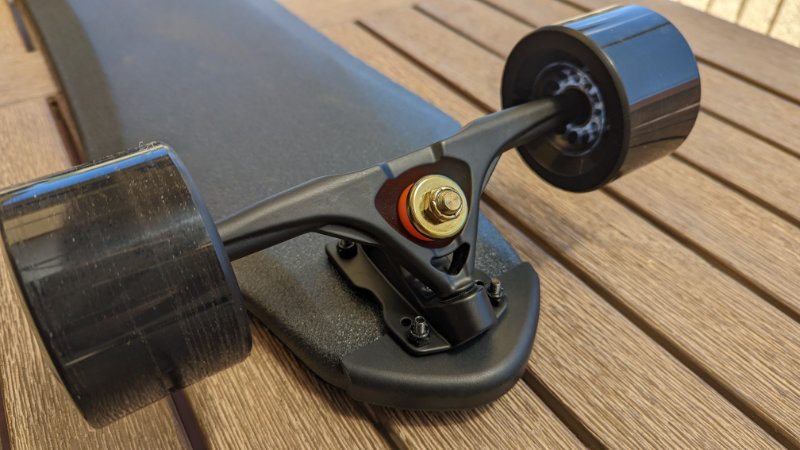 The stock wheels on the Exway X1 Max are 85mm 80A polyurethane street wheels.
It can be hard to verbalise the feeling of a good set of wheels on a skateboard, it's something you really have to ride for yourself to understand.
I love the way the wheels stick to the ground when cornering without any sign of them even wanting to slip out. It gives you an immense feeling of confidence which just makes the overall ride far more enjoyable.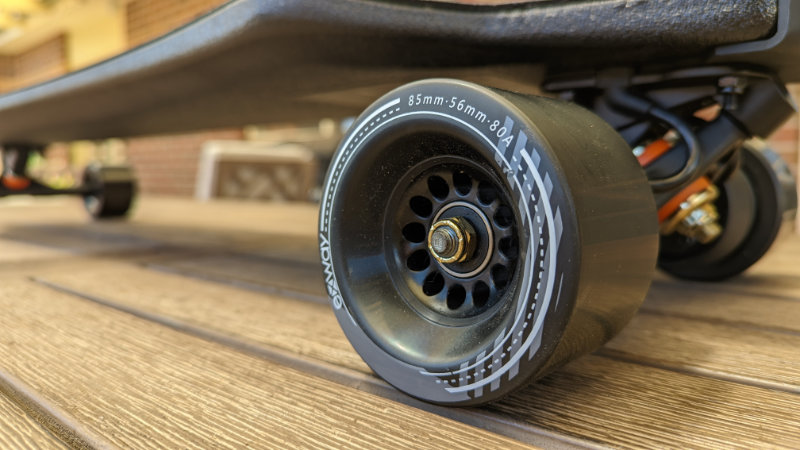 If you opt for the Exway X1 Max Riot Kit, you'll be able to swap your wheels to anything between 76mm and 120mm, including Cloudwheels. Just make sure you pair the wheels with the correct pulleys.
If you're going the Hub motor route, you'll have a lot fewer options for wheels. At this stage, it's just the stock wheels it comes with or the 105 Cloudwheel Donuts.
Which, in my opinion, is a very worthy upgrade. I put Cloudwheels Donuts on my Exway Flex and it was one of the best choices I've made in a while.
Now for the electronics!
The battery has been jacked up to be a 230Wh 44.4V Lithium Polymer flatpack battery which is 20% bigger than the X1 Pro and gives it a range of 18.6 miles / 30km.
Now I'll caveat this range by mentioning that this was tested by Exway with a 154lbs / 70kg rider and the max load limit of the Exway X1 Max is only 220lb / 100kg.
That's quite a low max load, but I guess the majority of the eskate population will fall somewhere between 154lb-220lb / 70-100kg. Just keep in mind the X1 Max's optimum range and account for your own weight.
The battery takes 5 hours to charge with the standard charger, but you can also opt to get the fast charger which will bring that down to 1hr 45mins.
An interesting thing to note here with the charger is the location of the charging port on the board.
It took me a while to find it but once I did, I thought it was complete genius.
It's hidden in the front truck. Tucked away from the elements but with easy access to plugin. Although it's a small thing, I think it's one of the best design innovations in electric skateboarding I've seen in a long time.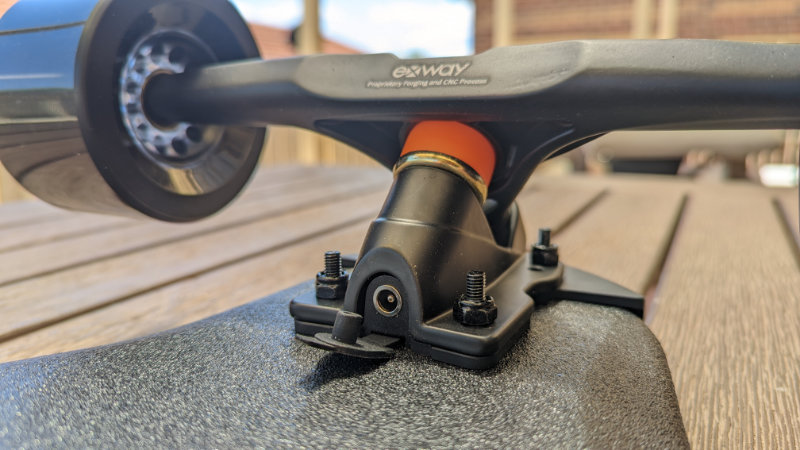 The hub motors are 2x 655W and the Riot kit is 2x 756W.
Strangely enough, that's lower than the 2x 1000W motors that were found on the X1 Pro.
Despite this, the X1 Max has the same top speed of 28mph / 45kmh but has increased acceleration power.
| | | | | |
| --- | --- | --- | --- | --- |
| | X1 Max Hub | X1 Max Riot | X1 Pro Hub | X1 Pro Riot |
| Motors | 2x 655W | 2x 756W | 2x 1000W | 2x 1000W |
| Top Speed | 18mph / 45kmh | 18mph / 45kmh | 18mph / 45kmh | 18mph / 45kmh |
| Acceleration | 6.2N.m² | 7N.m² | 5N.m² | 5.6N.m² |
It also has the same hill climbing ability of 30%.
When it comes to climbing hills, although Exway says both the Hub and Riot kit can both climb 30% hill grades, they don't do it at the same level of performance.
30% hill grades are rare so it's tough for me to test this, however, in my experience, belt-drives climb hills far better than hub motor eboards.
If you have a lot of hills in your area, I would highly recommend getting the Riot kit. It will make tackling hills much faster and put less stress on your motors over time.
If you prefer quiet motors over hill-climbing ability, then the hubs are the ones for you.
And if you really can't decide, the drivetrains are swappable, so you can get yourself a set of each and then pick which you want to use depending on the type of riding you plan on doing that day.
I think it's important to note that the Riot kit motors are forward-facing underneath the deck. Aesthetically, it makes the deck look more sleek and stealthy. In practicality, it means you can lift the deck from the front end and drag the board without knocking the motors.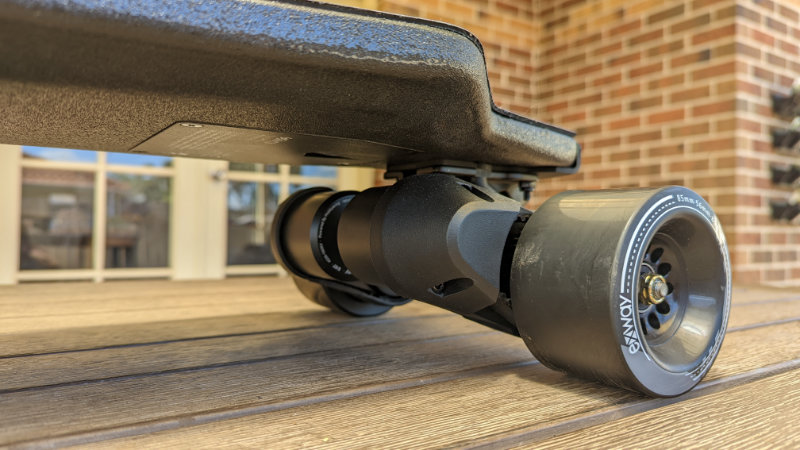 The only downside I see of this is that you won't be able to go over large bumps because they'll knock the motors before the rear wheels have a chance to go over them. But the solution to that is to just don't ride over any big bumps. The 85mm wheels probably won't be able to handle them that well anyway.
Exway has again chosen to go with a customized Hobbywing FOC ESC which in a lot of peoples opinions, including mine, is a great choice.
Hobbywing has repeatedly delivered ESC's that balance smooth acceleration curves with power.
You can also fully customise the level of power delivered by the ESC through Exway's mobile app so you can fine-tune the acceleration and braking to fit your riding style and ability level.
On top of that, the app has a ton of other options and features you can modify to make the board uniquely yours, including Free mode, Cruise control, Turbo and dashboard where you can see a bunch of information about the board like temperatures, voltages and power outputs.
The remote hasn't changed between models except for the build material. Usually, Exway remotes have a rubbery finish to them which I love, but this new remote has a hard plastic finish. It's a shame to lose that nice premium matte material on the remote, but it's not the end of the world.
All of this comes to a total weight of 17.4lb / 7.9kg which is so light for an electric skateboard. Plus all of the components are housed inside the deck so it doesn't feel cumbersome to carry.
What Could Be Better?
A huge missed opportunity of the X1 Max is its lack of built-in lights.
I really liked how the Exway Wave had the integrated lighting system so it would have been great to see that included on the X1 Max.
Not the end of the world, nothing a good set of ShredLights can't fix.
The other major drawback is the max load of 220lb / 100kg. I know this is only going to affect a handful of potential eskaters, but I do feel like this group's options are getting slimmer (no pun intended).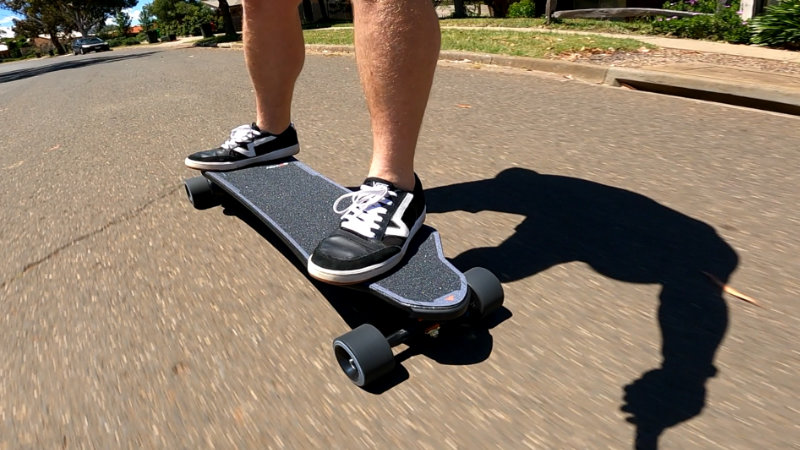 Final Thoughts
Overall, I love the Exway X1 Max.
First of all, I love its form factor. It is very stealthy and it looks like a premium eboard. Throw on the hub motors and no one would ever know you're riding an electric skateboard.
Secondly, the performance is more than enough for the vast majority of eskaters out there without it being overloaded with power that you'll never use.
Lastly, it's jam-packed with features and the ability to customise, meaning you can fiddle around with it until you find the settings that perfectly match your personal riding style.
Thanks for checking out my Exway X1 Max review.
I hope it's helped make your decision of buying the best electric skateboard a little bit easier.
Use Code ESKHUB and get $15 OFF
On Exway's Website
Alternatives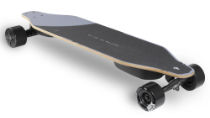 WowGo 2S Pro
The WowGo 2S Pro is an amazingly comfortable electric skateboard that you could skate for hours.