Electric skateboards are taking the world by storm! They're powerful, fast, and extremely fun to ride. Like regular skateboards, electric skateboards come in a huge range of options, although some of them are more popular than others.
One of the most popular options on the market is the Meepo Hurricane. So, is it really worth all the hype?
In today's article, we'll walk you through a complete Meepo Hurricane review with an in-depth look into the skateboard's top features, build quality, and value for money. So without further ado, let's jump right in!
Meepo Hurricane Review
Although Meepo is known for its highly affordable Meepo Mini and Meepo Shuffle, the company also produced a high-end option under the name of "Hurricane".
The Meepo Hurricane is one of the most powerful electric skateboards on the planet, with a set price to show for it. The Hurricane is capable of zipping through town at a top speed of 35 mph and incredibly powerful acceleration and torque!
In addition to its massive power and speed, the electric skateboard is very easy to control with a push-to-start feature and a high-end LingYi FOC electronic speed controller with several speed modes.
Additionally, the skateboard is quite balanced on the road, thanks to its double kingpin trucks that are carefully geared toward responsiveness while keeping you in control.
It also comes with two different types of wheels for better rides on various terrains and is compatible with several other options for optimization and customization.
The Hurricane is equipped with powerful batteries to support its high speed while keeping the unit lightweight and easy to manoeuvre. Yet, the battery offers an excellent mileage that is significantly longer in range than many options on the market.
All in all, the Meepo Hurricane is an excellent choice for anyone looking for a powerful high-end electric skateboard that strikes an excellent balance between speed, range, and control.
Pros
One of the most powerful motors on the market, providing a surprisingly fast performance
Comes with a high end LingYi ESC to match the quality of the skateboard and provide easy speed control
Capable of running for a lot longer than many electric skateboards on the market.
Cons
A bit pricey
Geared towards stability over response, so it's not a superior option for carving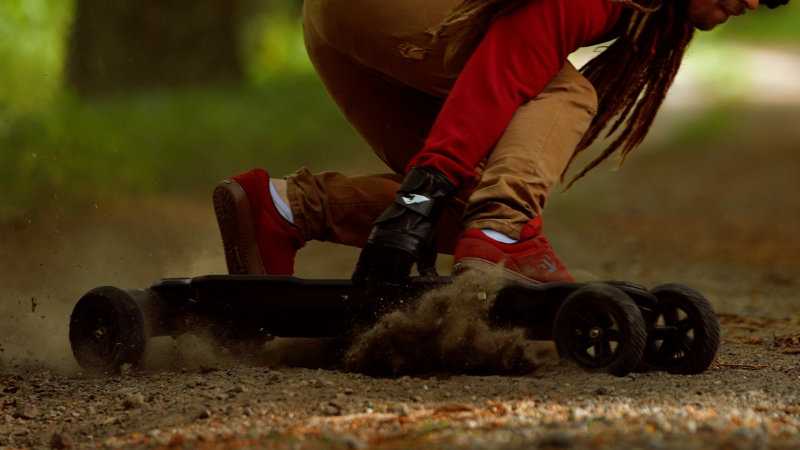 An in-Depth Look at Meepo Hurricane's Top Features
Now that you know more about the Meepo Hurricane, it's time to take a deeper look into its top features, specifications, and riding experience. Let's check out all the essential aspects:
Deck
When you first hold the Meepo Hurricane, you'll notice two things right away. First, the skateboard is remarkably lightweight for its size, as it only weighs around 34 lbs (15.4 kg).
Second, you'll be able to tell that the skateboard deck is noticeably durable with a stiff build and a wide concave design. The top deck is also super grippy to keep you balanced and secured.
The Hurricane's deck is made of T700 carbon fiber, which is a high-tensile tier of carbon fiber that is used in making drones. This means that the Hurricane can take a beating without cracking or breaking.
The deck has a top-access electronic compartment along with a long design that allows you to stand in any style that makes you comfortable.
The sturdiness of the Hurricane's deck allows it to support a maximum weight of around 552 lbs or 250 kg.
Additionally, the skateboard has an IP67 Waterproof rating, so it can survive splashes and rain without damage or malfunctioning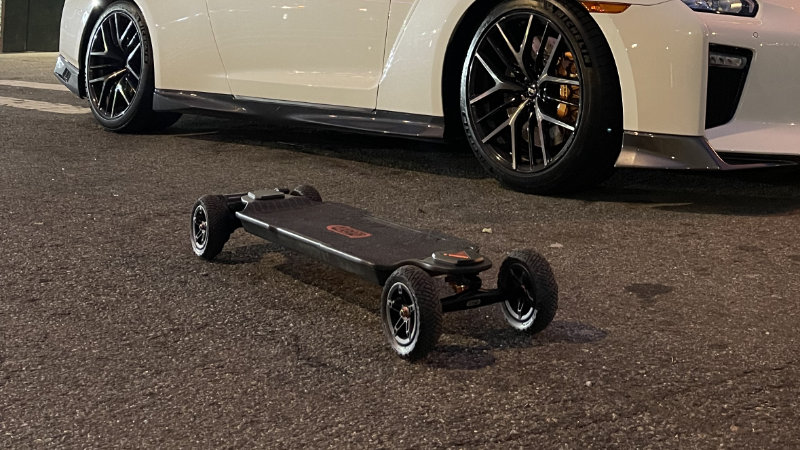 Motor
As soon as you hop on the skateboard and give it a try, you'll immediately notice how powerful it is.
The Meepo Hurricane is equipped with a double 3,500W belt drive motor, which is easily one of the highest when compared to any other option on the market, if not the highest.
This high power is excellent for a wide range of applications. For starters, this power gives the electric skateboard an excellent acceleration, so it can pick up speed in no time, even on a relatively rough terrain that doesn't particularly favour speed.
Additionally, with such a powerful motor, the Hurricane is capable of climbing steep hills with relative ease.
But perhaps the most impressive advantage of the powerful motor of the Hurricane is its top speed.
The Hurricane is capable of reaching a top speed of about 35 mph (56 km/h) when used on sleek terrains using pneumatic tires. Keep in mind that you can only reach these speeds when you're using the electric skateboard in Pro mode.
Speed Control
Just because the Meepo Hurricane is capable of reaching crazy speed in no time, doesn't mean that you'll always want to go as fast as possible, and luckily, the Hurricane comes with one of the best speed control systems out there.
The Hurricane comes with the latest and most advanced electronic speed controller from LingYi FOC 70 belt.
The ESC allows you to control the speed with a LED screen. It also has 4-speed modes as well as 4 brake modes that you can adjust and set independently from each other. This gives you maximum control over the hurricane speed
The Meepo skateboard also has a push-to-start feature, so you won't have to bend over or put certain buttons to activate it.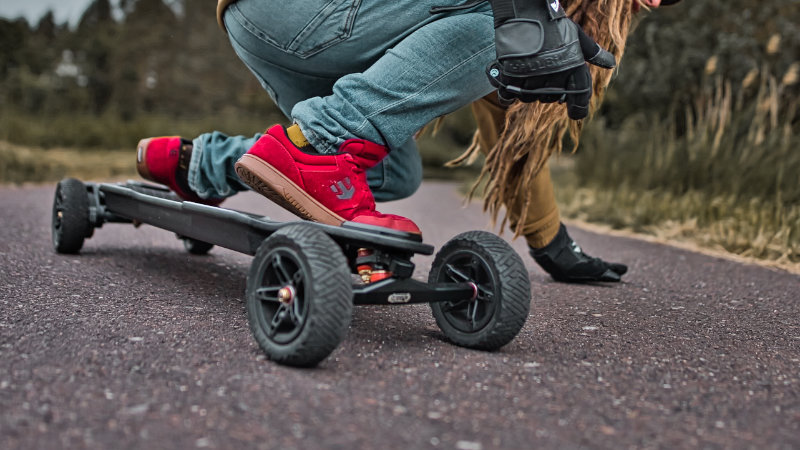 Battery Life and Recharging
Another excellent aspect of the Hurricane is the batteries used in its construction. The electric skateboard's battery is found inside the deck and boasts a massive range and performance.
The Hurricane comes with a lithium-ion Molicel P42A battery pack with a 12S4P configuration and a powerful voltage of up to 50 volts. This battery's capacity is around 16.8AH or 725.8Wh.
This giant capacity allows the skateboard to go as far as 31 miles (50 km) using all-terrain wheels and around 44 miles (70 km) on street wheels, but more about the wheels later!
Keep in mind that charging the Hurricane's battery will take longer than the average skateboard due to its large capacity, so you should expect to recharge it for around 3 hours if you use the skateboard frequently.
Stability and Response
Skateboard trucks are a crucial aspect that controls the skateboard's response and stability. A stable skateboard will help you stay on board at high speed while the response is critical for allowing you to make quicker and sharper turns.
Under the hood, the Meepo Hurricane is equipped with double kingpin trucks, and if you've been around skateboards for a long time, you'll know that this type of truck gives you the smoothest response, so you'll have extra fluid turning while using the skateboard.
As you can see, Meepo went with stability over the response in the Hurricane to keep you balanced while riding at very high speeds.
In other words, while the Hurricane isn't a go-to option for those who enjoy carving, it's an incredibly stable option for those who like to ride their skateboards at flying speeds!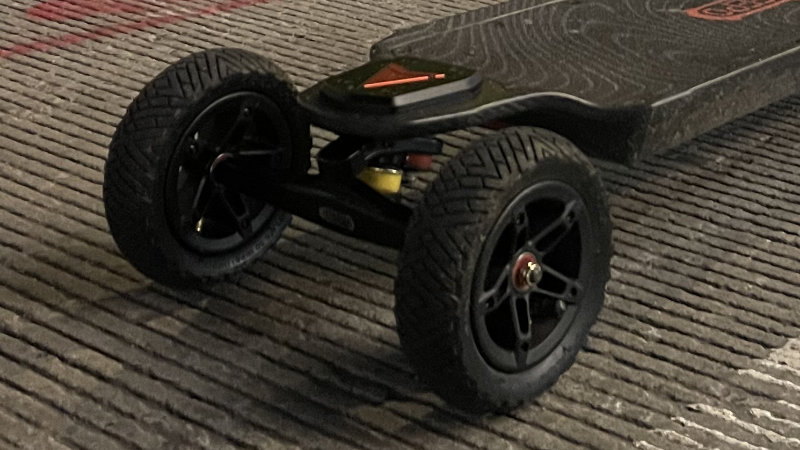 Wheels
When it comes to the wheels on the Meepo Hurricane, the skateboard is a great option for versatility.
The skateboard will come with 2 sets of four wheels. The first one is a set of pneumatic wheels that have a diameter of 155 mm. These wheels are great for riding on relatively rough terrain, as they're excellent at absorbing shocks and provide a smooth ride.
The other one is a set of street wheels. These ones have a diameter of 90 mm that you can easily swap for an improved range and riding speed one smoother roads.
Not only that, but the skateboard is also compatible with a wide range of Meepo wheels that you can use for optimized performance and switching up your ride experience.
In particular, Meepo has designed two unique styles of wheels.
They have the ultra-comfort, high-grip 110mm Cyclone wheels that are great for street commuting.
And they also have the 165mm pneumatic Cyclone racing wheel set that are designed to be super fast while maintaining stability.
These come as a set with belts and pulleys and are engineered to get you the fastest speeds possible.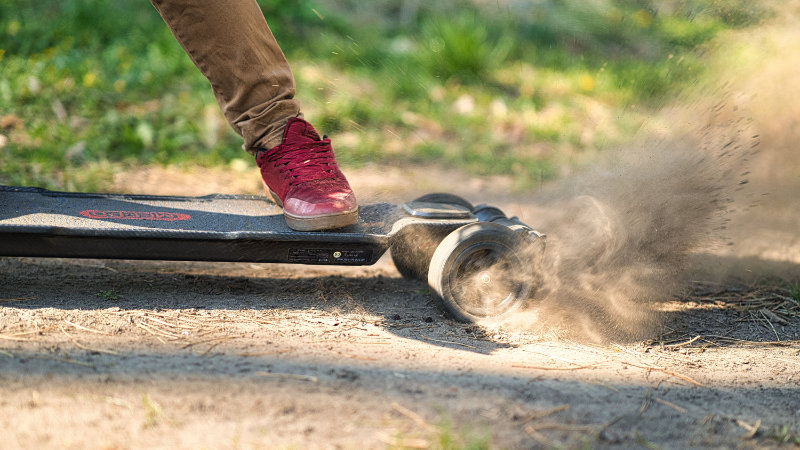 Price and Value
Last but not least, it's no secret that all these features come at a relatively high price, as the Hurricane is around 3 times more expensive than any other model that the company made.
But despite coming at a relatively hefty price, the Hurricane still offers an incredible bang for the buck!
This skateboard is easily one of the fastest electric skateboards on the market with a huge range. You'll also be able to use it on different terrains and it comes with a different set of wheels for that purpose.
Moreover, the Meepo Hurricane comes with a full 1-year warranty against defects as well as wear and tear due to normal use, so it's also a worry-free purchase!
Customer Reviews
Don't take just my word for it. I hunted down some other rider reviews, and people only had positive things to say about the Meepo Hurricane.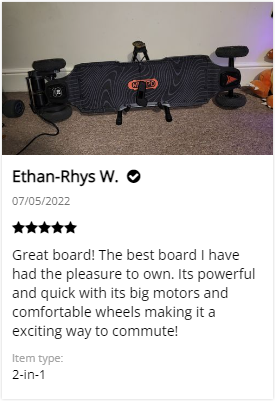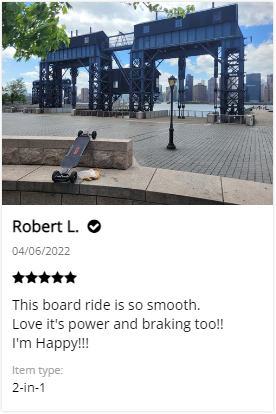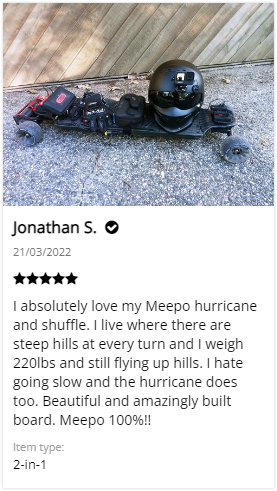 Final Thoughts: Is the Meepo Hurricane Worth the Money?
There you have it! A brief Meepo Hurricane review that walks you through everything you need to know about the electric skateboard.
As you can see, the skateboard is equipped with top-notch components to ensure an unmatched ride experience on all kinds of terrain.
For that reason, if you're planning on spending a little more money in order to enjoy a lightning-fast and powerful electric skateboard, the Meepo Hurricane is a great pick to consider!