Maxfind's 7th Anniversary Sale
Up To $300 OFF Electric Skateboards
10% OFF Accessories
Hey eSkaters,
I've got the Maxfind FF-AT electric skateboard to review today and I am becoming more and more impressed by the Maxfind line up lately.
The FF-AT is a well designed electric skateboard packed with features and comforts that make your riding experience really enjoyable.
I'm talking quick-swap battery, puncture-free tyres and auto-start, among a bunch of others that we'll go into throughout this review.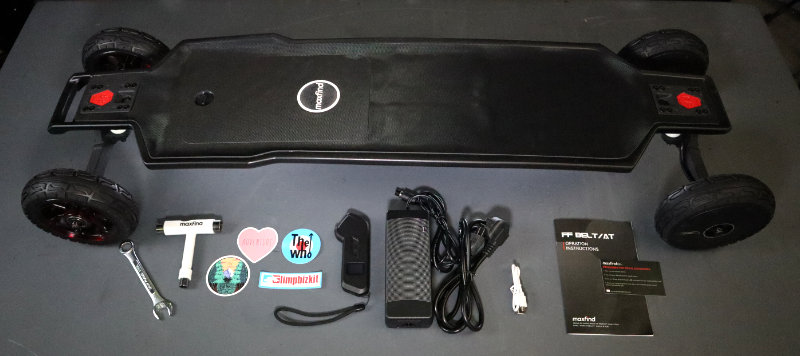 Who Is It For?
The Maxfind FF-AT is the perfect commuter electric skateboard because it is extremely comfortable to ride and tackles imperfect paths without any worries.
If you're into riding off-road, the FF-AT is great for you because the all-terrain tires can handle most surfaces including compact gravel, dirt and grass.
If you're not into all-terrain riding but you like all the features that come with this board, you can check out the FF-Belt which is almost the same eboard, except it has belt motors and urban street wheels. Or the FF-Plus which has hub motor urban street wheels.
Maxfind FF-AT Review
Deck
The Maxfind FF-AT deck is 42" long and made of Polyphenylene Sulfide and fibreglass which makes it durable and really flexy.
The deck houses all of the electronics which is great because it helps to protect those fragile components from debris and is makes the board look stealthy and like one cohesive unit.
The top of the deck hasn't got your regular sand-based skate grip tape. Instead, it has a rubber grip tape that is great.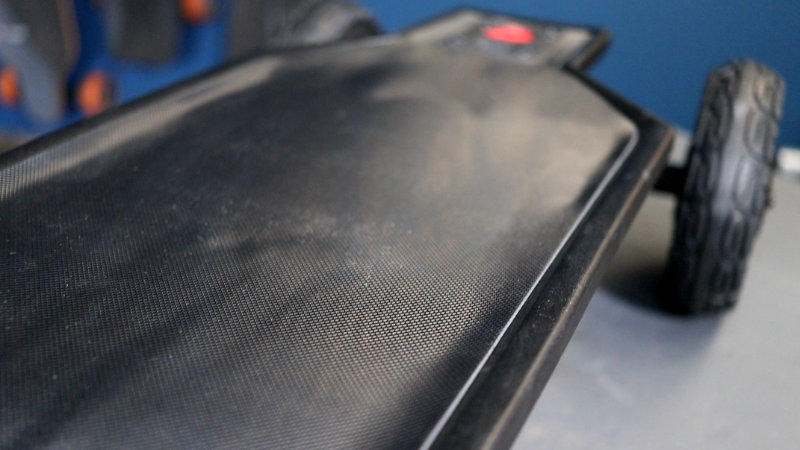 At first, I thought it was a bit gimmicky, but it is actually very functional.
It's just as sticky as regular grip tape, but it has the added benefits of not ripping up your hands or getting stuck on your clothes and it is super easy to clean.
There's this very useful handle at the nose of the deck that you can use to roll the board around because it is heavy and cumbersome to try and carry around.
The only downside to it is that the tail doesn't extend past the rear wheels so you can't easily lean it up against a wall.
So, if you do get this eBoard, I highly recommend you also invest in a guitar stand to prop your board up.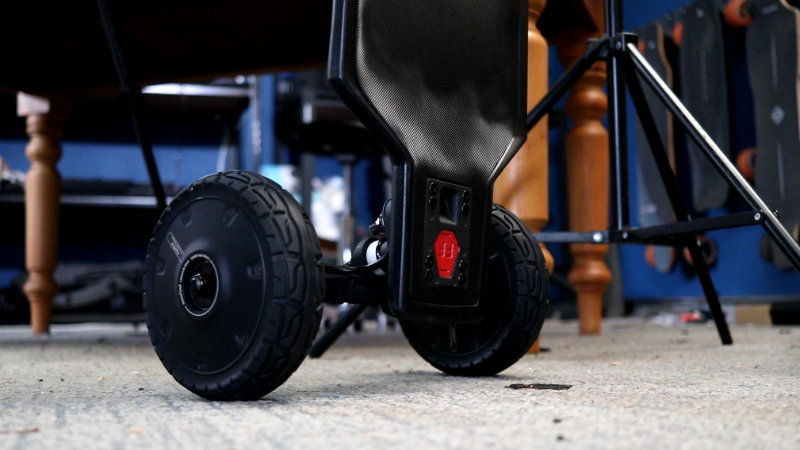 There's one other awesome feature of the deck I want to talk about and that's the quick-swap battery.
You turn a latch, pull the plate up and you have easy access to the battery.
Change the battery over and you've got yourself some more range.
How much range that is, we'll talk about in just a sec.
Trucks
The Maxfind FF-AT has 11.4" double-kingpin trucks which feel amazing.
They are well balanced, in that they are very carvy but also maintain their stability at high speeds.
I only felt a slight oncoming of speed wobbles right at the top end of the speed test.
These trucks are a little hard to configure because the deck side bolts sit too close to the top hanger so you can't get a regular skate tool around it. You'll have to use a spanner or a shifter.
Maxfind does supply a spanner, however, I felt like it was just a tad too small. I really had to work hard to get the spanner on and off the nut.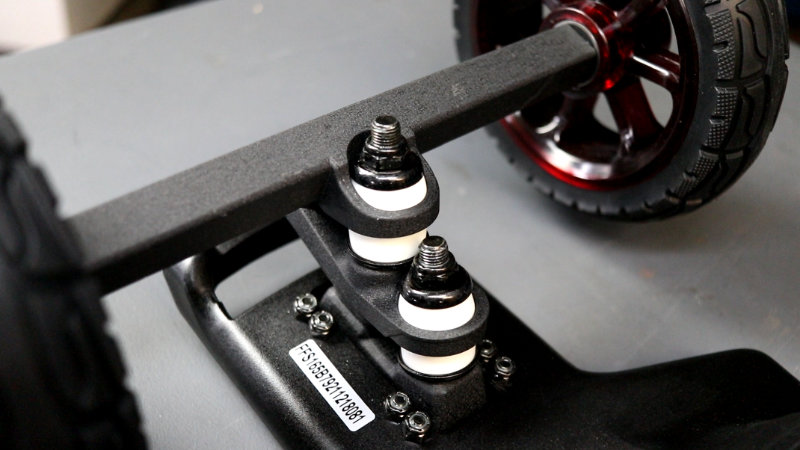 Wheels
The Maxfind FF-AT has 165mm rubber tyres which are not pneumatic, meaning you don't need to pump them up with air.
I love this because it removes any possibility of getting a puncture and you don't need to check your tyre pressure ever!
As for rideability and how they feel, they're actually really great.
They soak up almost all of the vibrations from the roads and they take on off-road terrain effortlessly.
When you're riding on the road or footpath, I nearly can't feel a thing. It's just so comfortable.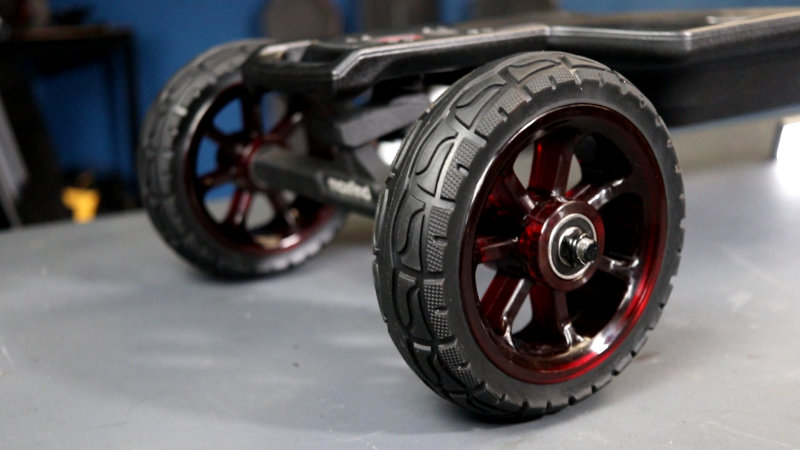 Motors, Top Speed and Hill Climbing
The most interesting thing about the Maxfind FF-AT is that it is running hub motors inside it's all-terrain wheels.
We've seen other manufacturers try to attempt this, but none compare to the quality and performance of the FF-AT.
It has dual 1500W hub motors which are expected to hit a top speed of 28mph (45kph) and climb hills of up to a 35% hill grade.
Out on my top speed test, I was able to hit a top speed of 24.7mph (39.8kph) which is slightly lower than their marketed speed.

I do feel like the board was still accelerating before I backed off, which I did because as I mentioned earlier, I started to feel some wobbles.
For the hill climb, I'm really happy with how it performed.
Starting from the right side of this graphic, I hit the steepest part of the hill which was 14% and the speed steadily decreased down to 19kph. After that it sarted to pick back up to 25kph as the hill flattened a little to 10%.
For hub motors, that's pretty good considering it's only just below what some belt-motor eboards will get.
The majority of riders aren't going to have any issues climbing hills on this electric skateboard.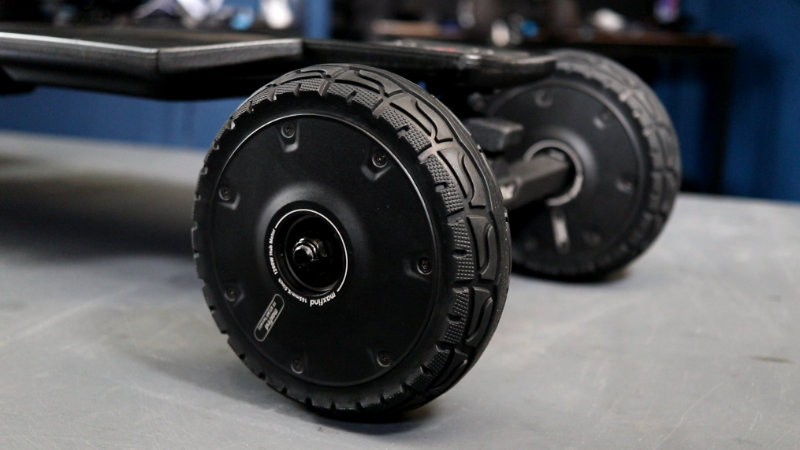 Battery and Range
The battery in the Maxfind FF-AT is a 12S3P 376Wh pack that is marketed to get a range of up to 17 miles (27km).
On my range test, I managed to get 13.8 miles (22.3km) which really, isn't that far off the specced range.
Generally, I get a lot less than the marketed range because of my weight and I tend to ride a little harder for testing purposes.
I also did a bit of off-road riding which will decrease the potential range.
All things considered, I'm happy with the range.
But the great thing about the Maxfind FF-AT, and one of my favourite features is that it has a quick swap battery system.
So, you're not limited by the standard range of the eBoard because you can pack extra batteries in your backpack and extend the range up to as far as the number of batteries you're willing to carry.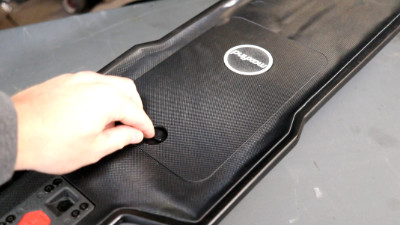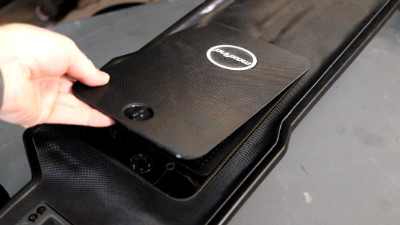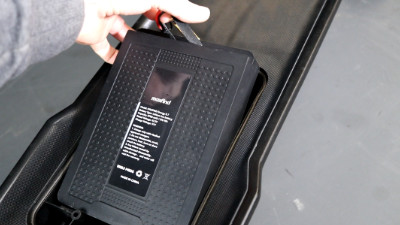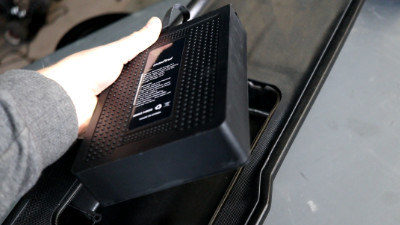 ESC, Acceleration and Braking
You've got the ever-trusted Hobbywing ESC in the Maxfind FF-AT and it's great. The acceleration is smooth and powerful while the braking is strong and safe.
In mode 4 it took me around 13 seconds to finish a 50m sprint.
I don't have any hard data on how this compares to other eBoards, because this is the first time I've started doing this test.
But based on feeling alone, the acceleration is very smooth and completely manageable. There isn't any jolting at the takeoff and it brings you up to top speed quickly yet safely.
Remote
You get a Hobbywing remote with the Maxfind FF-AT but it has its own unique mould, similar to the other FF series eBoards.
I really like this design because it makes it much harder to accidentally hit any buttons while you're riding.
The display is great and shows your speed, odometer, trip length, speed mode, direction and the battery levels for the remote and the board.
It has 4 speed modes, 1, 2, 3 and 4, reverse, cruise control and my favourite feature auto on/off where you just flick the remote on and the board also automatically turns on and pairs to the remote.
No more bending over to awkwardly fiddle around for the power button on the remote.
You also can't change the speed mode while you're accelerating, which is a welcome safety feature.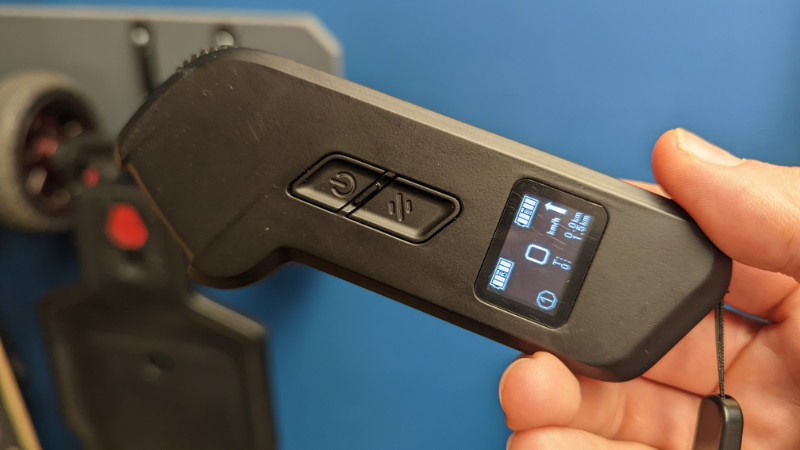 Ride Experience
I rode for over an hour and I didn't get any fatigue in my legs or feet.
Usually, I'm starting to feel it after about 45 minutes of riding but the combination between the deck flex, soft bushings and rubber AT tyres soaked up almost all of the vibrations and kept me feeling fresh the entire time.
I think the double kingpin trucks and the concave on the deck made turning so easy that I hardly had to use any energy at all to control the board.
The carving is really good, it was probably what I enjoyed most about riding this eBoard.
As for high-speed riding, it did a pretty good job, I did get a little wobbly at times, but that's nothing a little tightening of the trucks can't fix.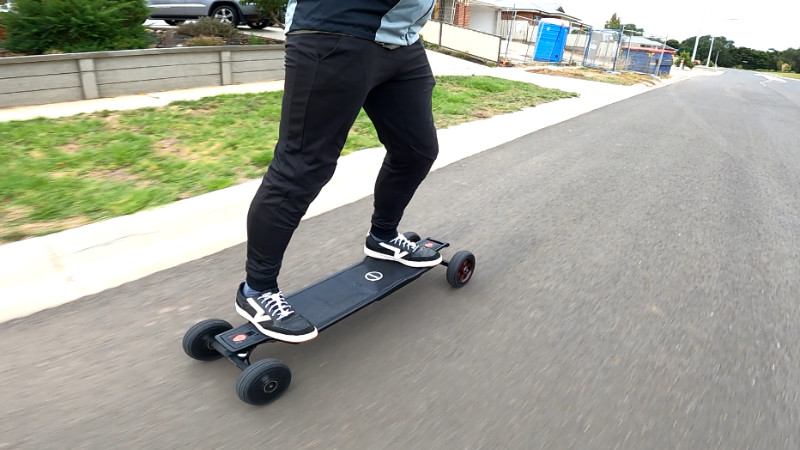 Opportunities For Improvement
My only major gripe with the Maxfind FF-AT is the inability to tighten the trucks with a single tool.
It doesn't affect performance or rideability, it just means you have to carry an extra tool in your backpack when you head out.
There's only one feature that the Maxfind FF-AT is missing that would make it the perfect electric skateboard and that is integrated lights.
Not a lot of companies do this for some reason, but it would add a lot of value to the FF-AT if it had them.
Customer Reviews
Only 5-star reviews on the Maxfind website which is great to see, but at the same time, I'm unsure if they're hiding the bad reviews.
Still, the Maxfind FF-AT is still new and probably hasn't been out long enough to gather many reviews at all.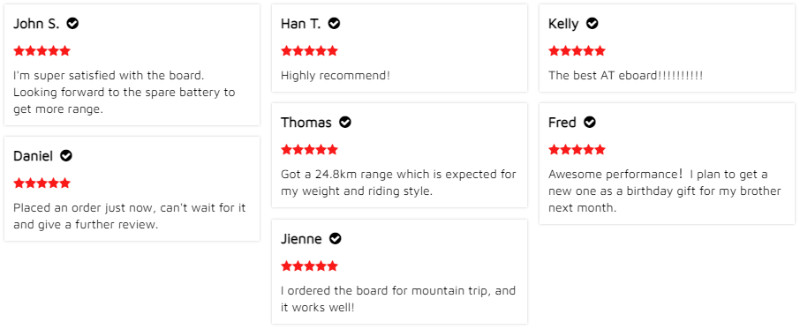 Alternatives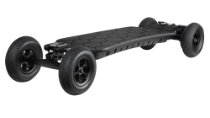 WowGo AT2
The WowGo AT2 is one of my personal favourite off-road electric skateboards. It's powerful, comfortable and uses top-quality parts.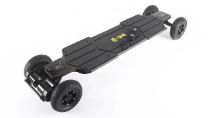 B-One Hercules Carbon AT
The B-One Hercules is one of the best cost-effective AT electric skateboards available.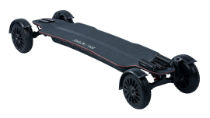 Backfire Ranger X3
As far as hub-motor electric skateboards go, the Backfire Ranger X3 is incredible. It tackles the toughest of terrains with ease and has the power that'll make your jaw drop.
Final thoughts
Overall, I am loving the Maxfind FF-AT.
It's a great all-terrain electric skateboard that gives you the freedom to pretty much ride anywhere.
It's comfortable making it perfect for commuters looking for an alternative option to their car or walking.
And it carves really well, so you can have a lot of fun on this electric skateboard.
That's it, that's my Maxfind FF-AT electric skateboard review.
I hope I've helped you on your journey to find the best electric skateboard that's right for you.
Ride safe out the eSkaters.
See you soon.
Use Code ESKATEHUB to get 5% OFF
On Maxfind's Website