Watch:
After taking the enSkate R3 Mini for a few rides, I am pretty damn happy with its performance.
It's not the most powerful eboard on the market but it still provides a lot of joy ripping around on this thing.
Plus the price tag makes it even more appealing.
Now, enSkate have released some products in the past to varying degrees of success, however, what I found with all of these was that they were all just a little bit not-quite-right…
BUT…
While doing my enSkate R3 Mini review, I was absolutely amazed by the quality and attention to detail enSkate have put into this eboard. It's so good in my opinion that it made my list of the best mini electric skateboards.
Who Is It For?
On the enSkate website, they are labelling the R3 Mini as a 'toy', which implies it is only for kids, but I think they are selling themselves short because it's a lot better than just a toy.
The enSkate R3 Mini is the perfect electric skateboard for those who want a better alternative to walking or driving the car to the train station.
It's a reliable and comfortable commuter that you can also carve on and use the kicktail to actually bring some joy to your morning commute.
It's small and easy to carry when you're not riding it and will fit underneath your desk at work or school and won't get in your or anyone else's way.
It's the perfect last mile solution that isn't going to burn a huge hole in your wallet.
The enSkate R3 Mini is not for people who weigh over 255lbs (90kg) because it just doesn't have the power to get the range you would want out of it which you'll see later on in the review.
It probably also isn't the best choice if you have a lot of steep hills you need to climb.
So, in short, it's great for short commutes and laying out some carving and concrete surfing.
In The Box
The enSkate R3 Mini comes with the standard set of accessories that most electric skateboards come with.
enSkate R3 Mini electric skateboard
Remote control
eBoard charger
Micro USB for charging the remote
Skate T-tool
Stickers
User Guide
And if you pre-ordered, you'll get a rubber deck cleaning eraser.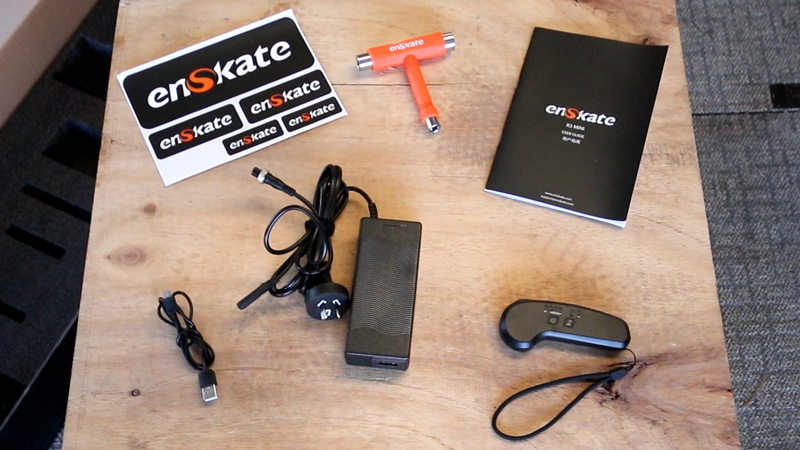 Remote
The remote is very simple and basic. Which, in this case, I actually quite like.
It has three speed modes and a reverse function. That's pretty much all there is to it.
Instead of having an LED display it has the good old LED lights that show you how much battery you have left in the tank by clicking the power button.
You change modes by hitting the gear button which fires the LED lights in succession to show you which mode the R3 Mini is now in. The way you distinguish the modes is by how fast the LED lights light up in succession. The faster they are, the higher the mode you are in.
You can change modes while you are riding which is also very handy, especially if you're riding in a lower mode to conserve energy but then want to jump up a mode to tackle a particularly steep hill.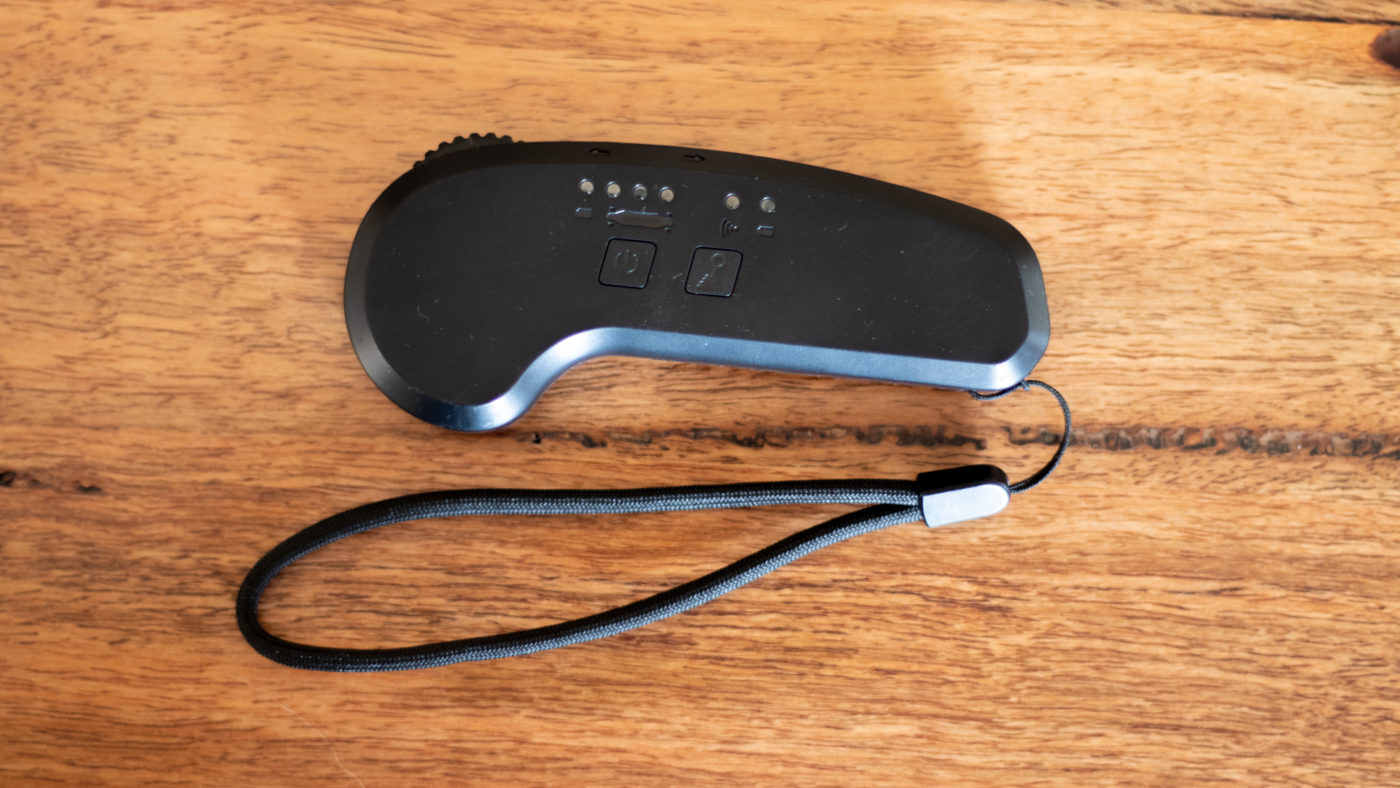 Deck
The R3 Mini has a 31.1" long and 9.6" wide deck made from 8 layers of maple. So it's stiff as bricks and has absolutely zero flex in the board.
But that's a good thing. You don't particularly want much flex in a shortboard. Especially when the enclosure with the battery runs directly underneath it.
It's a wide deck so if you've got big feet you'll still feel fairly comfortable on this eboard. I'm a size US11 and my toes and heel slightly hangover each edge with my foot on a slightly turned out angle. This is perfect for me because I like to ride with a slightly turned out foot anyway.
The R3 Mini has a kicktail, just like all electric shortboards should. It's a nice and comfortable angle that is perfect for tic-tacking around corners, dropping off ledges and a decent skater could definitely ollie on it.
Plus, this thing is super lightweight. It only weighs 13.2lbs (6kg). It's incredibly easy to carry around and would pair perfectly with any good skateboard backpack.
I like the clean grip tape design with three diagonal grey lines and the enSkate logo. The grip tape isn't that coarse, but it's also not super smooth either.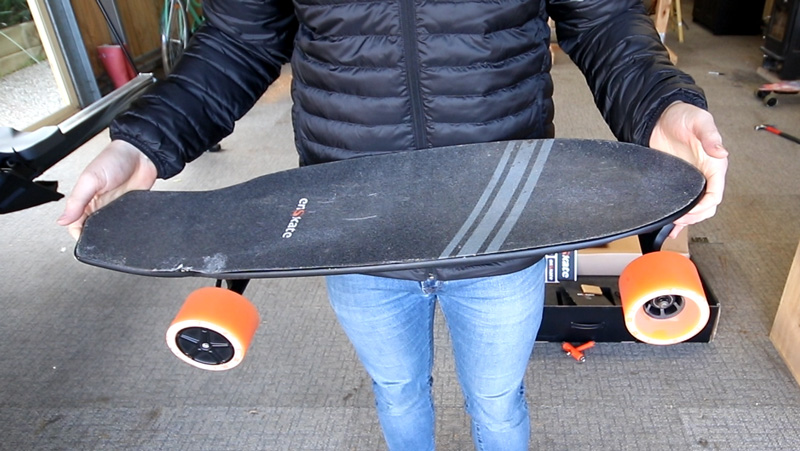 Enclosure
Turning the deck over, we see that it has a single enclosure to house the electronics.
It's nice and slim and feels rock solid. I can't hear or feel anything moving around in there when I shake it. It feels really well put together.
enSkate have used a screw-on metal cap to protect the charging port which at first I thought was a great touch until I had to use it.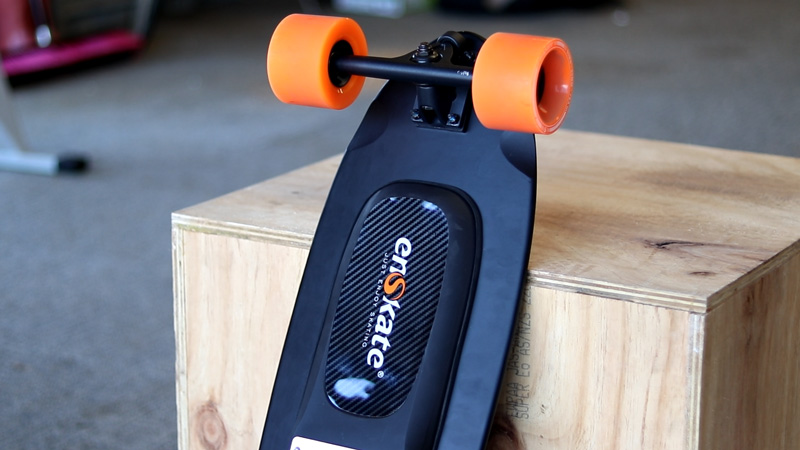 It's in a really awkward spot and it's damn near impossible to turn. The rubber strap attached to the end of the cap is there so that you don't lose the cap when you unscrew it. But as you go to unscrew the cap, the rubber strap catches on the cap and pulls it back.
I ended up just taking the rubber strap off altogether.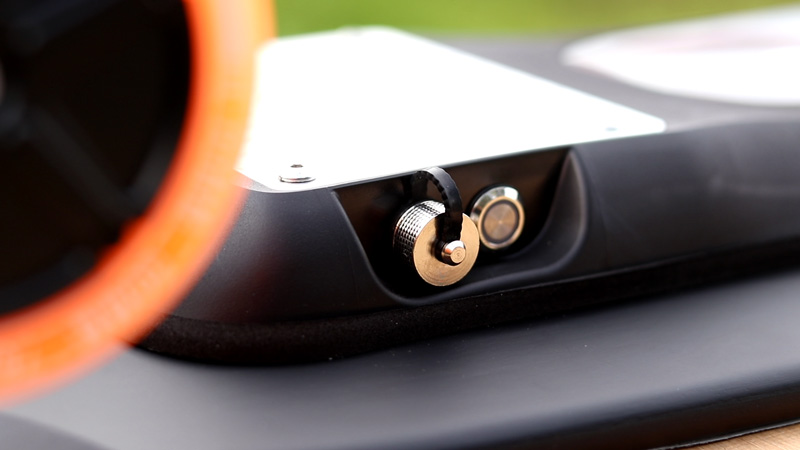 Wheels
The R3 Mini has 90mm 78A wheels and they are awesome! Well, so far so good anyway. I can't yet speak for the durability because I have only been riding it for about 30 miles (50kms) but they feel amazing to ride on.
They are really squishy and soak up a lot of the vibrations.
The ½ inch risers definitely do help the cause, but the big wheels and high elasticity of the PU do most of the work.
The rubber on the PU sleeves around the motors is quite thick. This is rare in the electric shortboard game at the moment, so this is nice to have.
To make it even better, you could consider putting a set of Cloudwheel donuts on it for ultimate comfort.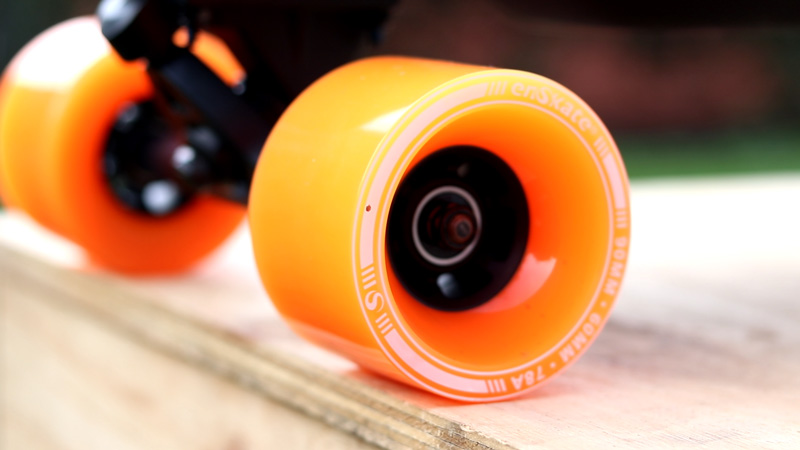 Trucks
The R3 Mini uses Flanker trucks at the rear which are the same as what Backfire Boards sometimes use, so you know these trucks are high quality.
As for the front trucks, it's hard to say what they are. They just look like generic 45-degree skate trucks.
The strange thing about these trucks is that they are installed reverse kingpin which is arguably not a setup designed for shortboards, however, even though this is an electric shortboard, you don't really ride it like a shortboard. You still kind of ride it like a longboard. Most of the time you're going to be cruising around rather than attempting tricks at a skatepark.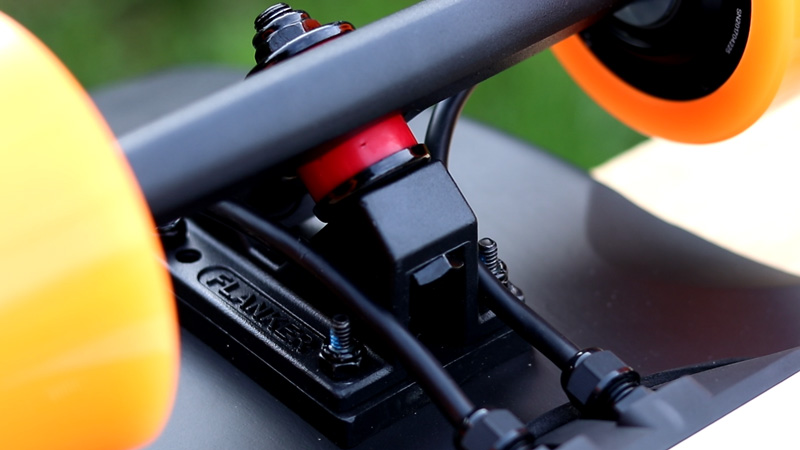 Motors
The R3 Mini is running dual 360W hub motors which are surprisingly good.
To be honest, given enSkate's track record I didn't have high hopes for the R3 Mini electric shortboard. But I am so glad that I was wrong.
The top speed I managed to hit was 21.7mph which is 35kmh. This is plenty fast enough on an electric skateboard of this size. Any faster and you'll start to feel some serious speed Wobbles.
It tackles the majority of hills with dedication and will pull you up at a steady pace but it won't be powering up them.
10% is the tipping point of the hill climbing ability where anything steeper, it will still give it a go, but it will really be struggling and then 15% is where it carks it.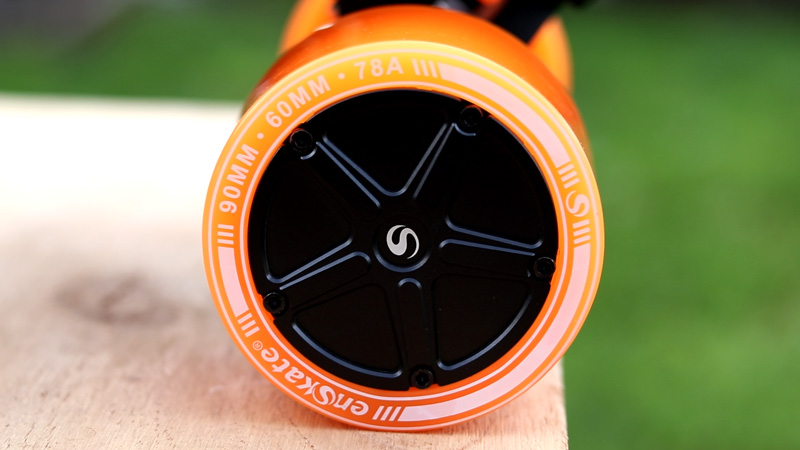 Battery
The battery is 90Wh with a 10S1P configuration so I was sceptical when I saw that the stated range of the R3 Mini was 12 miles or 20km.
I weigh 194lbs which is 88kg, I rode the board in High mode and the route was considerably hilly and got a range of 4.6 miles or 7.5km.
That's a pretty big difference.
But you have to remember that everyone is going to get a different range due to their own environment, weight and riding style.
The range I got will be on the low end of the scale because of the way that I rode and my weight. For other riders that weigh less and ride at a more conservative pace, you will get a lot more range than I did.
I imagine they tested the range with a rider who weighed around 70kg on a smooth road, riding at a more comfortable pace.
I wouldn't recommend the R3 Mini for anyone that weighs over 90kg and rides hard or has lots of hills to climb, unless you really don't need a lot of range and just want something that is easily portable that you can travel with.
On the upside, the 90Wh battery means you can travel with it on an airplane.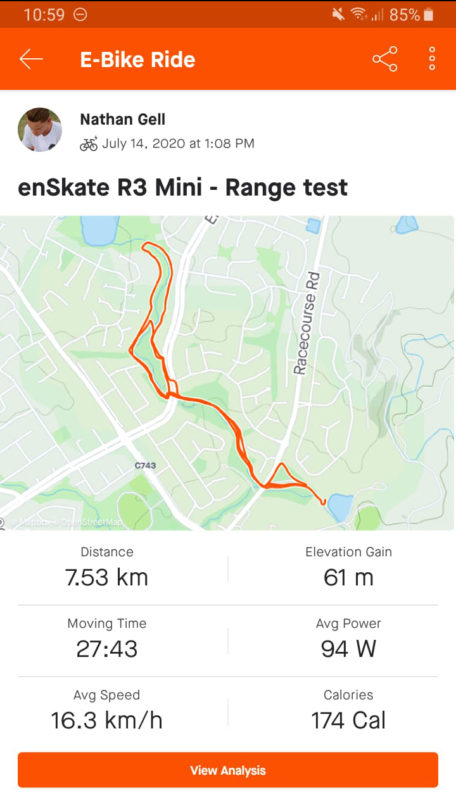 ESC
The R3 Mini has the Hobbywing ESC which is probably why I am enjoying this eboard so much.
The acceleration and braking are smooth but it's not a slow curve either. It still picks up pace quite fast.
It takes about 100m to reach the top speed, which in comparison to other electric skateboards might not seem very fast but for an eboard at this price point, I'm quite happy with it.
As for the braking, It took around 38yd (35m) to come to a complete stop from the top speed of 21mph (35kmh). The brakes are buttery smooth. You'll never get thrown off this eboard.
Price
The last thing to mention is the price. The enSkate R3 Mini is extremely affordable at US$459. And if you use the discount code ESKATEHUB you'll get 4% OFF!
I know, it's not a massive saving but it's something.
Plus, by using the discount code, you help support this website and other new eskaters without costing you anything extra.
Final Thoughts
Overall, taking everything into consideration, I think the enSkate R3 Mini rides exceptionally well, especially considering the reasonable price.
It's a really FUN eboard to cruise around on and carve with.
Don't get me wrong, it doesn't outperform other electric shortboards like the Stoke or even the Meepo Mini for that matter, but it does a fantastic job of getting me from A to B without any hassles and it is a very enjoyable ride.
The only downside is the range. But it wouldn't have been such a let down if the stated range on their website was only 10 or 12km and then I got the range I did. I think this kind of range is more than acceptable for an eboard at this price. I mean, the Boosted Mini S only had a specced range of 7 miles (11km) and it was twice the price of this R3 Mini electric shortboard.
If you're looking for an enjoyable eboard to ride on your short commutes, or something to take out for a bit of a carve, or a portable eboard for travelling with then the enSkate R3 Mini might be the perfect electric skateboard for you.
Use code ESKATEHUB for 4% OFF!
Alternatives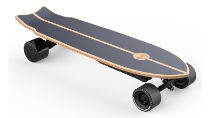 Teamgee H20 Mini
The Teamgee H20 Mini is a robust short electric skateboard that challenges most boards when comes to range capability.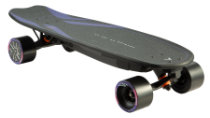 WowGo Mini 2
The WowGo Mini 2 is a high powered electric shortboard perfect for cruising around town.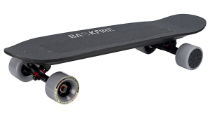 Backfire Mini
The Backfire Mini is a great pocket-rocket that is compact and easy to store.