Hey eSkaters!
I finally have my hands on an Ecomobl electric skateboard.
This one is the Ecomobl ET and aside from their Mini eboard, this is the 'entry level' eboard in their lineup.
Now even though it's at the bottom of their range, I'd still consider the ET to be somewhere just outside the top end of the eskate industry.
The ET has had a handful of small upgrades since it was first released, so some of the older reviews are a little out of date.
There is now also the ET2 which has upgraded electronics, wider trucks and bigger, more All Terrain like wheels.
I'd consider the ET2 more of an off-road eboard while the ET more of an urbain terrain eboard.
For now, we'll just be focusing on the original Ecomobl ET.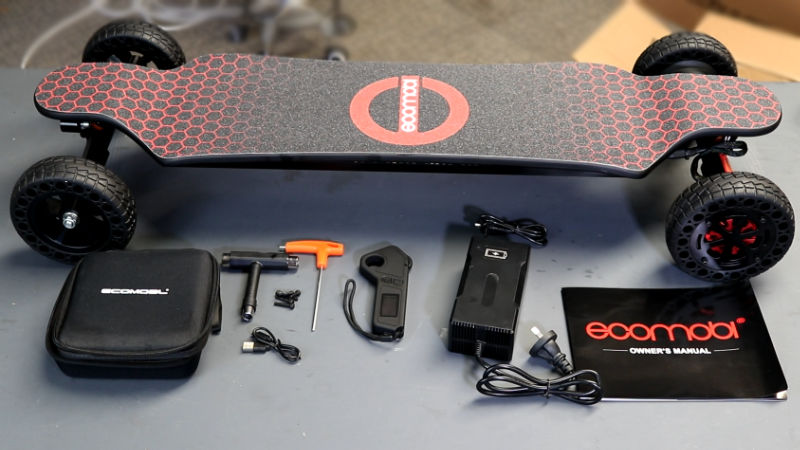 Who Is It For?
The Ecomobl ET is a powerful electric skateboard that is definitely not for the feint of heart.
It's hard acceleration, and agile trucks make it great for riders looking for a bit of an adrenaline rush.
I'd say it's a little too much power for a beginner, I mean, I'm not a great rider by any means, but I do have a bit of experience and I still found it somewhat challenging to ride this thing.
I think this is a great commuter eboard because it's fast, stable and comfortable.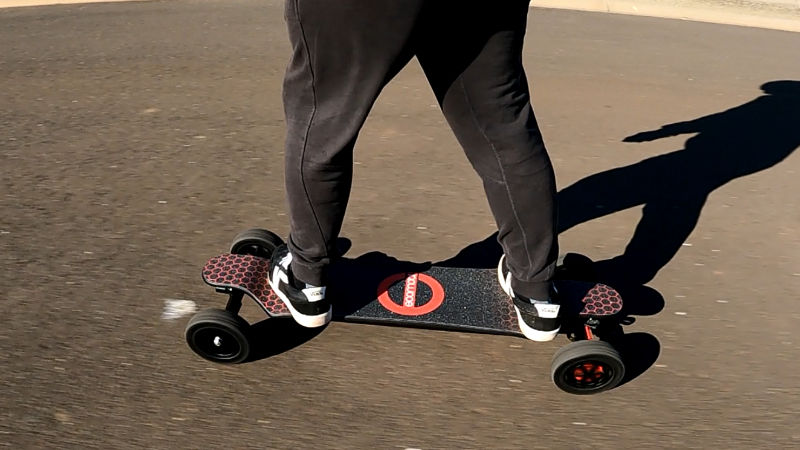 Ecomobl ET Review
Deck
The ET has a drop-down deck with a slight concave so it encourages a wide and comfortable standing position.
It keeps you close to the ground, lowering your center of gravity which helps to maintain stability.
It's 40" long and X" wide, which I'd argue is a great length for a board like this, however, I had some issues with the width which I'll speak about in just a sec.
It's made of 9-layers of canadian maple, making it extremely stiff. But the stiffness is really more attributed to the extra long aluminium enclosure that runs across the entire deck.
There's not a single mm of flex in this deck.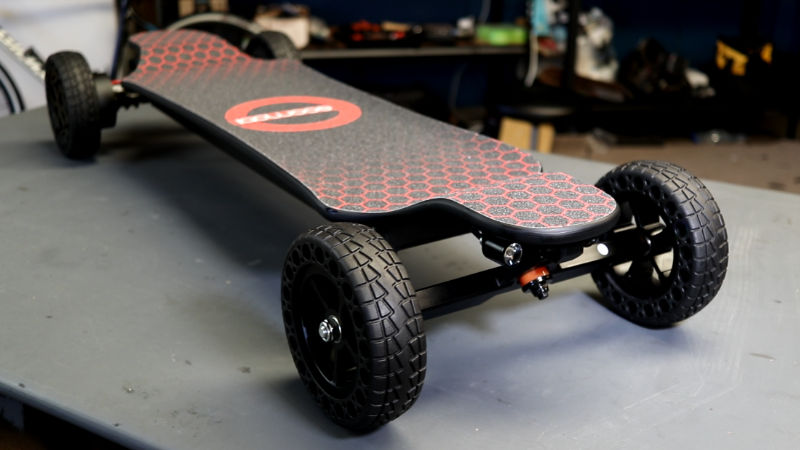 Trucks
The trucks are 15" wide and made of solid CNC aluminium.
They're insanely wide and are meant to offer you stability at high speeds.
However, I ran into quite the issue with these trucks.
I've got US11 sized feet and my heel and toes hang over each side of the deck just slightly.
Whenever I turn toe side, the wheel hits my front toes and if it's a hard corner, the rear wheel will even touch my back foot toes.
Even stranger, is that when I'm turning heel side, the rear wheel will hit the heel on my back foot. I've never had that happen before.
I tried adjusting my footing by putting my feet on a slight angle, but it just didn't feel right and I didn't have any confidence riding like that.
I don't really know how to avoid this. I could try tightening the trucks, but I'll a bit of mobility.
If you have any tips, let me know because this aside, I really like this eboard.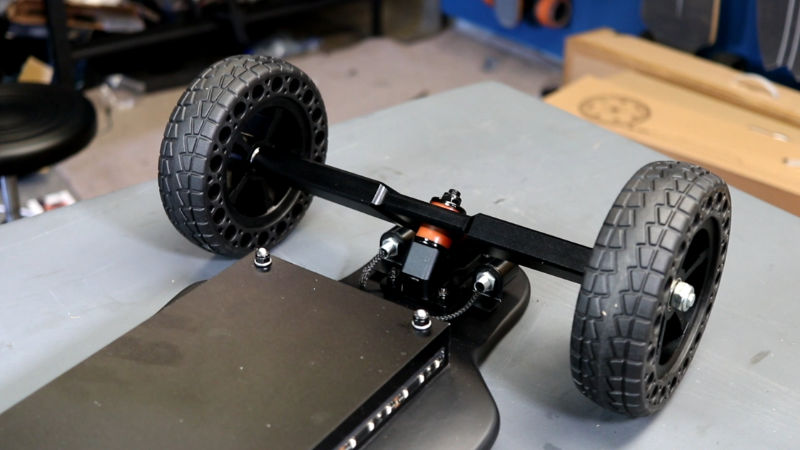 Wheels
The wheels are 6" airless rubber tyres and they feel great.
They do well to soak up the vibrations from the road and they are very grippy going around corners.
I took it onto the grass and some compact gravel paths and it handle it quite well. I wouldn't do any hard off roading on this, but it's definitely beneficial to have on uneven paved surfaces.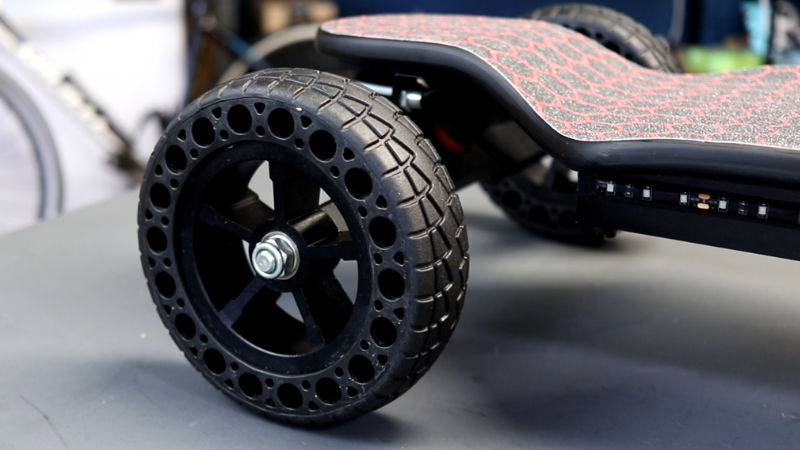 Motors, Top Speed and Hill Climbing
The Ecomobl ET has dual 2000W 190kv planetary gear drive motors.
I've ridden these types of motors once before on the Meepo City Rider 2, and I found them to be very sharp.
What I mean by this is that the motors respond quite hard and quickly as soon as you hit the accelerator.
You can also get a little bit of a slight kick when letting go of the thumbwheel abruptly.
You kind of have to roll the thumbwheel back to let your speed off gradually.
The specced top speed is 35mph (55kph) and I believe it definitely has the ability to do that. In fact I've seen other riders hit it.
I maxed out at 21.7mph (35kmh) but there was so much room in the throttle I have no doubts it can get up to it's marketed top speed.
It did really well climbing hills. I had a huge head wind during the test and I had a car over take me so I naturally had to slow down a bit as it did.
However, it was able to still accelerate out of the hill after I'd slowed down.
I'm very satisfied with the hill climbing ability.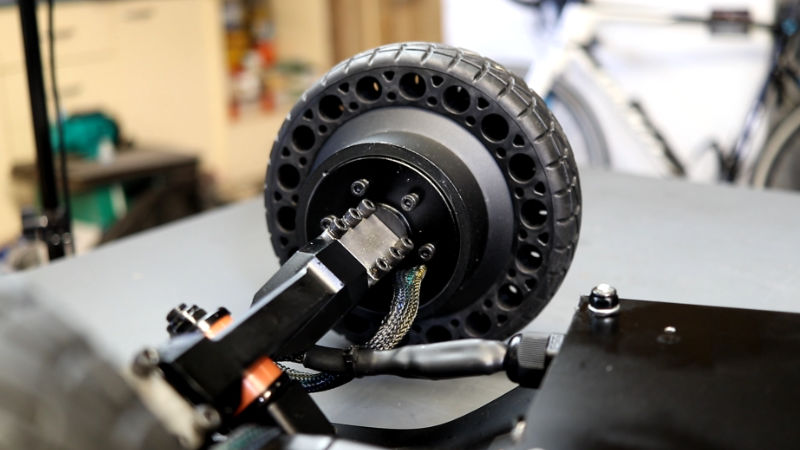 Battery and Range
The Ecomobl has a whopping 12S3P 576Wh battery and is marketed to get a range of up to 22 miles (38km).
I took it for a spin for 8.5 miles (13.7km) and I'd only depleted the battery by one bar.
The amount of range per bar does decrease as you ride, so it's a sliding scale in that sense, however, I've seen other reviews of this board and they've all hit a range in the ballpark of the marketed range.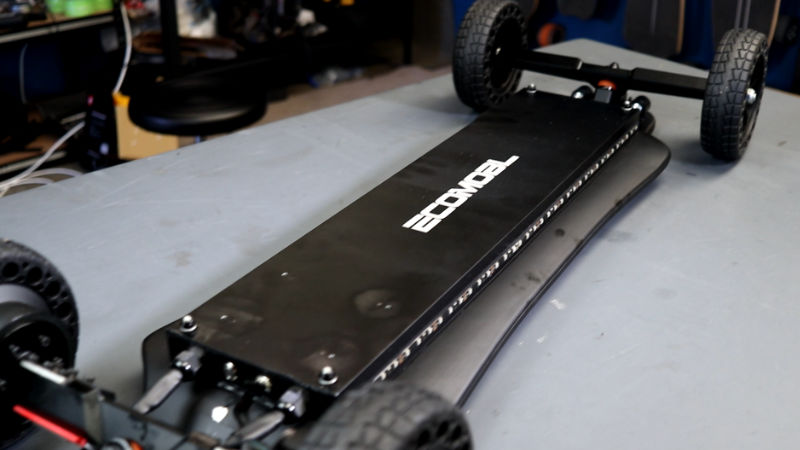 ESC, Acceleration and Braking
The Ecomobl ET is running a LingYi ESC which has historically been very powerful but at the expense of a bit of smoothness.
And the ET is no exception here. There was a very slight jolt in the acceleration when you go to kick it up a notch, and the same happens when you let go of the throttle.
This is the main reason why I wouldn't recommend this to beginner riders.
Remote
The LingYi remote has a lovely matte finish and is easy to hold.
The display is one of the biggest I've seen on an eskate remote and shows your current speed, speed mode, brake mode, odometer, trip length, driving direction and the battery levels for the board and remote.
It has four speed modes and four braking modes and reverse.
And if you hold the mode button, it toggles the lights on and off.
There's some persistent white headlights at the front and flashing red lights at the back. And when you apply the brakes, the red lights shine solid to indicate to others around you that you're braking.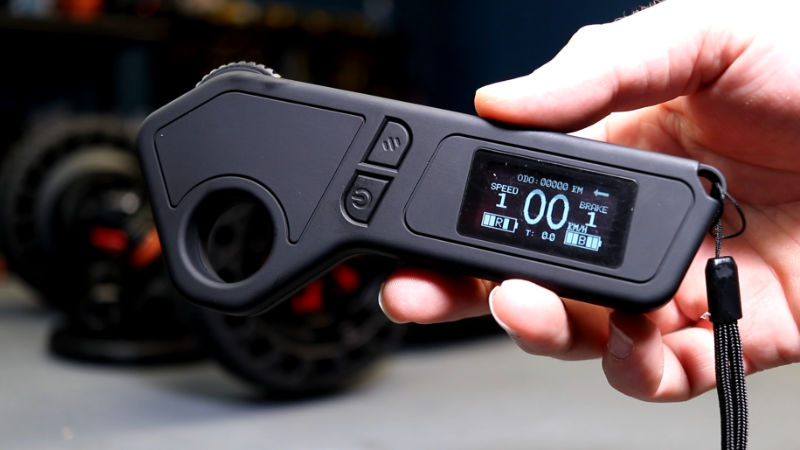 Customer Reviews
There are almost 100 customer reviews on the Ecomobl website and they are nearly all positive. A handful of customers were upset that they didn't get their free t-shirt but that's about it.
Everyone is more than happy with the performance and ride feel.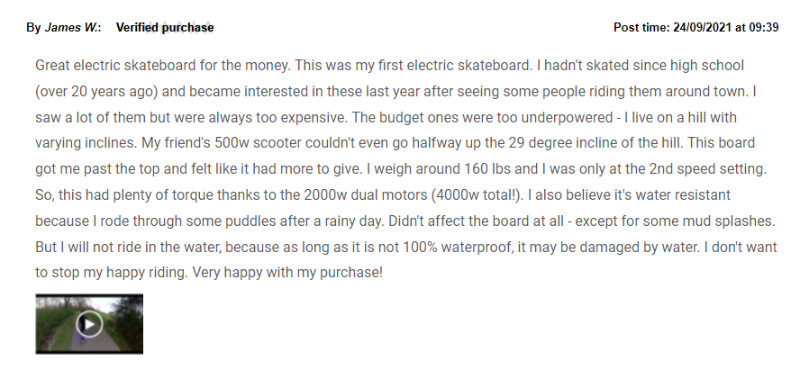 Alternatives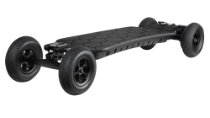 WowGo AT2
The WowGo AT2 is one of my personal favourite off-road electric skateboards. It's powerful, comfortable and uses top-quality parts.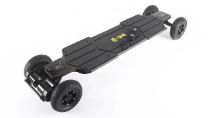 B-One Hercules Carbon AT
The B-One Hercules is one of the best cost-effective AT electric skateboards available.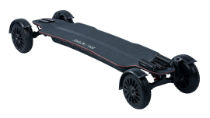 Backfire Ranger X3
As far as hub-motor electric skateboards go, the Backfire Ranger X3 is incredible. It tackles the toughest of terrains with ease and has the power that'll make your jaw drop.
Final thoughts
Overall, the Ecomobl ET is a powerful electric skateboard that can handle pretty much any type of terrain.
It's stable due to the drop-down deck and wide trucks, comfortable thanks to the airless rubber wheels and the lights help keep you safe when riding at any time of the day.
The only downside I experienced was the wheel bit I was getting with my feet. But that's nothing a bit of a feet adjustment can't fix, and a non-issue if you have smaller feet.
That's it, that's my Ecomoblt ET review.
I hope I've helped you on your journey to find the best electric skateboard that's right for you.
Ride safe out the eskaters.
See you soon.
On Ecomobl's Website