Watch:
Intro
So, I've had the Backfire G2T electric skateboard for some time now.
I've put around 100km on it and my friends and family who I've lent it to have probably put on around the same.
Overall, I think the Backfire G2T is a good option if you want a little versatility, decent power and at a price that you can afford.
I'll start by saying that this electric skateboard review is not sponsored.
Backfire Boards did send me this eboard for free, however, I haven't been paid to do this review and I don't have any biases toward Backfire Skateboards.
If you use the links on my website to buy the Backfire, I do make a tiny commission but at no expense to you. In fact, you'll receive $10 off your purchase. And your contribution to this website helps me make more great electric skateboard reviews just like this one.
I know, it's not much of a discount, but it's something, I guess.

About Backfire Boards
Before electric skateboards were even a thing, Backfire Boards used to manufacture traditional longboards and skateboards.
It's only in the last five years or so that Backfire have decided to start producing their own line of eboards.
In a sense, this gives me confidence that Backfire know how to design solid boards.
Whether they are capable of reliably adding the electronic component of eboards to their range is what we're here today to find out.
Who Is The Backfire G2T Electric Skateboard For?
The eskate market is currently filled with a ton of these mid-leveled electric skateboards.
So, the G2T has a ton of very close competitors, namely, Meepo, WowGo and Ownboard.
But I think Backfire has done an incredible job to differentiate themselves from the rest of the crowd.
The Backfire G2T is a great commuter eboard.
I felt completely comfortable riding at a leisurely pace and i think it would be perfect for those who want an electric skateboard to ride to and from work or school.
Because of the price point, it's not the cheapest on the market, so first time buyers might have some hesitation. However, it's far from the most expensive eboards out there.
At $599, I would consider this to be an affordable electric skateboard which is still capable of offering you semi-decent power and enough range to get you most places you need to go.

Performance Tests
Range Test
I took the Backfire G2T out for two separate range tests to compare the range between the 83mm wheels and the 96mm wheels.
The results are displayed in the table above, and I'll give you a rundown of the test conditions.
I weigh 183lbs/83kg which is 18lbs/8kg heavier than Backfire's test rider.
The terrain was mostly concrete paths and sealed bitumen roads. There were slight hills, riding both up and coasting down them.
And there was a slight breeze, which was probably negligible.
So, overall, I am fairly happy with the range that I received.
This range will meet most riders needs.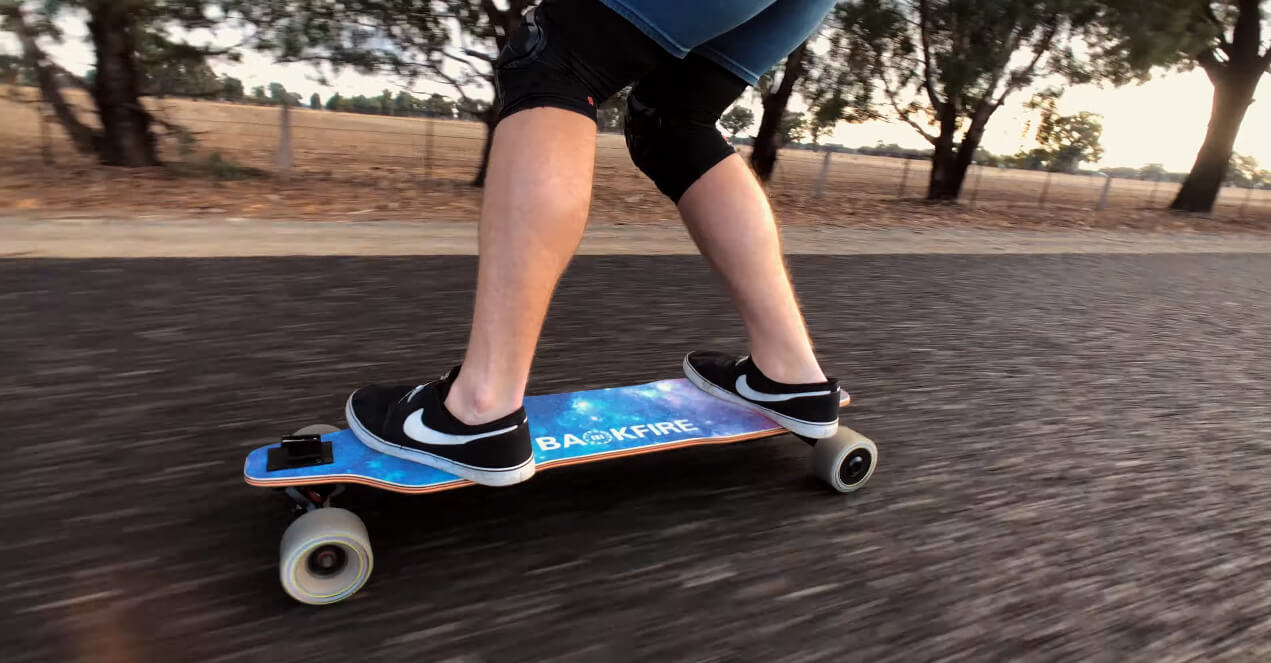 Speed Test
During my range test for the 83mm wheels, I hit a top speed of 26.8mph/43.2kmh while in Turbo mode.
I also did a separate speed test for the 96mm wheels and I got a top speed of 26mph/41.9kmh with Turbo mode.
I'm a little surprised that I got a higher top speed on the 83mm wheels, but it could have just been the circumstances like the road quality, battery level or wind conditions.
Or maybe I just had a big breakfast…
Either way, I think the top speed on the Backfire G2t is plenty enough.
For most riders, a comfortable cruising pace is between 15-19mph/25-30kmh.
But it is always nice to have that extra bit of power.
Brake Test
I tested the braking distances on each of the riding modes, including Turbo and I feel a little underwhelmed by the results.
The results below are ballparks because I didn't actually measure them out with a tape measure. But you can see the real distances in the video at 8:50.
As you can see, the braking distances are quite long.
This was braking from top speed, so keep that in mind.
Despite the long braking distance, the brakes were super smooth when applied at full lock.
And on that, when in Sport or Turbo mode, braking at full power did cause the wheels to lock up a little bit and skid about slightly. Not enough to throw me off, but just something to be aware of when you're riding at high speeds.
I don't think you can adjust the braking power of the G2T like you can with the Meepo boards.
If you know how to do this, reach out to me and let me know so I can update this and let everyone else know.
I wouldn't let this deter you too much.
I would just recommend that you ride at a pace where you'll be able to brake safely. And you can turn up the gas when you've got those wide open roads.
Hill Climb Test
When riding up hills, the Backfire G2T will do an OK job of getting you up there if you're riding in Sport mode. It'll be kind of slow, but bearable and you will get up.
If you're in Eco mode, you're going to have a lot tougher time.
But, if you put it into Turbo mode, most hills suddenly become easy-peasy.
That's where Turbo mode really shines.
That's just the trade-off for hub motors. You get a quiet ride with less moving parts and low maintenance, but at the expense of extra power offered by belt-drives.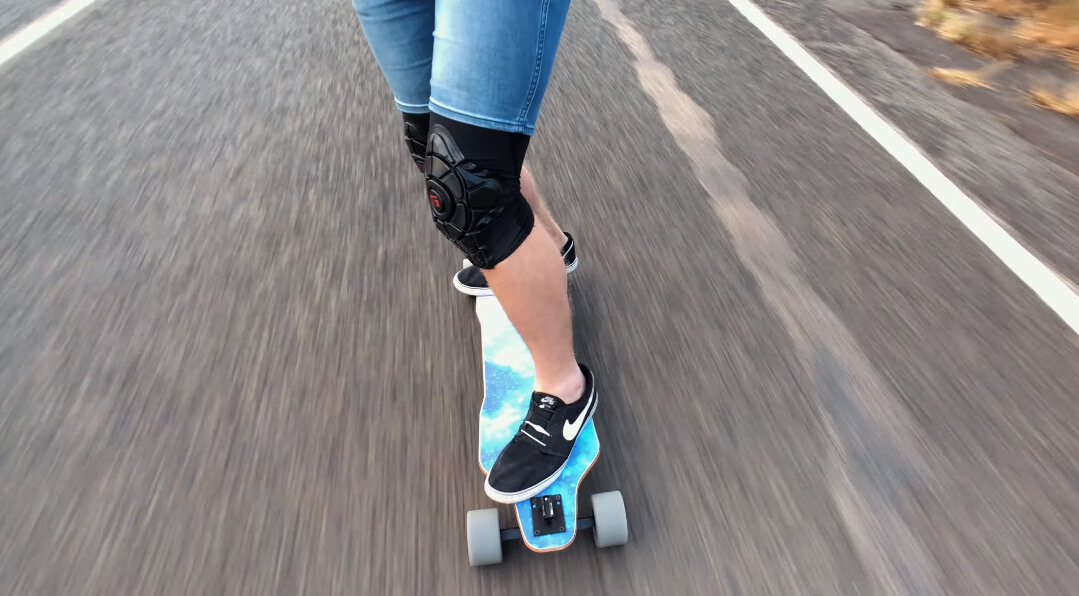 The Specifics
The Deck
There's really nothing special about this deck.
That's not to say it's a bad deck. It's actually quite a good deck. It's just that we've seen all of this before.
A 37″ x 10.8″, 8-layer, hard maple deck with a bit of a concave and a medium flex to it.
You've got the choice of two different grip tape graphics.
There is the classic Galaxy artwork that Backfire are most well known for and now you can also get a standard 'Black and Gold' grip which is just black grip tape with the Backfire logo written in yellow.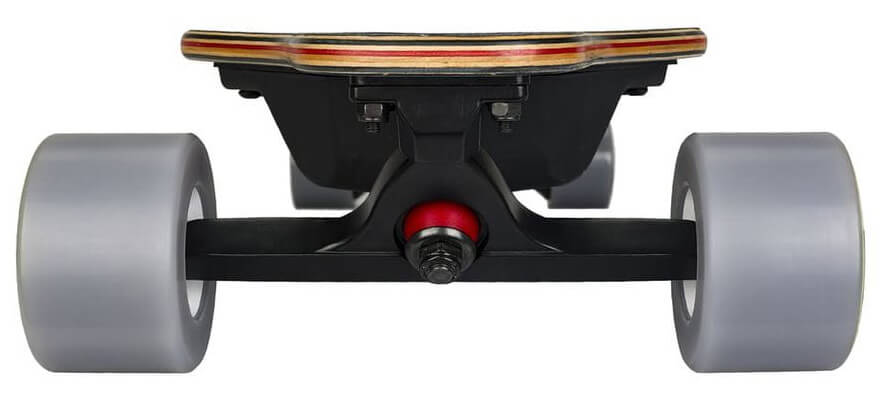 The Wheels & Trucks
When I saw that Backfire sends two sets of different sized wheels, and it is still priced the same as the Meepo NLS, I was a little skeptical about the quality of the wheels.
But after riding them, I found that they weren't too bad.
Don't get me wrong, the thickness of the PU on the G2T tires is nowhere near the thickness of belt-driven boards, plainly because on belt-drives, it's all wheel, while on hub drives, particularly on the rear wheels, a lot of space is taken up by the motors.
For this reason, you're going to feel more vibration in your feet, but with the 96mm wheels on, this is greatly reduced compared to the 83mm wheels.
Aside from that, I haven't noticed any major chunking. There are a few small cracks appearing around the wheels but they're yet to chunk.
If they do chunk, I'll let you know right here.
I'd also like to add that you can put a set of Cloudwheel donuts on the G2T to increase your top speed and overall riding comfort. The 105mm's would be perfect, while the 120's are creeping on the 'too-big' side. You might also have to install a larger set of spacers to increase the clearance from your deck to the wheels.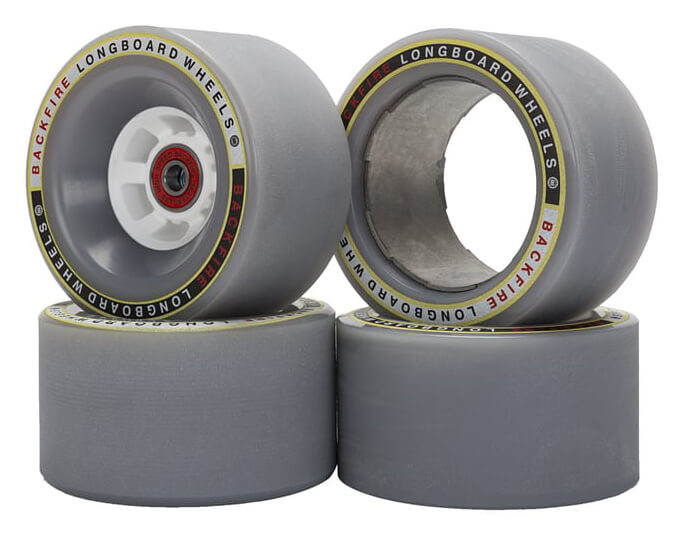 Backfire Boards have proved to the world that they do know some things about skateboarding, because they have chosen to put Caliber II trucks on their eboards.
Caliber II trucks are one of the most popular longboard trucks so it's great to see them on electric longboards too.
The trucks were super loose when I went for the first ride. So, I highly recommend you tighten them up. They'll likely need a good two or three full turns.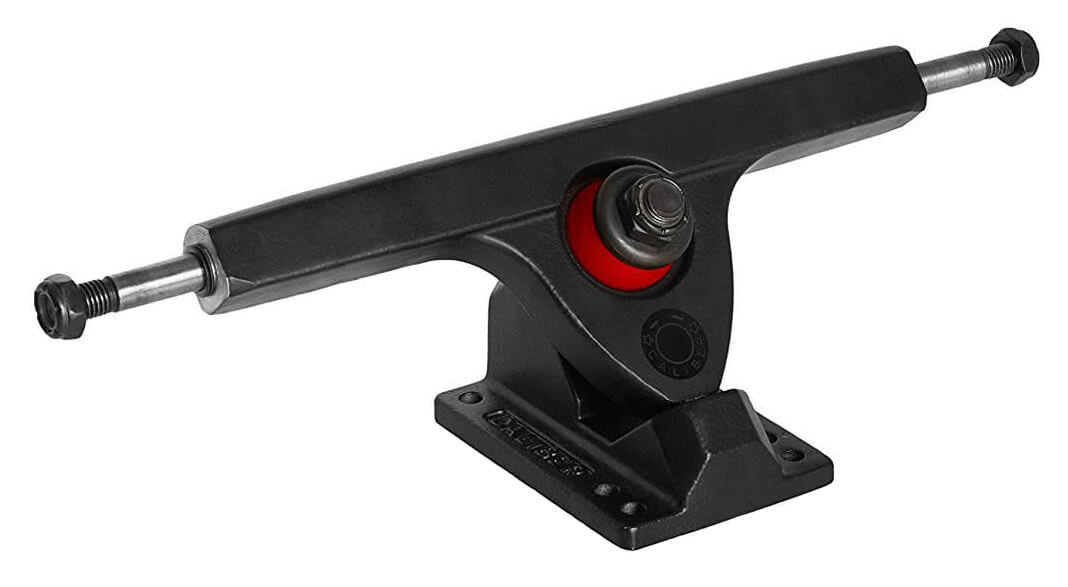 The Battery
The Backfire G2T is running a Samsung 30Q 10S2P 36V 6.0A battery to power their flagship electric skateboard.
That's a total of 216Wh so you won't be able to take it on an airline. And unfortunately, there's no travel safe battery option available.
Backfire Boards do say that you can swap out the battery, but when I opened up the enclosure to have a look, I found that the battery is super glued to the casing.
Then when I had a look on their website for the battery replacements, I saw that all the battery options were sold with enclosures.
So, technically yes, you can change the battery, but you'll also be swapping the enclosure at the same time. A bit of a pain in the ass having to carry around a whole extra enclosure because it's stuck to the battery…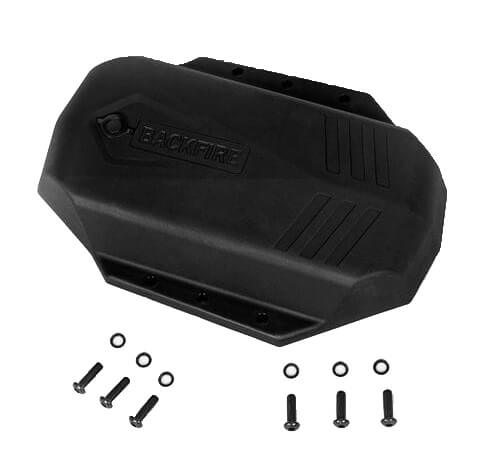 The Motors
The G2T is rolling with dual hub motors rated at 350W of power each.
The most interesting thing about these motors however, is the fact that the PU sleeves are replaceable.
We've already mentioned that Backfire Boards send you to different sized wheels, but it's important to note that for the rear motors, it's just sleeves. It's not a whole new set of motors, which is how we used to have to replace the PU on the motors.
These makes maintenance of your G2T simple and far more affordable.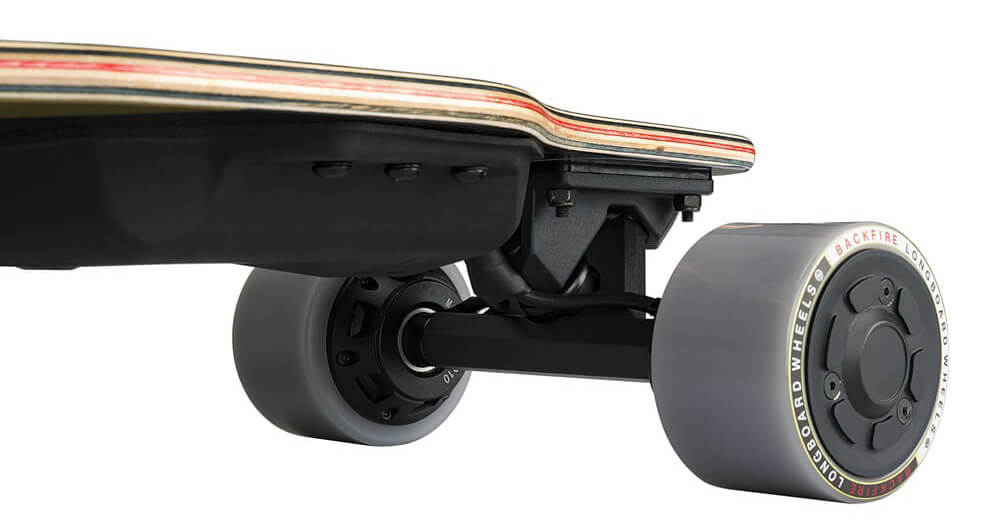 The ESC & Remote
I really like the Backfire G2T remote.
I like the rubbery matte finish that it has, and just the overall design and placement of the buttons is intuitive.
The remote and the board ALWAYS connect without any issues. Something that a lot of top end eskate companies seem to be having issues with…
I've also never had any disconnect issues, so you can have confidence there.
The Backfire G2T has two main riding modes, plus an extra Turbo mode.
You can freely flick between Eco and Sport, but the Turbo mode is only a temporary power boost that lasts for 30 seconds. After that, Turbo switches down into Sport and you have to wait another 30 seconds before you can use it again.
At first, I thought this was extremely strange. But then I figured it out.
Yes, the Turbo is great fun when getting an extra burst of acceleration and top speed on the flat, but the best real world application for it is when you come face-to-face with a slightly steeper hill.
Where the G2T might have struggled in Sport mode, Turbo puts that anxiety to rest with that extra power boost.
You'll see just how much of a difference that extra power makes in the upcoming comparison video between the Meepo NLS vs Backfire G2T. Click here to subscribe and be notified when that video is released.
The Backfire G2T remote has an OLED display that shows a ton of useful information.
It shows your current speed, the mode you're in, the direction of the eboard, battery level of both the remote and the eboard, current trip distance and your overall distance ever ridden. And the info can be displayed in both miles or km.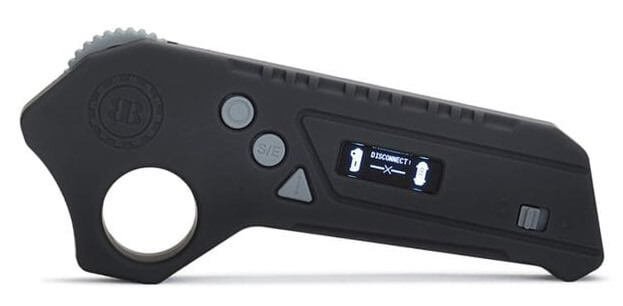 What's In The Box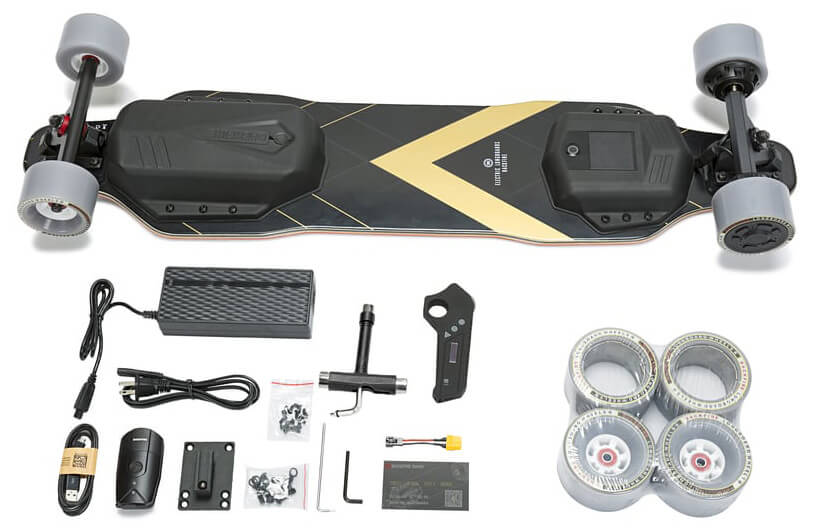 The Backfire G2T electric skateboard
R2 Remote, USB-C charging cable
Board charger
Skate T-tool
Spare nuts and bolts
2x hex keys (for the hubs)
XT90 cable
Extra 96mm wheels
Mountable LED Headlight
What Could Be Done Better?
To nitpick, here's what I would start with…
The mountable LED headlight is a nice touch and I was happy to see it in the box.
I mounted it straight away but after riding, I noticed a rattling sound that annoyed me.
On top of that, it kind of detracted from the aesthetic of the eboard. I like sleek and minimal design and the LED just wasn't doing it for me.
Also, the mounting is directly above the front trucks. I've heard other riders that prefer a wider stance say that it gets in the way of their feet so that could be something for you to consider if you're tall. I didn't have that issue (180m / 5'11" tall).
That being said, all this is solved by not mounting it.
The other main issue I had was that the distance on the trip meter of the remote is measured by the distance you ride between when you start and then come to a complete stop.
I would prefer that the distance is measured by the distance between when you turn the eboard on and when you turn it off.
That way, the trip meter isn't reset when you stop at a set of traffic lights, or sit down for a bit to take a breather.
Another tiny, annoying thing that bugs me, and I might just be making mountains out of molehills, but, I don't know why they include an extra XT90 adapter…
I could be alone on this opinion, but I think the majority of riders who will be purchasing this electric skateboard will be the kind of rider who just want to ride it for fun or for the commute. I doubt they will be too interested in pulling it apart and making modifications to it.
I find it unnecessary and an inconvenience really. Now I have a rando cable lying around that I don't know what to do with.
If you disagree with me on this, please, I want to know why you like having the extra cable, I want you to change my mind.
Final Thoughts
For what Backfire have tried to achieve with the G2T, it makes for a great mid-leveled electric skateboard.
It's not too expensive to price people out, but it's not so cheap that they weren't able to produce a good quality product.
I think Backfire have hit the sweet spot with their value for money.
It doesn't have the power that you could get from belt-driven drives, however, they have done pretty well with the hub motors.
This is a great eboard for the everyday commuter and casual riders alike.
Head over to the Backfire website to pick one up with the link below and you'll get $10 OFF your purchase at checkout.
Alternatives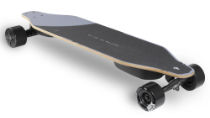 WowGo 2S Pro
The WowGo 2S Pro is an amazingly comfortable electric skateboard that you could skate for hours.