WowGo just released two brand new electric skateboards, the Pioneer 4 and the Pioneer X4.
In this video we'll be taking a look at the Pioneer 4, which is the Hub motor version.
I have another separate article for the WowGo Pioneer X4 Review, which is the belt-drive motor version, so after you've read through this review, make sure you go check that one out as well so you can decide which of these two awesome electric skateboards is best for you.
The WowGo Pioneer 4 is specced to reach a top speed of 28mph / 46kmh and a range of 22 miles / 35km, which are all great numbers for an electric skateboard of this price.
But of course, we'll put it to the test to see what the eboard is actually capable of.
Before we get started, I have to send a huge thank you out to JackHasWifi for his help on this video.
He did all of the testing and filming for me and I really appreciate it, so go check him out.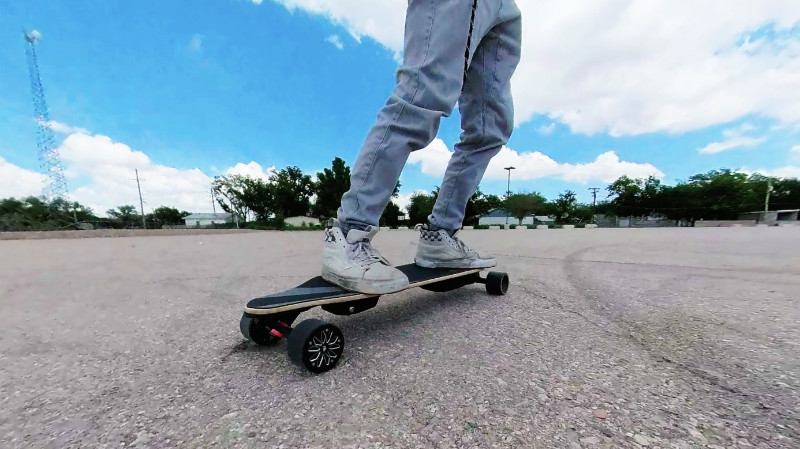 Who Is It For?
The WowGo Pioneer 4 is a fast and comfortable electric skateboard that is ideal for riders who want an eboard that is going to allow them to commute to work or school with a bit of power under their feet.
And if your rides are going to be quite long, then the comfort the Pioneer 4 provides is going to make your trip enjoyable from start to finish.
The Pinoeer 4 has hub motors, which means they are a lot quieter than belt-drive eboards, so this will suit eskaters who want to to ride on the down-low and not draw any extra attention to themselves.
Hub motors are also a lot easier to maintain because you don't get muck and dirt in the drivetrain, and there are no belts that you risk snapping.
You'll get a very similar top speed and range on the Pioneer 4 as you would on the X4, however, the X4 will have slightly faster acceleration.
WowGo Pioneer X4 Review
Deck
The WowGo Pioneer 4 has a 38.5" Canadian maple, bamboo and fibreglass deck with a concave shape and it feels absolutely amazing.
It's very flexy, without feeling bouncy.
So you'll get all of the shock absorption benefits without the fear of getting speed wobbles at high speeds.
There's a nice layer of shock-absorbing griptape that adds even more vibration absorption.
And the fibreglass in the deck makes the deck extra durable so you can ride it harder without the worry of snapping the deck.
You'll notice on each end of the board is a bashguard. This is built into the riser pads of the trucks. These are great because they protect the deck in the case you come off and the board rolls into a gutter or wall.
Even just simply standing the deck up and leaning it against the wall, you save the tail from getting any dents or splintering.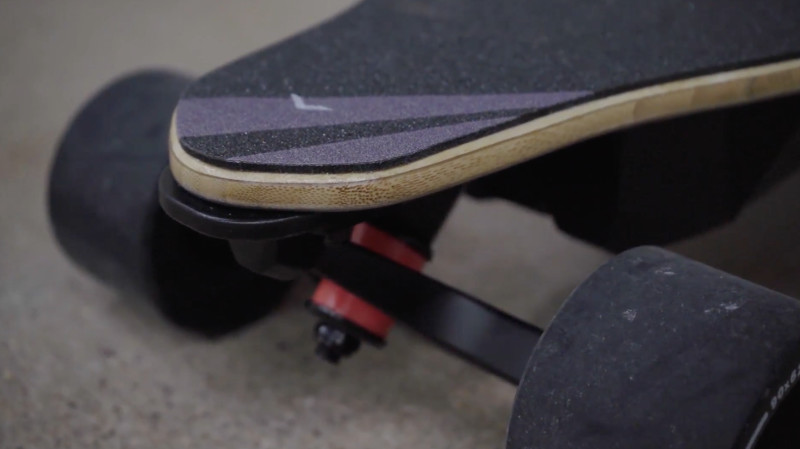 Trucks
The WowGo Pioneer 4 has 45° skate trucks and they're really quite impressive.
They maintain stability at high speeds and don't get any speed wobbles.
Yet, they beg to be carved on.
How WowGo manages to achieve this, I don't know, but it feels like an electric skateboard at speed, but more like a traditional longboard when you're cruising and carving.
Wheels
The Pioneer 4 comes with black 90mm 78A polyurethane street wheels or you can upgrade them to 105mm Cloudwheels for an extra $80.
The street wheels are some of the softest street wheels available on an eboard at these days.
They are super grippy and help with even more shock absorption.
I'm starting to see why Jack loved the Pioneer 4 so much.
He did say that even though these wheels are great, the streets he rides around on are horrible, and so he quickly put the Cloudwheels on.
And from then on, he said it was pure bliss to ride.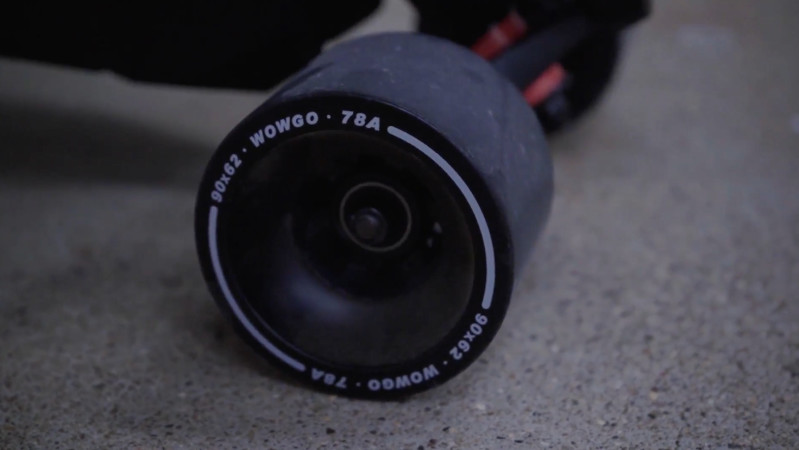 Motors, Top Speed and Hill Climbing
The WowGo Pioneer 4 has dual 680W Hobbywing hub motors and is expected to get a top speed of 28mph / 46kmh and be able to climb hills with a grade of 30%.
Jack was able to hit a top speed of 30.7mph / 49.4kmh which is actually faster than what the eboard is marketed to be able to do.
Maybe he had the wind behind him, but regardless, I'm really impressed with the top speed capabilities.
It's fairly flat out where Jack lives so he wasn't able to find many steep hills. He was able to test on a hill with a grade of 8% and he said the Pioneer 4 obliterated them in all riding modes.
I'm not surprised, WowGo always use top quality components in their products, and it really shows in their performance.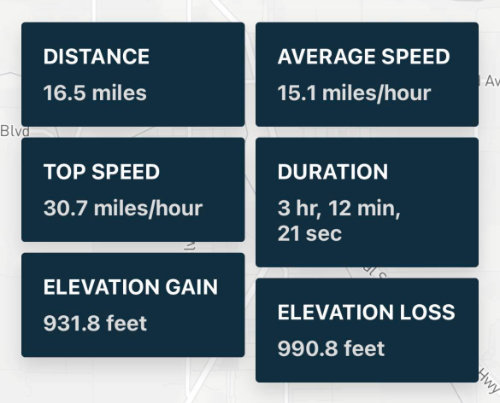 Battery and Range
The Pioneer 4 has a 12S2P 345Wh battery with Samsung 40T cells.
Again, another prime example of WowGo choosing the premium components.
The expected range is 22 miles / 35km and Jack almost managed to hit it. Well he actually might have.
For starters, he did some laps around the block to test out the Cloudwheels and Trucks situation before he started tracking his ride.
Then, at the end of his ride, he forgot to turn the tracker off and drove home.
This is the last known screenshot of the range test, but Jack estimates that he probably ended up around 17-18 miles (27-28km) of range.
And he could have ridden further, but the board was moving pretty slowly by this stage, so he called it quits.
All of this was done in Turbo mode and riding pretty hard, so I'm fairly confident the marketed range is accurate.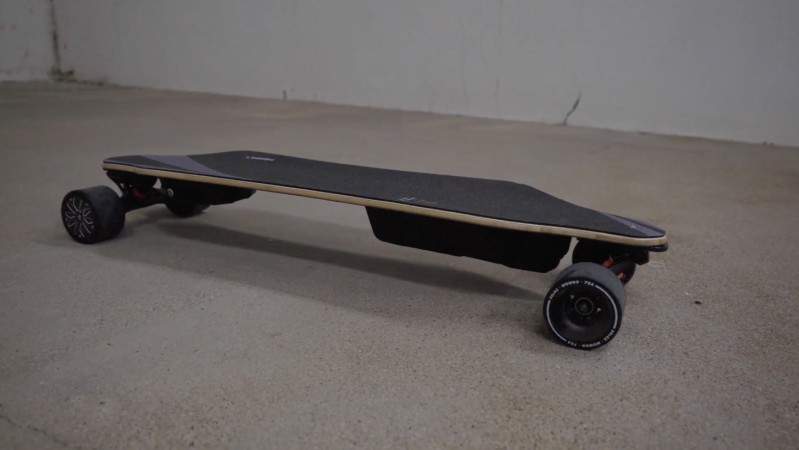 ESC, Acceleration and Braking
WowGo have again opted to go with the Hobbywing ESC paired with the Hobbywing remote, and it's just great.
There's no way else to put it.
The combo has always been reliable and it's no different on the Pioneer 4.
The acceleration is nice and smooth while simultaneously being punchy. It's very manageable when you're ready for it, but if you're not properly prepared, it is hard enough to throw you off.
The same goes for the braking.
They will throw you forward if you haven't braced yourself, so you can be sure they'll bring you a stop within a safe distance.
The brakes actually feel very smooth and manageable when you're well aware they're coming on.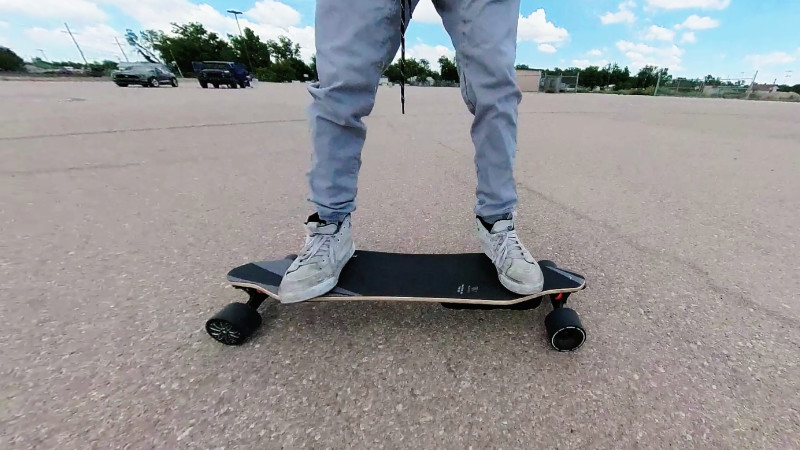 Remote
WowGo haven't changed anything on the new remote for the Pioneer 4, and why would you, it's a great remote.
It has the typical thumbwheel for acceleration and braking, and a single button that controls all of the features on the remote.
It has 4 speed modes, 1, 2, 3 and Turbo, reverse and cruise control.
The LED screen displays current speed, trip distance, total distance, direction, speed mode, remote battery and board battery.
It's a lot of data to show on a small screen, but the layout works well and you can easily check your data at a glance without taking your eyes off the road for too long.
Final Thoughts
Overall, the WowGo Pioneer 4 is an amazing electric skateboard.
For the daily commuter and the weekend cruiser, you really would not be upset if you decided to go with this eboard.
It has plenty of range to get you to where you need to go, and a lot of speed to get you there fast.
It's super comfortable so you can ride all day without getting tired.
And it's built with quality components so you can be confident this electric skateboard will last you a very long time.
The Pioneer 4 starts at US$750, and I think it's well worth the price.
That's it, that's my WowGo Pioneer 4 review.
I hope I've helped you on your journey to finding the best electric skateboard that's right for you.
If I have, please share this with a friend and if you use the links in this article it helps this little website out a lot and you also get a nice discount.
Ride safe out the eskaters.
See you soon.
Get $5 OFF with code HUB5