Riding your skateboard doesn't have to be restricted to daylight hours. But you can't just fly around on your electric skateboard in the dark without installing some kind of longboard lights.
Lights are the are the single best electric skateboard accessories you should consider getting before anything else.
You'll want to see if there are any cracks in the pavement or potholes while skating through town, right? Plus, having lights on your skateboard lets pedestrians, bikers, and car drivers see you, reducing the chances of accidents.
Now, if you're ready to get yourself a set of eskate lights, we'd be glad to help. In this article, we'll list the 10 best electric skateboard lights on the market so that you can find the perfect set for you. We'll also let you know how to pick the right option for your needs.
The Best Electric Skateboard Lights
There's a wide selection of e-skateboard lights to pick from, which is great because you're bound to find something that suits you perfectly.
However, with so many options out there, it's hard to determine which ones that is.
Luckily, I've researched, tried and tested a bunch so that I can give you the features, pros and cons of each and hopefully make it as easy as possible for you to decide. Let's dive in.
ShredLights Skateboard Headlights
Pros
High-quality materials, mounting parts, and batteries to last you a long while
Incredibly bright to act as your sole headlights and tail lights
A huge selection of light modes to answer your individual needs
Comes with a 30-day money-back guarantee and a 1-year warranty
Easy to install and compatible with most e-skateboards
Boasts a huge range of 80 feet of visibility
Cons
May be too pricey for some beginner e-skaters
While they're a bit on the pricier end, the ShredLights skateboard lights are a top-quality option that can up your after-hours eSkating game to the next level. One of the sturdiest and most reliable electric skateboard lights on the market, they're a force to be reckoned with!
The number one reason why many eSkaters prefer ShredLights is their impressive brightness. Ranging from 300 to a roaring 1,000 lumens, these lights promise that you'll see up to 80 feet in front of you in the dark. They're like those crazy headlamps they wear in caves, but they're skateboard lamps.
Better still, this enhanced brightness ensures people can notice you from 1.2 miles away. Crazy, ha?
That's not everything, though. The mounting system involved is one of the easiest you can come across on the market, so it doesn't require a high IQ to work around! This system is also compatible with the majority of e-skateboards out there if not all of them.
As for the battery life and light modes you'll end up with, these depend on the model you choose.
The SL-300 offers you two to 20 hours of run time, a brightness value of 300 lumens, and six light modes. On the other hand, the more expensive SL-1000 boasts 15 to 250 hours of battery life, 1,000 lumens, and a whopping 24 light modes.
The latter is a bit more durable, too, since it's made of aluminium, while the former is TPE rubber.
All in all, it's always a good idea to invest in Shredlights products simply because the brand is the market leader. Backed by years of experience, awesome customer service, and a one-year full-coverage warranty, we can safely say that the high price is justified!
Specs
Brightness: 300 to 1,000 lumens (based on the model)
Battery life: Up to 250 hours
Number of light modes: 6 or 24 modes (based on the model)
Weight: 1.7 or 4.3 oz. (based on the model)
Maxfind LED Night Light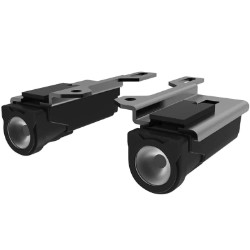 from Maxfind
Pros
Very affordable
Bright 100 Lumen lights
180 degree light angle
IPX4 water resistant
USB rechargeable in 2hrs
Also includes rubber strap system for bikes and helmets.
Cons
Standard bracket system might not be suitable for all eBoard setups.
Maxfind's LED Night Light offers a robust solution for nighttime riders at an extremely affordable price of $49 per set.
They have both headlight sets and tail light sets, so picking up a set of each will set you back less that $100.
Its 100 Lumens output and a wide 180-degree visibility angle don't just light the path ahead but ensure you are seen by others, keeping you safe at all times. It has five adjustable modes, from steady beams to rapid blinks, so you can set your lights depending on the situation.
It has an IPX4 water resistance rating so you can still ride in wet conditions or if you happen to roll through a puddle, these lights will be fine.
It is USB rechargeable and you can charge them up in 2 hours, so you're not left in the dark for too long.
Engineered for rough rides, the Maxfind light is shock-proof, and ready for varied terrains and unforeseen bumps. It promises longevity, which, coupled with its performance, makes it a staple for all eSkaters.
Specs
Brightness: 100 lumens
Charging time: 2 hours
Number of light modes: 5 modes
Board Blazers Skateboard Underglow Lights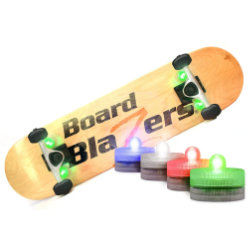 on Amazon
Pros
A wide variety of color choices to match your mood and taste
Good deals when you buy more than one set of lights
Free shipping on some orders (based on how much you spend)
Simple to install on most e-skateboard models
Affordable price
Cons
Not enough for skateboarding at night (must be paired with more powerful headlights)
Here's another cool option you may want to include in your electric skateboards light collection. While the Board Blazers underglow lights might not offer high visibility in front of you, they can still work just great in dimly-lit streets to make you seen.
What makes Board Blazers irresistible to many skaters is that they're available in a wealth of colors. You can get them in red, green, pink, blue, white, yellow, and even in multi-color. Better still, you may order more than one set of lights to get discounts!
Even though you'll theoretically be seen from 150 feet with these underglow lights alone, you'll have to install stronger headlights and tail lights to boost your safety. These are also crucial to increase visibility in too-dim areas.
Budget-friendly, easy to install, and incredibly eye-catching, it's hard not to give Board Blazers a try!
Specs
Brightness: 150 lumens
Battery life: 4 to 6 hours
Number of light modes: 6
Shredlights SL-1000 LED Helmet Light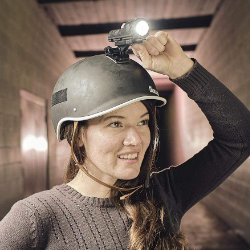 Use code ESKATEHUB for a discount
from ShredLights
Pros
Lightweight and simple to install on your helmet
Bright enough to be your sole light source when e-skating in the dark
Supports dimming for when you ride on illuminated streets
Offers you a wider range than most other products on the market
Cons
Want to pair your underglow electric skateboard lights with something other than the typical headlight or tail light? Well, look no further than this SL-1000 helmet light by ShredLights. It's a little out of the box and not what most e-skaters expect, but it can do wonders to your night visibility.
This Shredlights helmet light boasts a brightness of 1,000 lumens to illuminate the path in front of you for up to almost a hundred feet. Plus, it can make you seen from as far as 1.2 miles. What a catch!
Better still, the whole helmet light setup is a breeze to put together thanks to the included helmet mount. The light itself is compact and almost weightless, so it shouldn't put a lot of strain on your neck when you're out riding in the neighbourhood.
Also backed by Shredlights' one-year guarantee and 30-day money-back warranty, the SL-1000 helmet light can be an awesome addition to your e-skateboard lights. While it's a bit expensive, we believe that its quality, top-notch performance, and huge power are worth the price!
Specs
Brightness: 1,000 lumens
Battery life: Up to 50 hours based on the light mode
Number of light modes: 6
Optiks 210 Front and Back USB Rechargeable LED Skateboard Lights
Let's kickstart our reviews with these front and back electric skateboard lights by Night Provision. The Optiks 210 have many cool features to offer every eskater, so let's see what makes them so special!
The first thing we like about these lights is that they're bright enough to light a good portion of the ground at your front and back. With a power of 210 lumens and uniquely-designed optical lenses, they ensure higher visibility all around you.
That's not all, though. These lights don't face the ground directly, but they spread out at a convenient angle to cover as much space as possible. This should make riding in the dark a piece of cake!
Better still, the Optiks 210 are pretty simple to install with their rubber strap mount kit. Furthermore, you won't need to unmount them to recharge them as they come with a long dual split USB cable. In other words, you can recharge both lights at the same time without unhooking them.
What we also admire about those lights is their quick one-button operation. Plus, they're available with different brightness modes and even a red tail light mode.
Key Specs:
Brightness: 210 lumens
Battery life: From 3 to 9 hours (depending on the mode)
Number of light modes: 4 headlight modes and 5 tail light modes
Weight: 1.64 oz.
LINE-120 Front and Rear USB Rechargeable LED Lights
Another awesome product by Night Provision is the Line-120 LED lights fashioned for your front and rear electric skateboard bars. While these lights have a brightness of only 120 lumens, they're still worth considering for your nighttime adventures.
Let's start our review by saying that the Line-120 lights include many great features that their Optiks 210 siblings have, aside from the power. Here, you also get USB rechargeable batteries, high waterproofing degree, and rubber-seal durability.
Still, Line-120 excels in several ways. For example, the lights allow vertical and horizontal adjustment to meet your ever-changing needs. In addition, they're much slimmer in size, and their design stretches horizontally to allow more ground coverage.
However, you must note that the Line-120 lights are only suitable for being seen at night. They're not powerful enough to act as your main head or tail lights, so it's important to pair them with stronger lights.
Specs
Brightness: 120 lumens
Battery life: An average of 6 hours (depending on the mode)
Number of light modes: 6
Weight: 1.4 oz.
YHGSEE Electric Skateboard LED Strip Light
Pros
Several attractive color modes to choose from (monochrome, multi-color, flashing lights, gradient, etc.)
Simple installation in under 15 minutes
Adjustable length to match the exact size of your e-skateboard
Budget-friendly
Cons
The batteries aren't included
Poor adhesion on the back of the strip light
Want another effective method to make yourself seen as you e-skate down the roads of your neighborhood? We encourage you to take a look at this LED strip light by YHGSEE.
What's so cool about this guy is that it's available with a length of approximately 20 inches. So, you can line the edges of your electric skateboard with this strip light and have a permanent glow underneath your feet!
Another thing to like about this strip light is that it's a piece of cake to install. Just follow the manufacturer's instructions about connecting the power supply, mount the battery box on the skateboard, and prepare for flight.
Of course, there's a built-in adhesive on the back of the strip light so that you can fix it into place. Yet, a lot of people had trouble with it coming off and had to purchase a double-faced tape; others claimed it worked just fine.
Once you've installed the lights, you'll get to control the light mode, speed, and color options.
One thing you should keep in mind, though, is that the batteries don't come with the product. After buying them separately and installing them, the 3 AA batteries can last from six to eight hours.
Specs
Battery life: 6 to 8 hours
Number of light modes: Up to 4 modes
Weight: The weight of the entire 20-inch strip light is 3 oz.
Dancra Battery-Powered LED Strip
Pros
A perfect choice for skating in lit streets and parks (not for too-dark neighbourhoods)
Quick installation thanks to the strong adhesive included (you can also use screws)
Various light modes and colors to impress your skater buddies
Top-quality lighting technology and materials
Reasonable price
Cons
Not designed for long-distance front or rear visibility
The batteries aren't involved
No rechargeable batteries
Here's another LED strip you might want to take a look at, and this time it's made by the brand Dancra. It's a bit similar to the previous product, yet, according to the opinion of several users, the Dancra lights seem to be of better quality.
Dancra is well-known for its years upon years of expertise in the light-manufacturing industry. The company is BSCI-certified, so there's that! You'll find further evidence of its excellence once you take a look at the quality of its lights.
For example, the light strip has a protective cover that battles wear and tear and outdoor conditions. Plus, it's reinforced with a metal piece to keep it secure and increase its lifetime, which is hard to find in other light strips on the market.
Secondly, the design of the 30-inch LED strip has been well-thought-of to allow you to cut the required length without messing with its battery connectivity. The company explains the right way to do this in their detailed instructions manual.
Third off, the 4 AA batteries also have a case that you can attach to your skateboard to prevent damage to the power source.
Yet, our personal favorite thing about the Dancra battery-powered light strip is that it offers you numerous static and dynamic modes. Also, installation is easy using the built-in adhesive on the back, and there's enough space to add screws, too, to ensure more stability.
Conveniently priced, versatile, and definitely a joy to look at, the Dancra LED strip can be a decent option for your nighttime cruises. Just be mentally prepared for when your bros start calling you a show-off!
Specs
Brightness: 56 lumens
Battery life: An overall lifetime of around 10,000 hours
Number of light modes: 19 dynamic modes and 20 static modes
Weight: The weight of the entire 31.5-inch strip light is 5.3 oz.
iWonder V3.0 Skateboard Lights
Pros
Simple installation that only takes a few minutes
3 mounting positions to suit every skater's needs
3 color modes (red, blue, and white)
Made by the trustworthy brand Cloudwheels
Fair price
Cons
Sold as a single light
The 15-lumen brightness value is much lower than that of other lights on this list
Made by the same company that manufactures Cloudwheels, the iWonder V3.0 electric skateboard light is a must-have for every serious e-skater. Besides being one of the most reputable brands out there, the iWonder light has so many impressive features that you can't ignore.
For starters, the lights are effortless to mount on your e-skateboard thanks to the bolts, nuts, and other parts included in the package. According to those who gave it a shot, installation only took a few minutes.
Even better, this product supports three mounting positions to match your preferences. You'll have two ways to install the light above the deck and one to fix it underneath it.
What we also think is cool about the iWonder lights is that they're available in white, blue, and red. Plus, they're bright enough to alert passersby, bikers, and car drivers of your location.
Still, one downside to this product is that it's only sold as a single light. Therefore, if you want to have headlight and tail lights, you'll have to order two of the iWonder lights. Unfortunately, this may not be the best course of action for people who want to save money.
Specs
Brightness: 15 lumens
Battery life: Up to 4 hours
Number of light modes: 6
Weight: 3.5 oz.
AgoKud Rechargeable Headlamp
Some of the more modern electric skateboards already come with lights built in, so you might not need any for the board.
However, this rechargeable headlamp may be just what you need if you're not a big fan of helmet lights.
This light is basically a ring that you wear around your head, with a front light source that produces strong beams of light to allow you to see clearly at night. With 1,000 lumens of power and a range of 230 degrees, this light can work in many scenarios besides e-skating.
For all campers, runners, and nighttime workers, the AgoKud headlamp is versatile enough to keep up with your demands. Even rain doesn't intimidate this headlamp since it's IPX4 waterproof!
Better still, the headlamp can be worn around your head with or without a helmet. It weighs only 3.8 oz., so putting it on almost feels like you're wearing a hat or a normal headband.
Reasonably priced, heavy-duty, and user-friendly, we genuinely think that the AgoKud headlamp can transform your e-skating experience at night.
Specs
Brightness: 1,000 lumens
Battery life: 5 to 6 hours on low light mode
Number of light modes: 3 modes
Weight: 3.8 oz.
GTS BROS Helmet with USB Rechargeable Lights and Rear LED Light
If you don't want to trouble yourself with installing helmet lights, buying a helmet with built-in light only makes sense. In this case, the GTS BROS helmet has your back!
The helmet comes with front and rear lights. The first is bright enough to light your path, while the second is red-hued and lower in power to alert other people of your existence. When fully charged, the lights can last up to six hours.
Even the design and materials of the helmet itself are worth mentioning. The helmet has several ventilation openings to keep your head from sweating, and the way it's molded ensures maximum comfort on long rides. There's also padding on the inside.
Once you pair it with underglow skateboard lights, the GTS BROS helmet can definitely be your best friend on your night rides!
Specs
Battery life: 6 hours
Number of light modes: 4 modes
Weight: 13.8 oz.
Things to Think About Before Buying Electric Skateboard Lights
Now that you're familiar with many options on the market, it's time to take your pick. However, because these candidates all showcase awesome features, it can be a little hard to determine which is best for you.
Don't you worry, though, because this section discusses several factors you'll have to keep in mind before choosing electric skateboard lights.
Let's dive, or skate, right in!
Light Type
Without a doubt, this can be the most confusing aspect to consider before purchasing e-skateboard lights. Should you go for a helmet with a built-in light, underglow lights, headlights and tail lights, or others?
Well, you'll have to know what to expect of each light type to settle on a favorite. Furthermore, some lights don't work alone, and they'll need to be paired with stronger light sources.
Let's start with your typical headlights and tail lights that you can fix to the front and back of your e-skateboard. These can be your best choices because they're usually bright enough to illuminate several feet in front of and behind you.
Underglow lights are a good idea, too, since they're a breeze to install and are much more aesthetically appealing. Yet, they only light the area underneath your skateboard, so they can only act as safety lights. They won't be enough to see for yards in front of you.
Plus, when it comes to quality, LED strips aren't usually as sturdy as other forms of e-skateboard lights.
Next, you have lights that you can mount on a helmet, which are typically bright enough to use alone. Not only are these user-friendly, but they also tend to last longer than other types of lights.
Lastly, you can always invest in headlamps, which are up the versatility alley. These, too, are durable, incredibly bright, and not very expensive.
Brightness
Of course, the brighter the light source is, the more visibility you'll have riding your e-skateboard at night. Therefore, it's always a good idea to go for a higher lumen value, starting at 200 lumens and all the way to 1,000 lumens.
Yet, when it comes to your tail light or underglow light source, it's okay to go for a lower lumen value. Since the purpose of these lights is only to make you seen by other people, they don't have to be too bright.
Other Features
Brightness and light type are the two most important points to think about, yet, there are other things that could help you make a decision.
Battery life
Ease of use and installation
Power source (single-use batteries, rechargeable batteries, etc.)
Durability
Price
The Final Verdict
Shopping for the best electric skateboard lights can take you a long time if you don't know what you're looking for. Hopefully, after reading this extensive guide, you're finally ready to make your purchase!
As for us, our all-time favorite is the Shredlights Skateboard Headlight. We admire its simple installation, unmatched power, and incredible quality.
Still, if you want a slightly more budget-friendly option, there's always the Optiks 210 Front and Back Skateboard Light. While a bit less bright than our Shredlights buddy, the Optiks lights can help you sail through your nighttime adventures without missing a beat!