Watch:
Holy moly!!
Brace yourself for one of the biggest rave-reviews because the WowGo AT2 electric skateboard has blown me away!
I didn't expect to be this smitten by the AT2, but it's now one of my all-time favourite electric skateboards.
For starters, it's just over a thousand bucks. It's US$1,100 for either the all-terrain or the Cloudwheels setups.
You can also get the 2-in-1 kit for US$1,220 which gets you both sets of wheels.
It's not super cheap, but it's also not that expensive either, especially when you consider it as a comparable alternative to the Evolve skateboards.
The main reason I like the WowGo AT2 is that it has a great build, excluding the electronics. The deck material, deck shape, double kingpin trucks, shock-absorbing grip tape and pneumatic wheels make it an incredibly comfortable cruiser.
Add the electronics into the mix and you have yourself a powerful and enjoyable electric skateboard to ride to work or school with the option to take it off-road for some real riding fun.
Anyway, let's go through my tests to see how it performs and then we'll talk about its features and specs later on down the article.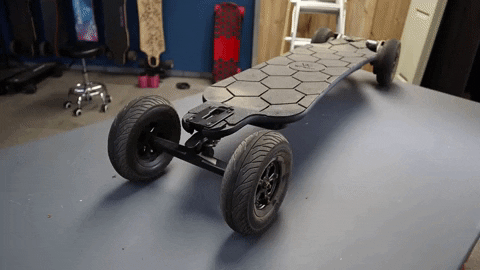 Range Test
The WowGo website markets the AT2 to be able to get up to 35km in range.
Now, I imagine that test would have been done on a flat, paved road with a rider of around 70kg riding at an average speed of between 20-25kmh.
In my range test, the WowGo AT2 took me as far as 17.95km (11.15 miles).
That is A LOT less than the marketed range, but it's not all bad news.
For starters, I'm 90kg.
The route I rode was 100% off-road terrain. I was swapping and changing between compact gravel, loose gravel, very loose gravel and grass. There are some examples of the terrain I rode in the video at the top of this article.
And I rode pretty hard. I did multiple attempts at the top speed, carved a fair bit and tested the acceleration in very loose gravel. All of this will be quite taxing on the battery.
If you plan to ride at a nice and consistent pace, mainly on paved roads with a few compact gravel trails here and there, you will get a lot more range out of it!
I'll be taking it out for a 100% paved road range test soon so I'll post my results here and on my Twitter and Instagram pages.

Top Speed Test
I have to preface this top speed test by saying that at the time of doing the review for the WowGo AT2, I had just had a pretty bad stack on the Verreal RS that left my confidence in pieces. I didn't ride for over a month after it and I had only just regained some fragile courage to get back out there and ride again.
The top speed that WowGo boasts for the AT2 is 40kmh (25mph).
On an off-road, uneven trail, I got up to 32.4kmh (20.1mph).
There was still some room in the throttle, I just wasn't game enough to push it any harder. That is fast enough for me.
I have no doubts you crazy eSkaters will be able to hit that 40kmh (25mph) mark.

Acceleration Test
I put the WowGo AT2 through its paces with the acceleration test. I probably worked it harder than I have any other electric longboard I have tested.
From a standstill, I accelerated out of very loose gravel and grass to see how it would cope and I have to say, it did a fantastic job!
It had no problems getting itself out of that type of terrain.
On the flat, more compact gravel, the acceleration was smooth yet snappy. The board responded to the throttle movements just as you expect it to. There are no surprising jolts or drops.
For someone who was lacking confidence on electric skateboards, the WowGo AT2 was doing a great job of making me feel confident and in control.
Braking Test
To test the brakes I rode at a cruising pace of about 25kmh (15.5mph) and slammed on the brakes.
On the dirt trails, I came to a complete stop in approximately 10m (10.9yd).
That's pretty impressive I'd say. It may take a little longer to stop on paved roads due to the reduced resistance, but it won't be much.
Hill Climb Test
I took the WowGo AT2 up a hill that had a grade of about 15%, which is pretty steep. It's one of the steepest hills in my area.
And for this test, I actually went and found a paved road to do it on, outside of the range test I did previously.
The eboard climbed the hill briskly at a pace of 25kmh (15.5 miles) and it didn't even struggle.
I'd love to find a steeper hill nearby, something closer to 30% where I can do a real test.
But for now, I am very happy with the result. There aren't too many hills about with a grade higher than 15%.
Features and Specs
I want to dive into the components and other extra features of the WowGo AT2 because there are things about this board that make it what it is that aren't showcased in just the performance tests.
Let's start with one of the most important parts of any electric skateboard, the deck.
It's a composite of Fiberglass, Bamboo and Canadian maple.
The mix of bamboo and maple gives the deck a unique flex that has this perfect middle ground of bounce and rigidity. It has enough bounce to absorb bumps and cracks in the ground, while maintaining stability when riding at those higher speeds.
The fiberglass is added for extra strength so that you won't snap your deck.
The concave shape is angled perfectly for comfort and manoeuvrability, but it's the drop-through of the deck that makes this board great.
The drop-through has two main benefits.
First of all, it gives the outside of your feet something to lean up against, securely locking you in place. Your feet have nowhere to slip off, so you can spend more time looking up at the trail and less time looking down, concerned where your feet are.
Secondly, the drop-through lowers the deck closer to the ground bringing down your centre of gravity.
If you've ever skated, surfed, snowboarded or done any other type of standing, high-speed sport, you'll know that when you bend your knees lower, you become more stable.
This is exactly what is happening on the WowGo AT2 deck, which gave me a lot of riding confidence.
On top of the deck is some shock-absorbing grip tape. And it's not that cheap, foamy crap you find on budget eboards. No, it's thick, it's cushy and it soaks up vibrations like a vacuum.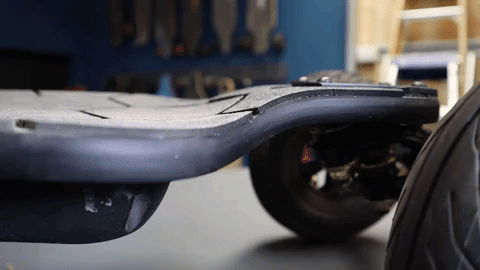 The two wheel options for the WowGo AT2 are the 175mm pneumatic tyres or the 120mm Cloudwheels.
But you're not limited to these wheels. The AT2 is belt-driven (more on that soon) which means you can quite easily swap them over to whatever you like. A lot of people are modding their AT2 to ride with 80mm Orangatang street wheels which turns it into a fast accelerating machine.
Keep in mind that you'll need to get the right wheel pulley's and belts to ensure you get the best performance out of your wheels.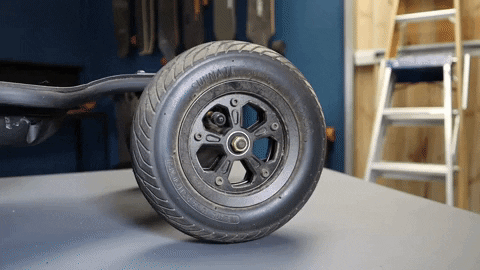 I mentioned my hesitation towards double kingpin (DKP) trucks earlier in the review, but so far, I have quite enjoyed riding the AT2 with this setup.
I think the DKP trucks are a lot better in quality and design than what I have ridden previously. Plus, the length and shape of the deck pair perfectly with these trucks.
The carving was effortless and the trucks always brought me back to the centre smoothly and safely.
The turning circle on them can be quite tight if you loosen the trucks off, but I had them tightened way up to maintain stability.
The motors on the WowGo AT2 are 6368 1500W belt-drives, powered by a customised Hobbywing ESC.
The motors are really big for an off-the-shelf electric skateboard. For reference, the Evolve GTR eboards only have 5065 motors.
So you'll be able to get a higher top speed on the WowGo but the acceleration will be slightly slower.
Honestly, the acceleration on the WowGo AT2 was plenty enough. I've already spoken about that above, so I won't go into it again.
Under the deck is a 10S4P 14Ah Sanyo battery responsible for the range capability, but the cool thing here is that it is housed in a flexy enclosure where each battery cell pack is separated.
This allows the deck to have that natural flex without being interrupted by a stiff battery pack.
It's made of a high-quality plastic which is prone to scratching, especially if you're taking it off-roading, but it does well to protect all of the electronics inside.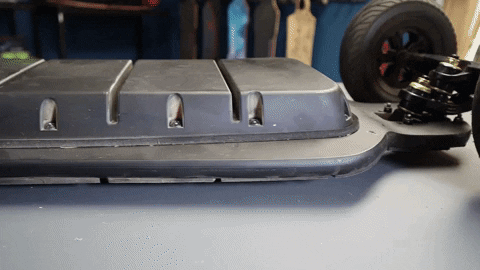 Finally, the last piece of the puzzle.
The remote.
It has one button to rule them all, a thumb wheel and an LED display.
That single button is used to turn the remote on and off (hold it down), change modes (single click) and switch direction (double click).
When ou turn the remote on, the board will automatically on and the same when you turn it off.
That saves you from having to flip over the heavy deck to click the board on. Don't underestimate the quality of life this brings.
The display is small so it can sometimes be hard to read all the data that is on there while you're riding, but the current speed is big enough to read at a quick glance.
As for the thumbwheel, well it's pretty stock-standard. No complaints, nor anything to rave about.
Final Thoughts
Nice one.
That's my WowGo AT2 electric skateboard review.
As I mentioned at the beginning of the review, the WowGo AT2 is amazing.
It is a very comfortable commuter electric skateboard while having some serious performance to be able to take you into the all-terrain territory for some good-old, dirty fun…
I would recommend this electric skateboard to my friends.
Alternatives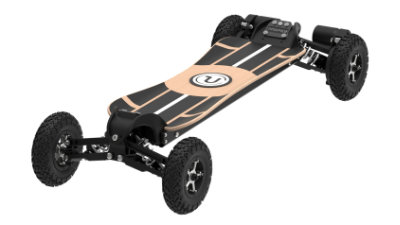 Propel Endeavor1 S
The Propel Endeavor1 S is one of the few pure off road electric skateboards that is in an affordable price range.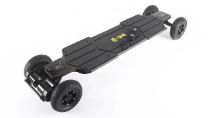 B-One Hercules Carbon AT
The B-One Hercules is one of the best cost-effective AT electric skateboards available.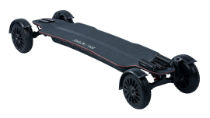 Backfire Ranger X3
As far as hub-motor electric skateboards go, the Backfire Ranger X3 is incredible. It tackles the toughest of terrains with ease and has the power that'll make your jaw drop.