If you're in the market for an electric skateboard that's compact, lightweight, and easy to maneuver, you might want to consider the Meepo Mini 5.
This board is a great option for riders who want a versatile and portable electric skateboard that's perfect for commuting, running errands, or simply cruising around town.
In this product review article, we'll take a closer look at the Meepo Mini 5 and give you our honest opinion on its performance, design, features, and overall value.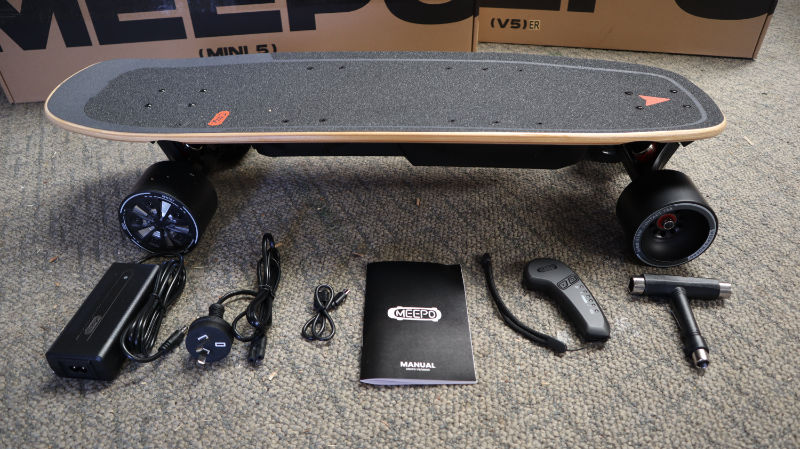 Who Is It For?
The Meepo Mini 5 is ideal for someone who is looking for an affordable and compact transportation option for short commutes or leisurely rides.
It is perfect for college students, city commuters, and anyone who wants to avoid traffic congestion and get around quickly and efficiently.
The Meepo Mini 5 is also a great choice for eskateboard enthusiasts who want to try out electric skateboards without breaking the bank.
Its lightweight design and powerful motor make it easy to maneouver and enjoyable to ride.
Meepo Mini 5 Review
Deck
The Meepo Mini 5 has a sturdy and durable deck made of 8-ply Canadian maple, which makes it strong enough to handle rough roads and bumps.
The deck measures 30″ in length and 11″ in width, making it small enough to carry around and maneuver through tight spaces.
The deck has cutouts at each wheel which provides just that little bit of extra space when turning to that you don't get any wheel-bite.
In true Meepo fashion, it also has a sleek and stylish design with a black and red colour scheme that gives it a modern and edgy look.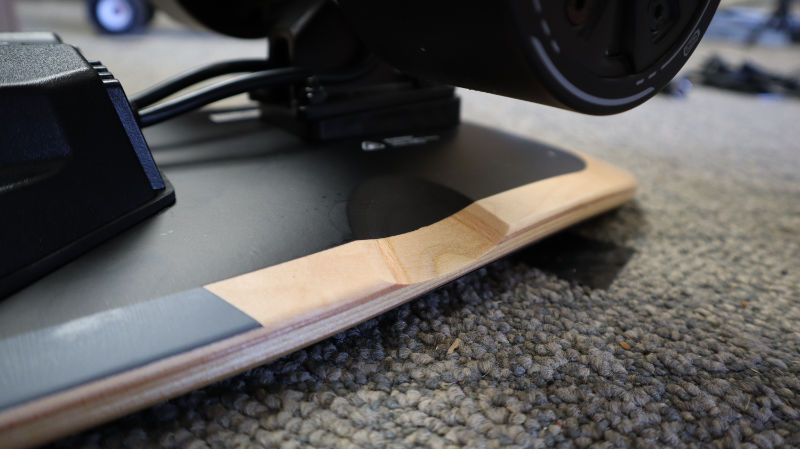 Trucks
The Meepo Mini 5 comes with 5th gen Shredder reverse kingpin trucks at the front and rear, which are a popular choice for short electric skateboards.
These trucks provide a stable and responsive ride, allowing riders to carve and turn smoothly while maintaining stability at higher speeds.
The trucks are easily adjustable, unlike some DKP trucks out there, allowing riders to customise the tightness of their turns.
Overall, the trucks on the Meepo Mini 5 provide a stable and responsive ride, giving the rider complete confidence.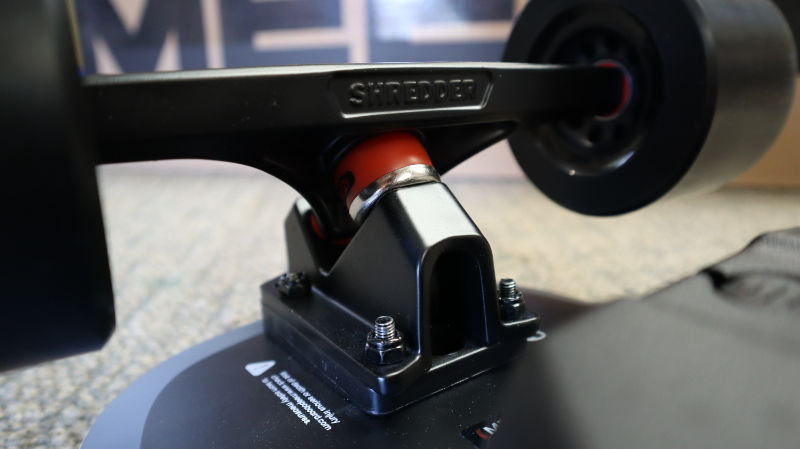 Wheels
The Meepo Mini 5 comes with 90mm street wheels made of polyurethane with a 78A hardness.
They are designed to provide a smooth and comfortable riding experience while also providing good grip and control.
Which it does incredibly well.
The large size of the wheels, along with its soft wheels makes it easy to navigate over small cracks and bumps in the road, providing a smoother ride.
Additionally, the wheels are also interchangeable, so users can switch them out for different types of wheels if they prefer a different ride feel or if they need to replace them due to wear and tear.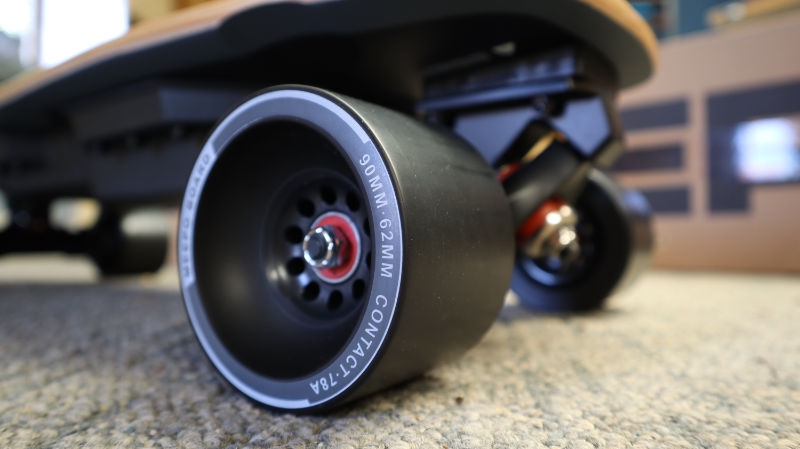 Motors, Top Speed and Hill Climbing
The Meepo Mini 5 is powered by dual 500W hub motors that deliver a combined power output of 1,000 watts.
The hub motors are built directly into the rear wheels, providing a sleek and low-profile look while also reducing maintenance requirements.
The Meepo Mini 5's motors offer a top speed of 28 mph (45 km/h), making it one of the fastest electric skateboards in its class. The motors also deliver plenty of torque, allowing riders to tackle inclines of up to 18% without losing speed.
I'm finally happy to see eSkate companies being more honest about their hill climbing ability.
If you were to compare the hill climbing spec of the Mini 5 to other eboards, it might look like it has bad hill climbing ability, but the truth is other companies say it can do 30% when really it can't even hit 15%.
So, I thank Meepo for being honest here.
18% is still very steep and will be more than enough for most riders in suburban areas.
The locking plate of the hub motors looks awesome. It as a bit of a sports car aesthetic where you can see the motors through the locking plate.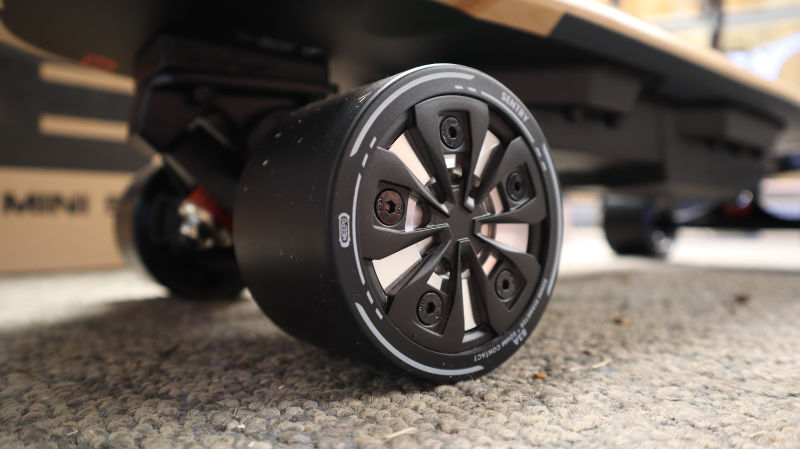 ESC, Acceleration and Braking
The ESC on this board is a LY-FOC 1.0 that is specifically designed for the Meepo Mini 5.
The acceleration is quite impressive, especially for a board of its size. You can quickly and easily get up to speed and navigate through traffic or crowded sidewalks, overtaking cyclists along the way.
It is smooth, responsive, and powerful, making it an ideal eboard for riders looking for a fast and agile ride.
The Meepo Mini 5 is equipped with regenerative brakes, which means that when the rider brakes, the energy generated from the braking is sent back to the battery to charge it.
The brakes are strong and responsive, allowing you to come to a complete stop quite fast, while also maintaining the ability to slow down gradually and safely.
Battery and Range
The Meepo Mini 5's standard battery is a 10S2P 18650 pack that delivers 144Wh of power. This battery pack is capable of providing a range of up to 11 miles (18km) on a single charge, depending on factors such as rider weight, terrain, and riding style.
Meepo also offers an extended range battery as an optional upgrade. This battery is a 10S2P 21700 pack that delivers 288Wh of power, and can reach a range of up to 20 miles (32km) on a single charge.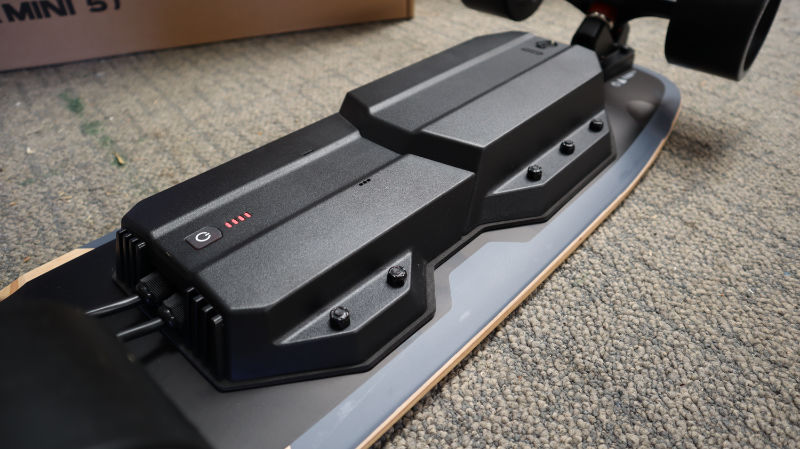 Remote
It's a fairly basic remote you get with the Meepo Mini 5, but I think that's OK considering it's one of the most affordable eboards available at the moment.
It has a thumbwheel to control the acceleration and braking and 4 speed modes.
It's lacking a screen that displays live ride info, but again this eboard goes into that affordable category for a reason.
It does still have some handy features like auto on/off with kickpush to start and cruise control.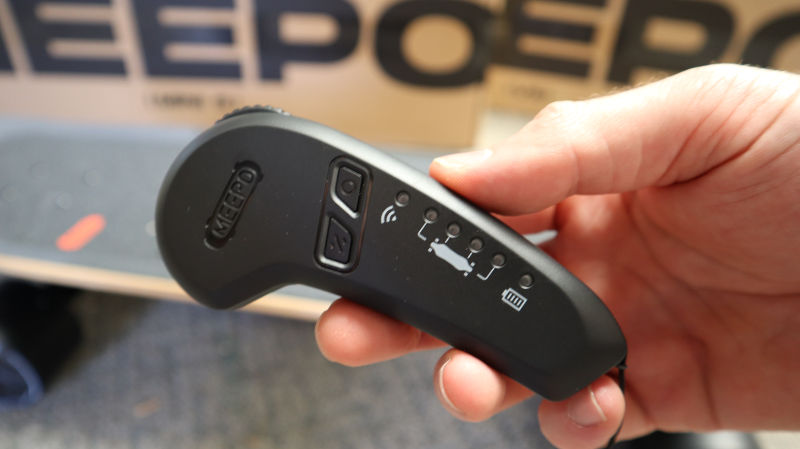 Final Thoughts
Overall, I love the Meepo Mini 5.
It is an excellent short electric skateboard that offers a range of features that are ideal for city commuting and casual cruising.
With its lightweight and compact design, it is easy to carry around and store when not in use.
The deck is sturdy and provides a comfortable ride, and the trucks and wheels are of high quality, ensuring a smooth and stable experience.
It has enough power for riders to commute on while still providing a fun and fast riding experience.
I recommend.