Hey eSkaters!
We're taking a look at the Meepo City Rider 3 which is as an affordable rendition of its celebrated counterpart, the Meepo Hurricane.
The City Rider 3 shares a lot of the components and performance specs that the Hurrcane has, however, it is stripped back to its most basic form and provides riders with amazing value.
Priced at a reasonable $899, it promises riders an unforgettable experience without making a huge dent in their pockets.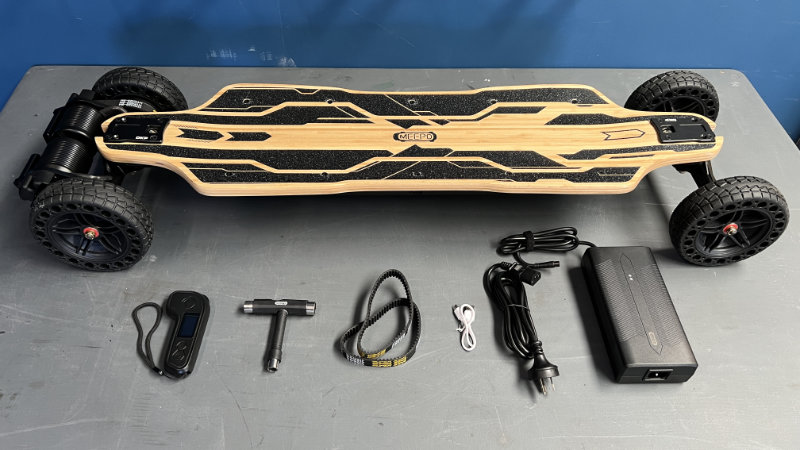 Meepo City Rider 3 Review
Deck and Design
At the heart of every great skateboard lies a solid deck, and the Meepo City Rider 3 does not disappoint in this regard.
Measuring at 37" in length and 9.5" in width, this deck offers ample space to stand confidently.
Crafted from 10-ply Canadian maple and bamboo, it's quite a stiff deck. Mostly due to the enclosure running along the entire board's length underneath.
One might initially mistake this rigidity for a lack of comfort, but in reality, there is a slight flex from the board's nose and tail, and the trucks ensure vibrations are mostly absorbed, but the increased stiffness makes it so you are completely stable at high speeds.
It's a perfect balance in my eyes.
The concave shape across the board with subtle drops at the nose and tail lets your feet snugly nestle into place, eliminating any feet-slipping. Plus the raised edges from the concave give you an increased amount of control over the deck.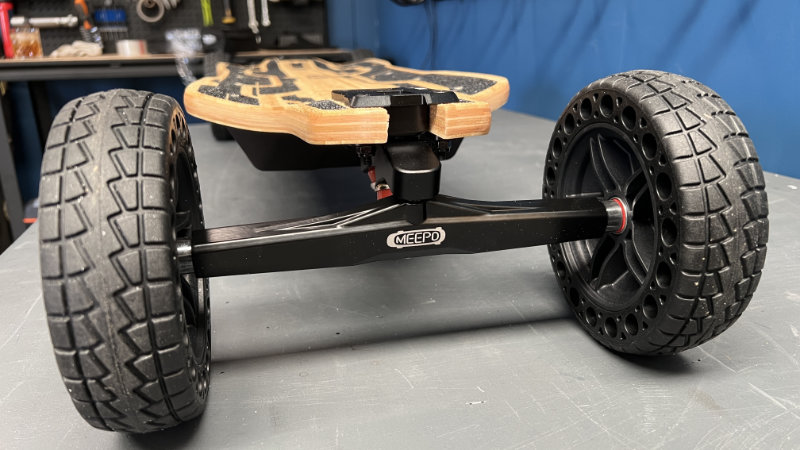 Wheels
The City Rider 3 comes standard with 150mm honeycomb, airless rubber wheels.
They are puncture-proof which is great because you don't have to worry about riding on rougher terrains fearing popping a tyre.
Whether it's paved paths, gravel trails, or short grass cuts, these wheels ensure a seamless ride.
In terms of comfort, they performed just as well as pneumatic tires, eating up vibrations from the road.
And when it comes to cornering, I'd say these do a really great job of maintaining traction, even compared to pneumatics.
And for those who love customisation, you can put wheels between 90-190mm on the City Rider 3. Just bear in mind that different wheels might call for adjustments in pulleys and belts.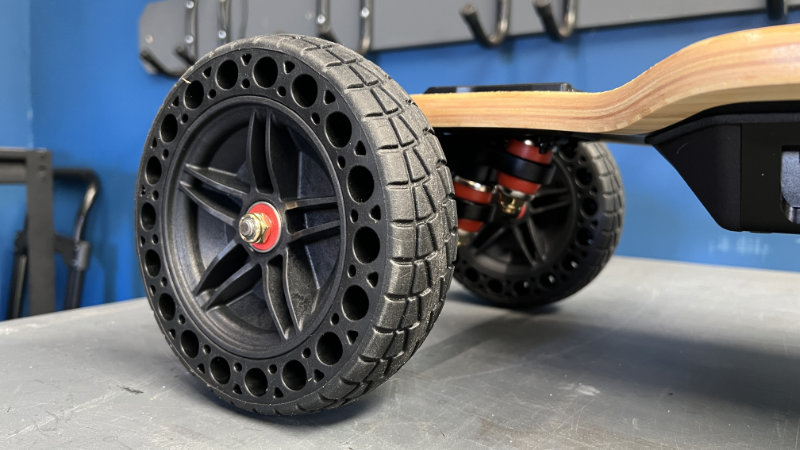 Trucks
The City Rider 3 shares the same trucks as the Hurricane which don't look like anything special, but provide great stability and control.
They are 9.25" double kingpin trucks with 100A bushings.
With the level of tuning flexibility offered, you can tailor the trucks to get the ride experience that is right for your riding style.
Whether you like to carve hard or ride really fast, you can set them up perfectly.
However, one small gripe with these trucks is that the deck side nut's proximity to the hanger, making adjustments a task that needs a spanner, rather than being able to do it with the supplied T-tool. But this is something that's seen on even the premium eBoards with DKP trucks.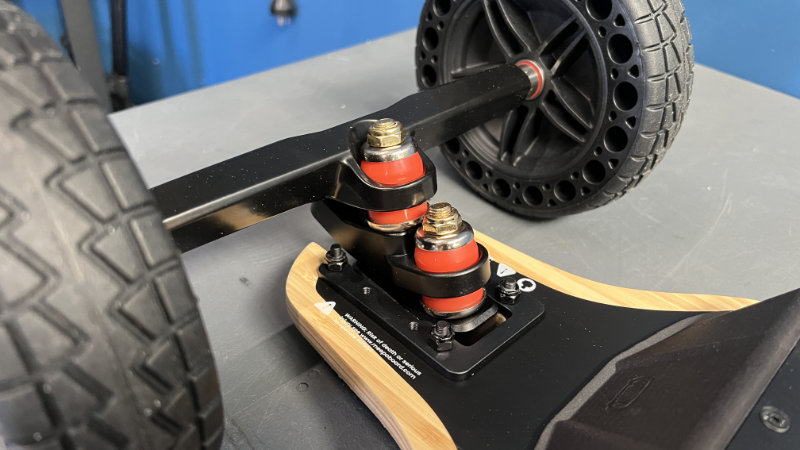 Battery and Range
The City Rider 3 houses a 12S3P Molicel P42A 12.6Ah 544Wh battery which is a beast.
The only difference between this battery and the one on the Hurricane is that the Hurricane is 4P which supplies more capacity.
With a range of 21 miles / 35km, the daily commute or leisurely rides are more than covered.
You could get plenty of smaller trips between charges, or go out for long rides without the worry of having to recharge too often.
And the included 4.5A charger ensures the battery is juiced up in just 3 hours.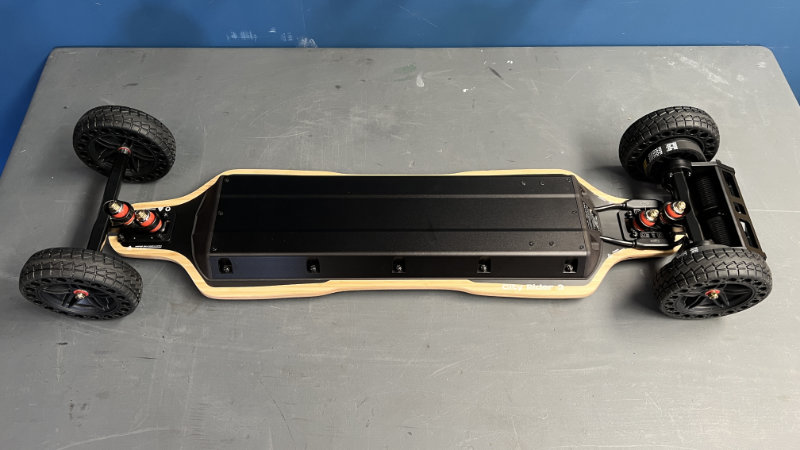 Motors, Speed, and Hill Climbing
Powering this beast are dual 3500W belt-drive motors that provide a top speed of 29mph / 47kmh.
It's not the fastest electric skateboard on the market, but at this price-point, it's amazing. It's more speed than most people will know what to do with.
The City Rider 3 has a 26% hill climb capacity, and it breezes up any hill you tackle. I was powering up some the steepest hills in my area which sit around 15-18%.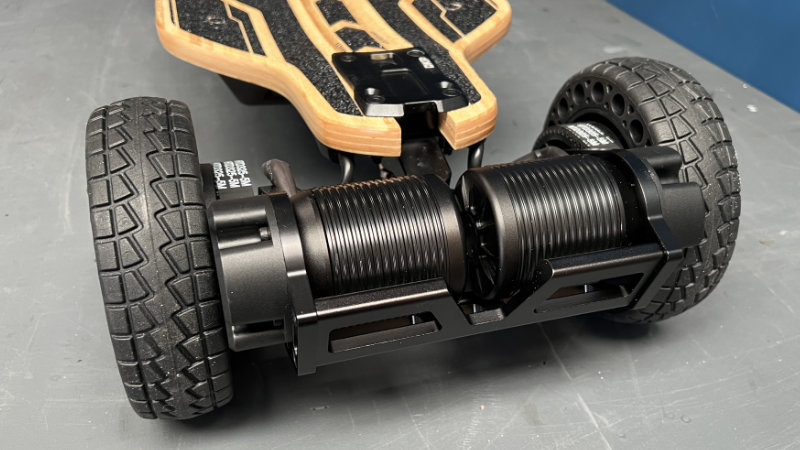 ESC and Remote
The Meepo City Rider 3 is installed with the LY-FOC ESC and provides punchy acceleration, especially in the more advanced speed modes.
Yet, the ride never feels jerky. This ESC is tuned really well.
Beginner riders should be warned to tread cautiously and get accustomed to the lower speed modes before venturing into the high-speed modes.
The M4S remote is a handy companion, giving riders on-the-go data like current speed, distance, riding mode, and battery levels for both remote and board.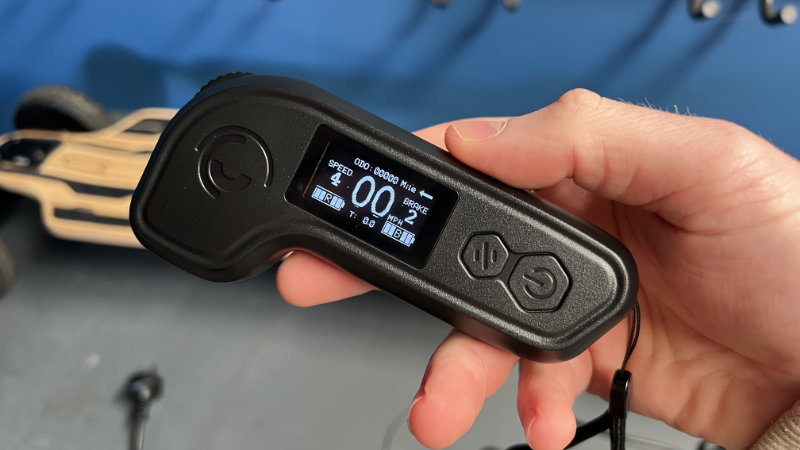 Ride Experience and Overall Quality
The Meepo City Rider 3 rides exceptionally well.
Feeling a lot like the Hurricane, but knowing it costs a fraction of the price, both surprises me and excites me.
It's the perfect eBoard to encourage new riders to the eSkate scene where they can experience the full thrill of eSkating without having to dump a load of money in doing so.
As for seasoned riders, you'll have more fun on this eBoard than most other eBoards and it doesn't come with all the hassle of pneumatic wheels.
The board itself, at 30.4lbs / 13.8kg, is definitely a tad heavy, and becomes quite cumbersome if you need to carry it around without riding. However, because of its length, it is fairly convenient to drag from the front trucks without scratching the motors and motor guards.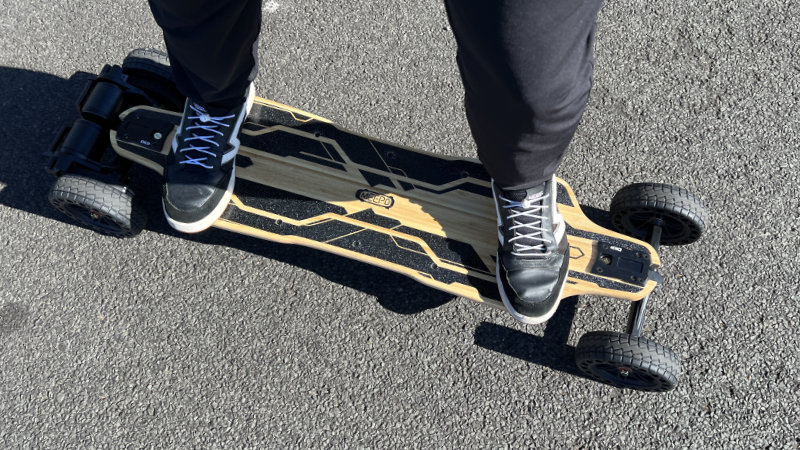 Final Thoughts
The Meepo City Rider 3 stands tall as a testament to the evolution of electric skateboarding.
With its stellar performance, and an unbeatable price point, it caters to both novice and veteran riders alike.
Despite its name, the City Rider 3 is an electric skateboard that not only dominates urban areas, but excels when you take it off the beaten track.
If a balance between performance, comfort, and value is what you seek, the City Rider 3 deserves a serious look.