Watch:
The Possway T1 electric skateboard is yet another affordable option for someone looking to buy their first eboard.
And even though there's nothing really unique about this product, that's not to say that it isn't a good electric skateboard.
Possway has stripped away anything that is not necessary to bring us a bare-bones electric skateboard that still has suitable performance with a friendly price tag to go along with it.
The Possway T1 is currently US$619, while it's sister, the Possway T2 is US$349.
Be careful not to get confused here. The T2 is not an updated version of the T1. They are completely separate products.
But in saying that, there are only two differences between the two.
The T1 has a bamboo and fibreglass deck so it's going to provide a bit of flex to your ride, while the T2 is Canadian maple and fibreglass making it very stiff.
The only other difference I could see was the battery.
The T1 has a 324Wh battery while the T2 has a 280Wh battery.
This gives the T1 a marketed range of 38km = 24mi
And the T2 a marketed range of 34km = 21mi
So, if you're deciding between the two, that $150 price difference will get you a flexible deck and an extra 4km.
Anyway, let's get back to what we're here for, and that's the Possway T1 review.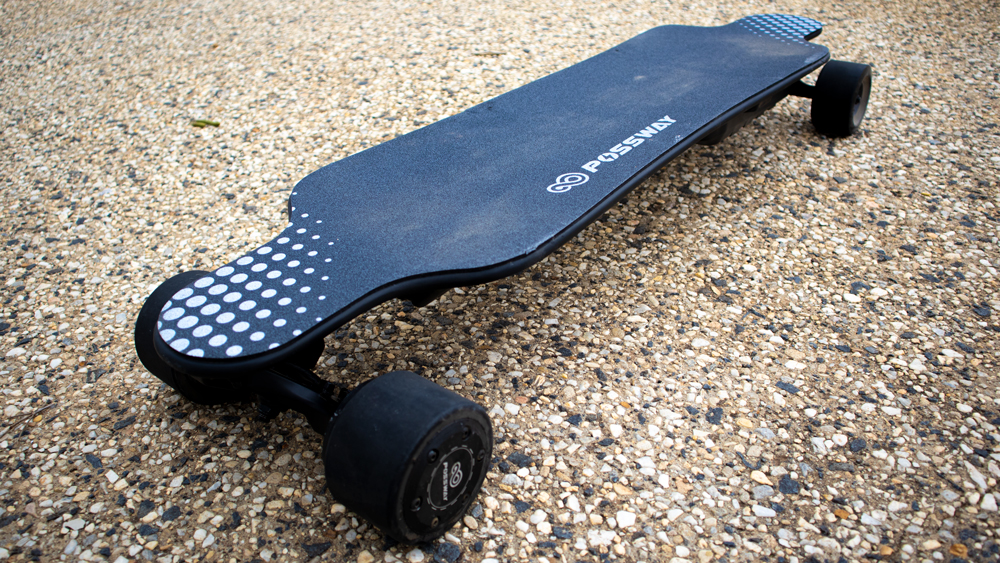 Range Test
I mentioned that the marketed range was 38km and in true eskate form, I didn't quite get that number.
The range I reached was 24.35km = 15.1 miles
That's a little bit off and I can tell you exactly why that is.
Possway tested the range with an 80kg rider in H mode doing about 25kmh on a flat road.
I'm 90kg, I rode in H+ mode at around 30kmh while doing various performance tests such as top speed, acceleration and hill climb.
Lighter riders and those of you who are going to ride more conservatively will get a lot more range out of the Possway T1 than I did.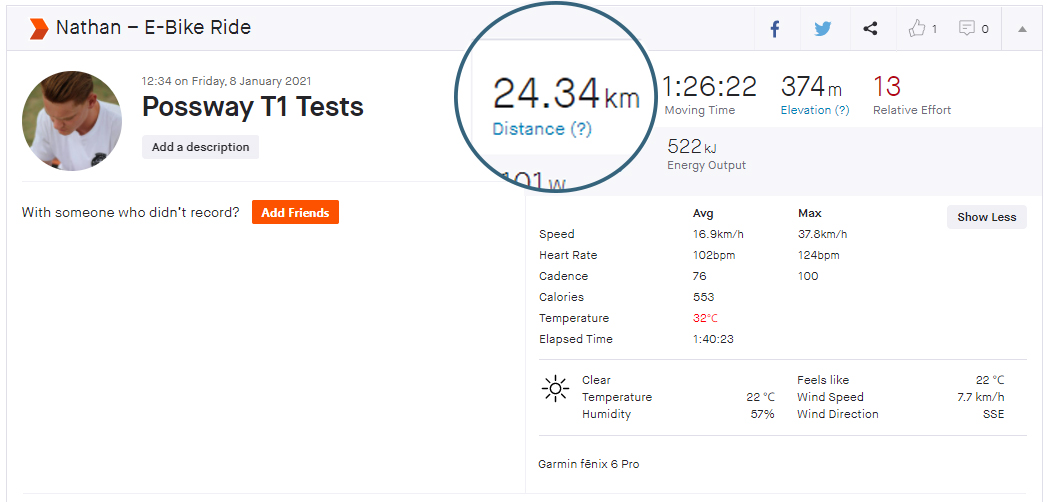 Top Speed Test
The maximum speed I was able to hit on the Possway T1 was 37.4kmh = 23.24mph
That's a bit shy of their marketed speed of 42kmh = 26mph but again, it's likely due to my weight. Nothing I can really do about it.
You featherweights will no doubt be able to get 42kms.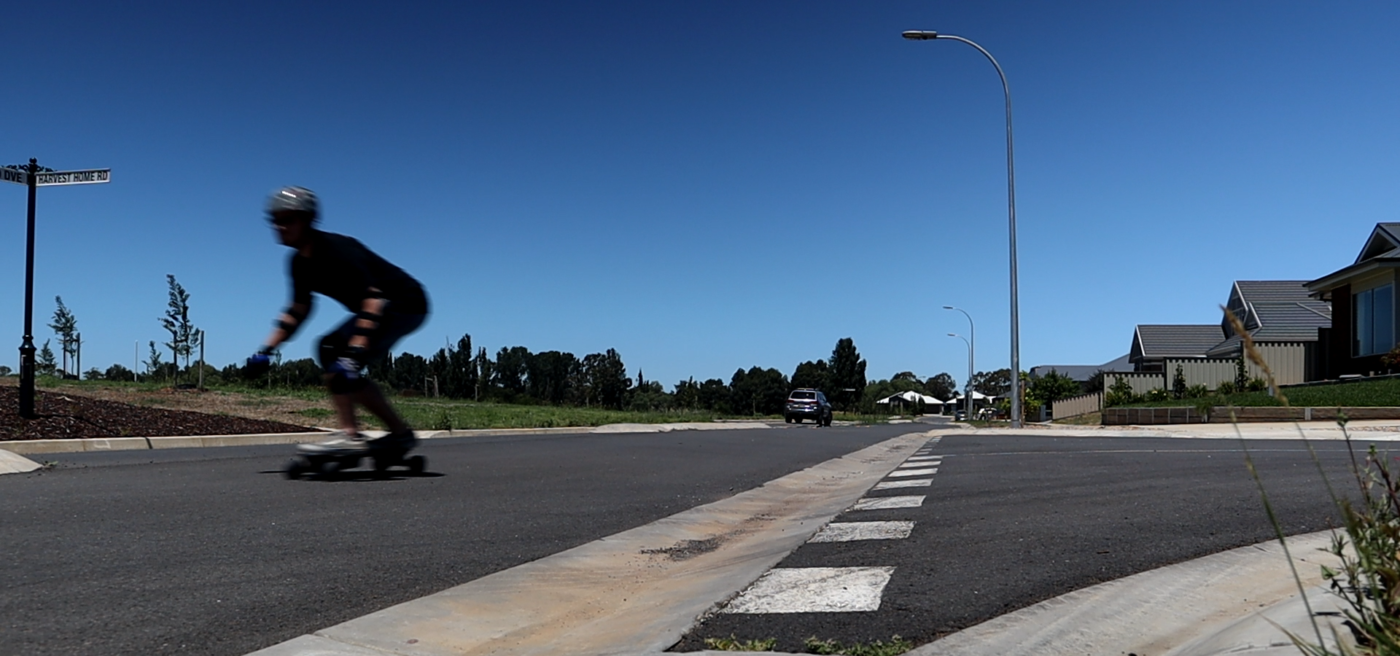 Acceleration Test
I did an acceleration test in every speed mode for you to see exactly how they differ.
If you want to watch the acceleration test, skip to 2:48 in the Possway T1 review video above.
Low mode is very slow. Great for beginners and getting familiar with the Possway T1.
Mid has a nice and gradual curve which you can instantly feel the difference between Low mode but is still totally controllable, even for beginners.
High mode is a fairly large step up from Mid and for the inexperienced, it'll take some time to adjust to the ever so slight jolt from the acceleration.
Jumping into High Plus is easy once you've nailed High. It's nice and punchy but with your new-found confidence, it'll feel smooth as butter.
For intermediate to advanced riders, you could take off in High Plus and not worry about a thing.
Braking Test
I ride in High Plus at about 20kmh and cycle through the braking modes to see how long it takes to come to a complete stop.
The same goes here, if you want to watch it, skip to 3:35 of the Possway T1 video.
Braking Mode 1 and 2 are very light so unless you're an absolute beginner, I'd recommend bumping your brakes straight into mode 3 at least.
Braking mode 3 is where you start to get some real braking power. But, ultimately, you eventually want to be able to use braking mode 4 with confidence and control.
Hill Climb Test
As far as hub motors go, the Possway T1 does a reasonably good job at climbing hills.
This hill has approximately a 15% grade and I was getting speeds of around 19kmh while riding up it.
It's not the fastest at hill climbing, but it definitely manages to do it at a pace that's not embarrassing when people are watching you riding up hills.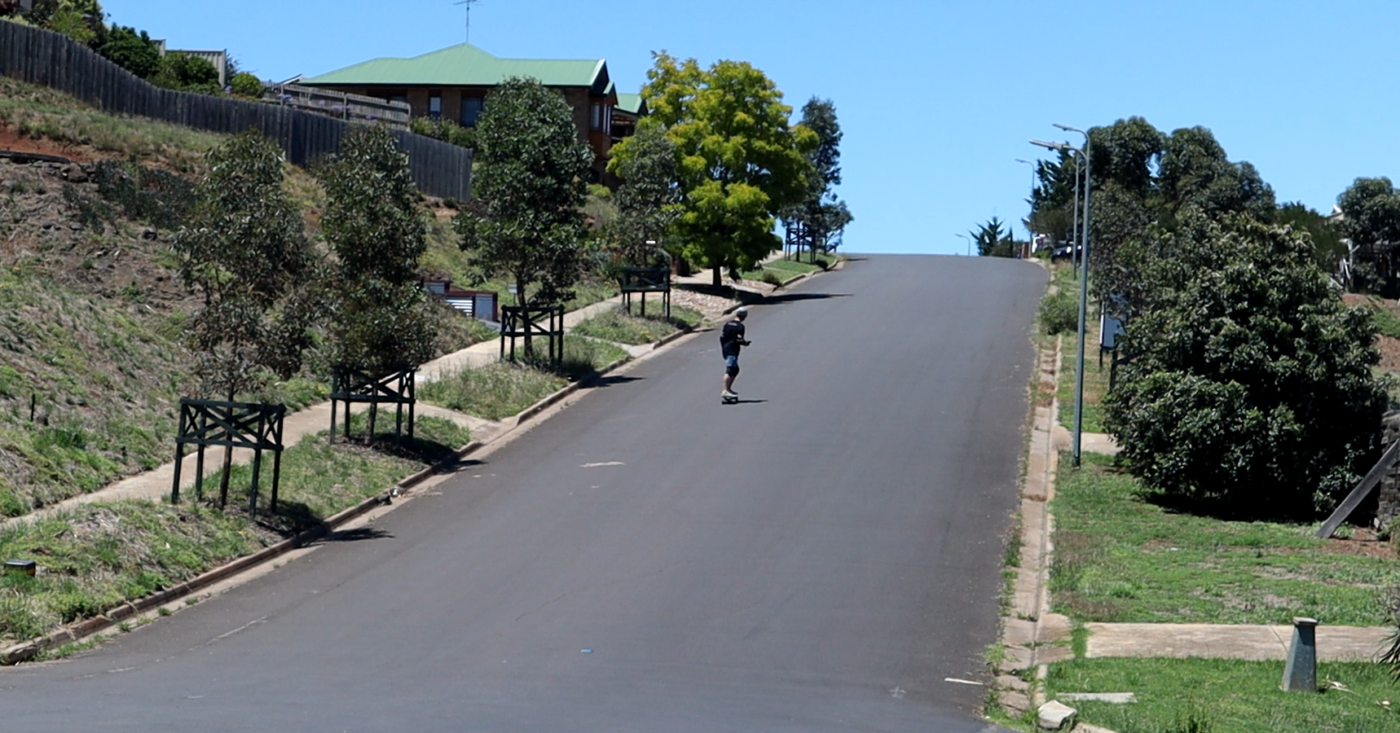 Features & Specs
A cool feature of the Possway T1 is the automatic turn on and off.
When you turn the remote on, then kick push off, the board automatically turns on and pairs with the remote.
The same goes for the end of your ride. Switch your remote off and the board will automatically turn off.
That sounds like a small feature but it offers a huge amount of convenience.
It is running a LingYi ESC which isn't all that popular in the eskate scene, however, the calibration that has been done here for the Possway T1 gives you an acceleration and braking curve that is predictable with only a slight amount of jolting.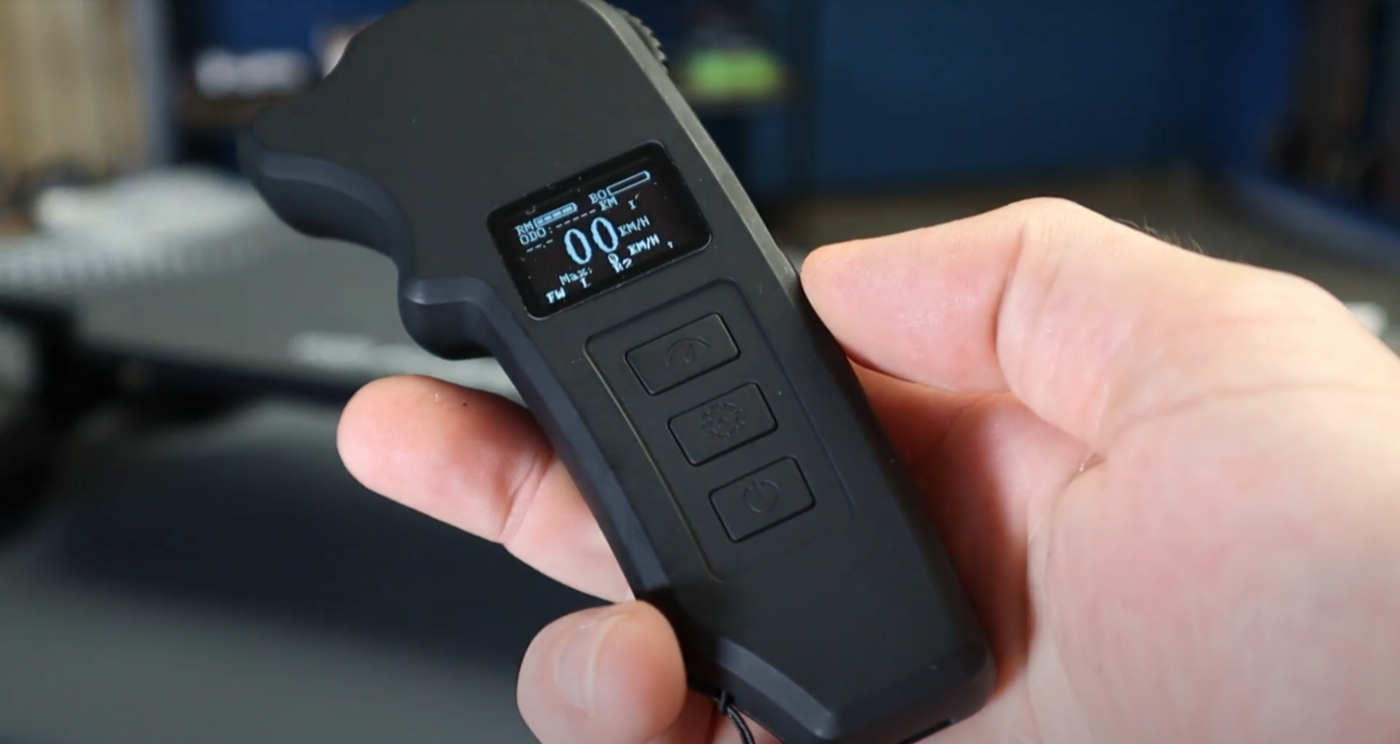 The battery is a 10S3P config running 18650 Lith-ion cells with 9.0Ah and 324Wh.
The ESC and Battery are housed in an all-metal enclosure which is great for heat dissipation, keeping your electronics at an optimal temperature to ensure you get the best performance possible.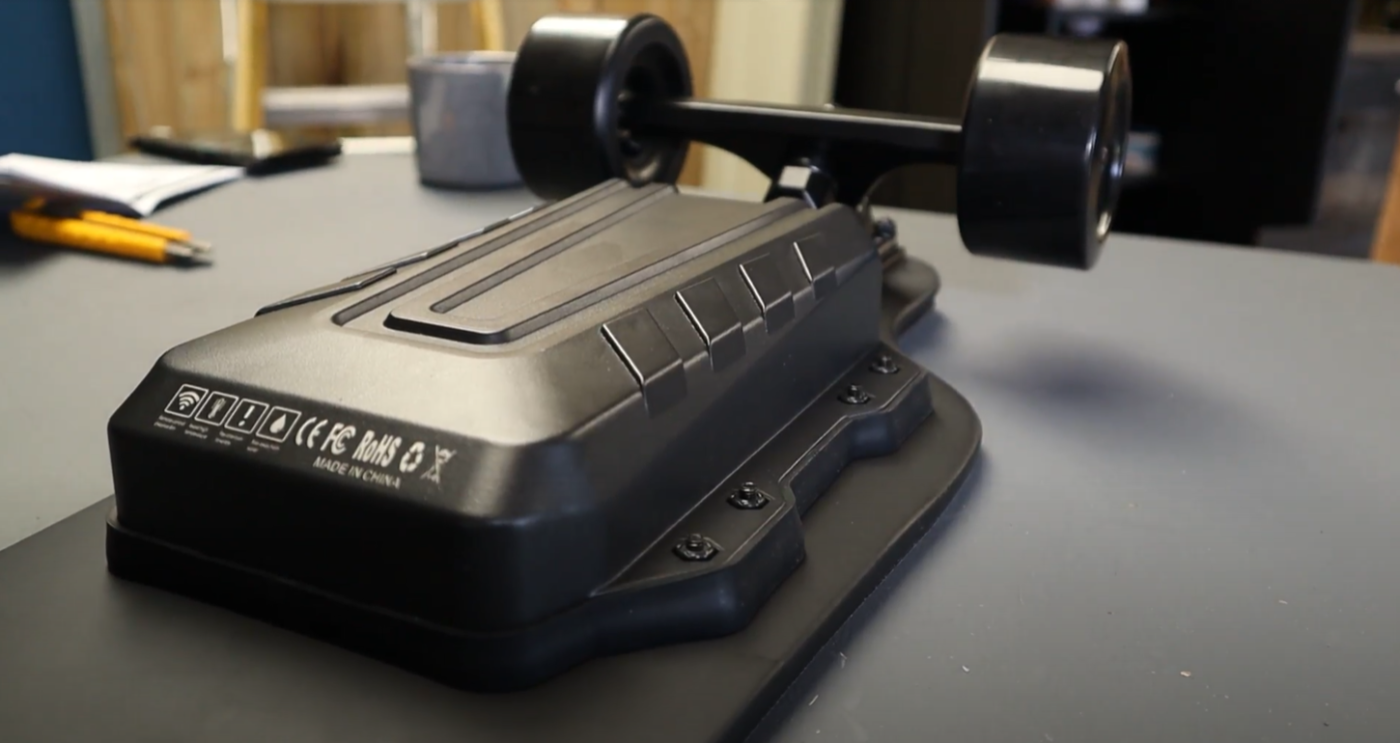 The dual hub motors have a rated power of 480W each which isn't huge, but as you've seen, is capable of generating enough power to achieve top speeds of over 40kmh and climb most hills with ease.
It has 90mm 85A wheels and 45° 7" trucks which are actually awesome. The turning circle you get on these surprised me. I was able to do complete circles in the middle of a fairly narrow suburban street.
You could also put on a set of Cloudwheel donuts to increase your ride comfort and get a small bump in top speed.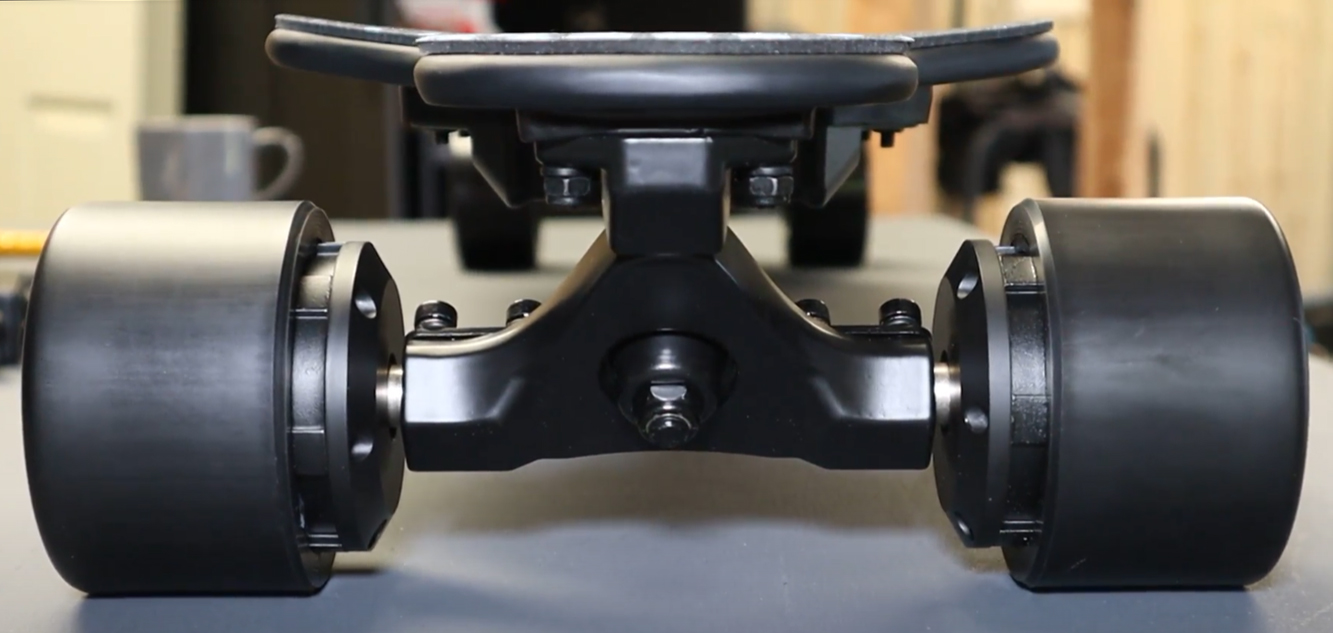 All of this sits underneath a 38" Bamboo and fibreglass deck.
It has a very minimal W-shaped concave which is big enough for making hard turns but are still small enough to prevent your feet from fatiguing too much.
Another plus is the shock-absorbing grip tape. It really does do a great job of soaking up the natural vibrations from the road, again, helping to prolong the time before your feet start to fatigue.
In The Box
You get the standard set of accessories you would get with most electric skateboards, including the remote, charger, USB-C cable, T-Tool and spare hardware with the nice addition of a deck cleaning eraser and rubber bash guards.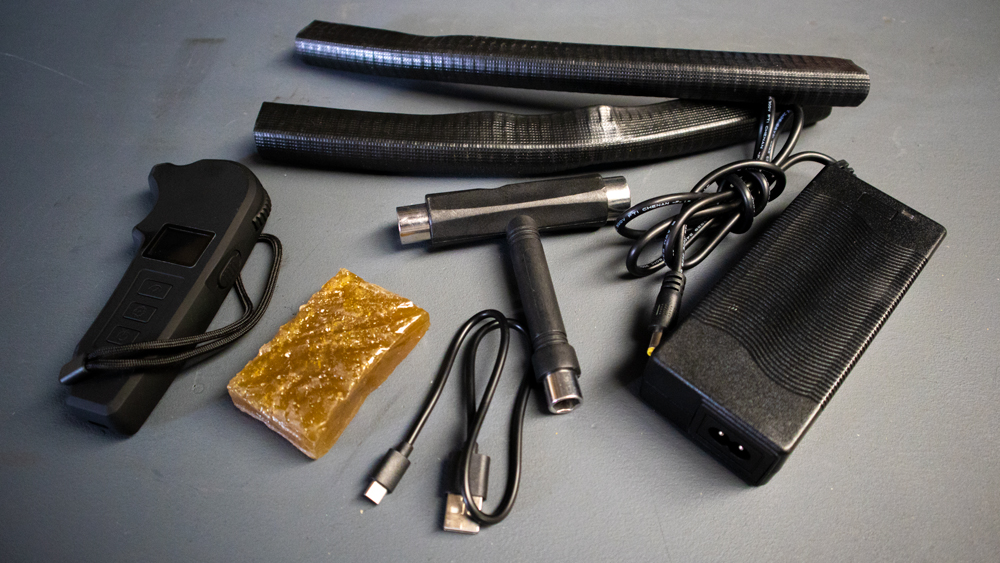 Overall Thoughts
Overall, the Possway T1 is a great electric skateboard. Especially for beginner and intermediate riders.
It is very comfortable and I felt completely confident while riding at high speeds. I didn't experience any speed wobbles.
I see most people getting this eboard as their new means of local and semi-distant transport. Perfect for commuting to work or school.
That's my Possway T1 review. I hope I've helped make your search for the best electric skateboard a little bit easier. If I have, feel free to share my review on social media so we can both help other people get into electric skateboarding!
If I've missed anything, and I'm sure I have, throw your question in the comments of the YouTube video at the top of this article and I'll get back to you with the answer!
As always, ride safe out there eSkaters.
Talk soon.
Use code ESKATEHUB for $20 OFF!

Alternatives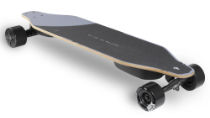 WowGo 2S Pro
The WowGo 2S Pro is an amazingly comfortable electric skateboard that you could skate for hours.