Watch:
The Teamgee H3 DIY electric skateboard kit comes with everything you need to turn a regular skateboard into an electric skateboard.
It's a great little project for young teenagers that yields a cool little electric skateboard that they'll get years of fun out of.
The H3 DIY Kit itself is $299 dollars and the only thing you'll need to supply is the skateboard deck.
I picked up a cheap $25 one from Big W (the Australian Walmart) and it does the trick.
Because it's a DIY eboard, not only will we be looking at the performance of this electric skateboard, I'll also be talking about the build process.
I'll be answering questions like how easy is it to install these Kits? What kind of tools do you need? How long does it take? Can anybody just do it?
But I won't be doing a step-by-step tutorial for the build. If that's something you'd like to see, I do go through all of that in the video review above.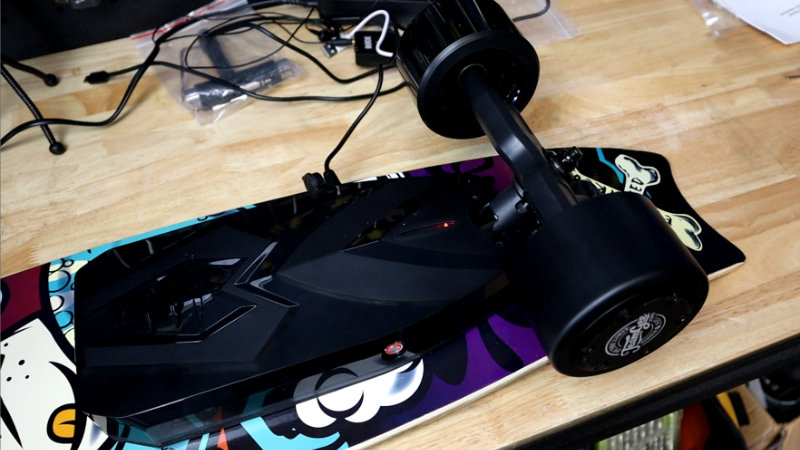 Who Is It For?
I'll tell you who it's not for. 190lb riders like myself. The reason for this will be explained when I talk about the performance tests.
The Teamgee H3 DIY electric skateboard kit is ideal for young teenagers or anyone who weighs less than 150lbs.
It's a fun eboard to cruise around on and do a little bit of carving.
It definitely gets you excited about electric skateboarding if you've never done it before.
It's perfect for riding across college campuses to get to class, or as an alternative to walking to the bus/train stop.
Installation Process
The installation process is pretty straight forward and I think anyone can do if you have the right tools.
The tools you'll need are a 3mm Allen key (hex key), pliers and the tool that will trip up most people is a drill.
You'll only need it to drill one hole in the middle of the deck to secure the enclosure, so it's not worth buying one just for this, but you also won't want to not have this hole.
Because of the need for a drill, I wouldn't recommend kids build this without some adult supervision, even if it is just for the hole-drilling part of the process.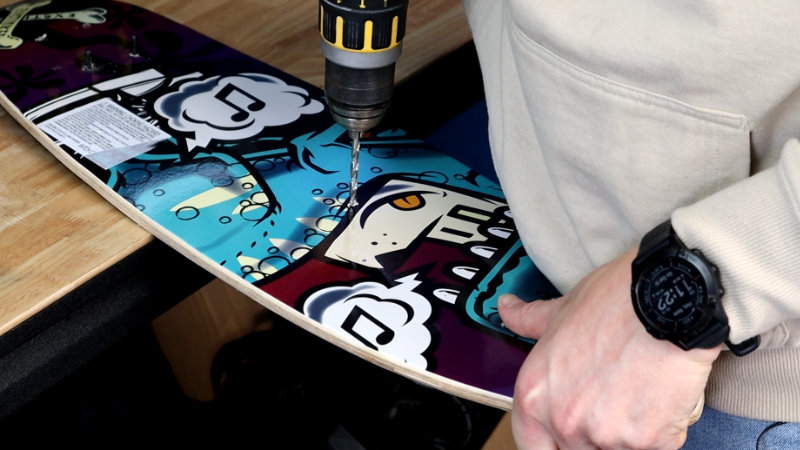 Performance Tests
This is where my testing gets a little tricky.
I weigh more than the eboards max load of 175lbs (80kg), so I got a reduced level of performance, but I have taken this into account when I give my final verdict of the H3 DIY Kit.
Range
The range on the Teamgee H3 DIY kit is 6.2 miles (10km) which is fairly acceptable for an electric skateboard of this price range and component specs.
It's not really long enough to be a commuter eboard, unless you really don't have that far to go, but it's great for the distance you'd usually walk in the spaces between, your home, office and the bus stop or train station.
Top Speed
The Teamgee H3 DIY Kit is fitted with a single 400W hub motor which can get riders to a top speed of 16mph (26kmh).
That's not going to break any land speed records, but I think it's ample speed for your regular cruising.
Most of the time I wouldn't be riding too much faster than that on any other electric skateboard anyway.
Hill Climbing
It's rated to have a 15% hill climb ability, but I wasn't able to ride up a 10% hill without the board slowing to a stop.
Again, that largely comes down to my weight.
Lighter riders, sub 155lbs (70kg) will have no issues climbing hills of a 15% grade. I just imagine it won't be flying up them.
Acceleration and Braking
The Remote is very basic but has everything you need for a carefree cruise around town.
When it comes to the acceleration of an electric skateboard, there's a fine line between smooth and slow.
I keep going back to my weight, which annoys me just as much as I think would be you, but it's true.
The acceleration felt slow to me. The single hub motor wasn't able to give me the gas I am used to.
But when I put myself in the skate-shoes of a teenager, the acceleration is more than enough.
It sits in that sweet spot of enjoyable and safe.
The brakes are very light (insert my weight excuse here), but I think they are just what a teenager needs. Not to mention, the brakes will be more responsive with a lighter rider.
It's easy for inexperienced riders to become overwhelmed as they start to pick up speed and when that happens, their gut instinct is to slam on the brakes.
If they're not ready for it and the brakes are too strong, they will be sent flying forward.
The gradual nature of these brakes helps to prevent this from happening.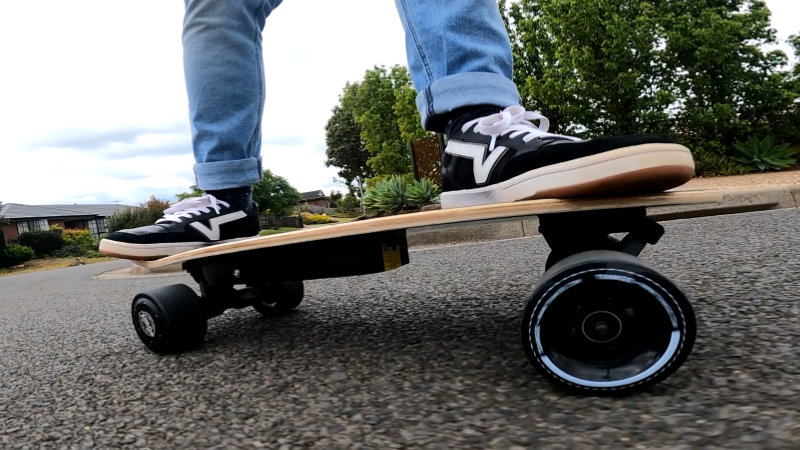 Final Thoughts
Overall, taking into account who this eboard is designed for, I think it is a great option as a first electric skateboard for teenagers.
It's easy to install, maintain and has performance that is suited to beginner electric skateboarders.
For under $300, I don't think you can go wrong with this one.
Alternatives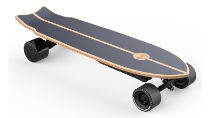 Teamgee H20 Mini
The Teamgee H20 Mini is a robust short electric skateboard that challenges most boards when comes to range capability.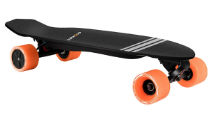 enSkate R3 Mini
The enSkate R3 Mini is a great value short electric skateboard, especially for the price point it is at.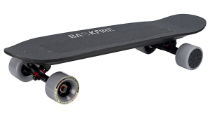 Backfire Mini
The Backfire Mini is a great pocket-rocket that is compact and easy to store.