Summary of Meepo Mini Dual Review
Meepo Mini Dual is the cheapest Meepo product which is designed for children. The board comes in three different designs to offer some colour variety and uniqueness. 
But what about the overall performance? Will the Mini Dual be as good as its adult-based competitors?
We'll show you everything you need to know to answer that question.
Meepo Mini Dual Review
Pros
Easy to ride and use, which is perfect for kids
Shredder trucks to ensure a smooth ride
Dual silent motors that have a good top speed for children
Travel-friendly battery.
Very portable
Cons
Takes a long time to charge
Low load limit (because it's designed for kids)
Deck
The Meepo Mini Dual's deck is made of 7 layers of premium Canadian maple wood. This makes it a very stiff deck without any flex.
This is ideal for a board of this size and the target market, being kids and young teenagers.
It's extremely light at only 12lbs 5.5kg, making it easy to carry around when you're not riding it. In addition, the deck is relatively small, so it's a very portable electric skateboard.
The maximum weight it can handle is only 110lbs / 50kg, which is really quite low, but fits the profile of being an electric skateboard for kids.
If you're a bit heavier, you'll still get away with being able to ride it, but you'll get a significantly lower range and acceleration power.
The deck has a little concave. Not as deep as the Meepo V4S, but it's not flat either. It's kind of perfect because it's not too much that it feels uncomfortable, but there's enough there to be able to help you when making hard turns.
On top of that, the kicktail is one of my favourite features because it makes it so much fun to ride. If you're any good, you can drop off curbs, tictac around corners and manual.
It also helps by allowing you to 'hop' over bumps and cracks if you know how to do that sort of thing.
The last feature I want to mention about the deck is that it has small wheel cutouts. An often overlooked feature that has great benefits.
This makes sure that the wheels don't touch the deck when you're doing sharp turns. Because if that were to happen, it can make your wheels stop suddenly, and throw you forward off the board. So, I'm glad to have them.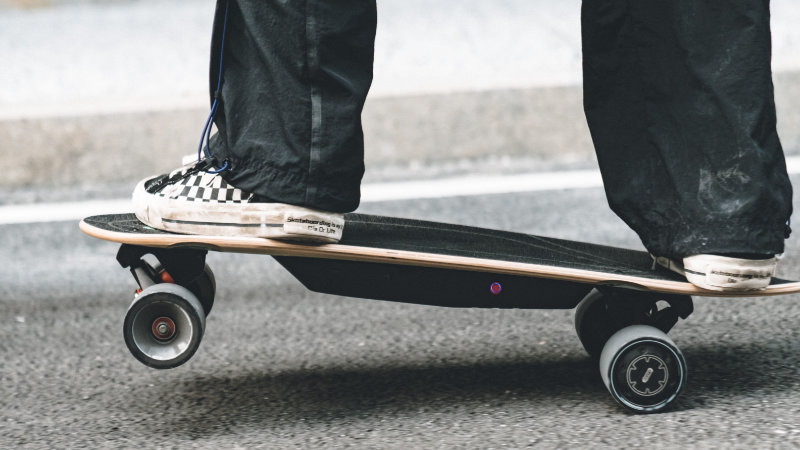 Battery
Being a light eBoard with a low rider weight limit, the Mini Dual has a humble 72 Wh battery. 
It can take you up to 7 miles, which for most kids to play around on, is plenty.
I found that the average ride with uphill and downhill streets drained the battery within 5–6 miles. 
But the range is going to vary for everyone depending on weight, riding style and road conditions.
One advantage of this battery is that it is air-travel friendly. And being that it has a portable form factor, it makes it a great travel companion.
There's really no better way to see a new city than cruising around on an electric skateboard.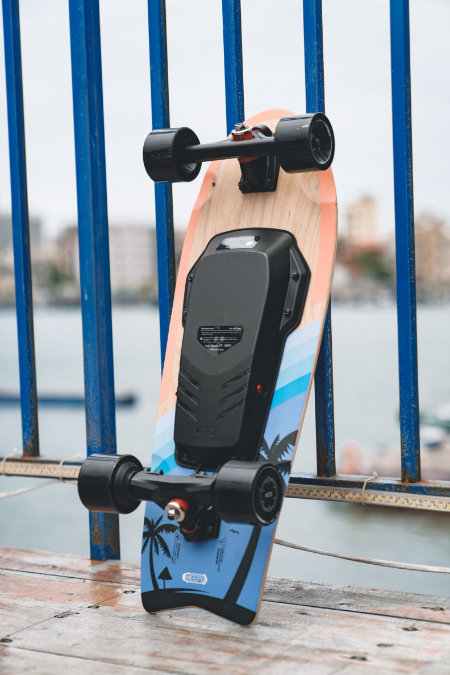 Motors
The Meepo Mini Dual has dual 200W hub motors which although are on the low end of power these days, it still feels like enough for an electric skateboard aimed at young teenagers.
It can take you to a top speed of 18 mph / 30kmh which is still quite fast for kids. Even adults cruise at this speed most of the time. 
The motors have 4 different levels of speed and power. The first 3 levels have the same acceleration, with level 3 reaching the top speed of 18 mph.
Level 4 doesn't increase the top speed, but the improved acceleration gets you there faster. We recommend not using level 4 unless you're comfortable with the other levels. It has a kick and might take you by surprise.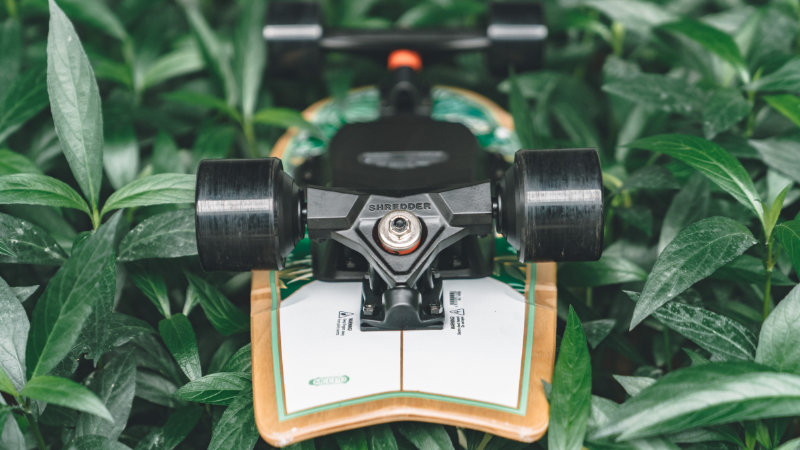 Trucks and Bushings
The Meepo Mini Dual comes with their super popular 50° Shredder trucks.
They give you more impact resistance and make it easier to make sharper turns.
The bushings are a bit toward the harder side at 92A. I'd probably like to see a softer bushing for kids to help absorb some of the vibrations, but that's something that comes down to personal preference and is easy to customise yourself if you need.
The trucks were quite loose out of the box, so definitely give them a tighten before you head out. And then you can loosen them off as you get more confident with the handling.
Wheels
Meepo Mini Dual has 75mm wheels, which are smaller than your average electric skateboard wheels, but are really quite perfect for this eBoard.
The shorter deck means your weight is spread over a shorter distance. If you were to have larger wheels, your centre of gravity would sit too high and cause instability. These smaller wheels prevent that and make for a more agile and stable ride.
The wheels felt grippy and solid on most roads and paths. However, you should be cautious at high speeds and avoid riding this eBoard on imperfect surfaces or wet areas.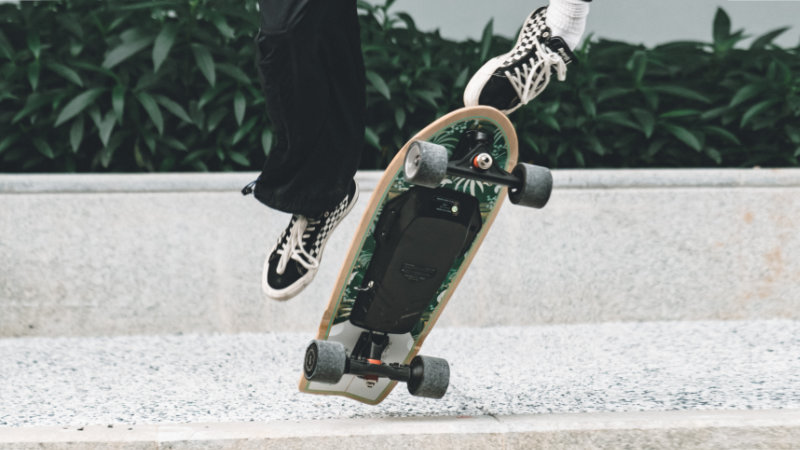 Remote
The remote controller of the Mini Dual is a small model known as the M5.
It doesn't have a screen, so you can't tell how fast you're going. However, it does have LED lights to display the board's battery level.
Aside from not having any access to ride data, the M5 remote still does a great job of doing what it's supposed to do, which is to control the speed of your electric skateboard.
It accelerates at a rate you would expect when you push the thumbwheel forward and the brakes are hard to enough to bring you to a complete stop within a safe distance with any jerkiness that might throw you off.
I do want to note here though that you need to be prepared for the acceleration and braking because not bracing yourself at all will almost certainly have you ending up on the ground.
It's a very small remote. I don't have the biggest hands, and still it felt quite small in my hands.
But, I need to remember that the Mini Dual isn't designed for me. It's for kids, and for that reason, I'd say the size of the remote is almost perfect.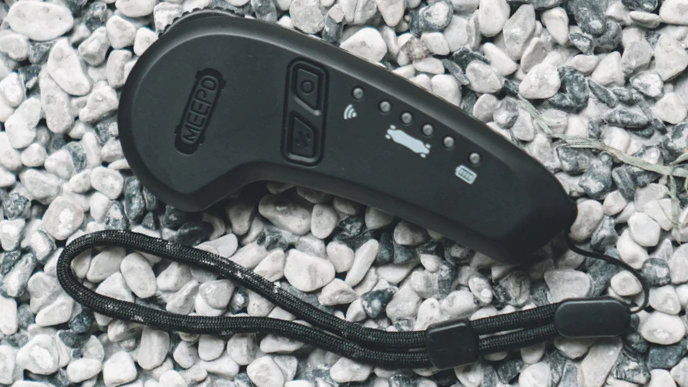 Charger
The Mini Dual's standard purchase comes with a 0.4A charger that takes around 5hrs to charge.
So, I highly recommend you get the 2A fast charger which can charge the whole battery in less than an hour. 
And it's only $30.
Keep in mind that chargers of other Meepo boards begin at 3A. Therefore, we don't recommend using those on your Meepo Mini Dual as they may harm the battery.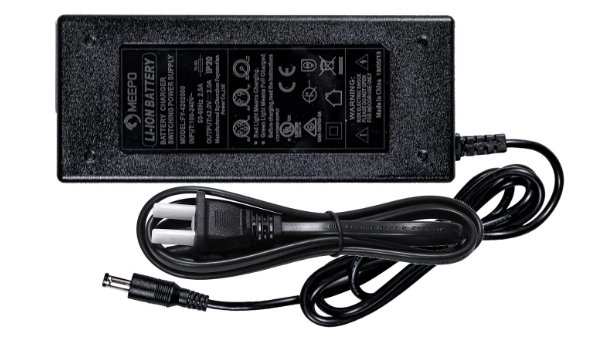 Customer Reviews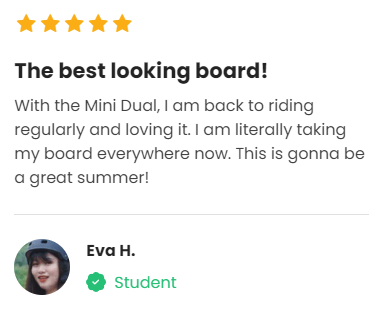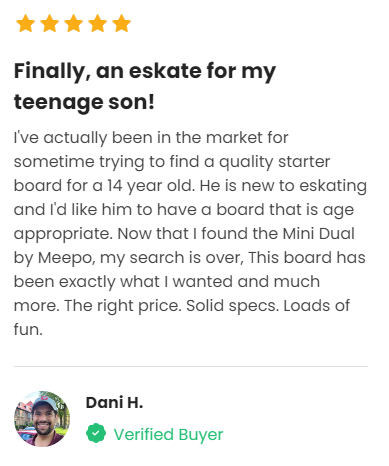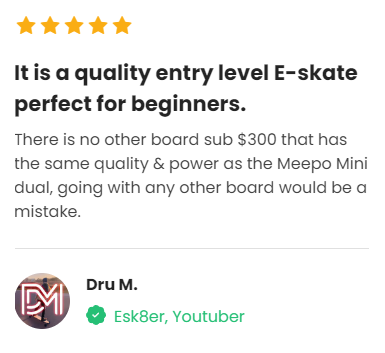 Final Thoughts
The Meepo Mini Dual is a great option for children and teens up to 18 years old. The board is still good for older ages, but the speed, acceleration, and battery will suffer with the increased weight.
It's also worth considering as a 'muck-around' eboard that you can use to try out some tricks and have a bit of fun with.
The small wheels and kicktail make it a lot of fun to ride around on.