Watch:
Intro
The Possway V4 is an entry-level electric skateboard that is extremely affordable.
The price is only $299 and as you'll see further into this review, it is amazing value-for-money.
Plus, you can use the discount code ESKATEHUB at checkout to get another $15 off.
Using that code helps me out a little bit, so thanks in advance if you do happen to use it.
I recently reviewed the Possway T1 which is more geared towards intermediate riders and I absolutely loved that eboard, so I am excited that I get to review the V4 as well.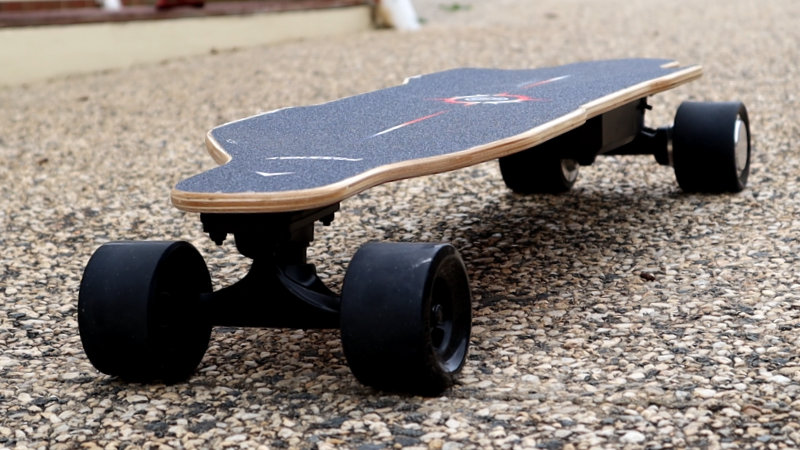 Features and Specs
It's a concave deck and only has a very slight flex to it. In my opinion this is exactly what you want in a beginners eboard because too much flex will make it hard to find your balance, while a deck that is too stiff fails to absorb bumps making it somewhat scary and unnerving when riding.
It has 83mm wheels and 8¼" trucks which give the V4 great manoeuvrability and precise control.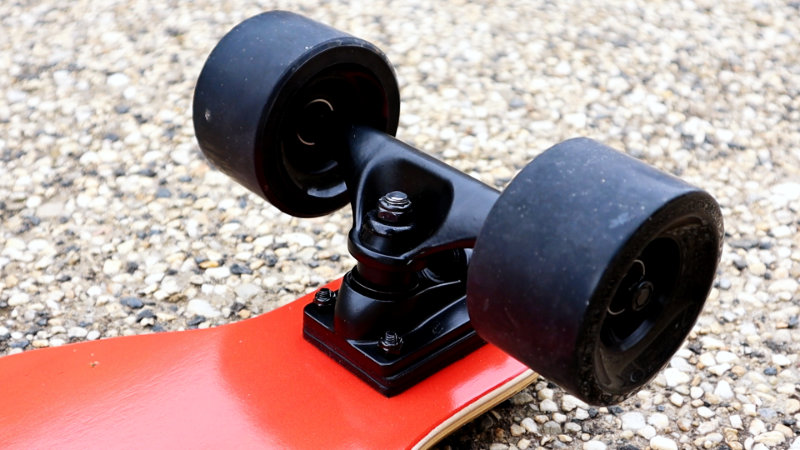 It's running dual 350W hub motors powered by a 7S2P 18650 4Ah battery which puts it on the lower end of the scale in terms of eskate power but that helps it to stay in the upper end for affordability and beginner-friendliness.
Because of the smaller battery, there is only the need for one enclosure that stores both the battery and the ESC. This keeps the weight down so it's easier to carry around if need be.
Also on the enclosure is a battery level indicator which is really handy to have to be able to quickly check how much juice you have before heading out.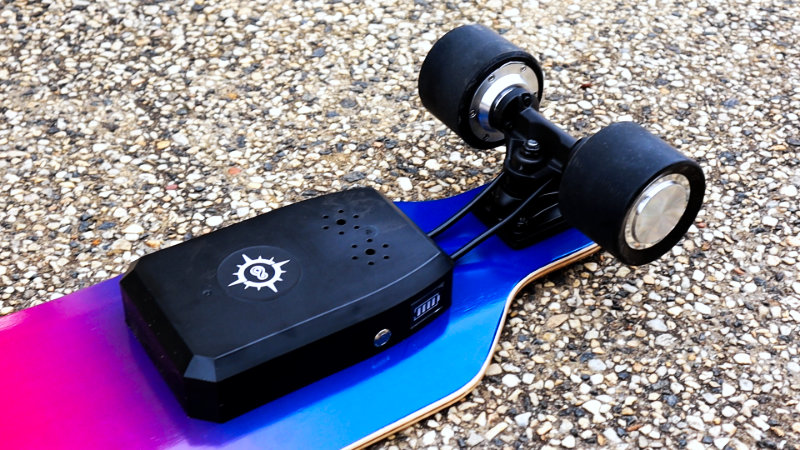 The remote is straightforward with three speed modes that you can easily flick between with the slider on the side, reverse and battery level LED indicators.
My favourite thing about the Possway V4 is the auto on/off feature. All you have to do is turn the remote on, get the wheels rolling, the remote and board will connect automatically and away you go.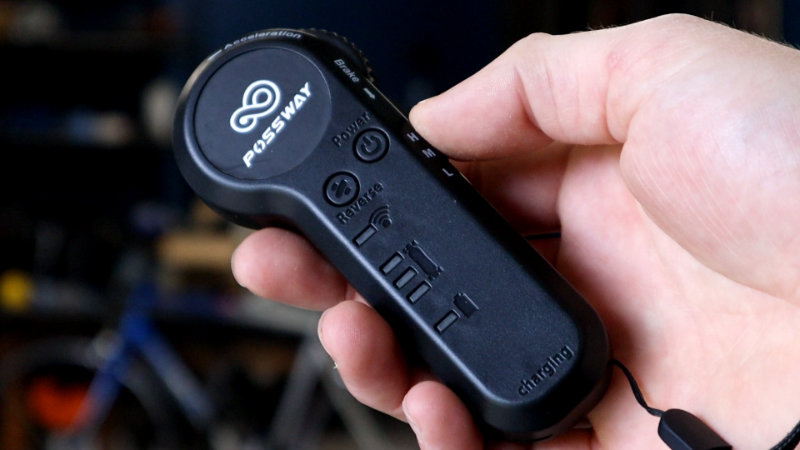 Range Test
The marketed range on the Possway V4 is 10 miles (16km).
Now, I think it's a bit unfair for me to base my review on the range that I personally got on the Possway V4 because I weigh 90kg which is 198lbs and this eboard is really designed for someone who weighs something more around the 60kg or 132lb mark.
Still, here's my data for reference.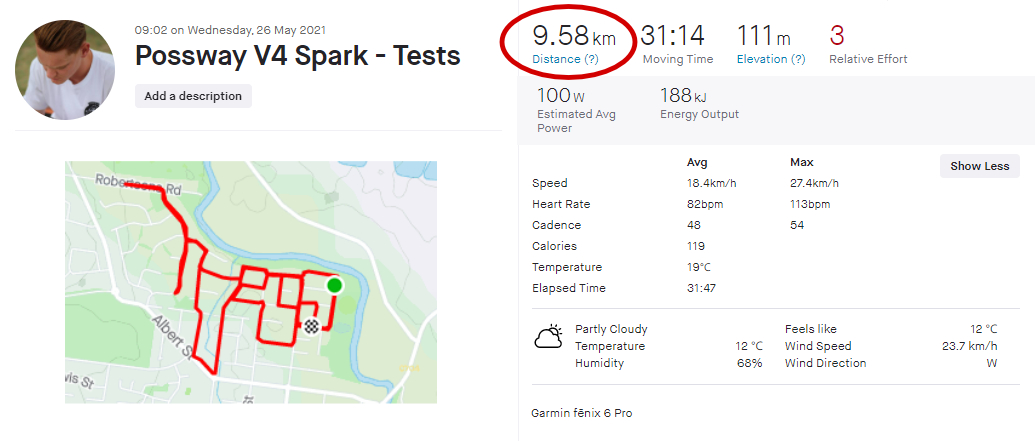 I ended up getting 6 miles (9.5km) which is what I expected.
Remember, this is a beginner electric skateboard for youngsters.
So, A, it's probably not necessary for them to have a really long range capability,
And B, the riders are going to be lighter allowing them to get closer to that marketed range in the first place.
Top Speed
Possway has specced the V4 to have a top speed of 15mph (25kph).
Out on my test, I hit a max of 17mph (27.4kmh).
To be fair, this top speed occurred on a stretch of road that had the tiniest decline of -0.7%, which is hardly noticeable when you're out there riding.
Despite that, I consistently hit 15mph (25kmh) throughout my ride, so I have confidence that the V4 has the max speed that Possway say it has.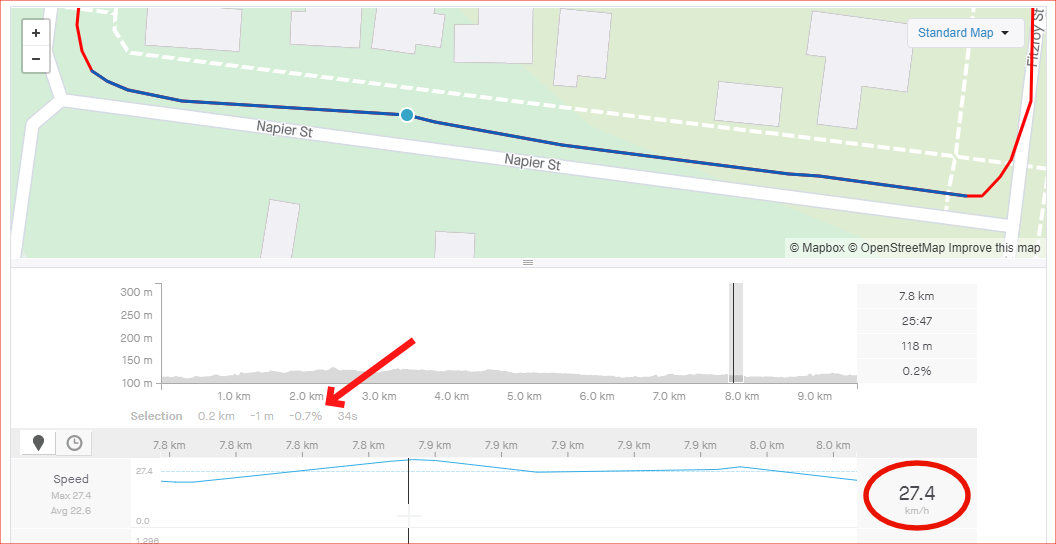 Acceleration
The acceleration on the Possway V4 is dialled in perfectly for beginners.
It is incredibly smooth, without any jerking and has a nice and gradual curve up to its top speed which just gives the rider so much confidence when accelerating.
You would be hard-pressed to get thrown off this eboard, even for beginners.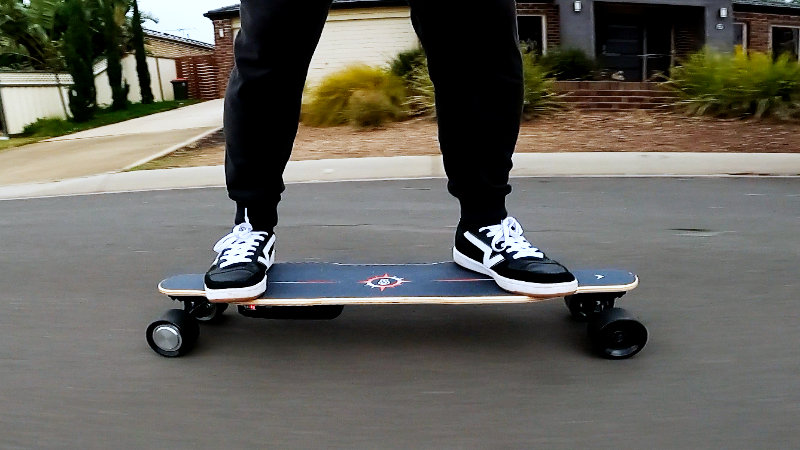 Braking
The braking on the Possway V4 is pretty much a mirror image of the acceleration.
It is very gentle and doesn't have any unexpected jolting that might cause you to be thrown forward.
From a first-timer perspective, I think the braking is perfect.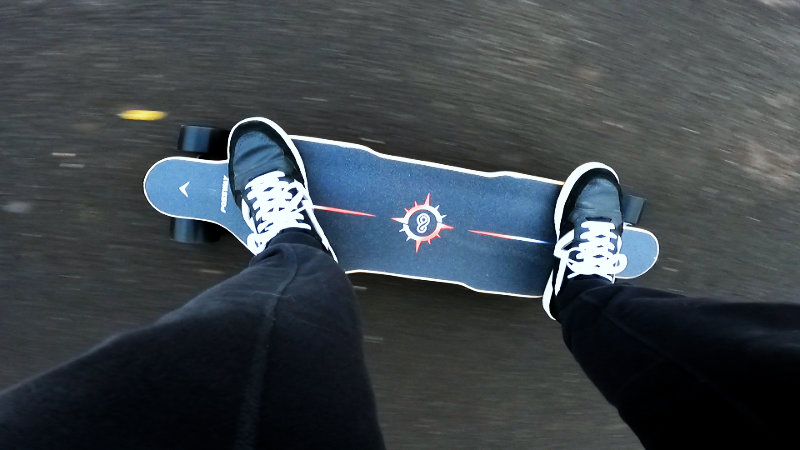 Hill Climb
I'll just be blunt here and say that the Possway V4 was unable to pull me up a hill with a 12% incline.
But we have to remember, that this electric skateboard is not designed for me, nor anyone else that weighs in excess of 80kg or 176lbs.
Those who are a lot lighter will see better performance on hills than I did.
Also keep in mind that 12% is quite steep, the majority of hills you're going to come up against will float around the 10% grade. Unless of course, you live in a really hilly area.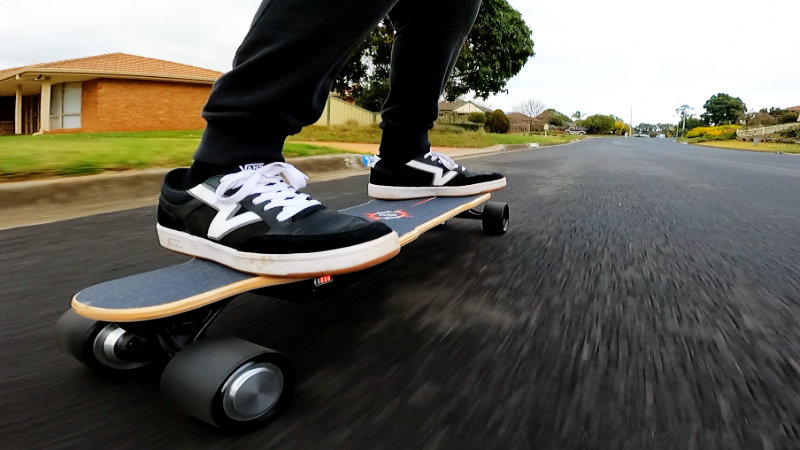 Final Thoughts
Overall, the Possway V4 is a great beginner electric skateboard.
Ideal for students riding around campus or for a fun little machine to whip around with their friends.
On the Possway website, it states that the max load is 100kg or 220lbs but I really wouldn't recommend this board to anyone over 80kg. You just won't be able to get the benefits out of it that you could get with something else.
A big drawcard for the V4 is the price. It's one of the best value electric skateboards under $400 which I think is hard to beat.
Use code ESKATEHUB for $20 OFF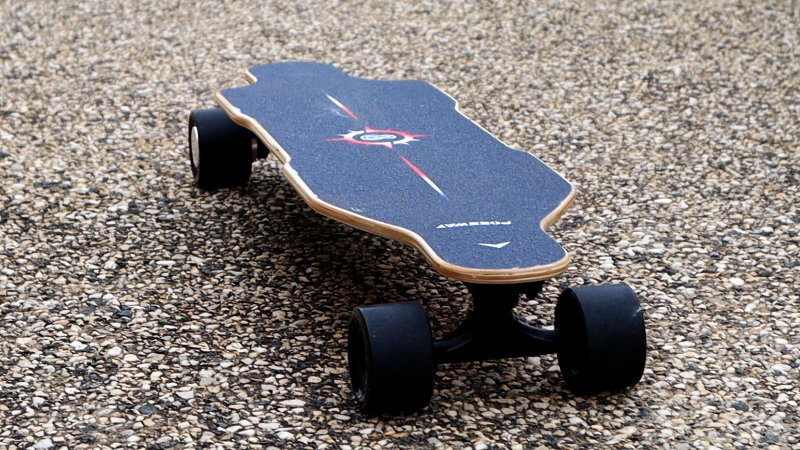 Alternatives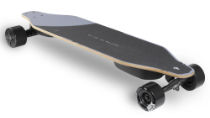 WowGo 2S Pro
The WowGo 2S Pro is an amazingly comfortable electric skateboard that you could skate for hours.