The Best Electric Skateboards Of 2022
The brands featured on this list compensate me if you purchase their products. This does not influence my opinion of a product or determine the position in this list. My goal is to provide you with the best information to find your perfect electric skateboard.
ALSO CONSIDER: Best Off-Road Electric Skateboards || Best Mini Electric Skateboards || Best Electric Skateboard DIY Kits || Best Cheap Electric Skateboards || Best Electric Skateboards For Kids || Fastest Electric Skateboards
Here's a refreshing look at the best electric skateboards that are actually worth spending your hard-earned money on.
It's completely up-to-date and only contains eboards from reputable eskate companies…
Putting together a "best electric skateboards" list is extremely difficult, as every rider has different needs and a unique riding style.
So what this list aims to do is give a broad overview of the best electric skateboards that would meet the majority of eskaters' needs.
I've kept this list of eboards to products that are under $2,000. I've done this is because electric skateboards that are over this price point are more or less going to be great products, however, I don't think you need to spend that much to get an electric skateboard that has everything you need.
show less
The Best Electric Skateboards
My pick for
Best Electric Skateboard Overall
Meepo NLS Pro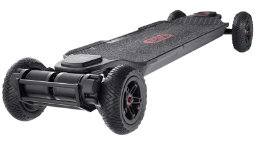 Best Price Below
on Meepo's website
Meepo Hurricane
4.9 / 5 | eSkate Hub Review
The Hurricane is Meepo's top-of-the-line electric skateboard and it competes with many of the "premium" eboard manufacturers.
I'd even go as far to say that the Meepo Hurricane is a premium electric skateboard.
You'll be able to ride anywhere you want without the the fear of the battery going flat thanks to the huge battery and range capabilities.
And the top speed will have you tearing up at the eyes.
In terms of hardware, they've used top quality parts so you'll spend less time trying to fix things and more time riding. This saves you money in the long run and keeps you safe when riding.
I put the Meepo Hurricane at the top of this list because it acts as a symbol of the entire company, however, they have many other great eboards that suit riders of all styles.
So, if the Hurricane doesn't quite tick all of the boxes for you, then be sure to check them out here.
Pros
Full carbon deck with enclosed electronics for extra protection from water and dust
Reputable brand
2-in-1 capable of tackling most terrains
Amazing range capabilities
Cons
Price is creeping up (for a once-budget brand) but it's still great value-for-money
Battery: 12S4P Molicel P42A 725.8Wh
Motors: 2x 3500W Belt-drive motors
ESC: CUSTOM LY-FOC 70B
Deck: 3K Carbon Fiber
Wheels: 155*50mm (All Terrain) / 90*62mm (Street)
Trucks: Double Kingpin
Warranty: 6 months
My pick for
Best Electric Skateboard For Most eSkaters
Meepo NLS Pro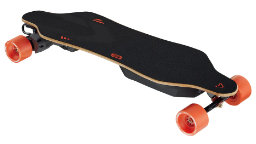 Best Price Below
on Meepo's website
Meepo Voyager
4.8 / 5 | eSkate Hub Review
The crew from Meepo Board have spent many years developing and refining their products and the result is a relatively affordable yet still very powerful electric skateboard.
As soon as you step onto the Meepo Voyager for the first time and take it for a spin, you'll instantly be hooked.
The slight flex in the deck is comforting and absorbs a lot of the vibrations from the road.
You have total control with the new Meepo ESC 3.0 which brings smooth and powerful curves to your acceleration and braking.
I have put the Meepo Voyager at the top of this list because it represents the entire company. But they have many other great eboards to suit riders of all styles from all-terrain to shortboards.
Pros
Great value-for-money
Reputable brand
It's really fast
Has a great range
Cons
Price is creeping up (for a once-budget brand) but it's still great value-for-money
Battery: 12s3p 518Wh (X) / 12s2p 346Wh (S)
Motors: 2x 2775W Belt-drive motors
ESC: LY-FOC 55B
Deck: Bamboo and fiberglass
Wheels: 90mm Street
Trucks: Forged 50° RKP
Warranty: 6 months
My pick for
Long range and carving
Maxfind FF-Belt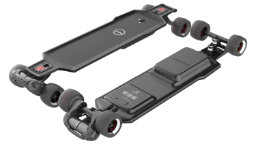 Use Code ESKATEHUB for 5% OFF
on Maxfind's website
Maxfind FF-Belt
4.3 / 5 | eSkate Hub Review
The Maxfind FF-Belt is a fantastic electric skateboard that floats between being a commuter eboard, a carving machine and a long-range weekender to take adventures on.
The range is extendable by buying extra battery packs. The top of the deck has a quick swap battery system so you can switch out the batteries really easily.
The factory-stock Cloudwheels are great for riding on less-than-perfect paved roads and for a little compact gravel riding.
If you want to do a little more off-road riding, then the Maxfind FF Plus AT is your answer. It's a hub motor e-skateboard equipped with a set of integrated all-terrain motors and is absolutely wicked.
The carbon fibre deck is compliant, meaning, it responds precisely to your feet movements. This means you'll always feel in control of the board.
This paired with the Double kingpin trucks gives it that amazing carving feeling like you're out on the snow or catching a wave.
One small feature that is easily overlooked is the integrated handle. It is at the nose of the board so you can pick up one end and roll it along next to you.
If you're not a fan of the belts, check out its little sister, the FF-Street which is pretty much the same eboard but it has hub motors and street wheels.
Pros
Easy swappable battery for extended riding
Shock-absorbing wheels are comfortable and versatile
Battery size options available
Wheels are swappable
Cons
Belts will need minimal maintenance
Battery: 10S3P 8.7Ah 376Wh 48V
Motors: 2x 1500W Belt drives
ESC: Hobbywing
Deck: PPS (plastic) and fibreglass
Wheels: 105mm Shock-absorbing
Trucks: Double kingpin
Warranty: 9 months
*Range can be extended to 64 miles with the large battery option
My pick for
Performance-Price Balance
Backfire Zealot S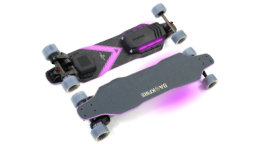 Best Price Below
on Backfire's website
Backfire Zealot S
4.8 / 5 | eSkate Hub Review
Here's another electric skateboard that plays host for the entire brand.
Backfire Boards have an eboard to suit the riding style of anyone at a price that doesn't make your eyes water.
The Backfire Zealot S is their high-performance electric skateboard and has all of the top features.
It has a tried-and-true deck with solid durability, a nice little flex and slightly raised edges for a comfortable stance while giving you exceptional control over the board
The stock wheels are amazingly squishy and grippy, but thanks to the belt-drive motors, you can chuck on almost any sort of wheel that you like to suit your riding needs, including Cloudwheels.
It has some cool ambient lighting on the side of the battery enclosure underneath the deck which doesn't really help you see, but it does make you more visible in the dark which is always a welcomed safety feature.
Overall, the Backfire Zealot is just a really well-made electric skateboard that has great performance.
It's a board for the guy/gal that just wants to get out and ride. Ideal for commuting to work or school and a great activity for the weekend to get outside and enjoy some fresh air and explore your home town.
Pros
Great value-for-money
High performance specs
Reputable brand
Swappable wheels with a ton of options
Flexy deck
Battery: 12S 50.4V 9.6Ah 346Wh
Motors: 2x 875W Belt-drives
ESC: Hobbywing
Deck: Flexible maple, glass fiber and ABS
Wheels: 96mm
Trucks: 8″ forged CNC Trucks
Warranty: 6 months
My pick for
Comfortable cruising and commuting
Teamgee H20T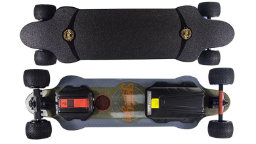 Best Price Below
on Teamgee's website
Teamgee H20T
4.8 / 5 | eSkate Hub Review
The Teamgee H20T is the best electric skateboard for those who want to ride to work or school every day but also want to feel a bit of an adrenaline rush and take it off-road.
The unique wheels have never been seen on any other electric skateboard before providing both traction and vibration absorption.
They are really comfortable on paved roads while enabling you to go on gravel and grass trails if need be.
The deck is one of my favourites on any electric skateboard I've ridden so far. It has a W-shaped concave that makes you feel locked into the board and gives you extra control when leaning to turn.
The remote has a little screen that shows important information like current speed, trip length, board battery, remote battery, riding mode and braking mode.
Pros
Well priced

Great deck shape

Reputable brand
Versatile for riding on different terrains
You can kick push
Battery: 7.5Ah or 9.6Ah options
Motors: 2x 600W hub motors
ESC: LingYi
Deck: Canadian maple and fibreglass
Wheels: 103mm 65mm-contact airless rubber
Trucks: Standard eskate trucks
Warranty: 3 months
My pick for
Traditional longboard riding feel
WowGo 3X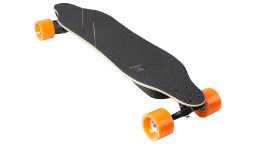 Use Code HUB5 for $5 OFF
on WowGo's website
WowGo 3X
4.4 / 5 | eSkate Hub Review
The WowGo 3X is extremely well-built using premium skateboard parts from brands like Paris Truck Co and Zealous.
The deck is flexy and really comfortable. It's a dream to ride and is easy to carve and sway. It feels a lot like a traditional longboard.
For the quality, it is very well priced.
Ideal for commuters who want a real longboard feel that carves well.
Pros
Affordable
Incredibly well-built
Reputable brand
Can change the wheels
Cons
You can't kick-push
Lower end of the range scale
Battery: 12S2P 43.2V 5Ah 216Wh
Motors: 2x 600W belt-drives
ESC: Hobbywing
Deck: Bamboo and fibreglass
Wheels: 90mm 78A 56mm-contact
Trucks: Paris Truck Co
Warranty: 9 months
My pick for
Value-for-money
Possway T2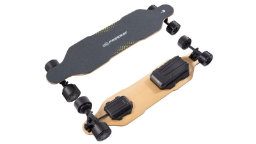 Use Code ESKATEHUB for $15 OFF
on Possway's website
Possway T2
4.3 / 5 | eSkate Hub Review
The Possway T2 is a great beginner-to-intermediate electric skateboard for commuting and cruising around town.
For starters, it's very affordable.
You can try out electric skateboarding to see if it's for you without spending too much money. Plus, Possway has a great reputation, so if you happen not to like it, it's easy to sell on the secondhand market. It'll get snapped up.
But, I can almost guarantee that you'll love eSkating after getting on the Possway T2.
It runs on hub motors that don't require much maintenance at all. This is ideal for beginners who don't want to mess around with the likes of belts and all that technical stuff.
You simply jump on this eboard and ride.
It's super comfortable thanks to the shock-absorbing grip tape on top of the deck. You might think that 3mm of foam wouldn't do that much, but you'll be surprised at how well it protects you from those pesky vibrations. You'll be able to ride for a lot longer before your feet start to fatigue.
Now, I mentioned in the 'Cons' table above that it doesn't have the acceleration power that some of the other motorized electric skateboards on this list have.
If you're an experienced eskater, this just isn't the eboard for you.
For the beginner and intermediate riders, the acceleration on the Possway T2 is more than enough. It's got enough oompf to get that butterfly feeling in your tummy but it's not so hard that it's uncontrollable.
The Possway T2 is a great first electric skateboard.
Pros
Comfortable ride experience
Very affordable
Low maintenance
Can change the wheels
You can kick-push
shoch-absorbing grip tape
Cons
Can't swap wheels
Bare-bones features
Battery: 10S3P 18650 36V 7.8Ah 280wh
Motors: 2x 480W hub motors
ESC: LingYi
Deck: Maple and fibreglass
Wheels: 90mm 85A 52mm-contact
Trucks: 7″ 45°
Warranty: 6 months
My pick for
No-frills performance
Verreal RS Pro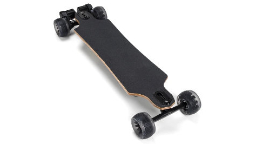 Best Price Below
on Verreal's website
Verreal RS Pro
4.2 / 5 | eSkate Hub Review
Price
$1,499*
*often on sale
The Verreal RS Pro has received praise across the board from many people in the eskate scene.
It has incredibly smooth acceleration and braking thanks to the custom-programmed Hobbywing ESC. You feel every bit of thrill from the take-off without feeling any jerkiness along the way. And it's the same when braking. You can rest assured that you'll come to a complete stop safely.
The deck is really stiff due to being made of 7 layers of maple and 2 layers of bamboo. There's a minimal amount of flex between the nose/tail and the main body of the deck where there is a slight drop-down.
In my opinion, this is exactly where you want the flex. The deck's stiffness makes it easy to maintain balance and turn corners, but the little amount of flex at the trucks helps to absorb a lot of bumps from the road making the ride really comfortable.
You have a choice of four different wheels; 90mm street, 97mm street, 105mm Cloudwheels and 120mm Cloudwheels. They're all really grippy against the road and the large surface area of the wheels against the ground feels stable at all speeds.
The Verreal RS Pro uses belt motors which gives it great acceleration and top speed ability. They require a little more maintenance than other motor types, but in my opinion, it's totally worth it.
The belts also give you the freedom to swap the wheels out easily, so you can change your ride style whenever you like.
Overall, the Verreal RS Pro is the best electric skateboard for someone looking to get a really sturdy and comfortable eboard that has a lot of power and doesn't break the bank. It's the best option before jumping up into the premium electric skateboard category.
Pros
Strong acceleration and hill-climbing
Great for carving and sliding
Swappable wheels
High-performance eboard
Cons
Can't kick-push
Bare-bones features
Battery: 12S3P 15Ah 666Wh
Motors: 2x 1500W 170Kv 6368 Belt-drives
ESC: Hobbywing
Deck: Canadian maple and bamboo
Wheels: 90mm Streets, 97mm Glow and 105mm or 120mm Cloudwheels
Trucks: 13.5″ Double kingpin
Warranty: 3 months
My pick for
Power and performance
Halo Board Beast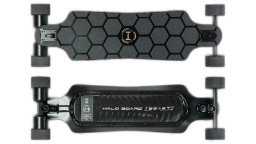 Best Price Below
on Halo Board's website
Halo Board Beast
4.2 / 5 | eSkate Hub Review
The Halo Board Beast is one of the best valued electric longboards in terms of price-to-spec ratio.
Although it is one of the more expensive electric skateboards on this list, it has some of the best performance specs.
It is also the only board on this list that has Direct-drive motors.
The motors are great because they provide high acceleration power like belt-drives, but at a reduced noise level and without the need for all the maintenance that belts entail.
The Halo Board Beast is great for riders who want to get a really nice carve going thanks to the double kingpin trucks that allow you to dial into your desired riding feel.
The deck is quite stiff and the enclosure that runs along the entire underside of the deck is made of carbon fibre. This makes the Beast great for those that want to do a bit of hard sliding along their ride.
It has a wide, concave deck for your feet to sink into nicely, giving you a great sense of confidence when cruising along.
Overall, the Halo Board Beast lives up to its name. It has raw, wild power that begs for a rider who can tame it. After that, you'll love it.
Pros
Low maintenance
High performance
Amazing carving and sliding
Comfortable, wide, concave deck
Can change wheels to Glow or Cloudwheels
Cons
Low clearance due to motors
Battery: 10.4Ah
Motors: 2x 1600W Direct-drive motors
ESC: Hobbywing
Deck: Bamboo and fiberglass
Wheels: 97mm 74A
Trucks: 12″ Double kingpin
Warranty: 3 months
My pick for
Sleek design
Raldey Carbon G3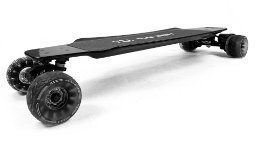 Use code ESKATEHUB for $10 OFF
on Raldey's website
Raldey Carbon G3
4.3 / 5 | eSkate Hub Review
Raldey has gone for power over distance with the Carbon G3 electric skateboard with its huge top speed.
Although the range is somewhat lower than most on this list, it's still plenty to get you to most places before having a recharge stop.
The Carbon G3 is sleek with integrated electronics inside a carbon deck.
And the Double kingpins give it some serious carving ability.
It's perfect for the daily commuter who also wants to throw their eboard around a bit for some extra fun.
Pros
Amazing carving and sliding

Great for less-than-perfect roads and gravel trails
Can change wheels
Super sleek design
Battery: 10S4P 7Ah
Motors: 2x 1500W belt-drive motors
ESC: Hobbywing
Deck: Carbon fiber
Wheels: 105mm Cloudwheels
Trucks: Double kingpin
Warranty: 6 months
My pick for
Customizability and cruising
Exway Flex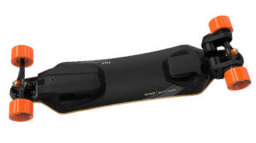 Use code ESKHUB for $15 OFF
on Exway's website
Exway Flex
4.7 / 5 | eSkate Hub Review
Exway is one of the best eskate companies in the industry and they have an electric skateboard to suit everyone's needs!
The Exway Flex is arguably one of the best commuter electric skateboards available today. It has a flexy concave deck with raised shoulders to sit your feet on to give you exceptional control. Additionally, the foam grip tape on top of the deck absorbs a lot of vibrations from the road to make your ride even more comfortable.
It has a swappable battery system so you can carry around multiple batteries to increase your overall range.
It has an interchangeable drivetrain where you can switch between hub motors and belt-drives very easily and quickly.
Exway also has a mobile app where you can control all of the power curves for acceleration and braking, along with a whole host of other configuration settings. So you can set it up to be just the way you like it.
It's really hard to fault the FLEX for what it is. It's not is the fastest electric skateboard, nor does it have the longest range but it has features that no other eboard has.
Pros
Great value-for-money

Very comfortable ride
Customizable to suit your riding style
Well built and designed
Cons
Not ideal for hard carving
You're not buying this for its performance specs
Battery: 18650 216Wh
Motors: 2x 1000W Hubs / 2x 1200W Belt-drives (Riot Kit)
ESC: Hobbywing FOC
Deck: Super Flex (bamboo maple composite)
Wheels: 85mm 76A
Trucks: Trist 8″ 45°
Warranty: 12 months
Final Thoughts
That's my list of the best electric skateboards that you can buy at the moment.
The only thing left do is to go buy yourself an electric skateboard.
Turn your boring commute into an exhilarating adventure!
I'll constantly update this guide as newer and better eboards are released.
What Is An Electric Skateboard?
Electric skateboarding is relatively new and has only really gathered mainstream popularity in the last couple of years.
This article will be quite confusing to you if you don't know what they are so let me quickly break it down for you and answer the question, what is an electric skateboard?
I have a great interactive guide that explains all of the components of an electric skateboard which is super helpful as a reference and getting a basic understanding of the parts that make up an electric skateboard.
But basically, an electric skateboard is a battery and motor powered skateboard that you control with a handheld remote.
They're amazing because you can effortlessly ride up hills and travel much further than you would on a traditional skateboard.
People use them to ride to work, to the train station, on weekends with friends, to take their dog for a walk, to the beach with their surfboard underarm, to swing by the store to pick a few things up, to grab coffee, off road in the forest, along dirt mountain trails, and pretty much anywhere you want.
The benefits of eskating go far beyond just having fun. They are environmentally friendly, help to reduce traffic congestion, improve mental health and even help you save some money in the long run.
Eskating is more than just a hobby or a sport, it's a movement.
Jump on an eboard and join us for the most fun you'll ever have on a plank of wood with four wheels.
Check down below for the details of each of the top electric skateboards I mentioned in the table above.
Things To Consider When Buying An Electric Skateboard?
If you're here looking to buy your first electric skateboard, I know exactly what you're going through. That feeling of being completely confused about the different types of motors, board length, wheels, batteries, ESCs and other specs.
That feeling I had and what you're feeling right now is the exact reason why I built this website in the first place. To try and make this process as easy as possible.
To be honest, you could buy any one of the electric skateboards on this list and be extremely happy. You'll get the adrenaline rush you've been looking for and you won't want to ever stop riding.
But after riding for a while, you might realise that there is a certain style of eskating that you prefer over the other. At that point, you'll feel like you made the wrong purchase.
Don't worry, electric skateboards sell really fast on websites like eBay, Craigslist and Facebook marketplace so you'll be able to upgrade pretty easily.
But, my aim is to help you make the best decision from the very beginning so that you can enjoy your eboard for many years.
The first thing you want to think about is what kind of roads you will be riding on. If you'll only ever be on smooth, sealed roads and paths then street PU (polyurethane) wheels are what you're after. They're the slick wheels that you see on the Meepo V3.
If the roads where you live are less than perfect then you might want to consider getting something with AT wheels or hybrids. Something like the Raldey Mt-V3. These will help absorb more bumps and cracks in the road and you can even ride on gravel trails.
Lastly, if you're into heavy trail riding, consider getting an eboard with full AT wheels, like on the Evolve GTR boards. These can go almost anywhere. Street, gravel, dirt, grass, you name it, it can probably handle it. The only place that it will likely struggle is on the sand.
The type of motors that an electric skateboard uses is important to consider. The two main types and the only ones seen on this list are hub motors and belt-drives.
Hub motors are great because they don't require any maintenance, however you do lose a little bit of performance and you don't have any options for wheels other than what they come with.
Belt-drives, on the other hand, require a bit of maintenance because belts can sometimes break depending on how hard you ride. debris can also get stuck between them so you'll want to give them a good clean every now and then.
On the plus side of belts, they offer more performance with higher low-end power meaning you'll get faster acceleration and better hill-climbing ability.
You'll also be able to swap out the wheels whenever you feel like it. This is great for going from street wheels to all-terrain wheels when you feel like taking it to the trails. Keep in mind that you'll need to do some research on gearing so that's you get the best performance from each type of wheels.
The deck is a very important component of an electric skateboard because it's going to dictate your ride comfort.
A stiff deck is going to be easier to turn and stays more stable when riding at high speeds. However, you're going to feel more vibrations from the road.
A flexible deck, on the other hand, is going to absorb a lot more vibrations giving you a very comfortable ride. But you're going to lose stability at high speeds. Some of the best beginner decks are flexy decks because it makes the ride so smooth and is easy to learn on.
Maple and carbon fiber decks tend to be the stiffest, while bamboo will be the most flexible. You might find some composites that contain a bit of maple and a bit of bamboo. This is to get a nice middle-ground of flexibility and stability.
Last but not least, let's talk about specs. The two main ones people care about are top speed and range. Manufacturers will always state this on their websites.
A good top speed for a beginner would be anything up to 25mph/40kmh. Beyond that, you're playing with fire and ideally want to be a more confident rider.
As for range, that really depends on where you want to ride and if you'll get a chance to recharge before your next ride. Think about places you might ride, like work, school, the shops, cafes or friends houses. Maybe you just need to be able to get to the closest train or bus station.
So, that's a pretty basic overview of what you need to think about when buying your first electric skateboard. I hope it's been a little helpful. If you have any other questions, be sure to email me or message me on Facebook, down in the bottom right corner of this page.