Watch the Meepo Shuffle S Unboxing video
Meepo Shuffle S, also known as Meepo V4S, is a mid-range budget-friendly electric skateboard that gives you everything you need from an electric skateboard.
In this Meepo Shuffle S review, we'll show you everything you need to know about it and whether it's worth your hard-earned money.
Spoiler, it totally is.
Summary of Meepo Shuffle S Review
Meepo Shuffle S Review
Pros
A very cost-effective electric skateboard
Excellent trucks and bushings that provide a stable and smooth ride
Silent motors won't disturb people around you
Easy to clean and maintain
Cons
A relatively low torque that may struggle on steep uphill climbs for heavier riders
Deck
We'll start our Meepo Shuffle S review with the first thing you'd see when you open the box, the board deck.
The Meepo Shuffle S's deck is made from maple wood and fiberglass, which gives it minimal flex. The flexibility of the board deck isn't necessarily a positive or a negative of an electric skateboard as it's really a matter of personal preference.
The more flex can make it more comfortable to ride, but can be more unstable at higher speeds.
A stiffer deck is great for carving because you have more control over the decks movements, but you will be able to feel more of the vibrations on the road.
Although this deck is on the stiffer-side, its other components help to reduce those vibrations that we'll check out in a bit.
The eboard is 36″ long, which is on the shorter end compared to other electric longboards that average around 39″.
That being said, this length is perfect for the demographic that the Meepo Shuffle S is targeted at. That being beginner, and likely younger riders.
The deck has a very slight dropdown, and concave shape across the area where you place your feet.
I love this design because it locks your feet into place to prevent them from slipping around. This means you can focus more on the road ahead and no be looking down at your feet all the time to check they're in the right spot.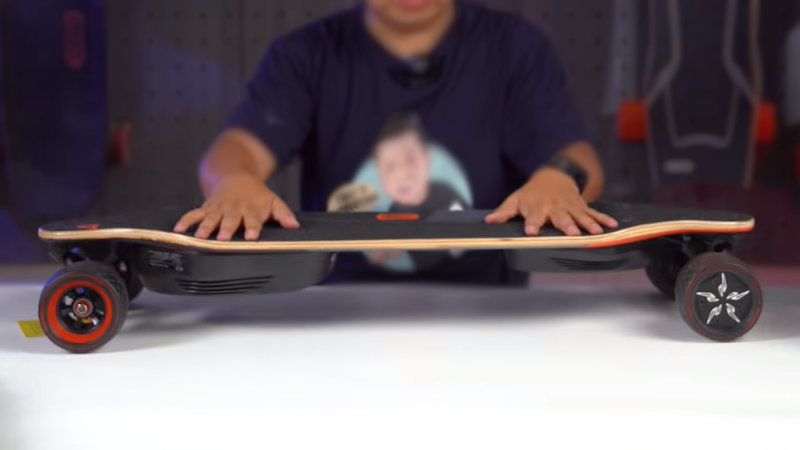 Battery
The battery is one of the most important aspects people consider when purchasing an electric board. We often want a good mix between a long-lasting battery, a fast-charging one, and acceleration power.
Meepo Shuffle S comes with two battery options, a 10-mile battery and an 18-mile battery (known as the ER) which, at the time of writing this article, cost $399 and $589, respectively.
We've only tested the 10-mile battery model, and on average, I'd get around 7.5 miles before needing to recharge.
I'm definitely heavier than the riders that this eboard is targeted at, and I also do the hill climb test and speed tests throughout my rides, so I put it through its paces. It's no wonder it doesn't last as long as it could.
Riding a skateboard includes a lot of uphill riding, draining the battery faster, so the 10-mile claim isn't misleading as we're assuming they tested it on a plain straight line.
We also noticed that the first two blocks on the battery indicator on the remote last for about 70% of the ride while the last two blocks, however, drained a lot quicker. So keep that in mind when you're out riding.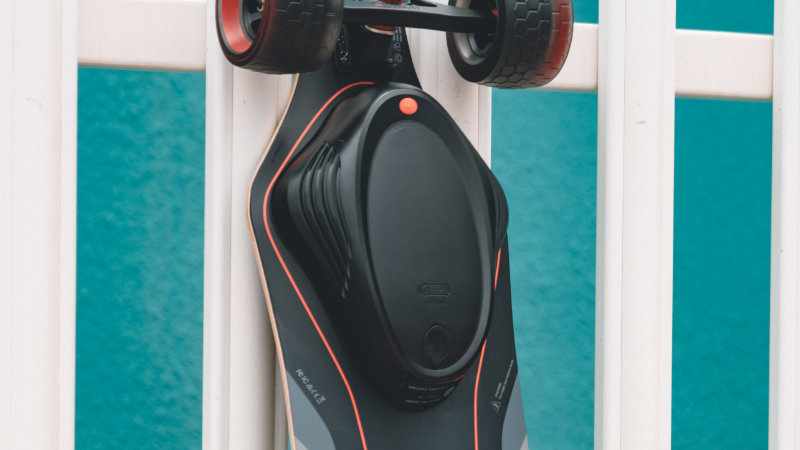 Motors
The Meepo Shuffle S is running dual 540W hub motors that give you a top speed of 29 mph / 46kmh.
For an eboard in this price range, this is an exceptional speed.
On the other hand, despite the relatively low torque that hub motors put out, they are brilliantly silent.
Pair that with their minimum friction and free-wheeling mechanisms, and you can treat this electric board as a kick push board if you ever run out of battery.
To top it all off, the motors are housed inside the wheels so there's less chance of doing any damage to them, making the Meepo Shuffle S a very low-maintenance electric skateboard.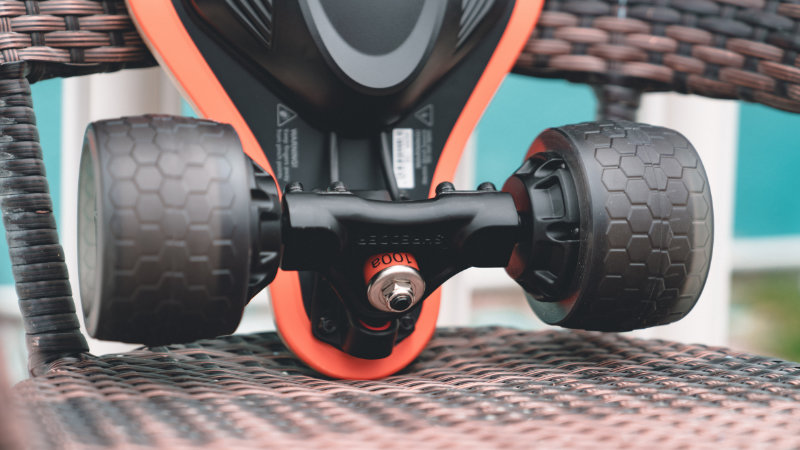 Trucks and Bushings
The Trucks and bushings are where the Meepo Shuffle S starts to shine.
Like most Meepo eskateboards, the Meepo Shuffle S come with 45-degree shredder reverse kingpin trucks.
The reversed design offers a better turn radius than you could find with normal kingpins. and help to maintain stability at higher speeds, compared to say double kingpins.
As for the bushings, Meepo uses 92A longboard barrel bushing on the front trucks and 100A on the rear ones.
The rear bushings are slightly harder on the rear because it reduces the amount of bounce that occurs in the rear trucks when force is applied. To spare you the technicals, it means that it will prevent speed wobbles at high speeds while still being able to have a large turning circle.
What this tells me is that Meepo have taken the time to experiment with the best possible set up, and not just slap a pair of arbitrary bushings on both ends of the eboard, which is something that is seen all too often in the eskate game.
Wheels
Meepo Shuffle S comes with large 105mm polyurethane urban-terrain wheels. Sometimes called hybrid wheels.
These wheels offer a fantastic grip over the road because more of the wheel touches the ground than your average longboard wheels.
Cloudwheels and Cloudwheels-clones like these are quickly becoming the standard of many electric skateboards since they act as cushions that absorb the impact of road bumps.
So, to have a wheel that grips more and cushions more is a huge plus.
The only thing to consider here is that these larger wheels, combined with the 45-degree trucks and the soft bushings would sometimes cause a bit of wheel bite.
It could be that because I'm heavier, I'm putting more pressure on the bushings when I turn. Lighter riders might not have this issue, but I wasn't able to test this theory.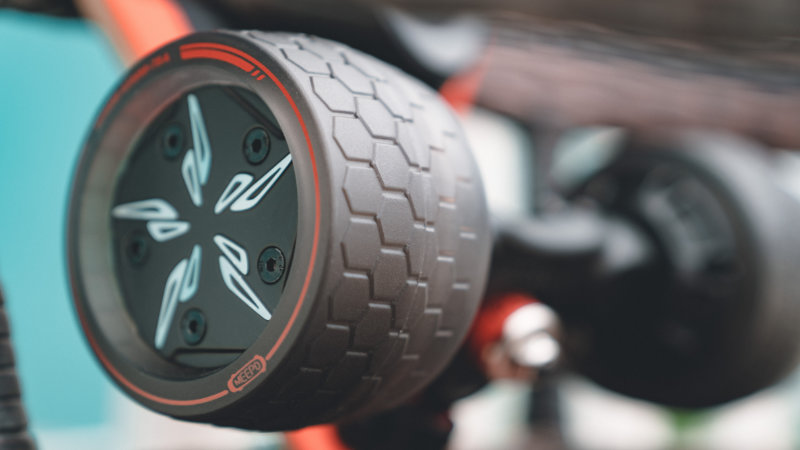 Remote
Meepo Shuffle S comes with the M4S remote which is one of my favourite remotes.
It has a throttle wheel, a huge display screen, and a couple of multi-function buttons.
The buttons allow you to switch between the four speed modes and brake modes and put the eBoard in reverse
The buttons are placed a little low on the remote. It's really a two-handed operation to press the buttons while holding it.
Aside from that, controlling the acceleration and braking is easy and the eboard responds exactly as expected when you apply acceleration or braking.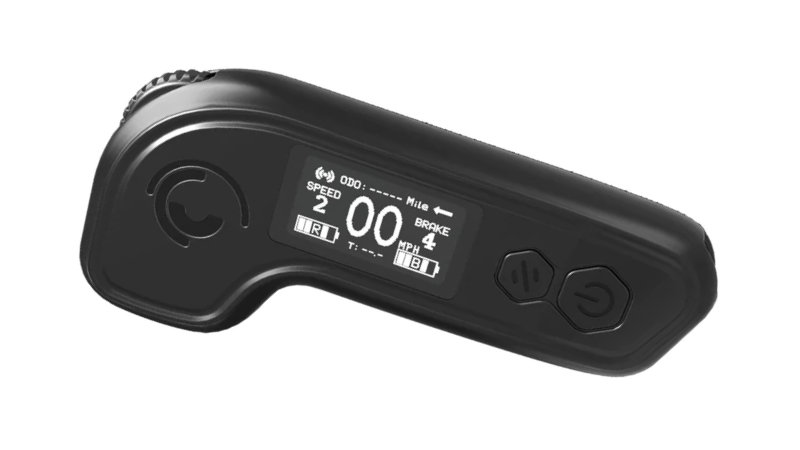 Charger
The standard Shuffle S comes with a 1.5A charger, which takes around 3.5 hours to charge the battery from zero to max.
The Shuffle S (ER) with the bigger battery comes with a faster 3A charger that takes 2.5 hours to max out the battery.
The charger is a debatable aspect. Meepo claims that you can
There is also the option to purchase an 8A fast charger that can charge the entire battery within less than half an hour, 28 minutes, to be exact. And that'll set you back around $128.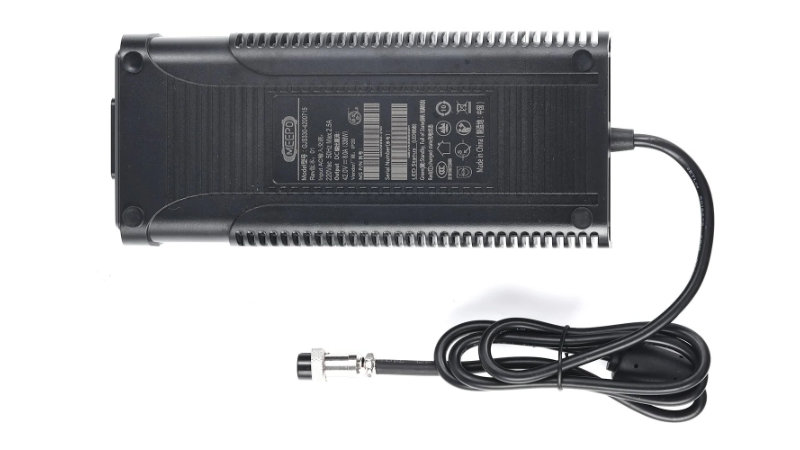 Customer Reviews
The Meepo Shuffle S is pretty much universally loved. They had some shipping issues when they first launched, but they've all been resolved.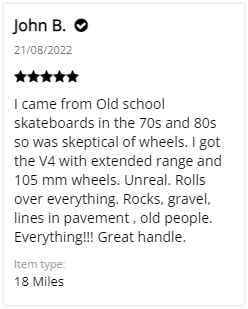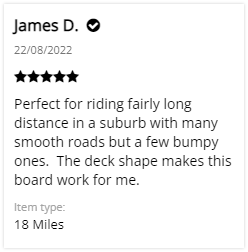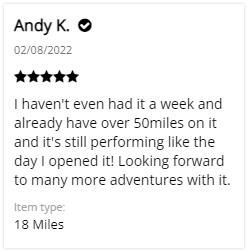 Final Thoughts
That's it for my Meepo Shuffle S review. This electric skateboard isn't radically innovative, however, it's a fantastic electric longboard at a fantastic price.
This eboard is perfect for college students getting from class to class or those with short daily commutes who want to avoid the peak hour traffic.
The ride is smooth and reliable.