The Tynee Board Mini electric skateboard with belt motors is a zippy eboard that is a ton of fun.
It reminds me a lot of the Boosted Mini in the way it feels and rides but it comes at a fraction of the price.
The base model retails for US$579 and you have the option to upgrade to Cloudwheels or the battery to extend the range with the maxed-out version peaking at US$849.
Tynee operates with the philosophy of not advertising. So you won't see Tynee ads plastered around the internet.
The reason they do this is that they want to keep the company's costs as low as possible so they can deliver the best product to their customers at the lowest cost.
Another thing they offer that is rarely seen in the eskate world is a 12-month warranty on their electric skateboards. That alone gives me great confidence their eboards will be durable and reliable.
I love the way Tynee Board writes about the Mini on their product page because it's pretty confident, almost cocky in a way, but it's all very tongue-in-cheek. It's worth checking out because it gives you a good sense of what the brand is all about. You can find the link in the description.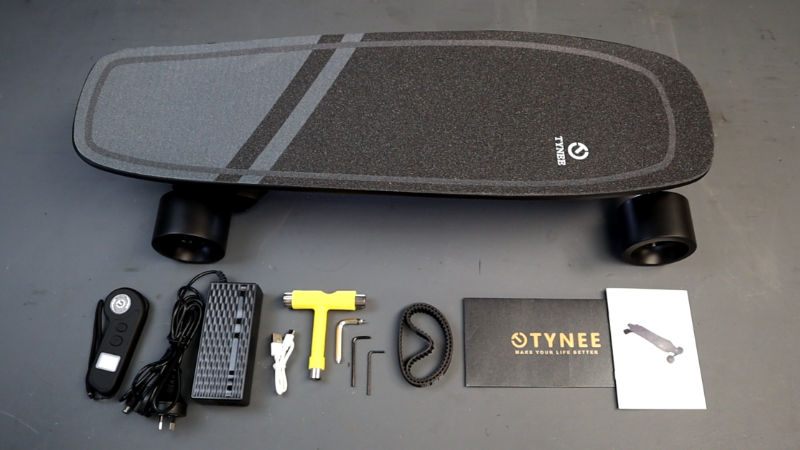 Who Is It For?
I see the Tynee Board Mini Belt being suitable for two types of people.
The first is eSkaters who want to inject some fun into their ride. The kicktail and nimbleness give you more options to do tricks and fool around rather than just standing on your eboard and gunning it.
The second type is commuters who take the bus or train and either walk or drive to the station. Now you can take your mini electric skateboard and get yourself out of the traffic and ditch the anxiety of finding a park. Or if you usually walk, you're going to save yourself some extra time in the mornings when you eskate instead.
If the noise a belt-driven eboard makes or the maintenance they require isn't something you're fond of, but you still like the idea of getting a mini eboard, you can also check out the Tynee Board Mini with hub motors which offer all of the same benefits but with quieter and lower maintenance motors. The hub motors will also have a more gradual acceleration curve which is friendlier to beginner riders.
Tynee Board Mini Review
Deck
They say the deck on the Tynee Board Mini is supplied by the same company that produces the Evolve Skateboard decks, but this deck is more like the old Boosted Mini.
The Canadian maple deck has a wide nose and a slight kicktail combined with a bowl-like concave which makes the board really comfortable to stand on.
I love the deck, and Tynee seems to really like it too...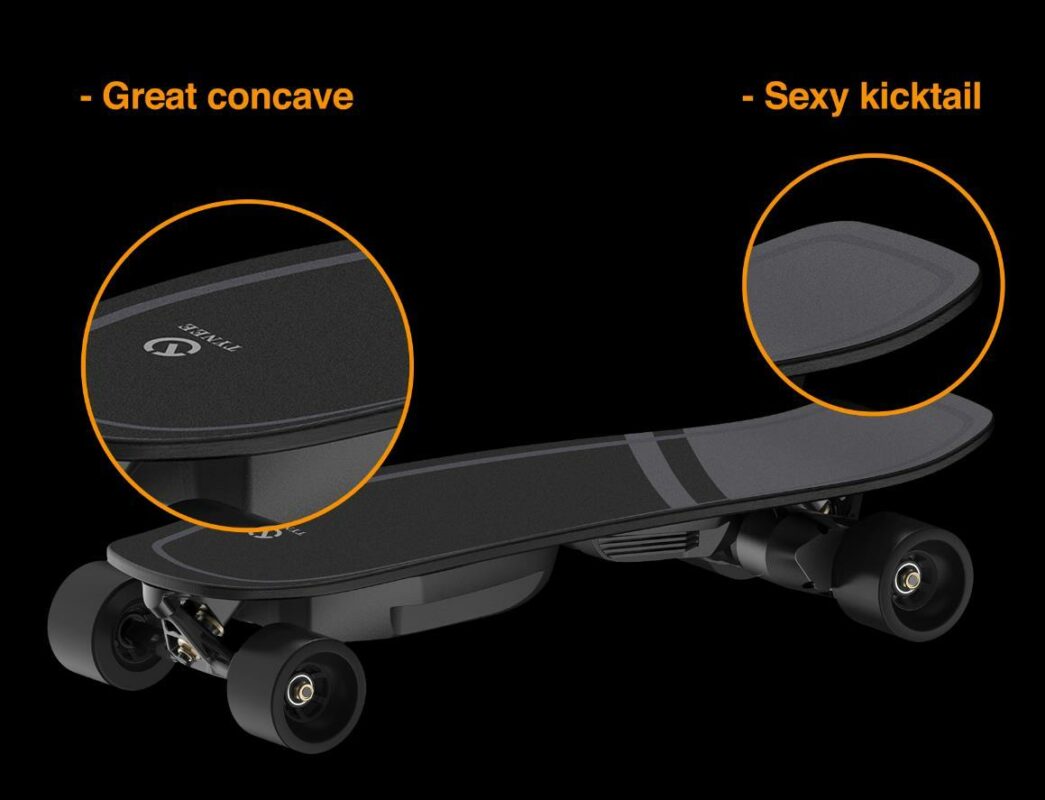 The positioning of the front foot is right over the top of the front trucks which gives you precise control when turning and stability when riding at higher speeds.
I have my back foot right on the kicktail, ready to apply any pressure needed when faced with lips in the pavement or bumps and cracks.
The whole design of the deck made me feel like I was in control 100% of the time.
There's no shock-absorbing grip tape, so the board feels a lot like a traditional skate deck in that sense. But I guess this is kind of what you want when riding a short eboard, because you want to have that snappy response on the deck when you kick down or tic-tac around.
Trucks
You have what look to be like Paris truck clones on the Tynee Board Mini and they feel great when riding. The carving ability was fantastic. I felt very confident pushing out hard and receiving the deck back to centre pretty reliably.
I was also able to max out the speed without getting any speed wobbles. In fact, I was able to hold the top speed and completely relax because I didn't feel like speed wobbles were going to appear unexpectedly.
Not only did these trucks feel great to ride on, but Tynee believe in the durability of these trucks so much that they offer a lifetime warranty on them.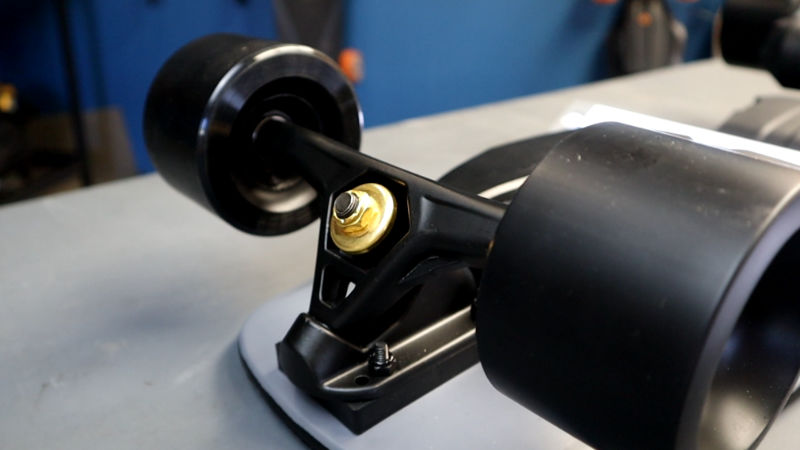 Wheels
We've got generic, unbranded PU wheels which are 90mm with a 62mm contact area and a 78A durometer.
They're super squishy, grip the ground well and offer a healthy bit of shock absorption.
Too often street wheels make you feel like the board is going to slip out from underneath you when you go around corners or any encounter with a stone is going to send you out of control.
Have you ever tried to ride on the white lines on the road with slick street wheels on? You'll know what I mean if you have, and if not, well it's damn sketchy that's for sure.
These wheels didn't give me any of that kind of worry when riding. The softness almost glues itself to the riding surface.
The wheels are easily swappable. It comes with kegel-core wheel pullies so you have a lot of wheel options if you wanted to change things up a bit.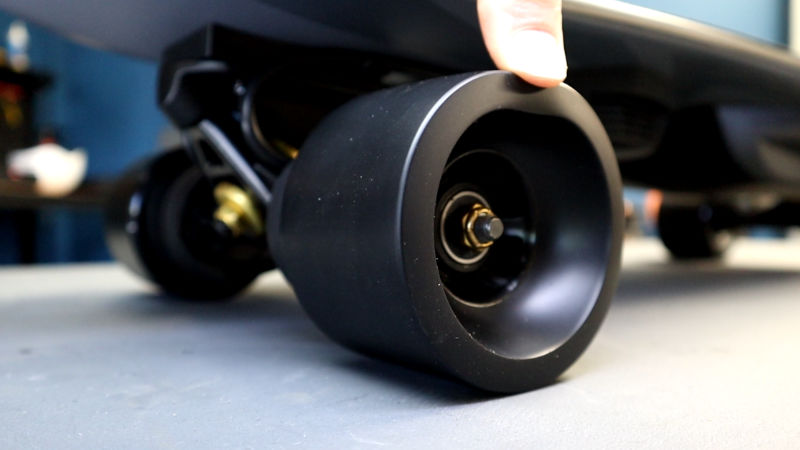 Motors, Top Speed and Hill Climbing
For a budget and mini electric skateboard, the motors on the Tynee Board are pretty decent.
They're running dual 875W belt-drive motors by Hobbywing and it's specced to get a top speed of 23mph (38kph).
In my testing, I hit 22.7mph (36.6kph), so just shy of the marketed speed, but like always, that could be because of many different factors including my weight, riding surface or wind direction.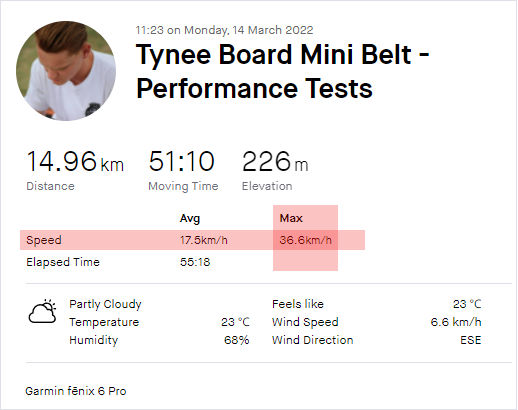 As for hill climbing, Tynee claims you'll be able to get up 25-30% hill grades which is super steep.
I tested it out on a hill that had a max steepness of around 15% and it made it up somewhat effortlessly. My speed dipped down to about 12.4mph (20kph) at the steepest point but it didn't feel like the motors were labouring or working too hard.
Overall I'm happy with its hill-climbing ability.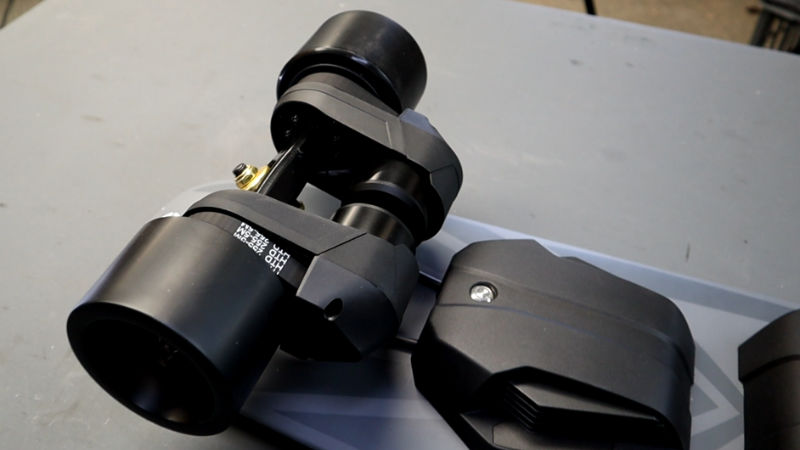 Battery and Range
You've got two battery options you can choose from.
5Ah and 8.7Ah
And they will get you 12 miles (19km) and 22 miles (35km) respectively.
I have a funny feeling that I don't have the base battery in mine because I did 14km and the battery indicator on the remote still had half the bars left.
I went to investigate, but getting the battery out was just a struggle and there was adhesive tape everywhere that I couldn't see any information on the battery.
It's not a quick process to pull the battery out, so if you're concerned about range anxiety, order the bigger battery initially because you won't want to be doing any battery swaps in the future.
Anyway, I went out for another ride just to test the range and I ended up getting 16.8 miles (27.18km).
This tells me that I probably have the bigger 8.7Ah battery.

ESC, Acceleration and Braking
The Tynee Board Mini Belt uses the tried and true Hobbywing ESC that is, like always, great.
Tynee Board joke that there are two types of controllers; there's Hobbywing ESCs then there's everything else.
A lot of people won't agree with that sentiment but the Hobbywing ESC is undeniably one of the smoothest and beginner-friendly remotes available.
The acceleration is still punchy yet smooth and the brakes are nice and firm bringing you to a stop quickly and safely.
Remote
You get the standard Hobbywing remote which has an OLED screen that displays your speed, odometer, trip length, speed mode, board direction and the battery levels for the board and remote.
There are 4 speed modes, 1, 2, 3 and 4, reverse and cruise control.
You can't change speed modes while you're accelerating which is a great safety feature.
And it has one of my favourite features which is auto on/off where you just turn the remote on and the board will also automatically turn on.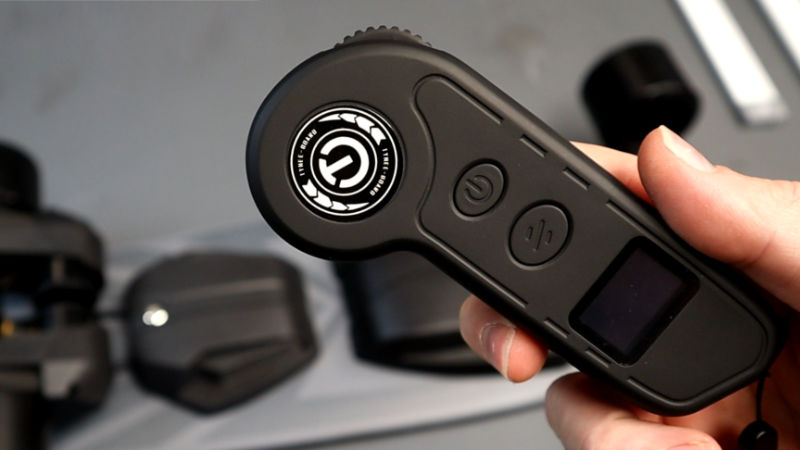 Customer Reviews
Don't just take my word for it.
The Tynee Board Mini has a 4.9-star rating with only a single 1-star review which was because of shipping delays. And we all know what the shipping industry has been like throughout these strange times.
Aiden, the owner of Tynee Board even went the extra mile and sent this customer a free t-shirt for the trouble.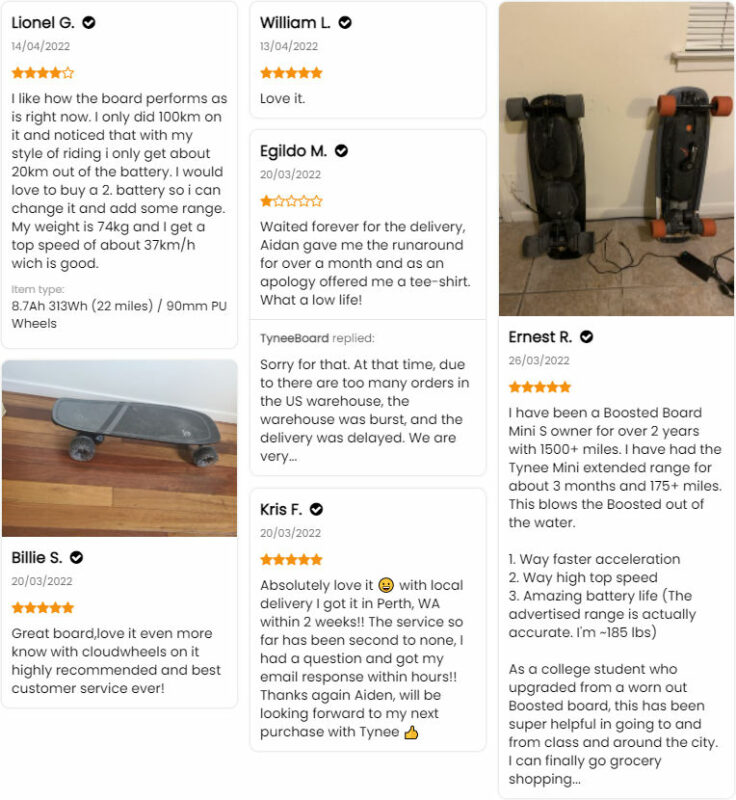 Alternatives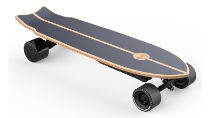 Teamgee H20 Mini
The Teamgee H20 Mini is a robust short electric skateboard that challenges most boards when comes to range capability.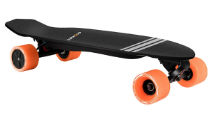 enSkate R3 Mini
The enSkate R3 Mini is a great value short electric skateboard, especially for the price point it is at.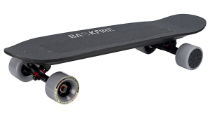 Backfire Mini
The Backfire Mini is a great pocket rocket that is compact and easy to store.
Final Thoughts
Overall, I really enjoyed riding the Tynee Board Mini Belt.
As a unit, it feels very cohesive, and well-built. I would rely on this board for daily short rides or zipping down the street to pick a few things up from the shops.
It's a really fun eboard to ride, like most mini eboards, however, the Tynee Board differs because its stability is so great. I often feel the need to ride cautiously on a lot of mini electric skateboards, but that's just not the case on this one.
All of the tape and foam around the battery are both positive and negative. It's annoying because you can't freely access or swap the battery, but it means the electronics are safe and as water-resistant as possible.
That's it, that's my Tynee Board Mini Belt review.
I hope I've helped you on your journey to find the best electric skateboard that's right for you.
Ride safe out the eskaters.
See you soon.
On Vestar's Website