Hey eSkaters,
This here is my Base Camp F11 review. It's an entry-level electric skateboard specifically designed for beginners and young teenagers.
Priced at a competitive $300, this electric skateboard is a great starting point for people wanting to dip their toes into the eSkate world.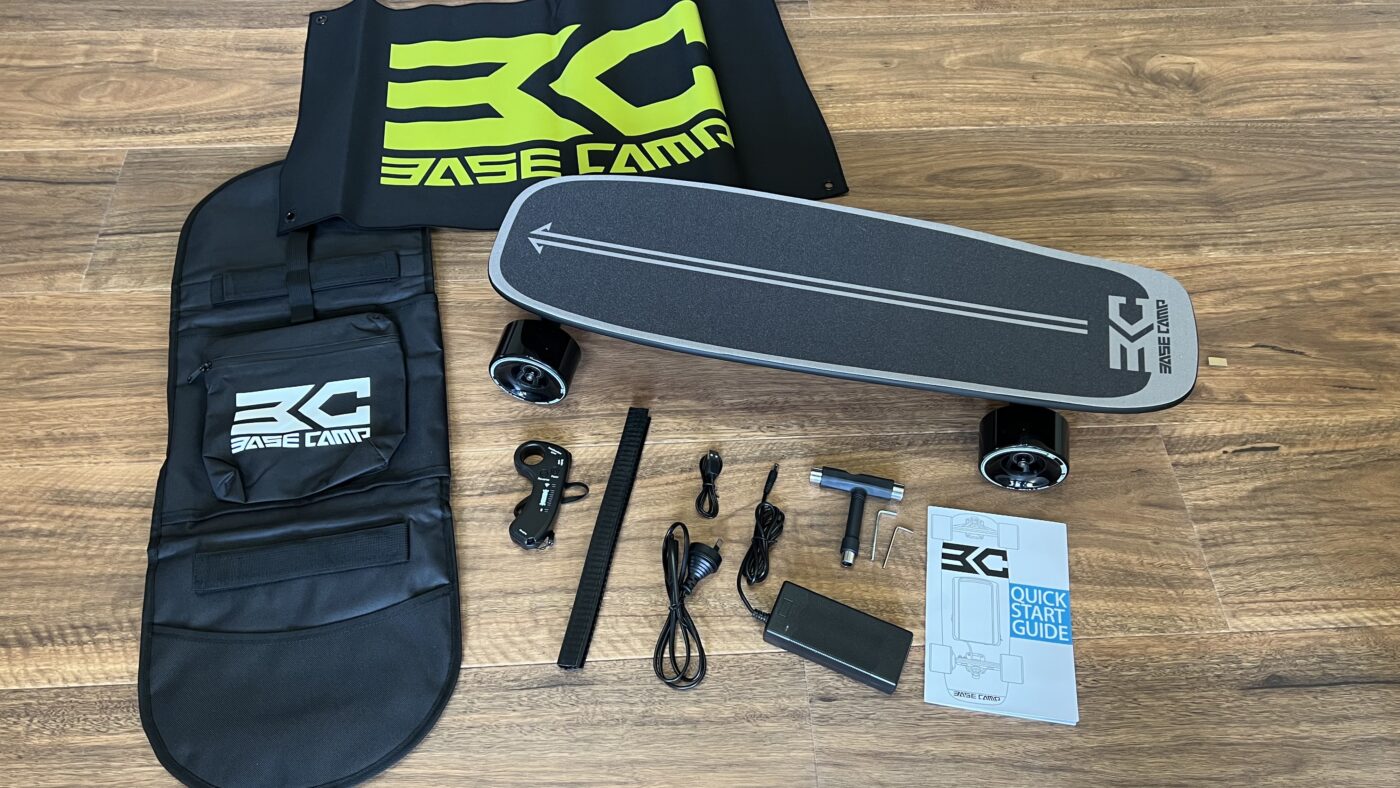 Base Camp F11 Review
Deck
The Base Camp F11 Electric Skateboard's deck stands out with its sturdy build quality and practical design. Measuring 29 inches long and 9.3 inches wide, it offers a balanced platform that provides sufficient space for comfortable footing.
Crafted from 8 layers of maple, the deck showcases durability and rigidity, giving riders the confidence to navigate various terrains.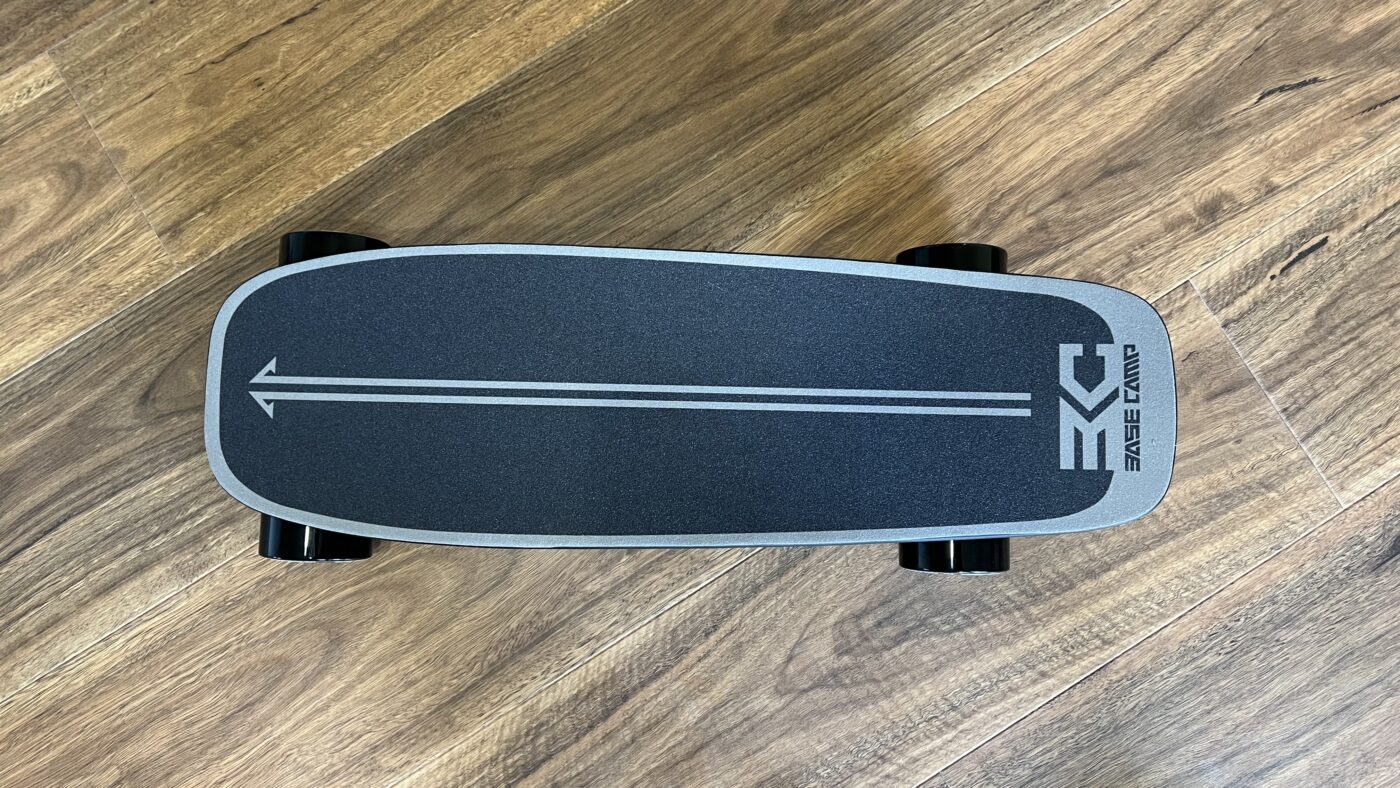 The stiffness contributes to a more stable ride, which is especially beneficial for beginners.
Additionally, the deck comes equipped with a kick tail, an underrated feature that significantly boosts manoeuvrability, aiding in sharper turns and quick directional changes.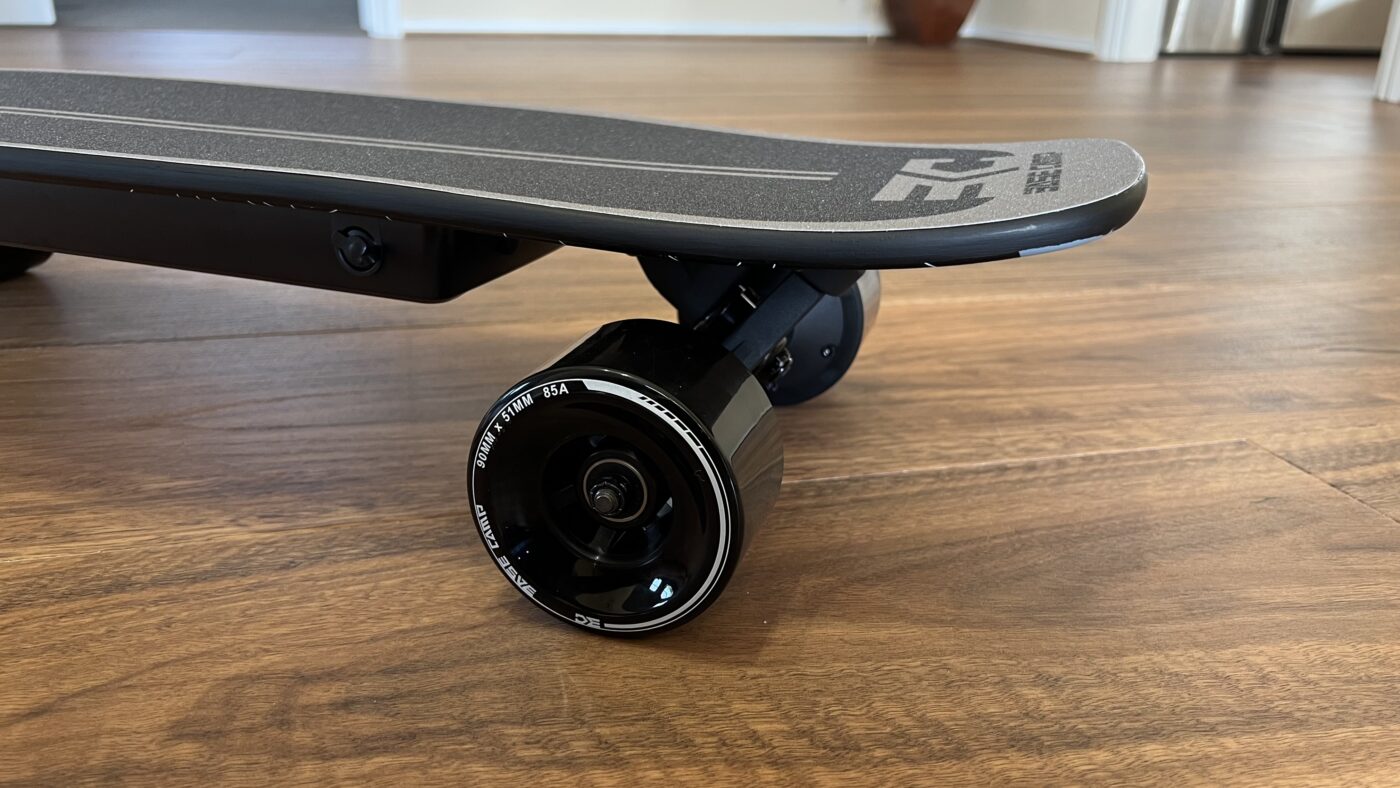 Wheels
The 90mm, 85A wheels provide a smooth and comfortable ride, absorbing shocks effectively even on bumpy roads. Their size and hardness are well-suited for a variety of surfaces, delivering consistent performance on less-than-perfect paths.
I found them to be grippy and comfortable to ride, especially at speed around corners. I didn't feel like the board was going to slip out from underneath me.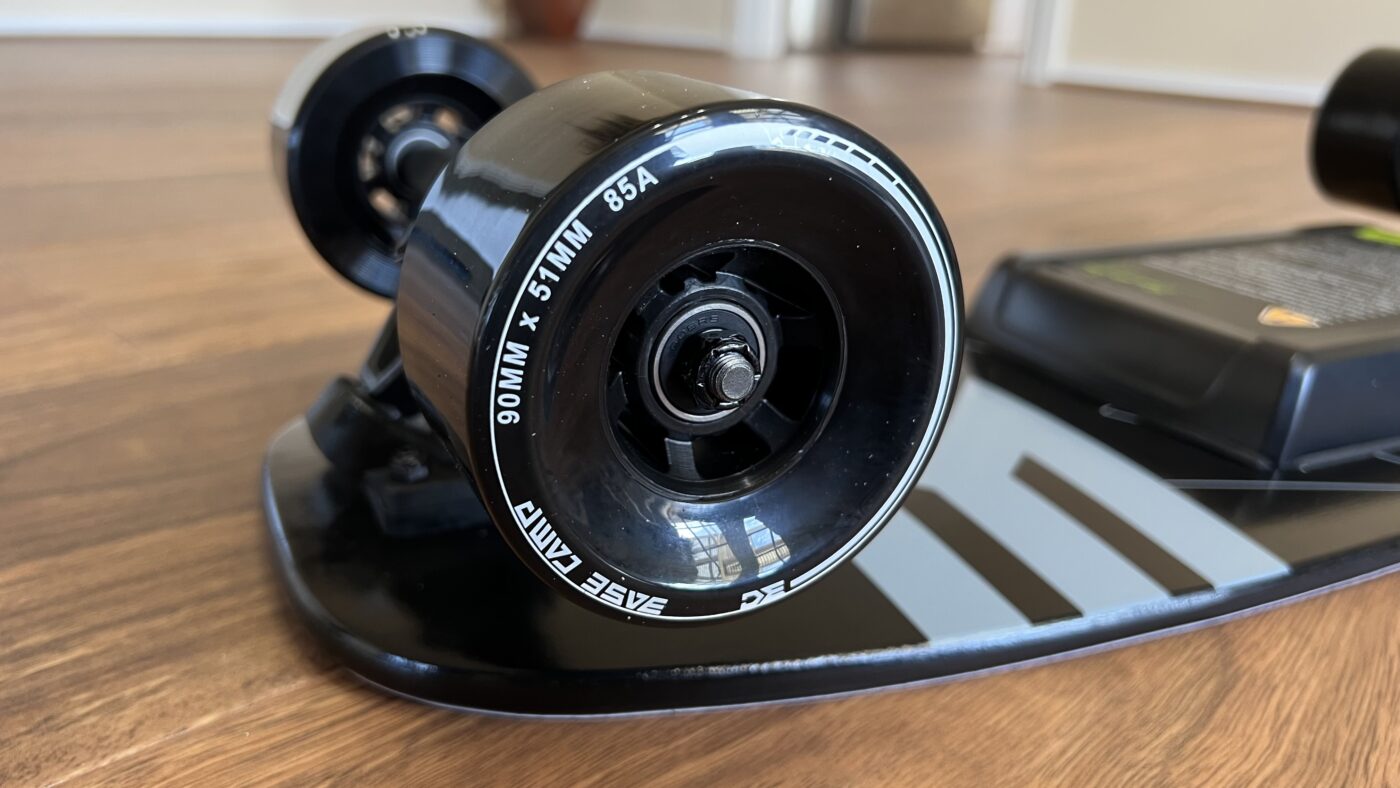 Motor
The Base Camp F11 Electric Skateboard is equipped with a single 300W hub motor, a feature that is quite suitable for the board's target audience of beginners and young teenagers.
Despite being a single motor setup, it manages to deliver a top speed of 10mph (16kph), which ensures safety while still providing a sense of thrill.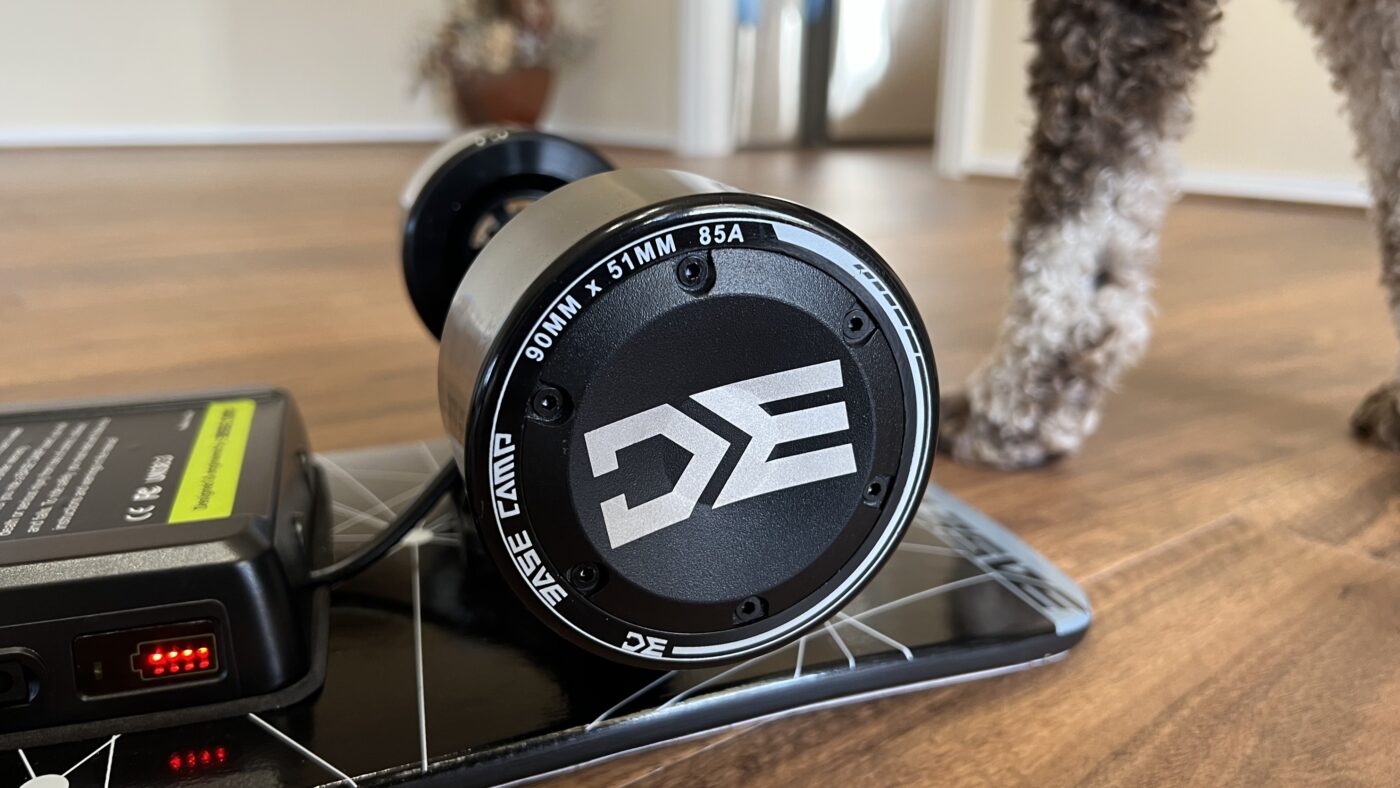 It also has a respectable climbing ability of up to 10°, enough to handle mild inclines typically encountered in urban commuting.
The hub motor design contributes to a clean aesthetic and reduced maintenance compared to belt-driven systems.
However, power users or those seeking higher speeds might find it lacking. But for its intended audience, the F11's motor provides a well-balanced performance that aligns with the board's overall user-friendly and accessible character.
Battery
The Base Camp F11 Electric Skateboard features a 7S2P 4000mAh UL 2272 certified battery, which is a reliable and safe choice.
With this battery, the skateboard is capable of delivering a range of up to 9 miles (14.5km), making it ideal for short commutes or leisurely rides around town.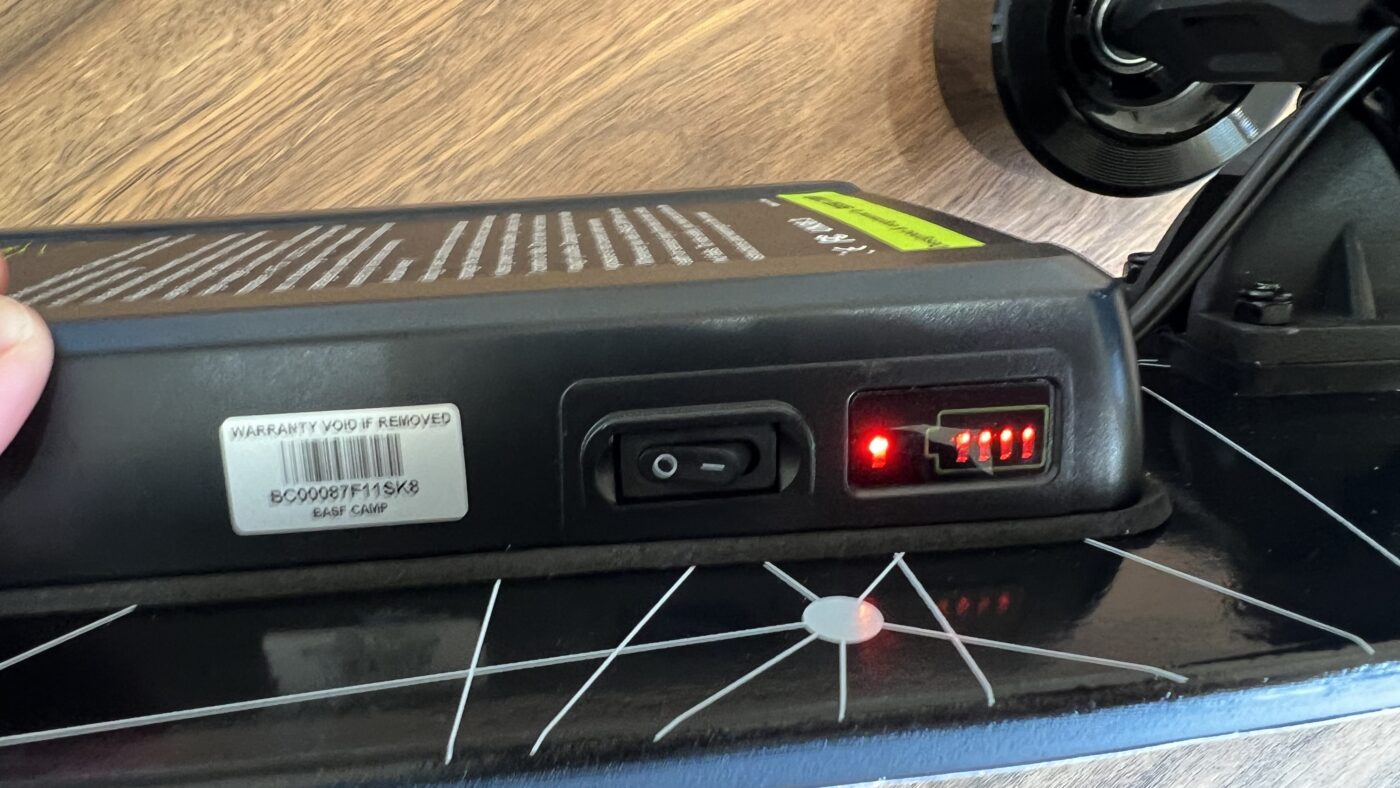 This range might be limiting for longer trips, but it's quite adequate for the board's intended audience of young teenagers and beginners.
The UL 2272 certification offers a certain level of safety assurance, crucial for any electric rideable. However, information on the battery's charge time is not provided, an important consideration for potential users.
ESC
The F11 uses a Ling-Yi Electronic Speed Controller (ESC). Ling-Yi is well-regarded for their smooth and responsive controls, which aligns well with this board's focus on beginners and young riders.
The acceleration, for a rider of my experience felt very manageable and I can imagine it would be very easy for beginners and young ones to get a handle of quickly.
The braking is gradual, yet safe considering its top speed. You come to a complete stop easily and you're not likely to be thrown off the board.
Remote
A good remote should feel comfortable in the hand, provide clear communication with the board's ESC, and display information such as the battery level, and the current mode. This remote does all of that.
It offers four speed modes, allowing riders to adjust the performance of the skateboard according to their comfort and skill level. This makes it a suitable board for those who wish to gradually enhance their riding skills.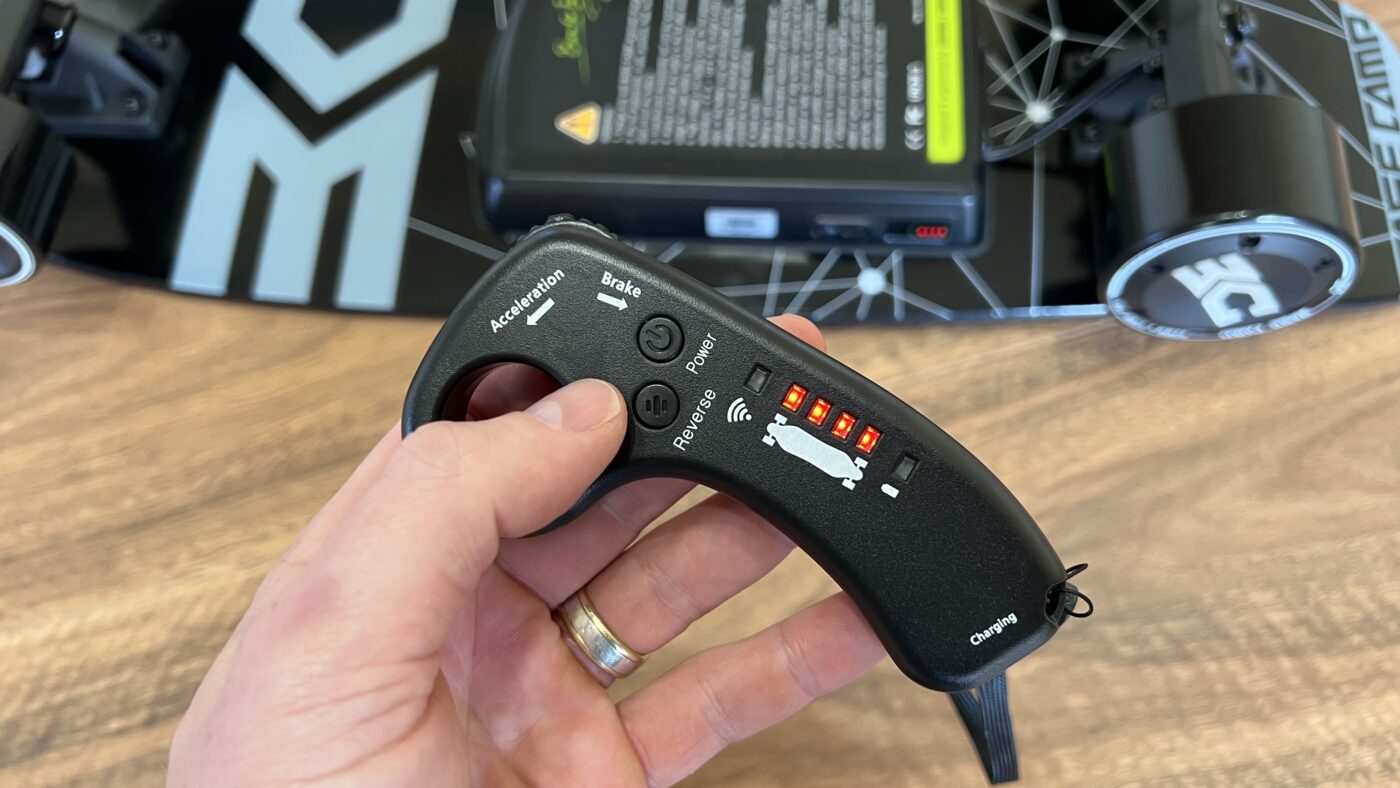 It also has a reverse for those rare times where you need to back up on your electric skateboard.
But my favourite part is that it has an auto on/off feature. So you only need to turn the remote on, kick off on the board and the board and remote automatically connect which saves you the hassle of bending over to switch the board on.
Final Thoughts
The Base Camp F11 Electric Skateboard is a well-rounded entry-level board, designed with young teenagers and beginners in mind.
It offers a combination of robust design, adequate performance, and a competitive price point. The sturdy 8-layer maple deck, coupled with 90mm wheels and a 300W hub motor, ensures a smooth and controlled ride. The 7S2P 4000mAh UL 2272 certified battery provides a decent range, while the Ling-Yi ESC offers versatile speed options.
A remote control enhances the ease of use, although specifics about its design and functionality are not given. Shipping worldwide with a 100-day warranty, the F11 establishes itself as an appealing choice for those venturing into electric skateboarding. It's an accessible, user-friendly, and reliable board, perfect for short commutes or recreational rides.
And for a price of US$300, it's hard to pass up the opportunity to try electric skateboarding.