Today we're reviewing the Maxfind Glider G5 Pro electric scooter.
That's right a scooter.
Don't worry, I'll continue to do electric skateboard reviews, but I'm adding another string to my bow.
I had no idea what to expect with this electric scooter because the only escooter I've ridden in the past was one of those LIME scooters.
And now I know there is a huge difference between those ride share products and a good quality electric scooter.
Electric scooters have greatly grown in popularity over the last few years, and for good reason. They're practical, reliable and very easy to ride, making them great alternatives to traditional transportation.
Maxfind, a well-established electric skateboard brand has branched out and created the Glider G5 as the company's first electric scooter.
It's currently unreleased, and they have an Indiegogo campaign ongoing at the time of recording this video.
In this Maxfind Glider G5 review, we'll discuss everything you need to know before buying this electric scooter. Is it worth the price, or should you go for something else? Let's find out!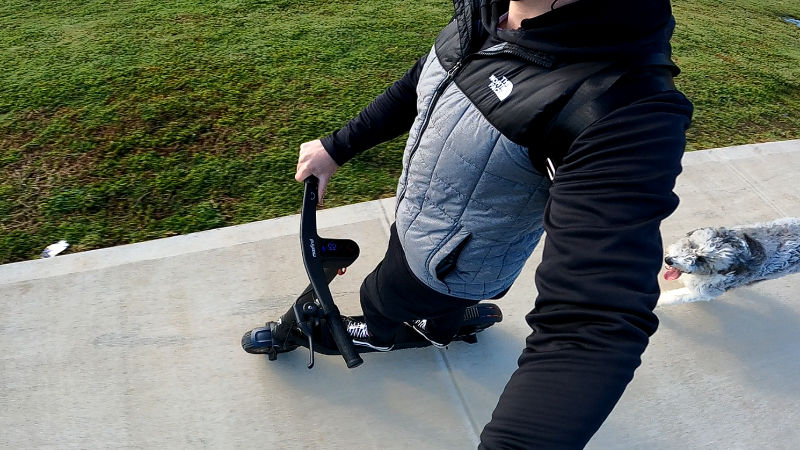 Maxfind Glider G5: A Brief Overview
The Maxfind Glider G5 comes in two main variations: Glider G5 and Glider G5 Pro with the only difference being that the Pro is dual motor while the standard is single motor.
It packs enough power to reach top speeds of 22mph / 35kmh on the standard model and 25mph / 40kmh on the Pro model and both have the same marketed range of 19 miles / 30km.
But, stick around for the performance tests to see what they're actually capable of.
The Maxfind Glider G5 aims to make commuting as hassle-free as possible with its lightweight, foldable frame, swappable battery pack and large display among many other Quality of Life features.
The Maxfind Glider G5 might not have the most insane performance specs, but it has a heap of features that make it a great electric scooter.
Design
The Maxfind Glider G5 is sleek and beautifully designed. It's constructed with lightweight yet durable aluminum alloy, providing smooth and stable performance while withstanding the rigors of everyday use.
The stem sits at a 73° slope with the handlebars sitting at 92cm from the platform. They say the platform is 7.7", however, a lot of that is just bulk from the frame. The actual area that you have to stand is more like 6.5" wide, which is still enough room. I have fairly large feet and I can stand with two feet on a slight angle.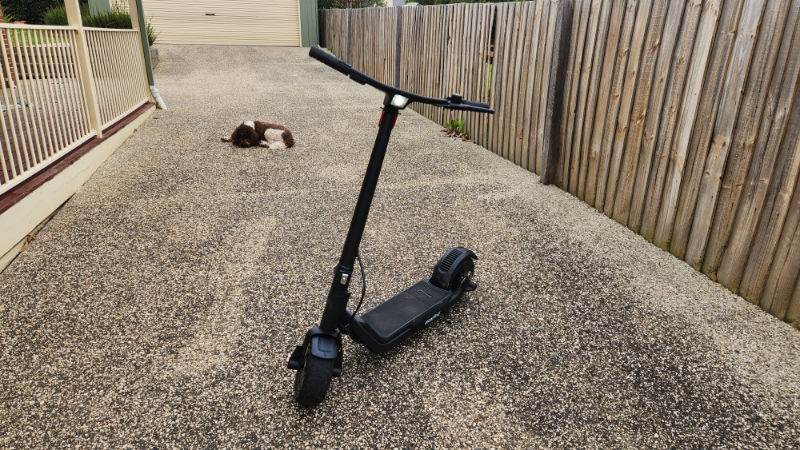 Cockpit
I'm 5'11" and when I'm standing on the scooter's platform, my arms are at about a 115° when I'm holding the handlebars which is perfect. You generally want your arms to be within 100-120° for optimum comfort. It has a 22.8-inch U-shaped handlebar, is a good length, it means my arms still sit fairly close to my body without feeling squished.
The Stem is a fixed height and the handlebar is integrated into the stem, so if these measurements don't suit you, then unfortunately this isn't the electric scooter for you, however, I think these dimensions will fit the majority of people.
Working from the inside out, in the middle of the handlebars is a huge, bight display that shows your battery level, speed mode, current speed, indicators, lights mode and bluetooth connectivity.
The multifunction button allows you to turn the scooter off and on by holding it down. Single clicking the button will toggle the front and rear lights on and off, and double clicking the button cycles through the three riding modes.
On the righthand side is the throttle. It's a thumbwheel that you push away from your hand to accelerate and pull towards your hand to apply the brakes.
This took a little getting used to. I know it's the exact same concept as with an electric skateboard remote, but for some reason when I'm riding anything powered with handlebars, like a road scooter or motorbike, I expect to turn the handlebar to engage the throttle.
My thumb get really sore because I was trying to hang on to the handlebars while also trying to regulate my speed.
But that's something I guess I'll get used to after riding a little bit more.
On the left side of the handlebards we have a switch for controlling the turning indicators. The default position in the middle is off, click to the right and you turn the right indicator on and click to the left to turn the left indicator on. Pretty straightforward. But you'll have to remember to turn the indicators off because they don'thave the fancy auto-off like you do in cars.
There's a bell for telling cyclists and pedestrians to get out of the way. And lastly, there's also a brake lever.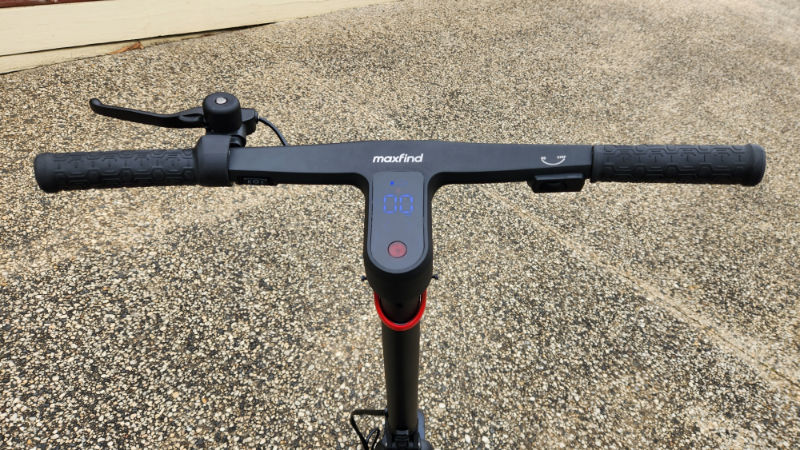 Brakes
Interestingly enough, you can apply the brakes in three different ways.
First is the thumbwheel throttle which is an electronic brake, so it slows the motors down. Second is this lever which is a mechanical disc brake at the rear wheel. And lastly, you can stomp on the rear fender if you're in a real emergency.
I'd avoid using the fender brake because the way it works is by applying friction between a pad under the fender to the rear tyre, so you'll see a lot more wear and tear in your tyre if you do this often.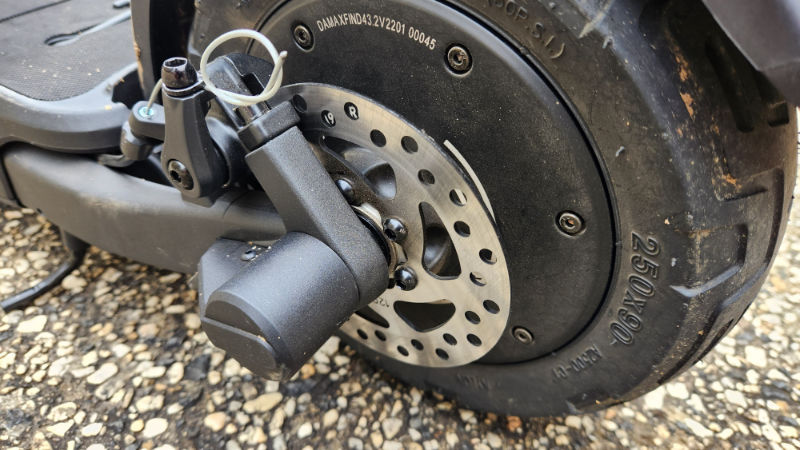 Wheels
Both the Maxfind Glider G5 and G5 Pro feature 10-inch inflatable wheels with decent shock absorption.
The pneumatic tires absorb the unevenness of the terrain, resulting in a smooth, near-flawless ride with minimal bumping and shaking.
And they are wide with a thick tread, which provides good traction on loose and uneven surfaces.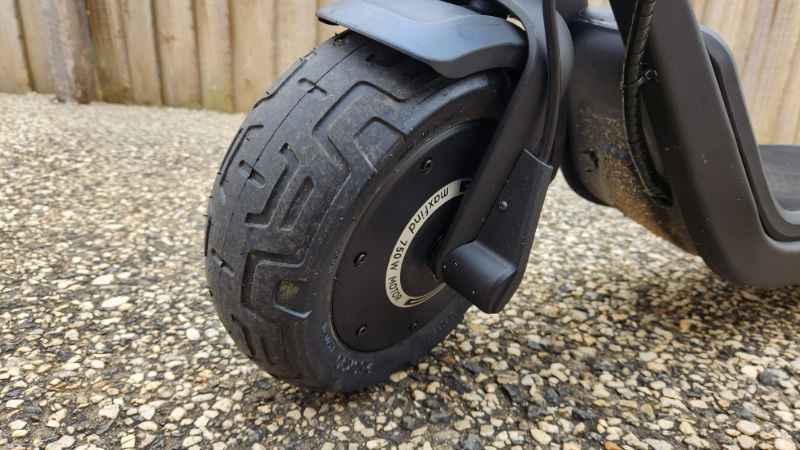 The only downside to these tyres, like all pneumatics, is that they can be susceptible to flats. And by the looks of these hubs, it seems like it would be a bit of a nightmare to change a flat tyre on this electric scooter.
I mean, it's a pain to just pump them up. Take a look at how close the nozzle is to the hub. There's all this space left open for the nozzle, but they've sat it right next to the hub. There's pretty much no chance of getting a pump head around that.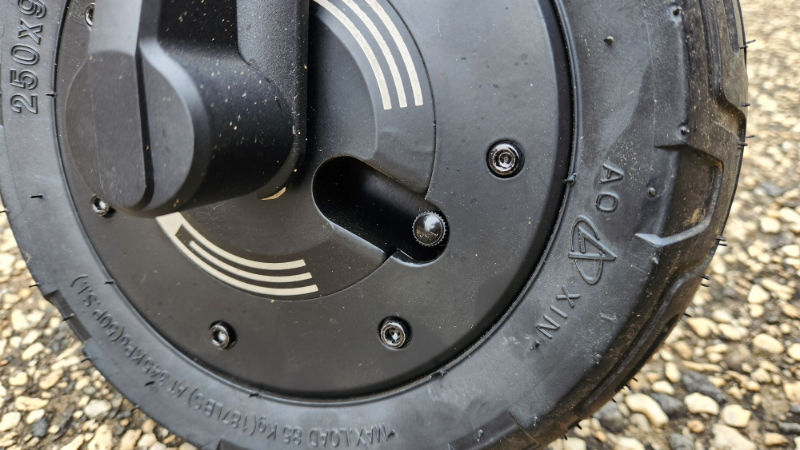 Portability
The Maxfind Glider G5 has some handy portability features that you can use to move it around in a case where you're not riding it.
The folding mechanism is easy, quick, and effective.
You simply unclick this brace and the stem hinges towards the platform.
You flick this little hook up and thread it around the red loop to keep it together.
Then you can lift it up by hanging onto the stem.
Unfortunately the handlebars don't fold in, so they'll still stick out. Not the end of the world though.
The Glider G5 does weigh about 40lbs / 18kg, while the G5 Pro is 44lbs / 20kg, so for some, it could be a bit difficult to carry this thing.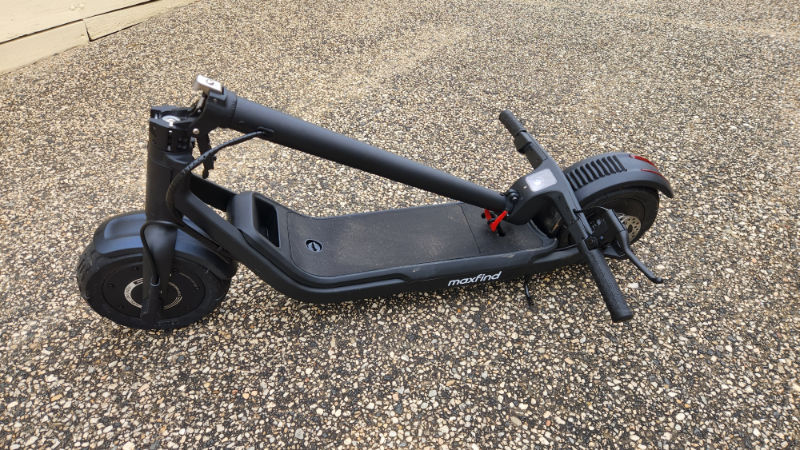 Motors, Speed and Acceleration
The regular G5 is equipped with a single 750W motor, whereas the G5 Pro has a dual motor with a combined wattage of 1,500W. This extra power not only gives the Pro a higher top speed but it also improves the acceleration and hill climbing ability.
Though the G5 Pro is superior in speed and power, the G5 isn't something to scoff at. It's still better than other scooters of the same price range with its 750W motor.
I have the Glider G5 Pro which has a marketed top speed of 25mph / 40kmh and I was able to hit that speed no problem at all.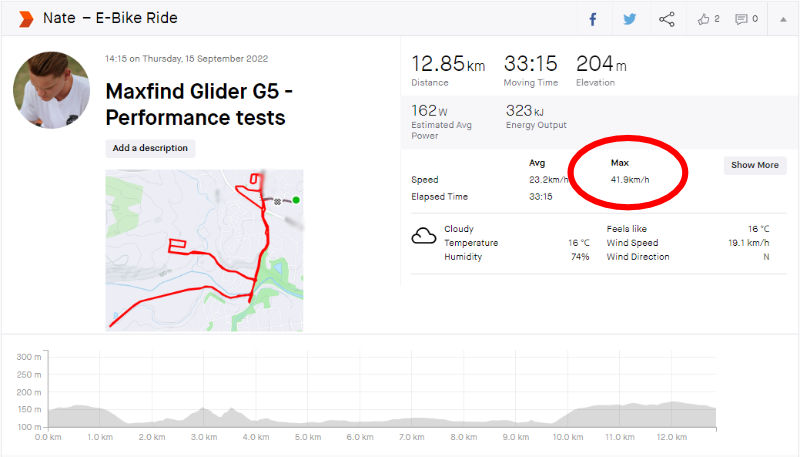 The acceleration was hard but the great thing about electric scooters is that you have a handle to hange onto. So it felt totally manageable.
Combine this with the fact that you have to kickpush off to activate the motors before they'll start propelling you forward.
You can't hit the accelerator from a standstill, the scooter must be rolling first.
This is an interesting safety feature that isn't seen in electric skateboards.
This is so you can't accidentally hit the accelerator while you're holding onto it standing at a set of traffic lights or in a crowd or something.
I was able to climb hills fairly easily. I rode up a 17% hill grade and the Glider G5 Pro maxed out at about 9.3mph / 15.5kmh. I'm about 198lbs / 90kg so lighter riders will see better hill climbing ability than I usually do.
I very highly doubt that it will be able to climb hills of 35%.
Battery and Range
Equipped with a 12S3P 376Wh battery with Samsung cells, both G5 and G5 Pro come in two configurations: standard range and long range. But don't be foolled. The long range version just comes with two battery packs that you can swap in and out.
Although, it is a quick swap system that is really easy. You just turn a latch, pull up the lid and swap out the batteries.
So, technically, your range is only limited by the number of batteries you can carry.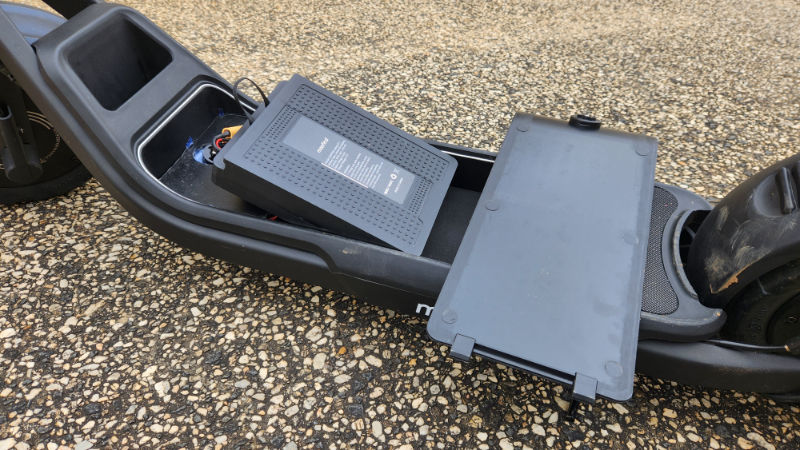 However, the standard range is marketed to allow riders to ride up to 19 miles / 30km in a single charge so let's put it to the test.
On my first ride, it was a bit unfair. I went up and down some huge hills as you can see in my ride map, and I tested the top speed a few times. It was also super windy. I ended up getting 7.98 miles / 12.85km.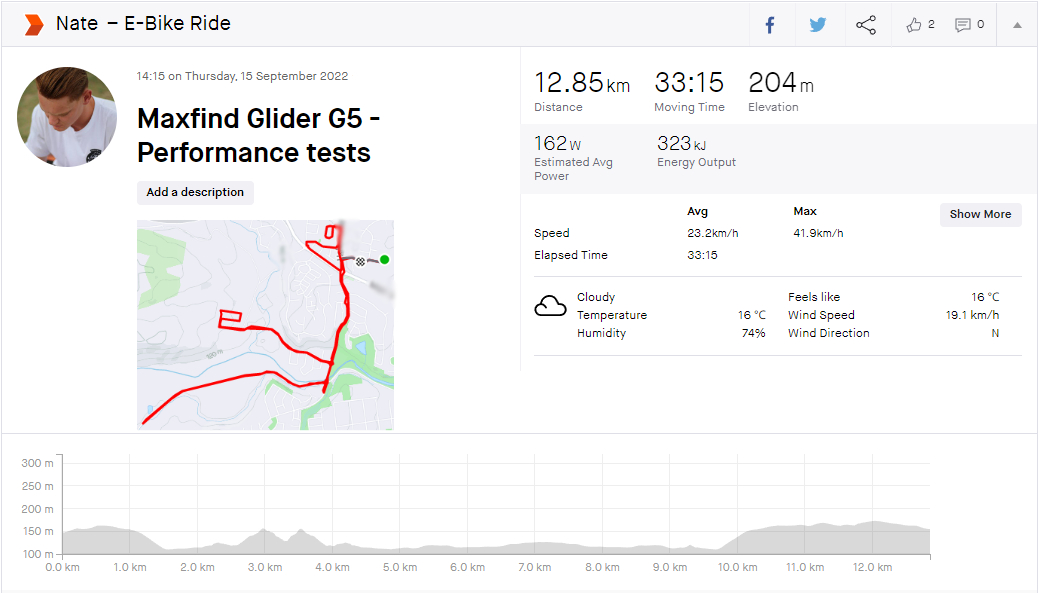 They weren't ideal settings for a range test, so I went out again and this time I rode on a completely flat surface, at a lower average speed and just cruised around the whole time.
This time around I got 8.59 miles / 13.84km. Only one extra km.
It's pretty disappointing to only get this kind of range. It's less than half of what is marketed.
I know I am on the heavier side, and there's no doubt they probably tested this with a 65kg rider, but I feel like it's too much of a discrepancy, because I don't usually see this much of a difference on electric skateboards.
Even with these range numbers, still the most frustrating thing about this electric scooter is where they decided to put the chargind port.
It's at the front, underneath between the platform and the front wheel. Literally, anywhere would have been better.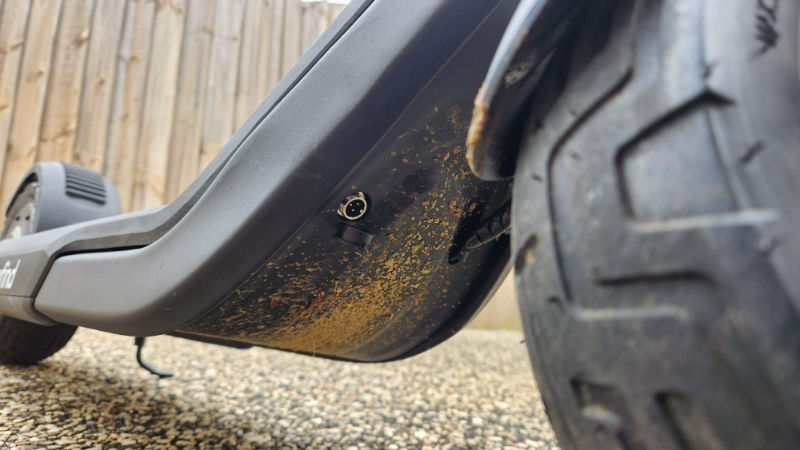 Water Resistance
The Glider G5 isn't waterproof, but it has an impressive water-resistance rating of IP65—a standout feature lacking in many scooters. This means that it's tolerant of puddles, splashes in all directions, and consistent light rain. 
It's not built for immersion and I would still not recommend riding in the rain and wet conditions, but it's well-made for weathering and riding in a bit of water.
Mobile App
On their website, Maxfind tout a mobile app but it's just an integration with another 3rd-party "smart things" app. Also, I couldn't get the app to connect to my scooter, so I can't really tell you what it's like. It could be because the scooter isn't technically released yet, so I'll give it another go after they've officially launched it and I'll update my website with the findings. You can find a link to that in the description below.
Conclusion: Should You Get the Maxfind Glider G5?
The Maxfind Glider G5 excels in three things: design, ease of use, and features. It's better than most electric scooters of the same price in that department.
In terms of performance, the speed is great and you'll have a lot of fun riding this electric scooter, however, the range is a bit of a let down, especially when you're expecting a lot more.
If you're looking for a feature-packed electric scooter for commuting and you don't have too far to go, then the Glider G5 Pro is a great option.
That's it, that's my Maxfind Glider G5 electric scooter review.
I hope I've helped you find the best electric scooter that's right for you.
Ride safe out there,
See you soon.