This Possway Lynx review has been one of the most enjoyable reviews to do so far.
Maybe it's because I filmed it in a different format (which you can watch above), or maybe it's because the board was so comfortable and stable that I felt confident the entire time and never worried about the possibility of falling off.
Spec-wise, its very impressive, with a range of 26 miles / 42km and a top speed of 32mph / 52kmh, it's enough to ride most places without the need for a charging stop and to get a bit of an adrenaline rush at the high-end of the speedometer.
Value-wise, you get a ton of accessories in the box.
For starters, you get two sets of wheels standard which is nice.
But you also get a set of rear ShredLights and mounts. This is a really nice touch because I think it's important to have lights while riding so that you make yourself seen by drivers around you.
It's RRP is $999 but is often on sale, so keep an eye on it and use the code ESKATEHUB at checkout for an extra 5% OFF.
That also helps fund this site and more electric skateboard reviews.
So, let's take a closer look at the Possway Lynx and put it through its paces, to see how it really holds up against its marketed specs.
Rider Details:
| | | |
| --- | --- | --- |
| Height: 181cm / 5'11" | Weight: 90kg / 198lbs | Shoe Size: US11.5 / EU45 / 30.4cm |
Who Is It For?
Ideally, the Possway Lynx electric skateboard is perfect for someone who wants to completely ditch the car or public transport and eSkate the entire way to work or school.
It's also great for weekend riders who just love a good cruise or want something to ride the concrete wave.
Possway Lynx Review
Deck
The Possway Lynx has a 37", Canadian maple and bamboo composite deck with a slight dropdown and flared edges.
It feels stiff along the centre of the deck, but has a small amunt of flex at the drop between the platform and the nose/tail.
I like this level of flex because most of the time I feel very stable when riding, especially at high speeds, but when I face any bumps or cracks, that small amount of flex goes a long way to absorbing that bump.
The flared edges mixed with the dropdown create a nice little nook for your feet to settle into and you feel 'locked-in' to the eboard.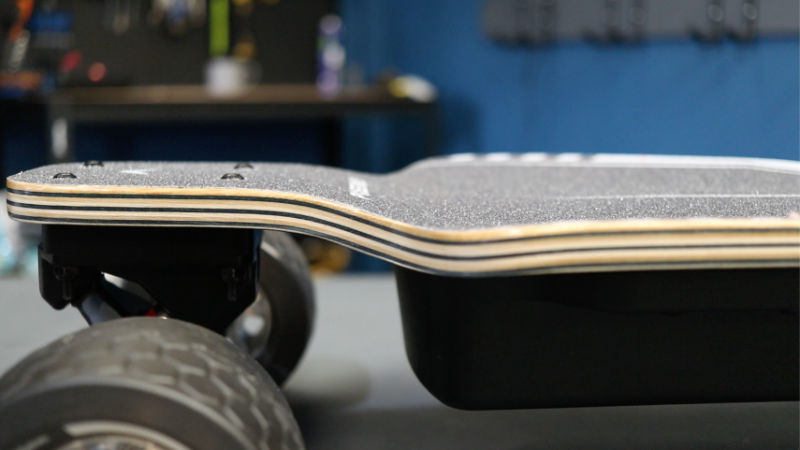 It gave me a lot o confidence when riding because I could be certain that my feet weren't slipping around, so I could spend more time looking up at the road ahead rather than peaking down to check on my feet.
I'm going on a bit about ths deck, but it really is one of the nicest decks I've ridden.
I just have one last thing to mention about the deck and it's again thanks to the flared edges.
These flares, combined with the trucks make turning really easy.
Trucks
You have standard 7", 45º skate trucks on the Possway Lynx but they feel amazing.
They come quite loose out of the box, and I only tightened up the rear truck for a bit more added stability.
I have to say, the carving on this eboard is like nothing I've ever experienced before.
The board would float out, and return back to centre smoothly just as you would expect. I'm not the ahrdest carver, but I felt like I was able to carve more on this board than any other board I've been on recently.
When turning, I felt as if I had precise control over the lean, down to the millimetre. And I could make a U-turn on a two-way street no problems.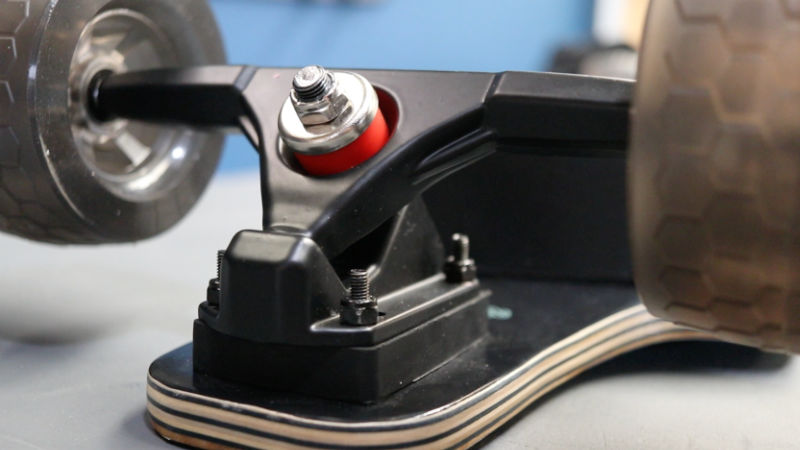 Wheels
The Possway Lynx comes with 105mm urban terrain wheels installed standard, but it also has a set of 90mm wheels included in the box.
That's the 2-in-1 they refer to.
The 105mm wheels are meant to be 'All-terrain', but they're really more like urban styled wheels designed for less-than-perfect roads and compact gravel paths.
And it rode these terrains effortlessly.
I took it on some gravel paths and I didn't lose that much traction.
If they are gravel paths that you can take as shortcuts on your daily commute, the Lynx will eat them up and help you cut down your daily travel time.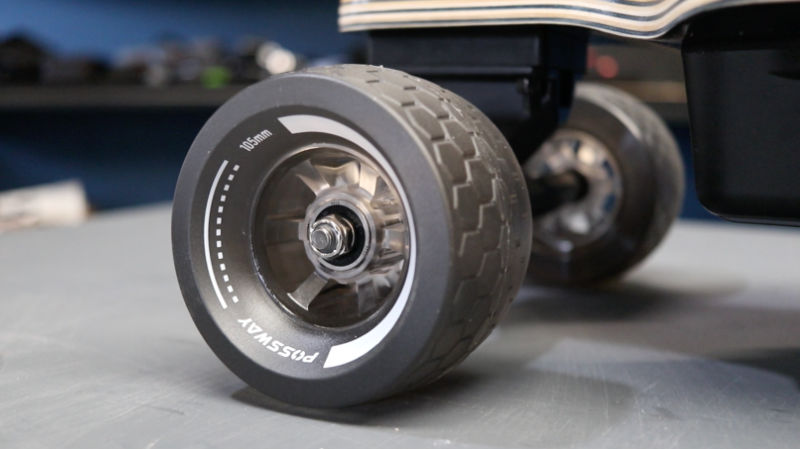 Motors, Top Speed and Hill Climbing
The Possway Lynx has dual 2700W belt-drive motors that are marketed to get you a range of 32mph / 52kmh and be able to climb hills with a 48% hill grade.
Now, I don't know if that hill grade spec is a typo or what, but that is stupid steep.
There are no roads on the planet that have a grade that steep. The steepest road in the world is in New Zealand and measures 34.8% at its steepest.
Anyway, I rode up a hill that has a 15% grade and the Lynx smashed it. It only slowed to 13mph / 22kmh at the steepest point. And that was in High mode, not even High+.
As for the top speed, well I managed to see 40kmh on the remote, but my Strava tracked 38kmh.
I don't think the thumbwheel was even halfway. There was still plenty of room to go faster and I could feel that the board wanted to keep going, but I'm just not that game to go much faster than that.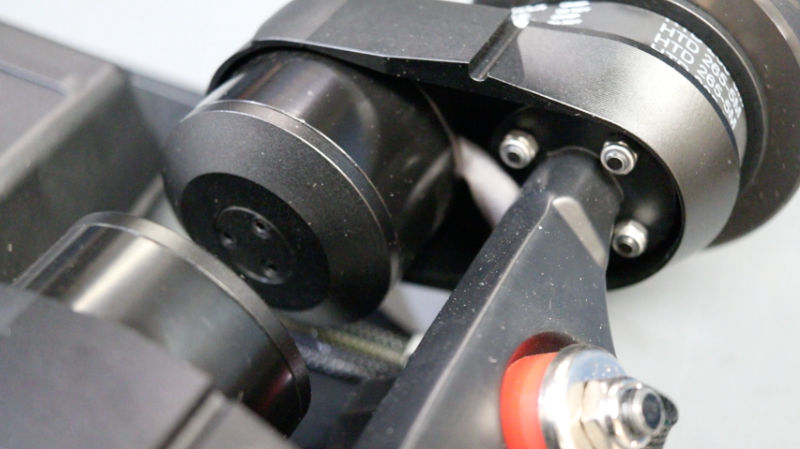 Battery and Range
The Possway Lynx has a 12S2P 345.6Wh battery with Samsung 40T cells.
This is kind of the gold standard for batteries in the eskate scene at the moment. A lot of the well-known and trusted eskate brands are using these battery cells.
It's marketed to get a range of 26 miles / 42km range, however, I reached 14.9 miles / 24km.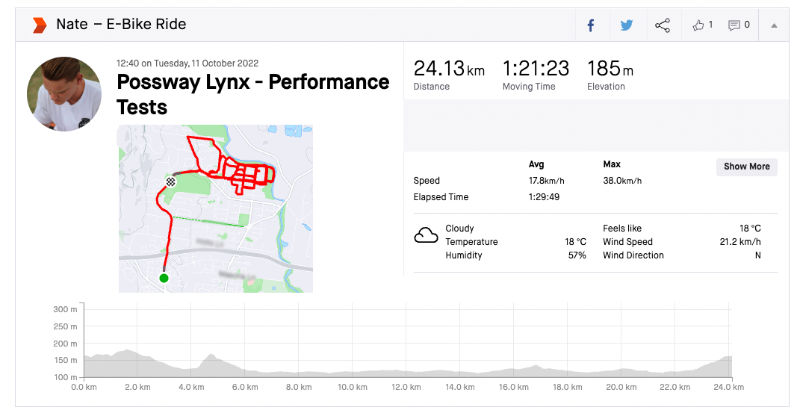 Now, that's quite a bit below the spec, but it's pretty much what I expected.
We have to remember that I weigh a lot more than the rider they tested with, and I can bet that I rode it harder than they did.
I did the hill climb test, multiple speed and acceleration tests, I rode on gravel paths for a while and I did a fair bit of carving, all in High mode.
The tester would have ridden on flat ground in Medium mode without any funny business.
For lighter riders, and those that will ride more conservatively, you'll get a lot closer to the marketed range than I did.
ESC, Acceleration and Braking
The Possway Lynx has a great ESC that has the ability to cater for both beginner eskaters and veteran riders.
The acceleration in the Low mode is super soft and perfect for youngesters and beginners to get a handle of eskating.
The Medium mode again is soft off the mark but it picks up speed relatively quickly.
If you're a beginner, I'd say spend some time in these modes to build up your confidence before you think about moving any higher.
High mode is a little harder off the mark but still manageable if you're experienced and ready for take off.
From there it picks up speed really fast. You can be at the mode's top speed within seconds.
Now, High+ mode. This is where it is at.
The acceleration is very punchy. When I say you must be braced for take off, you better make sure you are, otherwise you'll be on your ass in no time.
Then it soars towards its top speed incredibly quickly.
You also have four braking modes that you can modify independently of the speed mode.
So you can have access to the harder brakes even if you want to cruise around in Medium mode. Something that I find myself doing a lot.
Remote
The Lynx is using the famous seahorse remote which gets praise no matter which board you're riding.
It has auto on/off, so you can turn the remote on, kick push off with the board and the board automatically turns on and connects to ther remote.
I love this because you can just get up and go without the awkward fumbling around for the power button under the deck.
Reverse is activated by toggling a switch, rather than triple-clicking a button, which as mundane as it sounds, is my preferred way of changing riding direction.
You also get cruise control and a new function called Pause.
Basically, when you come to a complete stop, the remote enters a Pause state after 4 seconds and you can't accelerate until you deactivate Pause by pulling the brakes on.
It was tricky to get used to because I'm so used to just hitting the accelerator and going, but it will save many people a lot of money by preventing accidental accelerations of the baord into traffic while you're taking a break.
And maybe if I had this feature on other boards, I wouldn't have this hole in the wall.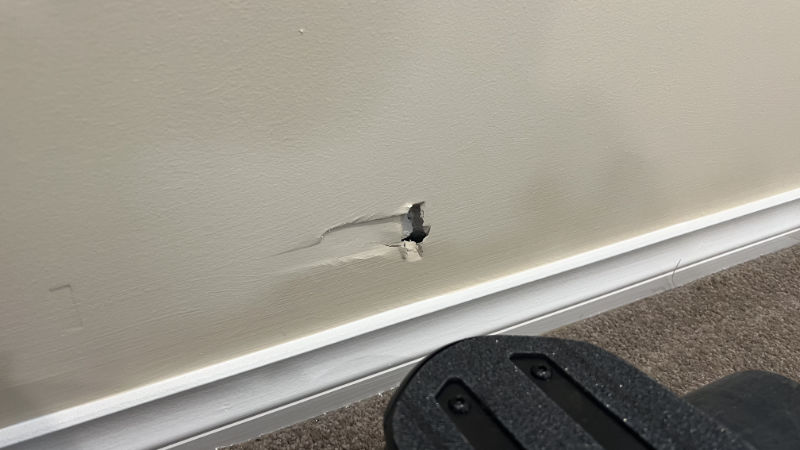 The only thing I don't like about this remote is that you can change speed modes while you're accelerating and it can be quite easy to accidentally hit the mode button.
Some riders like this feature because it allows them to move down gears to preserve battery power when needed, and then switch to a higher mode when they need a power boost momentarily, so it's a contentious one.
Final Thoughts
Overall, I love the Possway Lynx.
It comes with a great set of accessories, like the ShredLights and extra wheels.
The Pause feature on the remote is innovative and very useful, even if it does take some getting used to.
And the whole ride experience is just really enjoyable.
It has enough speed for me and the range is plenty.
But my favourite thing about this eboard is it's ability to carve, and to make you feel like you're good at carving (even if I'm not).
I always felt confident on the Possway Lynx and I think you would be more than happy with this purchase, you'd actually be excited.
Get 5% OFF with code ESKATEHUB