The Possway V4 Pro is the perfect electric skateboard for kids and teenagers.
It's quite hard to find an electric skateboard that is designed for kids but isn't low quality in terms of build and performance.
There are tons of kids' eBoards on Amazon, but they have no reputation and lack a decent star-rating.
And if you're going to put your child, or yourself if you're a teenager, on an electric skateboard, you'll already know that they can be dangerous, and you don't want to take the risk with these cheap brands.
The answer is Possway and their electric skateboard which is completely designed for kids and teenagers.
For brave youngsters, it has enough power to be fun while for concerned parents, it doesn't have so much power that it is too dangerous.
It's a great eBoard that will encourage screen-obsessed kids to get outside and enjoy the sunshine while doing something that is still kind of tech-related.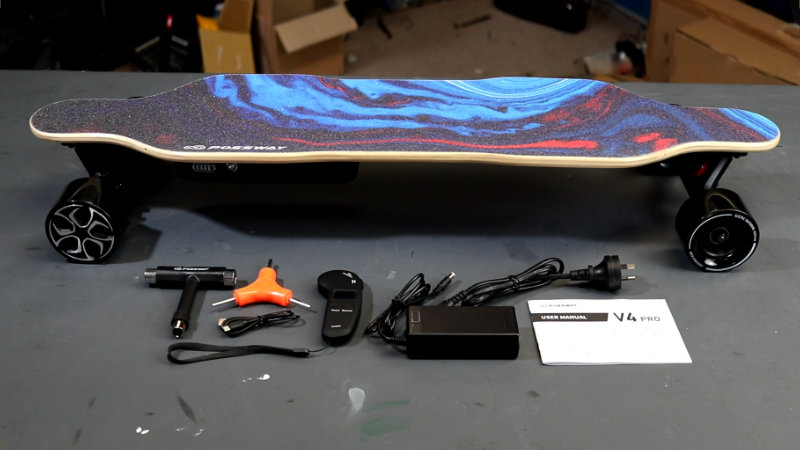 It is the successor to the V4, which I have also reviewed and really enjoyed, even though it's not a board that's targeted towards me.
If you decide that the Possway V4 Pro is right for you, it's usually US$449, however, right now you can get it for $349. Which is insane value.
Plus, you can use my discount code ESKATEHUB to get an extra $15 OFF.
If you do, that helps me out a little bit, so thank you in advance if you do use it.
So, let's dive into this Possway V4 Pro review and see if this is the eBoard for you or your little loved ones.
Possway V4 Pro Review
The deck is 35" long, 9" wide and made of 8 layers of maple.
This is an ideal length for teenagers as it allows them to create a solid base with the feet.
The deck is quite stiff, actually it doesn't really have any flex in it at all. Which, for younger riders and beginners is exactly what you want.
For young and inexperienced riders, flex in the deck can often just be an added and unnecessary challenge. So, in this case the rigidity of the deck is a bonus.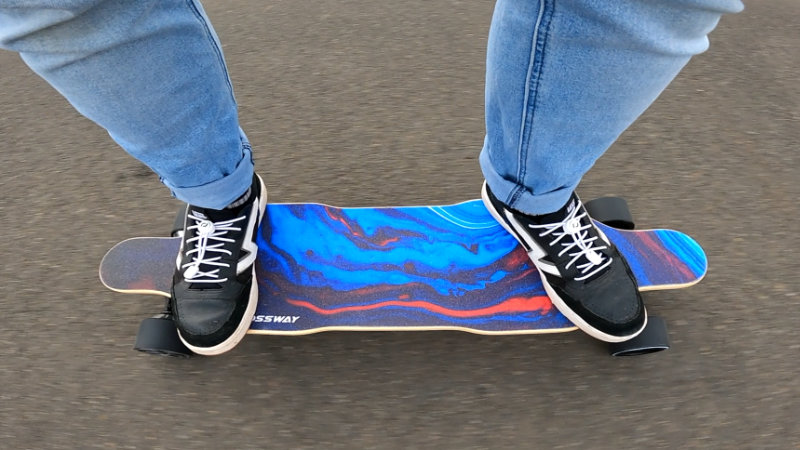 There are two options for grip tape. The one I have here is called Universe and there is also a less vibrant option called Spark.
You've got 45° 7" eskate trucks which are pretty good.
They kept me stable at high speeds while having enough movement in them to turn corners easily.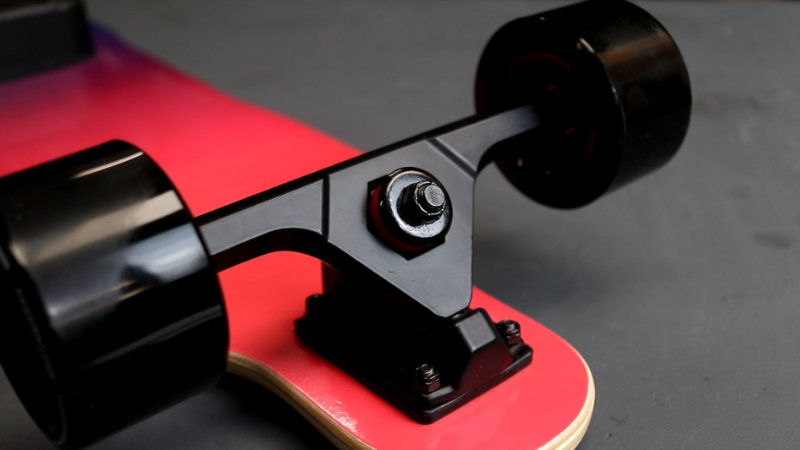 The wheels on the Possway V4 Pro are 83mm in diameter with a 52mm ground-contact area and an 83A softness.
That's on the smaller and softer side that wheels tend to be, however, there's good reason for that.
Younger riders tend to weigh less and therefore a hard wheel would feel extra hard compared to how I would perceive the wheel.
So that added softness helps to absorb vibrations and grips the road better, increasing your stability on the board.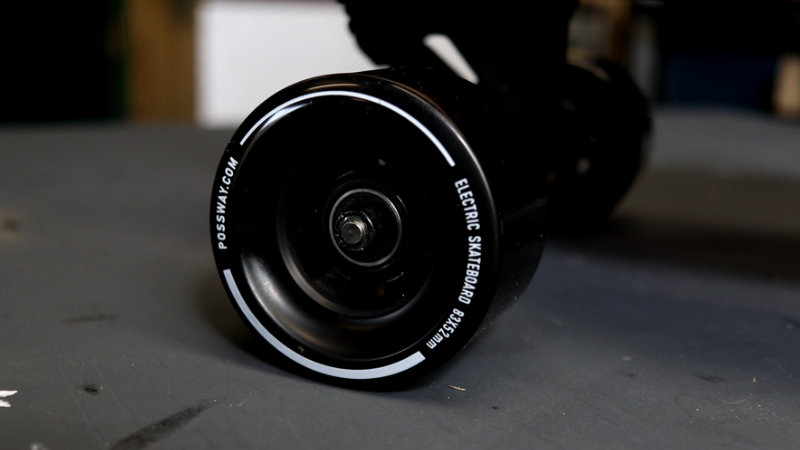 As for the electronics of the Possway V4 Pro, it has a 7S2P 100.8Wh battery pack powering dual 400W hub motors.
Those numbers equate to a range of up to 8 miles / 13km and a top speed of 23mph / 38kmh.
I took it for a range test and considering my weight, I didn't have high hopes for it. So I tried to mitigate my weight by riding the V4 Pro in a very conservative manner.
I actually just put the board in cruise control at 15kmh and did laps around this flat area near me.
And to my surprise, I managed to get 7.7 miles / 12.39km.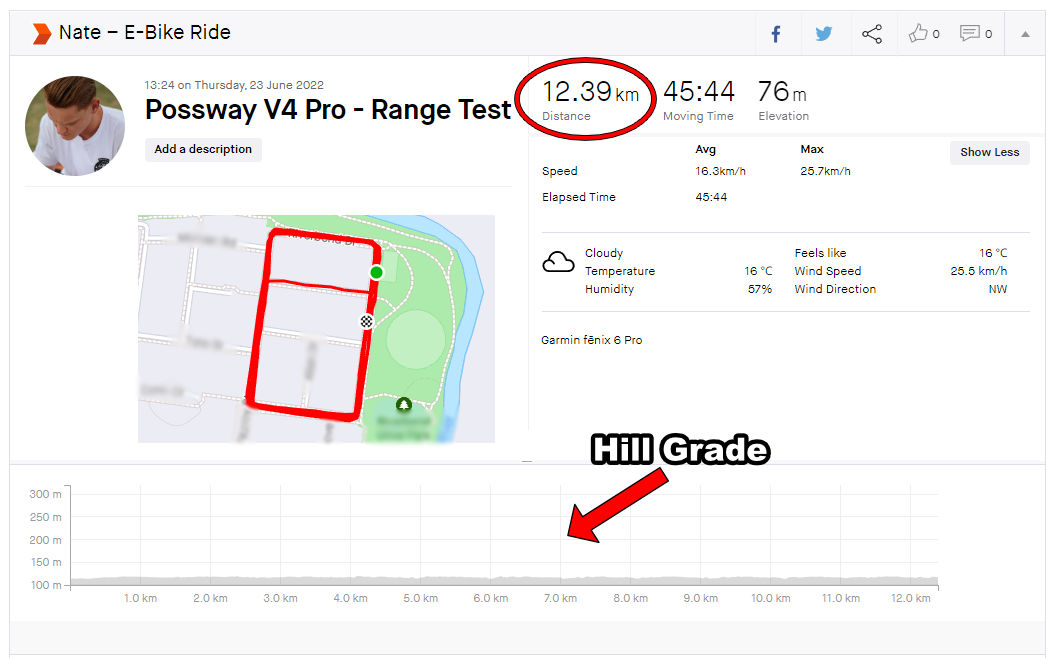 It was also pretty windy, and because I was doing laps, I spent equal time riding into a headwind as I did with a tailwind.
Overall, I'm very impressed by the V4 Pro's range capabilities.
As for top speed, I hit 18.5mph / 29.8kmh.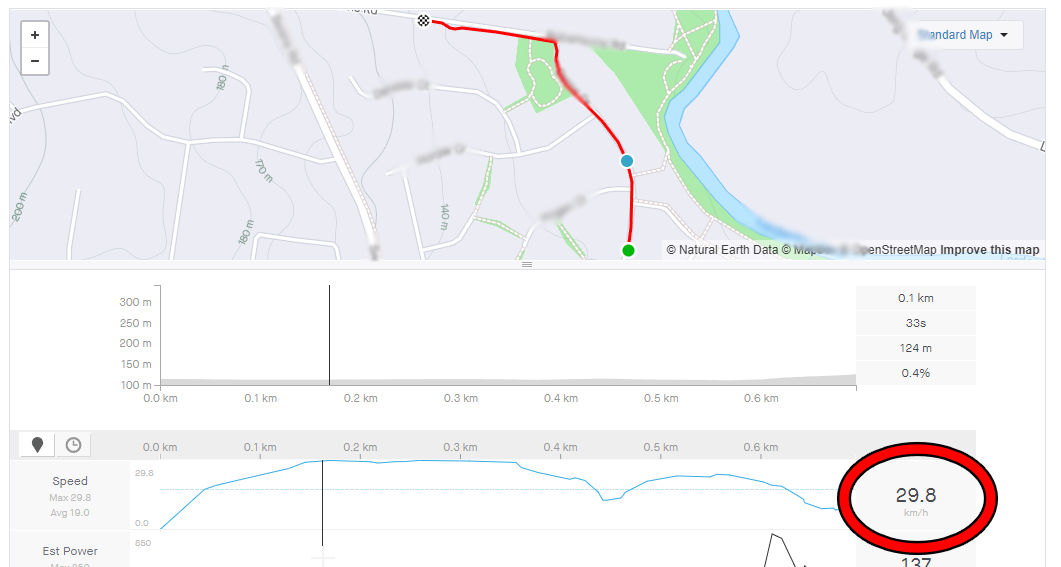 I was unable to get up to the marketed speed and I blame the extra weight I'm carrying. Not that I'm overweight, I'm just beyond the weight of who this eBoard is intended for.
In saying that, for younger riders, in general, 30kmh is probably at the top end of their capabilities.
Or maybe not, kids these days are wild and fearless.
I did attempt a hill climb test, but again, my weight hindered the eBoards ability to get to the top.
I was punching full throttle and only doing about 5mph / 8kmh before I decided to stop in case I caused any overheating by putting the eBoard under too much load.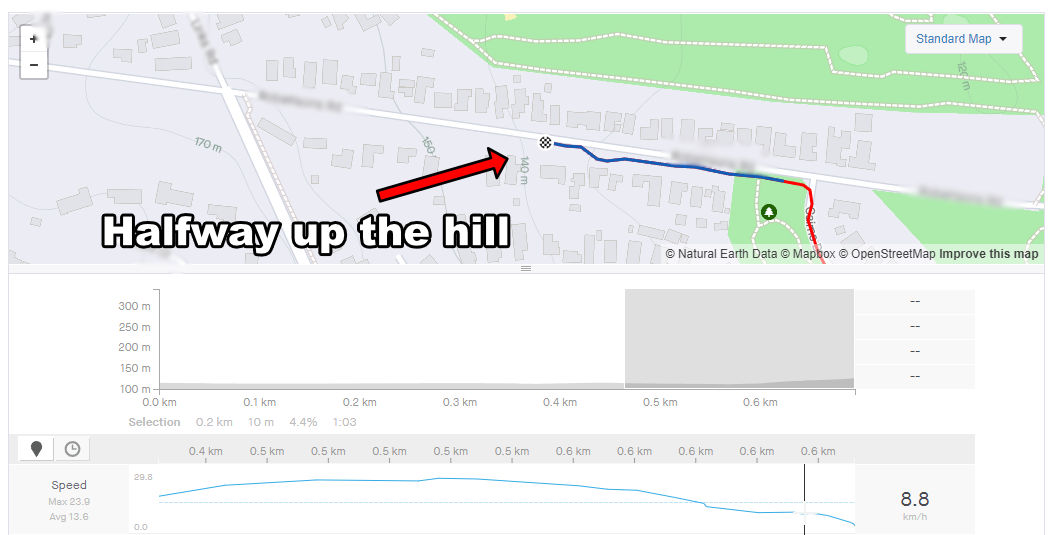 The remote also got an upgrade from the V4 with an LED screen that displays a bunch of information like the battery levels for the board and remote, odometer, current speed, the max speed of that session, the direction of the board, speed mode and braking mode.
It also has cruise control that I mentioned earlier and one of my favourite features, auton on/off.
You just turn the remote on, push the deck back and forth and the spinning of the motors signals to the ESC to turn on.
This is great because you can just throw your deck down on the ground, turn the remote on, kick push off and it all pairs ready to go.
Beats awkwardly fumbling around underneath the deck trying to hit the power switch, that's for sure.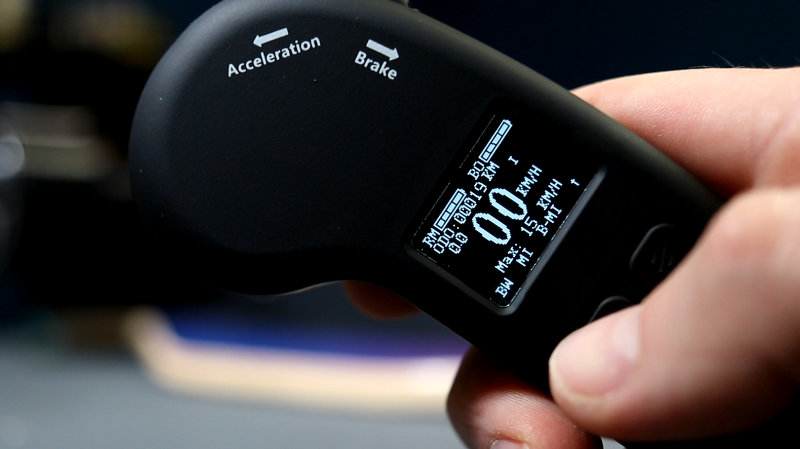 Putting specs and performance aside, the Possway V4 Pro rides really well.
As a cruiser eboard, it's relatively comfortable and easy to control.
I found it to be stable at high speeds and the acceleration and braking was smooth and not overpowering.
It's really hard to accidentally throw yourself of this eboard by slipping on the thumbwheel.
I enjoyed the bit of carving I was able to do on it. It's nothing too extreme, but it at least has some. And for younger riders, it will feel awesome!
Who Is It For?
It's safe to say that the Possway V4 Pro isn't for me.
However, it is ideal for kids and teenagers who want an electric skateboard to go out for rides on weekends and have a little bit of independence.
Or maybe you're an eskate parent and looking for an eboard for your child so you can ride together. Now that sounds like a great weekend activity.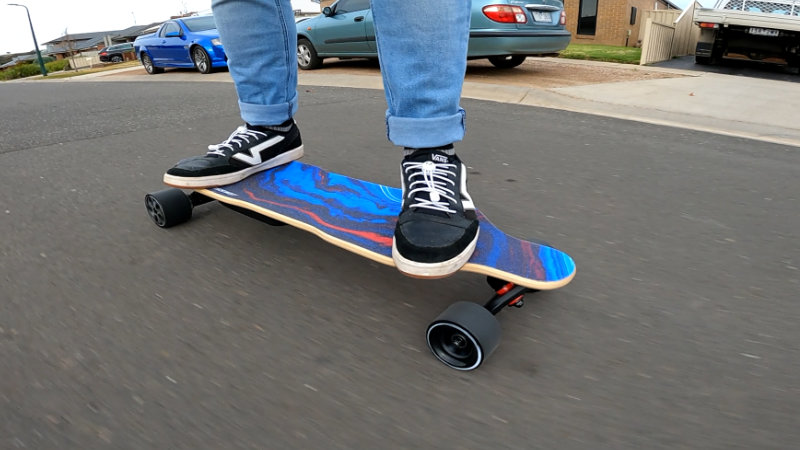 Final Thoughts
Overall, I love what Possway are offering with the V4 Pro.
It has all the power teenagers need with components that are designed to keep the rider safe, like the grippy wheels and the manageable acceleration and braking.
It's also very affordable, so if it turns out not to be the kind of thing you or your child is into, then there's not too much of a loss.
Possway also have a solid reputation that will make reselling the eboard easy.
But after you take it for a ride, I bet you'll never want to get off it.
That's it, that's my Possway V4 Pro review.
I hope I've helped you on your journey to find the best electric skateboard that's right for you.
If I have, please like this video, it helps me out a lot!
And if you want to see more electric skateboard reviews and join the best eskate community, then subscribe to the channel.
Thanks!
Ride safe out the eskaters.
See you soon.
On Possway's Website