Hey eSkaters,
I've been testing out the Meepo Atom – Mini 3S, and I must say, it's a fantastic little electric skateboard for beginner riders with plenty of power to grow into.
And for US$469, it offers a lot of bang for your buck.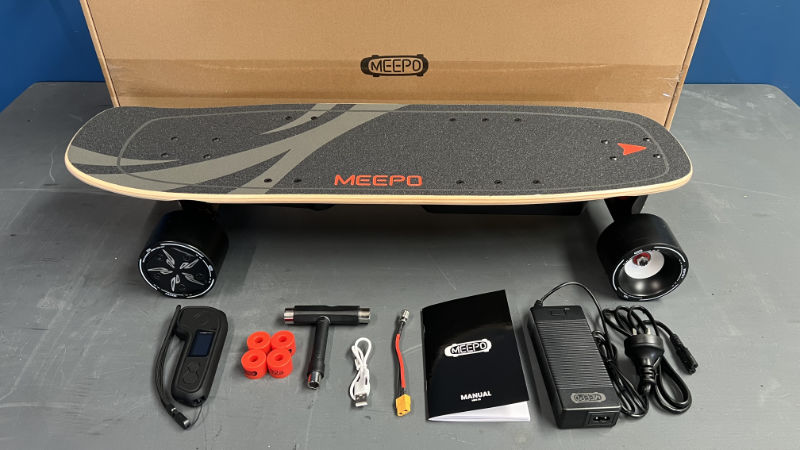 Meepo Atom Mini 3S Review
Deck
The Meepo Atom – Mini 3S features an 8-ply Canadian maple deck that is rigid and comes with a kicktail.
The kicktail combined with the dish-shaped deck enhances control and responsiveness, making it easy to make tight turns and adds an extra bit of joy to ride.
You can tictac around corners and lift the nose over bumps and cracks. It feels a lot like a traditional skateboard in that sense.
I find myself using the kicktail often when I'm riding over little curbs between the path and road or when I need to make a 90º onto a another street.
Its compact dimensions of 30″ long and 12.6″ wide make it portable enough to carry on trains and buses with ease. It only weighs 18.5lbs / 8.4kg so it's no hassle to pick up and carry around if you need to.
On the underside of the kicktail is a little bumper that prevents the deck from getting scratched up and ruined when you do the old kick up off the ground to pick the board up.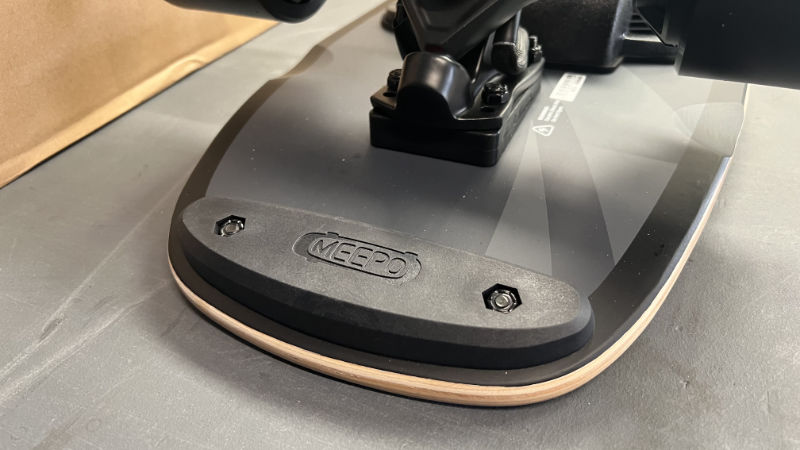 Wheels
The Meepo Atom comes with Sentry 90mm PU street wheels with a 60mm contact area and the 78A durometer makes them grippy and capable of absorbing a good amount of vibrations.
However, due to the hub motors and the short, stiff deck, you will feel a few of the bigger bumps and cracks on the road.
If you wanted to increase your comfort further, Meepo sells 105mm donut wheels that absorb a lot more vibrations and roll easier of bumps and cracks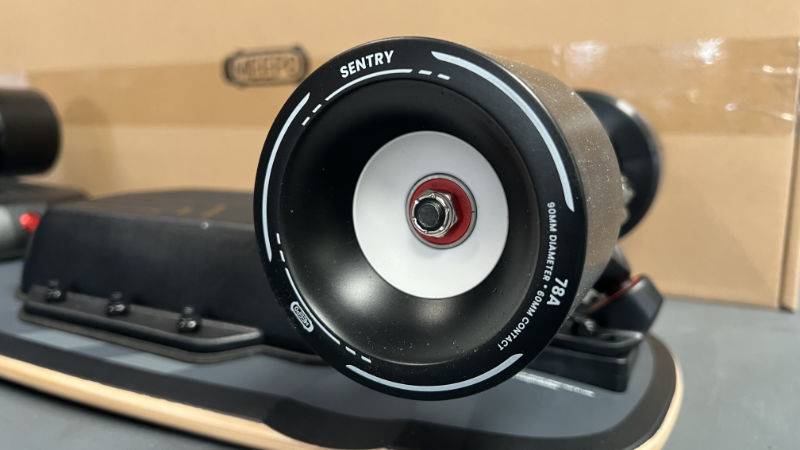 Trucks
The Meepo Atom – Mini 3S is equipped with 7" 45° RKP Shredder trucks.
Meepo's Shredder trucks have proven to be some of the best in the industry so it's great to see them on such an affordable eboard.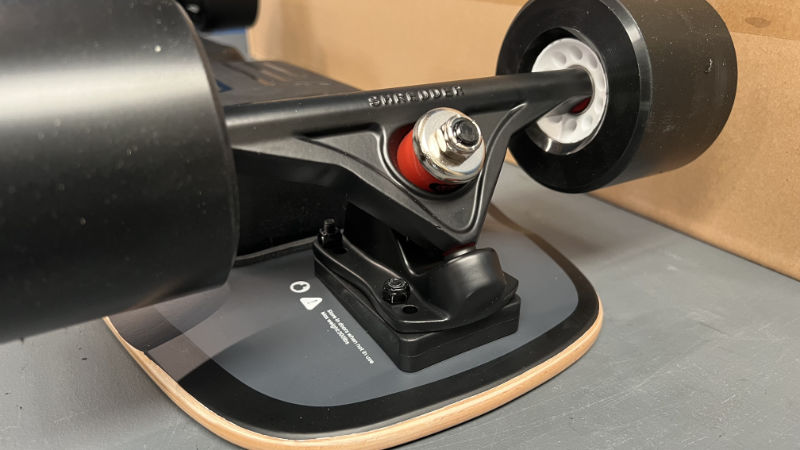 They are stable at high speeds yet still allow you enjoy a nice carve.
They come pre-installed with 100a bushings but if you wanted a cushier and even carvier ride, Meepo include a set of 92a bushings in the box.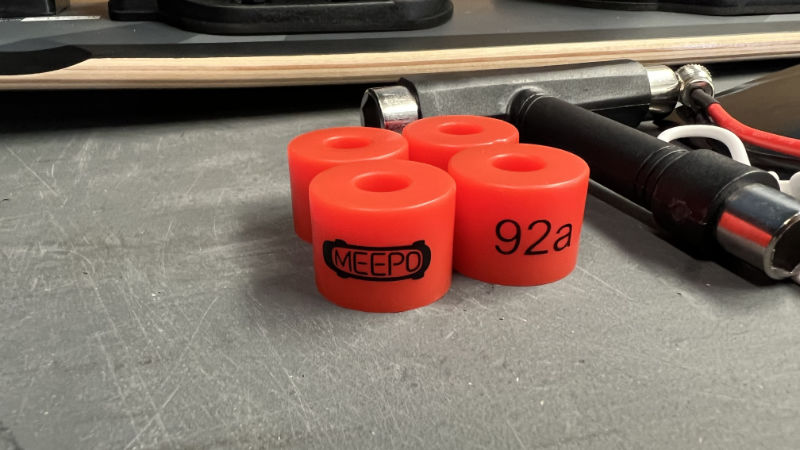 Motors and Top Speed
The Atom Mini 3S is powered by dual 540W hub motors which are quiet, require low maintenance and still deliver a lot of power.
They can get you a top speed of 29mph / 47kph, and take you up hills with a grade of 22%.
At my weight (194lbs / 88kg), I was able to get up a 15% hill with relative ease. Lighter riders will have no troubles getting up most hills.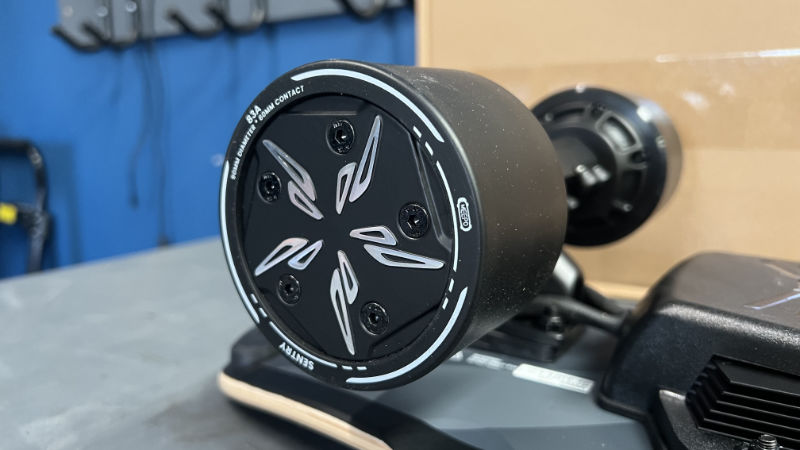 Battery and Range
The Meepo Atom Mini 3S is powered by a 216Wh battery, and can get you a range of up to 17 miles / 27km.
For an affordable beginner electric skateboard like this, that is fairly decent range and enough to get you pretty much anywhere you need to go.
The charging time is around 3 hours with a 42V 2A charger, which is pretty standard for a board of this size and price range.
Meepo also sell a 3A charger if you need faster charging times.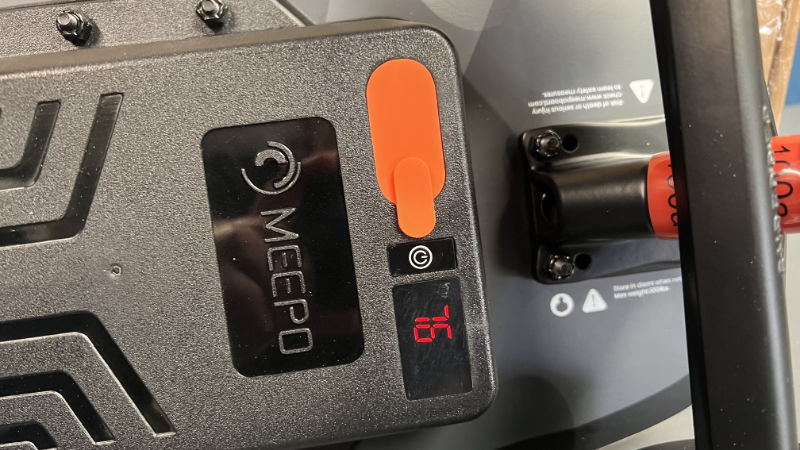 The battery enclosure has a small ELD screen that shows you the battery level of the board so you can quickly see how much juice you have without having to power on the remote and the board.
It also has a USB-A outlet that you can use to recharge your USB devices like your phone when you're out on a ride.
ESC and Acceleration
The Meepo Atom – Mini 3S uses a LY-FOC ESC, just like the majority of their eboards.
The acceleration is smooth yet powerful, providing a thrilling ride while keeping you confident that it isn't going to through you off the board.
The braking was hard enough to bring you to a complete stop within a safe distance, but it's not to overpowering that you'll get thrown over the board. Just make sure you're always prepared to brake.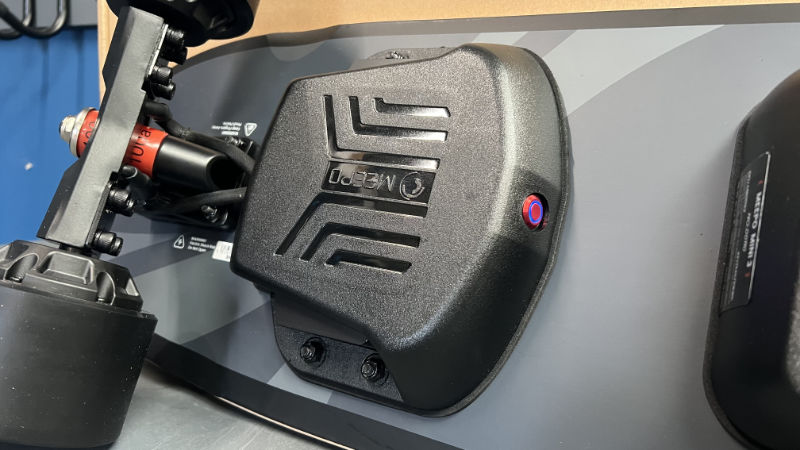 Remote
The Atom Mini 3S comes with an M4S remote that has 4 riding modes, cruise control, and reverse.
The remote also features independent speed and braking modes, so you can ride around in speed mode 3 to preserve some battery but still put the board in braking mode 4 to ensure maximum safety.
The LED display shows current speed, trip length, odometer, riding mode, braking mode, board direction, and battery level for both the board and the remote.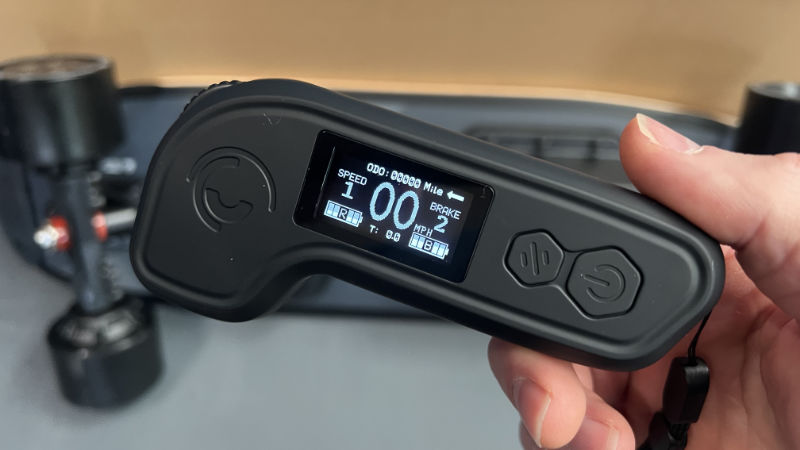 Build Quality and Aesthetics
The Meepo Atom – Mini 3S is a well-built board with quality components.
Its design aesthetic screams Meepo (which is a good thing) and I like that it has a small orange arrow on the nose of the board. It's probably not all that necessary when you have a kick tail, but it's still one less thing you have to think about.
It has a max load of 150kg / 330lbs, so most people will be able to ride this eboard.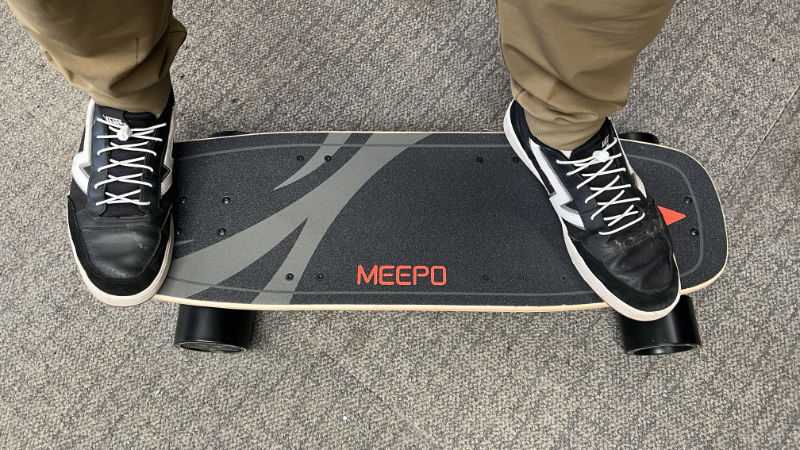 Ride Experience
The Meepo Atom Mini 3S is very enjoyable to ride. It's really as simple as that.
I found it to be very stable at higher speeds but still allowed me to have a good carve.
It was a bit rugged under the feet because of the stiff deck, but on a shortboard, that's the kind of feeling you need. You want to be able to feel the road and use the kick tail to respond to any obstacles in the way.
I had a lot of confidence cornering with the grippy wheels and it made it even easier with the kick tail.
It was easy to pick up when I had to walk across grassy areas or really bumpy parts of the path.
This is the board I'd take if I wanted to ride down the street to grab a coffee or when heading into the city by the train.
Final Thoughts
The Meepo Atom – Mini 3S is a great electric skateboard for those starting out with eSkating or for intermediate riders looking for a portable and fun board to ride.
I love the agile ride with the dish-deck and kick tail and how easy it is to carry around when I head into the shops or jump onto the train.
For its US$469 price, it's an affordable entry-point for those who want to test-the-waters, for even as a second board you can use to duck down to town quickly.