Summary of Vokboard Riot Review
We're taking a look at a new eskate brand with a new electric skateboard today.
The brand is Vokboard and they've just released a bunch of different products, but the one we're looking at is the Vokboard Riot.
It's a hub motor electric skateboard marketed to get speeds up to 28mph / 45kmh and a range of 21 miles / 35km.
Before we get started, I want to introduce you to Jack, who has his own YouTube channel, JackHasWifi.
He's a great guy who produces some awesome eSkate content and does a lot of really in-depth electric skateboard reviews.
He's helping me out big time with this article by doing all of the testing and product filming for me.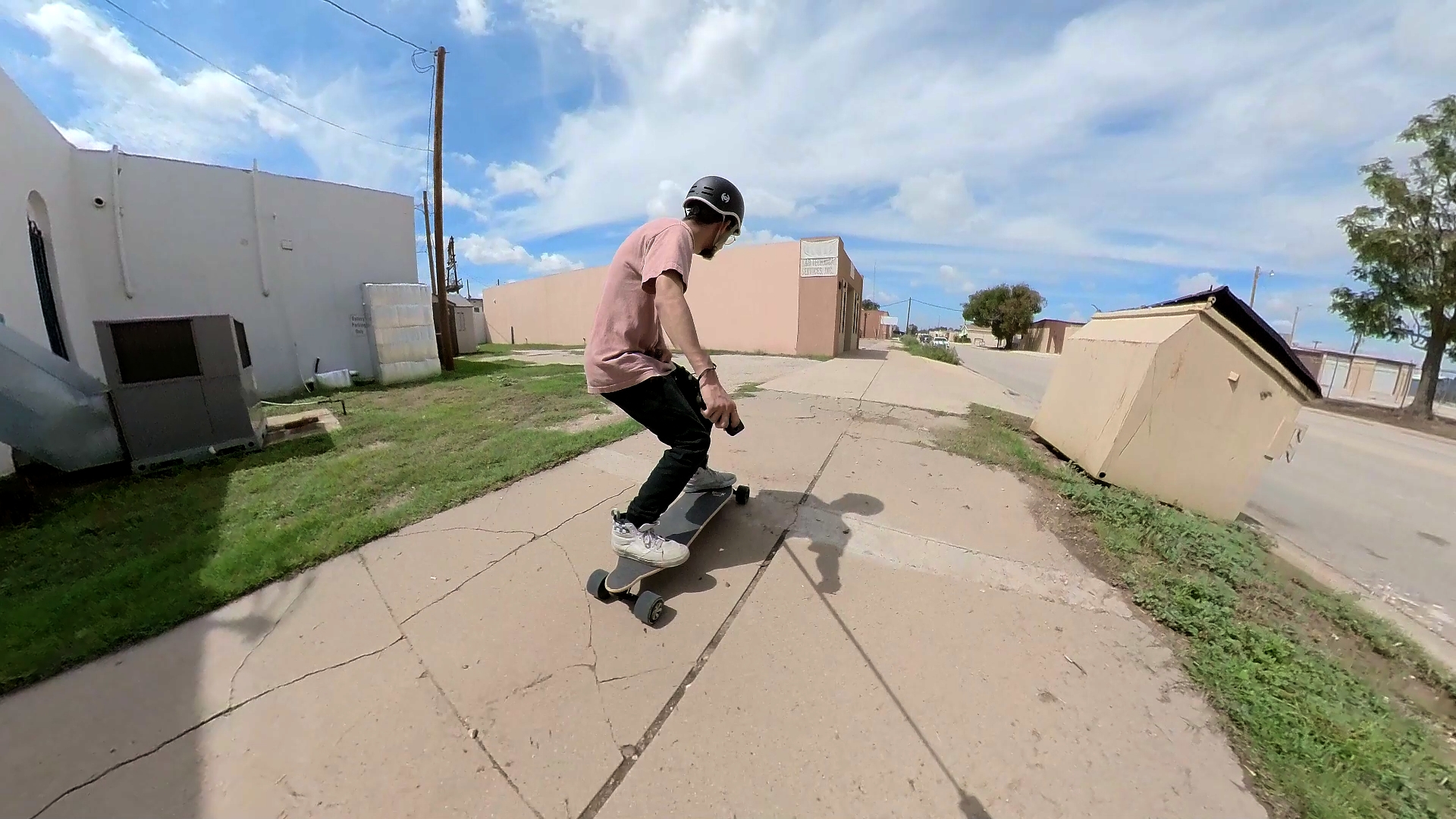 Who Is It For?
The Vokboard Riot is an electric skateboard for those who want something fast and somewhat comfortable to ride to work with without losing that traditional longboard feeling.
It's ideal for intermediate riders, but beginners will find that this electric skateboard is great for learning thanks to its stability and slight flex.
Vokboard Riot Review
Vokboard has, I guess, 4 different products at the moment.
We have the one we're looking at today, the Vokboard Riot, which is a hub motor eBoard. Not to be confused with Exway's Riot which is a belt-drive, the Riot from Vokboard is a HUB MOTOR eBoard.
There's an option for the Vokboard Riot ER, which is the same board, but with a larger 'Extended Range' battery.
And then there's the Vokboard Pilot which is the belt-drive motor version of this eBoard and also has the option to be upgraded to the Pilot ER version with the bigger battery
Pros
Very comfortable to ride
Flexy but not bouncy feels very stable at high speeds
Compatible with Cloudwheels Donuts
Feels like a traditional longboard
Cons
Some disconnection issues that are being ironed out by Vokboard
Deck
The deck is made of 7-ply Canadian Maple and 1-ply Bamboo. So the maple makes the board very durable and normally quite stiff, however, adding a layer of bamboo allows the deck to flex just a little bit.
The deck is relatively flat along the top from nose to tail, but it has a small concave shape across the side.
The raised edges help you make tighter turns because you don't need to apply as much pressure onto the edges to make the turn.
Your feet also settle into this position quite nicely and they don't slide around. So you can keep your focus on the road, rather than peeping down to check on your feet position.
It has a standard grip tape, so no shock-absorbing here.
This is a positive and a negative, because, you do feel a bit of the vibration from the road, however, now it actually feels a lot like a traditional longboard, especially with the flat deck.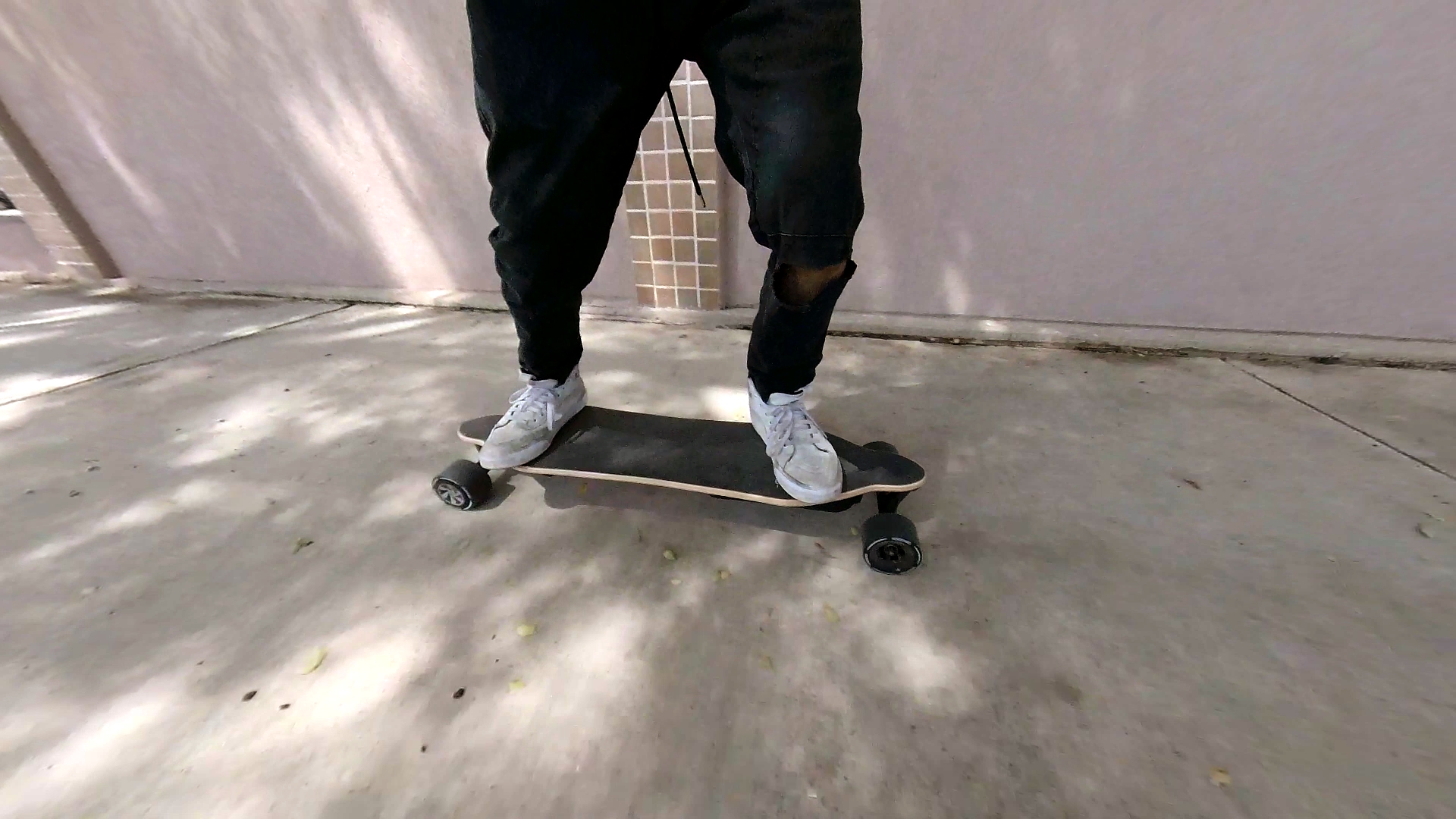 Battery
The standard Vokboard Riot is packed with 288Wh battery and specced to get 21 miles / 35km.
The ER version has a 432Wh battery and can get up to 28 miles / 45km.
In Jacks testing he reached 17 miles / 27.3km with 2 bars of battery left.
I'd estimate that the final range would have been around 23-26 miles which is slightly off the marketed range.
That's really no surprise, I'm yet to ride an electric skateboard that can actually get me as far as the specced range.
Knowing Jack, I'm sure the was riding it pretty hard and putting it through its paces.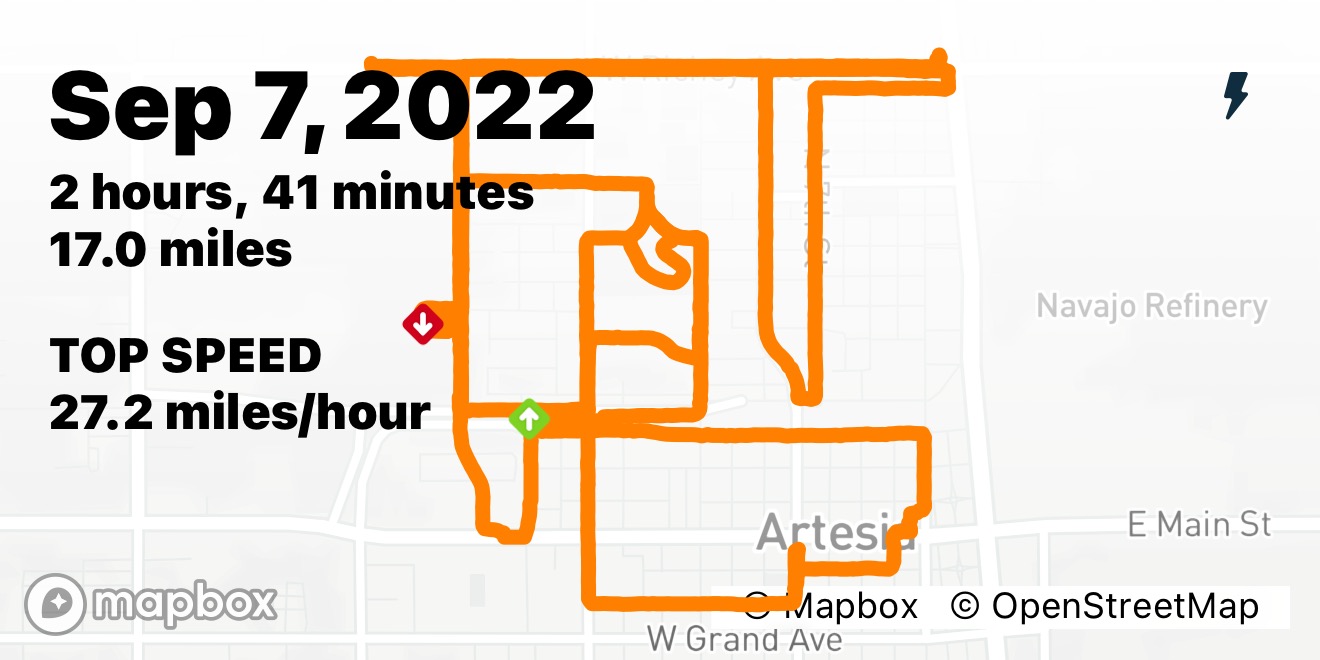 Motors
The Vokboard Riot is kitted up with dual 600W hub motors which is capable of getting you to speeds up to 28mph / 46kmh.
Jack was able to hit a top speed of 27.2mph / 43.7kmh and said that he probably could have even gone a little faster. So it definitely lives up to it's marketed top speed here.
Their website doesn't mention anything about hill climbing ability, but from my experience, an electric skateboard like this will be specced at 30% hill grade, and will be able to take you up most hills you come up against at speeds of around 12mph / 20kmh plus or minus a little bit depending on your weight.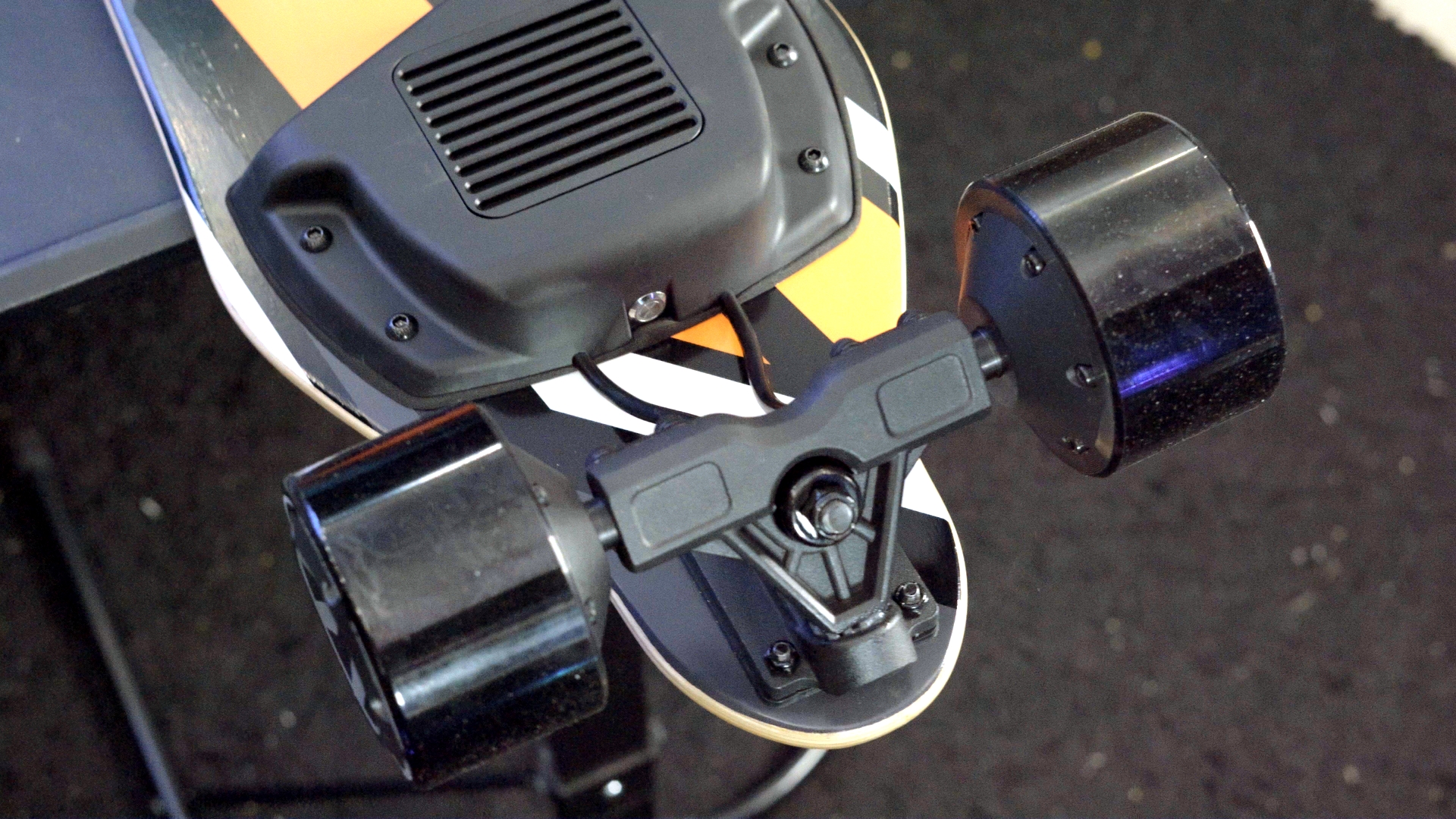 ESC & Remote
The Vokboard Riot, and all of their eboards at the moment are fitted with a Ling-Yi LY-FOC ESC.
Like all Ling-Yi ESCs, it's punchy off the mark, and smooth to control the speed while you're cruising.
One thing I need to bring up here is that Jack was getting a strange issue when the board was idle where the brakes would just automatically come on.
And if you were to try and kick push, the board wouldn't go anywhere. But the moment you applied the acceleration it would start moving normally.
At first it seemed like it might have been a safety feature to prevent the board from rolling away, but it didn't do it all of the time, so either the auto braking feature was buggy or the idle was buggy.
For the sake of being completely transparent, Jack told me that one time the board seemed to 'turn off' when riding, and then just come straight back on.
It only happened once and couldn't be replicated, so we're unsure of what happened. My theory is that the remote disconnected momentarily and reconnected because the brakes didn't come on and there wasn't any jerking, just a quick disconnection and reconnection.
We spoke to Vokboard about it and they swiftly sent out a new remote so we'll see if that fixes the issue.
These occurrences were very sparse and hardly interrupted the regular riding experience, but they were still there. Whether it gets better or worse in the future is yet to be seen.
EDIT: Vokboard have fixed this ESC issue and Jack has confirmed that there are no longer any auto-braking incidents.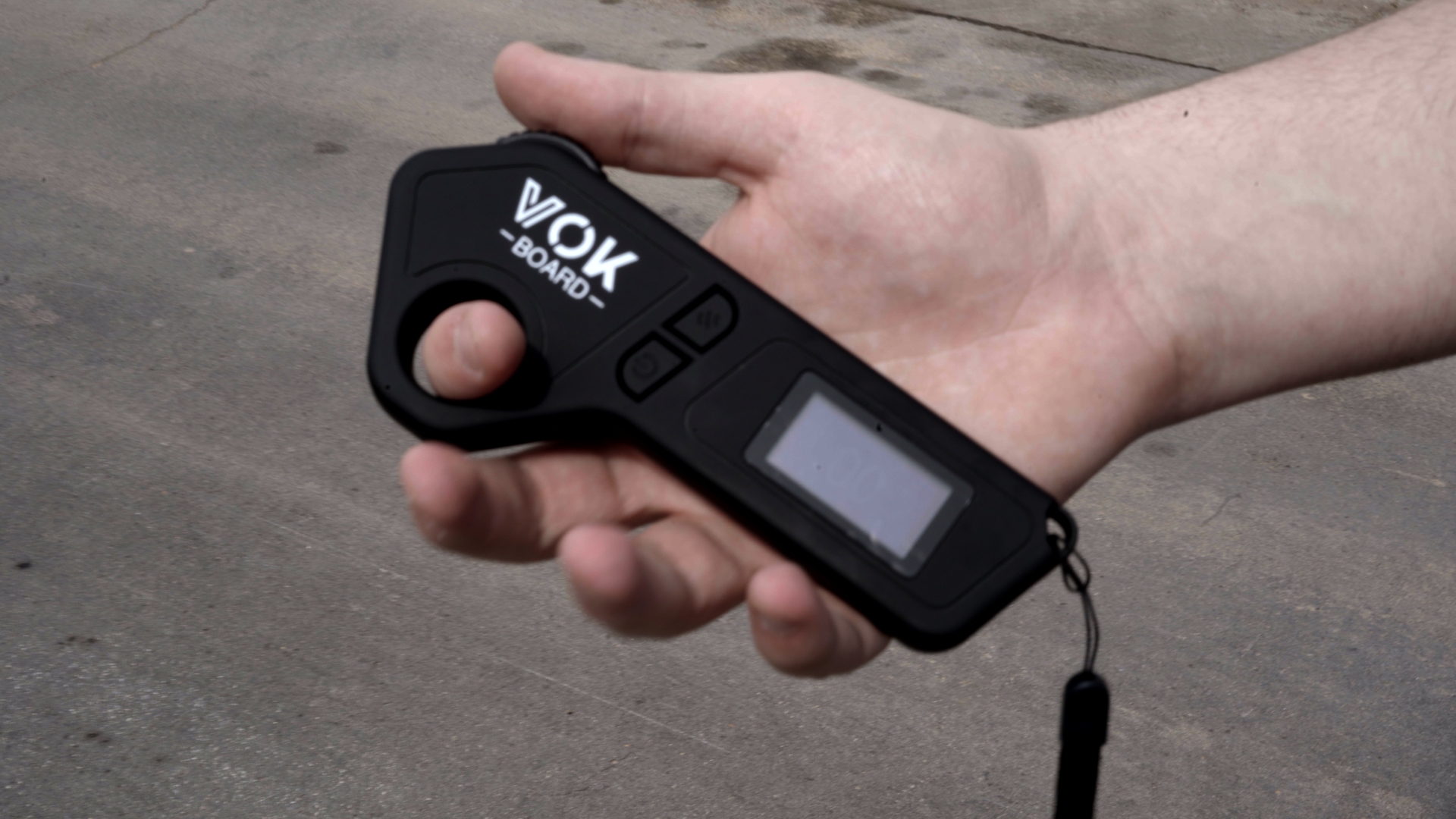 You get Ling-Yi's famous finger-hole remote with the enormous screen and I personally quite like this remote a lot.
The buttons stay out of the way so you don't accidentally click them, the display is nice and big so you can check your ride data at a quick glance and the finger hole gives you confidence that you're not going to drop it.
It has 4 speed modes, 4 braking modes, reverse and cruise-control.
The board also has push-to-start, so you can just turn the remote on, push off with the board and the board will automatically turn on and pair with the remote.
I love this, it's one of my favourite features because you can just pick your board up and go. No fumbling around looking for the power button underneath the board.
Trucks and Bushings
The Vokboard Riot is running 45° diecast reverse kingpin trucks which are pretty stock-standard and have been used by other popular eskate brands in the past.
They feel nice and responsive when carving, and hold their stability when riding at higher speeds.
They're a good middle-ground set of trucks that are versatile for both styles of riding.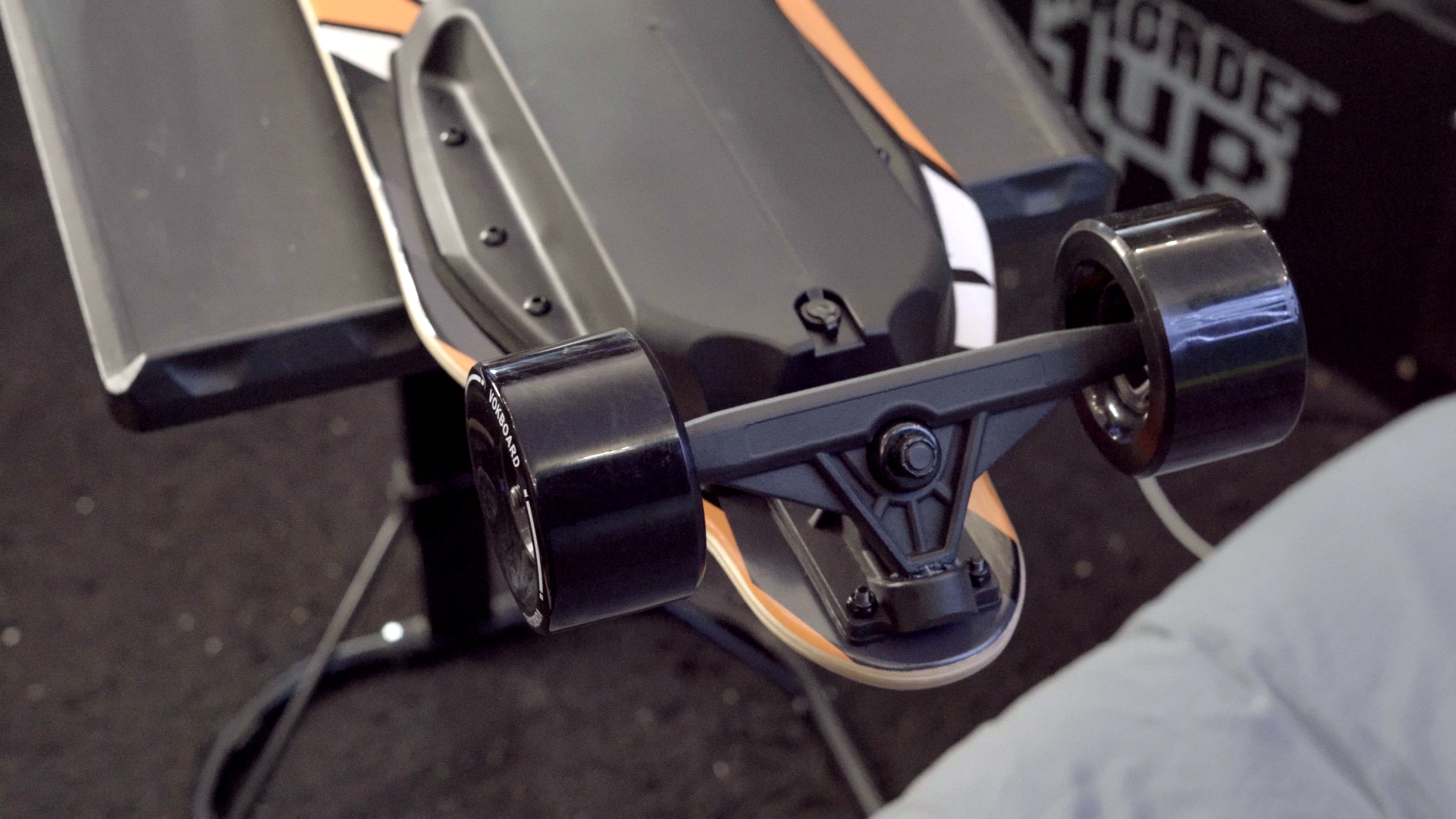 Wheels
The Vokboard Riot has 90mm 78A Polyurethane wheels with a 62mm ground-contact area.
Again, these are wheels that have been well-used on other electric skateboards.
The softness offers great grip when turning and they also absorb a fair bit of the vibrations from the ground.
There are rumours that Vokboard are planning on launching some bigger and softer wheels, but they're just whispers, so we'll have to wait and see what they bring out.
In the meantime, you can put a set of Cloudwheels Donuts on there to get a bit of extra comfort and be able to tackle some more uneven terrain.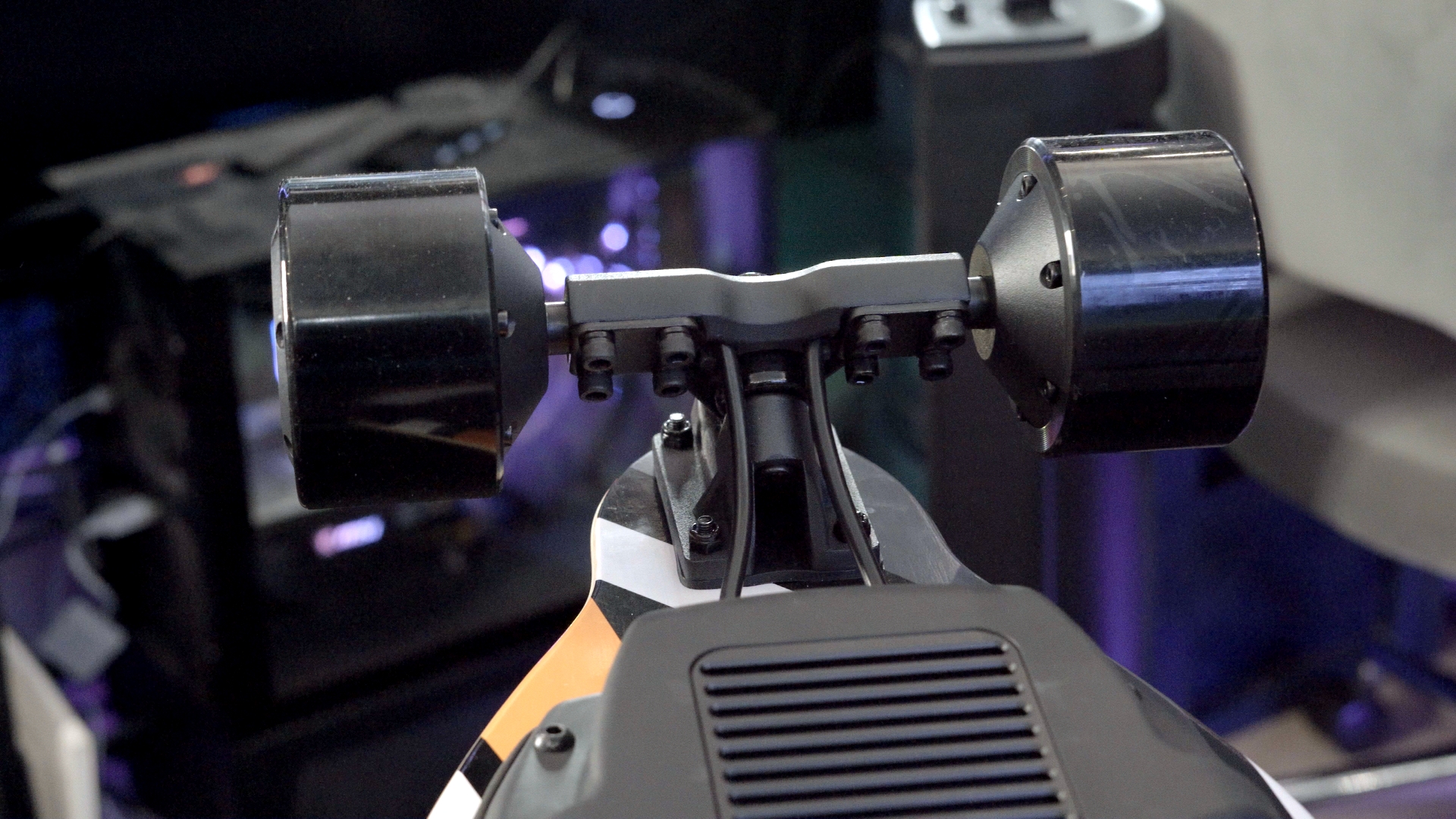 Final Thoughts
Overall, the Vokboard Riot is a pretty good commuter electric skateboard that you can still have a little bit of fun on.
It has enough range for most people to get to where they want to go and the speed is fast enough to feel some adrenaline but not too fast that it could be dangerous.
Use code ESKHUB for $20 OFF!