Hey eSkaters,
We're looking at the Meepo Envy NLS 3 electric skateboard today.
After seeing it for the first time I could already tell it is a premium eBoard, yet with a friendly pricetag.
It's attention-to-detail-aesthetic and smooth and powerful ride experience makes it an affordable entry into the premium board market.
Meepo seems to have mastered the fine art of balancing price and performance without compromising on either.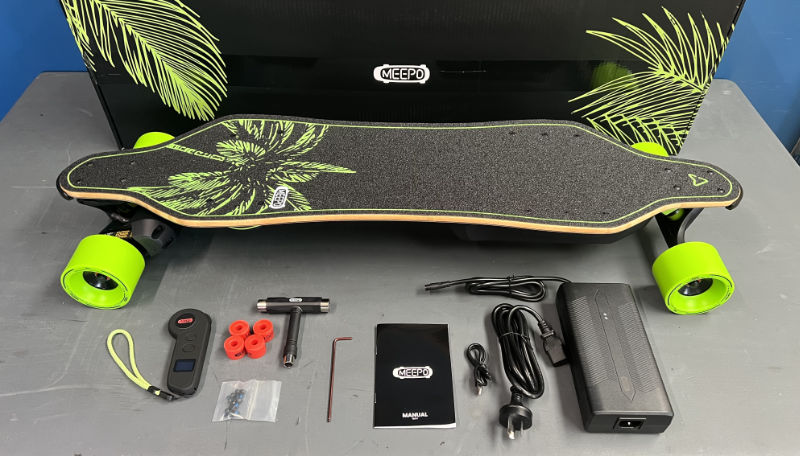 Maxfind Max5 Pro Review
Unboxing and First Impressions
Upon unboxing the Meepo Envy NLS 3 electric skateboard, I was instantly struck by the board's unique green aesthetic.
Meepo have strayed from their typical orange colourway and opted for a strong envious green.
The palm tree graphic on the grip tape, combined with the green base plate, bushings, and enclosure brackets, delivers an engaging visual experience that sets the tone for the quality and power that lies beneath.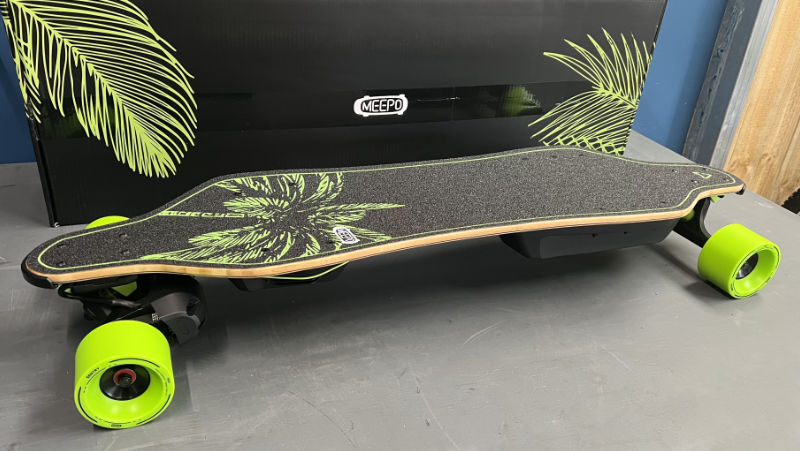 Overall Build Quality
The Meepo Envy NLS 3's build quality is exceptional, boasting a bamboo and fiberglass deck that's both durable and flexy. If you look closely, you can see the way the deck pieces together to enable the flexibility.
This deck material combination not only provides a comfortable riding experience but also ensures the board's longevity. The deck features a subtle concave design that increases the board's responsiveness and turning ability, enhancing its carving capabilities.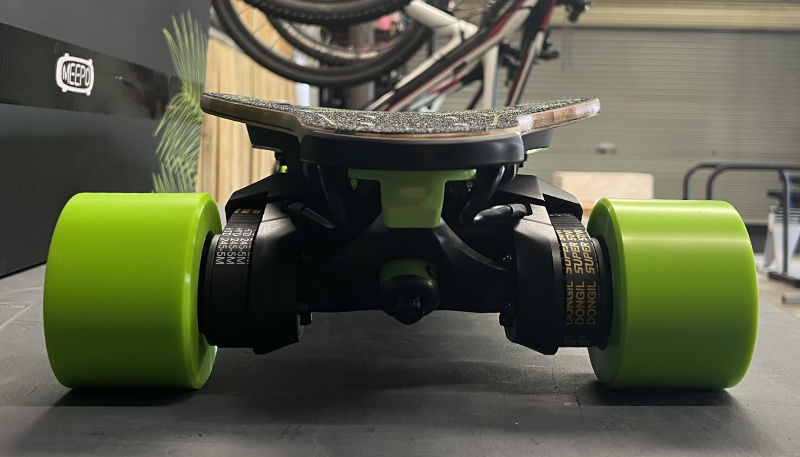 The board's trucks are 8" 50° Reverse Kingpin (RKP) Shredders, and the stock bushings are 96A double barrels, with an extra set of 100A included for heavier riders or those desiring a more rigid setup.
This trucks are amazing. They are super stable at high speeds and the carving is really responsive.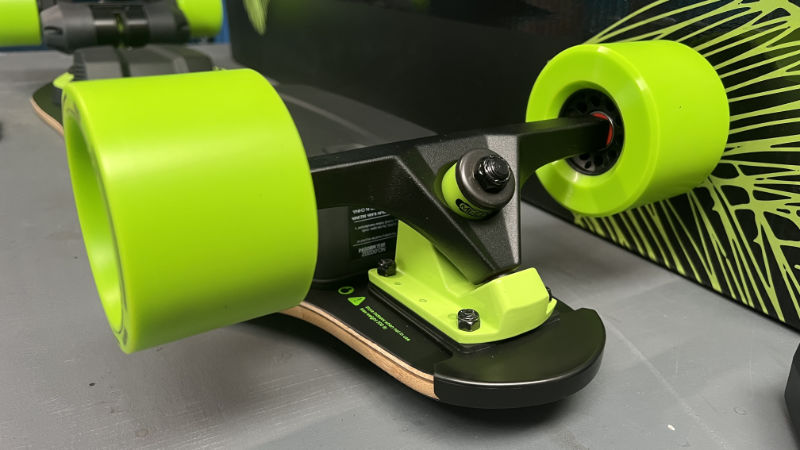 It has 90mm polyurethane wheels, with a 65mm contact area and a soft 78A durometer. This makes for excellent grip and vibration absorption.
It's really not necessary, but if you were to throw a set of 105mm Cloudwheels on this eboard, you would have the perfect commuter electric skateboard.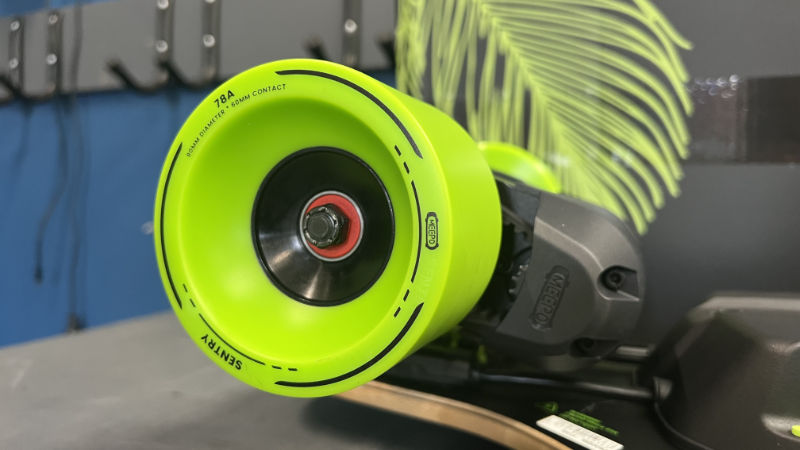 These three components, the deck, trucks and wheels all work in tandem to deliver that stable and comfortable riding experience.
I have to really stress here how much confidence this gives me when riding. Usually I cruise around at 25kmh, but on the Envy I can happily roll around at 32-35kmh and feel totally in control of the board.
Underneath, the board's enclosures are well-designed with custom-made rubber gaskets, enhancing the premium feel of the board. Meepo used to use a stock foam insert, but the new rubber design just makes the board feel so premium.
There are built-in bash guards on the nose and tail of the deck that are very handy when you lift the board up or in the case you bump into the curb.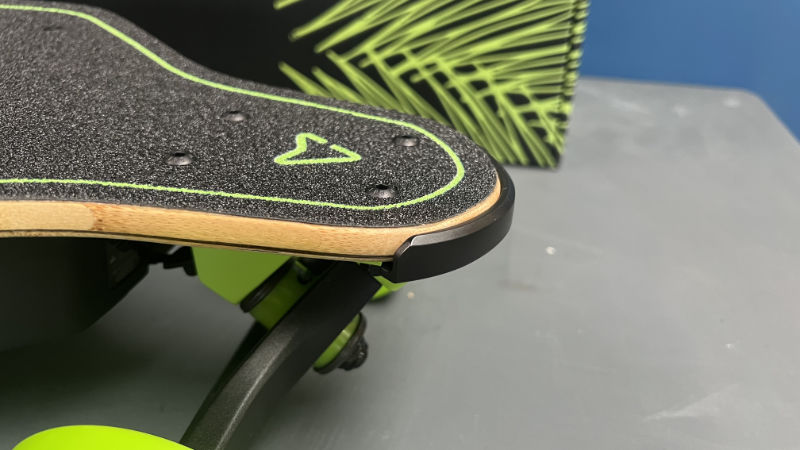 They also act as risers to create a little extra space between the deck and wheels so that there is no chance of getting any wheelbite when turning hard.
Another nifty feature is the green arrow on the nose of the deck so you always know which way is forward. Small detail, but more helpful than you'd think.
All these things add up to reiterate how much thought Meepo has put into this electric skateboard.
Motors and Performance
The Meepo Envy NLS 3 is powered by dual 2519W belt-drive motors, which deliver a top speed of 32mph / 52kph which is nothing short of thrilling.
The motor cables are clamped in by a custom set of brackets that again add to that attention-to-detail Meepo have had with the Envy.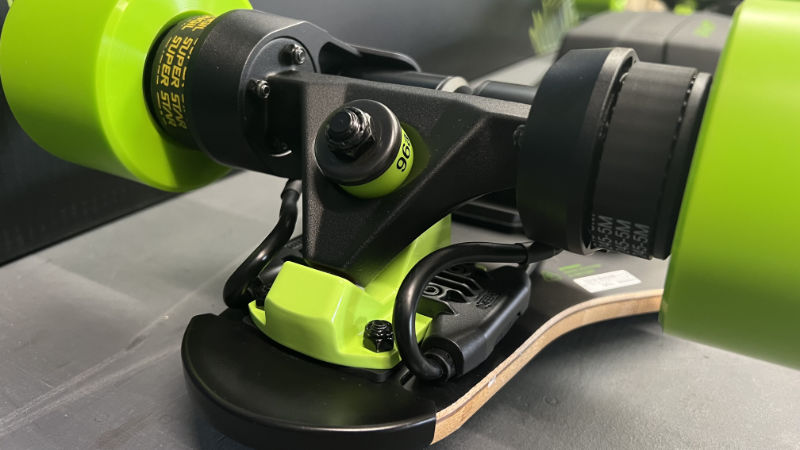 To top it off, the motors provide a pleasant whizzing sound during rides, standing apart from the harsh screech often associated with lower-quality eBoards.
The hill-climbing ability is specced at 26% and I have no doubt it can do that, even for heavier riders. I don't have any hills that steep near me but I powered up 15%, even gaining speed on the way up.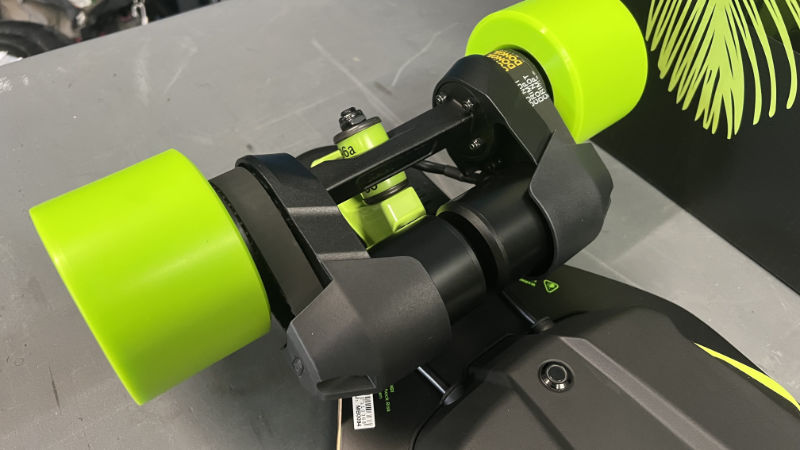 Battery and Range
The Meepo Envy NLS 3 features a high-quality 12S2P Molicel P42A 21700 362.8Wh battery, which is a huge upgrade from their previous batteries.
It has an impressive range of 24 miles / 38km, subject to the riders weight, road conditions and how hard you ride it.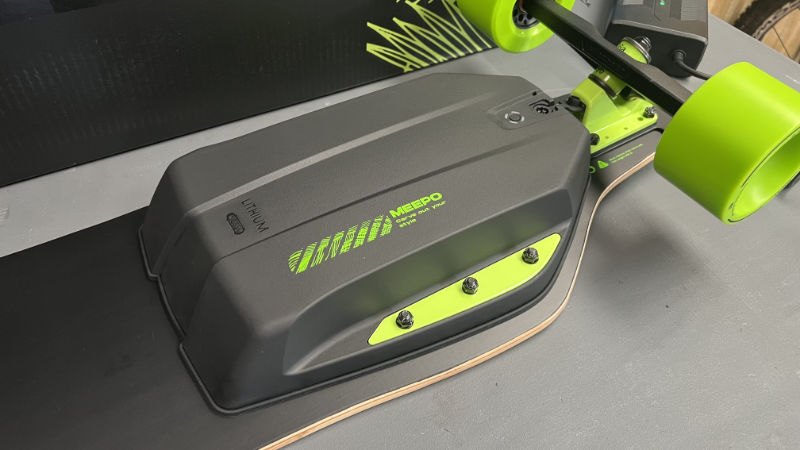 It comes with a large 4.5A fast charger that allows you to charge your board in 2 hours so you can get back on the road quickly.
This charger actually needs a special mention because it's not only fast but it is built really well. It has Meepo branding and encased in a nice hard plastic, unlike a lot of cheap eBoards that throw in a stock charger almost as an afterthought.
ESC and Remote
The Meepo Envy NLS 3 is controlled by a Hobbywing 9028 ESC, a surprise departure from Meepo's previous LingYi setups.
This ESC still delivers a smooth, punchy acceleration and braking experience, but without the jerkiness.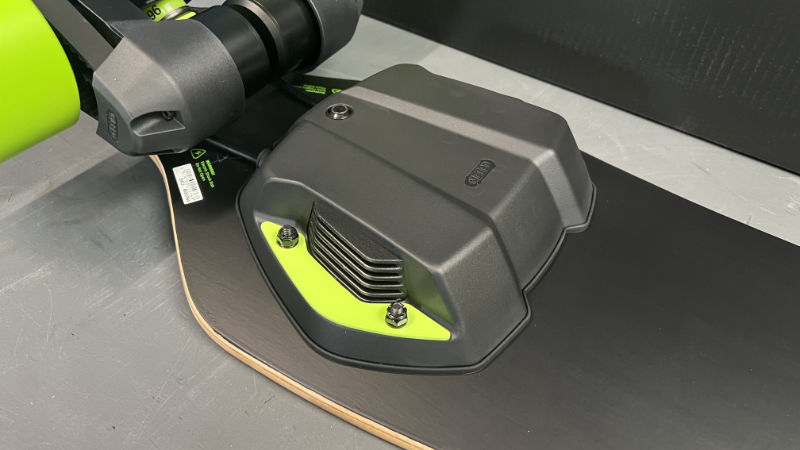 The N5S remote is built on top of a Hobbywing and comes with an OLED display showing critical stats like battery levels, current speed, odometer, and trip length.
It has 4 speed modes, reverse, cruise control, and my favourite feature, auto on/off. So you can switch the remote on and it will automatically turn the board on. Saves you from fumbling around underneath the deck trying to find the power button.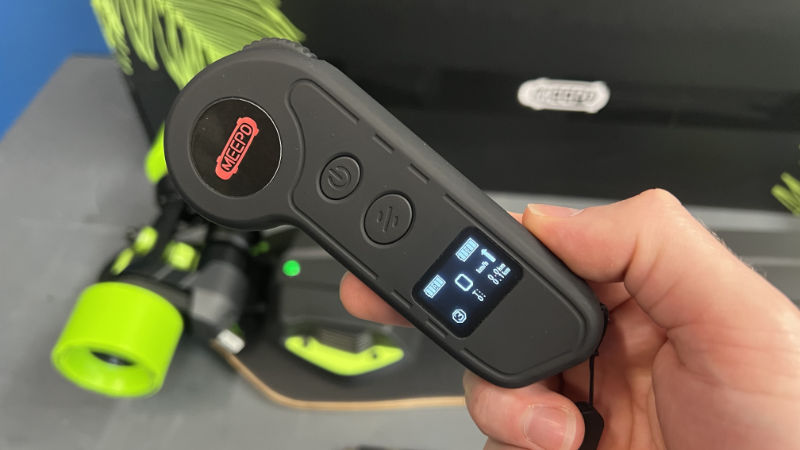 Which on the Envy is a little confusing at first because there is a button on the battery enclosure and ESC enclosure (take a look at the images above.
The button on the battery enclosure is only for checking the boards battery level without having to power on the remote and the board.
It's the button on the ESC enclosure that is the boards power button. But you'll rarely use it.
I've banged on about how good the NLS 3 is so I want to nitpick here and say that given the quality and premium nature of this eboard, I would have liked to be able to customise the performance of each speed mode. Or at the very least been able to set the speed and braking modes independently.
I often like to cruise around in speed mode 3 to save on battery, but jack up the braking mode for safety.
But I'm just being picky.
Ride Experience
Overall, riding the Envy NLS 3 is an absolute delight, thanks to its powerful motors, agile deck, and responsive ESC and remote.
The board's stability is notably impressive, allowing riders to maintain higher speeds confidently without fear of getting any speed wobbles.
And the comfort-enhancing features, such as the board's flex and wheel design, ensure a smooth ride, even at top speeds.
Final Thoughts
That's my Meepo Envy NLS 3 review.
This electric skateboard brings premium performance and quality into a price bracket that is hard to beat.
That price being $US699.
It is evident that Meepo has put thought into every component, ensuring that the board not only delivers exhilarating rides but also withstands the test of time.
With its beautiful and detailed aesthetic, robust build, and impressive performance, the Envy NLS 3 offers exceptional value for riders, whether they're just starting out or a seasoned veteran.