Watch:
I have both the Street version with Cloudwheels and I have a set of AT wheels, however, I'll only be doing the performance tests for the Cloudwheels, because I ran into some issues with the AT wheels which I'll go into detail later on.
But, my first impressions of the Verreal RS Pro with Cloudwheels are very positive.
I had a pretty bad experience with the first RS they released, so I was lacking a little bit of confidence before riding this eboard. I even put it off for a few days, out of fear.
BUT, once I pulled myself together and started riding, I quickly realised I had nothing to worry about.
Verreal have ironed out the kinks from their original board, and I had an amazing time riding around on the RS Pro.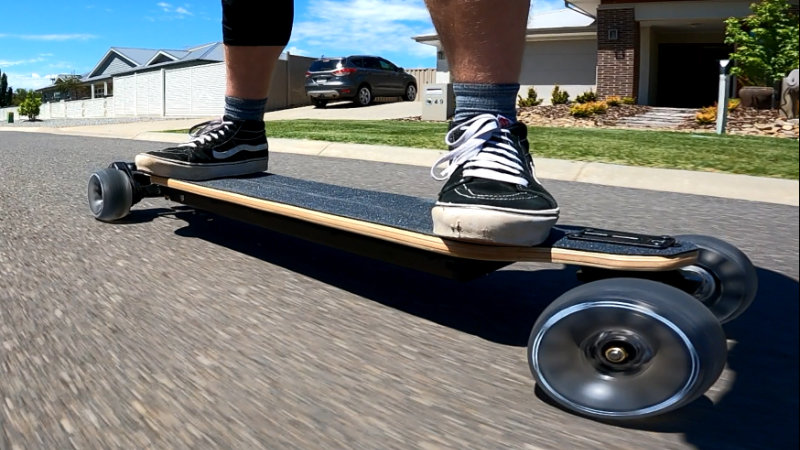 Who Is It For?
The Verreal RS Pro is a high-powered electric skateboard that requires a rider to have at least an intermediate level of riding experience.
It floats between being a cruising, commuter eboard and a fast-paced, shredding machine.
It carves extremely well and is capable of ripping some hard slides if that's your thing, but you're also able to tone it down and go for a light and floaty ride.
And if the Verreal RS Pro doesn't fit your needs, keep in mind that they also have the RS Pro AT for all-terrain riding, the Verreal TTRS which is a more affordable version and finally, the RS Pro Max which has an extra big 12S4P battery.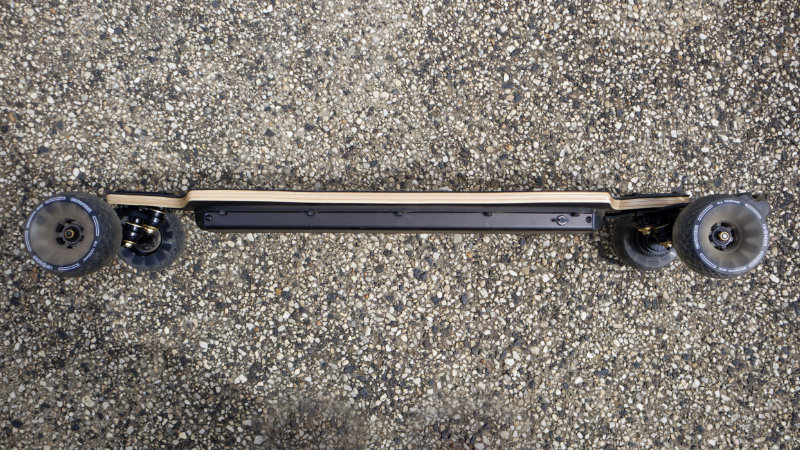 Features & Benefits
The Verreal RS Pro has 7 Ply of Canadian Maple and 2 Ply of Bamboo which makes the deck incredible stiff.
And the enclosure underneath runs across the entire deck. It doesn't have separated battery cells like you see on the WowGo AT2, so you won't be getting any flex from this eboard.
That's not all bad news. Deck flexibility is a matter of preference.
The good news is that the deck is a drop-through with a slight dropdown. This paired with the double king trucks does give the board a slight flex at the ends.
It's quite a comforting feeling to feel that flex only on the outside of your feet while your feet stay level and balanced.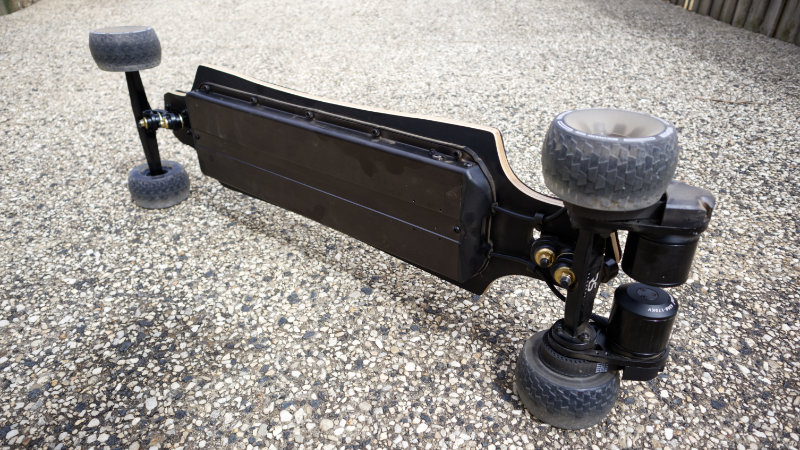 To me, double kingpin trucks are a little sketchy at times, especially at high speeds so I was cautious and tightened them right up.
But when I went out for a ride, I still had a ton of carving and turning ability.
This made me nervous to hit the gas because I expected to get a lot of speed wobbles at higher speeds, however, this wasn't the case. The board stayed fairly stable.
The 120mm Cloudwheels are amazing. Everyone already knows that. That's why every other electric skateboard out there has options for them.
They are just so squishy and grippy. I have a lot more confidence when riding with these over regular street wheels.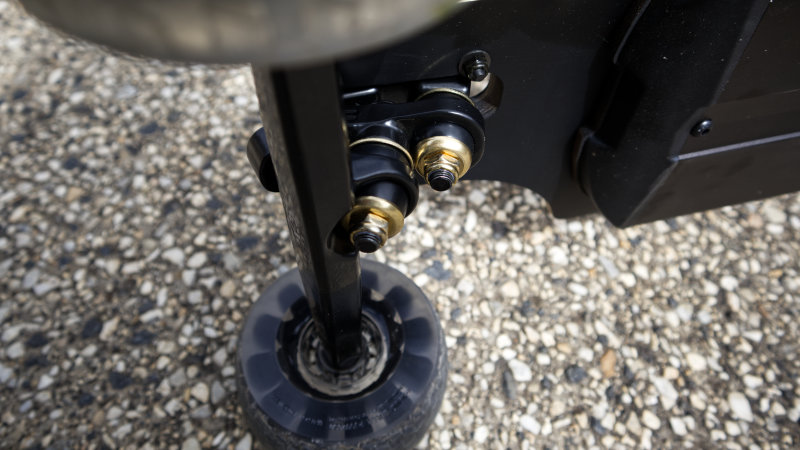 They also absorb a lot of the vibrations from the road so your feet and legs don't fatigue as quickly, however, I did find that I started to feel tired after about 20km of riding on the RS Pro.
Although, I could put that down to the fact that I just haven't been riding as much during the winter months and the lockdowns.
There are some other wheel options available on the Verreal site including 90mm street wheels and 97mm glow wheels.
But the great thing about the RS Pro is that you can put pretty much any wheel on them you want. Just make sure you get yourself the compatible wheel pulleys and belts.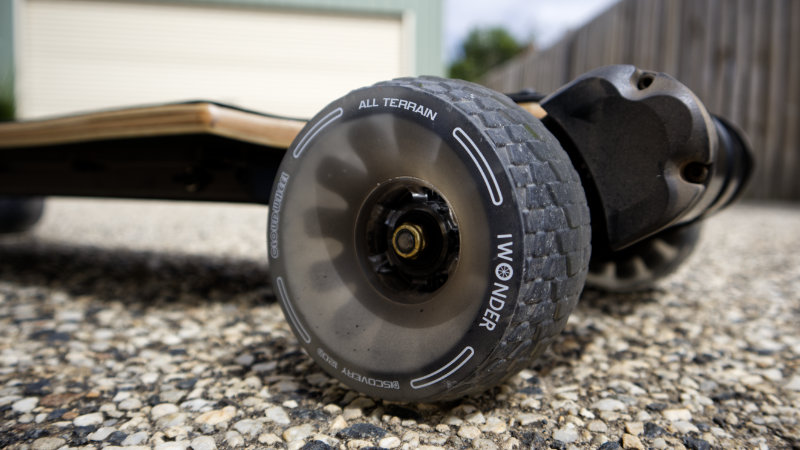 The RS Pro has a 12S3P Battery pack with 21700 cells giving it a 666Wh capacity, dual 1500W 6368 belt-drive motors running at 170kV and a custom Hobbywing ESC.
All of these electronics together add up to provide some pretty awesome performance specs which are hard to beat in this price range.
Lastly, the remote control is one of my favourites. It has all the basic information on the LED screen including your current speed, trip distance, odometer and battery levels for both the board and remote.
It has 4 speed modes, reverse, cruise control, and it also has one of my favourite features which is automatic on/off so you can just turn your remote on and the board will also turn on without you having to bend over and fiddle around under the board trying to find the power button.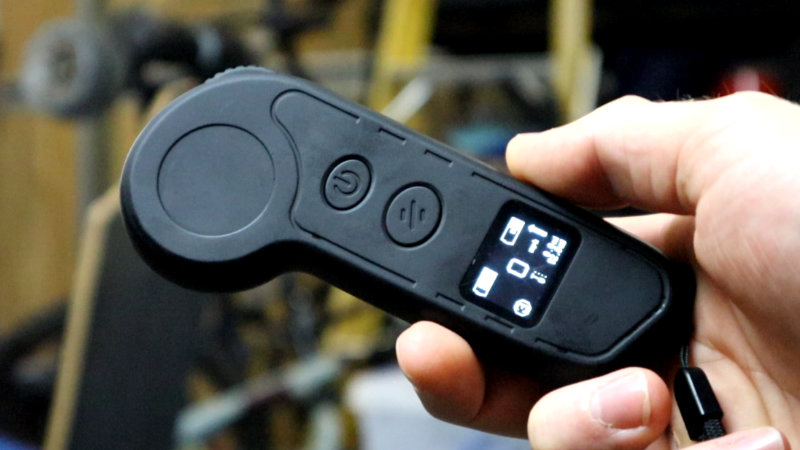 Top Speed
The Verreal RS Pro is specced to have a top speed of 31mph (50kmh).
I was able to push to 26.8mph (43.1kmh) before having to back off in fear of falling off.
There was still lots of room in the throttle so I have no doubts this eboard can hit a top speed of 31mph (50kmh). Just look around, and you'll see plenty of people getting faster top speeds.
For reference, I never ride at this speed except for when I'm testing an electric skateboard for a review. My comfortable cruising speed sits around 18.5mph (30kmh).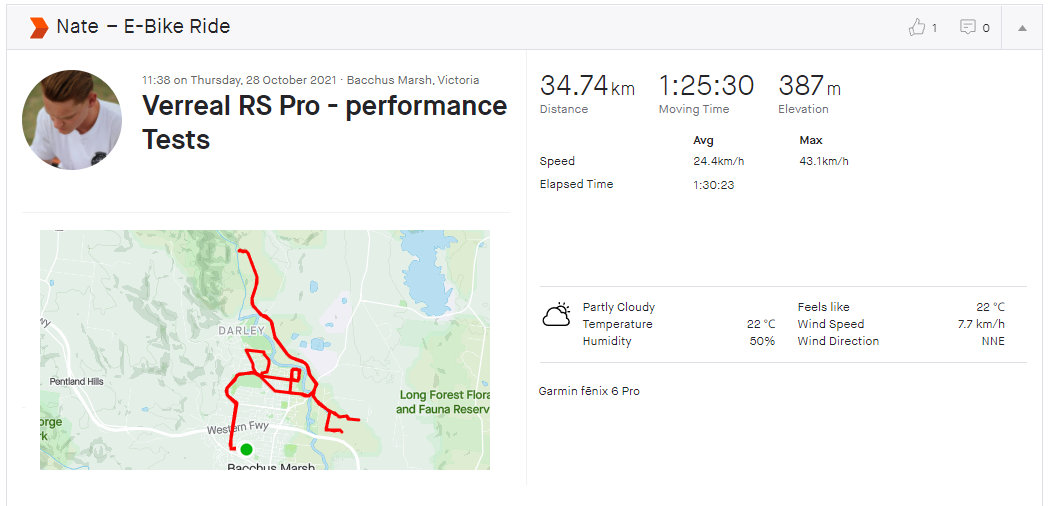 Acceleration
The acceleration on the Verreal RS Pro is insane.
Even in the 1st speed mode, you have to be prepared for take off.
So when you gear up into modes 3 and 4, you need to start controlling the throttle with your thumb because it is just too fast to handle in most situations for most riders.
There isn't any unnecessary jolting or lagging of the throttle that you might get from other ESCs.
The Hobbywing ESC on the RS Pro is smooth and the acceleration curve is quite satisfying.
Braking
When braking from high speeds, like at plus 21.7mph (35kmh), it does take some time to come to a complete stop, but I wouldn't say that it's out of the ordinary. The braking distance on the RS Pro is on par with the majority of belt-drive electric skateboards at the moment.
However, when you brake at speeds of 18.5mph (30kmh) or less, you're at a standstill in no time.
This is great for those that want an electric skateboard for cruising around in busy areas where you might need to hit the brakes quickly.
Range
The specced range for the Verreal RS Pro with 120mm Cludwheels is 31 miles (50km).
Now, to be completely honest with you, I was buggered after riding this board. So much so that I pulled the pin after 21.8 miles (35km) of riding.
That was right about when I started getting the 25% low battery warning from the remote.
The last portion of the battery does tend to drain a little quicker than the top end, so I would estimate that I might have been able to hit 28 miles (45km), maybe a tad less in the end.
Plus, during my ride I did multiple top speed tests, acceleration tests and the hill climbing test all of which suck life out of the battery.
And for reference, I weigh about 192lbs (90kg), so you can gauge round-about what kind of range you would get from this board..
Hill Climb
The Verreal RS Pro was very impressive climbing hills.
I went up my trusty hill that has an average grade of 8% with a max steepness of 13% and it completely smashed it.
I doing just under 19mph (30kmh) at the steepest point with no signs of slowing down.
I have a lot of confidence in this eboard to climb hill grades up to 30%.
What Could Be Better?
The reason I was unable to ride with the AT wheels, is because I physically could not install them.
For those that have never swapped their wheels over, this might be tricky to follow but I'll do my best to explain.
When you change wheel sizes from say cloudwheels to AT wheels, you generally also have to change pulley sizes and belt sizes.
In order to get the right tension on the belts, you can move the motors up and down the mounts until the motor is in the right spot, then you just go ahead and tighten up the motor mount screws.
But what happened here, is that in Verreals factory, the motor mount screws and been fastend too much which pressed down against the motor mounts causing them to flare.
This prevented the screws from being able to freely move up and down the motor mounts and I was unable to get the correct tension on the belts.
I've told Vic, the owner of Verreal about it and sent him some videos of the issue and he's assured me that they will change the processes in the factory to ensure this doesn't happen in the future.
That's really the only issue I had with the RS Pro.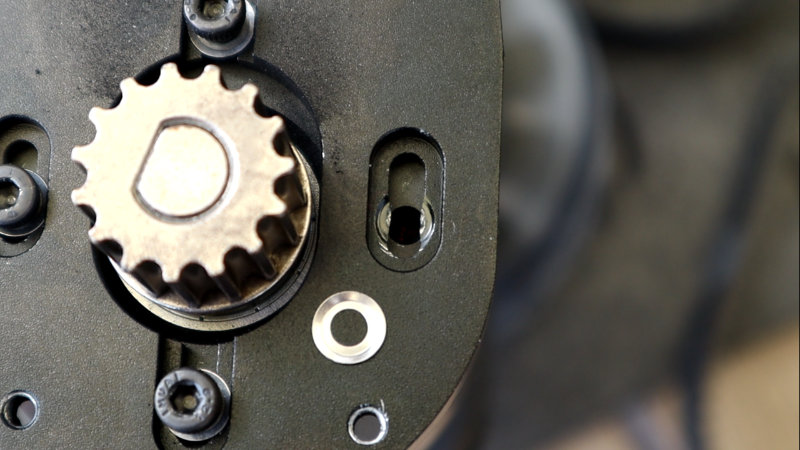 Final Thoughts
Overall, I really enjoyed riding the Verreal RS Pro.
As a commuter eboard, you'll get to where you need to go fast while being able to have a bit fun a long the way by carving when you get the chance on an open road.
It's super powerful. I'm not the best of riders but I would consider myself pretty capable, and this thing had more in it than I could handle.
It's a great second eboard after you've outgrown your first and looking for the next level up without having to spend a fortune.
I highly recommend the Verreal RS Pro.
That's my Verreal RS Pro electric skateboard review. I hope I've helped make your search for the best electric skateboard a little easier.
On Verreal's Website
Alternatives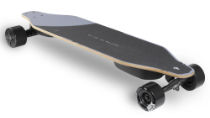 WowGo 2S Pro
The WowGo 2S Pro is an amazingly comfortable electric skateboard that you could skate for hours.