Hey eSkaters,
The Maxfind Max5 Pro stands out as a budget-friendly choice that does not compromise on quality, comfort, or performance.
It delivers a ride experience that is smooth and surprisingly exhilarating.
It's an electric skateboard that beginner and intermediate riders should definitely consider.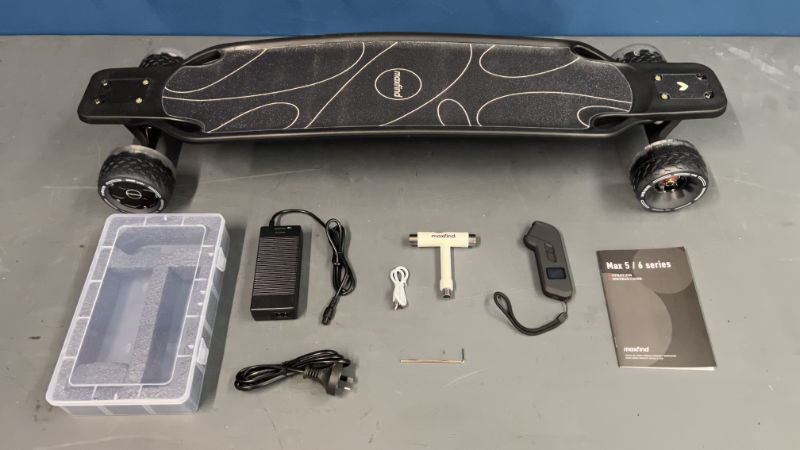 Maxfind Max5 Pro Review
Ride Quality and Comfort
The first and most immediate thing I noticed about the Max5 Pro was its ride quality.
My board was fitted with the optional 105mm Cloudwheels, which gave the board a buttery-smooth ride feel.
It was so comfortable underfoot and I had complete confidence riding it.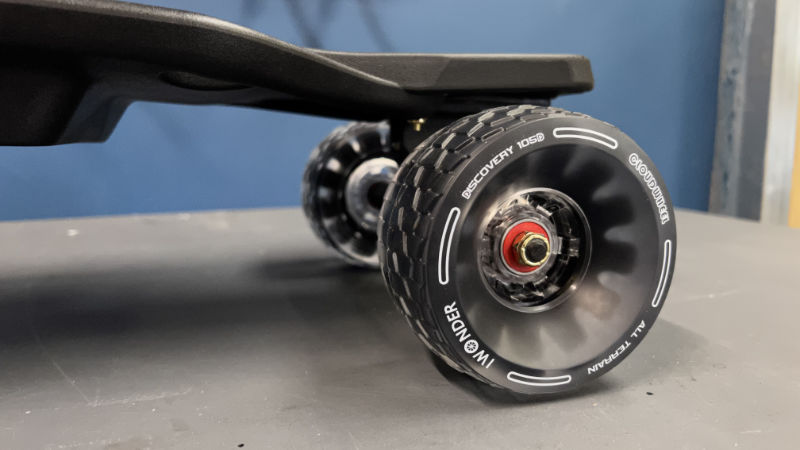 The larger wheel size ensure the board glides over small obstacles and minor road cracks and bumps with relative ease.
Unfortunately, I didn't get a chance to ride the stock wheels, but from my experience, they definitely would not come close to the Cloudwheels comfort.
The deck, a composite blend of flexible fiberglass, enhances the board's shock absorption.
This design not only adds durability but also creates a flex that significantly improves rider comfort over longer journeys.
The board hugs the ground with a steadiness that is confidence-inspiring, with zero wobble even at higher speeds.

Performance, Power, and Motors
When considering the performance of the Max5 Pro, it becomes evident that this electric skateboard is not your run-of-the-mill entry-level product.
Its impressive specs merges power and speed with range.
The Max5 Pro's dual 650W hub motors provide the power to reach top speeds of 24mph / 38kmh.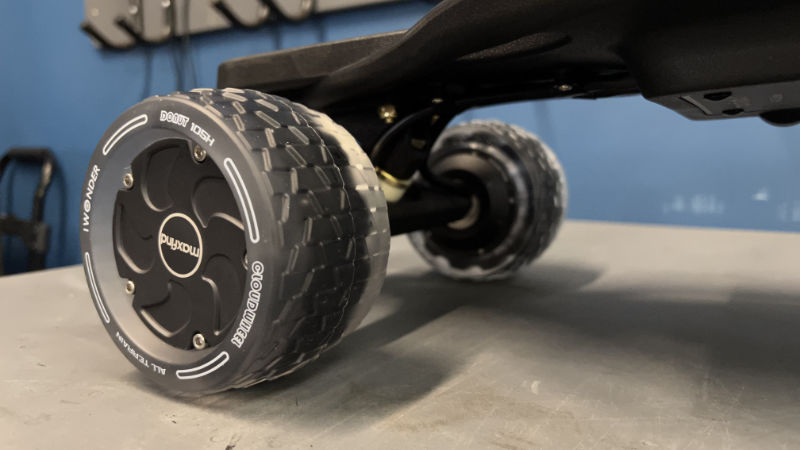 The hub motor design makes the board whisper-quiet and requires little to no maintenance.
It is specced to have the hill climbing ability to tackle gradients of up to 30%, however, I'm a heavier rider and I managed to get up a 15% hill with ease, but I would definitely struggle up a 30% hill.
Keep in mind here, that a 15% hill grade is still very steep and you'd be hard-pressed to find many hills steeper than this in most urban areas.
Design and Build Quality
In terms of design, the Max5 Pro has a streamlined, minimal aesthetic.
The components used are of high quality and well-assembled.
It's clear that Maxfind has given a lot of thought to the materials used in the board's construction with an eco-friendly composite-fiberglass deck that is a nod to sustainability without sacrificing performance.
However, a minor flaw in the board's design is the seemingly unfinished tail, which lacks any grip tape or plate, exposing the raw deck. It would have been nice to see something covering this area like they have done with the nose of the board.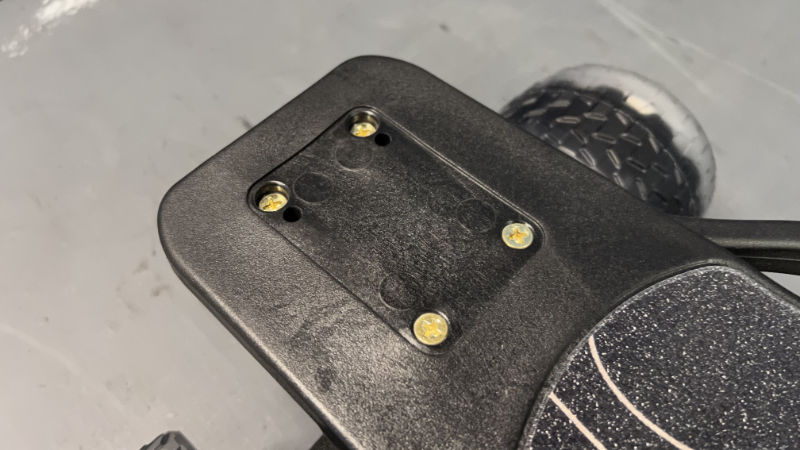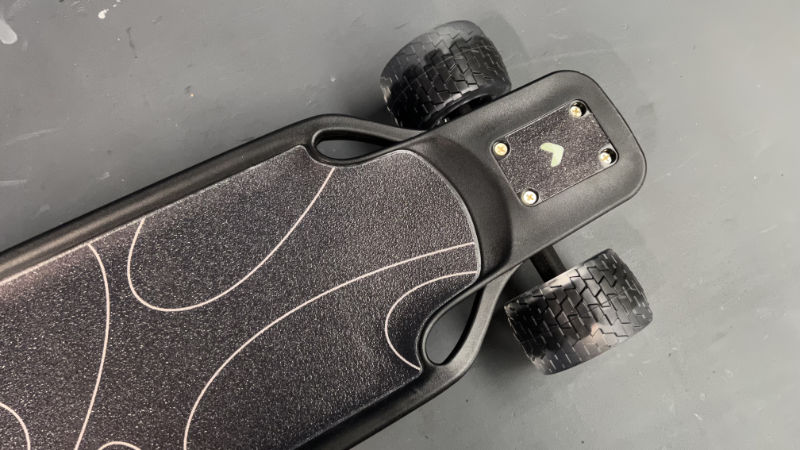 While this doesn't affect the board's performance, it slightly detracts from the overall aesthetic.
The Max5 Pro has a unique plastic-like grip tape, which is a deviation from the traditional coarse sand grip tape used on many boards.
While it may not appeal to everyone, it still provides ample grip underfoot and is gentle on the hands when carrying the board.
ESC and Remote
The provided remote is great and has all the features you need in your hand.
It's comfortable, intuitive to use, and communicates with the board seamlessly.
Its OLED screen relays vital information like current speed, odometer, trip distance and battery levels in real-time.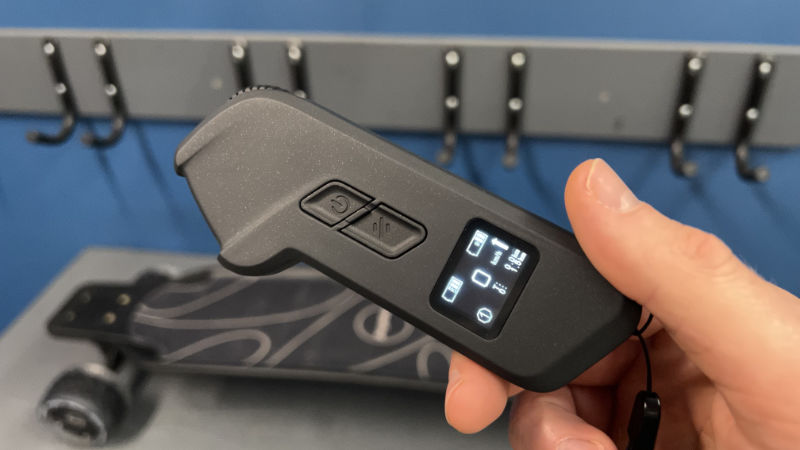 It also offers four different speed modes, cruise control, reverse function, and an auto on/off feature so you can turn the remote on, kick off with the board and the remote and board sync up automatically. I love this simple feature as you don't have to fumble around under the deck to turn it on.
Battery and Range
The Maxfind Max5 Pro has a Samsung 10S2P, 158.4Wh battery, which boasts an impressive range of 15 miles / 25km on a single charge.
This distance makes the board a viable option not just for fun rides, but also for more practical uses like commuting.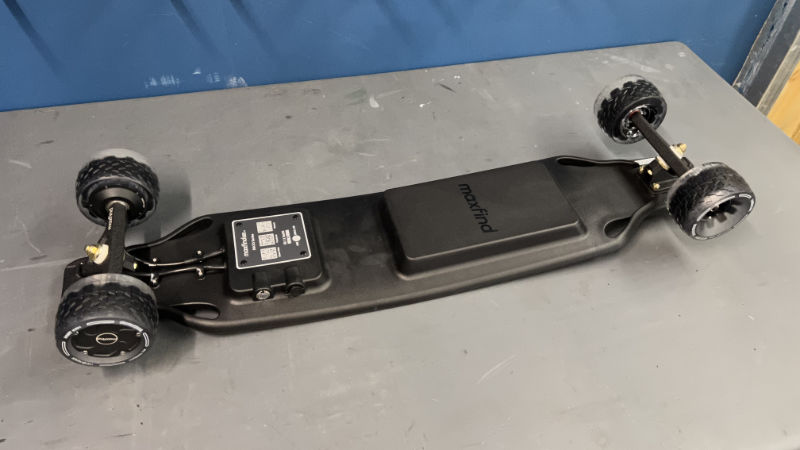 You also have the option to get the Max5 Pro Max which has an upgraded Samsung 10S2P 245Wh battery which can get you up to 21 miles / 33km.
With the included fast charger, the standard battery goes from zero to full in about two hours, which is quite good.
Customer Service
Maxfind's customer support is now easily accessible via an online chat, indicating their new focus on customer satisfaction.
Though they had some struggles in the past, the improvement in their customer service is noticeable.
Price and Value
With a price tag of US$499, the Max5 Pro is in the lower to mid-range in terms of cost but does not skimp on features or performance. Given the board's capabilities, quality of components used, and the overall ride experience, it offers a fantastic value for the price.
The Max5 Pro Max is US$599.
The Max5 (single motor) is US$399.
Packaging
I don't often talk about the packaging as it is generally pretty standard across electric skateboards. However, the packaging I received the Max5 Pro in was quite surprising.
The board came wrapped in simple bubble wrap within a box, with the box containing the accessories floating around.
I'm unsure if this is how they plan to send it to all customers, or if I just received a demo of the board.
If I was to look at it with rose-coloured glasses, you could argue that this method of packaging reduces costs and saves on extra packing that will only end up in landfill.
At the end of the day, the product is still great once you take it out of the packaging.
Final Thoughts
The Maxfind Max5 Pro offers an outstanding electric skateboarding experience, particularly considering its price point.
Its smooth ride, powerful performance, commendable range, and unique features make it an attractive option for beginners and intermediate riders.
While not suited for experienced riders seeking extreme acceleration or off-road adventures, the Max5 Pro excels as a high-quality cruising board that's hard to beat for value.
Ride safe out there eSkaters,
See you soon.
Use code ESKATEHUB for 5% OFF
On Maxfind's Website