The Maxfind Max2 Pro X is an e-board that's been dubbed time and time again as the "ultimate campus shortboard."
With carbon-fiber coating and sleek diamond-cut design, the Maxfind Max2 Pro X is gorgeous out of the box. It looks and feels premium, and rides like a dream. However, it doesn't come without its own set of disadvantages, which I'm going to discuss today!
In this Maxfind Max2 Pro X Review, I'll touch on everything you need to know about this e-skateboard to help you decide whether it's worth your money. Is the Maxfind Max2 Pro X your next board? Let's find out!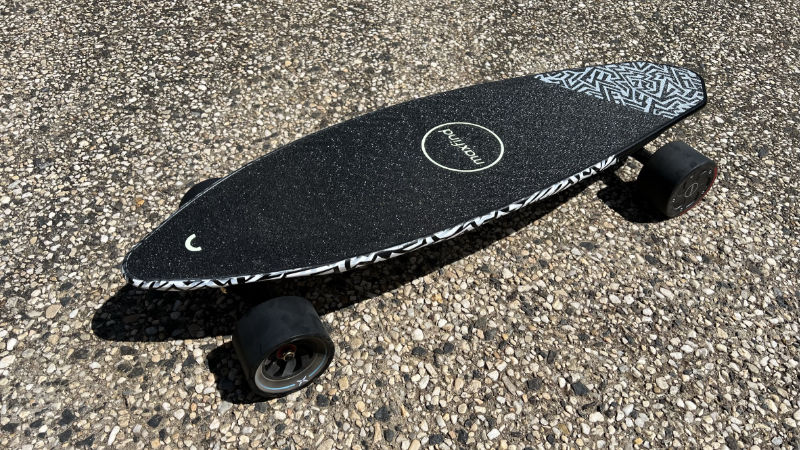 Maxfind Max2 Pro Review
Designed for students and teens to "sweep the campus," the Maxfind Max2 Pro takes first impressions to a whole new level. It's stunning out of the box, and looks as expensive as it feels when in use.
The Max2 Pro X is an upgraded version of the Max2. It features a beautiful 'Diamond Cut' surfboard design made of nylon and carbon fiber, which contributes to its easy-to-carry design. It's wide enough to rest your feet comfortably but slim enough for tricks like slides, ollies, and freestyle.
The Max2 Pro comes in three variants: single, dual and X. The single hub motor can reach top speeds of 20mph and ride up slopes of up to 22% incline. The Max2 Pro Dual and the X can get up to 24mph with a 28% incline.
The Single and dual feature the same 158Wh lithium-ion battery, allowing you to ride up to 15 miles on a single charge. And the X-Series has an upgraded 230Wh battery which is specced to get 21 miles range.
Here's a quick table to help you see the main differences between the three models. All other specs are the same.
| Specification | Max2 Pro Single | Max2 Pro Dual | Max2 Pro X |
| --- | --- | --- | --- |
| Top Speed | 20mph / 32kmh | 24mph / 38kmh | 24mph / 38kmh |
| Range | 15 miles / 25km | 15 miles / 25km | 21 miles / 35km |
| Hill Climb | 22% | 28% | 28% |
| Motors | 600W | 2x 600W | 2x 600W |
| Battery | Samsung 10S2P, 36V, 4.4Ah, 158Wh | Samsung 10S2P, 36V, 4.4Ah, 158Wh | LG 10S2P, 6.4Ah, 36V, 230Wh |
| Max Load | 220lbs / 100kg | 330lbs / 150kg | 330lbs / 150kg |
Design and Construction
Maxfind went all out when designing the Maxfind Max2 Pro. Instead of opting for the standard maple deck seen on most electric skateboards, the Max2 Pro features an aesthetically pleasing diamond-cutting design.
The deck is made of reinforced glass-fibre and nylon fibre composite material, adding to its impact resistance.
The Maxfind Max2 Pro is 31″ in length, which is about the average length of shortboard electric skateboards.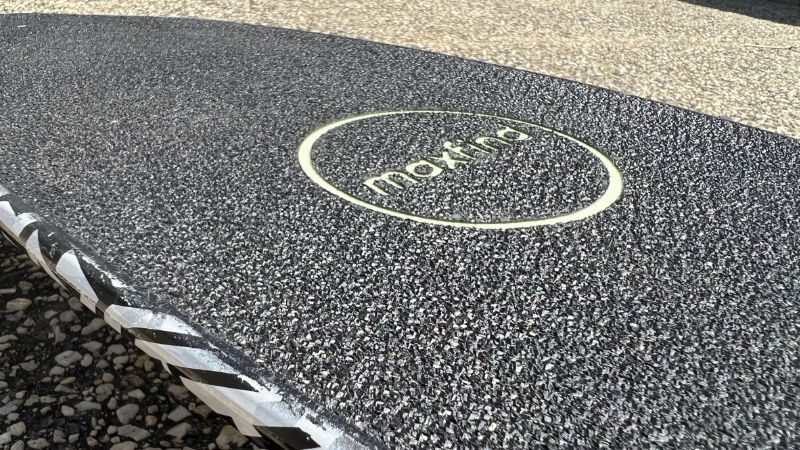 The grip tape is made of a rubbery plastic which I think is pretty interesting. It's definitely nice to be able to pick the board up and carry it around without scuffing up my hands.
And it doesn't compromise on its grippy-ness. I wasn't sliding around at all.
The wheels are 90mm polyurethane street wheels and are surprisingly good. They stick to the roads well when turning at high speeds or carving.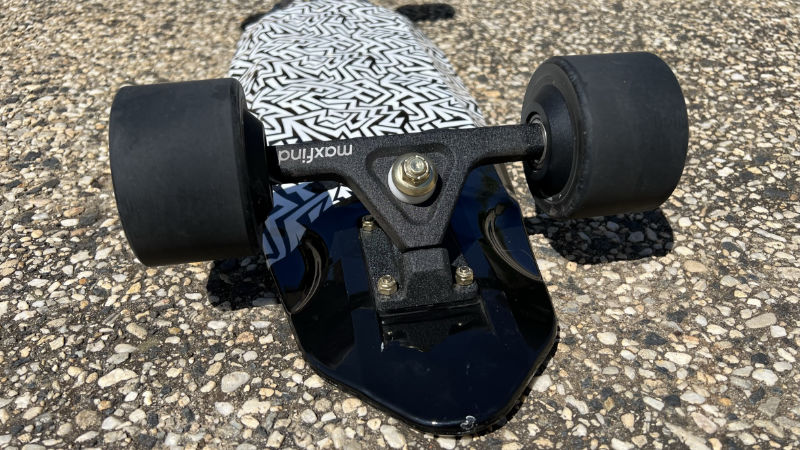 The Maxfind Max2 Pro X feature 10.6″ 45° trucks which provide stability at high speeds and precise responsiveness when turning and carving.
As far as shortboards go, they generally have a kicktail that is very prominent. The Max2 Pro kind of has a kicktail, but it's completely flat so you don't get the full benefits from it, however, it is still possible to do some tic-tacing that will help you get around sharp corners or avoid some small cracks and bumps.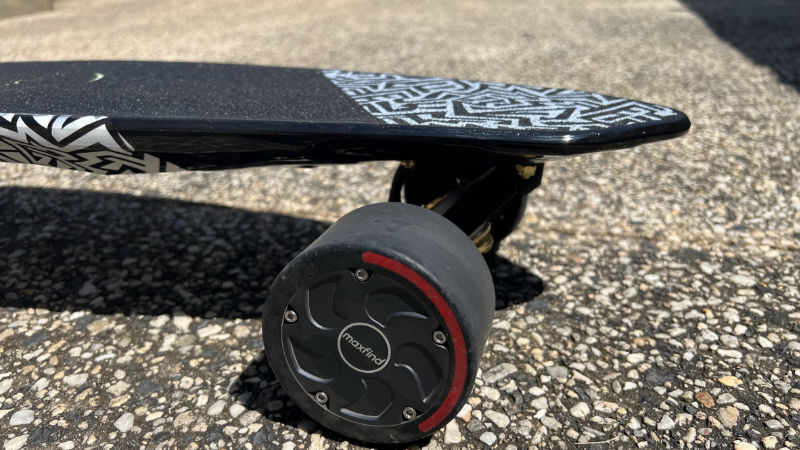 Remote Control
The Max2 Pro is running a Hobbywing ESC with a matching remote which has perfectly smooth controls.
It has a thumbwheel for acceleration and braking, 4 speed modes, reverse and cruise control which are all standard features found on most electric skateboard remotes.
Unfortunately, it doesn't have auto on/off, which is a favourite feature of mine. But you could consider this a bit of a safety feature so that you (or your child) doesn't accidentally turn the board on via the remote and send the board flying into the street.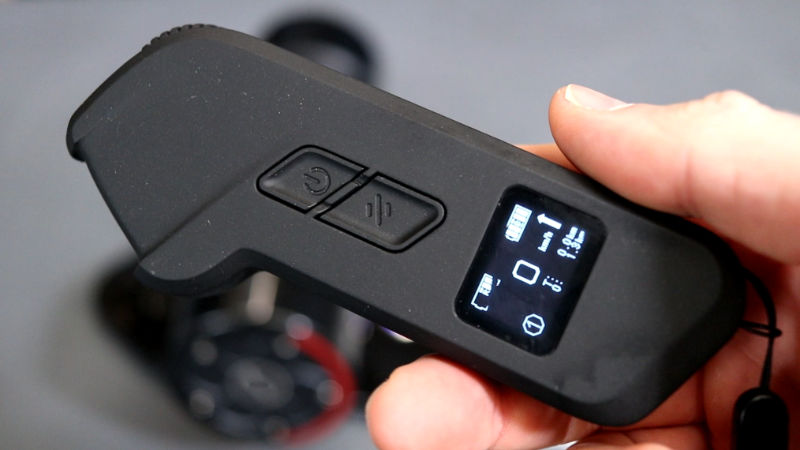 Brakes
I found the brakes on the Max2 Pro to be very manageable. They weren't too hard that they would kick me off, but they were able to bring me to a complete stop within a safe distance.
The brakes are also regenerative which means it charges the battery up when the brakes are applied. This is great if you have lots of ups and downs to ride as the braking down the hills will counteract a percentage of your climbs.
Speed and Acceleration
I have the Max2 Pro X-series, so I have two motors. I can't speak for the single-motor version, but on this one, I can say that the acceleration is very smooth. It kind of eases into its speed.
This is the kind of thing you want as a beginner or a teen rider. Even for myself, I felt very confident with this kind of acceleration and it was pleasant to cruise around on. 
The top speed I hit was 21.75mph / 35.7kmh which is just shy of the marketed 24mph / 38kmh, but I'm not too upset because it was plenty fast enough on an electric shortboard of this size.
Plus, I'm a fair bit heavier than their target market. Lighter riders will have no trouble getting that top speed.

Battery & Range
The Single and Dual versions feature a lithium-ion 10S2P 158.4WH battery with Samsung cells. Which is specced to get about 15 miles of riding time on a single charge. 
I have the X-Series, which has a 10S2P 230Wh battery with LG cells and that's marketed for 21 miles / 35km.
On my test ride, I forgot to start my Strava, so I tacked on the distance that the remote had on it to the Strava distance to get a final distance of 13 miles / 21km which is quite far off the specced range.
However, I wouldn't take my range test as gospel because the range would have been heavily affected by my weight (190lbs / 90kg) as this board is more aimed at riders who tend to weigh a lot less than that.
I also rode the board very hard with lots of acceleration and speed tests, Plus a hill climb test. A;ll of which put a lot of extra stress on the eboard.
If you're a lighter rider and you ride more conservatively, you'll definitely get more range than I did.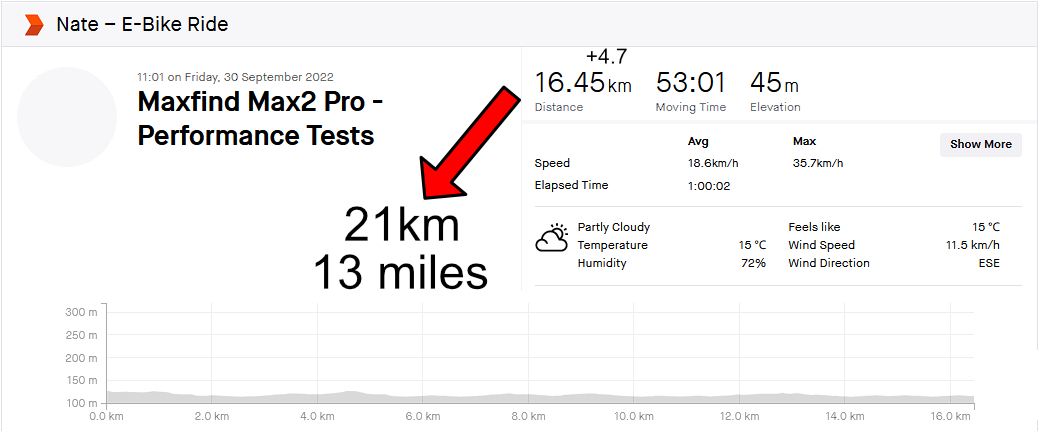 Who is the Maxfind Max2 Pro For?
Though advertised for teens and college students, the Maxfind Max2 Pro is made for anyone who wants to get around the block with as little effort as possible. With its economic design and easy-to-use interface, it's suitable for beginners and casual skateboarders. 
The speed is impressive up to 24mph with the Dual Edition, and with 15 miles of range, it's suited for short-range commuting and free-flowing cruises on the weekend.
Conclusion: Should You Get the Maxfind Max2 Pro X?
The Maxfind Max2 Pro X has a lot going for it. It costs half the price of premium brands without compromising quality, and is designed to impress in both function and appearance.
If you're searching for a lightweight, easy-to-use electric skateboard to ride around the neighbourhood or campus, the Maxfind Max2 Pro X is a great choice.
It's best for riding around casually, on short trips to the shops or between classes.