I've got the WowGo 2S Max to review with you today and at the risk of pumping the hype too much, I have to say, I am very impressed by this electric skateboard.
For the first time ever on any eboard, I reach a higher range in my tests than the marketed range, which is totally bonkers.
So I'll show you that along with all of my testing data in this WowGo 2S Max review.
First of all, it starts at $480 with the street wheels and you can upgrade to a 2-in-1 with 105mm Cloudwheels for $600.
Plus you can get an extra $5 OFF by using the discount code HUB5. That also helps me out a bit, so I send you a massive thanks in advance if you do.
So, let's get into the details of the WowGo 2S Max review and check out its performance specs, but first here's a list of everything you get in the box:
WowGo 2S Max
Remote control
Board charger
USB-C cable
Y- hex key
Skate tool
Spare nuts and bolts
Spare hardware
Stickers
User manual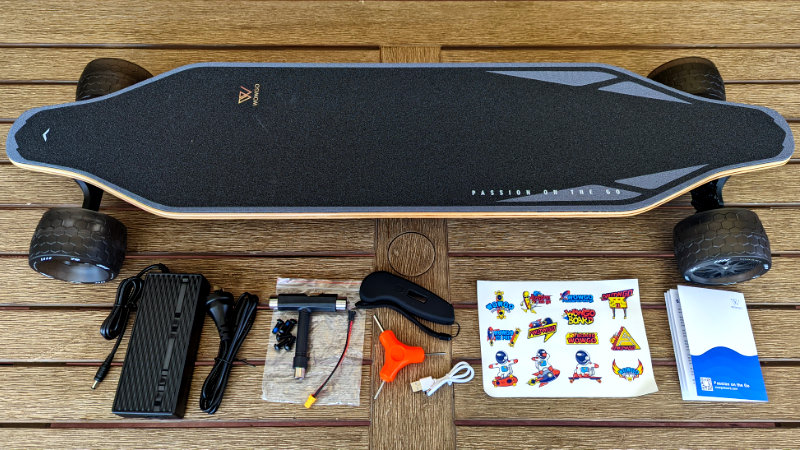 Who Is It For?
The WowGo 2S Max is a great electric skateboard for beginner and intermediate eskaters.
The throttle is easy to control, it's smooth and the ride feel is comfortable and most importantly, stable.
There's very little maintenance and the motors are dead quiet.
I think it's perfect for someone who wants an eboard to commute on or to go for casual rides on the weekend.
The aesthetics are nice and clean and I love the attention to detail with their branding on the trucks and their slogan "Passion On The Go" on the top side of the deck and underneath too.
It doesn't have any extreme, in-your-face features, but the ones it does have, that may go unnoticed, make your life a whole lot easier. We'll look at those in just a sec.
It would be the perfect first eboard.
It's affordable, the lower end of the modes are great for learning on and the higher end of the speed modes have plenty of power for you to grow into.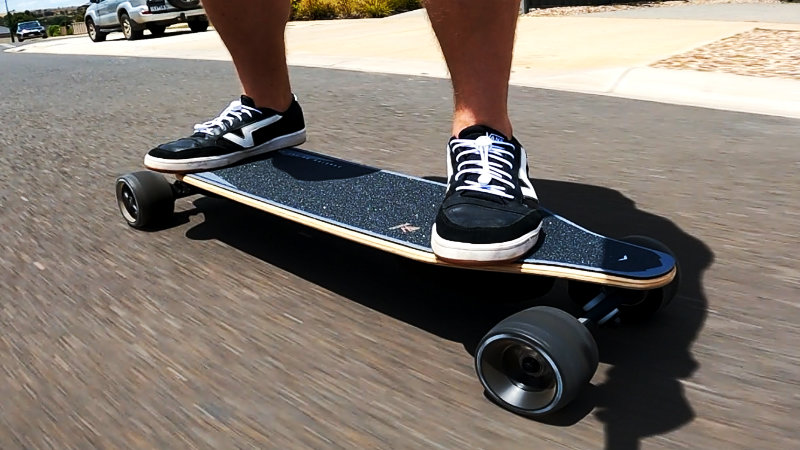 WowGo 2S Max Review
It's a 38" x 8.8" deck made from Canadian maple, bamboo and fibreglass. So it should be quite a durable deck.
In terms of flex, it sounds strange to say it like this but the best way to describe the flex is sturdy. There is a slight flex, but it's not bouncy.
The return force when you bounce on it comes back to level, not fast, but reliably I think is the best way to put it.
This is great when you're out riding and you unexpectedly hit a rough patch in the road, the flex in the deck soaks up a lot of that bumpiness so you don't have to spend so much energy absorbing those bumps with your own legs, which means you can keep riding for longer.
For all the other little constant vibrations you get from the road, even on what seems like flat surfaces, the shock-absorbing grip tape will again save your legs making for a much more comfortable and enjoyable ride.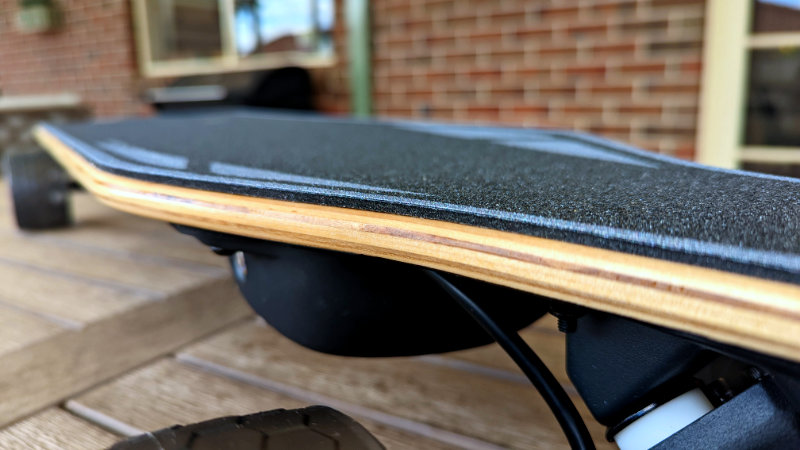 A big part of the stability of the WowGo 2S Max comes from the 8" 50° trucks combined with 85A bushings.
This combo allows for a confidence-inducing steadiness at high speeds but maintains its ability to turn. I could do complete 180's on a two-way street and I like to have my trucks on the tighter side.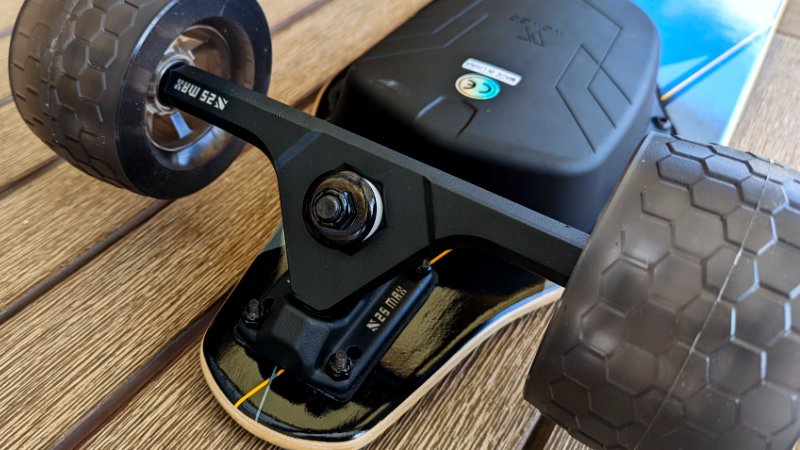 There are two wheel options to choose from, the 90mm 78A Polyurethane street wheels and 105mm 78A honeycomb urban terrain wheels.
The honeycomb on the wheels are just seen on the tread, it's not like those 'airless'' All-terrain wheels. I'm not exactly sure what they're made of, some kind of urethane, but it's a solid urethane, there isn't a foam core like on the Cloudwheels.
So, the wheels are kind of like a big urethane street wheel with a bit of extra tread.
And I have to say, I quite liked this experience on paved roads.
They were sticky and I felt confident going into corners at a relatively high speed. I could carve on them well and they didn't slip out from underneath me.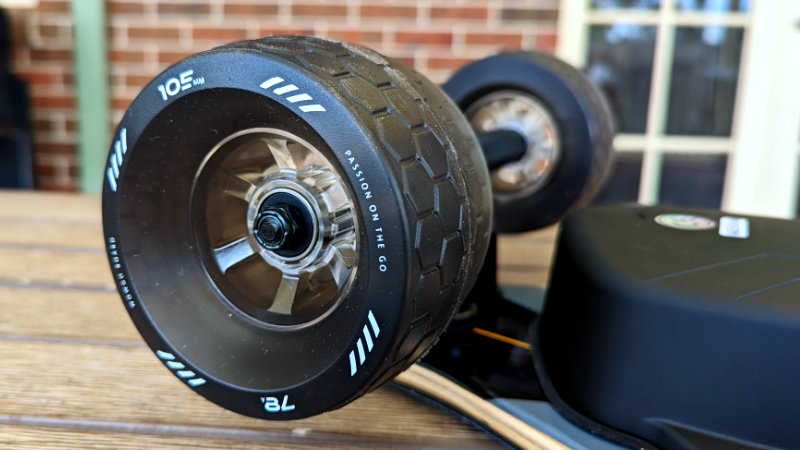 I wouldn't recommend them for sliding, but for all other purposes, these wheels felt great.
It's hard to say what kind of durability we'll get out of them, but after my first ride, they seemed to hold up quite well.
I think WowGo mentioned they might be selling the 120mm Cloudwheels donuts for the 2S Max, however, that's not confirmed so don't hold me to it. But I have no doubt in my mind that Cloudwheels will develop a donut option for these in the near future anyway.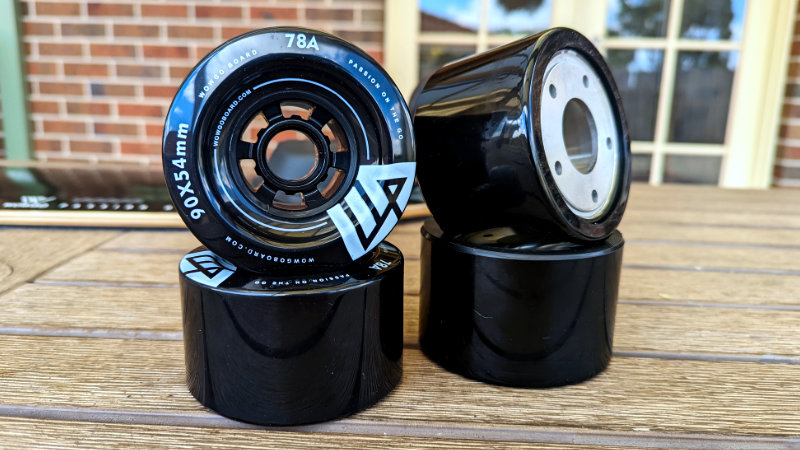 The process to swap the wheels on the motors is so easy. It's literally a matter of undoing the five screws, removing the plate, swapping the sleeves over putting the plate and screws back on.
I know, it shouldn't be more complicated than that, but you'd be surprised by some of the convoluted designs I've seen to secure the sleeves to the motors.
On that note, the motors are 2x 550W hub motors and rated to get a top speed of 45kmh and climb hills up to 30% with 90mm wheels and 25% with the 105mm wheels.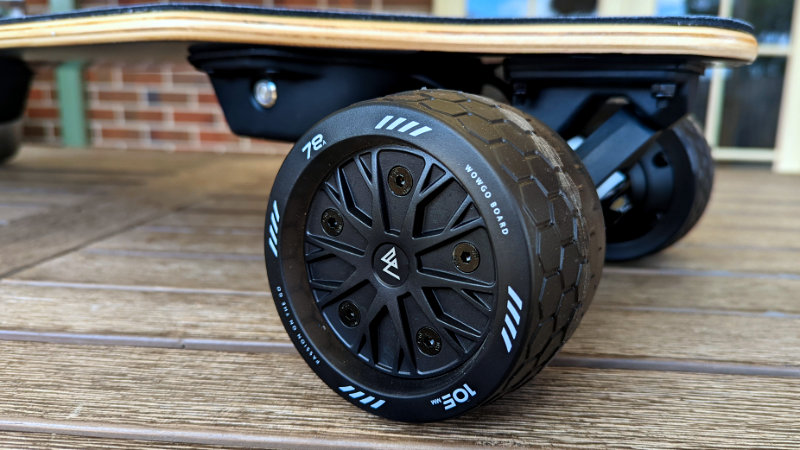 On my test ride, the top speed I hit was 23.2mph (37.4kmh) and there was some more room in the throttle, I could even feel the board still accelerating before I backed off. I just don't have the balls to push it much further.
In saying that, I definitely think this board has the capability to hit 28mph (45kmh).
When it came to climbing hills, the WowGo 2S Max managed to pull me up at a pretty decent speed. It started to slow as it reached the steepest part of the hill, but it wasn't close to giving up.
This was with the 105mm wheels and the steepest part of the hill was 13%, so climbing a hill grade of 25% at my weight of 192lbs (87kg) might be a bit of a stretch, but lighter riders will have a much better time riding up hills.
The battery is 12S2P 5Ah 216Wh with 18650 cells and marketed to get 13.6 miles (22km) of range with the 90mm wheels and 10 miles (16km) with the 105mm wheels.
But to my surprise, I managed to get 10.5 miles (17km) with the 105mm wheels.

I didn't do anything different in this test compared to others. I still did the hill climb, top speed, acceleration and braking tests throughout the ride. And I rode it fairly hard and tried to do a lot of carving where possible.
The only thing I can think of is that the rolling resistance of the motors felt much lower when I wasn't accelerating.
When I go down the big hill at the beginning of the ride, usually, and especially with belt-driven eboards, the resistance of the motors starts slowing me down. But with the WowGo 2S Max, I found that I was speeding up and I had to throw on the brakes here to keep myself from going too fast.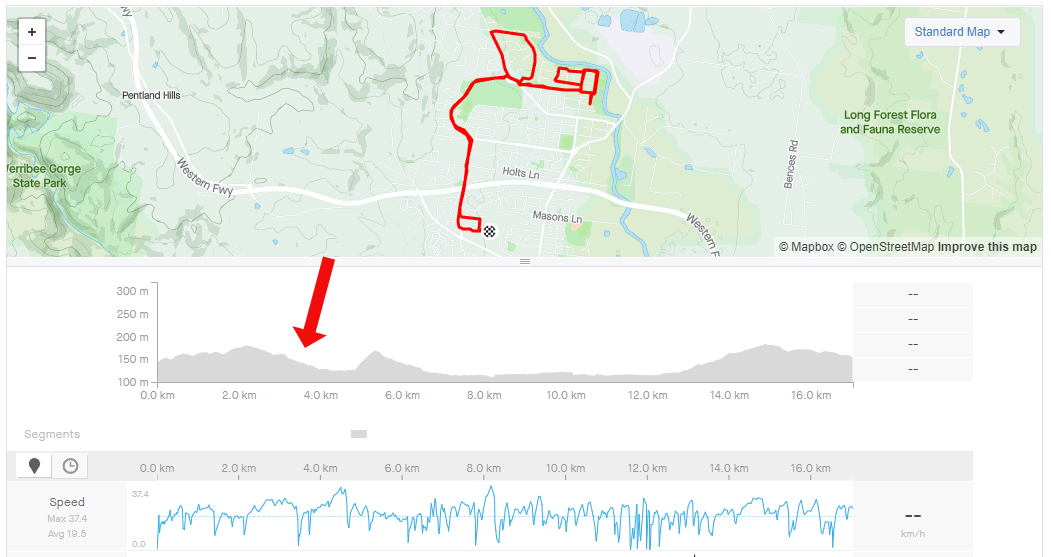 This is a massive PLUS for the WowGo 2S Max. It means that you can fully take advantage of the regenerative brakes to extend your range.
And on that, during my ride, I didn't just ride downhill. I had to ride back up this hill to get home.
I actually hit the 20% battery warning right as I started going up the massive hill and I was worried that I wasn't going to make it and I'd have to, god forbid, walk up it.
The max power output did decrease after the 20% warning. It was a struggle to climb hills, but on the flat, it was more than capable to keep going. If I had only flat areas to ride the range would have probably been even further.
The ESC is supplied by Hobbywing and it makes the acceleration and braking very smooth.
It's perfect for beginner and intermediate riders because you'll never feel like you're going to be thrown off but the acceleration is still hard enough to be enjoyable.
More experienced riders will be able to enjoy this as a casual cruiser type eboard, but you'll likely find yourself wanting a little bit more if you're an adrenaline junkie.
The remote is the same that WowGo have been using on all of their recent models and I really like it.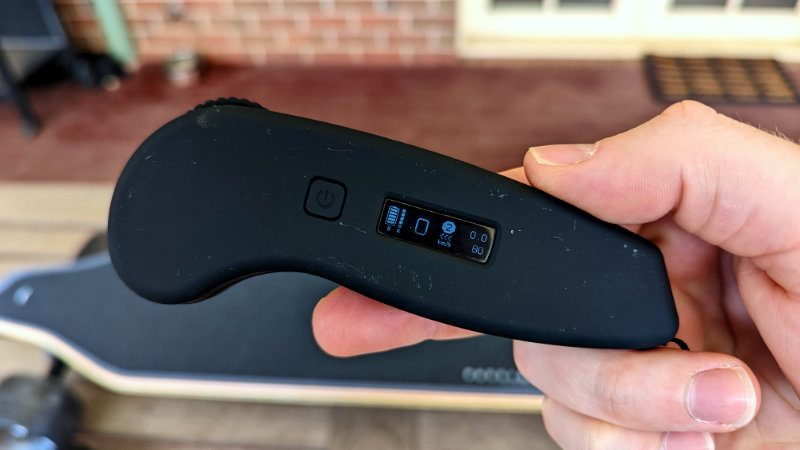 The rubbery matte finish and shape sits comfortably in my hand.
The display has useful info like battery levels, speedometer, speed mode, trip length and total odometer.
To change the speed modes you have to take your thumb off the thumbwheel, which is great because it means you can't accidentally hit the speed mode button while you're cruising along. This is a big plus in my eyes in terms of safety.
There's no cruise control, some might be upset about that, but I literally never use cruise control, it's just too dangerous.
Lastly, it does have an auto on/off feature. Meaning you just need to turn the remote on and the board will automatically turn on and pair.
It's a small thing, but extremely convenient when you just want to get up and go.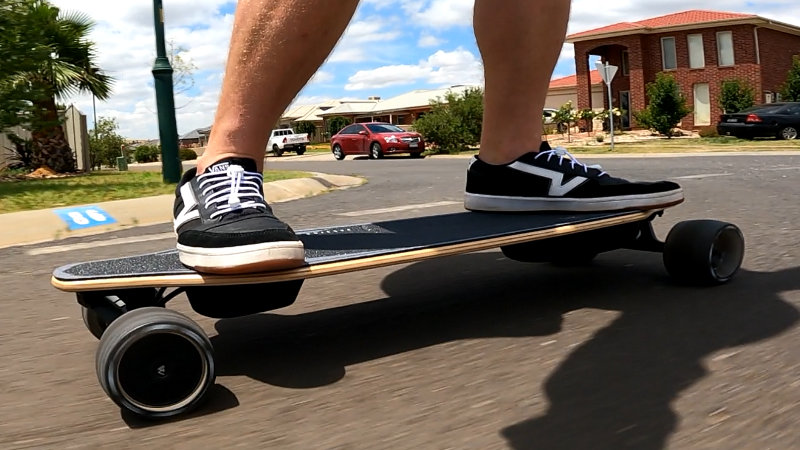 Final Thoughts
Overall, the WowGo 2S Max is a fantastic electric skateboard that is affordable with ample amount of performance for beginner and intermediate eskaters.
It's your perfect first-eboard and ideal for commuting on and cruising around casually.
Not to mention, the sub $500 price tag means it won't break the bank.
I love WowGo as a brand because they constantly deliver amazing products at reasonable prices and the WowGo 2S Max is no exception.
That's my WowGo 2S Max electric skateboard review.
I hope it's helped make your decision of buying the best electric skateboard a little bit easier.
If I have, I'd love it if you shared this on Facebook or Twitter to help others find their perfect eboard.
If you have any questions about anything that I didn't cover in this review, please ask in the comments of the YouTube video at the top of this review.
As always, ride safe out there eskaters.
Use Code HUB5 and get $5 OFF
On WowGo's Website